Healthy No Bake Gingerbread Cookie Bars (Keto, Vegan, Paleo)
These healthy no bake gingerbread cookie bars are a quick and easy holiday dessert or snack recipe! Topped with a homemade dairy-free cream cheese frosting, these no bake cookie bars are also completely keto, vegan and paleo!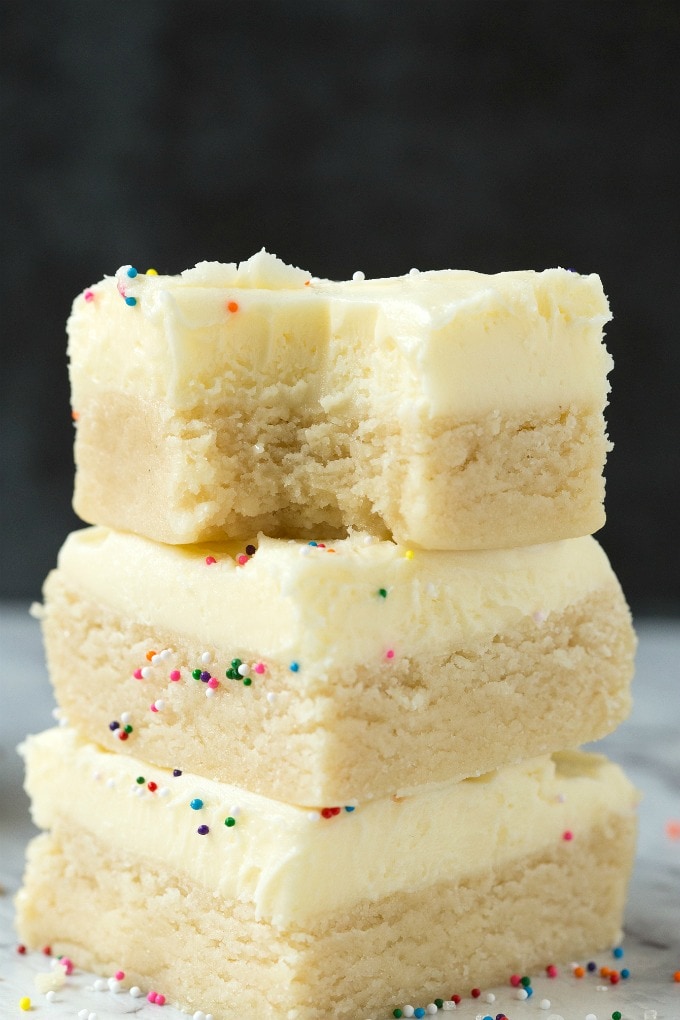 Healthy No Bake Gingerbread Cookie Bars with Cream Cheese Frosting
When I start seeing gingerbread flavored foods start popping up in my supermarkets and cafes, I know it's officially time to start doing the same.
I've never been a huge fan of gingerbread cookies or gingerbread men. My mum would make batch after batch during the holiday season, often using them as edible gifts. She'd often save some for my sister and me, which would rarely be eaten.
Actually, I take that back. We'd eat the candy buttons but leave the cookies as is.
I think for me personally, the strong ginger flavors, coupled with the lack of texture REALLY got to me. I like cookies, but not ones which were overly crispy, and loaded with ginger.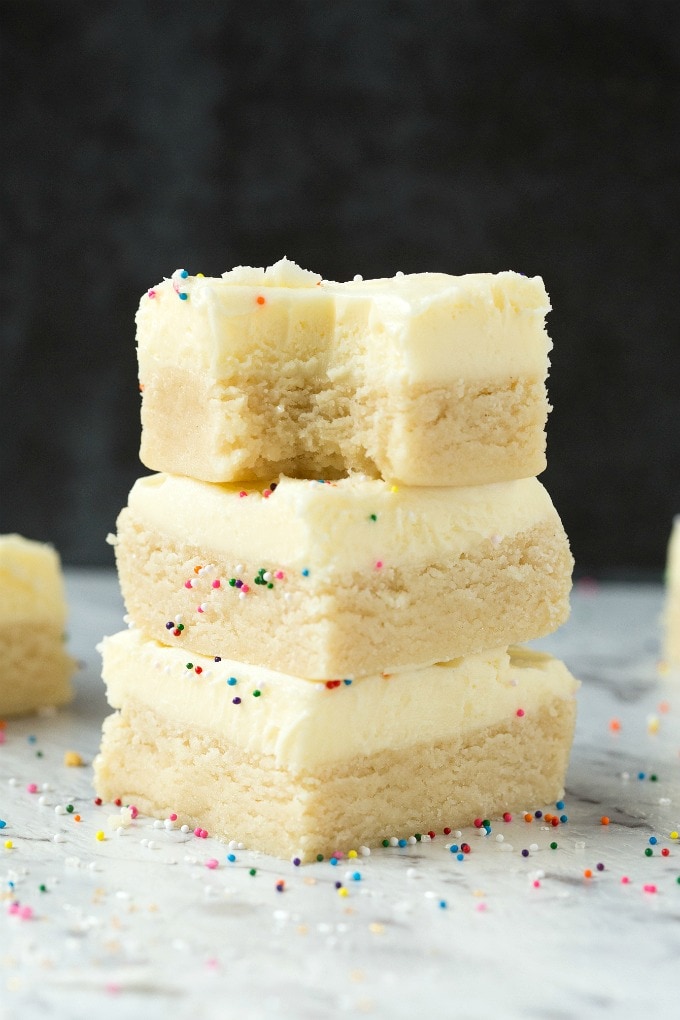 While traveling in Europe, I was fortunate enough to sample a delicious homemade chewy ginger cookie bar. It had the ample amount of ginger and sweetness to really balance it out. It had traces of cinnamon and had the most incredible chewy texture.
The only thing missing was a cream cheese frosting…something I could rectify.
You guys, these healthy no bake gingerbread cookie bars are your answer. Thick, chewy gingerbread cookie base topped with the most seriously addictive cream cheese frosting.
Did I mention it was healthy?
Best Vegan and Gluten-Free Gingerbread Cookie Bars
They are also super diet-friendly too! For those following a keto, vegan, paleo and gluten-free diet, you got your bases covered!
These gingerbread cookie bars emulate the holidays and will be the showstopping dessert at your gatherings or festivities. The best part is no one will know that they are healthy!
Unlike other gingerbread cookie bars, these bars have a pleasant sweet and spicy gingerbread flavor, without being overpowering. The texture of the base is like a traditional sugar cookie bar, with some added ginger to it. It's thick, chewy and sturdy to pick up with your hands.
To maintain the thick and chewy texture, you'll need to keep them refrigerated, but that also allows you to keep them for longer…not that you'll have that problem!
If your a fan of softer cookie bars (versus chewy bars), these can be manipulated to cover those bases- Simply keep them in a sealed container/covered at room temperature! Not only will they be soft and doughy, but they will almost have a shortbread-like consistency.
Chewy Gingerbread Cookie Bars
Another big hit or miss with Gingerbread is the use of molasses!
I feel like people either love it or hate it. While I'm in the former camp, I wanted to play it easy and omit it, instead, using another sticky sweetener. Friends, if you like molasses or want a very pronounced gingerbread flavor, definitely feel free to use it!
With the holidays a time where being busy is a common theme, these healthy no bake gingerbread cookie bars are a dessert lifesaver. They require NO baking which means no oven.
A quick and easy desssert or snack recipe which literally takes less than 20 minutes to whip up! You can even cut the time by prepping the homemade cream cheese frosting in advance or using a store-bought hack!
Homemade Dairy Free Cream Cheese Frosting
Making dairy-free cream cheese frosting is ridiculously easy- You only need 5 ingredients-
Remove the liquid from the soaked cashews and pat dry
In a high-speed blender or food processor, combine all your ingredients and blend until a thick and creamy consistency remains. Taste to ensure it is sweet enough.
Transfer to an airtight container and refrigerate. This will allow it to thicken.
I've made this frosting with blanched almonds, which has also worked well, although not as creamy.
I used several drops of liquid stevia as my sweetener.
Store-Bought Cream Cheese Options
Not everyone has time to whip up fresh homemade cream cheese frostings, so you'll be covered with my fool-proof hack!
All you need to do is allow your cream cheese to soften at room temperature, then mix it with a sticky sweetener and cinnamon, until desired texture is achieved!
Standard Cream Cheese– Any full-fat cream cheese will be suitable for those following a ketogenic diet.
Dairy-Free/Soy-Free cream cheese– I've tried most plain vegan cream cheese, but the Kite Hill brand is my favorite.
As for the sticky sweetener, I typically use a monk fruit sweetened maple syrup, which is keto-friendly, low carb and sugar-free!
If you want a 100% refined sugar free option, pure maple syrup and agave nectar work great!
Nut-Free/Allergy-Friendly Gingerbread Cookie Bar Options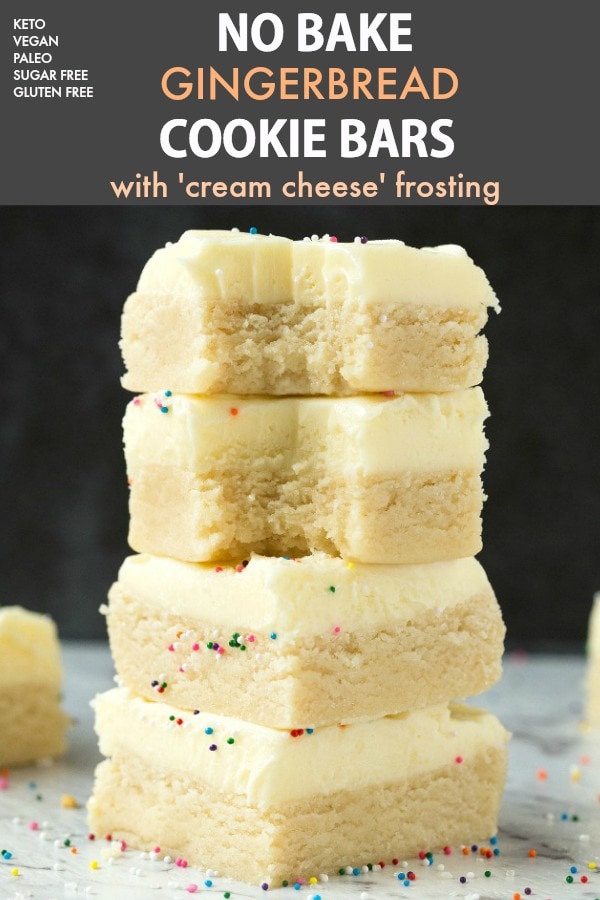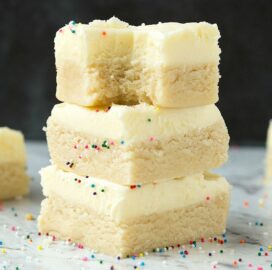 Healthy No Bake Gingerbread Cookie Bars (Keto, Vegan, Paleo)
An easy recipe for healthy no bake gingerbread cookie bars topped with a homemade cream cheese frosting! No dairy and no sugar, this healthy dessert takes 20 minutes and is completely vegan, gluten-free, paleo and keto!
Print
Rate
Instructions
In a microwave-safe bowl or stovetop, combine your cashew butter with your sticky sweetener and melt.

Add your dry ingredients and mix very well, until a thick batter is formed. If it's too thin, add extra coconut flour. If the batter is too thick, add extra milk/water to thin out.

Line an 8 x 8-inch or 10 x 10-inch pan with parchment paper. Transfer your gingerbread cookie batter into it and press firmly into place. Refrigerate.

Prepare either homemade cream cheese frosting or using a store-bought alternative. Top your gingerbread cookie bars with it, and refrigerate for 30 minutes, to firm up slightly.
Notes
* I used a monk fruit sweetener. For a more pronounced gingerbread flavor, use blackstrap molasses. Pure maple syrup and agave nectar also work.
** See post for frosting options. I used homemade, but using an easy hack works well too.
Healthy No Bake Gingerbread Cookie Bars (Keto, Vegan, Paleo) should be kept refrigerated, but are also freezer friendly. They can keep for up to 2 weeks (only if using homemade cream cheese frosting).
Nutrition
Serving:
1
Bar
|
Calories:
196
kcal
|
Carbohydrates:
10
g
|
Protein:
7
g
|
Fat:
16
g
|
Fiber:
7
g
|
Vitamin A:
50
IU
|
Vitamin C:
1.7
mg
|
Calcium:
10
mg
|
Iron:
0.4
mg
|
NET CARBS:
3
g

Other recipes using gingerbread