These no bake caramel bars are made with an edible and eggless cookie dough base and require no baking! A thick gooey salted caramel is then topped with chocolate and sea salt! A quick and easy no bake dessert recipe.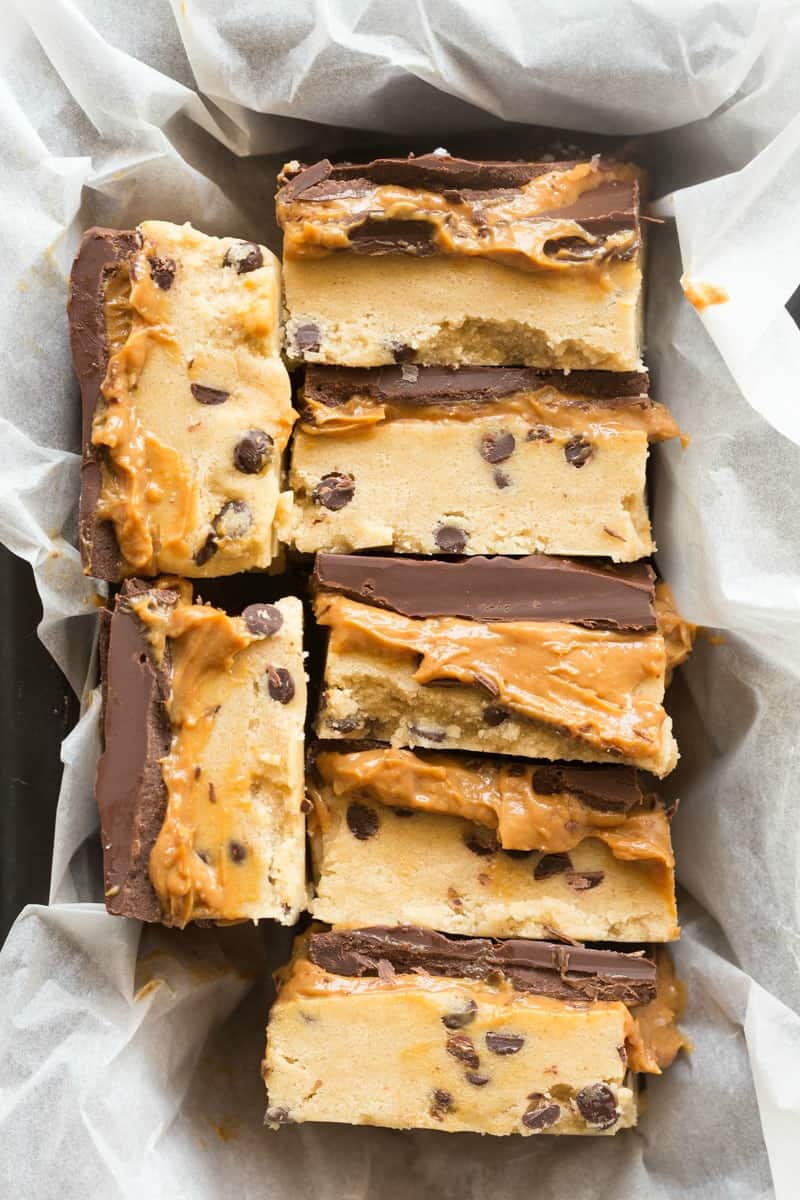 Stop EVERYTHING you are doing, and sprint to the kitchen- This recipe for a keto caramel slice with cookie dough is a dessert game changer.
Made with a handful of ingredients, they remind me of a cross between cookie dough bars and a Twix bar.
Let's talk a little bit more about these sugar free salted caramel cookie dough bars. These healthy caramel bars take less than 15 minutes to make- There is NO baking required. Seriously, you'll find yourself sneaking bites of the batter while making them!
After your 15 minute wait is up, you'll be left with a thick, edible cookie dough base (similar to shortbread!), a gooey and creamy caramel and all topped with a layer of smooth chocolate.
This dessert may sound decadent and sinful, but really, it's secretly healthy!
There is no sugar and no grains in the entire recipe! The cookie dough base is made with almond flour and sweetened with sugar free syrup and granulated monk fruit. The gooey caramel combined cashew butter with coconut oil and the chocolate topping is stevia-sweetened!
Naturally keto and low carb, this recipe also happens to be paleo, vegan AND gluten free.
If there is one keto and vegan dessert you need to make, THIS is it!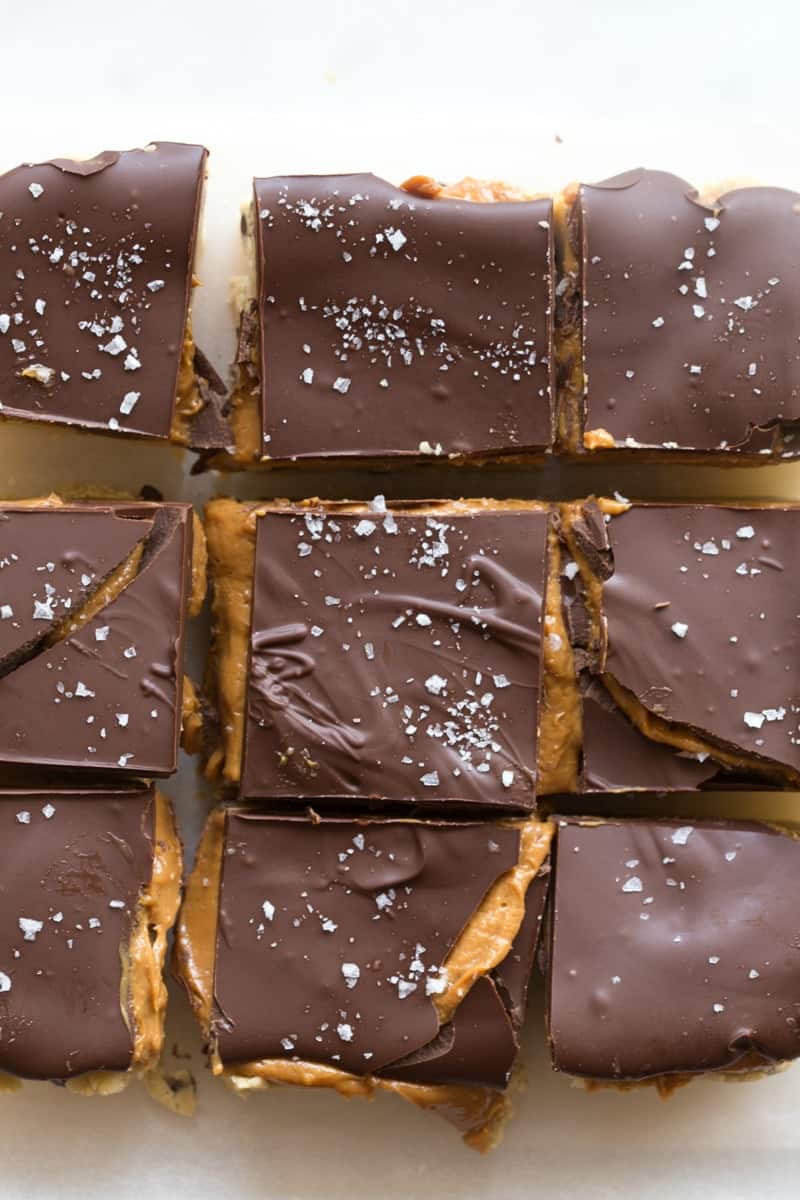 What is the difference between a slice and a bar?
When I was in America, I called any no-bake dessert a slice.
See, in Australia, we call all dessert bars 'slices'.
Caramel bars, caramel slice- Same delicious thing.
There is no difference between a slice and a bar, it just depends on where in the world you are located!
Keto Caramel Slice Ingredients
You only need 6 ingredients to make these addictive caramel cookie dough slice bars- For all three layers!
For the caramel.
For the cookie dough shortbread base.
Almond Flour– Blanched almond flour is a light grain-free flour, low in carbs. You can use almond meal, but the shortbread base will be darker.
Keto Maple Syrup– Provides sweetness, as well as helps hold the shortbread base together.
Coconut Oil– Adds a cookie dough texture, along with holding the bars together. It is a fantastic replacement for butter or other oils.
Salt– A pinch of salt brings out the sweetness!
Sugar Free Chocolate Chips– A must for any good cookie dough. Use a mix of mini chocolate chips and standard chocolate chips.
For the topping.
Sugar free chocolate chips– You can use a sugar free chocolate bar, if preferred.
Coconut oil– When mixed with the chocolate chips, makes the finished bars easier to slice.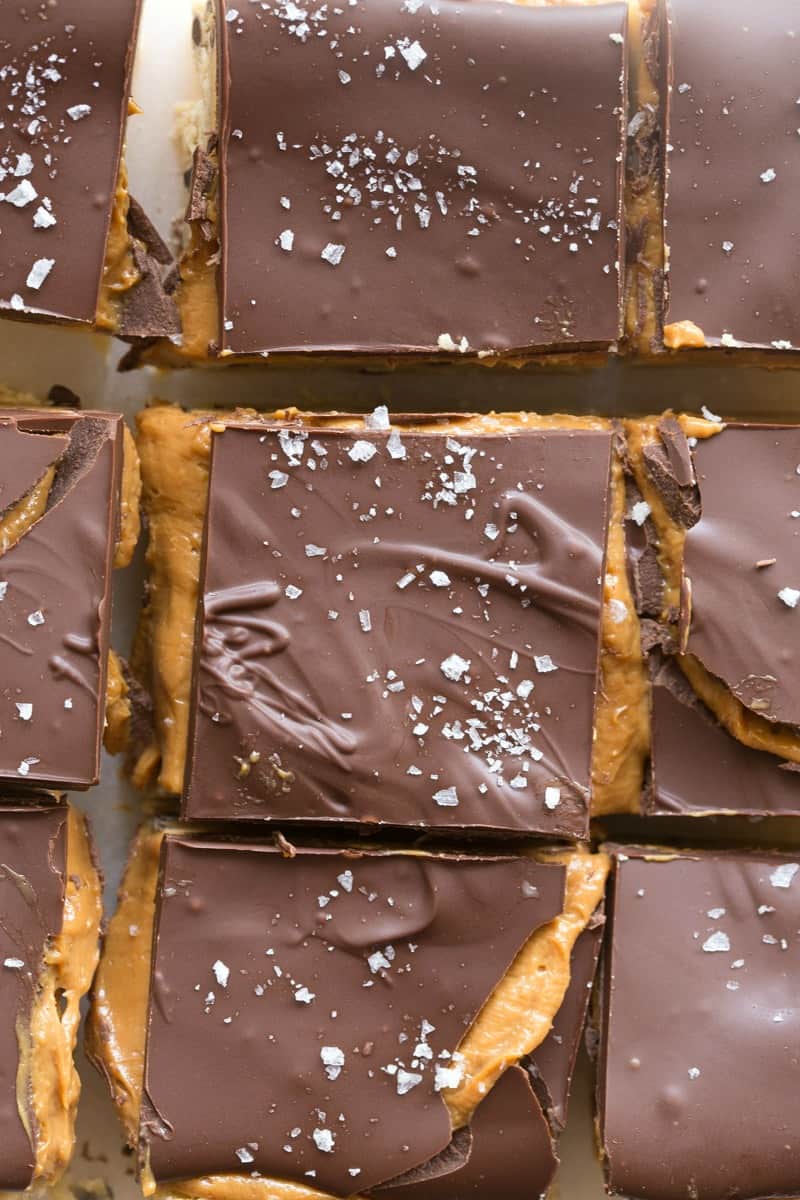 How to make no bake caramel bars
Making these salted caramel cookie dough bars is ridiculously quick and easy and follows 4 easy steps-
Prepare the shortbread cookie dough base– melt the maple syrup and coconut oil, until warm. Mix through the almond flour and salt, until a thick dough remains. Fold in the chocolate chips, before transferring to a square pan. Place the bars in the fridge to firm up.
Make the gooey salted caramel– Either the vegan caramel or keto caramel
Top with chocolate– Melt your chocolate with coconut oil together. Pour over the chilled bars.
Slice and serve– Sprinkle the tops of the bars with salt and slice into 9 pieces.
Storing No Bake Caramel Cookie Dough Bars
As the caramel filling is extremely gooey and fragile, these caramel bars need to be stored in the fridge, in a sealed container or on a plate covered in plastic wrap.
Salted caramel cookie bars will keep fresh for up to 2 weeks.
Can you freeze salted caramel bars?
Keto and Low Carb Caramel Slice can be stored in the freezer, to enjoy at a later time.
To freeze, wrap individual portions in parchment paper and place them in ziplock bags. Write the date on each bag, 6 months from the day it is made, as that is how long they will keep for.
Thawing them from the freezer is easy- Simply thaw them at room temperature, or in the fridge overnight.
Can I use store bought caramel?
If you don't want to make your own keto and sugar free caramel, you can easily use a store bought brand. I haven't seen any keto caramels available.
An option is to replace the caramel with a keto chocolate ganache- by combining chocolate chips with coconut cream, until smooth and silky.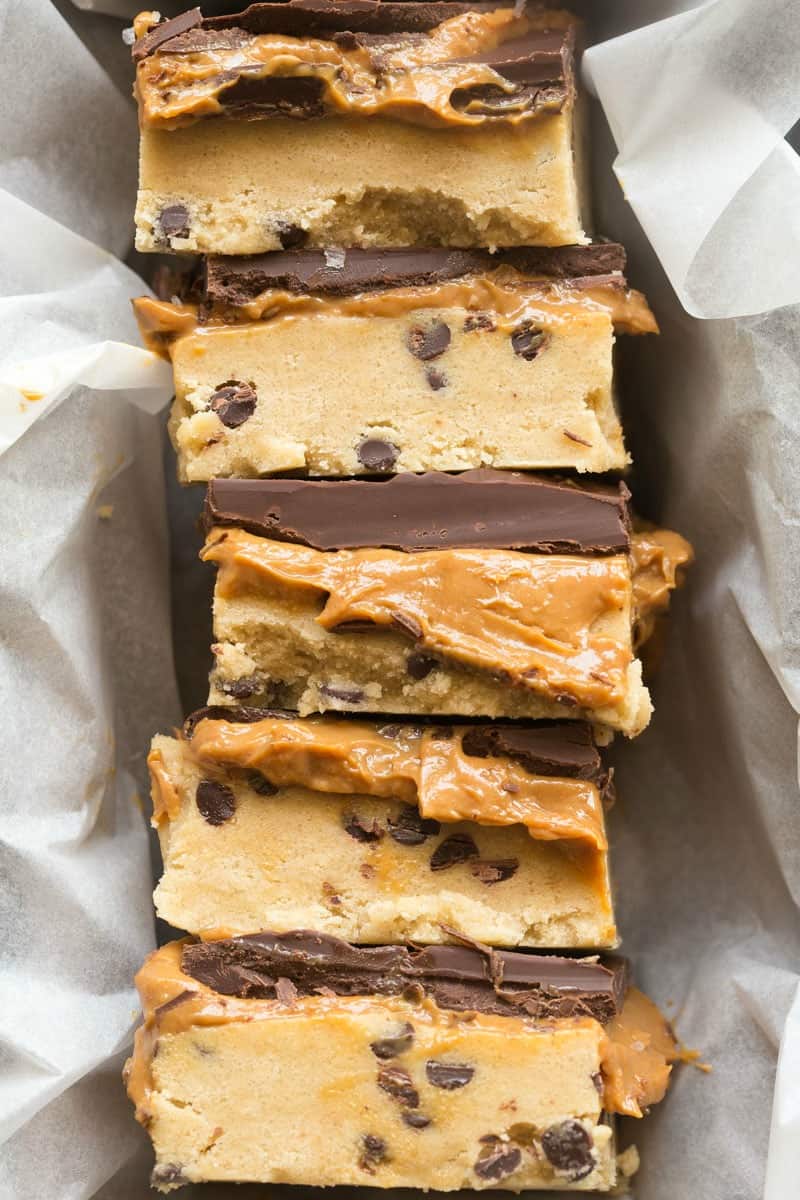 More healthy no bake dessert recipes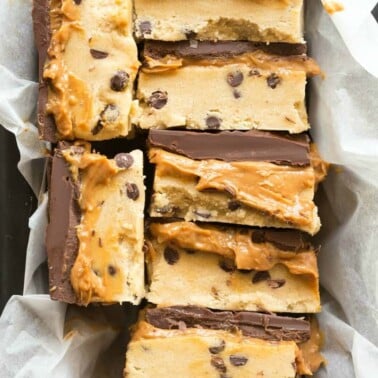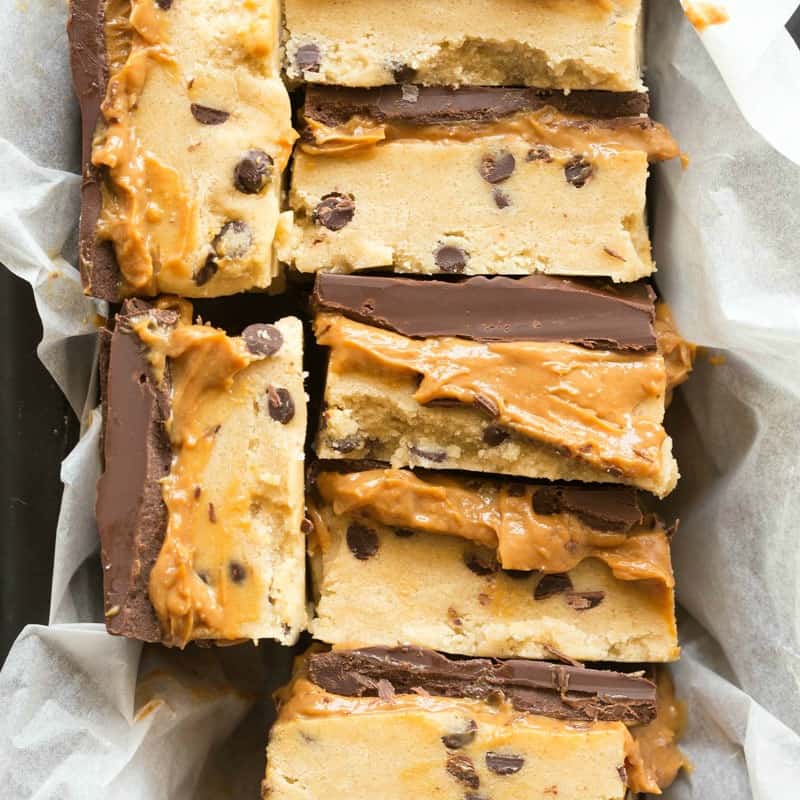 No Bake Caramel Cookie Dough Bars (Keto, Vegan, Paleo)
Seriously addictive no bake keto salted caramel slice bars! Gooey, delicious and made with just 6 ingredients- You won't stop at one! Low carb, paleo, vegan, gluten free and sugar free!
Ingredients
For the cookie dough shortbread base
For the gooey salted caramel
For the chocolate topping
Instructions
Line a square pan with parchment paper and set aside.

Start by preparing your shortbread base. In a microwave-safe bowl or stovetop, add your syrup and coconut oil and melt until warm.

Add your almond flour and salt and mix well, until a thick dough remains. Fold through your chocolate chips and transfer to the lined pan and press into place. Refrigerate.

Pour the caramelover the cookie dough base and refrigerate for around 30 minutes, to firm up.

Once the caramel has firmed up slightly, melt your remaining chocolate chips with coconut oil together. Pour over the caramel bars and refrigerate until firm. Slice into bars and sprinkle with salt.
Notes
You can also use vegan caramel.
Keto Salted Caramel Cookie Dough Bars should be stored in the fridge, and will keep fresh for up to 2 weeks.
Caramel bars are freezer friendly, and will keep well frozen for up to 6 months.
Nutrition
Serving:
1
bar
Calories:
282
kcal
Carbohydrates:
6
g
Protein:
5
g
Fat:
26
g
Sodium:
45
mg
Potassium:
35
mg
Fiber:
3
g
Sugar:
1
g
Calcium:
38
mg
Iron:
1
mg
NET CARBS:
3
g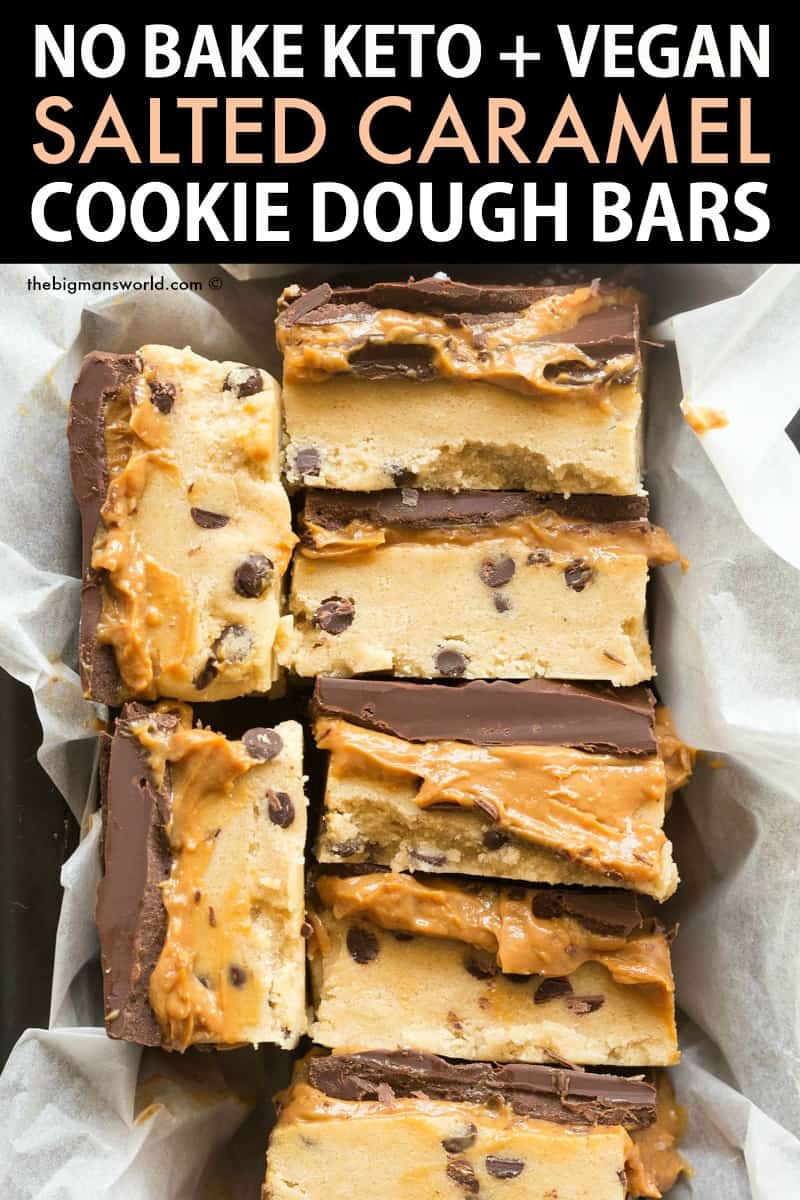 Disclosure: This post may contain affiliate links. I may earn a small commission for my endorsement, recommendation, testimonial, and/or link to any products or services from this website.