Healthy No Bake Peanut Butter S'mores Crunch Bars using just one bowl, 5 ingredients and less than 2 minutes! This quick and easy snack or dessert is naturally gluten free, vegan, dairy free and can be made sugar free!

What is it about S'mores which make them so darn addictive?
It's a taste and texture lovers dream- Like these homemade copycat crunch bars and these 5 ingredient kit kat crunch bars, they are also seriously addictive! They are a little crunchy, gooey, chocolatey, and embedded with soft marshmallows and crunchy graham cracker or cookie pieces. The only downside is that traditionally, they can be quite messy to eat.
I've got a solution to that problem. Instead of moseying yourself over a fireplace, I've combined all the best parts of an S'mores into a no bake crunch bar! Every bite is a flavor explosion of marshmallow, cookie pieces, and smooth chocolate!
In the comfort of your own home (and kitchen!), you can prepare this campfire treat, minus all the time, mess and potential danger! You'll only need five easy ingredients and the entire recipe takes less than 10 minutes to whip up!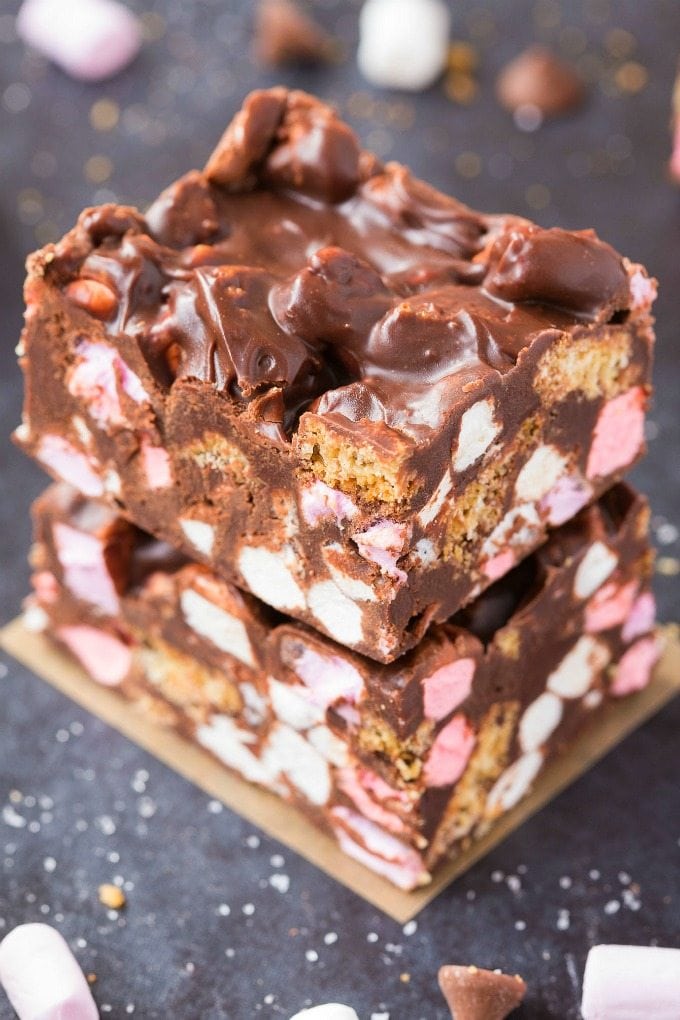 An S'mores is made up of three main features- Chocolate, marshmallows and two graham crackers to sandwich together. This healthy makeover includes all of those, but with a little twist.
Instead of using compound chocolate or a standard candy bar, we'll be using a few healthier ingredients to form the chocolate base. This chocolate base combines chocolate chips, coconut oil, a nut or seed butter and a sticky sweetener. This combination makes the bars easy to slice and are perfect for storing at room temperature without melting!
I love using maple syrup as my go-to sticky sweetener, as it doesn't have an overpowering taste, is easy to find (and have on hand!) and quite well priced. Saying that you can easily substitute it for agave nectar or rice malt syrup, which both have a similar flavor profile and mild taste.
For the chocolate chips, I prefer using these dairy free chocolate chips or dairy free chocolate chunks. Not only are they suitable for my vegan and gluten-free friends, they are also a favorite amongst others too. Alternatively, you can use any good quality baking chips or baking chocolate bar of choice. If you prefer a very rich, dark chocolate, I recommend this 100% baking cocoa block.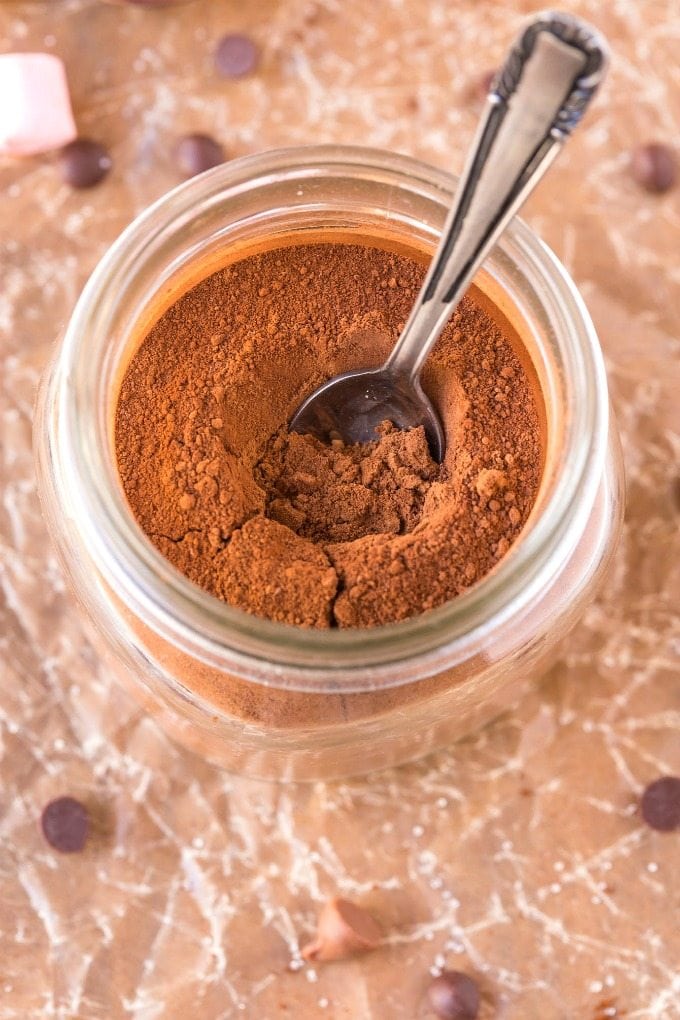 Coconut oil is necessary, as it helps keep the bars firm and gives the chocolate an even creamier texture. If you cannot tolerate coconut products, you can substitute this with grass fed or standard butter. I used peanut butter for the 'nut butter' portion, but this can easily be substituted if you have allergies or prefer to use another nut. Sunflower seed butter works great, as does creamy almond butter.
A few readers have asked about what my go-to combinations are when it comes to nut butter + sticky sweetener and for convenience and price, you can't beat peanut butter (or sunflower seed/almond butter) and pure maple syrup).
The peanut butter and maple syrup combination are actually one of my most used and favorite ways to omit using butter or sugar in my recipes- Check out one of my all time favorite 3 Ingredient rice crispy treats for an example- The video shows you the amazing texture!

I opted not to use Graham Crackers but instead, used homemade cookie pieces throughout. I took my 3 Ingredient Flourless cookie recipe (which are also completely grain and sugar free!) and broke them into bite sized pieces, and stirred them in. For ease and convenience, use any slightly sweet cracker of your choice, but ensure it is sturdy- We don't want these bars to be full of crumbs!
To keep these S'mores Crunch bars vegan-friendly, I prefer using these vegan mini marshmallows. I was a little skeptical that they wouldn't melt well or be stiff, but they were perfectly fine. If you don't follow a vegan diet, you can use standard marshmallows. Try to use the mini variety, as they are more evenly dispersed and easier to slice into bite sized bars.
You'd be questioning how the 'gooey' factor of a s'mores comes into play here and it is very simple- You pour the warm chocolate mixture OVER the marshmallows and cookie chunks. This will see the marshmallows start to melt, along with the chocolate, providing a superior texture!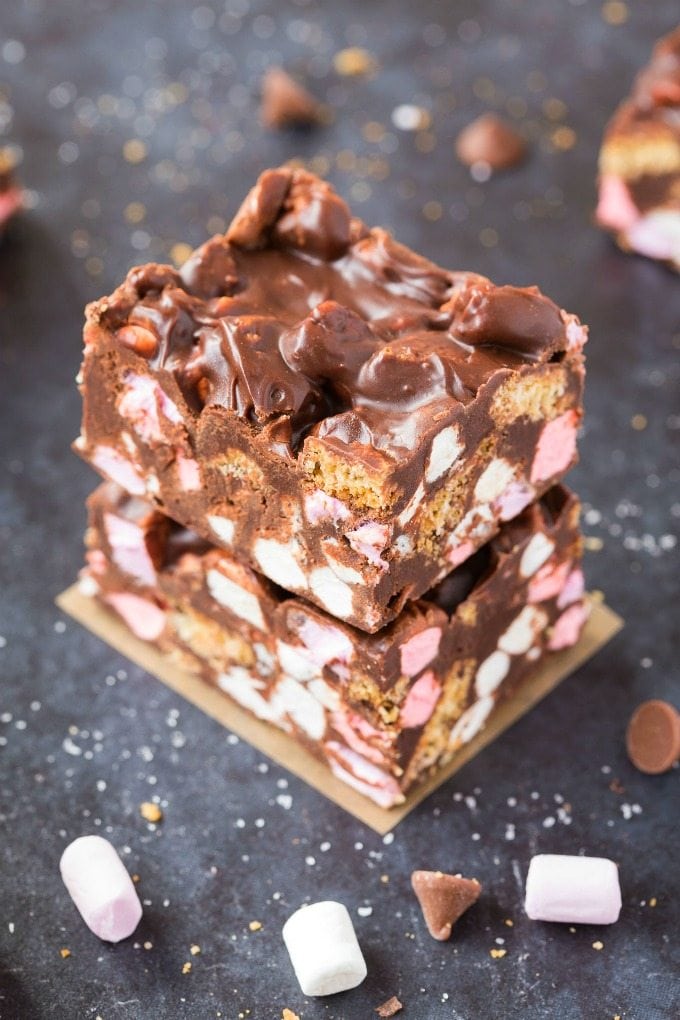 This recipe can easily be made sugar-free, with a few tested swaps. Instead of the pure maple syrup, use this monk fruit sweetened maple syrup. It is the only sugar-free syrup which mimics the texture of the original. For the chocolate, use the aforementioned unsweetened block or these stevia sweetened baking chips.
My cookies are completely sugar free, so you are covered in that respect, but as for the marshmallows, I've only tried these sugar free ones. Taste-wise and recipe wise, they were fine (used in the pictures), but be warned, they did not melt once the warm chocolate was added and the maintained their firm exterior.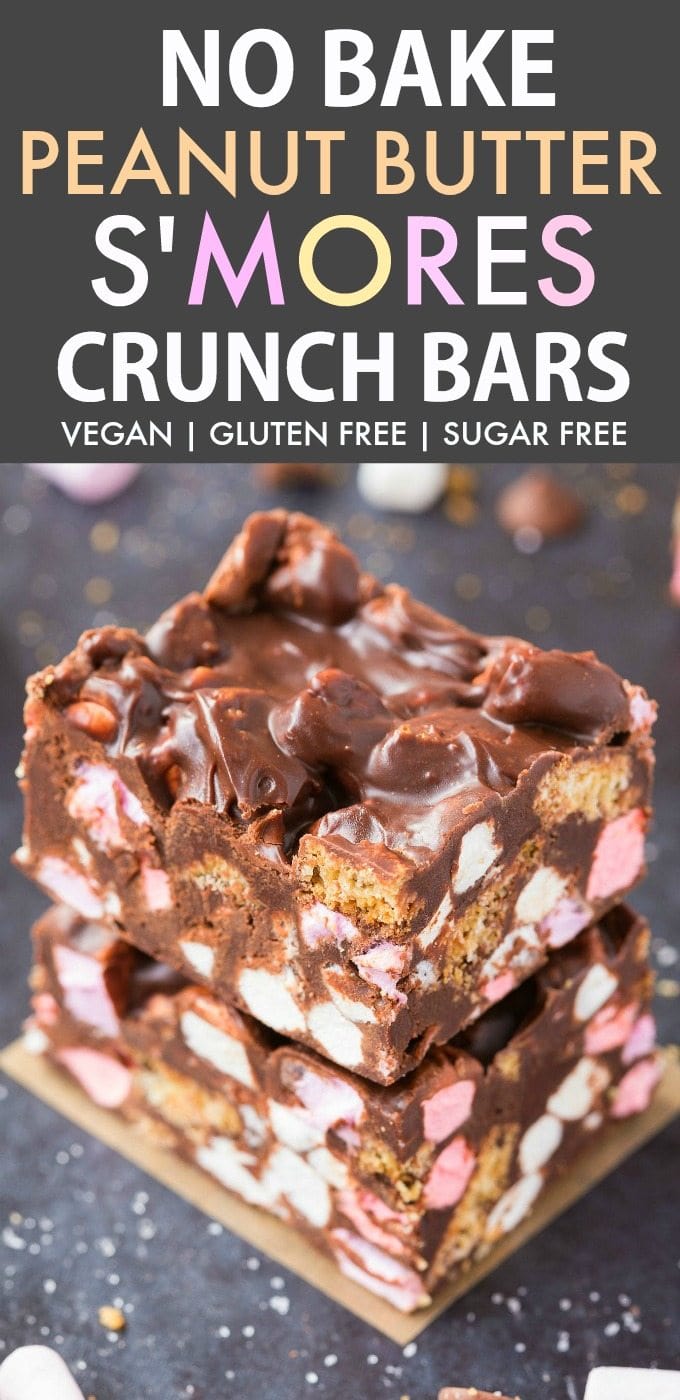 Swap the campfire S'mores for these homemade and fool-proof no bake S'mores Crunch Bars- All the deliciousness, minus the fire and the mess!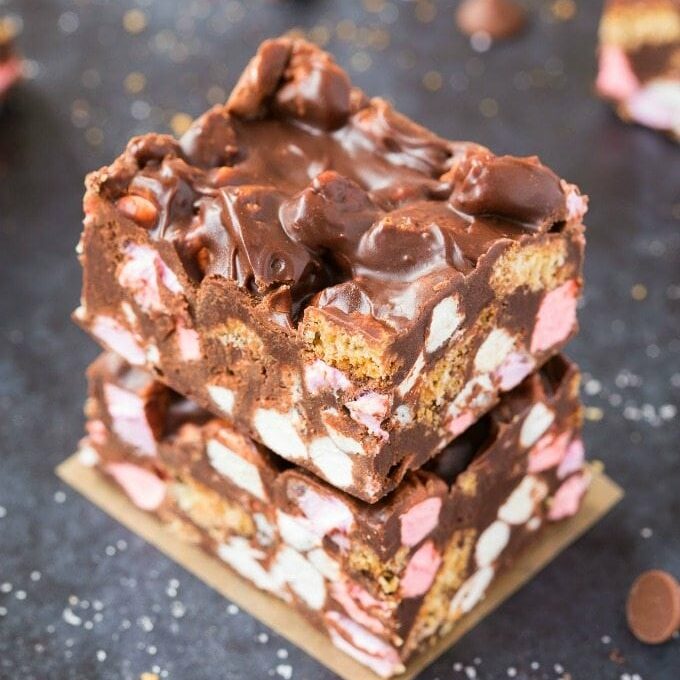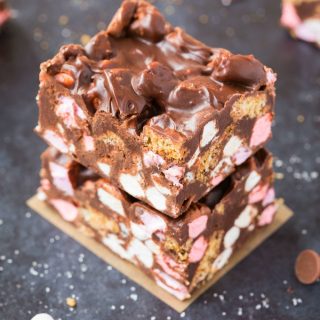 Healthy No Bake Peanut Butter Marshmallow Bars
Healthy No Bake Peanut Butter S'mores Crunch Bars using just one bowl, 5 ingredients and less than 2 minutes! This quick and easy snack or dessert is naturally gluten free, vegan, dairy free and can be made sugar free!
Instructions
Line an 8 x 8-inch baking dish or deep baking tray of choice with parchment paper and set aside.

Add crushed cookie pieces and marshmallows into a large mixing bowl and set aside.

In a microwave safe bowl or stovetop, combine your chocolate ingredients and heat until melted. Remove from microwave/off stove and pour over the cookies and marshmallows and mix until combined.

Transfer to lined baking dish and press firmly in place. Refrigerate until firm before slicing into pieces.
Notes
Healthy No Bake Peanut Butter S'mores Crunch Bars can be kept at room temperature in a sealed container. They are best kept refrigerated for up to 4 weeks.
Nutrition
Serving:
1
piece
Calories:
223
kcal
Carbohydrates:
21
g
Protein:
5
g
Fat:
15
g
Sodium:
70
mg
Potassium:
113
mg
Fiber:
2
g
Vitamin A:
5
IU
Vitamin C:
5
mg
Calcium:
35
mg
Iron:
1
mg
NET CARBS:
19
g
Disclosure: This post may contain affiliate links. I may earn a small commission for my endorsement, recommendation, testimonial, and/or link to any products or services from this website.