Healthy Slow Cooker Salted Caramel Mocha Oatmeal
A delicious, creamy and filling breakfast recipe which takes no prep at all, thanks to the slow cooker! This Healthy Slow cooker Salted Caramel Mocha Oatmeal has the flavors of the infamous Starbucks drink, minus the nasties! Naturally vegan, gluten-free, refined sugar-free and with a protein-packed option!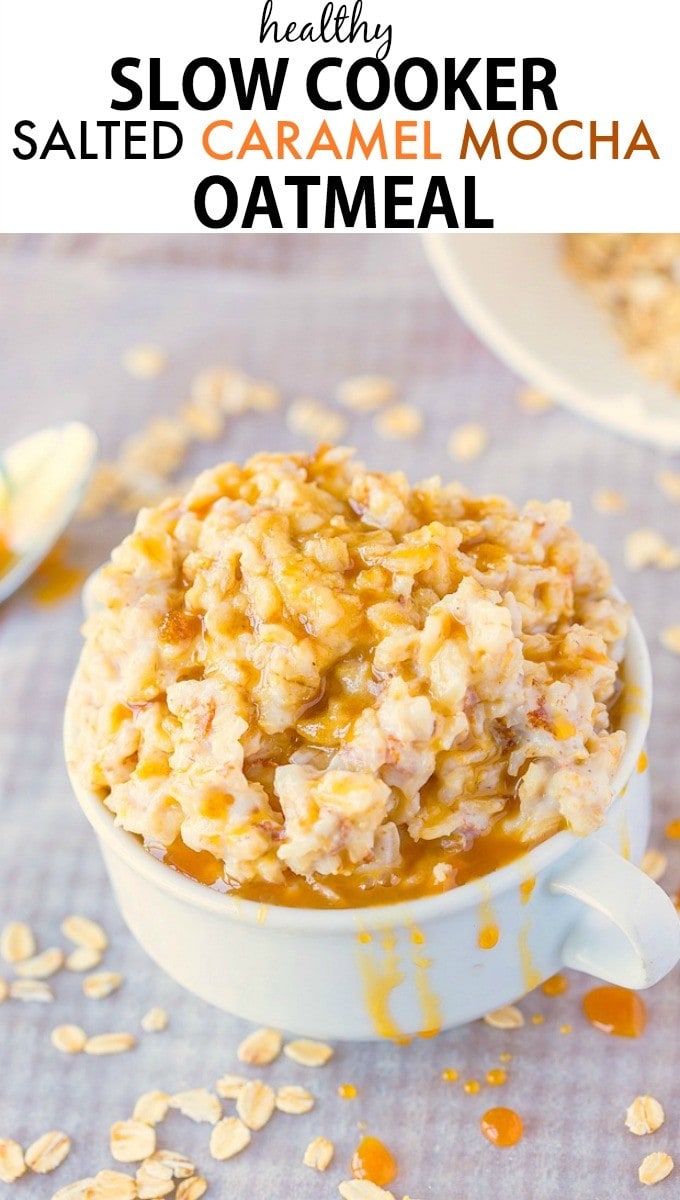 I solemnly swear that I am up to no good I do not have a Starbucks fetish.
You'd think with all these Starbucks inspired recipes I've been posting lately, I secretly wish I was a green, red or white cup. That would be correct. But outside of that, I blame my sugar fuelled state of creating recipes after trying out their sugar-laden drinks.
So far at the 'Bux, I've tried out most of the sweetened, flavored beverages a, along with most of their bakery range. While the first bite/sip is delicious, I honestly cannot finish it. I've been brought up with the 'clean plate' mentality but when it comes to Starbucks range- I surrender. Saying that, I might just be one big chicken when it comes to it. You know what would be pretty epic to try out? Seeing how Niki would plow through it. That girl's sweet tooth is insane and she can easily polish off skittles, sugar-laden hot chocolates and chocolate bars filled with raisins like a BOSS (lady).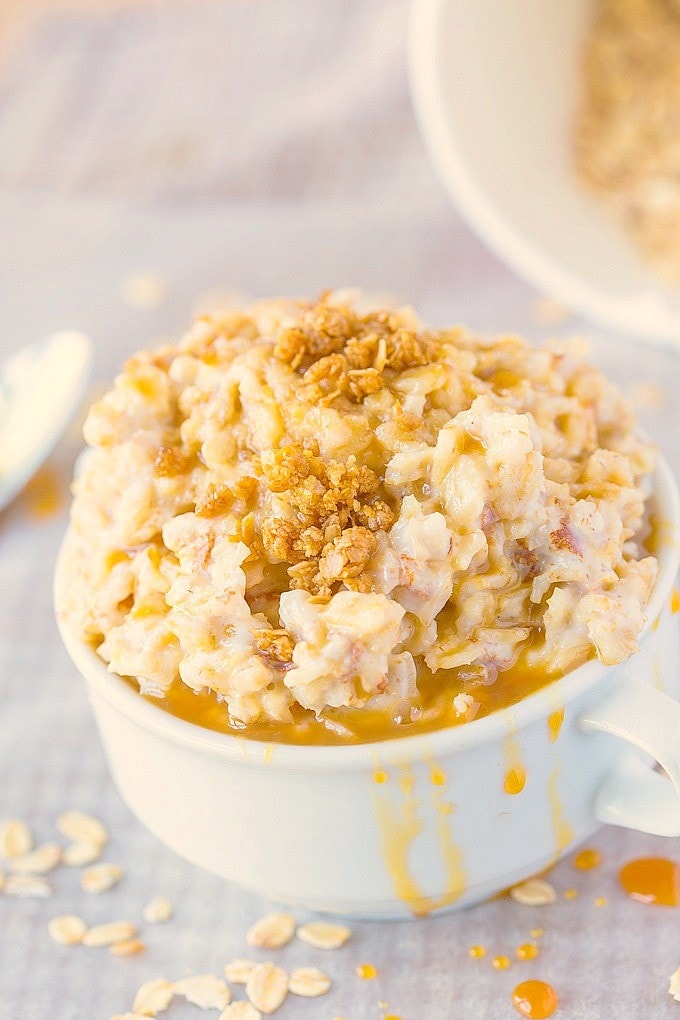 I'm surprised it took me so long to marry salted caramel and coffee together in a recipe. I used to always get the caramel syrups in my lattes back in Australia my favorite flavored coffee from the university cafe was one called a 'Cowboy Mocha'. Friends, it wasn't anything special. It was just a caramel latte with an epic name to lure naive goats into buying one.
Naive goats named Arman.
While the Starbucks Salted Caramel Mocha was indeed delicious, even after requesting just two pumps, it was way too sweet. I also found it hard to get any saltiness, but that could just be me. My salt tooth = ridiculous. Ridiculous as in I'd add salt to pickles (Not really, but just for perspectives sake). Instead of making a no-bake with this flavor (that's reserved for some fun ones coming up!), I thought to truly get into the Fall spirit and marry a Fall food favorite with a Fall/Winter utensil. Oatmeal + slow cooker = Done.
What was the result? Healthy Slow Cooker Salted Caramel Mocha Oatmeal.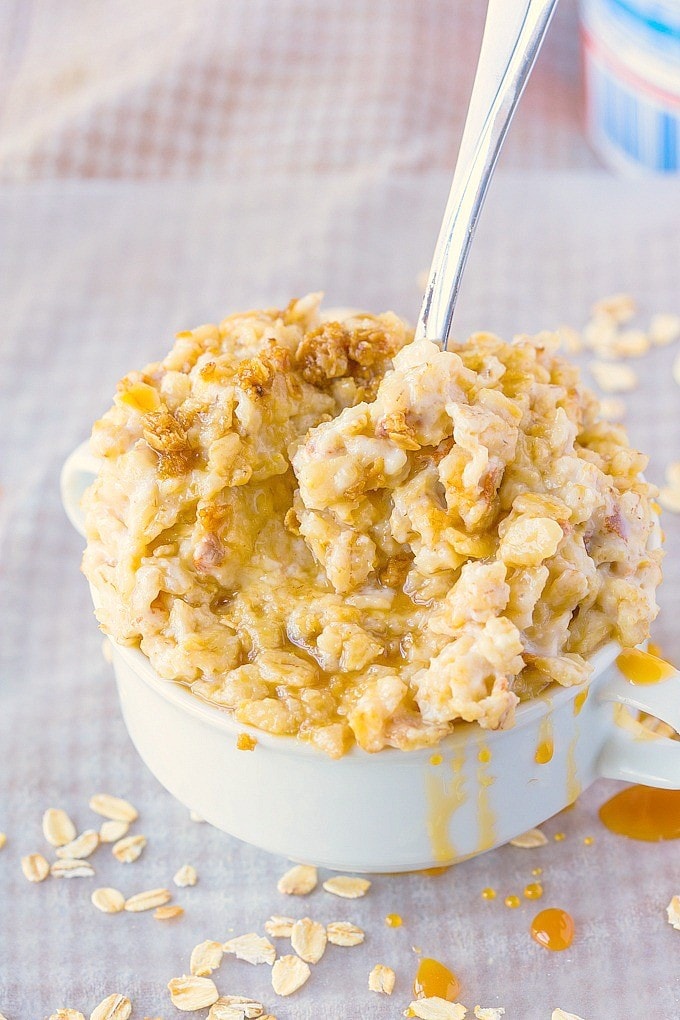 This Healthy Slow Cooker Salted Caramel Mocha Oatmeal is the perfect comforting breakfast or food to prep which takes no effort at all. While comforting, it is actually a healthy, stick-to-your-ribs-filling and good for you choice. I used a base of dairy-free milk, but kept it completely sweetener free, as the salted caramel drizzle was sufficient. I also opted to add some protein to it in the form of protein powder. For those who choose that option, do so just before you serve yourself- Let's just say my first attempt adding the protein powder in the slow cooker turned it into a delicious cement. Naturally vegan and gluten-free, it's also completely dairy-free and refined sugar-free too! For those who don't use a slow cooker or think it's too early- This can be adapted and made stovetop or in the microwave!
I know some out there aren't fans of coffee or can't handle large doses of caffeine after a certain time. You can certainly use decaffeinated coffee granules for this or simply omit it! For hardcore coffee lovers like myself, I love topping it with a few extra coffee granules because well… I'm hardcore.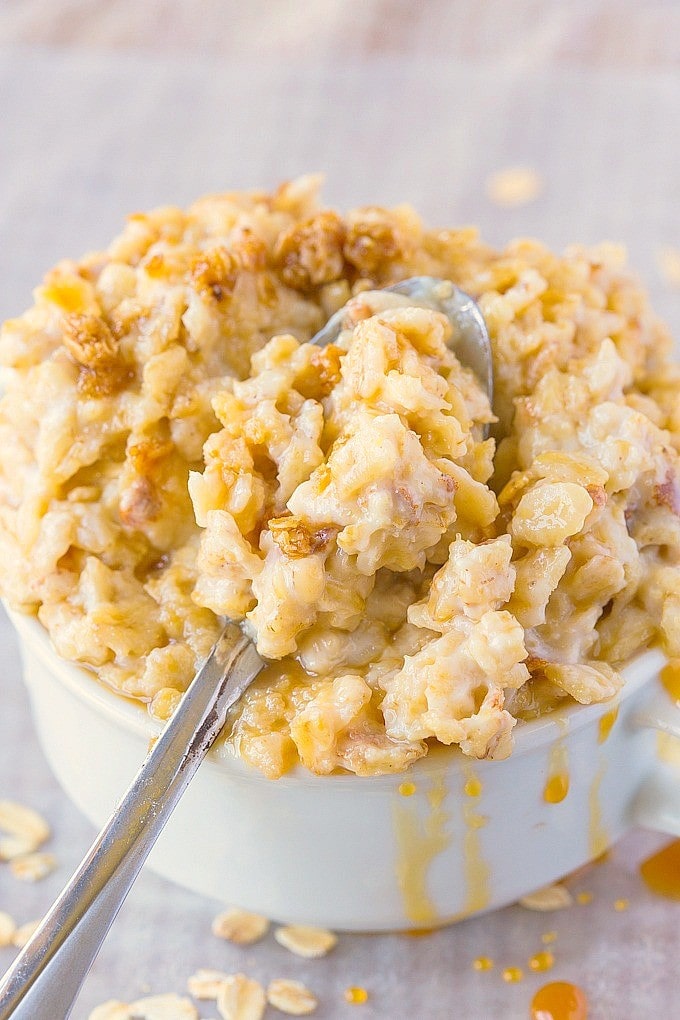 Make this healthy slow cooker salted caramel mocha and be set for healthy breakfasts, snacks or let's face it, brinner for days.
Now who wants to come over for cowboy Mochas?!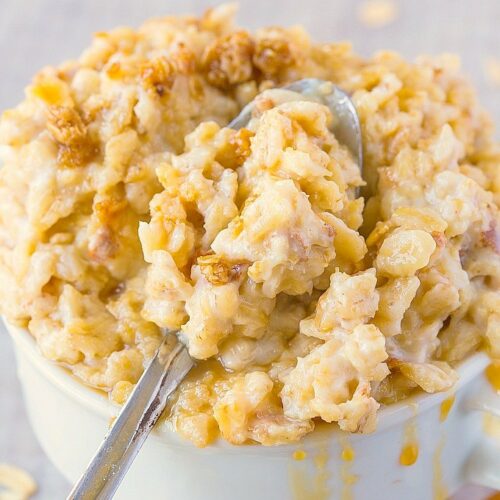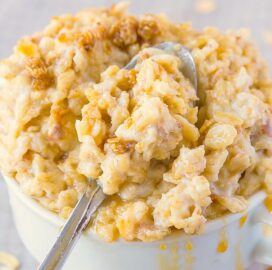 Healthy Slow Cooker Salted Caramel Oatmeal
heating a saucepan with the water and sugar until it begins to boil. Ensure you stir the mixture constantly. Add the sea salt and coconut oil (or butter) and continue stirring on medium heat until it thickens and remove from the heat.
Print
Rate
Ingredients
For the slow cooker oatmeal
For the salted Caramel sauce
1

cup

coconut sugar

or dark brown sugar

1/4

water

2

T

coconut oil

or butter

sea salt
Instructions
For the oatmeal
Combine all the ingredients in a large slow cooker and give it a good stir. Cover and cook on low for 7-8 hours.
For the salted caramel sauce
Heat a saucepan with the water and sugar until it begins to boil. Ensure you stir the mixture constantly. Add the sea salt and coconut oil (or butter) and continue stirring on medium heat until it thickens and remove from the heat.
For the preparation
Drizzle desired amount of salted caramel sauce into the oatmeal and mix well. Transfer oatmeal to bowls, if desired, add a scoop of protein powder (1 serving per bowl) and add a dash more milk. Top with caramel sauce and sea salt and any other toppings and enjoy.
Notes
* I like the very slight mocha taste- If you want a stronger coffee taste, add more. You can completely omit this if desired.
** Adjust accordingly. I prefer getting the sweetness from the protein powder and salted caramel.
Oatmeal can be frozen- You can mix the salted caramel sauce through it beforehand, just ensure it is fully incorporated.
Salted Caramel Mocha ain't the only oatmeal vibing here. Check out these (healthy!) beauties!
Sticky Cinnamon Roll Batter Oatmeal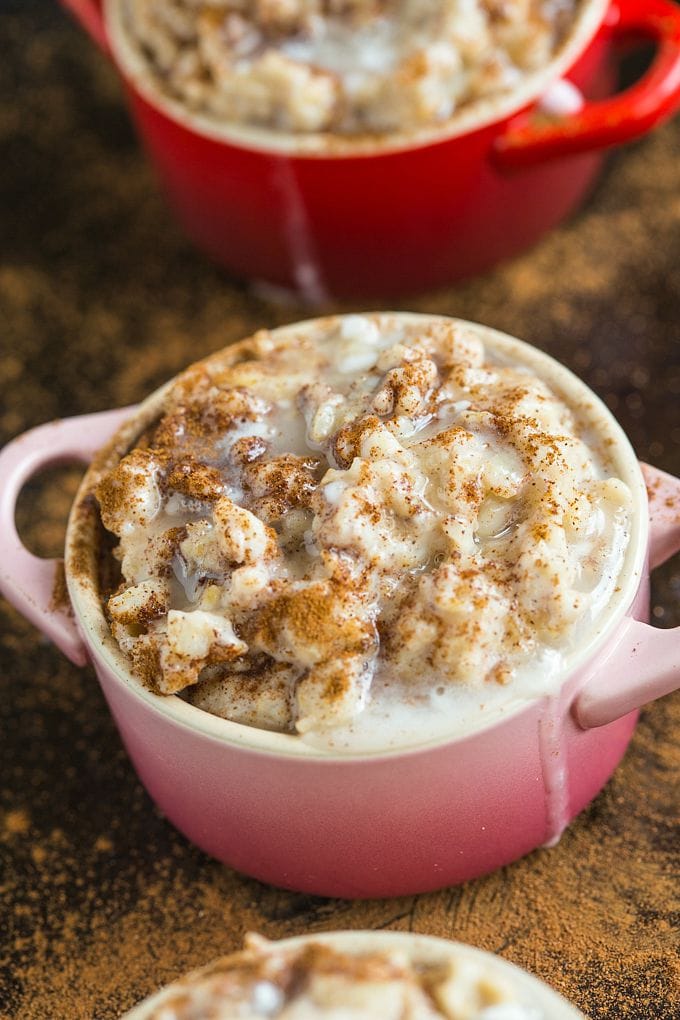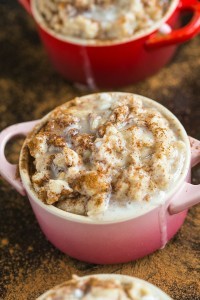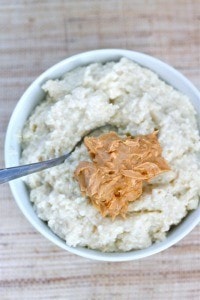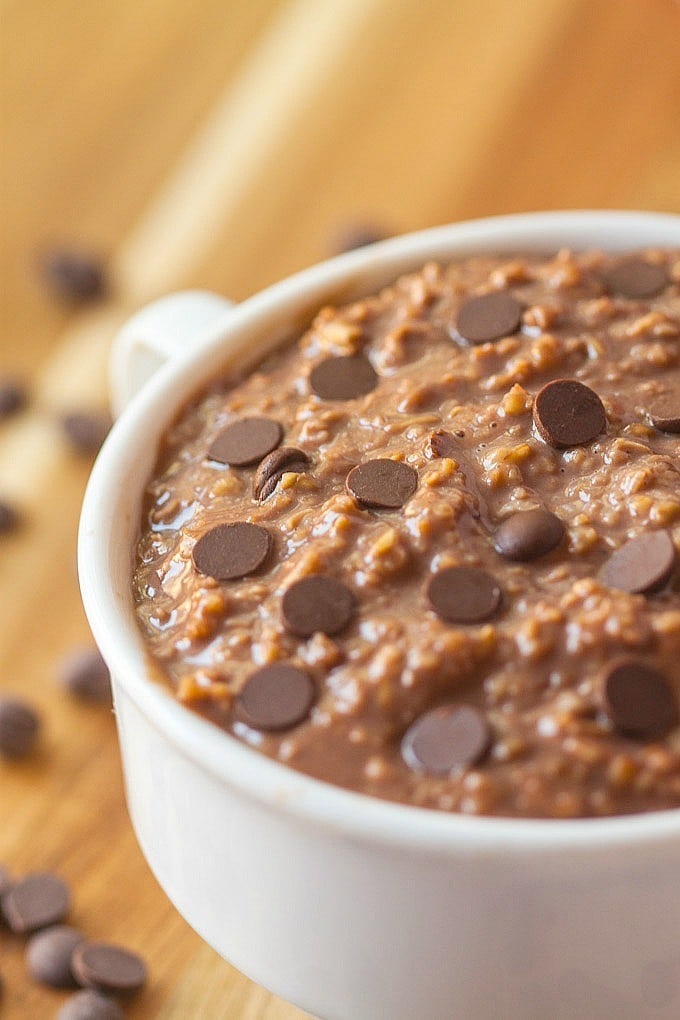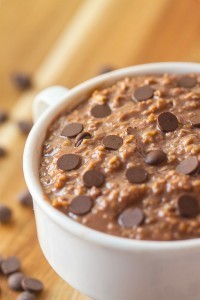 10 points to Gryffindor if you got the Harry Potter reference.
What food screams 'comfort' to you?
What is your hot beverage of choice? Cowboy mocha, minus the cowboy, mocha and add the black magic.