Homemade Paleo Vegan Snickers Cups without sugar or dairy. Homemade caramel, chocolate, and nuts are used to make these candy bars which taste better than store bought! Keto, Sugar Free, Low Carb.
If I had to choose one candy bar to enjoy every single day, Snickers will win, hands down. There is a reason why their tagline is 'Snickers Really Satisfies' and it sticks true to its word.
Being an avid fan of the popular candy bar, I asked myself how do you make a Snickers Bar?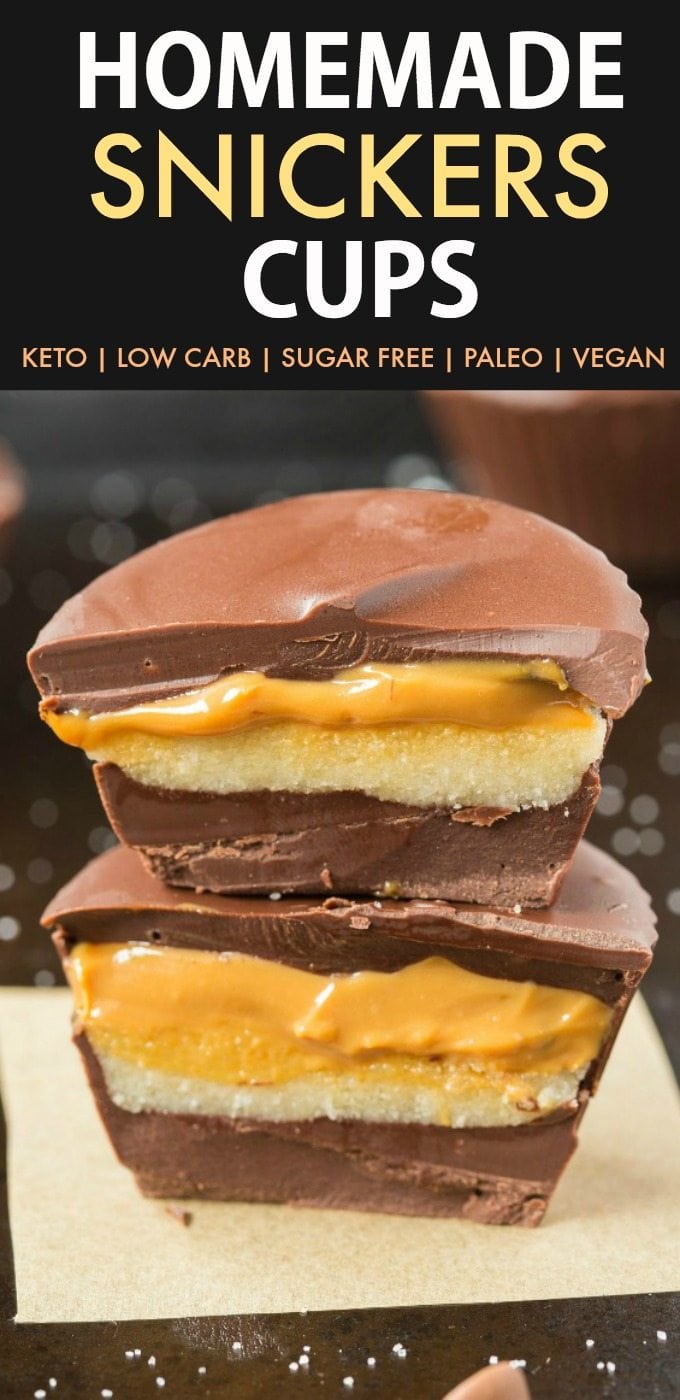 After some trial and error, I came up with a homemade recipe from scratch. I shared a recipe for homemade snickers bars with added protein. You guys loved the recipe, and have shared your recreations on social media like crazy!
Since then, there have been three main questions/requests thrown my way-
Is there a way to make the snickers bars without protein powder?
Is there a way to make Snickers keto diet friendly?
Can I make these even easier than before?
The answer is a big fat YES- In the form of SNICKERS CUPS!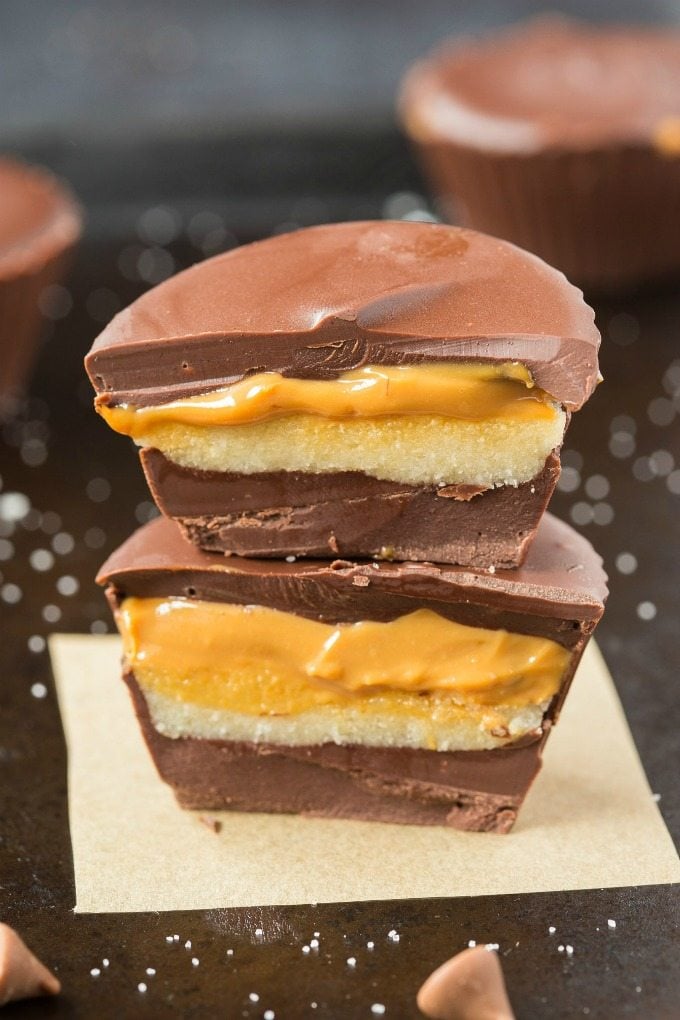 Need a little more convincing? These Healthy Homemade Snickers Cups are-
Homemade
Dairy free and sugar free
Low Carb
Quick and Easy
No bake
Chocolate, gooey caramel and crunchy nuts
Can a Vegan, Paleo and ketogenic diet follower eat Snickers bars?
The traditional Snickers Bar certainly does not cover any of these dietary lifestyles. This is why I ensured my version covered all the bases. Not only are they vegan, paleo and keto friendly, they are also completely sugar-free, dairy free and low carb.
Are Snickers bars healthy and good for you?
My homemade snickers bars and these homemade snickers cups are definitely better for you than store-bought, both in terms of taste and nutritional profile.
My version uses wholesome refined sugar free ingredients, low carb flour blends, and homemade chocolate, making them the ultimate guilt-free snack or dessert.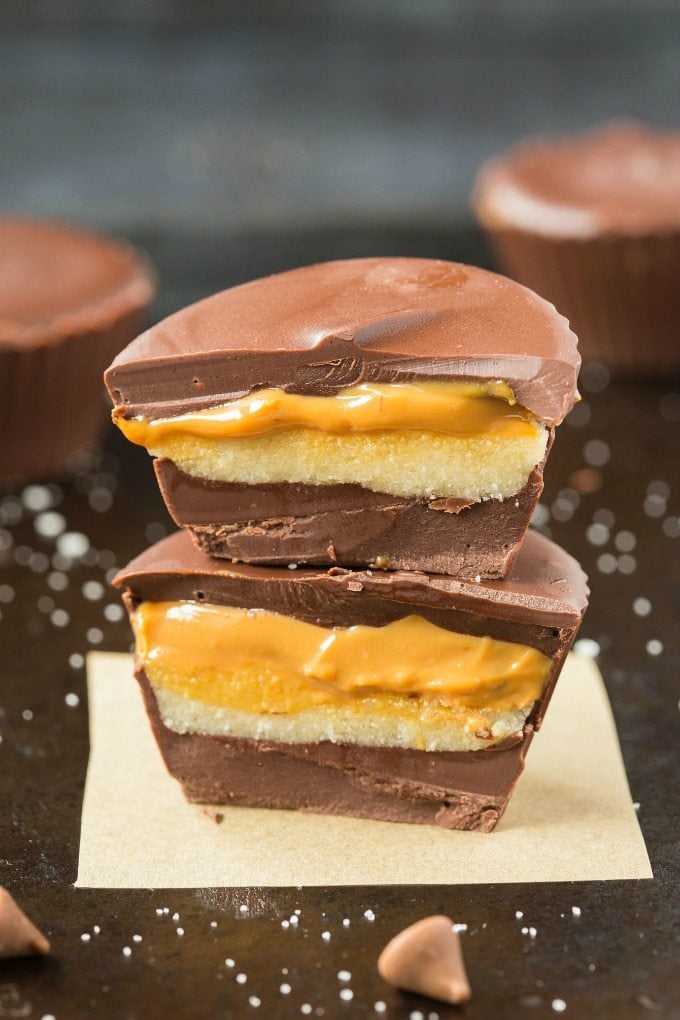 Homemade Paleo Vegan Caramel Sauce (Just 3 Ingredients!)
Caramel sauce without any dairy or condensed milk can be difficult, but there is a way around it and it only needs 3 Ingredients- Nut or seed butter of choice, sticky sweetener of choice and coconut oil!
Nut/Seed Butter favorites-
Almond Butter– I love using almond butter as a mild tasting nut butter which works well in this recipe. It isn't overpowering and adds a creamy light flavor.
Cashew Butter– Similar to almond butter, cashew butter is smooth and mild and has a richer flavor to it.
Peanut Butter– Although non-paleo compliant, peanut butter works well and is considerably cheaper than all other nut or seed butter. However, the flavor is very overpowering to make sure you are a big fan of it!
Sunflower Seed Butter or Soy nut butter– Your best nut-free alternatives which both taste delicious and have a similar consistency to peanut butter.
Sticky Sweetener of choice favorites-
Unless you are choosing the low carb/keto option, you can use-
If you need the caramel to be low carb/sugar free, use a monk fruit sweetened maple syrup– Low GI too!
Homemade Keto and Low Carb Caramel Sauce
Having never made a keto friendly and low carb caramel sauce before, I scoured the net and found this recipe which only uses three ingredients- unsalted butter, heavy cream, and erythritol.
Please note- This particular caramel is not vegan-friendly. You'll also need to move quickly when filling your snickers cups with it, as it can be quite thick.
Homemade or store bought baking chocolate
To keep these Snickers cups 100% keto-friendly and sugar-free, make your own chocolate shell by using cocoa powder, coconut oil and liquid sweetener of choice.
Here are some store-bought options-
Enjoy Life Baking Chips– My favorite chocolate chips for baking (and snacking), these chocolate chips are also paleo, vegan and dairy free!
Lily's Baking Chips– These chocolate chips melt beautifully and are stevia sweetened. They are also keto friendly and low carb.
More delicious Healthy Snickers inspired recipes? Gotcha covered!
Low Carb Snickers Breakfast Smoothie
Snickers Overnight Protein Oatmeal
No Bake Paleo Vegan Chocolate Hazelnut Cookies
20+ Healthy Homemade Candy Recipes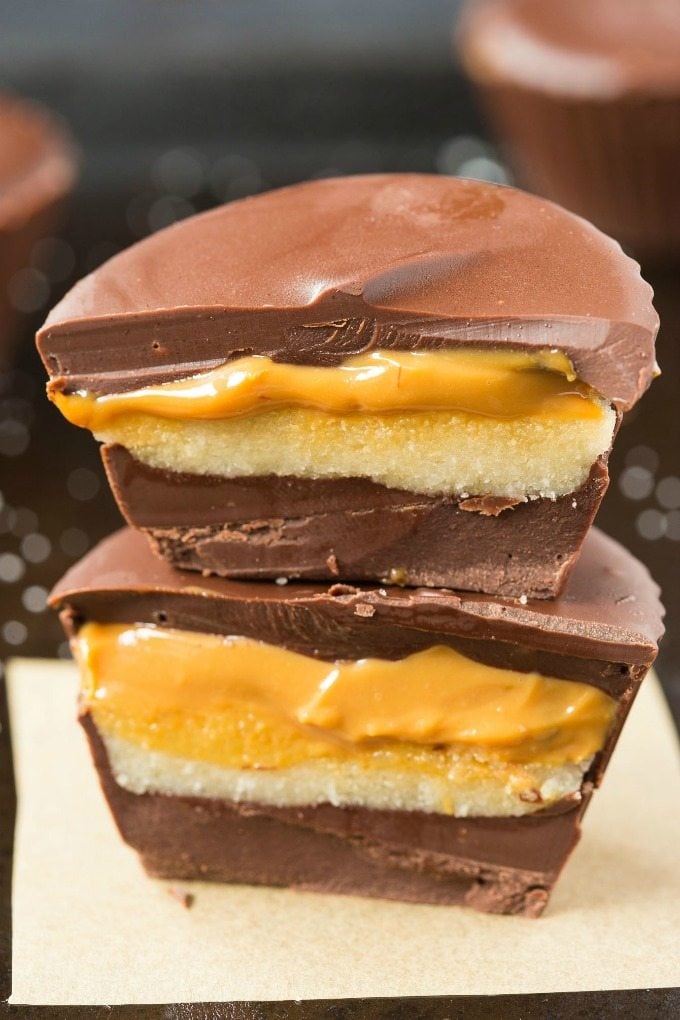 Watch how to make easy Snickers bars below!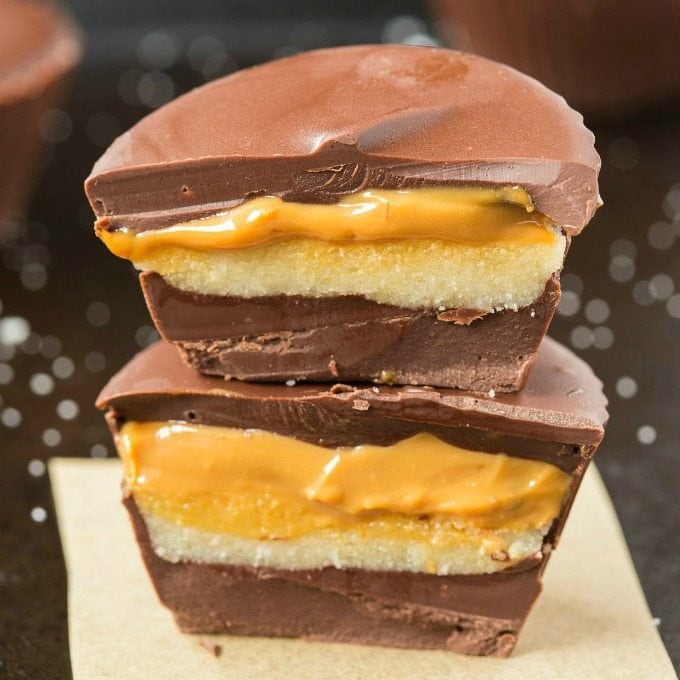 Homemade Paleo Vegan Snickers Cups (Keto, Sugar Free)
Homemade Paleo Vegan Snickers Cups without sugar or dairy. Homemade caramel, chocolate, and nuts are used to make these candy bars which taste better than store bought! Keto, Sugar Free, Low Carb.
Ingredients
for the chocolate coating
Instructions
Lightly grease a 20-count muffin or mini muffin tin or place muffin liners in them. Set aside.

Melt 2 cups of chocolate chips of choice (or homemade chocolate) and divide evenly between the muffin liners, scraping down the sides to ensure it is fully coated in chocolate. Refrigerate.

While chocolate if firming up, prepare your nougat filling by combining all the ingredients in a large mixing bowl, ensuring it is all fully incorporated. If the batter is too thick and crumbly, slowly add more milk of choice until desired nougat texture remains.

Remove the chocolate cups from the refrigerator and fill each cup halfway with the nougat filling. Once this is done, refrigerate again.

Prepare your caramel sauce. Using a microwave or stovetop, melt your nut/seed butter, sticky sweetener of choice and coconut oil. Whisk very well to ensure it is fully combined. Allow to cool and thicken.

Once the caramel has cooled and thickened, pour over the chocolate cups. Refrigerate once more until firm.

Melt the remaining chocolate chips and top up each of the cups. Refrigerate until firm then enjoy!
Notes
* If making homemade chocolate, use 1 cup cocoa powder, 1 cup coconut oil, and desired sweetener.
** If the batter is too crumbly, you'll likely need more.
Homemade Paleo Vegan Snickers Cups can be kept at room temperature, only if using pre-bought chocolate chips. If using homemade chocolate, it needs to be kept refrigerated.
These cups are also freezer friendly and can keep for up to 2 months in an air-tight container.
Nutrition
Serving:
1
cup
Calories:
89
kcal
Carbohydrates:
3
g
Protein:
4
g
Fat:
7
g
Potassium:
4
mg
Fiber:
2
g
Vitamin A:
150
IU
Vitamin C:
2.5
mg
Calcium:
30
mg
Iron:
0.4
mg
NET CARBS:
1
g

Disclosure: This post may contain affiliate links. I may earn a small commission for my endorsement, recommendation, testimonial, and/or link to any products or services from this website.