A healthy homemade candy bar copycat recipe of the famous Twix, given a paleo, vegan and gluten-free makeover! This no-bake recipe is also sugar-free and dairy free, and perfect for dessert or snack!

When I asked on Instagram as to which recipe you want next, I wasn't surprised that my healthy homemade Twix bar recipe beat out the fudge. It's been one of the most reader requested recipes to DATE!
It's no secret I'm a fan of giving candy bars a healthy makeover. Way back in 2014, I shared a coconut bounty recipe. I recently gave it a protein-packed makeover. Since then, snickers bars, Mars bars and even the humble kit kat made an appearance.
Not only do my homemade versions taste like the real deal, it's something you can feel good about enjoying regularly.
Today's recipe is WELL overdue!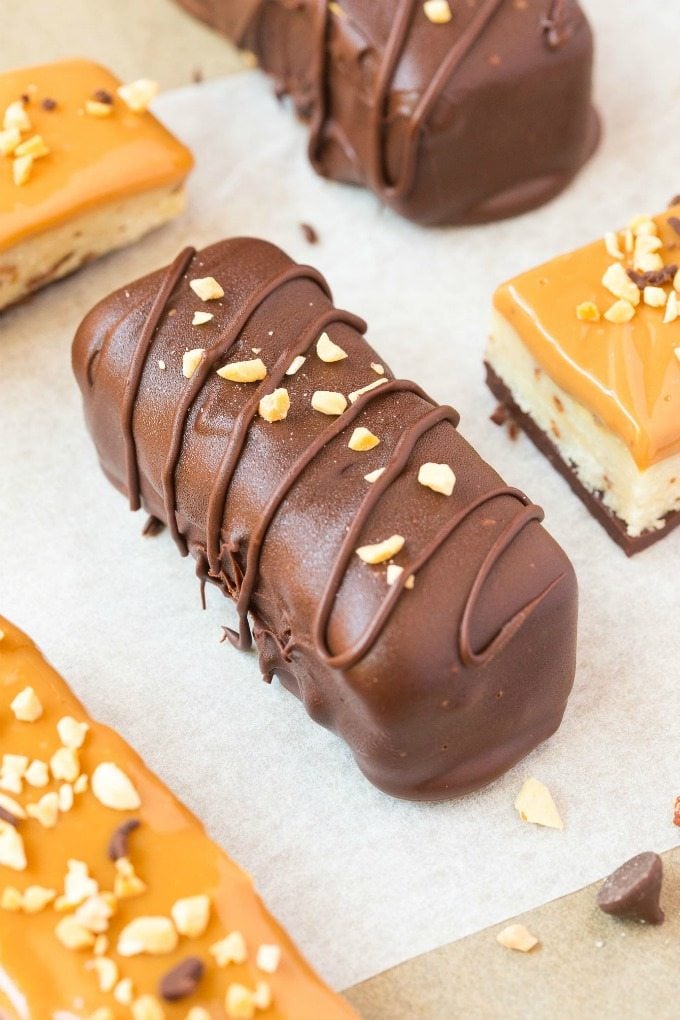 When creating this Twix copycat, there were a few key questions I needed to knuckle down before the experimentation began.
What exactly is a Twix made out of?
A traditional Twix candy bar is based on three layers- The first is a biscuit/cookie layer, a little sweet but nothing too fancy. The second layer is a thin, chewy caramel layer. All of this is covered in milk chocolate and voila- You have a Twix candy bar.
If we dig a little deeper and check out the ingredients, it includes several forms of sugar, flour, and other additives. For my friends who follow various dietary lifestyles, you are kind of limited.
My homemade version not only boasts a healthy and clean ingredient list (and significantly shorter too!), it's also paleo, vegan, gluten-free, grain-free, low carb and can be made completely sugar free!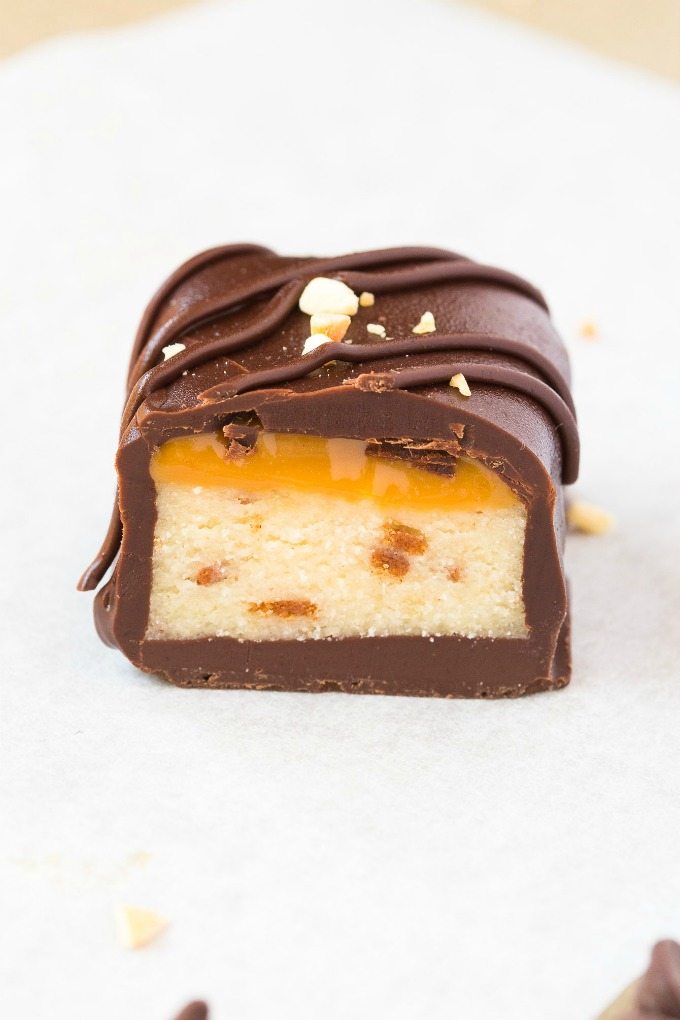 Which leads to the next question…
How do you make homemade caramel cookie Twix AND keep it healthy?
Actually, it's easier than you think and you won't even need to turn on the oven!
It's an easy 3-step process-
Prepare and make the shortbread-like biscuit base and set to firm
Make the drippy homemade naturally sweetened thick and chewy caramel, pour over the biscuit base and freeze
Melt your chocolate of choice and dip each Twix bar in it and refrigerate once more until firm
Voila- You now have homemade Twix!
For my cookie slash shortbread-like base, I used both coconut flour and almond flour. Using the combination of the two allowed the base to be chewy, yet firm enough to hold the gooey caramel layer.
As this recipe requires no baking, you will want the base to be an almost dough-like texture. Coconut flour is a little bit trippy, as it requires more liquid (like milk) than other flours. Be sure to have some extra milk or non-dairy milk on hand. You can easily add a little bit in until the texture is achieved.
PS- I love a little bit of texture, so added some crumbled cookie pieces throughout it.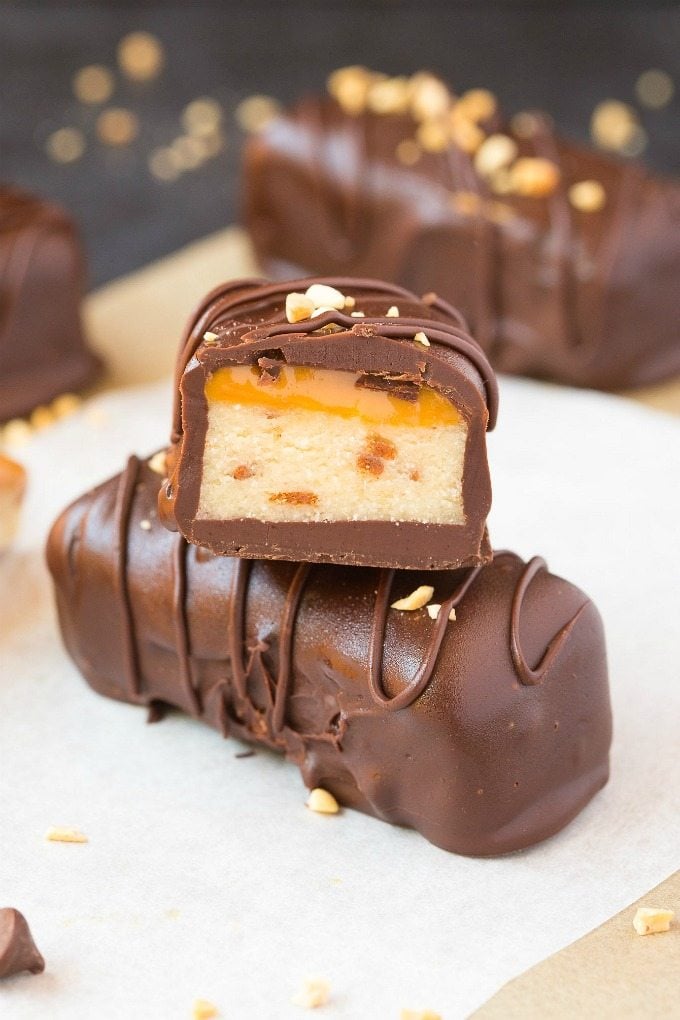 The gooey caramel layer is my simple three-ingredient (or technically two!) homemade caramel recipe- Melted almond butter, a sticky sweetener, and some coconut oil. Because I wanted to keep the recipe completely sugar free, I used a monk fruit sweetened maple syrup. Feel free to use maple syrup or agave as alternatives.
Technically, the coconut oil can be omitted, but it really takes the taste and texture up a notch.
Caramel tip! If you want your caramel to be ultra-gooey and drippy (as pictured), continue heating the three ingredients until warm and very well combined. For an ultra thick and chewy caramel, melt at very low heat until just combined, and whisk very well. You'll find that it is almost like a thick pudding texture. The latter also works well if you omit the coconut oil completely.
Coating the bars in chocolate is the final step and you can be a little selective here with just how much you add. In the recipe card, I suggest 2 cups of chocolate chips, but this produces a thin layer around each bar. If you prefer a thicker coating, feel free to double the amount.
Alternatively, you can simply reduce the amount of chocolate and leave it as a single layer on the base. If you check out the picture below, that is what I did with it and didn't end up coating those ones with any excess chocolate.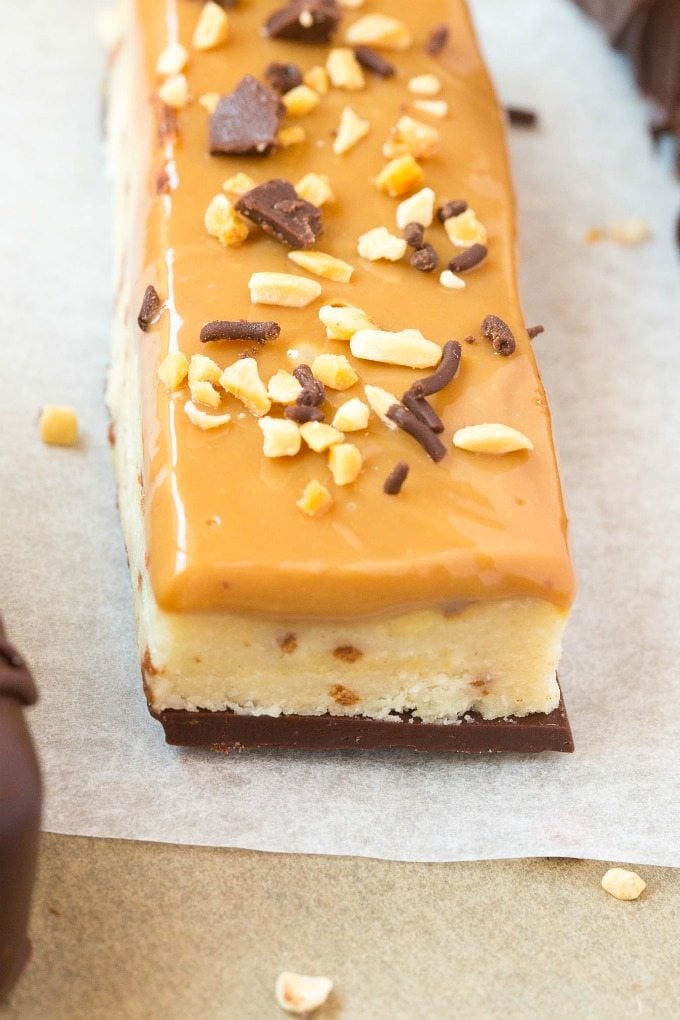 Remember, to keep these 100% sugar-free, use the correct chocolate chips, like these stevia sweetened ones. To keep them refined sugar-free, these paleo and vegan-friendly chips work a treat!
I was curious on the nutritional statistics to compare the store bought version versus my homemade version. I had to find out how many calories are in a Twix caramel cookie bar?
Standard Twix caramel cookie bar- 250 calories, 34 grams of carbs (of which 24 grams is sugar!), and a mere 2 grams of protein.
My healthy homemade Twix cookie bar- For 18 bars, you'll be looking at 111 calories, 4 grams of net carbs, 1 gram of sugar and get this…4 grams of protein! You could even cut these into large bars (twice this size) and still beat the original.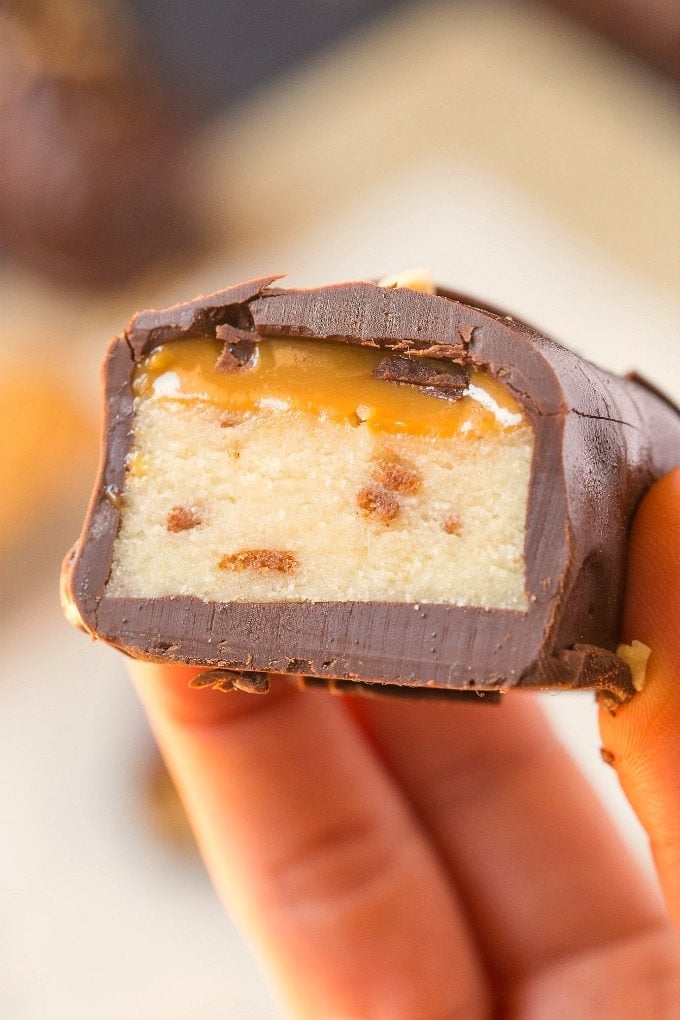 Not only are my homemade Twix bars much healthier in terms of ingredients, they are also considerably lower in calories, carbs and sugar that it's traditional counterpart.
While I am not one to really count calories or focus on macronutrients, my homemade Twix kicks it out of the ballpark on both counts. The homemade Twix cookie bar has fewer calories, fewer carbs, but boasts considerably more fiber, and protein!
A low carb, protein-rich candy bar? I'm game!
With three delicious healthy layers, my homemade Twix cookie bars will soon be a huge hit. I can't believe it took me so long to share it on here!

Homemade Paleo Vegan Twix Bars (Vegan, Sugar-Free, No Bake) adapted from my Snickers Bars.
Share this recipe on Pinterest
Love this Homemade Paleo Vegan Twix Bars (Vegan, Sugar Free, No Bake) recipe?
Share it with the world on Pinterest.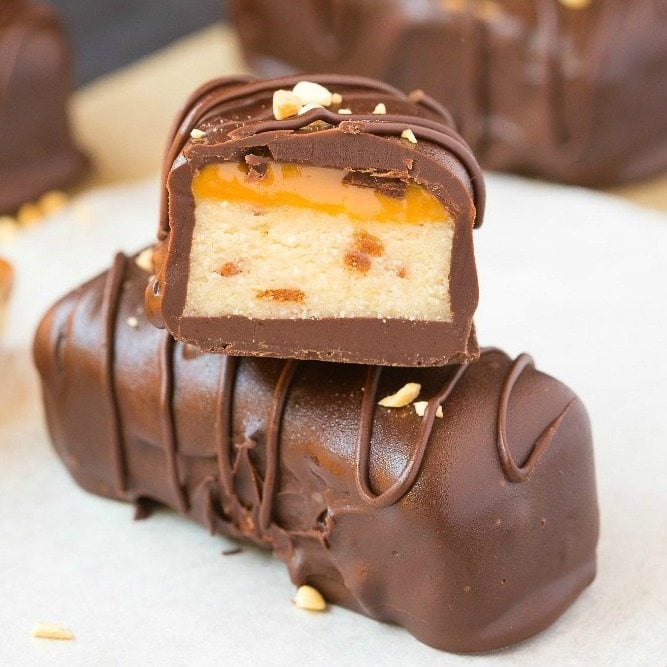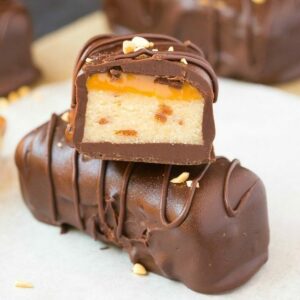 Homemade Paleo Vegan Twix Bars
A healthy homemade candy bar copycat recipe of the famous Twix, given a paleo, vegan and gluten-free makeover! This no-bake recipe is also sugar-free and dairy free, and perfect for dessert or snack!
Ingredients
For the chocolate coating
Instructions
Line an 8 x 8 inch or 8 x 10-inch baking dish with parchment paper and set aside.

In a large mixing bowl, combine your dry ingredients and mix well. Add your sticky sweetener of choice and mix until a crumbly texture remains. Add your milk of choice- A thick dough should remain. If too crumbly, slowly add more milk until achieved. Transfer cookie base to the lined pan and refrigerate.

In a microwave-safe bowl or stovetop, combine all your caramel ingredients and heat until combined. For an ultra drippy caramel, continue to heat under almost boiling. For a thick and chewy caramel, remove from heat when ingredients are just melted.

Once the caramel is done, pour over the cookie base and place in the freezer until firm.

When the bars are thick and firm, cut into bars and place back in the freezer. Melt your chocolate and start dipping each bar in the chocolate. Continue doing so until all bars are combined. Place in the fridge or freezer until firm.
Notes
For a thicker chocolate coating, consider doubling the amount of chocolate chips. Alternatively, you can cut down on it and simply drizzle on top.
Homemade Paleo Vegan Twix Bars can be kept at room temperature, but only if entirely coated in the chocolate. They are best kept refrigerated and are freezer friendly.
Nutrition
Serving:
1
bar
Calories:
111
kcal
Carbohydrates:
8
g
Protein:
4
g
Fat:
7
g
Fiber:
5
g
NET CARBS:
3
g
More healthy homemade candy recipes? Gotcha covered!
No-Bake Almond Joy Protein Bars
Low Carb Snickers Breakfast Shake
3 Ingredient Maple Almond Fudge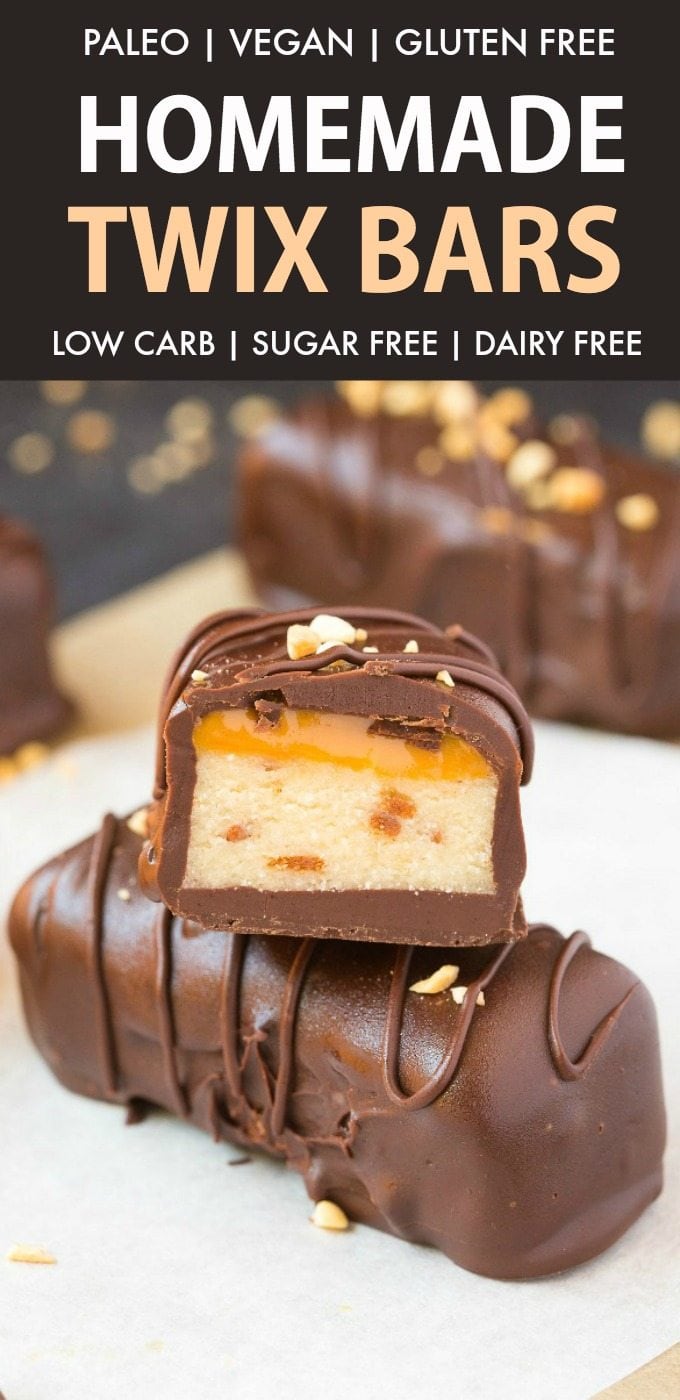 The Big Man's World is a participant in the Amazon Services LLC Associates Program, an affiliate advertising program. This means that if you click and make a purchase, TBMW receives a small commission, at no cost to you. Cheers, hugs, and handshakes for supporting TBMW!
Disclosure: This post may contain affiliate links. I may earn a small commission for my endorsement, recommendation, testimonial, and/or link to any products or services from this website.