Learn how to make your own high protein pancake mix using just 4 ingredients! This homemade protein pancake mix needs just 4 ingredients and has no dairy, no eggs, and no gluten- it's cheaper and BETTER than store bought protein pancake mixes. 24 grams protein per serving.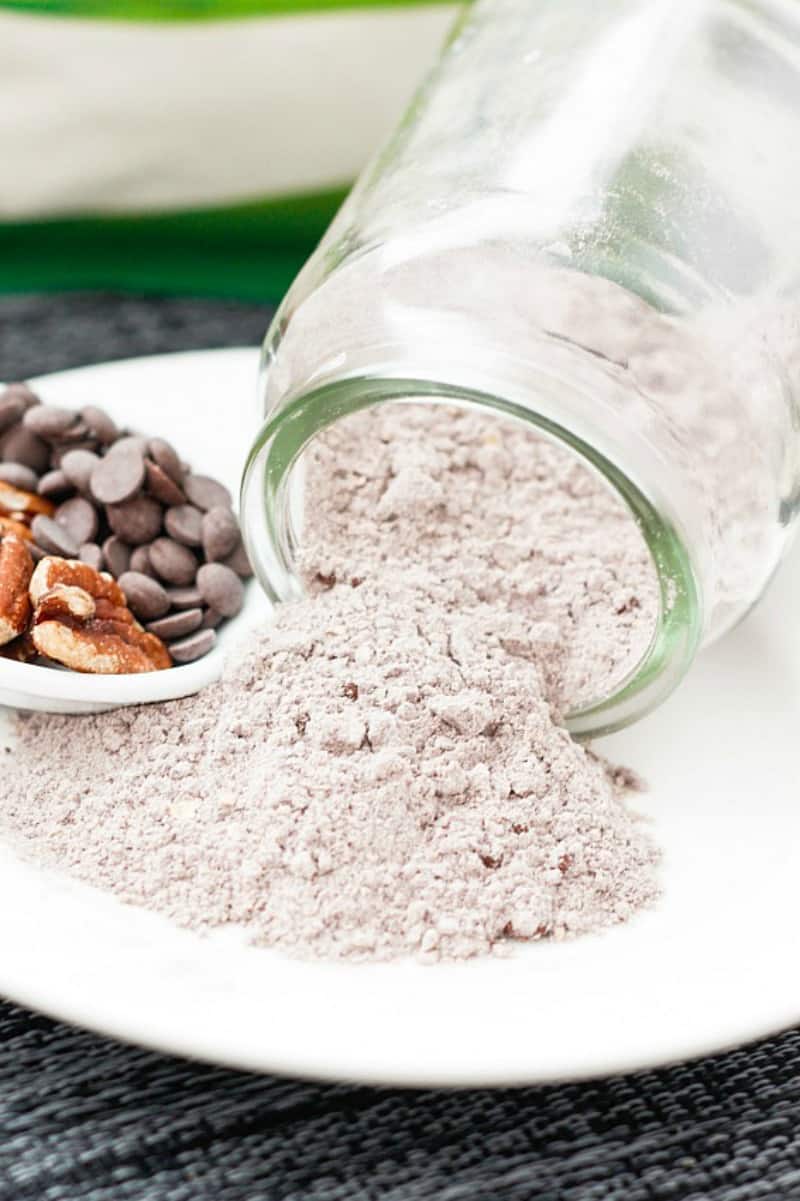 The market is full of protein pancake mixes. From Birch Benders, Krusteaz, Aunt Maple's, and Kodiak- There are options for everyone! Heck, even Trader Joe's have released their own protein pancake mix.
Now, as someone who LOVES convenience, protein pancakes used to be something I wouldn't be able to enjoy regularly. I always thought it to be too time consuming to prepare protein pancakes, especially if it was mid-week. The idea of making a mess in the kitchen and meticulously measuring out the ingredients just was NOT appealing.
Not anymore.
It is SO easy to make your own homemade protein pancake mix. No eggs, no milk, and just 4 simple ingredients. You only need to add water or your favorite milk to make a stack of thick, fluffy protein pancakes.
Why make your own protein pancake mix?
Making your own protein pancake mix is not just easier, but it is healthier too. You know EXACTLY what goes into the mix, and only wholesome and clean ingredients.
If you look at store bought protein pancake mixes, you will see added sugar, added sodium, and even strange ingredients like vital wheat gluten and corn starch.
My homemade pancake mix has none of those. It's also suitable for vegan, gluten free, and dairy free diets.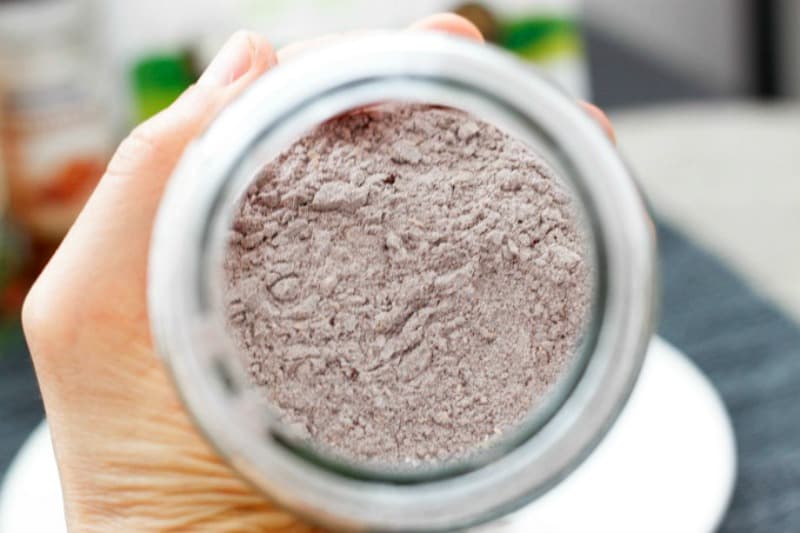 How to make your own protein pancake mix
The Ingredients
Oat Flour– You can use store bought oat flour or homemade oat flour. Be sure that you use certified gluten free oats, to ensure this high protein pancake mix is gluten free.
Protein Powder– Unflavored or vanilla flavored protein powder. Use either a brown rice protein powder or other vegan and gluten free protein powder.
Granulated sweetener of choice– To sweeten the pancakes, without sugar or calories! Use either monk fruit sweetener or erythritol.
Baking powder– To leaven out the pancakes to make them thick and fluffy.
The Instructions
Simply mix together all your ingredients in a mixing bowl, then transfer to a glass jar or sealable container.
When ready to make protein pancakes from the protein pancake mix, combine 3/4 cup of the protein pancake mix with 1/4 cup milk or water. If the batter is too thick, slowly add a little extra liquid 1 tablespoon at a time, until a thick but smooth batter remains. Add any flavor or ingredient mix-ins and cook the pancakes.
Protein Powder Recommendations
This protein pancake mix can use any protein powder, so use whichever you have on hand and you enjoy the taste of. The only difference is the different blends and also different amounts of liquid you will add to make the pancake batter.
Brown Rice Protein Powder– The best vegan and gluten free protein powder to use for the mix. It is thicker than other types, so you'll need to add more milk or water when preparing the protein pancake batter.
Raw Plant Protein Powder– A more pure plant based protein powder. This kind tends to have an earthy flavor and texture.
Casein Protein Powder– Casein protein powder is not vegan, but it is gluten free. Use casein protein powder for a thicker and fluffier protein pancake.
Whey Protein Powder– Also not vegan, whey protein powder is the 'cleanest' protein powder. I don't recommend whey protein powder as the pancakes are thinner.
Can I add an egg to the protein pancake mix?
I opted to keep this protein pancake mix vegan, both pre-made and post-made. I haven't tried adding eggs to it, as the baking powder already gives it the fluffy and thick texture.
Storage Tips
Homemade protein pancake mix should always be stored in a sealable container at all times. Jars and containers are all great choices.
Protein Pancake Mix Flavor Ideas
Banana Protein Pancakes– Add 1/2 cup mashed bananas to the batter, and top with extra sliced bananas.
Vanilla Protein Pancakes– Add 1/2 teaspoon vanilla extract into the batter.
Blueberry Protein Pancakes– Fold through 1/2 cup fresh or thawed from frozen blueberries into the batter. Serve with extra blueberries.
Chocolate Protein Pancakes– Add 1-2 tablespoons of cocoa powder to the dry mix before forming the pancake batter. If desired, fold through some chocolate chips.
Peanut Butter Protein Pancakes– Drizzle with plenty of peanut butter!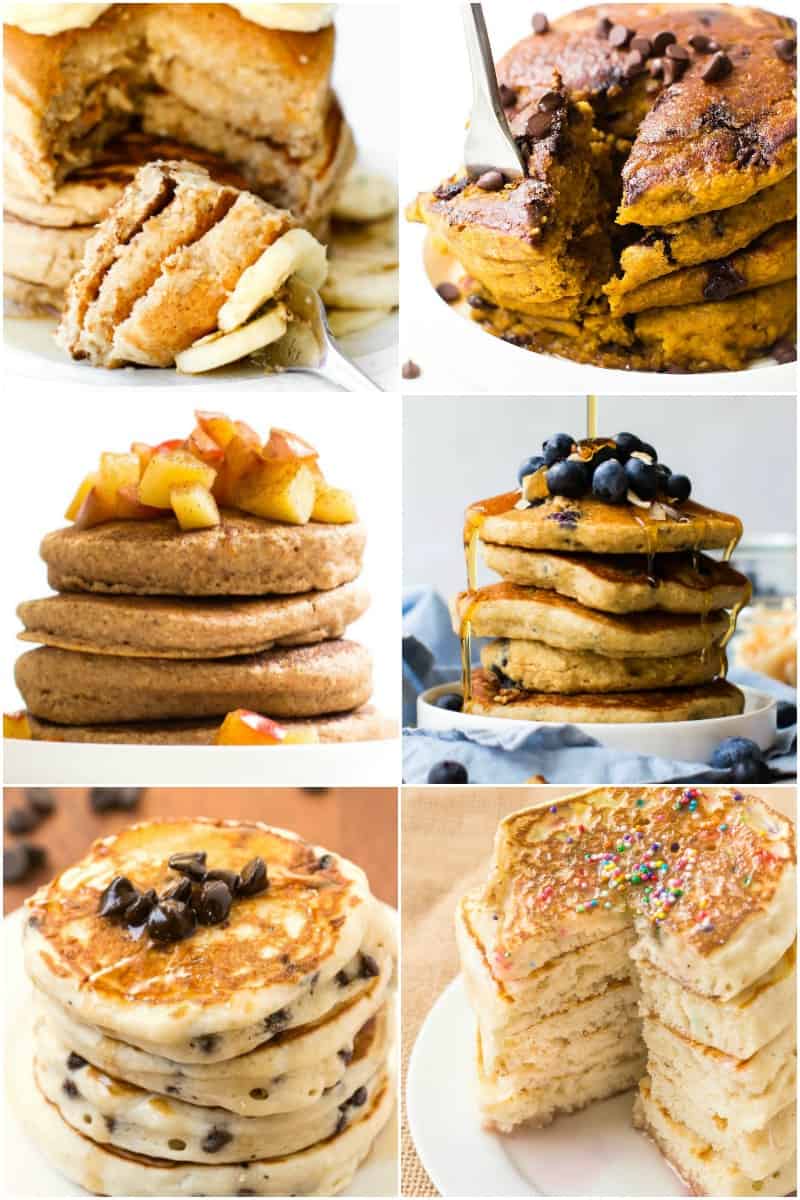 More High Protein Breakfast Recipes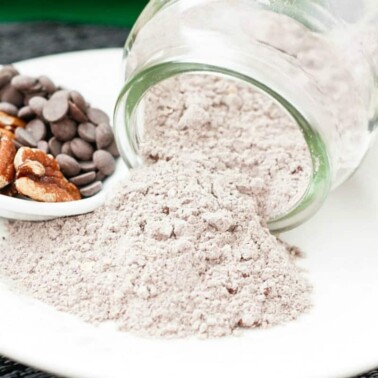 Homemade Protein Pancake Mix
A homemade protein pancake mix which is sugar free, vegan and gluten free- Just 4 ingredients needed! Make thick and fluffy protein pancakes made with no eggs and no milk- Just add water!
Instructions
For the mixture
In a large mixing bowl, sift the flour. Add the protein powder, sweetener of choice, baking powder and sea salt. Mix very well.

Pour into an air tight container or jar. Makes four 3/4 cup servings.
To make the pancakes (1 serving)
Pour 3/4 cup of the dry mix into a large mixing bowl.

If desired, add extra dry ingredients to the mix (e.g. nuts, chocolate chips, cocoa powder)

Slowly stir in 1/4 cup liquid of choice (I used milk). Depending on the flour you used and protein powder, you may need more. Using a tablespoon, continue to add liquid until a thick batter is formed. If wanting to add extra 'wet' ingredients to the mix (e.g. fresh fruit).

Heat a large frying pan on medium heat and coat evenly with oil or cooking spray. When hot, pour large spoonfuls of the batter and cover. When the edges start to brown, flip and repeat.

Serve pancakes immediately with desired toppings.
Notes
* See post for protein powder options. Casein, brown rice protein powder and raw protein powder are fantastic options.
** Any granulated sweetener of choice will work- erythritol, monk fruit sweetener, coconut sugar, etc.
Nutrition
Serving:
1
serving
Calories:
296
kcal
Carbohydrates:
35
g
Protein:
24
g
Fat:
6
g
Sodium:
32
mg
Potassium:
263
mg
Fiber:
4
g
Vitamin A:
36
IU
Calcium:
77
mg
Iron:
3
mg
NET CARBS:
31
g
Disclosure: This post may contain affiliate links. I may earn a small commission for my endorsement, recommendation, testimonial, and/or link to any products or services from this website.