Keto Cadbury Creme Eggs (Paleo, Vegan, Low Carb)
Creme egg lovers rejoice- Enjoy a sugar free and low carb version of the popular Cadbury Creme Eggs! A quick and easy copycat recipe that tastes JUST like the original!
A keto and low carb recipe for homemade Cadbury creme eggs! Made with just 5 ingredients, these creme eggs are a gooey white and yellow filling, covered in sugar free chocolate! The perfect homemade Easter candy recipe!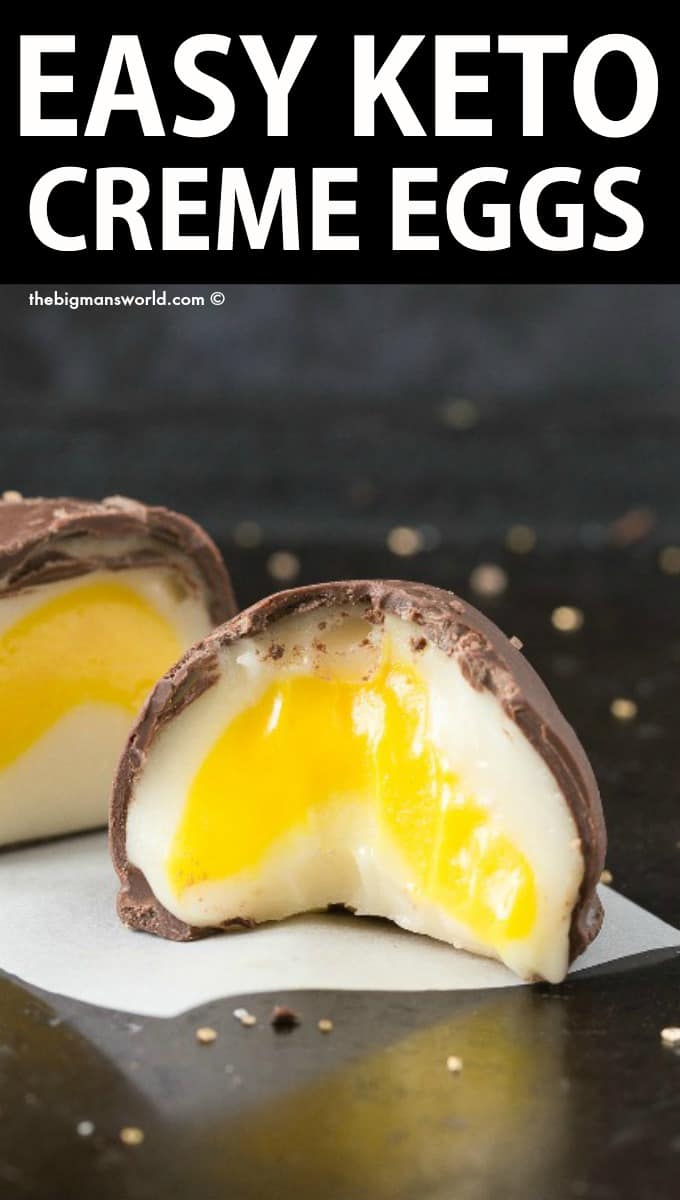 Low Carb Creme Eggs
Pick your jaws off the ground and get ready to save tons of money, by making your own homemade cream eggs…with a diet-friendly twist!
I think it is safe to say when it comes to Easter eggs and Easter candy, Creme eggs are a universal favorite.
What's not to love about them? A gooey creamy filling replicating an egg (white and yellow) all covered in chocolate.
There are some significant downsides to the humble, delicious Cadbury creme egg. Nutritionally, they contain very little benefits. Loaded with sugar, saturated fats and a slew of unquestionable ingredients…they aren't the best.
Not just that, Creme eggs aren't suitable for many diets out there!
Oh and another thing… They are darn expensive! As a regular consumer of creme eggs, I'd happily fork out over $1.50 for a single egg, which is no longer seasonal- These eggs are available year round.
Well, friends. We've got an easy winner here.
Homemade Keto Cadbury Creme eggs with a tested paleo and vegan option.
Why make this Keto Creme Egg Recipe
Ironically, several years ago, my own mum made homemade creme eggs, following this recipe here. All I simply did was test out a few substitutions and have come pretty darn close to replicating the humble creme egg.
Texture-wise, they are VERY similar to the inspiration- A delicate chocolate shell breaking into a gooey creme filling.
Taste-wise, it's a sweet tooth's dream- A rich, dark chocolate coating filled with a sweet, creamy center.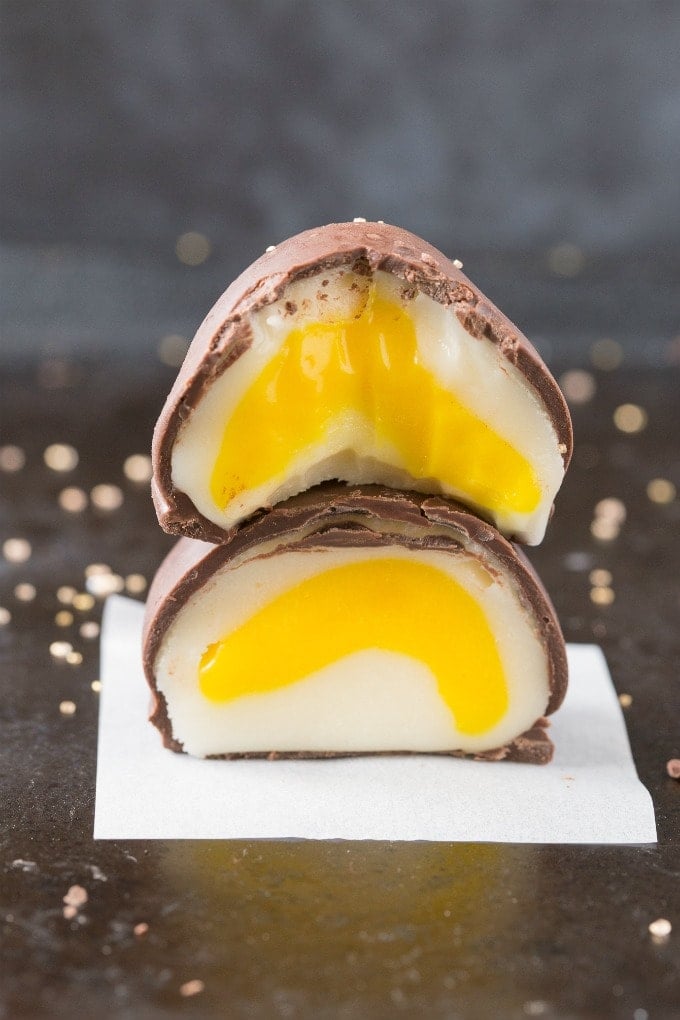 How to make Creme eggs from scratch
To make this easy creme egg recipe, you only need FIVE ingredients-
The Instructions
Making these keto creme eggs follows a simple, 4-step process.
STEP ONE- Prepare your creme egg filling
Start by heating up your butter until it is almost melted. Combine it with the keto maple syrup and mix until a thick, creamy texture remains.
Slowly add your keto powdered sugar, spoonfuls at a time, mixing it into the syrup/butter mixture. Continue mixing until all the sugar is fully incorporated.
NOTE- I've only tried this using a keto maple syrup (and non-keto options below). Please do not sub this for a sugar free pancake syrup or another syrup, as I cannot vouch for it.
STEP TWO- Seperate your filling and form eggs
Divide the creamy egg filling- 3/4 of it in one bowl and the remaining 1/4 in a separate small bowl.
Add a few drops of your natural yellow food coloring into the smaller bowl of filling, and mix well, until a bright yellow filling remains.
Form small balls (I made 12) with the yellow filling and set aside.
Moving quickly, form 12 large balls with the non-yellow (white) filling. Flatten each white ball and place a yellow ball in the center. Wrap the white filling around it and form into a small egg shape. Place on a large plate, covered in parchment paper.
Repeat until all the eggs are formed.
STEP THREE- Freeze then refrigerate!
You'll notice that the 'eggs' will start to flatten so moving quickly, place them in the freezer for 15 minutes, to quickly firm up.
After 15 minutes (preferably 30), place them in the refrigerator.
STEP FOUR- The chocolate coating
While your creme egg filling is firming up, start melting your keto chocolate chips. Once melted, remove your egg filling and using two forks, dip each egg in the melted chocolate until evenly coated.
Repeat until all the eggs are covered in chocolate and refrigerate until it has firmed up.
NOTE- If you can tolerate sucralose, you can use these sugar free chocolate chips.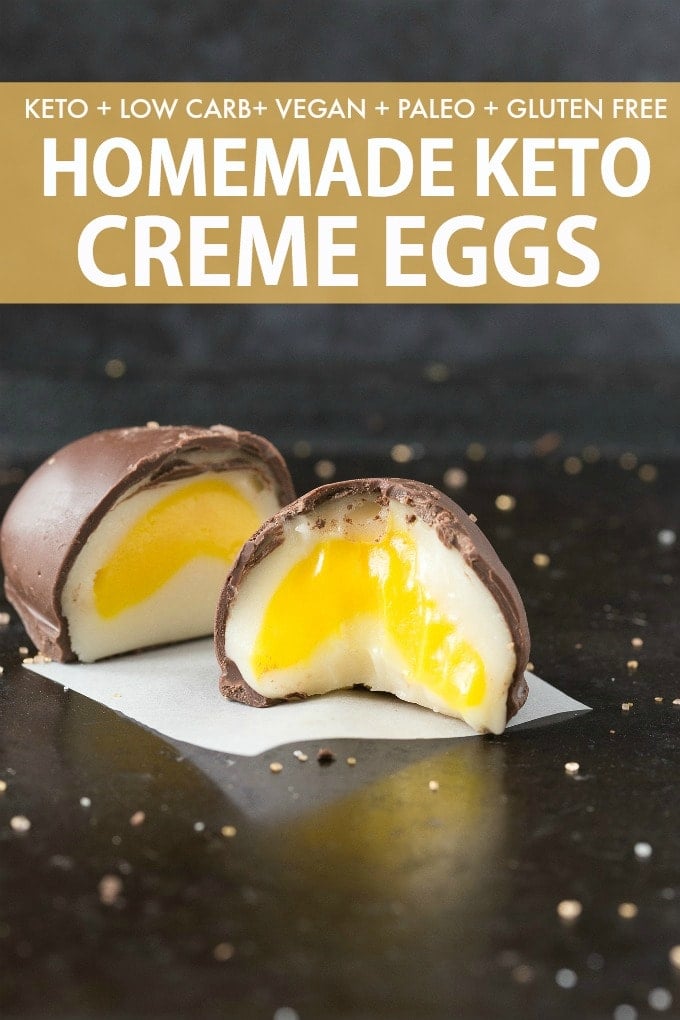 How to make creme eggs vegan AND paleo friendly
Making these creme eggs vegan (and paleo!) friendly is super simple and only require a few changes.
Instead of using keto maple syrup, you can use light agave nectar, pure maple syrup or brown rice syrup (not paleo). Please note, if you use a darker colored syrup (or maple syrup), your white filling will be more beige than white.
Replace the butter with vegan butter. I used Earth Balance, which I find has the most accurate texture to butter. I cannot vouch for other brands, but it shouldn't differ too much.
The powdered sugar used in the keto option is suitable if you follow a paleo and vegan diet. The same can be said for the all natural yellow food coloring.
Swap out the keto chocolate chips with these dairy free chocolate chips. You can also use chocolate chunks.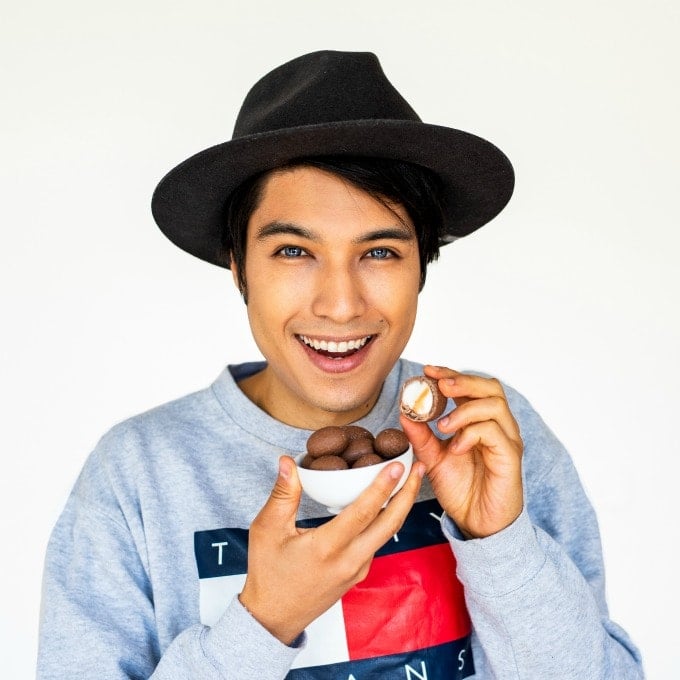 Storing Homemade Keto Creme Eggs
Unlike the creme filling, once the chocolate coating is added, the creme eggs become super stable. This means you can keep them at room temperature, for up to a week.
The eggs are best kept refrigerated and will keep for up to a month.
Homemade creme eggs are also freezer friendly and will keep for up to 6 months.
Tips and Tricks for PERFECT Homemade Low Carb Creme Eggs
Don't be concerned if your creme egg filling starts to flatten once you form them into eggs- Just move quickly and freeze them. Once they have firmed up and are to be taken out the refrigerator, you can form them back into egg shapes.
Beating the creme egg filling mixture will take a little time, but keep mixing and you'll be left with a smooth and silky texture.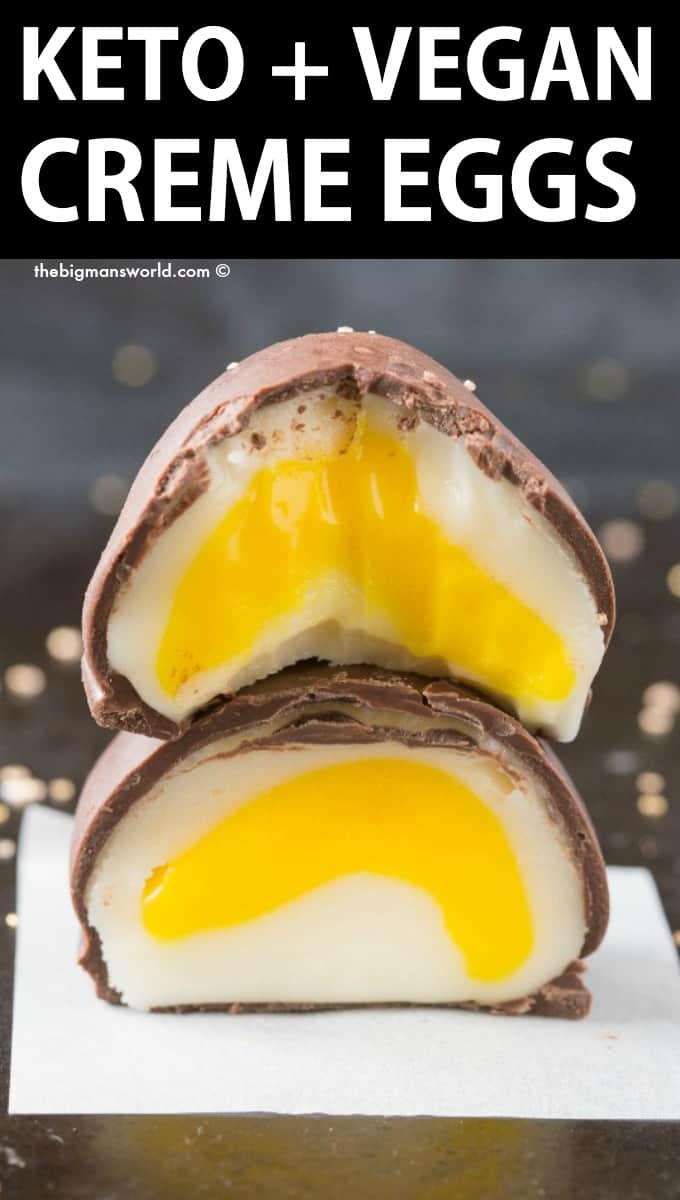 More delicious Easter Dessert Recipes you'll enjoy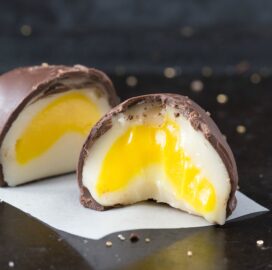 Homemade Keto Cadbury Creme Eggs (Paleo, Vegan)
An easy 5-ingredient recipe for homemade keto cadbury creme eggs- The best copycat recipe! Simple ingredients and easy to put together, a creamy, gooey filling covered in sugar free chocolate! Paleo and vegan friendly! 
Print
Rate
Instructions
Line a large plate with parchment paper and set aside.

In a large mixing bowl, add your syrup and softened butter and mix until fully combined.

Slowly add your powdered sugar, and continue mixing, until fully incorporated. The creme egg filling should be thick.

Remove 1/4 of the creme egg filling in a seperate small bowl. Add your yellow food coloring and mix well.

Moving quickly, form 12 small balls with the yellow creme egg filling. Set aside. With the remaining 3/4 of the creme egg filling, form 12 large balls. Flatten each ball and add one of the small yellow ones to the center. Form an egg shape with each ball of creme egg filling and place on the lined plate.

Place the plate in the freezer for at least 15 minutes, before transferring to the fridge.

Melt your chocolate chips of choice. Remove the creme egg filling from the fridge and re-shape each one to ensure it is egg-shaped. Using two forks, dip each egg in the melted chocolate until fully covered. Re-place the eggs on the lined plate and refrigerate until firm.
Notes
* Use 2 cups for a thinner shell, 3 cups for a thicker shell.
Homemade Keto Cadbury Creme Eggs (Paleo, Vegan) can keep at room temperature, for up to 1 week. They are best kept refrigerated and will keep for up to 2 months. They are freezer friendly and will keep frozen for 6 months.
Key Recipe Equipment and Ingredients
Nutrition
Serving:
1
egg
|
Calories:
214
kcal
|
Carbohydrates:
9
g
|
Protein:
2
g
|
Fat:
16
g
|
Sodium:
38
mg
|
Potassium:
2
mg
|
Fiber:
6
g
|
Vitamin A:
71
IU
|
Vitamin C:
3
mg
|
Calcium:
24
mg
|
Iron:
2
mg
|
NET CARBS:
3
g