Stovetop Protein Granola (For one)
A delicious vegan, dairy free and gluten free granola made over the stove which takes less than 10 minutes and is single serving! High in protein, low in added sugar and perfect on top of a dairy free yogurt or milk for a balanced meal.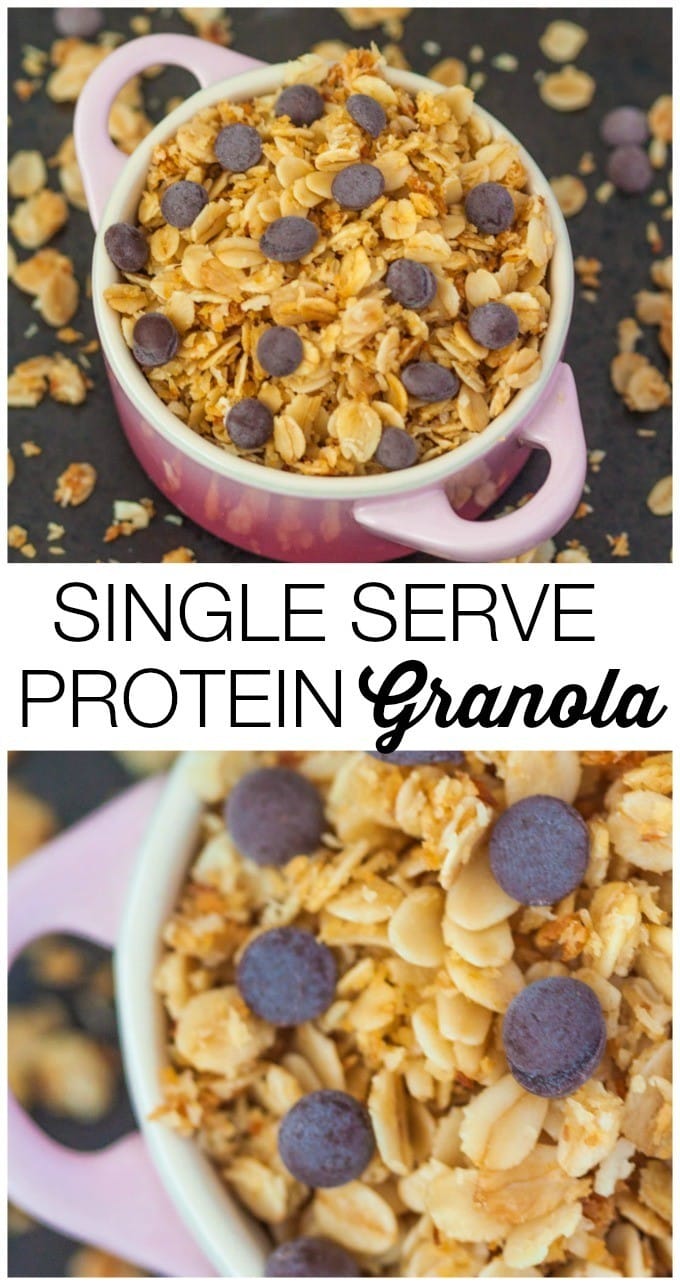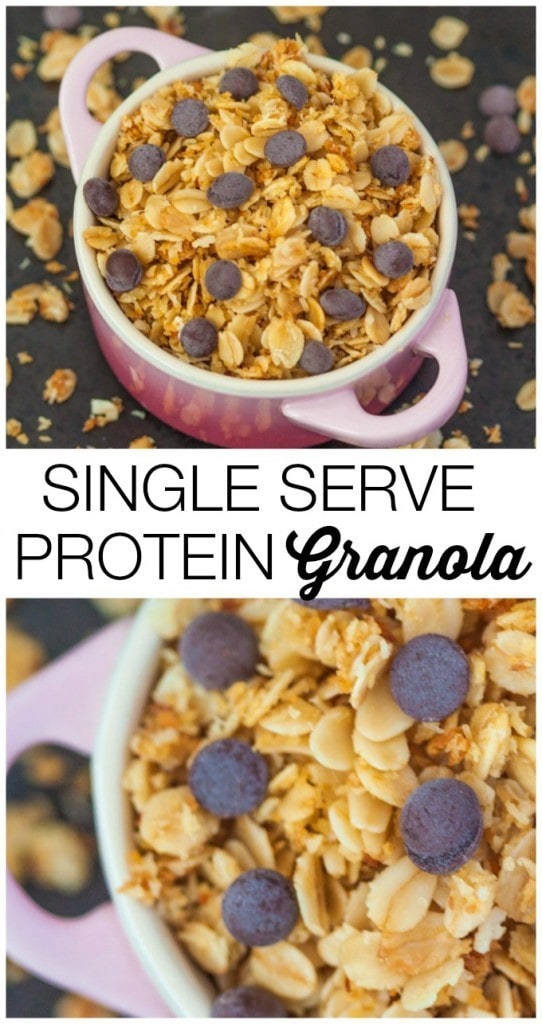 Who overrate this festive season?
I didn't.
As I mentioned in Sunday's post, I wasn't able to fly home for Christmas because tickets back to Sydney between the 26th December until the 3rd January was between $300-$450. Usually, you can score a flight for $80 if you pick your timing right.
My Christmas day wasn't spent on my lonesome though- The beauty of living in such a multicultural country is that there is always something open and usually thriving. Enter- Dumplings. I met up with some friends and we went and ate dumplings (unfortunately, nothing as fancy as these ones). We had prawn dumplings, chicken and chive dumplings and these garlic and scallop dumplings which came in chilli oil. One of my mates had the wise idea that whoever lost a bet (don't ask what it was) had to skull (Australian term to 'chug' or drink something in a single attempt) the chilli oil the dumplings came in.
Friends, I skulled a bowlful of chilli oil. It was awesome.
Until the next day when it felt like my tongue was peeling.

I'm not usually one that overdoes it on a particular food, until that fateful 35 hour flight to Toronto. As I mentioned in this post, I consumed an entire batch of hazelnut espresso granola in that time span. Included in that was two jars which was designated as gifts. I guess that tells me when it comes to granola, I have no limits. That, or the food I was served on the airlines was not the best.
While I'm happy to turn on the oven to make a single batch of cookies like these Chocolate Chunk Breakfast Cookies or Caramel Pecan Breakfast Cookies, I couldn't bring myself to do it for just a single serving of granola. How to rectify that? Dry fry it over the stove. Both Davs and Chelsea have posted stovetop or 'fried' granola recipes and I opted to try out that method to see how it would fare.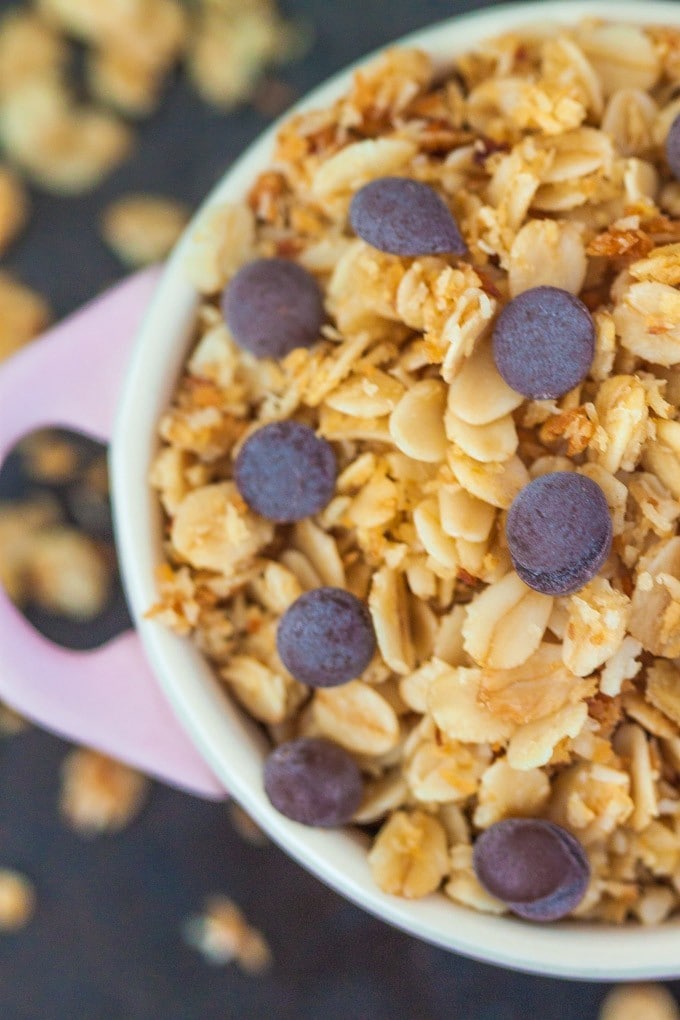 To make this granola more filling, I added protein in the form of protein powder because for me (and based on most of your feedback!), adding protein powder in goods is something I'm up for always experimenting with. In under 10 minutes, I had a batch of granola and one I could eat the full serving of and still be satisfied. As good as gingerbread granola, dark chocolate granola or even one with peanut butter and pretzels are- Eating the whole serving isn't the wisest of choices.
Warning- Unless you want chocolate chips stuck to your frying pan, add the chocolate chips once granola has cooled. I got an arm workout cleaning the silly frying pan.
PS- In full disclosure– I keep chocolate chips in the freezer and eat my granola at room temperature. Hence the bizarre colour of the chocolate chips. I swear Australia doesn't have jaded blue chocolate…yet.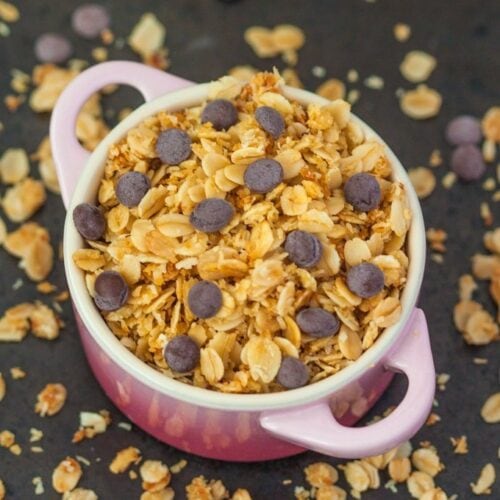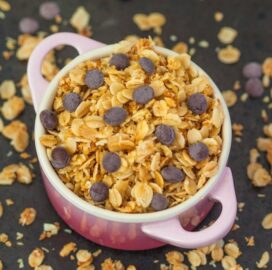 Stovetop Protein Granola
A vegan and gluten free granola made over the stove which takes less than 10 minutes and is single serving! High in protein, low in added sugar and perfect on top of yogurt or with milk for a balanced meal.
Print
Rate
Instructions
Heat a small frying pan with the coconut oil on medium heat.

Once heated, add the rolled oats, oat bran and salt. Toast for 2 minutes before adding the shredded coconut, sweetener of choice and protein powder. Stir quickly before adding the peanut butter, and continue stirring until melted.

Remove from the heat and immediately transfer to a small bowl and allow to cool. Once cooled, add in chocolate chips or mix ins of choice and serve with yogurt, milk or as it is.
Notes
I used a sweetened protein powder so omitted the sweetener.
Don't add the chocolate chips or add ins during the cooking process.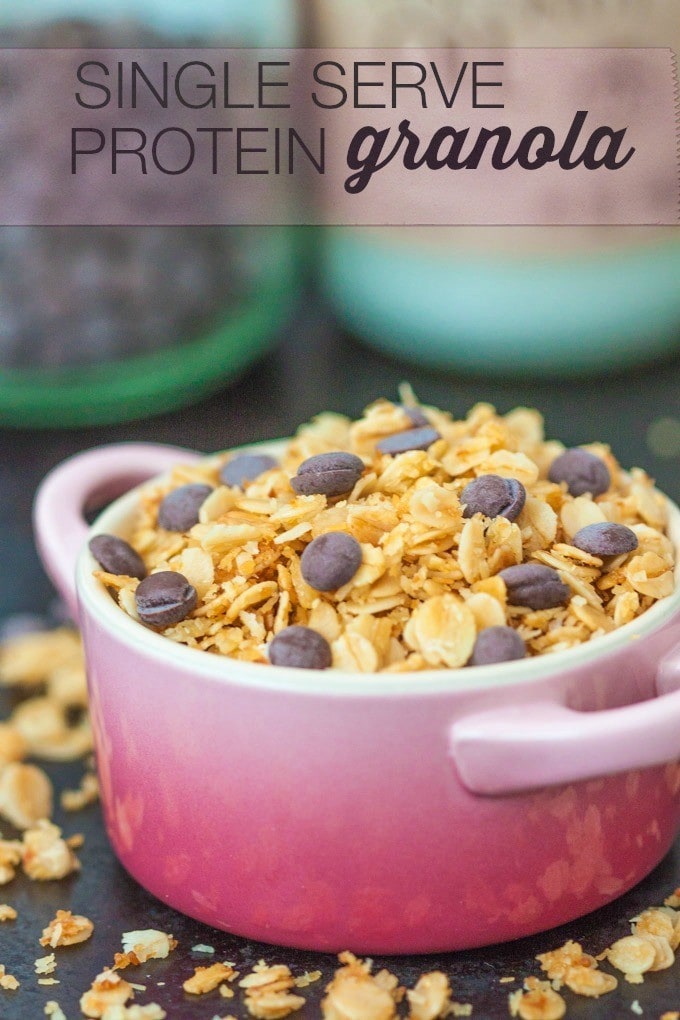 Happy first weekend of the new year guys! I'll pop in on Sunday to fill you on some updates and changes on the blog happening soon.
What is a food that you tend to go overboard with?
Are you a fan of aeroplane food?
Did you overeat this festive season?