A vegan and gluten free copycat recipe for the popular Levain Bakery Chocolate Chip Cookies! Thick, gooey, and chewy in one, easily make your own at home with simple ingredients.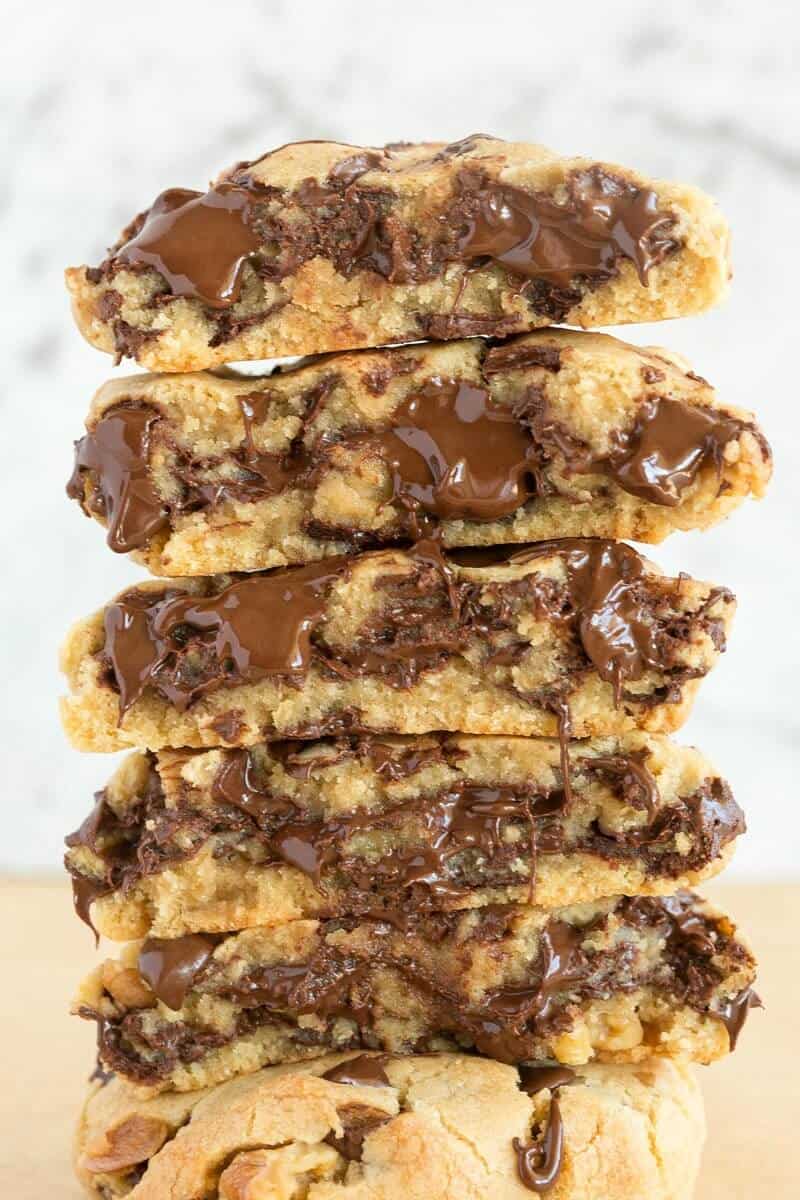 Ten years to this day, I tried my very first Levain Bakery cookie. I had just moved to New York to study abroad, and on my foodie bucket list was a visit there.
These cookies are considered the BEST cookies in NYC. As someone with a ridiculous sweet tooth, I knew I had to grab myself a cookie from there… or two. After spending close to 45 minutes lining up for one and finally sampling it for myself- I was converted.
The Levain bakery cookies lived up to ALL the hype. These famous cookies truly were the best cookies in NYC.
Are Levain Cookies Vegan?
Traditional Levain cookies are not vegan (or gluten free), but not to worry- I have you covered!
I promised myself that I wanted to make a vegan and gluten free copycat version After plenty of trials and experimenting, I am SO excited to have perfected it!
This Levain cookie recipe ticks all the boxes- Thick, slightly chewy around the edges, but with the gooiest center. They are studded with chocolate chips in every mouthful, with bits of walnuts too.
Made with simple ingredients, the hardest part is waiting for the dough to chill, but I promise you, it will be worth it!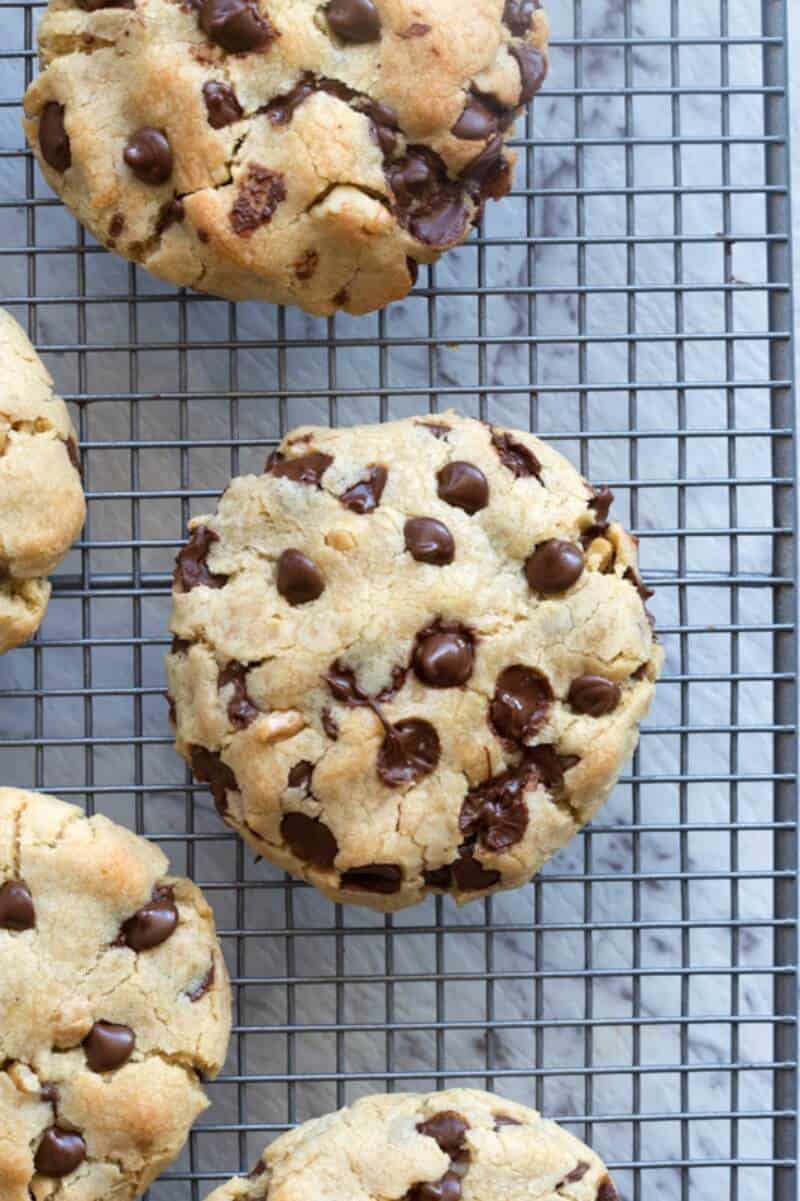 How to make Levain cookies
The Ingredients
All purpose flour– Be sure to sift it, to ensure there are no clumps in them. I've also tried this with gluten free all purpose flour too.
Baking soda– Gives the cookies some rise and leavening.
Salt– Brings out the sweetness of the cookies, without any salty flavor.
White sugar– Adds sweetness and gives the cookies the slightly crispier edges.
Brown sugar– Gives sweetness, but also keeps the cookies soft and gooey in the center.
Vegan butter– For the buttery texture we LOVE in cookies. Be sure your butter is softened, but not melted.
Vanilla extract– A must for any good cookie recipe!
Chocolate Chips– The more chocolate chips, the better the cookie! Be sure to use dairy free chocolate chips, to keep the cookies vegan.
Walnuts– Optional, but the original Levain Cookies have walnuts in them. Use chopped, unsalted walnuts.
Milk of choice– I used unsweetened almond milk. You may not need as much needed.
The Instructions
Start by mixing together your flour, baking soda, and salt in a mixing bowl and set aside. In a separate bowl, cream together your sugars with softened butter, until creamy. Add in the vanilla extract. Slowly add the flour and mix, until just combined. Lastly, fold through your chocolate chips and walnuts, if using them. If the dough is too crumbly, add a little bit of milk. Cover the cookie dough and refrigerate for at least 2 hours.
When ready to bake, preheat the oven to 180C/350F. Line a baking sheet or cookie sheet. Form 6 large balls of dough and place on the sheet. Lightly press each one down and bake for 12-15 minutes, or until the edges begin to brown. Remove from the oven and let cool on the baking sheet for 10 minutes, before transferring to a wire rack to cool.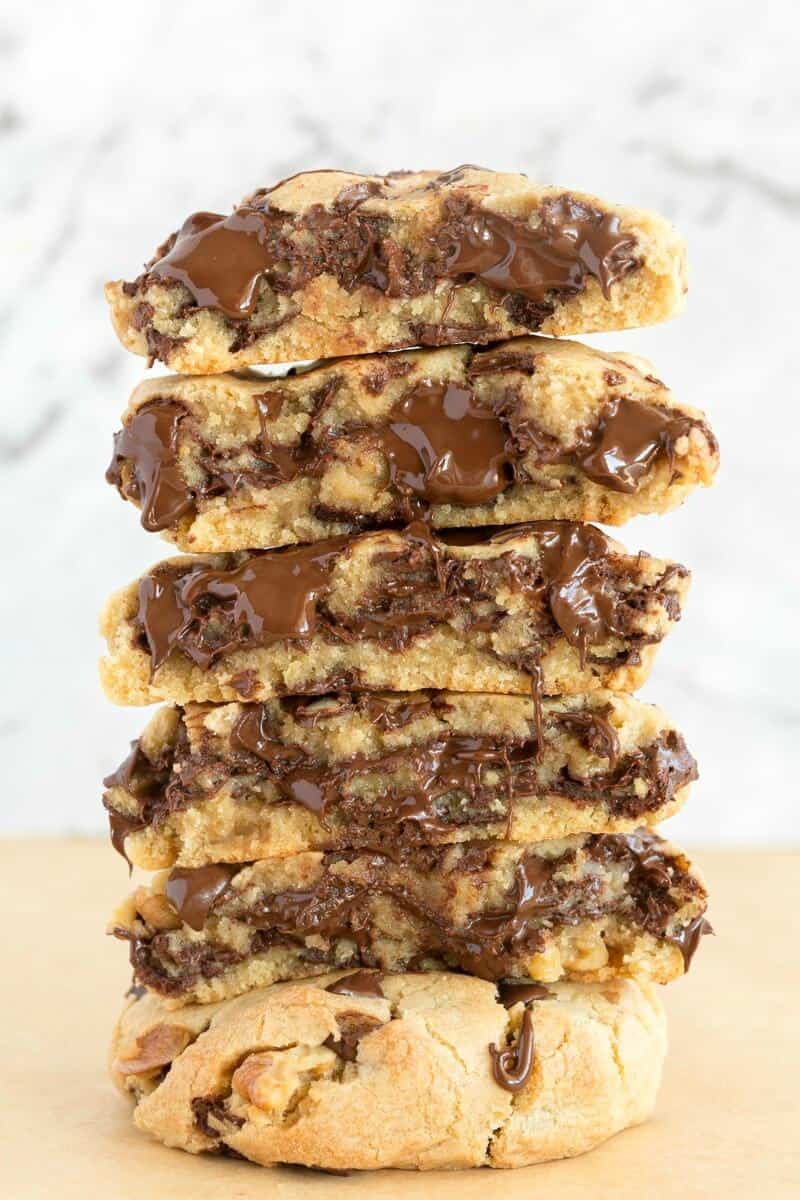 Can I freeze the dough?
If you want to freeze the dough to use at a later time, wrap up the dough in plastic wrap (ensure no pockets of air can enter it) and place it in a ziplock bag. You can keep the dough in the freezer for up to 1 month.
Before baking cookies from frozen cookie dough, let thaw at room temperature until cold, but able to be formed into cookies.
TIP: Be patient once letting the dough reach a chilled temperature. Working with the dough too soon and you'll find it begins to crumble.
Baking Tips
You MUST chill the dough for at least two hours, prior to baking it. This will ensure the cookies do not spread, and remain thick.
Do not use all white sugar or all brown sugar. The combination of the two sugars is the key to achieving the perfect texture. White sugar keeps the edges crispy, and the brown sugar keeps the centers gooey and slightly chewy.
Only add the milk if your dough is crumbly. If is is formable, leave it as it is.
Avoid overbaking the cookies. You want the edges to start to go brown, but look slightly underbaked on top. Remember, these are eggless cookies, so even if a little underdone, they are fine to eat. They also continue to cook as they are cooling down.
To make gluten free Levain Bakery Cookies, be sure to use gluten free flour. I only tried it with Bob's Red Mills 1:1 flour, so I cannot vouch for other brands.
If you chill the dough for more than 2 hours, be sure to let the dough sit at room temperature for 15 minutes prior to baking.
To make baking the cookies easier, form 6 balls of cookie dough, place them on the baking sheet, and refrigerate the entire baking sheet as it is. When ready to bake, simply remove from the fridge when the oven is heated and ready to go!
Storing and Freezing Copycat Levain Cookies
To store: Vegan Levain Cookies will keep at room temperature, in a sealable container. They will keep well for up to 2 weeks. You can refrigerate the baked cookies to keep for longer.
To freeze: Place cookies in a ziplock bag and store in the freezer for up to 6 months.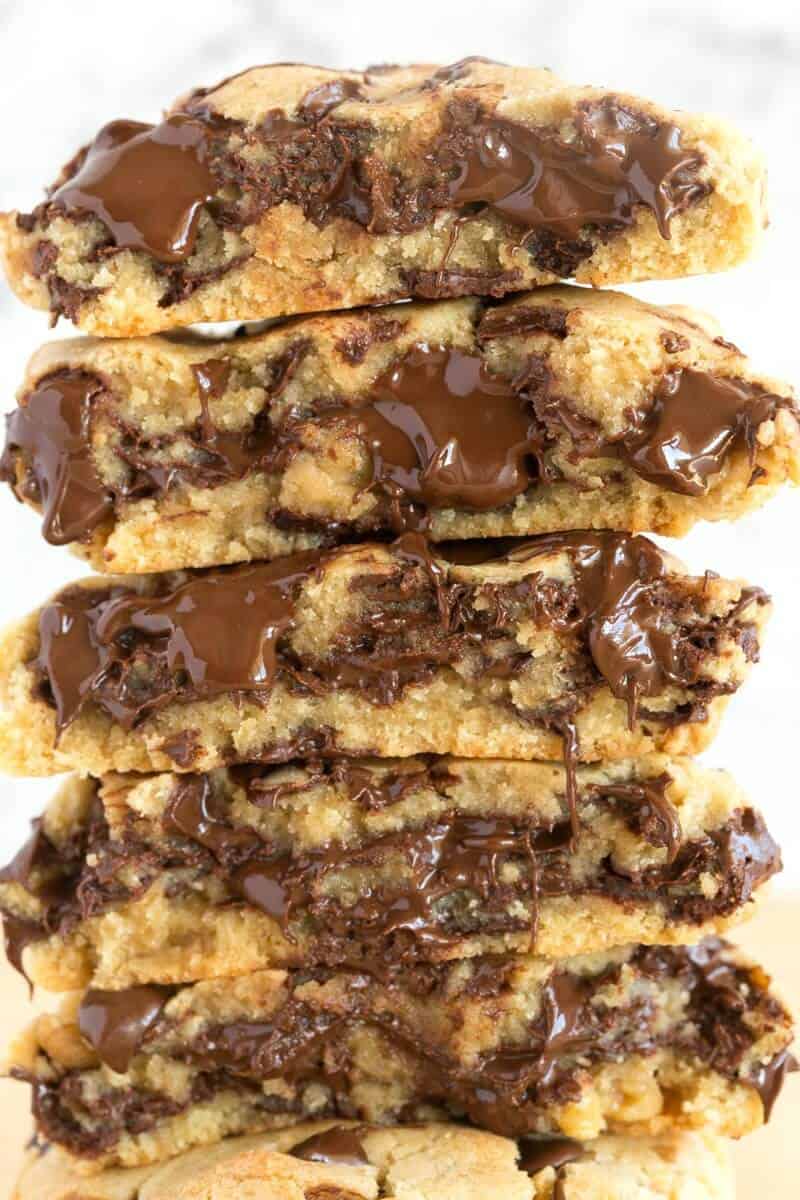 More Vegan Cookie Recipes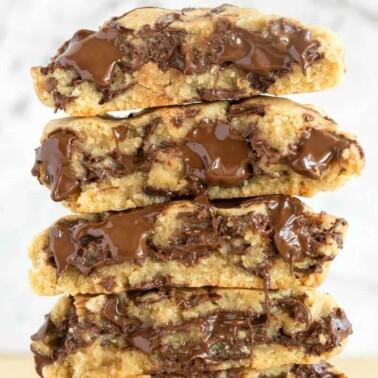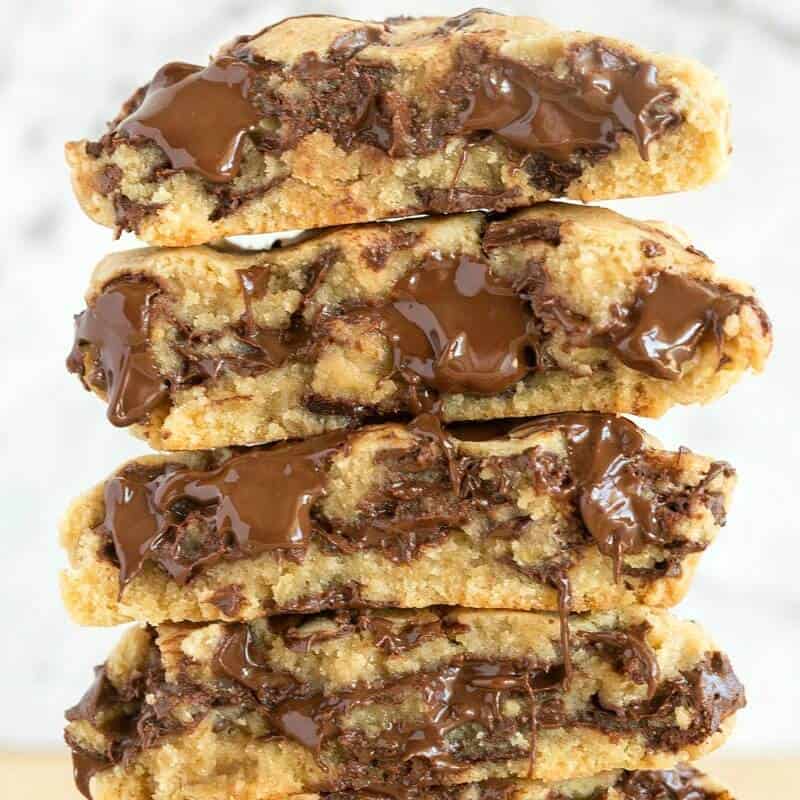 Levain Bakery Chocolate Chip Cookies (Vegan + GF)
This Levain Bakery Chocolate Chip Cookies recipe is vegan and gluten free, but you'd never tell- These Levain cookies are thick, chewy and gooey in one!
Instructions
In a large mixing bowl, add your flour, baking soda and salt and mix well. Set aside.

In a separate mixing bowl, add your softened butter, sugar, and brown sugar. Beat together until smooth and creamy. Add in your vanilla extract and mix well.

Slowly add your flour mixture, and mix until just combined. Fold through your chocolate chips. If the dough is a little crumbly, add the milk, one tablespoon at a time. Cover the cookie dough and refrigerate for at least 2 hours.

Remove the cookie dough from the refrigerator. Preheat the oven to 180C/350F. Once warm, form 6 balls of cookie dough and place on a cookie sheet. Bake the cookies for 12-15 minutes, or until the edges go slightly brown. Remove from the oven and let cool for 10 minutes on the sheet, before transferring to a wire rack until cool.
Notes
* Only add the milk as needed. If your dough is firm and formable, do not add any.
Levain Bakery Cookies can keep at room temperature, covered, for up to 14 days. They can also be stored in the refrigerator and freezer.
Nutrition
Serving:
1
Cookie
Calories:
297
kcal
Carbohydrates:
32
g
Protein:
4
g
Fat:
25
g
Sodium:
460
mg
Potassium:
55
mg
Fiber:
1
g
Vitamin A:
1438
IU
Calcium:
19
mg
Iron:
2
mg
NET CARBS:
31
g
Disclosure: This post may contain affiliate links. I may earn a small commission for my endorsement, recommendation, testimonial, and/or link to any products or services from this website.