Kickstart your morning with a stack of thick and fluffy protein pancakes. These healthy protein pancakes are vegan and gluten free, and made without flour, eggs, or milk! Ready in minutes, these protein pancakes are a blank canvas for many flavor variations!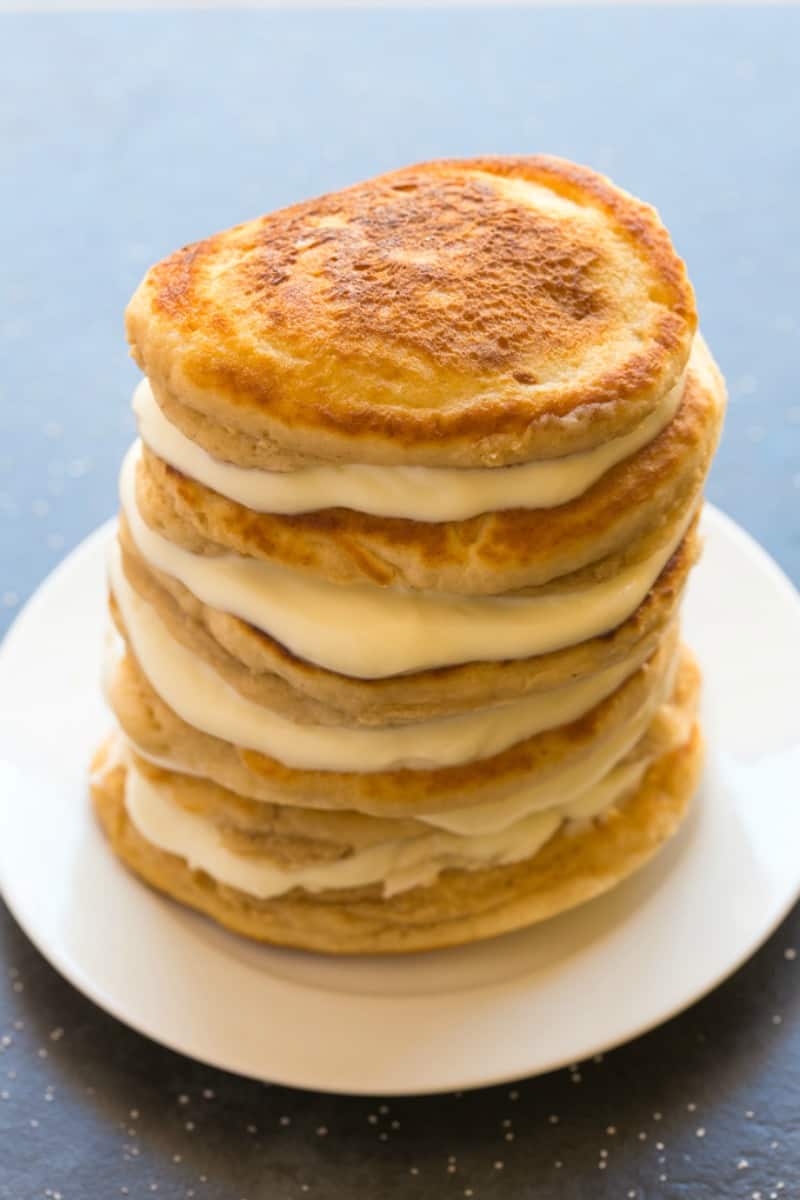 We love starting our mornings with a stack of healthy pancakes. We love blueberry pancakes, cinnamon roll pancakes, and these delicious, high protein pancakes.
As someone who regularly works out, having enough protein in every meal is key to both maintaining my muscle growth, but also keeping me satisfied.
While I love a stack of classic buttermilk pancakes, I know that I'll be reaching for a snack soon after. To key for me to be full and satisfied after a meal is one key macronutrient- Protein!
Protein pancakes have been a regular breakfast choice for me, after making a batch of my homemade protein pancake mix. I love how I have so many flavor options and variations to play with!
This protein pancake recipe is cinnamon bun flavored, purely because I had some cinnamon bun casein protein powder on hand, but use any pancake flavor you love- Banana oat, chocolate, cookie dough, lemon ricotta and more!
These protein powder pancakes are light, fluffy, and super thick- You won't believe these fluffy pancakes are made with no eggs and no banana!
How to make pancakes with protein powder
The Ingredients
Homemade Protein Pancake mix– My homemade protein pancake mix forms the base of these protein pancakes. Prepare the mixture as directed, and then we add the fun mix-ins to give these pancakes some fun flavors.
Mix-ins of choice– Anything and everything! I wanted to make cinnamon bun pancakes, so I added cinnamon to the batter. I also made a cream cheese frosting to layer the pancakes with.
The Instructions
Start by preparing your pancake batter. For one serving, mix 3/4 cup of the protein pancake mix with 1/4 cup of water. If the batter is too thick, add extra water, one tablespoon at a time. Add your cinnamon and mix it into the batter. Next, heat up a saucepan on medium and spray a non-stick pan with cooking spray. Once hot, pour 1/4 cup portions of the pancake batter onto the hot pan. Let sit for 30 seconds, before covering the pan. Once bubbles start to appear around the sides, remove the lid and flip the pancakes. Cook for an extra 1-2 minutes, until cooked. Repeat the process until all the pancakes have been cooked up. Layer the pancakes with dairy free cream cheese and extra cinnamon. Serve with maple syrup and any other toppings.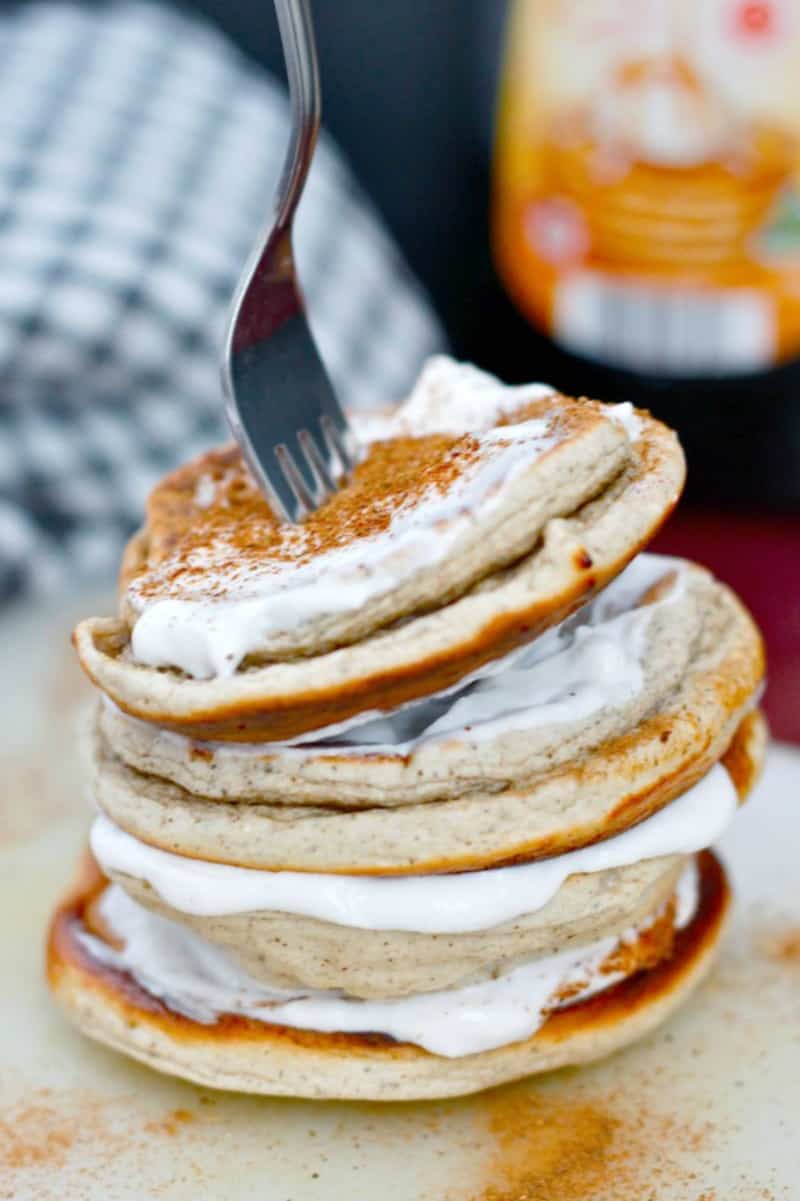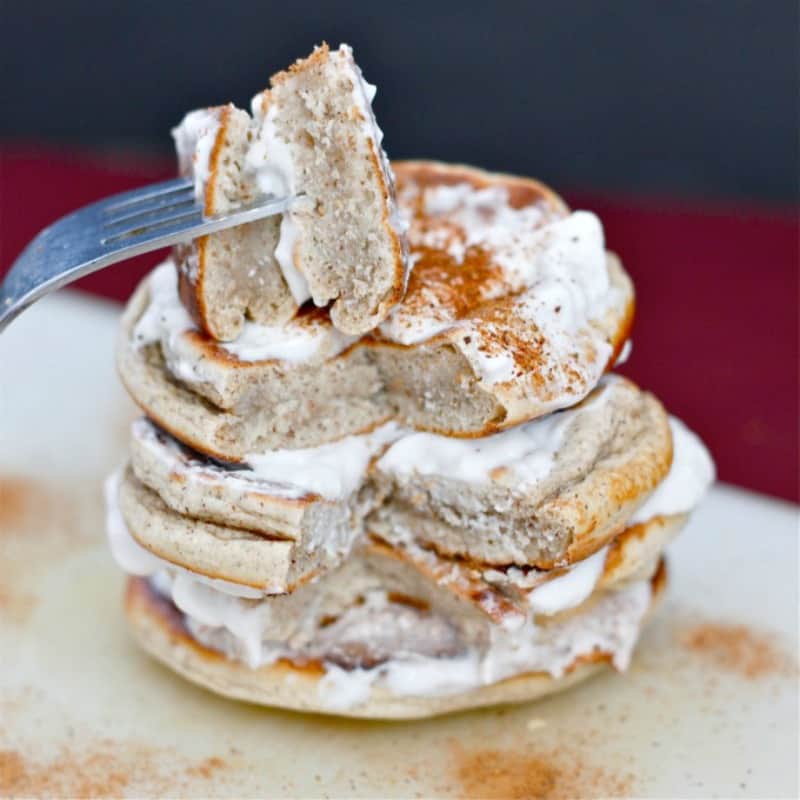 Protein Pancake Tips
Cover the pancakes as they are cooking. Trapping the heat in the saucepan will help the pancakes puff up and be extra thick and fluffy.
Protein powder types matter. If the protein powder you've used in your protein pancake mix is whey protein or isolate protein, you may find your pancakes will be thinner and flatter.
For keto protein pancakes, try these fluffy pancakes.
Do not add extra sweetness to the pancake batter. The homemade pancake mix has already added sweeteners included, and most protein powders are also pre-sweetened.
How to enjoy high protein pancakes
Fruit– Serve protein pancakes with berries, chopped apples, and even some sliced banana.
Nut or Seed Butter– Drizzle over peanut butter, almond butter, or nut free spreads, like sunflower seed butter.
Dried Fruits and Nuts– Sprinkle shredded coconut or your favorite nuts or seeds!
Syrup and Jellies– Keep it simple with maple syrup and strawberry or raspberry jam!
Storing and Freezing Protein Powder Pancakes
To store: Make a double batch of protein pancakes and store leftovers in a sealable container or covered, for up to 1 week. Batch cook these pancakes to have breakfast sorted for the week!
To freeze: Protein pancakes are freezer friendly so make an extra batch or two, and place them in a ziplock bag. Store the ziplock bag in the freezer for up to 6 months.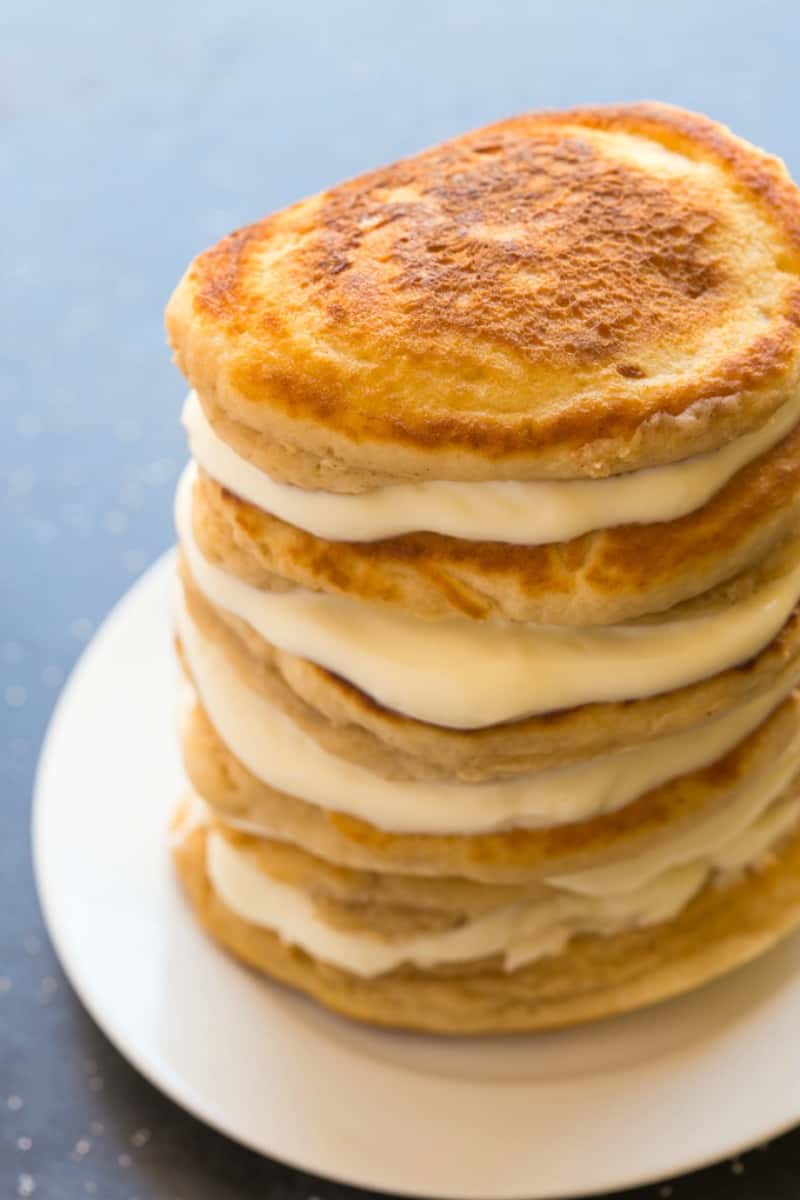 More delicious pancake recipes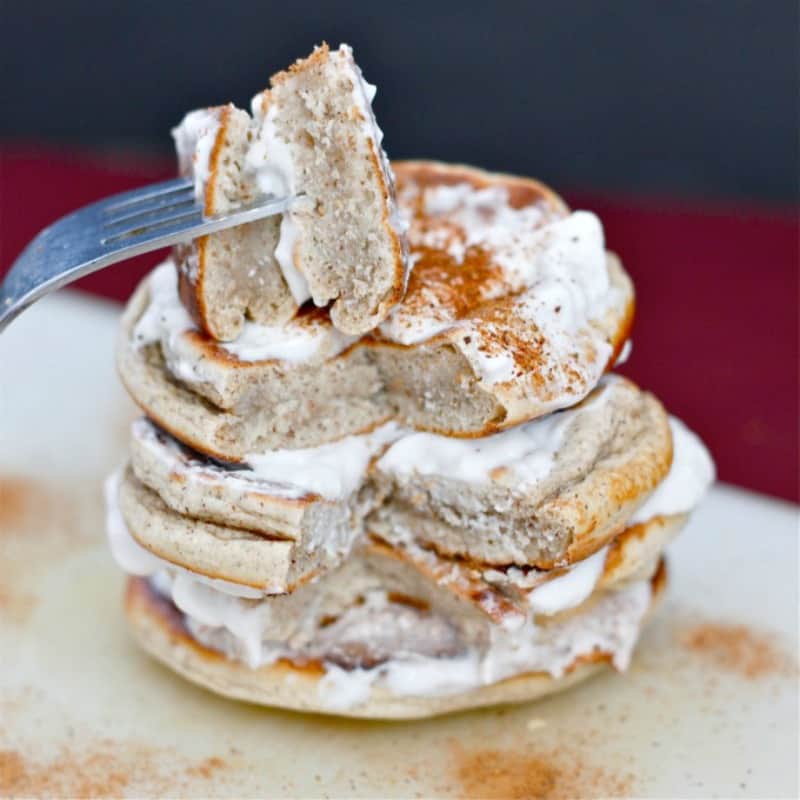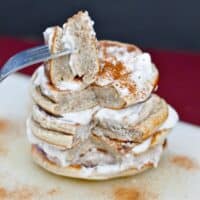 Protein Pancakes (No eggs or banana!)
Easy homemade protein pancakes made with no eggs, no banana and no milk! These thick and fluffy protein powder pancakes are a delicious vegan and gluten free breakfast!
Print
Rate
Ingredients
For the cream cheese frosting
Instructions
Prepare the pancake batter from the homemade protein pancake mix.

Heat a frying pan on low heat and spray with cooking oil. Once the pan is extremely hot, pour spoonfuls of the batter and then cover the pan. Once bubbles appear and the edges go brown, remove cover, flip the pancakes and cover again for approximately 1 minute. Repeat until all the batter is used up.

In a small bowl, combine the softened cream cheese with the sweetener and cinnamon and mix well. Layer pancakes evenly with the frosting and dust with extra cinnamon.
Notes
These make cinnamon bun protein pancakes. For other flavor options, add extra flavorings and toppings to both the batter and on top of the pancakes.
Nutrition
Serving:
1
serving
|
Calories:
296
kcal
|
Carbohydrates:
34
g
|
Protein:
24
g
|
Fat:
6
g
|
Sodium:
6
mg
|
Potassium:
6
mg
|
Fiber:
12
g
|
Vitamin A:
6
IU
|
Vitamin C:
6
mg
|
Calcium:
6
mg
|
Iron:
3
mg
|
NET CARBS:
22
g