All the taste of your favourite cinnamon bun in pancake form- With a healthy makeover! High in protein, sugar free, gluten free, vegan, grain free and tasting like dessert for breakfast- These Cinnamon bun pancakes will become you're new breakfast staple!


Whenever people go to a country or desitination, it isn't suprising for them to create a foodie bucketlist or places they 'must eat' at.
I still remember the first list I made before coming to Australia for the first time.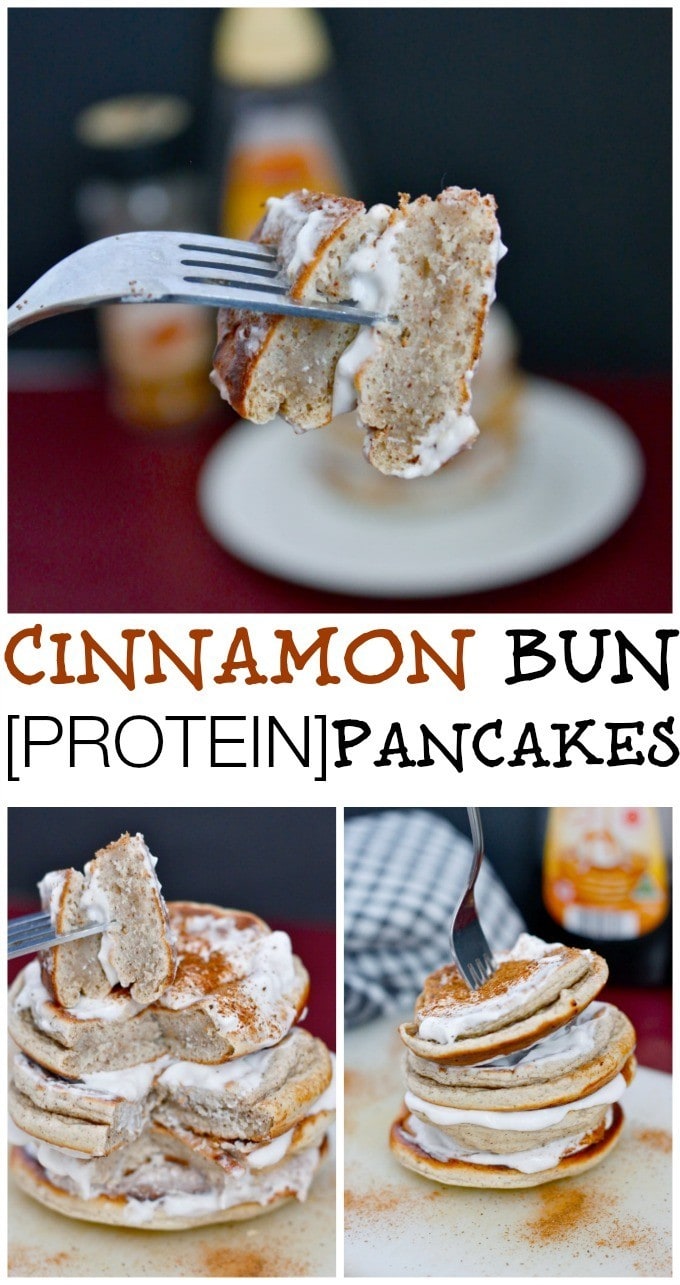 We are all friends here so let's reserve any judgment- or blame me for being a naïve, impressionable young Australian lad. My first list-
Red Lobster (because Lobster in Australia costs the same as 1 month's rent)
Olive Garden (for unlimited bread sticks)
Applebees (because they had a really cool name)
IHOP (Because you could get pancakes at 3 am with a smile)
Let's not speak about this again.
You'd think I would have learnt my lesson and asked experts, did better research or just played it by ear but no. I made a foodie bucketlist for this quick trip to the Northern Hemisphere. Before you roll your eyes and think it's some cliché list featuring a hot dog from a New York Stand, a pastrami sandwich from a Jewish Deli or a Clam Chowder soup out of a bread bowl- step back. It isn't.
My foodie bucketlist is on all the foods I loved when I was over there on previous trips which are MIA in Australia. They are-
Fage Total Greek Yogurt (none of this fat free or 2% offerings we have)
A bag from M + M world of the purple dark chocolate M + M's
A Cinnabon Cinnamon Roll
Pretty pathetic for a foodie bucket list but c'est la vie- It's my list, it'll be as tacky as I want it to be. No Greek Yogurt tastes as good as full fat. No dark chocolate m and m tastes as good as the purple coloured dark chocolate m and m's and nothing tastes as sweet or smells as epic as a cinnabon cinnamon roll.
Looking over it, it actually looks pretty gourmet compared to my first foodie bucketlist before my very first trip there.
When I made my cinnamon bun oatmeal a few months ago, it was because I was missing one of my all time favourite things I tasted in America- The Cinnabon Cinnamon Rolls. I already lamented their magic in that post so it's not necessary to do it again.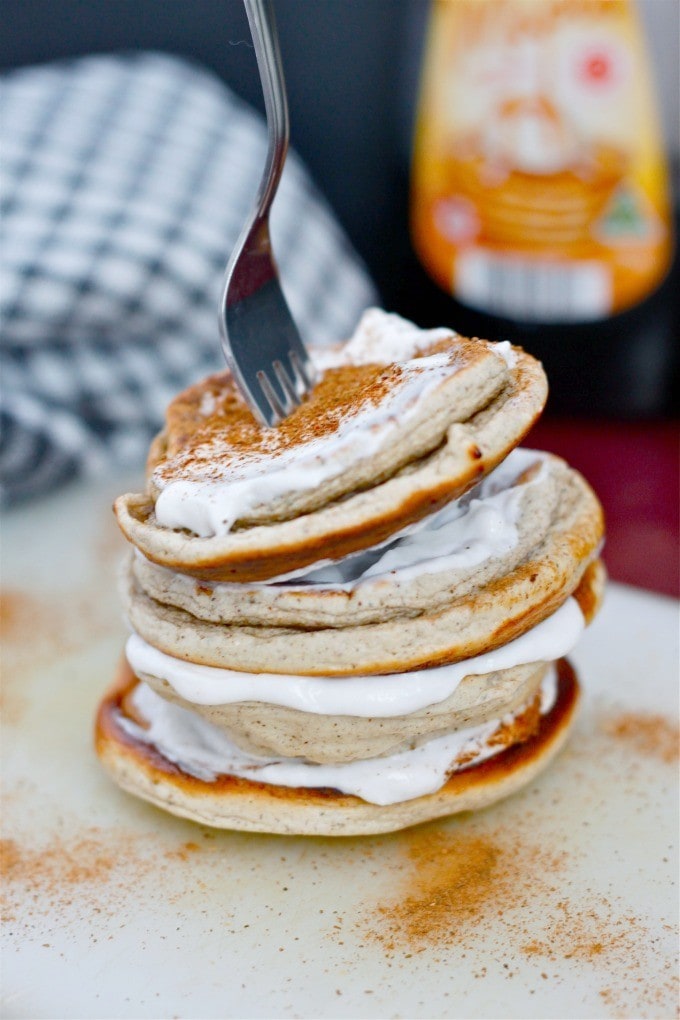 Okay, I lied- THOSE CINNABON CINNAMON ROLLS. Would it be juvenile to try and sneak them to Australia? Just kidding, I don't want to be on border security.
Lucky, we can party under these cinnamon bun (protein optional!) pancakes. If you use Saigon Cinnamon (Costco's hidden gem), they will actually smell like a Cinnabon! The frosting is based off the same frosting used in it's oatmeal form which frankly, may be a cop out- seeing as Black Forest Pancakes AND the Red Velvet Pancakes used a cream cheese frosting too. C'est la vie.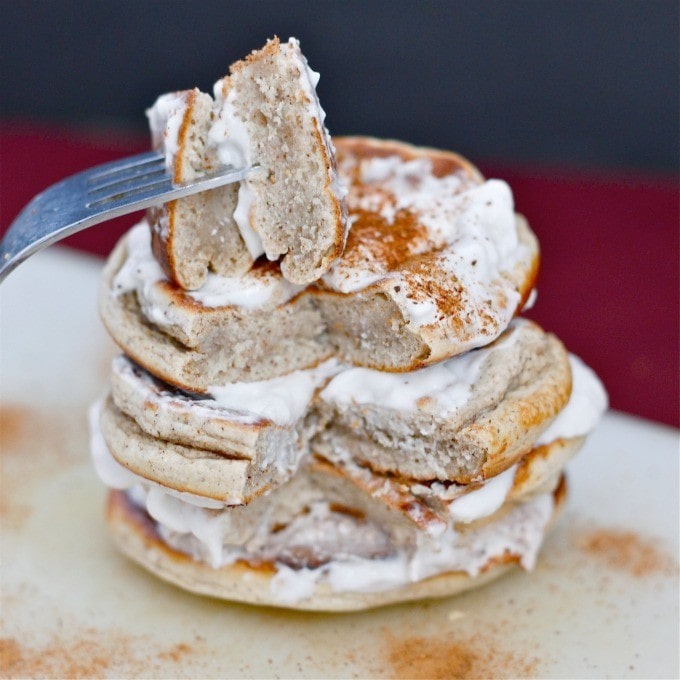 When you read this, I am hopefully down in the subway tunnels using my nose as the lead to satisfy this much awaited craving.
I'll even be fancy and eat it with my pinky finger up- but let's be real here. I'll end it by licking my fingers and ensuring no icing is left behind…even on the package.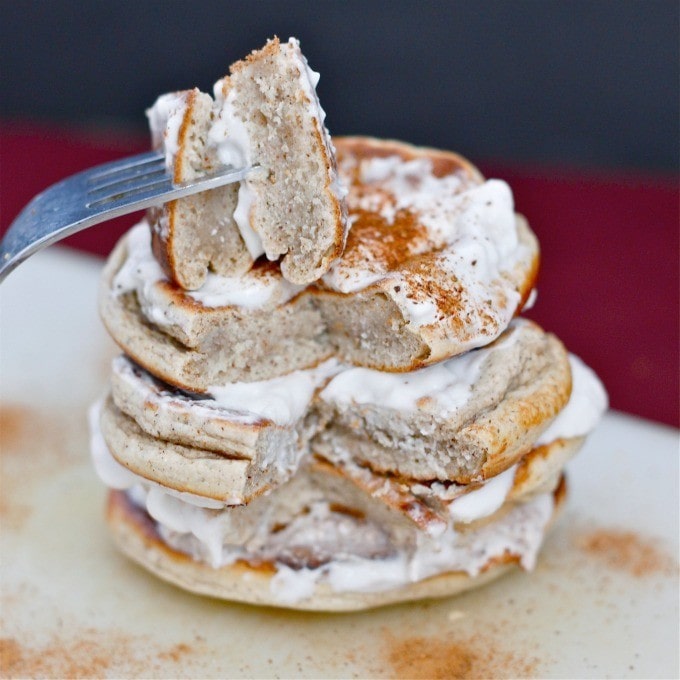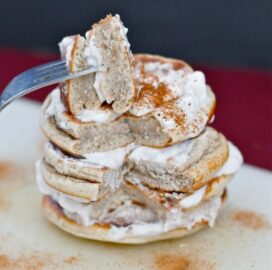 Cinnamon Bun Pancakes
A delicious, healthy breakfast choice which reminds you of digging into a cinnamon bun- but with a healthy twist!
Print
Rate
Ingredients
For the pancakes
3

T

coconut flour

sifted

1

T

gluten free flour

or oat flour or oat bran

1

standard scoop of vanilla or cinnamon protein powder

optional

2

tsp

Saigon Cinnamon

1/2

tsp

baking powder

3

large egg whites*

1/2

tsp

vanilla essence

1/4-1/2

cup

almond breeze almond milk

or milk of choice

Oil/Cooking spray for frying
For the cream cheese frosting
Instructions
In a large mixing bowl, combine the sifted coconut flour, gluten free flour, baking powder, natvia natural sweetener, cinnamon and protein powder if using it. Mix well to combine.

In a small bowl, whisk together the egg whites and vanilla extract and add it to the dry mixture. Slowly, add the almond milk 1 tablespoon at a time until a thick batter is formed.

Heat a frying pan on low heat and spray with cooking oil. Once pan is extremely hot, pour spoonfuls of the batter and then cover the pan. Once bubbles appear and the edges go brown, remove cover, flip the pancakes and cover again for approximately 1 minute. Repeat until all the batter is used up.

In a small bowl, combine the softened cream cheese with the sweetener and cinnamon and mix well. Layer pancakes evenly with the frosting and dust with extra cinnamon.
Notes
Do not add any sweetener to the pancake batter if using a sweetened protein powder.
Use less liquid if you omit the protein powder.
* For a vegan version, sub for 1 flax egg
** For a vegan version, sub for dairy free cream cheese!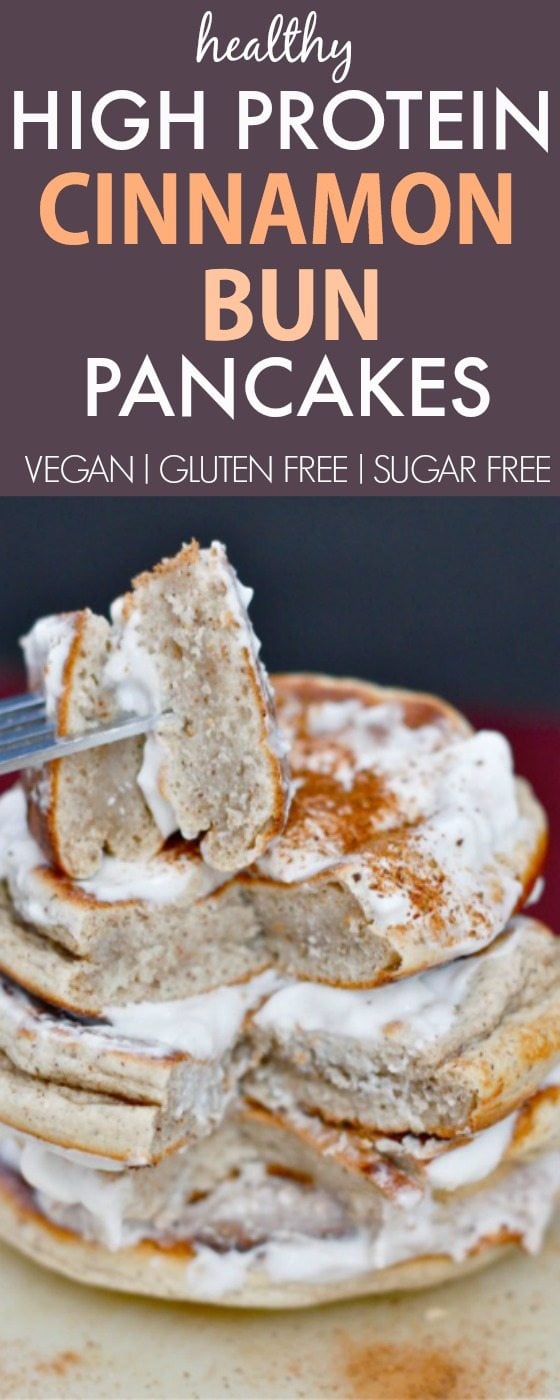 When you travel, does unique or traditional food play a big part?
Ever made a foodie bucket list?
Favourite chain restaurant?