An easy no-bake recipe for copycat kind bars! Loaded with nuts, seeds, and dried fruit, these healthy snack bars are completely vegan, paleo and gluten-free!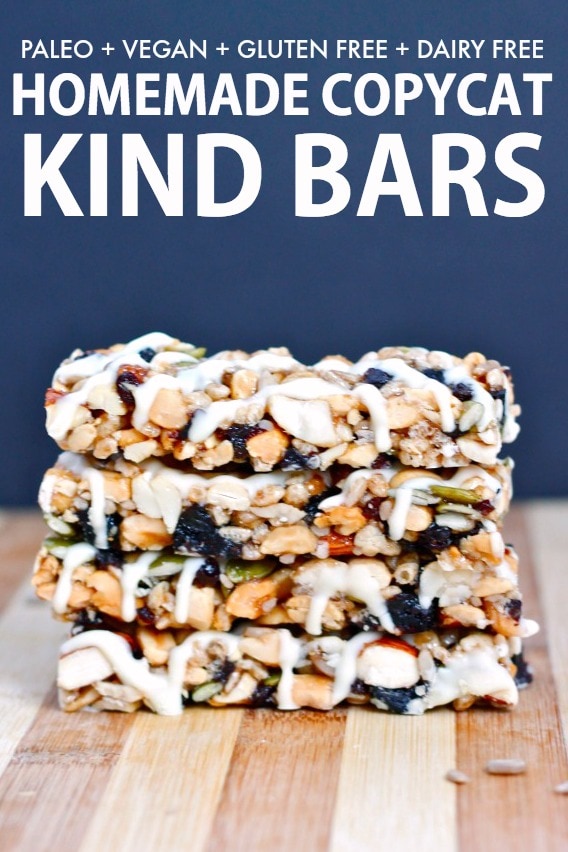 Homemade Kind Bar Recipe
Making my own snack bars have become second nature to me. Whether it be no bake granola bars, keto protein bars, and peanut butter bars, I always have some on hand.
Inspired by my homemade Larabars, I wanted to recreate one of my other favorite store-bought bars and have a go at making Homemade Kind Bars!
Before I share my twist on it, let's compare the two!
Are KIND Bars Healthy?
Yes and no.
Compared to other snack bars on the market, they are generally healthier and a great snack choice. Depending on which flavor you choose, they can be quite protein-rich.
However, overall, they tend to contain a little too much sugar and cereal, which isn't the best for a grain-free or gluten-free diet.
They also have a bunch of ingredients I have either personally never used or don't even know what their benefit is. These ingredients include palm kernel oil, glucose syrup, rice flour, and soy lecithin.
Kind Bars Nutrition
Kind Bars come in a variety of flavors, including Blueberry, Vanilla and Cashew and my personal favorite, Cranberry Almond.
On average, a KIND Bar contains 220 calories, 15 grams of fat (3 grams saturated), 16 grams of carbs (7 grams fiber) and 6 grams of protein.
I personally wouldn't consider KIND bars to be a very high protein bar or a replacement for a protein bar.
Are KIND Bars vegan, gluten-free and/or paleo?
As KIND Bars come in a range of flavors and varieties, some may fit one of these diets. As such, you'll need to keep an eye on the ingredients to see if it is suitable for your diet.
From the ones I've personally tried, none have been paleo-friendly or vegan (they contained honey and/or cereal grains).
As such, my recipe for DIY Copycat KIND Bars is the opposite! They use minimal ingredients (which you can pronounce) and they also are suitable for all 3 of the diets above!
Homemade KIND Bar Ingredients
Mixed Seeds (Pepitas, Sunflower Seeds)
Dried Fruit of choice (I used cherries and blueberries)
Vanilla Extract
Cinnamon
Coconut Butter, to drizzle (Optional!)
How to make homemade Kind Bars
Step 1: Line an 8 x 8-inch pan with parchment paper and set aside.
Step 2: In a large mixing bowl, combine all your ingredients, except for your maple syrup, and mix well.
Step 3: Add your maple syrup and mix very well, until fully incorporated. If the KIND Bar batter is a little too loose, add a dash more maple syrup.
Step 4: Transfer the mixture into the lined pan and spread out evenly. Refrigerate for at least 2 hours, or until firm.
Step 5: If desired, drizzle over some coconut butter and allow it to firm up into the bars. Cut into bars and enjoy.
How to store homemade Kind Bars
Homemade Kind bars will keep at room temperature, but they tend to fall apart. You are best to store leftover bars in the refrigerator in a sealed container. They will keep in the fridge for up to 4 weeks.
Kind bars are freezer friendly and can be stored in the freezer for up to 2 months.
Tips and Tricks for Perfect Homemade KIND Bars
Before transferring your mixture to the lined pan, ensure it is thick but not crumbly. You want to be able to press the mixture into the pan and allow it to set. If it seems too loose, add a little extra maple syrup.
I used maple syrup, in order to keep the bars 100% vegan, gluten-free and paleo. If you don't have dietary restrictions, brown rice syrup is the best substitution, as it is super thick. Agave nectar and honey can also be substituted, but the latter will have a more pronounced flavor!
Do not freeze the bars before they have been sliced, as they will be dense and have a very doughy texture.
As long as you have 1 1/2 cups TOTAL of nuts, you can use any combination you have on hand. Walnuts and pecans would be great additions, along with some macadamia nuts too. Just be sure to chop them up, to ensure they hold together.
Similarly, use any dried fruits you have on hand- Chopped dried apricots, dried mangoes or even currants would be fantastic.
These bars make fantastic snacks for school (they are peanut-free!) or in between workouts. To keep bars fresh, wrap them in parchment paper before sealing them in a container. This will also avoid them from sticking together.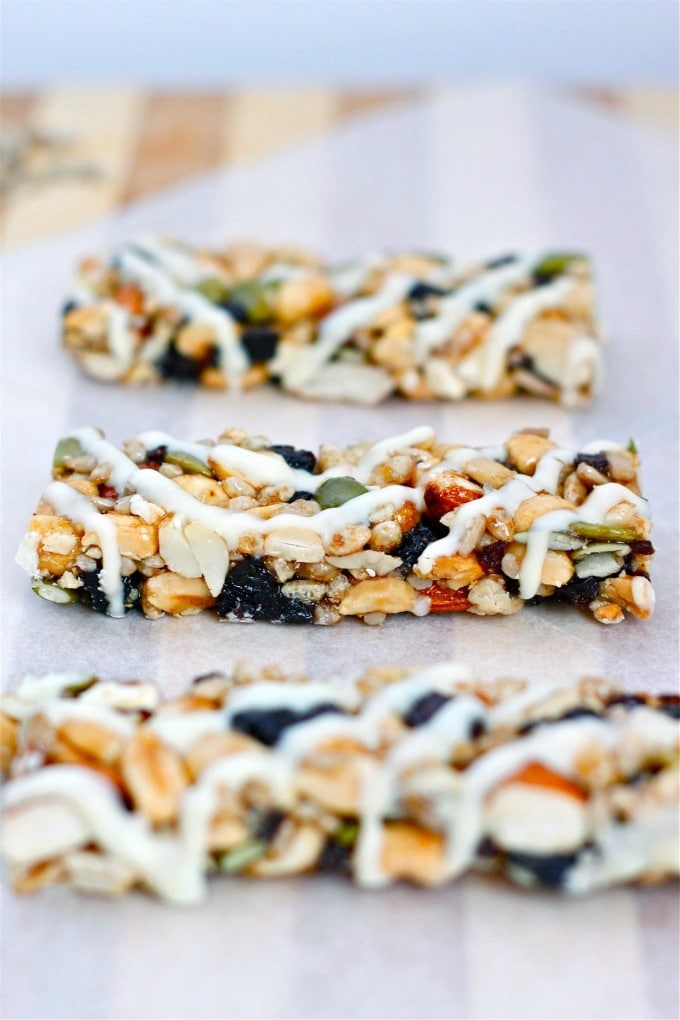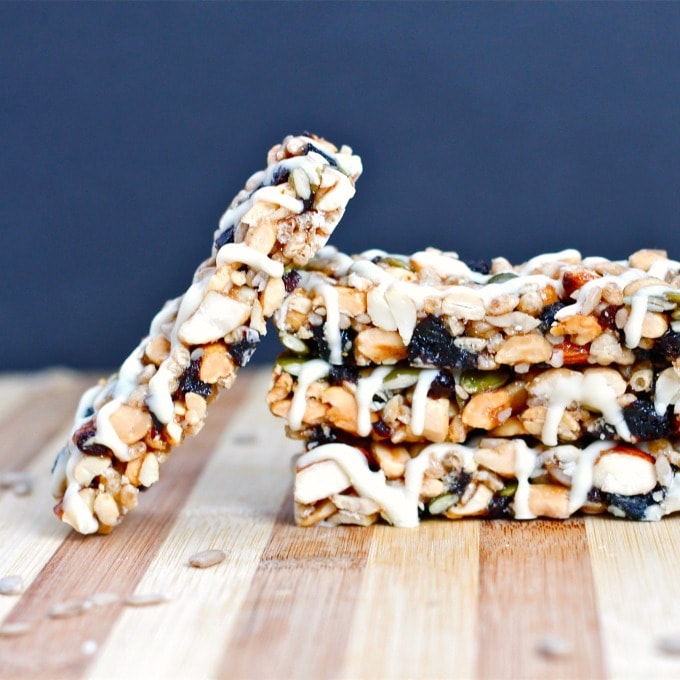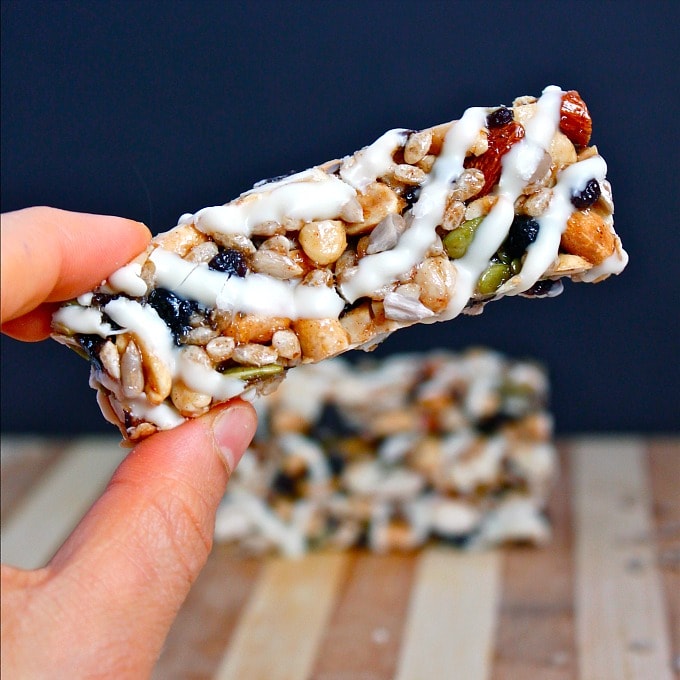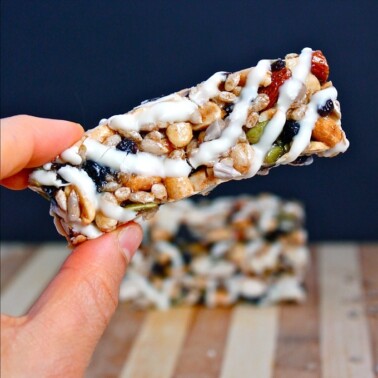 Homemade Kind Bars (Vegan, Paleo, Gluten Free)
A quick and easy recipe for Homemade Fruit and Nut Bars which taste like a KIND Bar! This copycat recipe is completely vegan, gluten-free and paleo, and makes the perfect snack!
Instructions
Line an 8 x 8-inch pan with parchment paper and set aside.

In a large mixing bowl, combine your nuts, seeds, dried fruit, and salt and mix well.

Add your vanilla extract and maple syrup and mix well. If the mixture is too thin/crumbly, add a little extra maple syrup.

Transfer the mixture to the lined pan and press firmly into place. Refrigerate until firm. Once firm, drizzle with optional coconut butter before slicing into 14 bars.
Notes
* Start with 5 tablespoons and if needed, add an extra tablespoon.
Homemade Kind Bars (Vegan, Paleo, Gluten Free) should be stored in the fridge and will keep for up to 4 weeks.
Kind bars are also freezer friendly and will keep frozen for up to 2 months.
Nutrition
Serving:
1
Bar
Calories:
173
kcal
Carbohydrates:
17
g
Protein:
5
g
Fat:
11
g
Fiber:
9
g
Vitamin A:
150
IU
Vitamin C:
4.1
mg
Calcium:
50
mg
Iron:
0.7
mg
NET CARBS:
8
g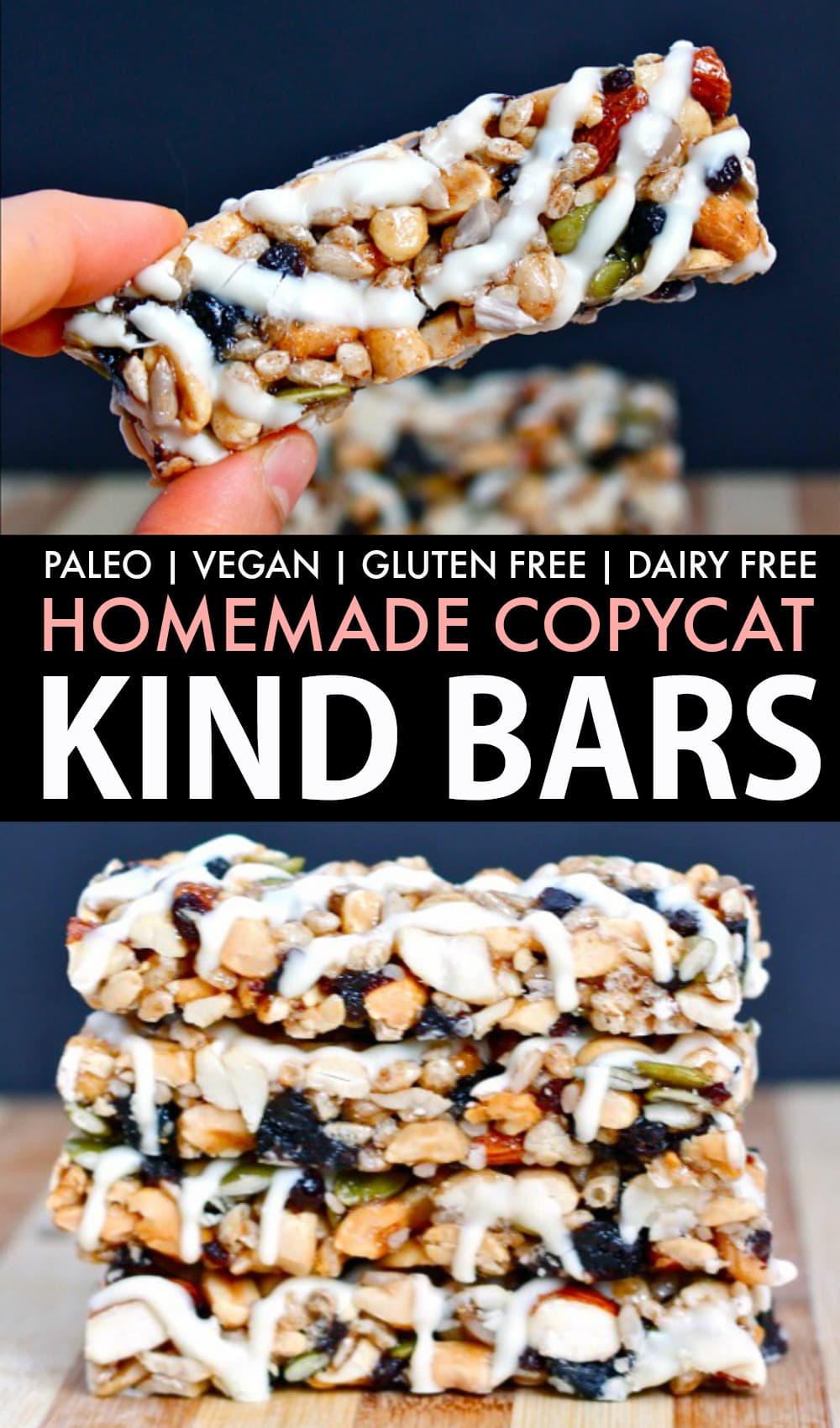 Disclosure: This post may contain affiliate links. I may earn a small commission for my endorsement, recommendation, testimonial, and/or link to any products or services from this website.