These COPYCAT Kind Bars take 1 bowl and 10 minutes to whip up- They are also much cheaper than store bought and dare I say- More delicious than it's inspiration? Gluten free, vegan and with a protein optional boost!

'Buy one of every single bar you can find at WholeFoods'.
That was the text message I received from a mate the day before my intended flight to Australia after my semester studying in America. My suitcase was already packed with all things peanut butter, protein powder and a Harry Potter wand from Universal Studios (I'm not joking).
I had very limited room in my luggage but getting a random assortment of bars- that I could do. From memory, I remember buying 1 of every larabar flavour (never again), 1 of every luna bar flavour (never again….especially after it told me it was the nutrition bar for women), 1 of every mojo clif bar (never again….one ripped open and stuck worse than glue to my documents), some raw bar which tasted like punishment and the final three flavours of these fruit and nut bars called 'Kind Bars'.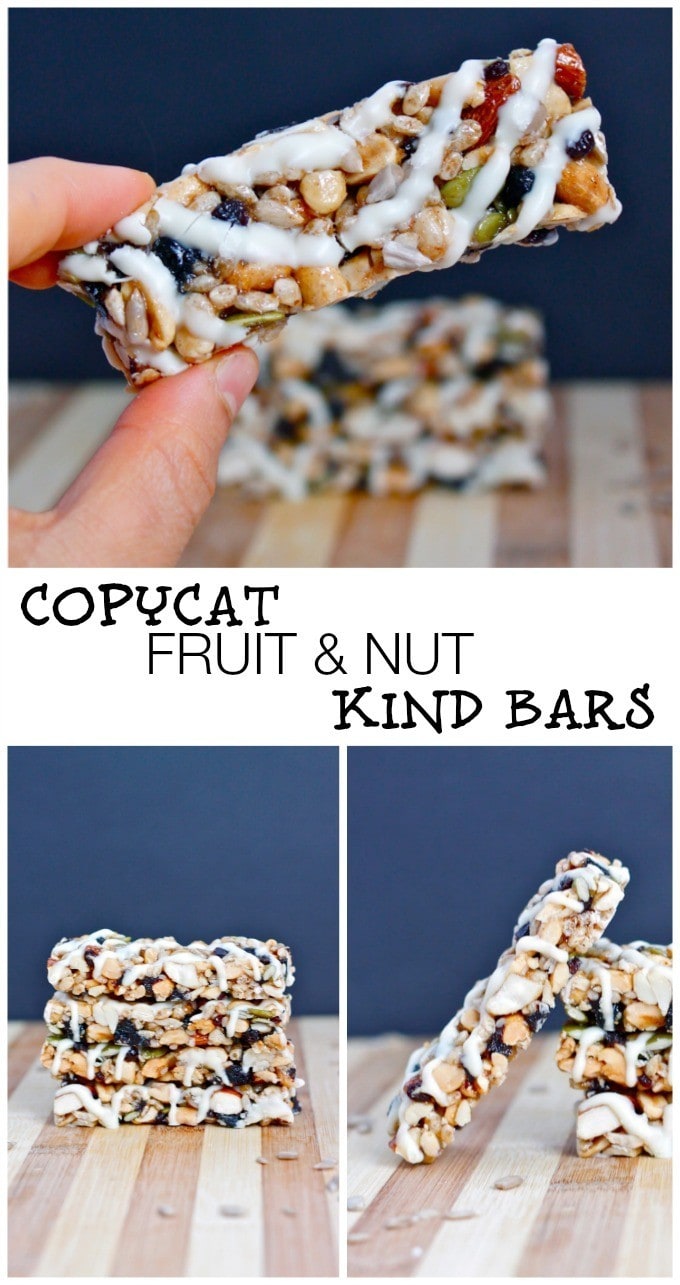 I remember the Kind bars distinctly because when I arrived to offload my luggage to be put in the carousel, it was 1.5 kilograms over. Instead of being charged an extra $75 to compensate, I removed the Harry Potter wand and the three kind bars and for some miraculous reason (I pretend to myself that it was the magic from the wand) it broke an even 25 kilos. Success.
I despise plane food because it usually reminds me of food served at camp and is as tasty as cardboard or plastic. I usually just eat the dessert, the bread roll and the butter. Even then, it's questionable- True Story- I nearly broke my tooth on a bread roll once.
This particular plane ride was no different and the food was just as inedible. Fortunate for me, I had a Harry Potter wand or kind bars to snack on. I chose the latter.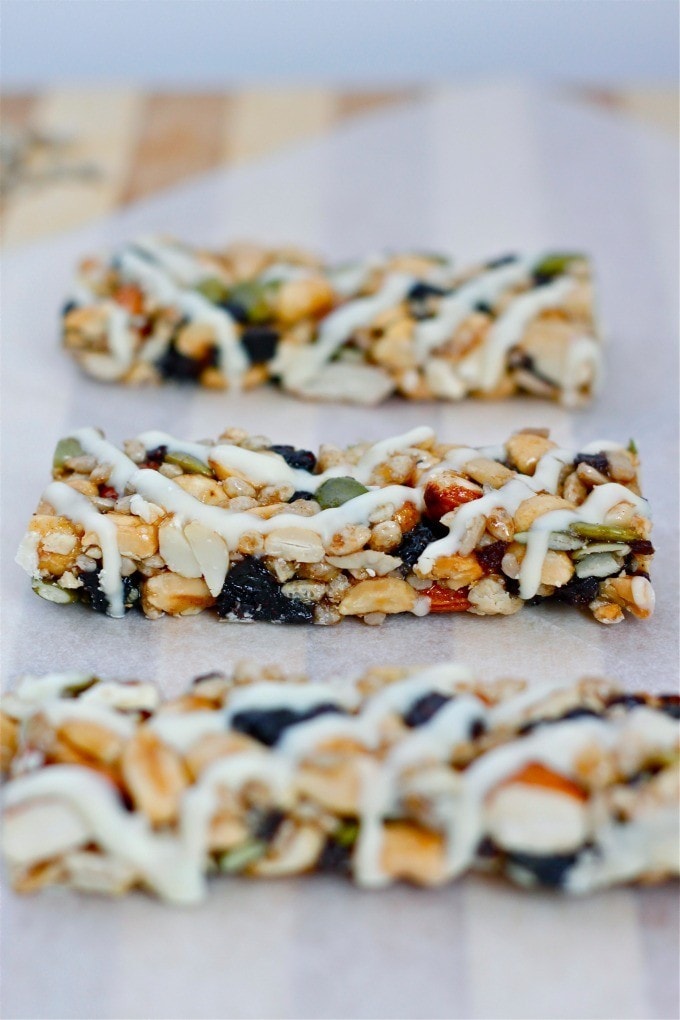 I don't know if it was because I was starving or because they served fish which looked like jello, but these bars were insanely delicious- especially for one touted as being healthy and low in sugar. I ate all three mid-flight and instead of praying for a safe landing, I prayed that these bars were not exclusive to America.
As with anything good in the United States, Australia most definitely did not have them, nor had an equivalent to it in terms of taste or ingredient list. The only answer was for me to get some shipped from America via an online retailer (not happening. I could go to America and back for the price) or make my own. Like my wand VS kind bar situation earlier, I chose the latter.
Damn, I'm smart.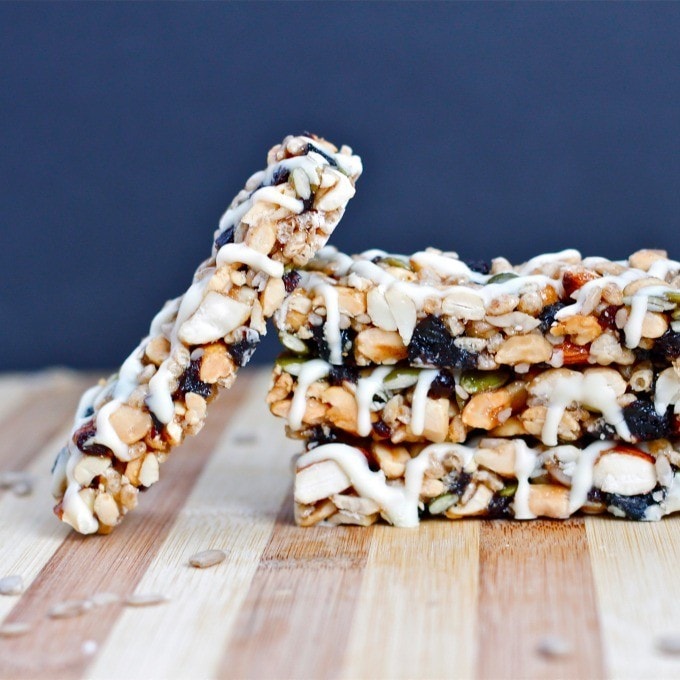 I'm well aware that the interwebs are chock full of everyone's version of the infamous 'Kind Bar' but here's my take on it. After reading up on the ingredient list of my favourite 2 kind bars (fruit and nuts in yogurt and fruit and nut delight), I decided to adapt my chewy granola bar recipe and try and replicate (as close as possible) to the real deal.
These bars (like it's inspiration) are chock full of nuts, fruit and use brown rice syrup as the binder. The beauty of it is it's adaptability for you to use whichever nuts or fruit you like! I added a cheeky 'yogurt' drizzle which is pretty much a lie- it's sugar and a drop of yogurt.
….by cheeky drizzle I mean I went to bloody town decorating them in zig zag fashion.
If you love no bake bars, you'll LOVE these healthy no bake BOUNTY Protein Bars– Check out just how easy they are to whip up below!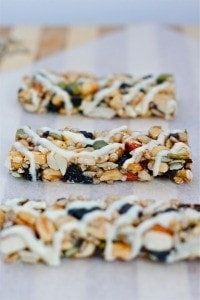 Copycat Kind Bars
2014-10-28 07:53:44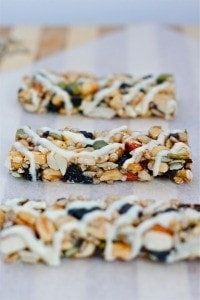 A copycat of my all time favourite (healthy) snack bar- Fruit and Nut Kind Bars!
Dry Ingredients
1/4 cup gluten free oat bran (30 grams)
• 1 cup gluten free crispy rice cereal (30 grams)
• 1/2 cup dried cherries
• 1/4 cup sunflower seeds
• 1/2 cup roasted almonds, chopped roughly
• 1/2 cup peanuts, chopped roughly
• 1/2 cup cashews, chopped roughly
• 1/4 cup sesame seeds
• Dash of sea salt
• 1/2 T cinnamon
Wet ingredients
2/3 cup brown rice syrup
2 tablespoons coconut oil, melted (can substitute for any light flavoured oil)
2 T coconut butter, melted
Yogurt Glaze
1/2 cup plain Greek yogurt*
1/2 cup icing sugar
For a vegan option-
Protein or coconut butter drizzle
Instructions
In a large mixing bowl, combine the oat bran, crispy rice cereal, dried cherries, sunflower seeds, roasted almonds, peanuts, cashews, sesame seeds, sea salt and cinnamon.
In a microwave proof bowl, mix the brown rice syrup and coconut oil until well combined. Add the coconut butter and break apart as much as possible. Heat in the microwave until it just starts to bubble.
Remove from microwave and pour the liquid mixture over the dry mixture and ensure it is very well combined.
Grease a cake tin/baking tray or line with parchment paper. Press the mixture into it and allow to cool at room temperature.
In a small bowl, mix through the Greek Yogurt and icing sugar until a frosting is formed. Pour into a ziplock bag and cut a corner by the edge and generously drizzle over the bars. Refrigerate until icing firms up.
Notes
These bars can be stored at room temperature- They will however be quite soft but still hold up. for firm bars, keep refrigerated.
If the coconut oil/coconut butter mixture isn't fully melted, it will result in random clumps of coconut butter throughout the bar (I actually didn't mind this).
Adapted from Yogurt Glaze recipe from Allrecipes.com
Adapted from Yogurt Glaze recipe from Allrecipes.com
The Big Man's World ® https://thebigmansworld.com/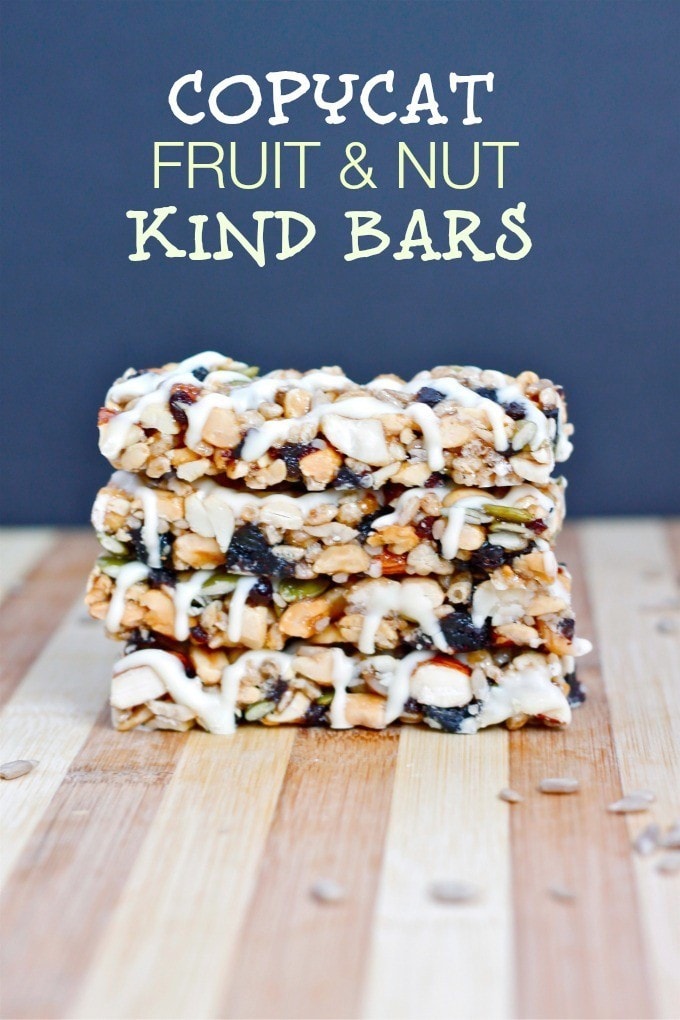 What is your favourite store bought fruit/nut bar?
Have you ever gone gaga at WholeFoods bar section?
What bar would you consider a bar fail?