Flourless Gluten Free Vegan Chocolate Muffins (Nut-Free, Keto, Paleo)
The best healthy flourless chocolate muffin recipe which is so quick, easy and made in under 20 minutes! Whipped up in a blender, these moist gluten-free vegan chocolate muffins are completely nut-free, paleo and have a keto option!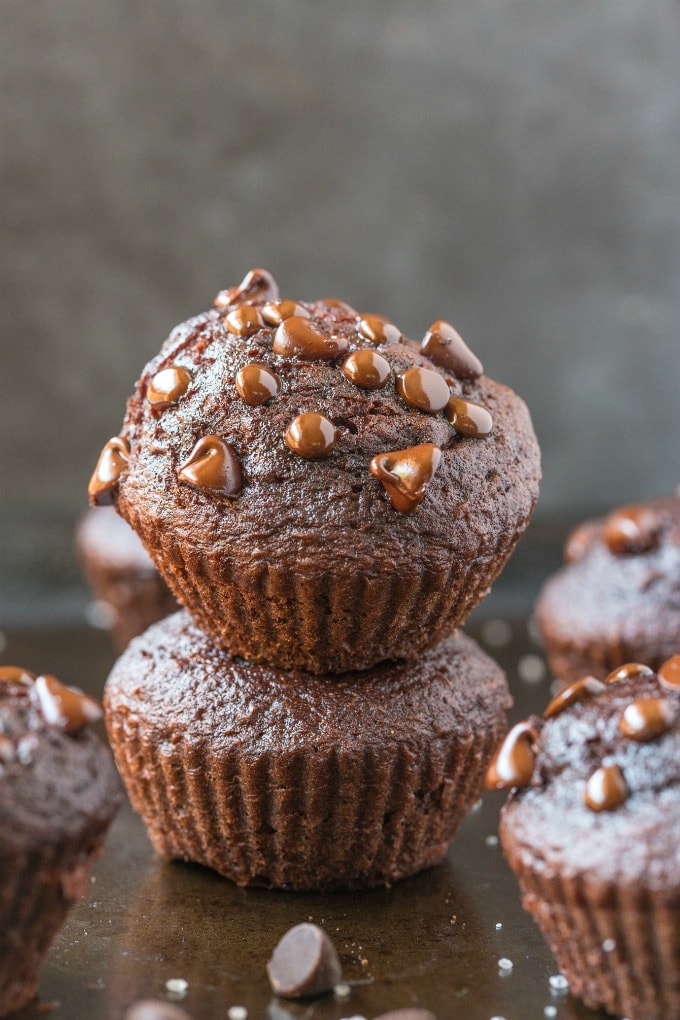 Easy Gluten Free Vegan Chocolate Muffins
As someone who grew up with a sibling with severe nut allergies, chocolate was something we'd rarely see in the house.
Fortunately, after my first trip to the United States, I came across Enjoy Life Chocolate baking products and was instantly a fan.
Being accustomed to gravitating towards all kinds of dairy-free chocolate, I was intrigued- not only were Enjoy Life chocolate chips gluten-free and dairy-free, but they were also free from 14 allergens! Bonus? NO GMO's!
No wonder my sister and I polished off 2 bags during the first Harry Potter movie.
We've had a few nut-free recipes on here before, like these nut-free energy bites, salted caramel bliss balls and of course, nut-free flourless brownies. It's time for some muffin action with a double dose of chocolate.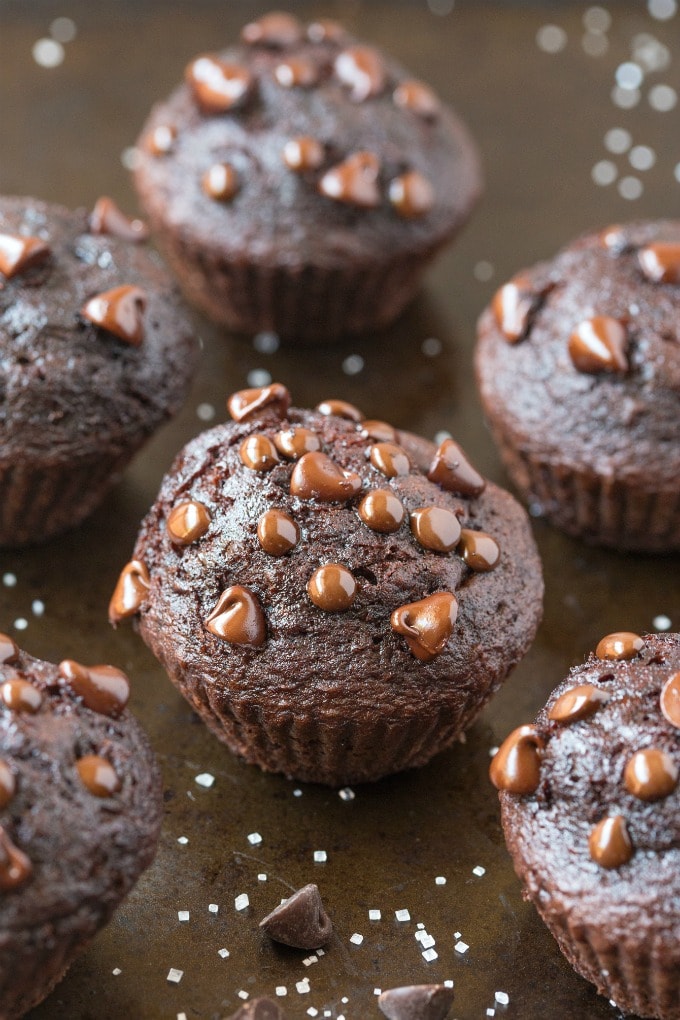 Flourless Blender Chocolate Muffins
These healthy flourless chocolate muffins are made with no eggs, no oil, no flour, no grains, and no refined sugar, but you'd never tell- They are moist on the inside, tender on the outside and absolutely loaded with the chocolate flavor both inside and out.
Naturally, these healthy flourless chocolate muffins are 100% paleo, vegan and top 8 allergen-friendly. Bonus? They are also secretly low carb, keto-friendly and gluten-free.
To call these flourless double chocolate muffins easy in the ultimate understatement- You only need one bowl, one blender or one food processor to whip up and voila- You are done. An easy 20 minute bake time in the oven and you're done.
Because they contain no eggs, you can be a little less cautious with the cooking time. Want a fudgier gooey muffin? Remove muffins from the oven when a toothpick comes out 'just' clean. Want a more tender cake-like muffin? Cook for the entire duration.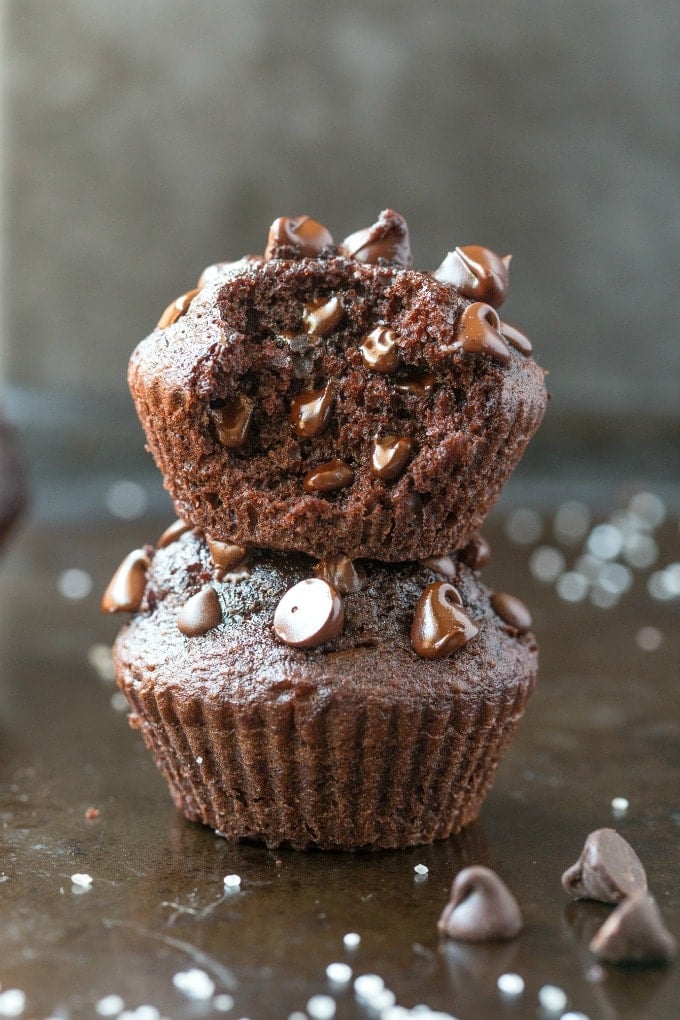 To make these nut-free flourless chocolate blender muffins, you only need SIX ingredients-
Smooth sunflower seed butter
A sticky sweetener of choice
Cocoa powder
Pumpkin Puree
Chocolate chips and mini chocolate chips
Baking soda
That's it!
NUT-FREE ALTERNATIVES TO PEANUT BUTTER
I've made similar muffins to these using peanut butter, but to keep these 100% nut-free, I opted to use no added sugar sunflower seed butter.
This smooth and creamy nut-free and allergen-friendly spread is the perfect substitute and actually works so much better- You don't have an overpowering flavor some other nut butter posses.
Alternatively, you can use smooth tahini, but I find brands vary considerably- Some can be extremely bitter and gritty, so just be wary.
KETO AND VEGAN SWEETENERS
Monk fruit sweetened maple syrup is my go-to, as it's 100% sugar free, low carb, keto-friendly, vegan-friendly and works well in these healthy flourless chocolate muffins.
If you don't have any issues with liquid sweeteners, pure maple syrup will work perfectly fine.
PUMPKIN PUREE
Pumpkin puree replaces the need for any eggs or butter and gives it a fantastic moist and tender texture. I used pumpkin puree to keep it keto-friendly, and also lower the carb count.
Again, if this isn't an issue, you can replace the pumpkin puree with mashed sweet potato or mashed banana.
While I used canned 100% pure pumpkin, making your own pumpkin puree is very easy to do.
DAIRY FREE CHOCOLATE CHIPS
Obviously saving the most important ingredient for last, I used my all-time favorite chocolate chips in two forms- The mini chocolate chips and the dark chocolate morsels (standard sized chocolate chips).
Long term readers know that these chocolate chips are my go-to, diet restrictions or not. Not only are they paleo and vegan-friendly, but they are also top 8 allergen-free!
If you ever watch my Instagram stories, you'll often see me mindless snacking on them on their own- They are THAT good. They also melt beautifully.
Using a combination of mini chips and standard sized chocolate chips give these healthy flourless nut-free chocolate muffins that extra dose of chocolate which we can all appreciate.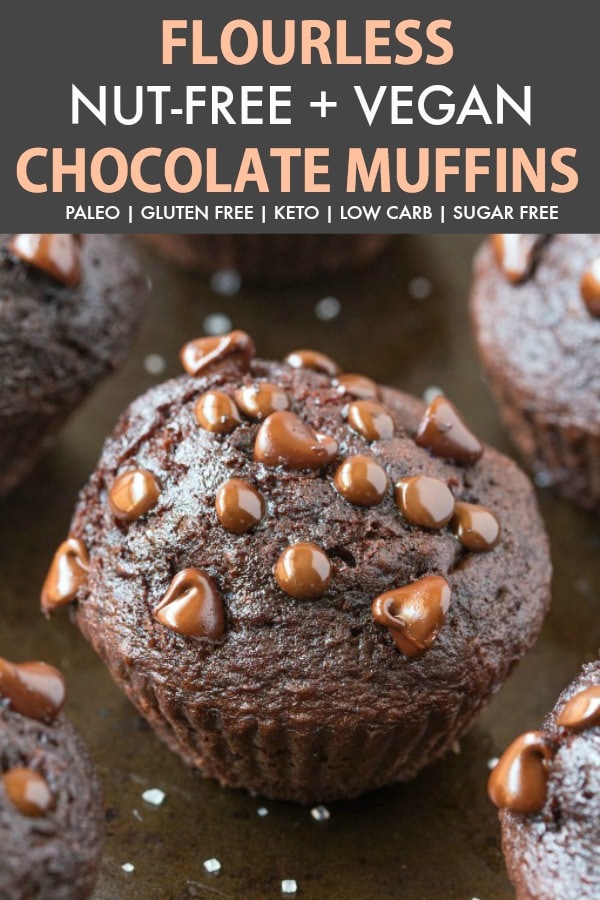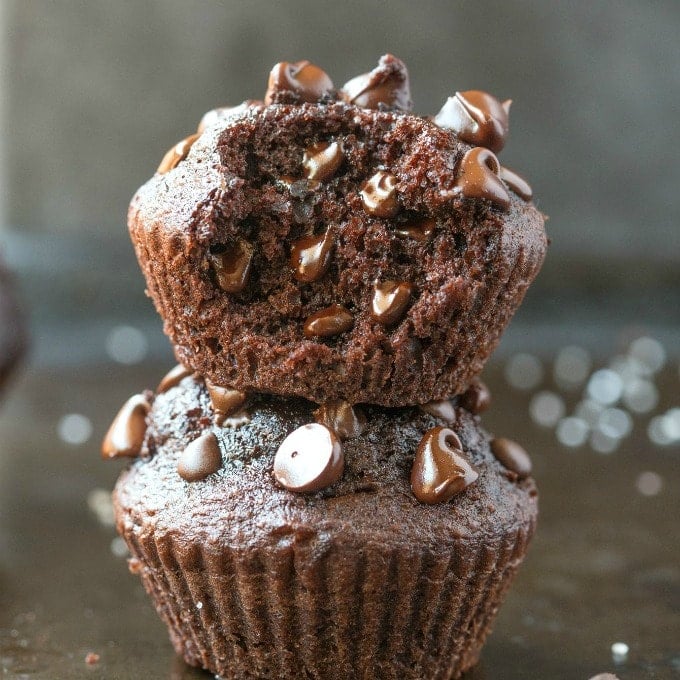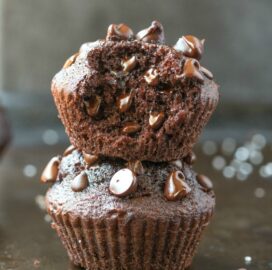 Flourless Gluten Free Vegan Chocolate Muffins (Nut-Free, Keto, Paleo)
An easy recipe for healthy flourless gluten free vegan chocolate muffins made in a blender! 100% nut-free, allergen-friendly and completely paleo and keto- They only take 20 minutes!
Print
Pin
Rate
Instructions
Preheat the oven to 180C/350F. Line a 12-count muffin tin with muffin liners or use a silicone 12-count muffin tray.

In a high-speed blender or mixing bowl, combine all your ingredients, except the chocolate chips, and mix until fully combined. Stir through your chocolate chips, reserving a few to add on top of the muffins.

Evenly distribute the muffin batter amongst the lined muffin tray. Top with remaining chocolate chips and bake for 20-30 minutes, until a skewer comes out clean.

Remove muffins from oven and allow to cool in the pan for 10 minutes, before transferring to a wire rack to cool completely.
Notes
I used a monk fruit sweetener. Pure maple syrup and agave nectar can also be used.
** This is optional. Only use if you prefer a sweeter muffin.
Flourless Gluten Free Vegan Chocolate Muffins (Nut-Free, Keto, Paleo) should be kept refrigerated in an air-tight container, for up to 5 days. They are also freezer friendly for up to 2 months.
Key Recipe Equipment and Ingredients
Nutrition
Serving:
1
Muffin
|
Calories:
150
kcal
|
Carbohydrates:
8
g
|
Protein:
6
g
|
Fat:
12
g
|
Fiber:
5
g
|
Vitamin A:
200
IU
|
Vitamin C:
3.3
mg
|
Calcium:
30
mg
|
Iron:
0.7
mg
|
NET CARBS:
3
g