Flourless Sweet Potato Chocolate Cake (Paleo, Vegan, Gluten Free)
A timeless cake gets a healthy and protein-packed makeover! This chocolate cake has sweet potato hidden in it and comes with two options- One flourless and fluffy, and one more dense and fudgy! (Paleo, Vegan, Gluten Free)
I'm all for the classics, especially when it comes to chocolate cake. However, when I want chocolate cake at least once a day, you bet I'm going to make sure it is packed with healthy ingredients, without sacrificing on taste.
My cake-loving friends, I have you covered.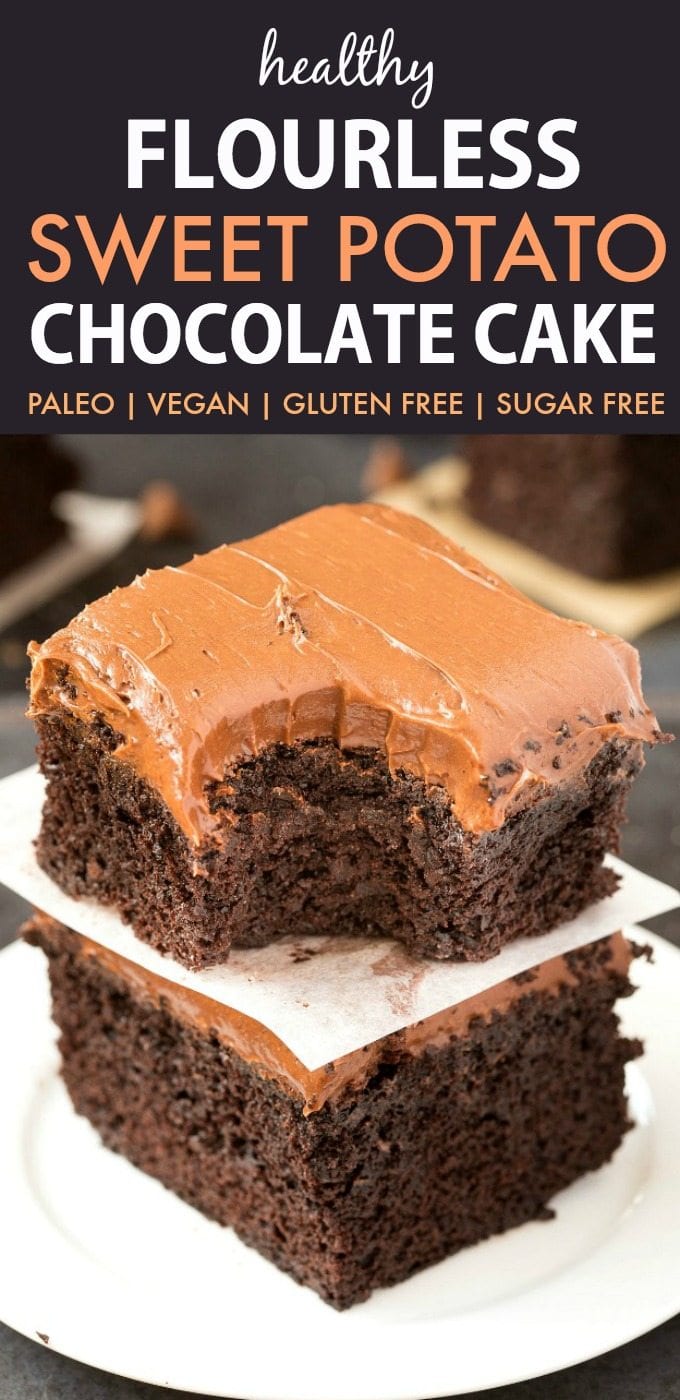 If there is one recipe request that pops up time and time again, is for there to be a chocolate cake recipe which fits the following criteria-
Made without any eggs
Is high in protein
Can be made with or without protein powder
Can be made completely sugar-free
Is cake-y
Is fudge-y
Is simple and quick to whip up
Seeing as I still haven't graduated from Hogwarts yet, this sounded like quite the challenge, hence I continued to put it off….until now.
I was looking through my old recipe archives and tried to find a single recipe I could adapt which could cover all the bases. Unfortunately, every recipe would miss one of the key elements or would need a few other adjustments. That, or they were single serving or ultra fudgy brownies.
Both are perfectly acceptable cake alternatives but they are just that- NOT cake.
The biggest set-back I had was the protein powder- If everyone was a fan of protein powder in their baked goods, we'd be all set. The other controversial ingredient is the coconut flour. You either love it or hate it. Thus, I'm sharing two tested options so you'll be covered one way or another!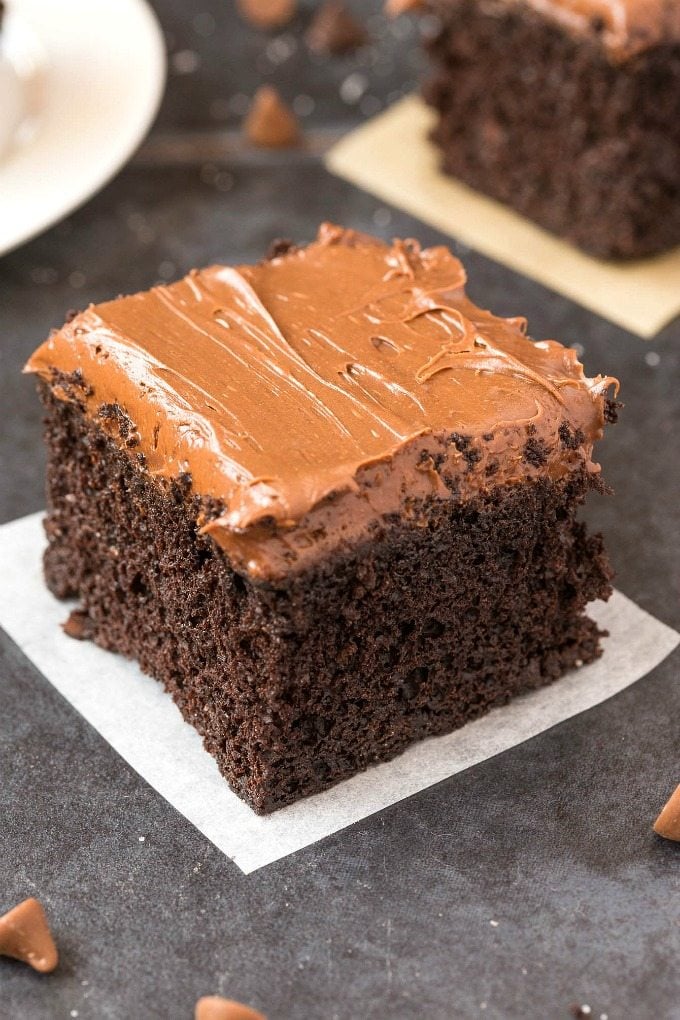 As we are in the midst of all things fall and autumn, it means one key ingredient- Sweet Potato! To be quite honest, even if it wasn't peak season right now, I'd find a way to sneak them in. They are one of the most versatile ingredients in my baked goods.
Sweet potatoes add texture, moisture and can often be used to help reduce the overall fat content. They also help me replace eggs in both the recipes.
I know many of my friends in the Northern Hemisphere have Thanksgiving and Christmas coming up which means one thing- Loads of leftover sweet potato. Never fear- Your leftover sweet potatoes will be transformed into this healthy flourless chocolate cake!
In both recipes, you can use either canned sweet potato or homemade mashed sweet potato. If you make your own sweet potato puree, ensure it is completely blended and contains no lumps. Without blending it enough, your cake will end up being too dense, heavy and fall apart.
For those of you skeptical about having a sweet potato hidden in a dessert, I promise you won't be able to tell. My sweet potato brownies are one of my most-made recipes and barely anyone can tell they are in there!
You don't often hear 'healthy' and 'cake' in the same sentence without one sacrifice down the line. I promise you that while this cake is completely sugar-free, dairy-free, grain-free and low carb, you won't be able to tell- The swaps made are not extreme. You can also be a little cheeky about using a little more frosting than necessary.
Guilty.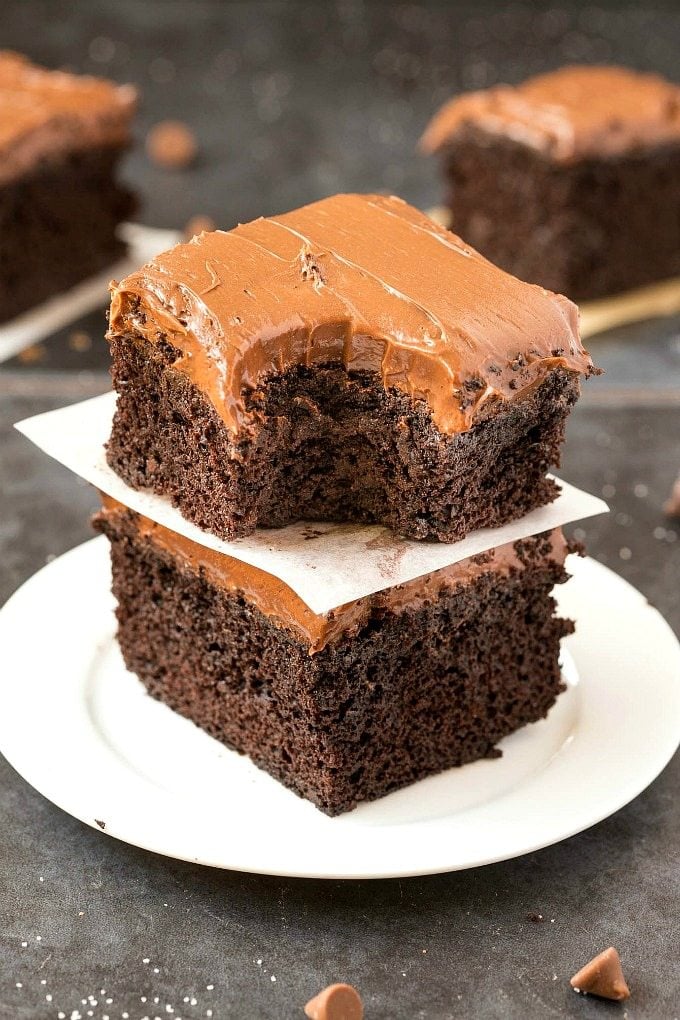 While this sweet potato chocolate cake is delicious and healthy, there are a couple of variables which you need to take note of to ensure you achieve the perfect texture.
The coconut flour
No single brand of coconut flour provides the same final outcome. I've tried nearly every brand of coconut flour available on the market and some are super fine and bake really well and others are extremely dry and overbearing. I stick to either the Trader Joe's home brand or Bob's store-bought one.
To combat this (irrespective of which brand you have on hand), you'll start with the base half-cup serving. If your brand of coconut flour may be too dry, you can adjust the batter by adding more milk of choice (almond, coconut, etc).
ONLY DO THIS AT THE END.
Please note- For the original version, DO NOT swap out the coconut flour for another flour. I have only tested it with the coconut flour. Using another flour would require changes in both the quantities of the flour, along with the other ingredients. See the flourless version for it without coconut flour.
The protein powder
As mentioned earlier in the post, the protein powder is quite necessary for the original option. If you do omit it, you won't be left with a cake-like texture and it will be way fudgier.
Will it work without it? Yes, but you will need to chill it completely before enjoying. You will also need to cook it a little longer.
For protein powder recommendations, I strictly use brown rice protein powder, casein protein powder or paleo protein powder. You can see all my tried and tested recommendations here. Do not use a whey based protein powder or pre-mixed blend- Whey protein dries out baked goods and when paired with coconut flour, you'll be left with an overly dense and rocky cake.
The cocoa powder
As a lover of rich, dark chocolate cakes, I opted to use a dark cocoa powder. If it is a little too rich tasting for you (some may find it bitter), use a good quality Dutch processed kind. To switch things up, I sometimes use half of each but use whichever.
Cacao powder can work too, but it's earthy in both taste, texture, and color.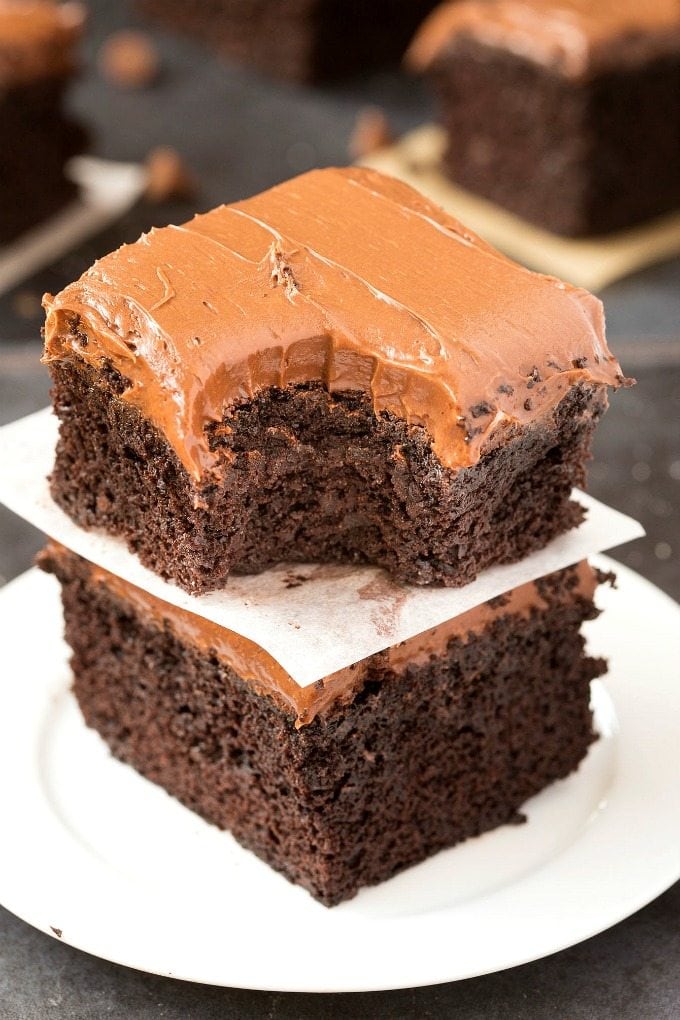 The Flourless Option (No protein powder and no coconut flour)
Thank goodness I remembered I wrote a cookbook and had a cheeky muffin recipe in it I could adapt to a cake to offer a flourless option.
People who have purchased Clean Sweets have all mentioned how the chocolate muffin is one of their favorites, so you know it has gotten a seal of approval.
If you opt to make this version, simply throw all the ingredients into the blender and pour into your loaf pan and voila- A one bowl healthy sweet potato chocolate cake.
Rolled oats are used here to replace traditional flour. If you have no issues with flour or want to make it without oats, swap it out for 2 cups of either wheat flour, white flour or all purpose flour.
Take note of the 2 cups, not the 2 1/4 cups.
The healthy frosting
I feel like I'm talking to a wall when I say frosting is optional, but really, the cake is sweet enough without it. Saying that, to me, chocolate cake is nothing without frosting so I went ahead and did just that.
Pictured, you will see the simple 2-ingredient coconut cream ganache frosting. To make it, you need a can of full-fat coconut milk and 1 pound (453 grams) of your favorite chocolate. Simply melt them together, let cool slightly and cover your cake with it!
If you want a protein frosting or a cream cheese frosting, check out this post for the directions. If you want a secretly healthy but super simple frosting, my homemade 4 ingredient applesauce chocolate frosting will have you covered.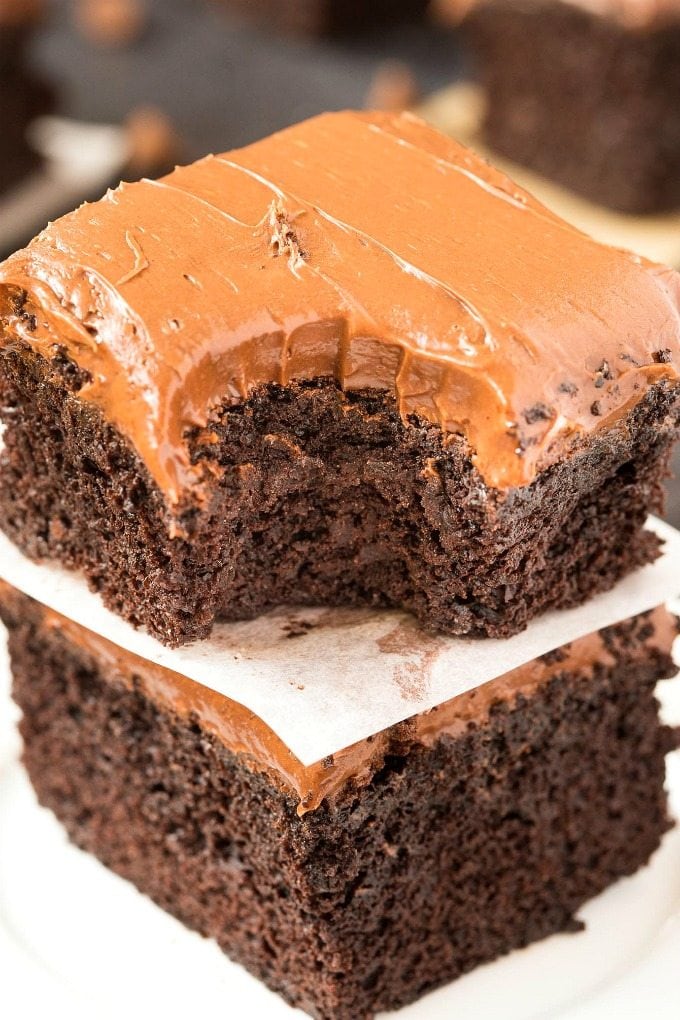 While this healthy sweet potato chocolate cake isn't your typical rich, decadent and indulgent dessert, it is one you can feel good about eating every single day. It's packed with protein, made without any sugar, no eggs, and no oil, but doesn't sacrifice on taste!
For everyone wanting ONE single cake which fits a paleo, vegan AND gluten-free lifestyle- This is your answer!
More delicious chocolate recipes using the sweet potato? Gotcha covered!
No Bake Sweet Potato Breakfast Brownies
4 Ingredient Flourless Brownie Bites
Flourless Sweet Potato Chocolate Cake (Paleo, Vegan, Gluten Free) adapted from Chocolate Blender Muffins (Clean Sweets, 2017, WW.Norton) and Men's Fitness Magazine (UK edition, October 2016).
Check out a single serve version of this recipe in the step-by-step video below!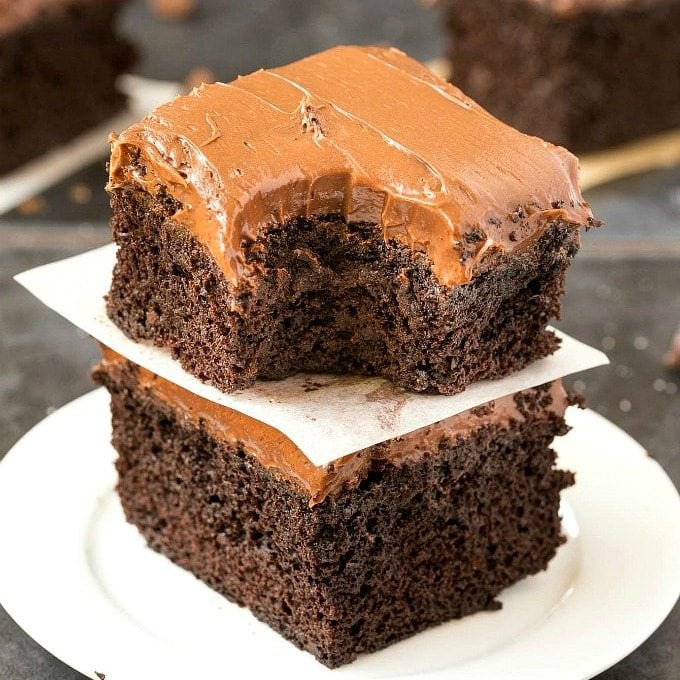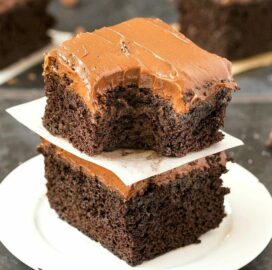 Healthy Flourless Sweet Potato Chocolate Cake
A timeless cake gets a healthy and protein-packed makeover! This chocolate cake has sweet potato hidden in it and comes with two options- One flourless and fluffy, and one more dense and fudgy! (Paleo, Vegan, Gluten Free)
Print
Rate
Ingredients
For the flourless version (No protein powder and No coconut flour)
Instructions
For the original version
Preheat the oven to 350 Fahrenheit. Line a 10 x 10 inch or 10 x 12-inch baking pan with parchment paper and set aside.

In a large mixing bowl, add your dry ingredients and set aside.

In a microwave-safe bowl or stovetop, add your coconut oil, nut/seed butter, sticky sweetener of choice and melt. Whisk in your sweet potato puree until smooth.

Pour your wet mixture into the dry and mix until combined. Add your milk of choice, starting with 3/4 cup. If the batter is too thick, slowly add more milk, one tablespoon at a time, until a thick, yet smooth batter remains.

Pour batter into lined baking pan and bake for 40-50 minutes, or until a toothpick comes out clean from the center. Be wary that depending on how much liquid you added, you may need to cook it longer- Be sure to check at the 40-minute mark.

Remove from oven and allow to cool in the pan completely before frosting and slicing into pieces.
For the flourless version
Add all ingredients in a blender and blend until a smooth batter remains. Pour into the lined pan and bake for 40 minutes, or until a toothpick comes out clean from the center.
Notes
* Depending on your coconut flour brand, you may need more liquid- Slowly add a tablespoon at a time until a thick cake like batter remains.
** You can sub this out for 2 cups of flour of choice- wheat, white, all-purpose etc.
Do not overbake the cake- You will be left with a dense and crumbly cake. It is better to under-bake it.
Both cakes should be kept refrigerated for ultimate freshness.
For an ultra fudgy cake, remove from the oven when 'just' cooked. As it contains no eggs, it is can be eaten as is. The cake will firm up slightly once cooled.
Nutrition Facts
Healthy Flourless Sweet Potato Chocolate Cake
Amount Per Serving (1 slice)
Calories 138
Calories from Fat 99
% Daily Value*
Fat 11g17%
Carbohydrates 5g2%
Protein 5g10%
Vitamin A 1900IU38%
Calcium 30mg3%
Iron 0.9mg5%
NET CARBS 1g2%
* Percent Daily Values are based on a 2000 calorie diet.
Nutrition
Serving:
1
slice
|
Calories:
138
kcal
|
Carbohydrates:
5
g
|
Protein:
5
g
|
Fat:
11
g
|
Fiber:
4
g
|
Vitamin A:
1900
IU
|
Calcium:
30
mg
|
Iron:
0.9
mg
|
NET CARBS:
1
g

The Big Man's World is a participant in the Amazon Services LLC Associates Program, an affiliate advertising program. This means that if you click and make a purchase, TBMW receives a small commission, at no cost to you. Cheers, hugs, and handshakes for supporting TBMW!