Have dessert grilling at your next cookout with this easy foil grilled granola- A simple gluten free and vegan ingredient list added together and baked in tin foil on the grill- It can also be made stovetop!

Cookouts. Barbecues. Grilling. Picnics.
These all happen in Australia. However, the atmosphere, smorgasbord and banter is much different on American ground. This will be the first time I'll be attending a 4th of July cookout and I cannot be more excited. (Moreso to brag to my friends back home about it but still.)
Being my first (of hopefully many!) Fourth of July celebrations here in America, I wanted to create a recipe which encapsulated my perceptions of this festive day. That meant something fun, something hot off the grill, something with some red/white/blue and of course- Something delicious. For those of you who remember this post, know that when it comes to grilling, success and I don't go hand in hand.
Heck, I pawn it off for others to do.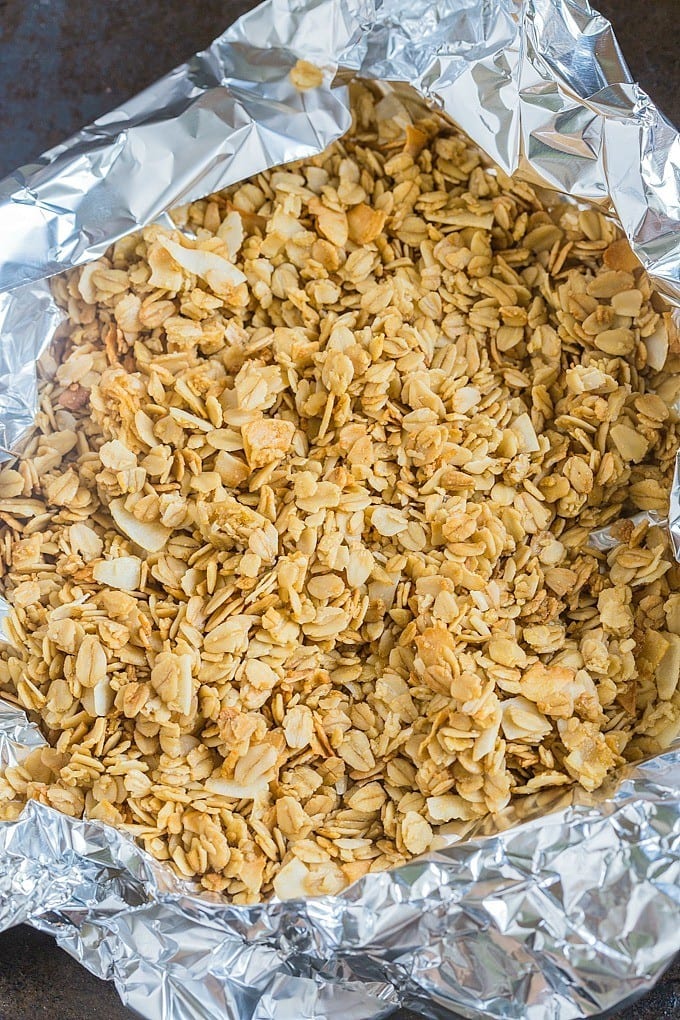 The epic team at Char-Broil Grills sent me their TRU-Infrared™ Commercial Series 3 Burner Gas Grill which came at the perfect time- The week before my birthday! Ironically, some friends here had organised drinks and a bbq and voila- We had this grill to utilise. The Char-Broil grill really impressed me with the quality and taste of the food cooked on it- No meats or veggies were half done or charred on one side- It was all cooked evenly.
We had the ability to gauge the temperature control depending on what we were making and how hungry we were- We firstly grilled basted wings, T-bone steaks, kabobs, Swordfish, tofu strips and more! This grill was so epic, my friend even grilled Mac and Cheese!
Winning.
Readers may remember me sharing my lovely experience with the grill here, so let me preface this by saying I did NOT do the grilling of the meats or veggie kabobs here- I left it to my friends to do. Me? I had the task of dessert and took one better and made it on the grill- Tin Foil Grilled Granola style!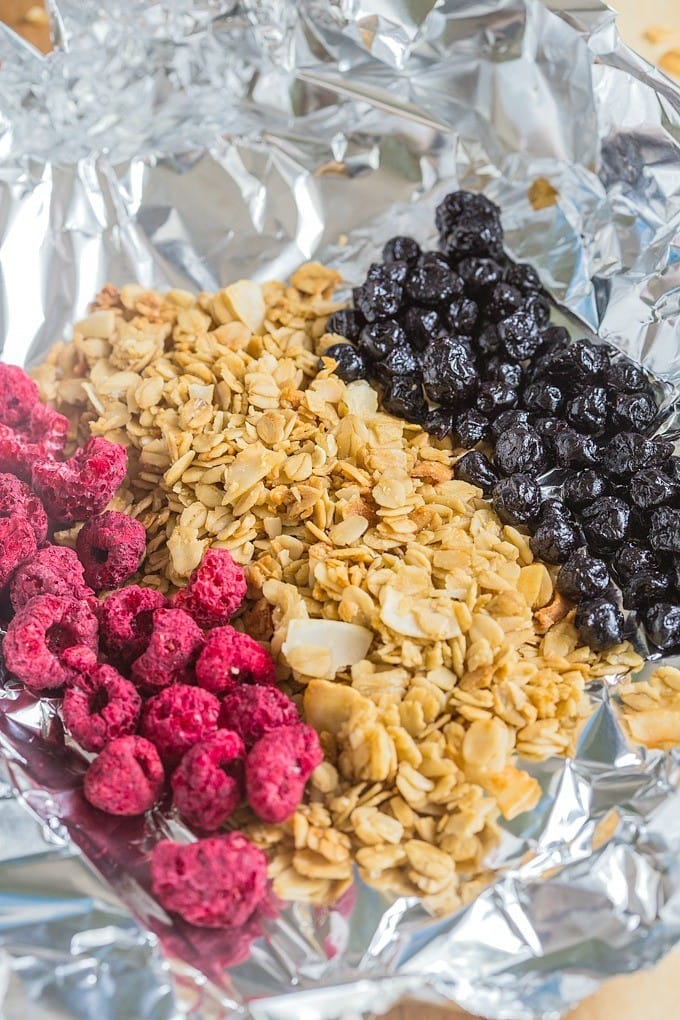 You guys, this is the BEST, quickest way to ever make granola which came out fresh, crispy and best of all- NOT burnt. I made the base plain because we had a fun little side dish station going to pimp up our granola! They key to keeping it crispy and subtly sweet is NOT to go overboard on the oils or added fats (if anyone wants to hear the chocolate version trialled of this, ask my friend's neighbours. NOT COOL) and to spray the tin foil generously before adding the mixture. This granola is gluten free, vegan, refined sugar free and allergy friendly. It's also kid approved, especially after putting it on ice cream. (Seriously, kids have the most genius minds).
For a delicious and lame quirky 4th of July spin, I chose freeze fried raspberries (red) and soft, dried blueberries (blue) as my mix ins. I also added shredded coconut chips but they were yellow. You win some, you love some.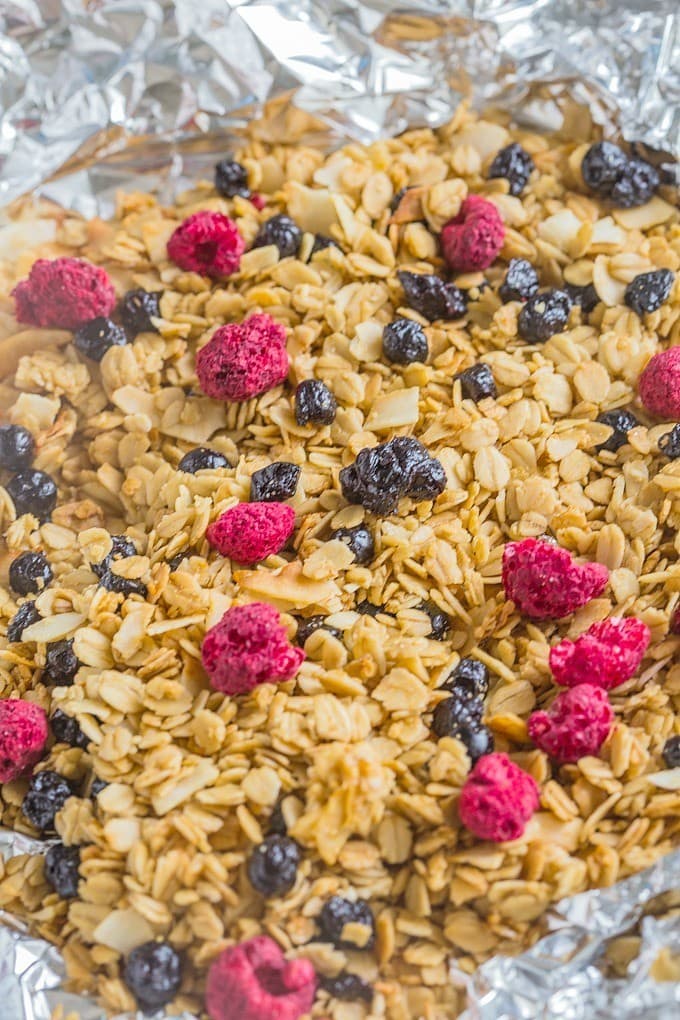 GRILL HACK BONUS- For those without a grill or who don't want to use the tin foil method, this can definitely be made stovetop or (as one of my friends did over the Char-Broil grill) grilled foil-less on the plate itself. To do either of those methods, you will need to continuously stir it and grease it further.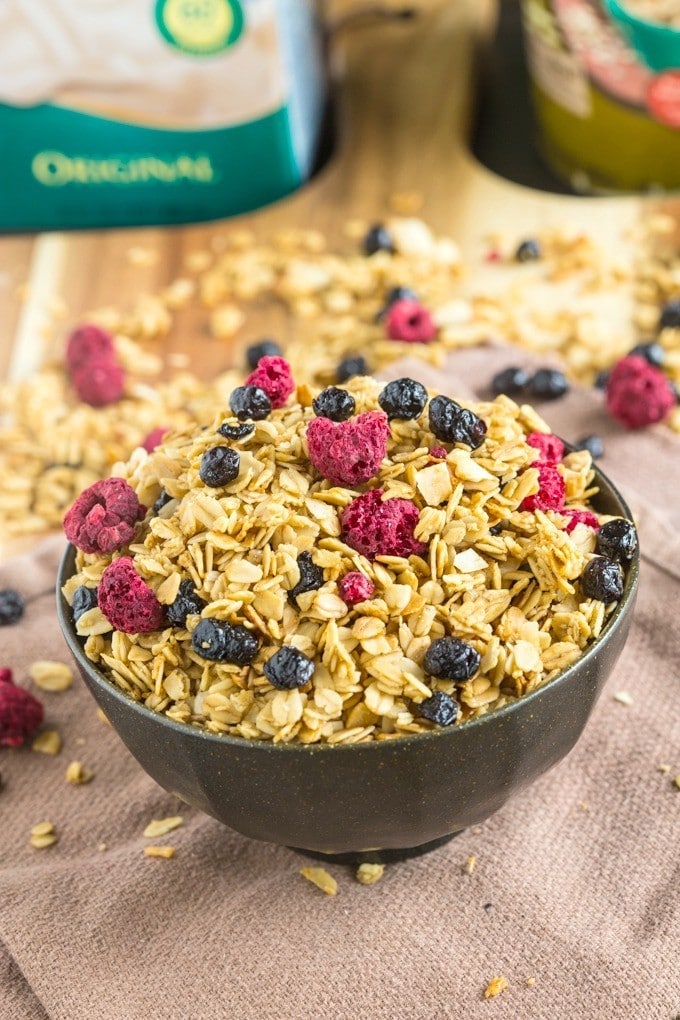 Make this easy grilled granola and have dessert cooking with your entrees side by side.
Twinning?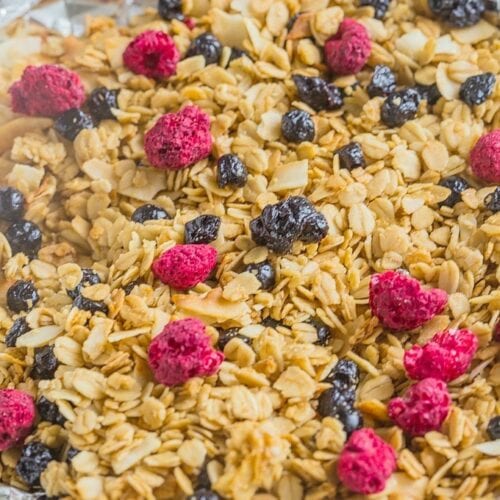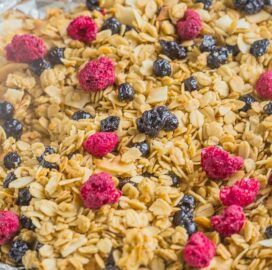 Grilled Granola
Have dessert grilling at your next cookout with this easy foil grilled granola- A simple gluten free and vegan ingredient list added together and baked in tin foil on the grill- It can also be made stovetop!
Print
Rate
Ingredients
3

cups

gluten free rolled oats

1/4

cup

gluten free oat bran

I like it for texture- Can sub for rolled oats

pinch

cinnamon

pinch

sea salt

1

tablespoon

oil of choice or butter

1/4

cup

pure maple syrup

can sub for agave- I didn't try honey for those non vegan
Post grilling
Mix ins of choice- I went with freeze dried raspberries

blueberries and shredded coconut for a 4th of July style theme!
Instructions
Coat a large sheet of tin foil generously with oil cooking spray and set aside.

In a large mixing bowl, combine the oats, oat bran, cinnamon, sea salt and mix well. Add the oil of choice (if using coconut, make sure it's melted) and maple syrup and stir until fully incorporated.

Lay the mixture in the centre part of the tin foil, preferably in a single layer, ensuring there is sufficient room to around the edges to wrap.

Place tin pouch directly on the grill on medium heat. If possible, stir every 3-4 minutes, or give it a shake (we tried both) and grill the granola for approximately 10-12 minutes.

Remove from grill and be careful when opening pouch and give the granola another stir before allowing it to cool completely.

Once cooled, add in the mix ins of choice.
Notes
Please ensure your foil is well greased, otherwise you will find most of the granola sticking to it.
You may add nuts if you like to the mixture while grilling, but avoid any other mix ins as they burn through very easily.
Store granola in an airtight container.
Ready to fire up the grill? Of course you are.
Grilled Kettle Corn Sweet Potatoes (Paleo, Vegan, Gluten Free)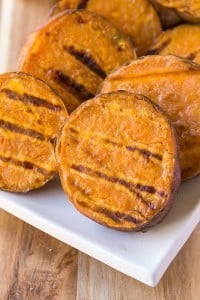 Marinated Sweet Potato, Pesto Orzo Salad (Vegan, Gluten Free)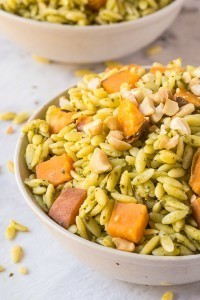 Skinny Blue Cheese Burgers (Gluten Free)