Healthy 3 Ingredient Keto Peanut Butter Fudge (Low Carb, Sugar Free, Paleo)
Enjoy this easy and fool-proof 3 ingredient keto peanut butter fudge which is low carb and naturally sugar-free! Rich, creamy and ready in minutes, you won't believe this peanut butter fat bomb recipe is healthy. It is also made without condensed milk and is dairy-free! (Paleo, Vegan, Gluten-Free)
As a die-hard peanut butter fan, I'm surprised it has taken so long for me to share a keto version of my fudge cups until now. Today, I'll be showing you how to make an easy peanut butter fudge, but with a healthy twist!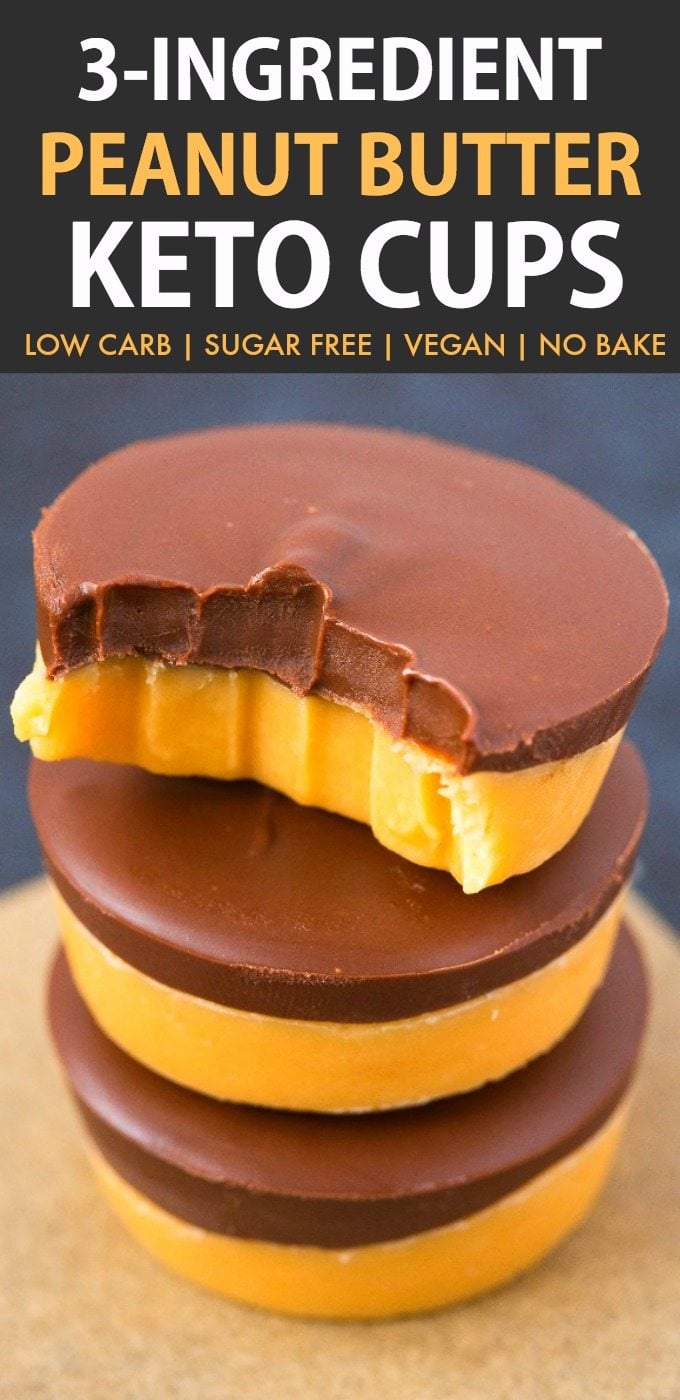 If there is a way for me to sneak peanut butter into every single meal, you know I'll give it a fair go.
My snacks lately have featured it, whether they be in peanut butter cup protein Rice Krispie treats or in homemade low carb candy bars. They've also made their way into healthier desserts, like homemade peanut butter crunch bars and the peanut butter Kit Kat Bars.
Let's not forget the main meal of the day though…Breakfast.
….I even made my favorite peanut butter cup candy bar into a healthy and guilt-free breakfast form. The step-by-step recipe video features the humble peanut butter THREE times.

I told ya.
After kickstarting the keto recipe onslaught, it was only a matter of time before the humble peanut butter was able to take center stage.
That time is NOW!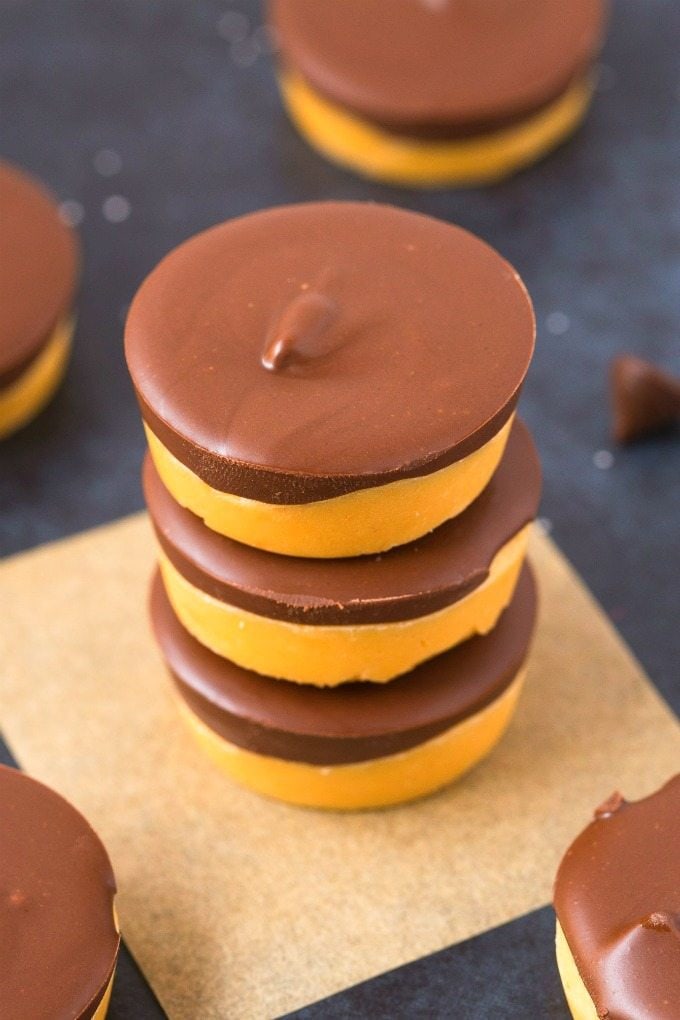 This homemade healthy keto peanut butter fudge is easy, portable and needs no refrigeration. It is exactly like eating a giant spoonful of peanut butter, but better.
When you think of 'healthy, low-carb and sugar-free' fudge, it would be easy to assume that it might sound too good to be true. I promise you this is NOT the case.
Texture wise, this fudge is smooth, creamy and melts in your mouth. However, it uses good-for-you ingredients. Unlike traditional fudge, this homemade keto peanut butter version uses no condensed milk, no sugar, no dairy and no flour.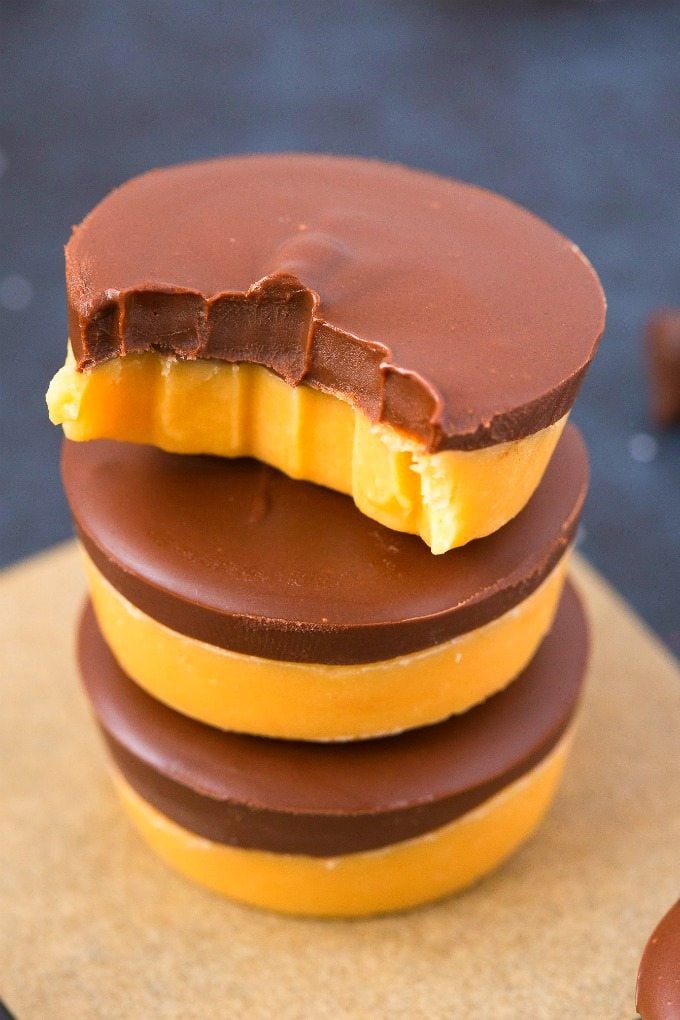 Calling this recipe easy and fool-proof isn't just said for the sake of it, as it really is! Not only does it need just three ingredients, it literally takes two minutes to whip up.
How do you make fudge the easy way? Well, follow this 3-step process!
Step 1- Combine your peanut butter and coconut oil and melt until combined
Step 2- Add your sweetener of choice
Step 3- Freezer until firm
Bonus? You don't even need to make it stovetop if you don't want to. It can be made in the microwave!
The type of Peanut Butter
To ensure your fudge is ultra creamy, choose a smooth kind of peanut butter. For those who prefer a more textured fudge (with some small peanut chunks throughout), feel free to use a chunky or crunchy style of peanut butter.
Nut-free alternatives
Friends with peanut allergies, nut allergies, or those who follow a strict paleo diet, I'd suggest using sunflower seed butter or soy nut butter. These both have the most similar texture to peanut butter.
Alternatively, you can use almond butter and make these ones here.
What kind of sweetener- Sticky, liquid, or granulated?
The sweetener is a little open-ended because you can adjust it depending on your taste buds. Just be wary of what kind you use. Liquid stevia only requires a few drops, whereas a granulated sweetener (like monk fruit), would use 1-2 tablespoons.
You can also use a sticky sweetener, like monk fruit sweetened maple syrup, but your fudge will need to keep frozen at all times.
If you aren't strictly Keto, sugar-free or low carb, feel free to use maple syrup, agave, or even honey.
PS- Take these up a notch by adding a thin layer of sugar-free chocolate chips or homemade Keto friendly chocolate. Let's face it- The only thing better than peanut butter is the peanut butter and chocolate combination.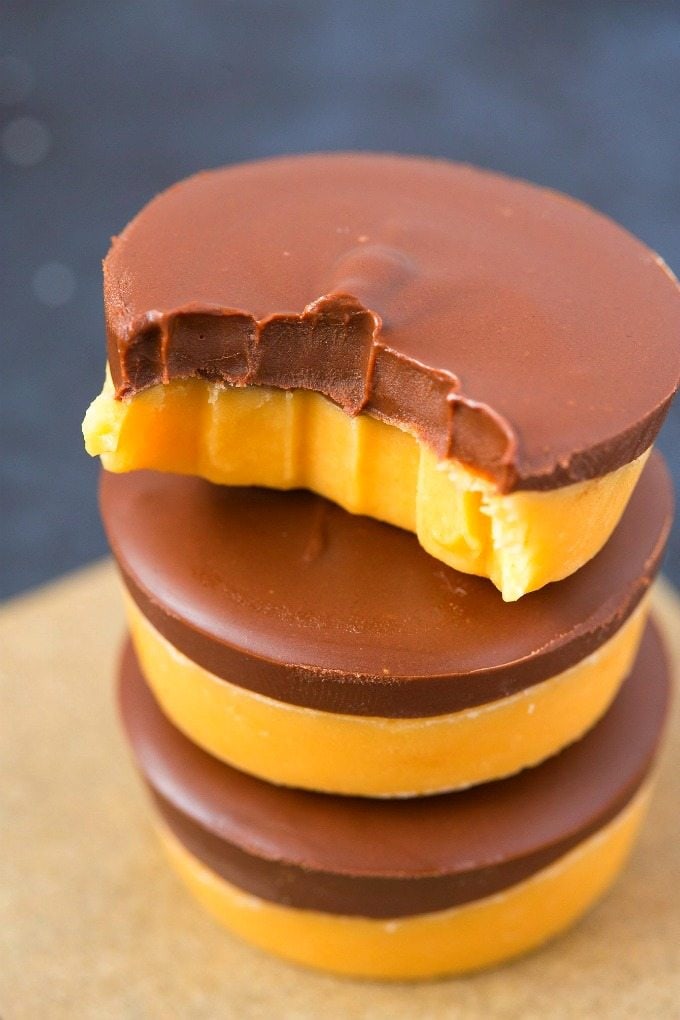 Snack, dessert, afternoon treat or that little something to satisfy your sweet tooth- This fudge is your answer. It may be small in size, but it is deceptively satisfying and you'll be fine to stop at just one.
or ten.
Looking for more no-bake easy and healthy fudge recipes? Gotcha covered!
3 Ingredient Maple Almond Fudge
Healthy Naturally Sweetened Brownie Batter Fudge
4 Ingredient Paleo Peppermint Fudge
3 Ingredient Sugar Free Nutella Fudge
Healthy 3 Ingredient Keto Peanut Butter Fudge (Low Carb, Sugar Free, Paleo) adapted from my almond butter keto fudge and chocolate coconut fudge cups.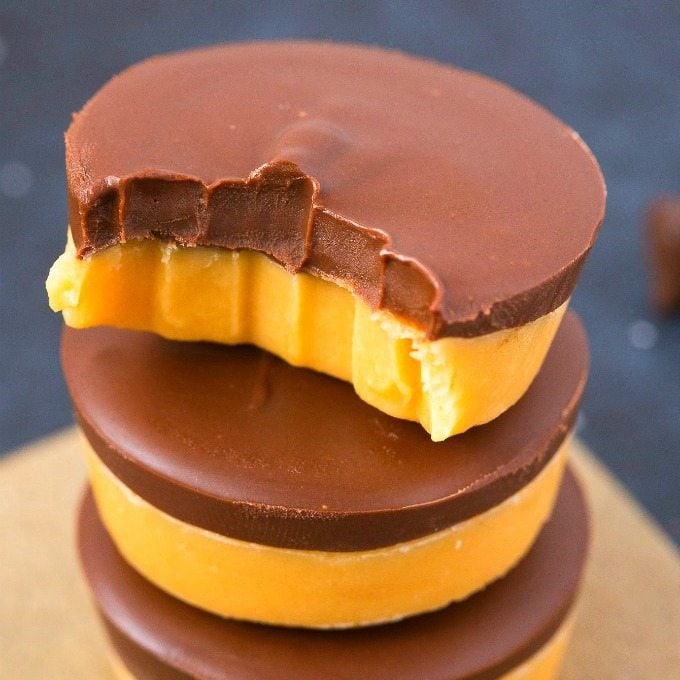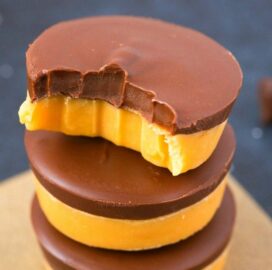 3-Ingredient Keto Peanut Butter Fudge
Easy and fool-proof 3 ingredient keto peanut butter fudge which is low carb and naturally sugar-free! Rich, creamy and ready in minutes, you won't believe this peanut butter fat bomb recipe is healthy. It is made without condensed milk and is dairy-free! (Paleo, Vegan, Gluten-Free)
Print
Rate
Instructions
Line a loaf pan or 12-18 count muffin tin with muffin liners and set aside.

In a microwave-safe bowl or over the stovetop, combine your peanut butter with coconut oil and melt together. Add your sweetener of choice, tasting it to ensure it has sufficient sweetness.

Divide the fudge amongst the cups/into the loaf pan and freeze until firm. Top with optional melted chocolate.
Notes
These 3-Ingredient Keto Peanut Butter Fudge should be kept refrigerated, but hold at room temperature. If you use a liquid sweetener like maple syrup or honey, it will need to be kept frozen.
Nutrition Facts
3-Ingredient Keto Peanut Butter Fudge
Amount Per Serving (1 cup)
Calories 89
Calories from Fat 72
% Daily Value*
Fat 8g12%
Carbohydrates 1g0%
Protein 2g4%
Vitamin A 100IU2%
Vitamin C 1.7mg2%
Calcium 160mg16%
Iron 2.2mg12%
* Percent Daily Values are based on a 2000 calorie diet.
Nutrition
Serving:
1
cup
|
Calories:
89
kcal
|
Carbohydrates:
1
g
|
Protein:
2
g
|
Fat:
8
g
|
Fiber:
1
g
|
Vitamin A:
100
IU
|
Vitamin C:
1.7
mg
|
Calcium:
160
mg
|
Iron:
2.2
mg

The Big Man's World is a participant in the Amazon Services LLC Associates Program, an affiliate advertising program. This means that if you click and make a purchase, TBMW receives a small commission, at no cost to you. Cheers, hugs, and handshakes for supporting TBMW!