2 Ingredient Keto Chocolate Fudge (Paleo, Vegan)
A fool-proof easy recipe for keto chocolate fudge using 2 ingredients- sugar free chocolate chips and peanut butter! Made without condensed milk, this keto fudge recipe is the ultimate easy no bake chocolate dessert recipe!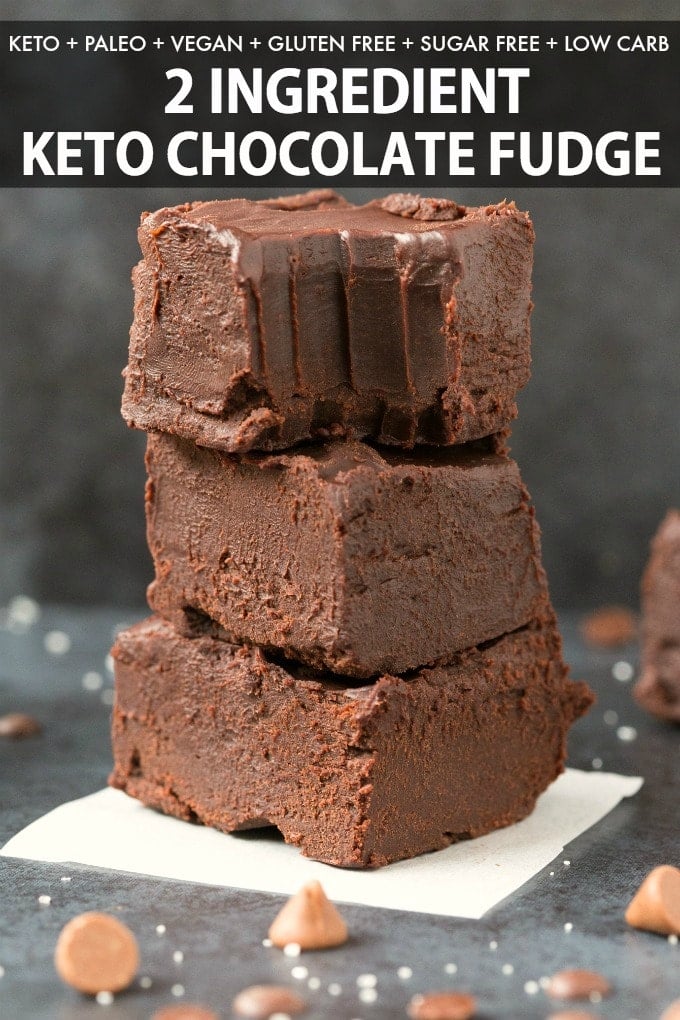 Keto Chocolate Peanut Butter Fudge
I love it when people assume that all fudge recipes are difficult to make.
When it comes to easy no bake dessert recipes, fudge has to be the easiest option.
It's no secret I love keto chocolate recipes here- We've got no bake keto chocolate cookies, no bake keto brownies, and even no bake keto truffles.
It's time for fudge to come to light…and it couldn't be any more fool-proof.
Contrary to popular belief, not all fudge needs to contain dairy or butter. In fact, my healthy keto chocolate fudge recipe is made without condensed milk!
Although most forms of full-fat dairy are suitable for a ketogenic diet, I wanted it different. To keep it vegan and dairy free, we had NO use for it. Not only that, we wanted to share a nut-free option too!
In terms of texture, this keto chocolate fudge is ticking ALL the boxes. It's smooth, creamy and literally melts in your mouth.
Taste-wise, it has a rich, sweet chocolate flavor and, if you use peanut butter, tastes like a creamy peanut butter cup!
To make this keto chocolate fudge, you literally only need TWO ingredients-
Keto chocolate chips
Peanut Butter
That's it!
KETO CHOCOLATE CHIPS AND ALTERNATIVES
There are several keto-friendly chocolate chips which can be used for this fool-proof chocolate fudge.
I prefer using stevia sweetened chocolate chips, as they contain no artificial sweeteners and melt beautifully. I also don't mind using a keto chocolate bar, which melts well too. If you can tolerate sucralose, sugar free chocolate chips will also work.
Alternatively, you can use my favorite keto chocolate hack- Melt a bar of 100% unsweetened chocolate and add some liquid stevia, to taste.
PEANUT BUTTER SUBSTITUTIONS
As someone who LOVES a good peanut butter cup, I enjoy using peanut butter in this recipe. However, I know some people have peanut allergies and to keep this paleo, peanut butter can't be used.
Almond butter and cashew butter are both fantastic substitutions. I tried macadamia nut butter which also worked, but was a little too rich tasting for me.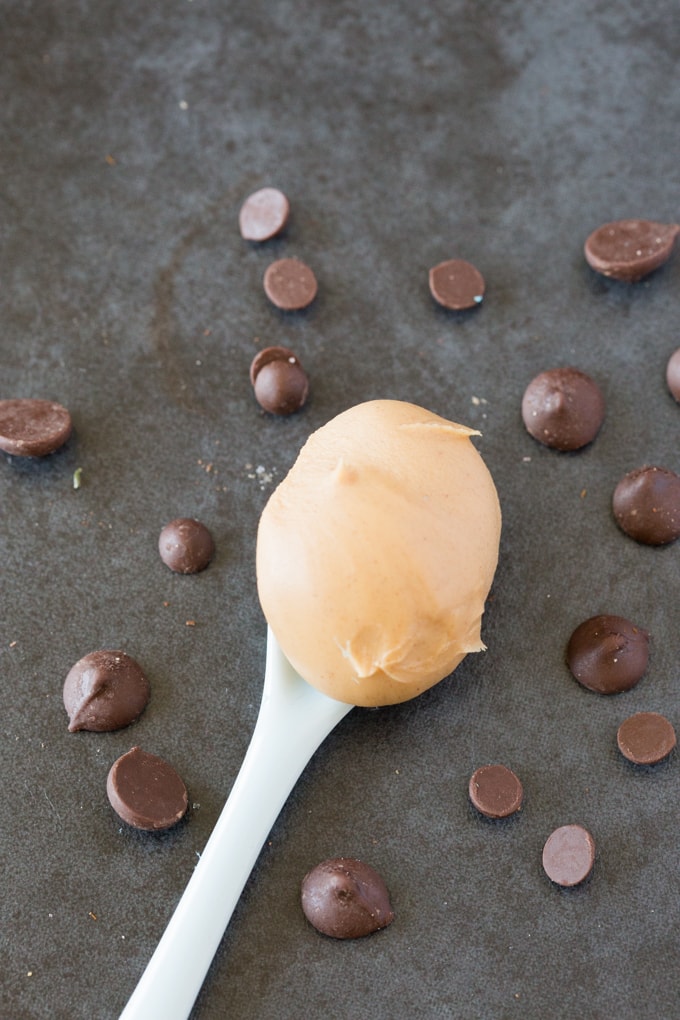 HOW TO MAKE THIS CHOCOLATE FUDGE NUT-FREE
This recipe can definitely be made 100% nut-free!
Swap out the peanut butter for either sunflower seed butter, tahini or wow butter.
Any dairy free chocolate chips can be used. I prefer using these mini chocolate chips or these dark chocolate morsels.
TIPS AND TRICKS FOR PERFECT KETO CHOCOLATE FUDGE
You can either use a microwave or small saucepan on the stovetop to combine your chocolate and peanut butter (or alternative). I prefer stovetop, as I can keep an eye on the heat and ensure it doesn't start boiling. If you use a microwave, heat on a lower wattage and check every 20-30 seconds.
Ensure your nut or seed butter is of the smooth variety, in order to avoid clumps.
Mini muffin silicone molds or even full-sized muffin molds are great to use to let the fudge set. This will ensure easy removal.
Enjoy the fudge at room temperature, but keep it stored in the refrigerator or freezer. If refrigerated, this keto fudge can last for up to 2 months. As it's freezer friendly too, it will keep fresh for 6 months.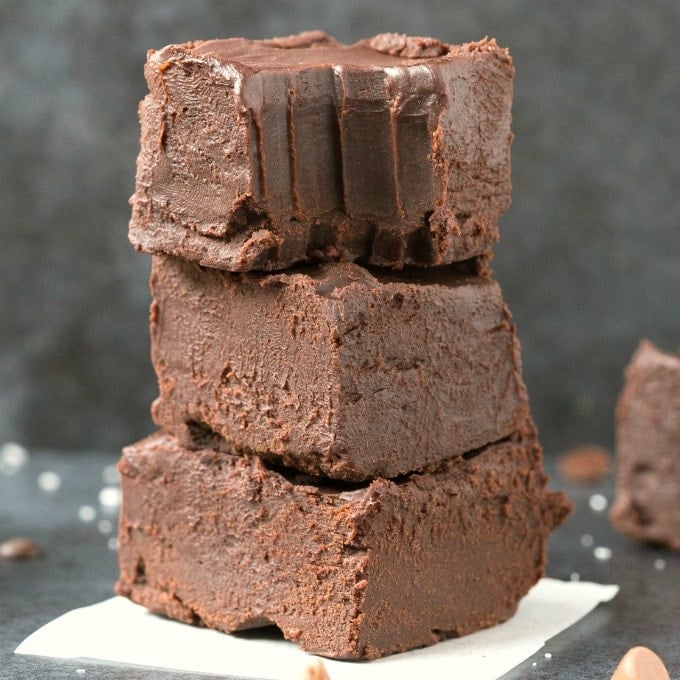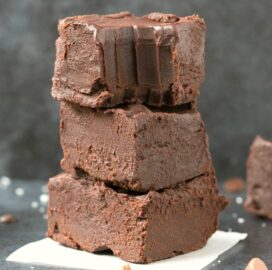 2 Ingredient Keto Chocolate Fudge (Paleo, Vegan)
A smooth and creamy keto chocolate fudge made with peanut butter and made with 2 ingredients only! Low carb, dairy free and made without condensed milk, it's also paleo, vegan and gluten-free and ready in 2 minutes!
Print
Pin
Rate
Instructions
Line a square pan or loaf pan with parchment paper and set aside.

In a microwave-safe bowl or stovetop, combine your chocolate chips and peanut butter and heat until melted. Whisk well to ensure the mixture is fully combined.

Pour your fudge batter in the lined pan and place in the fridge or freezer until firm. Using a slightly wet knife, slice into pieces.
Notes
2 Ingredient Keto Chocolate Fudge (Paleo, Vegan) should be kept refrigerated at all times. This fudge is freezer friendly and can be enjoyed from the freezer.
Fudge will keep for up to 2 months refrigerated, or 6 months frozen.
Nutrition
Serving:
1
piece
|
Calories:
135
kcal
|
Carbohydrates:
5
g
|
Protein:
4
g
|
Fat:
12
g
|
Fiber:
3
g
|
Vitamin A:
150
IU
|
Vitamin C:
2.5
mg
|
Calcium:
30
mg
|
Iron:
0.5
mg
|
NET CARBS:
2
g