Extremely thick and fluffy pancakes which are low in carbs and healthy too! These low carb pancakes are loaded with protein (without protein powder!), fiber and with no sugar whatsoever! Naturally gluten free, paleo and with a tested vegan option!

If you ever give me limp and flat pancakes, I will brandish you in the section where I keep cilantro and parsley. For those of you who know me well, know that I think cilantro and parsley are God's gift to the naughty.
Back to pancakes.
When it comes to pancakes, I need them to be thick, fluffy and most importantly- Filling. Through multiple pancake experiments (as evidenced in these black forest pancakes, Anzac biscuit pancakes and cinnamon bun pancakes), I've come to realise the key to fluffy, thick and filling pancakes are 2 things- My beloved coconut flour and egg whites.
Yes, egg whites.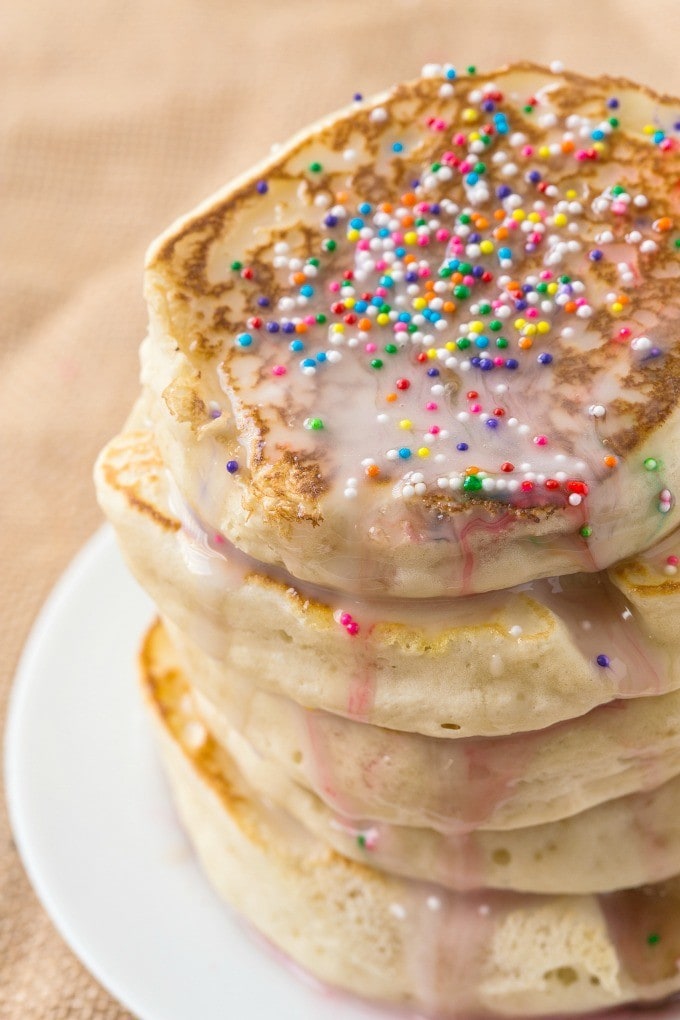 Egg whites are one ingredient which I think gets too much flack by many for being a 'diet food'. I get that side- It's low in calories, high in protein and to be quite honest, tasteless on their on. If they were a stable part of your diet ON THEIR OWN, then I'd be slightly confused. However, I believe in certain recipes they are necessary. Meringues and Angel Food Cake are two off the top of my head. One more?
Uber fluffy pancakes.
Through much trial and error, I've come to find that when paired with coconut flour, egg whites yield a much better result that their whole counterparts.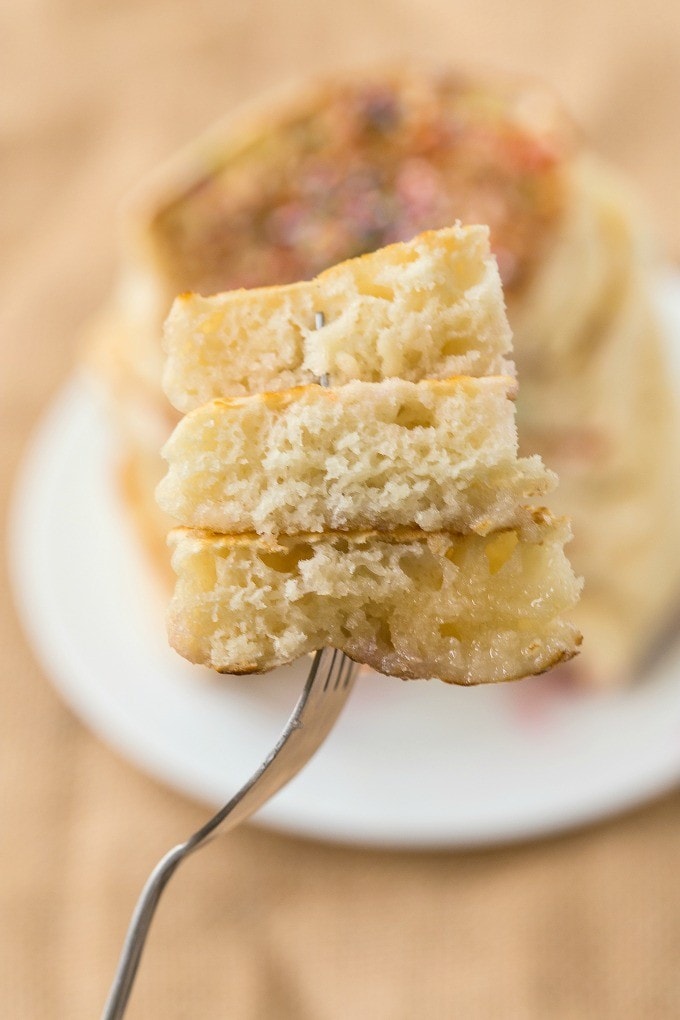 Back in 2013, I shared this delicious pancake recipe based on an Australian classic cookie- The Anzac biscuit. The base has always been one of my standby recipes to consistent fluffy pancakes. I was keen to see if I could make them completely grain free and paleo friendly by omitting my usual rolled oats.
Not only did they turn out great, they also became that even more fluffier and thick! When looking over the ingredients, I realised the final product was ridiculously low in carbs and high in fiber which meant one thing- GO CRAZY ON THE TOPPINGS!
I present breakfast for you now- Extra thick and fluffy low carb vanilla pancakes!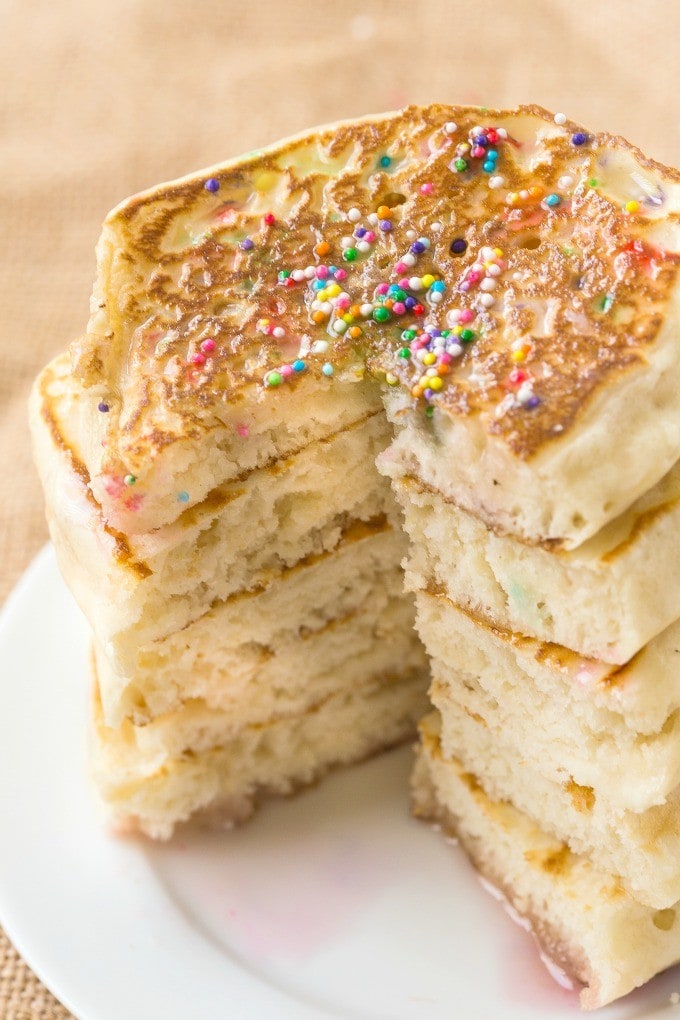 These healthy fluffy low carb pancakes are quick, easy and filling and perfect to load on the toppings! They are light, fluffy and extremely thick. They key to the perfect thick and fluffy pancakes (besides the two key ingredients!) is the cooking method! While it may be a little more time consuming that standard pancakes, the extra couple of minutes and SO worth it- Trust me! These 'cakes are naturally paleo, gluten free and grain free and for my vegan friends- I've tried it with a twist which works out well, albeit a tad on the flat side.
HACK! I know there will be some out there who will praise the humble whole egg and refuse the whites- That's totally cool. Simply sub the 3 egg whites for 2 whole eggs and you'll have a delicious stack of 'cakes waiting to be devoured. However, similar to the vegan version, they come out quite flat.
You've been warned.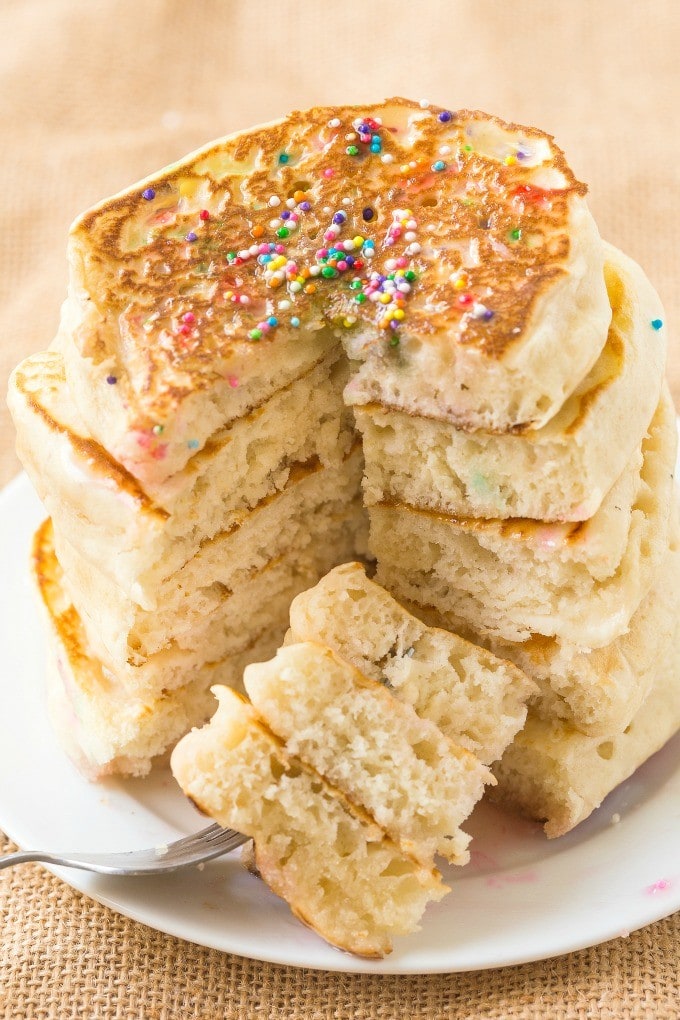 Make these healthy fluffy low carb pancakes and let's stop giving flack on the egg whites, unless that's ALL you are eating.
Like anything in life, there can ALWAYS be too much of a (white) good thing.
EDIT TO ADD- Please read this recipe post for trouble shooting.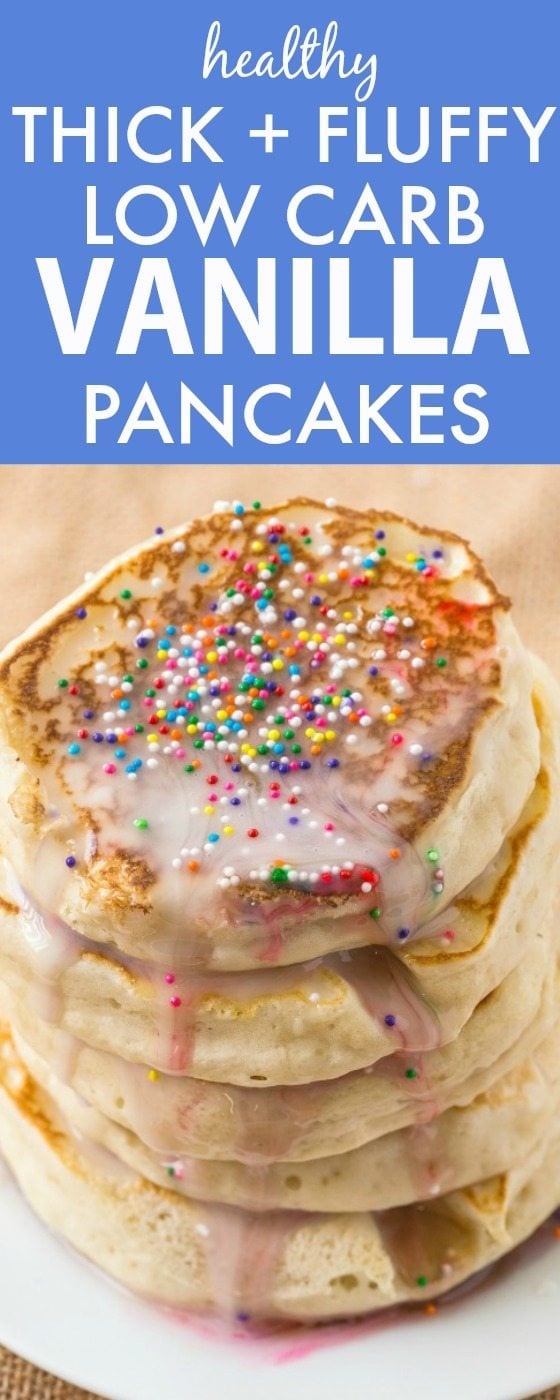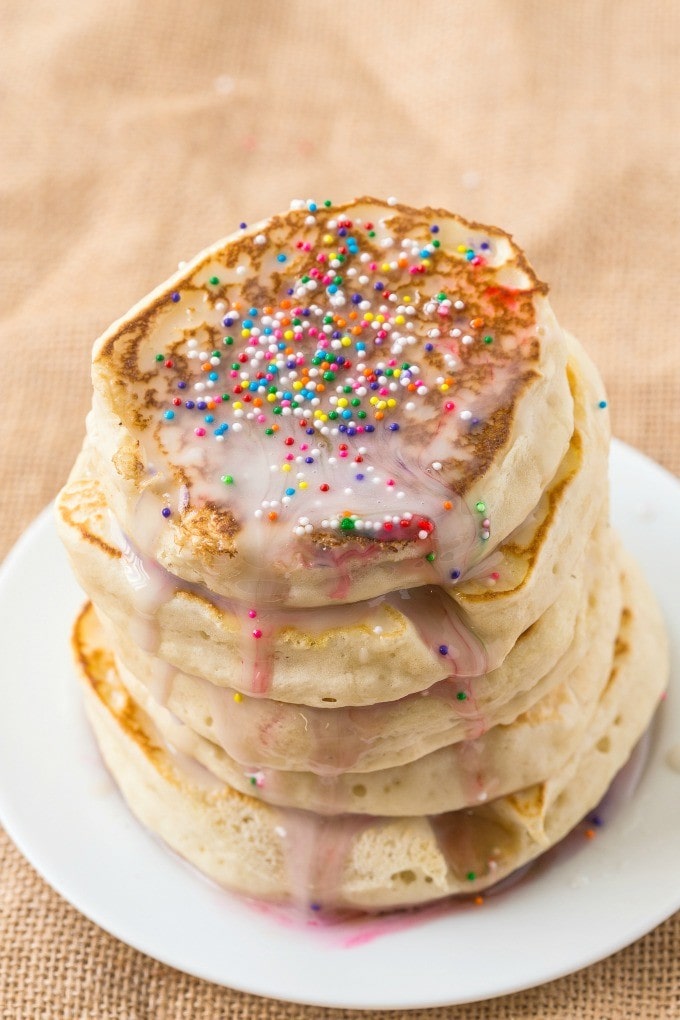 Healthy Fluffy Low Carb Pancakes
2016-02-12 02:56:27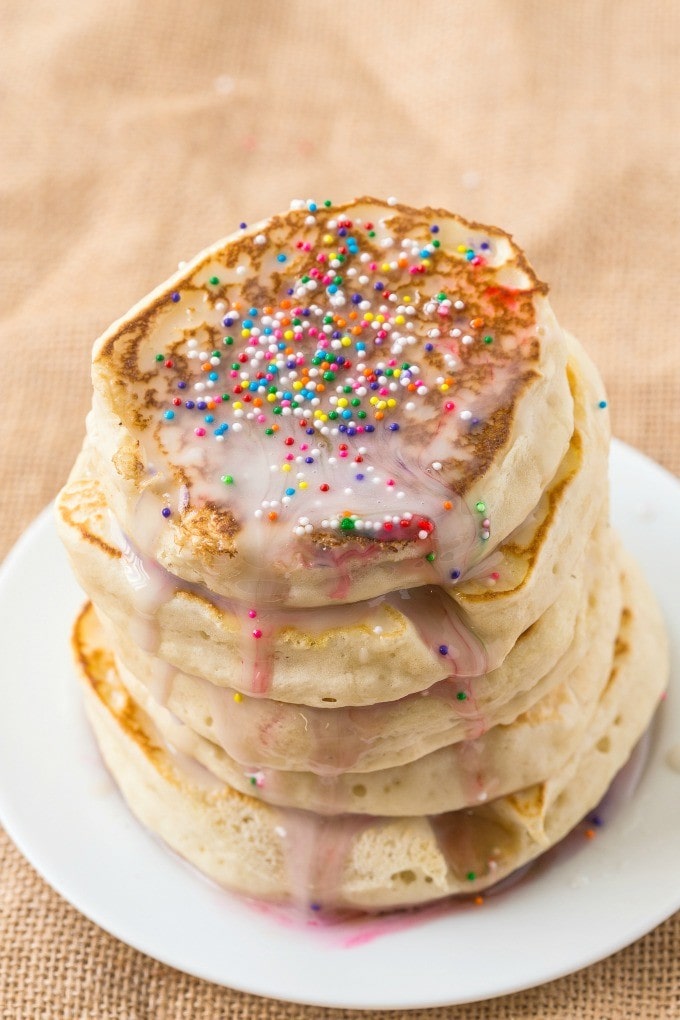 Serves 1
Extremely thick and fluffy pancakes which are low in carbs and healthy too! These low carb pancakes are loaded with protein (without protein powder!), fiber and with no sugar whatsoever! Naturally gluten free, paleo and with a tested vegan option!
For the pancakes
3 T coconut flour
1-2 T granulated sweetener of choice
Pinch baking powder
Pinch sea salt
3 large egg whites (for vegan option, use 1 T + 1 tsp Ener-G egg replacer + 1/3 cup water, set OR 3 T flax + 9 T water)
1 T mashed pumpkin OR applesauce OR mashed sweet potato OR yogurt of choice
1/4-1/2 cup + dairy free milk*
1/2 tsp vanilla extract
Coconut butter vanilla glaze
1 T coconut butter
2 T dairy free milk
1 T granulated sweetener of choice
½ tsp vanilla extract
Instructions
In a large mixing bowl, sift the coconut flour, granulated sweetener of choice, sea salt and baking powder to avoid clumps. Mix well to combine.
In a small bowl, whisk the egg whites very well (can be until stiff peaks form- This makes them even more fluffier than pictured!) or flax egg with the vanilla extract. Add to the dry mixture, along with the mashed pumpkin. Using a tablespoon at a time, add dairy free milk until a thick batter is formed (you may need more than 1/4-1/2 cup). Mix lightly, but do not over mix.
Spray a pan with cooking spray and heat on low/medium. Once pan is hot, pour batter using a 1/4 cup at a time. Cook pancakes for 2-3 minutes or until the edges brown, before flipping very gently and cooking for an extra minute or two, until cooked through. Repeat until all the pancakes are cooked.
To make the coconut butter vanilla glaze, whisk all the ingredients in a small bowl and top pancakes. Add sprinkles if desired!
Notes
* Adjust accordingly- You may need more.
For best results, cover pancakes while they cook.
The Big Man's World ® https://thebigmansworld.com/
More delicious pancake recipes? Gotcha covered!
Healthy Anzac Biscuit Pancakes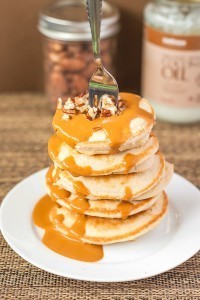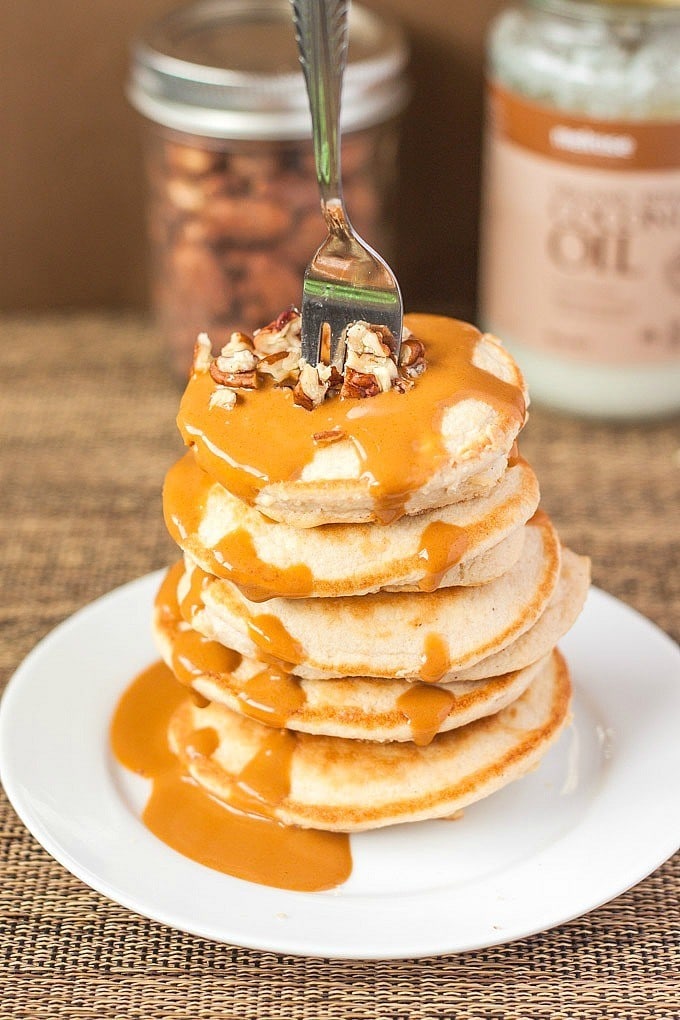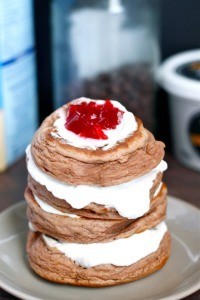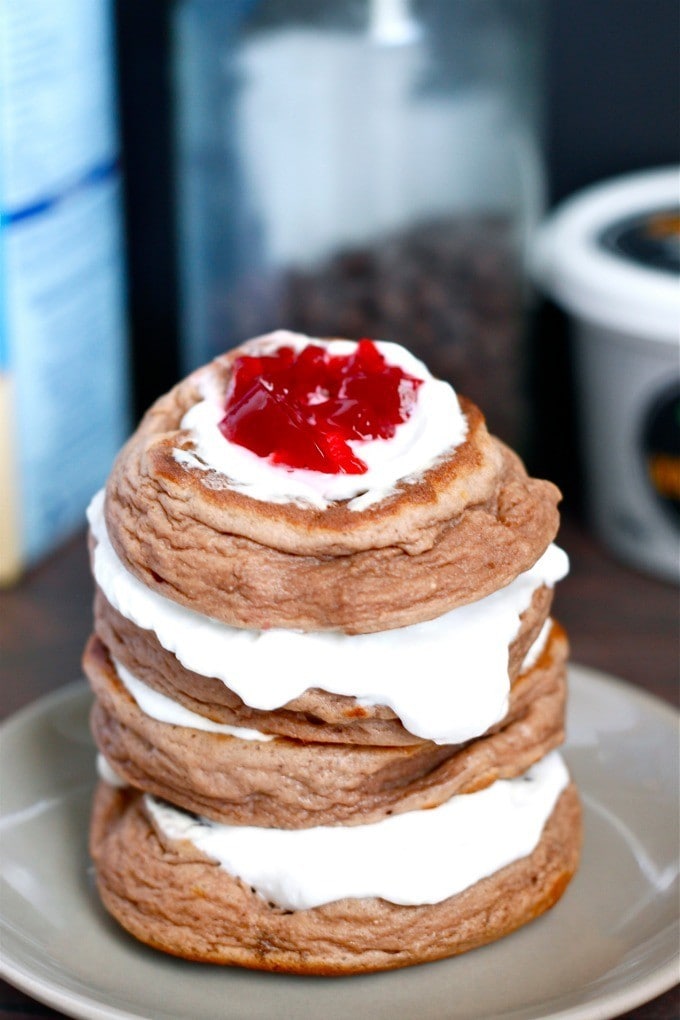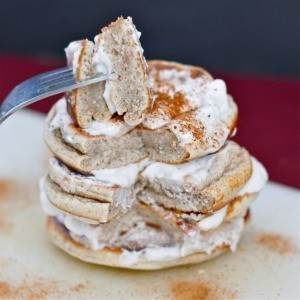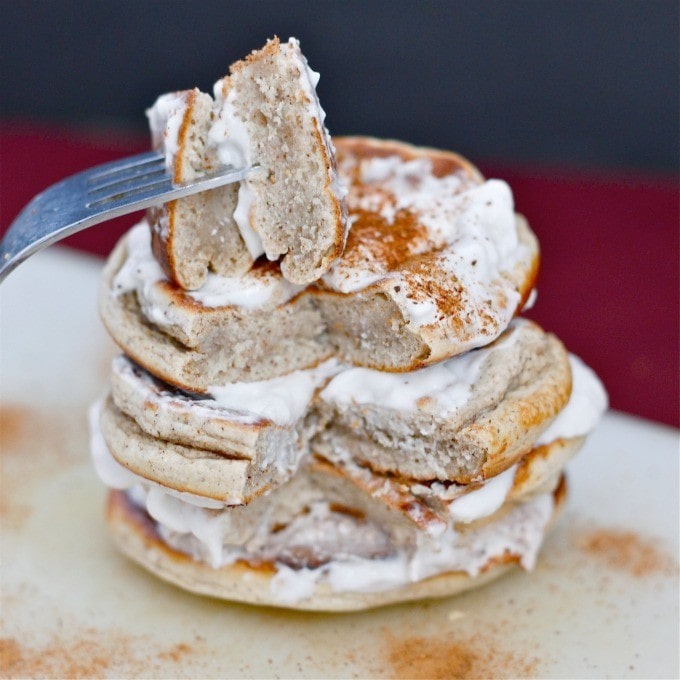 Are you a fan of using egg whites in recipes and/or omelettes?
What is your favorite pancake topping?