This healthy rocky road ice cream is smooth, creamy and packed with protein, it's the perfect snack, dessert or post workout treat- No ice cream maker needed! Made with NO cream, sugar, dairy or butter, it's naturally vegan, gluten free, dairy free and comes with a tested paleo option!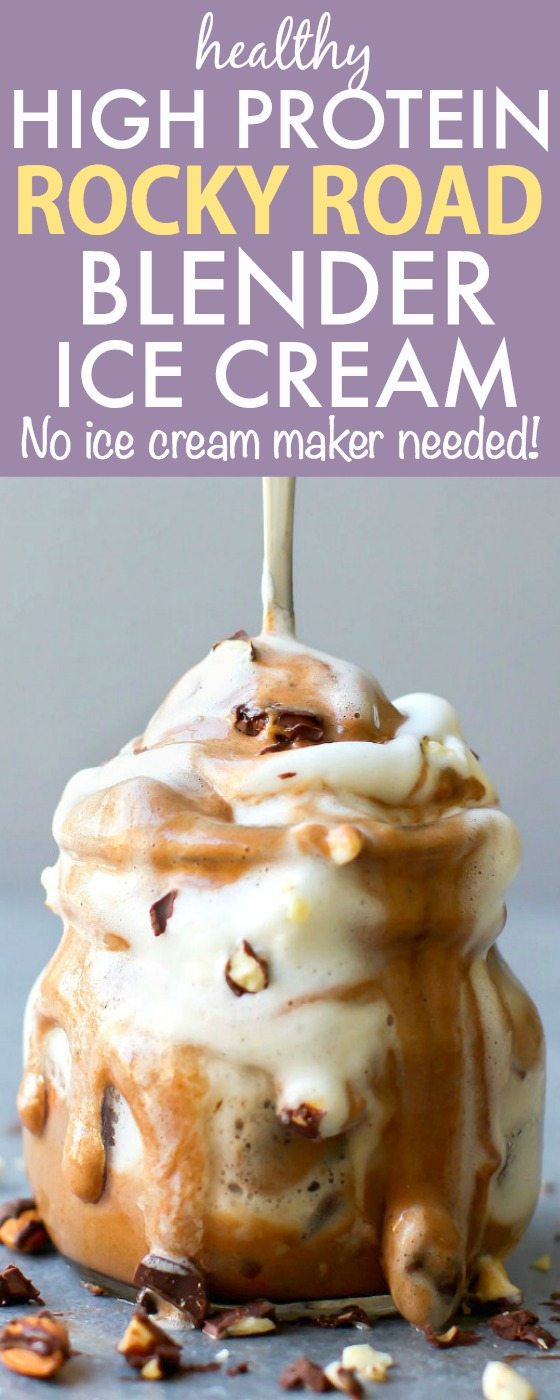 Happy Fri-yay.
Gross, I hate that word. Fri-yay.
Happy Friday, folks. I'm STOKED to haveback again to share a delicious recipe! You guys LOVED her Cookies and Cream Protein Ice Cream last time so of course, it was a no-brainer to get her to create another unique blender ice cream.
Kind of off topic, Nat's been a huge wealth of knowledge these past few weeks- I've been working on cutting down my protein intake and upping my fruit and vegetables and peppering her with questions. Ironically, her ice cream recipes have been a lifesaver. That, and her approval of excess cocoa powder consumption. That is a story for another day- In the meantime, enjoy this beauty she is sharing today- A healthy high protein rocky road blender ice cream!
***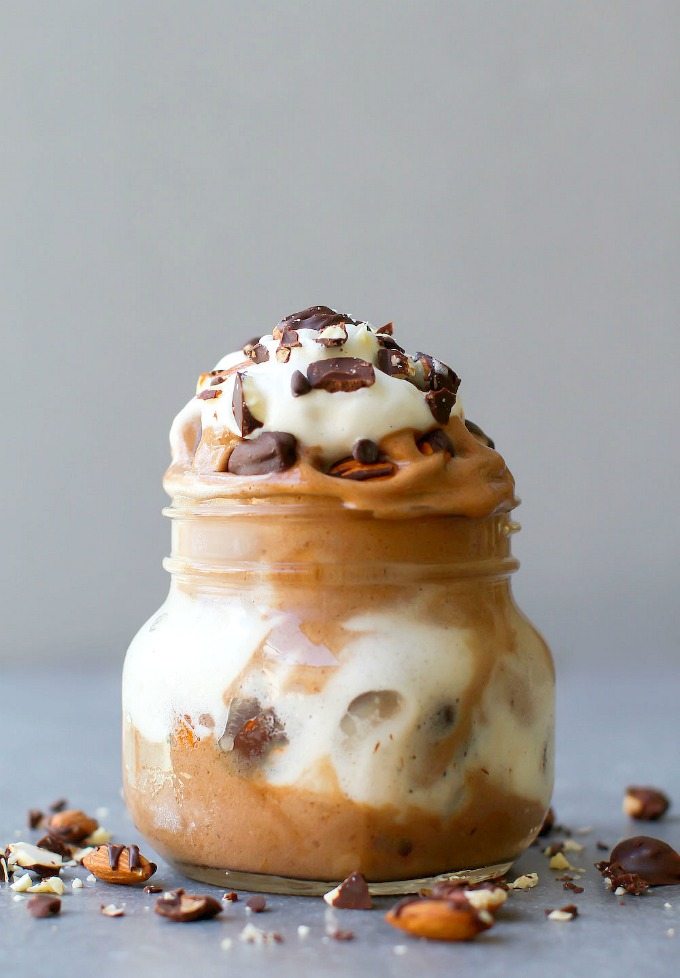 When I think rocky road, I think remote, rustic country store in the mountains in the summertime with a small selection of overpriced ice creams and a hefty scoop of nostalgia to go along with it. Maybe that's because there was that one time that I ate rocky road ice cream out of a waffle cone from a rustic country store after a long hike while on vacation in the Rocky Mountains. Yeah, that could be it.
So I'm probably the only one with that particular mental association.
Editors note- I would associate that too….after a sherpa carried me throughout said long hike.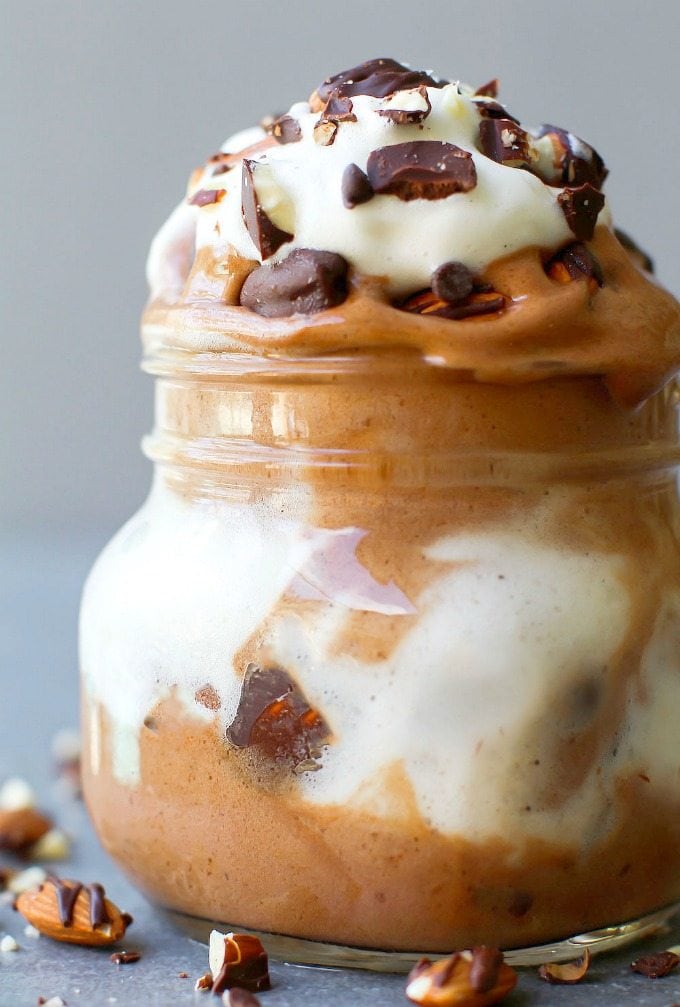 The only other distinct rocky road memory I have was devouring a massive hunk of rocky road fudge from Honeydukes at Universal after waiting 3 hours to go on the Harry Potter ride because I made the mistake of going just a month after the Harry Potter part of the park opened.
Yep, I'm probably alone on that one too. Plus, what kinda dork goes to Honeydukes and comes out with something as boring and muggle as fudge?
Editors note- I should cast the cruciatus curse on Nat for this….I mean, Fudge VS Butterbeer or even those frogs?!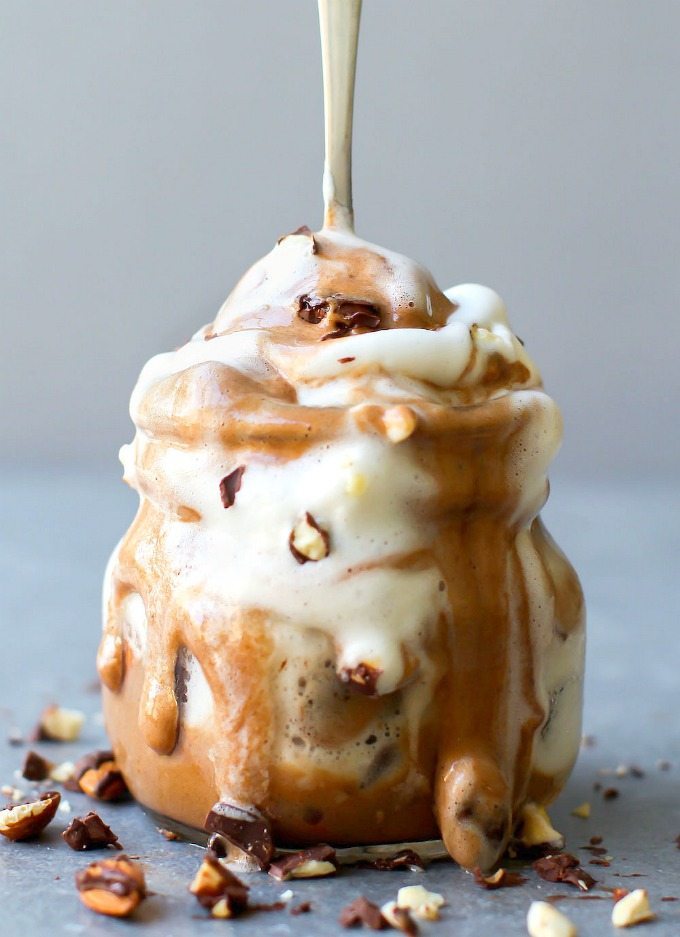 Anyways, perhaps my rocky road memories are a little out of the ordinary. But I have an out of the ordinary Rocky Road Ice Cream recipe to go right along with the theme!
The rocky. Rocky road ice cream is traditionally made with pieces of toasted almond for that crunchy element. But just in case there wasn't enough chocolate in the ice cream, I went ahead and gave the almonds a dip into some melted chocolate first. Everything is better when chocolate-covered, am I right?
The road (a.k.a. marshmallow swirl). If you just want to grab a bag of Dandies marshmallows, cut them small, stir them in, and get to eating, I won't judge. Even if you don't cut them up and just leave them as ridiculously huge bites of marshmallow, still no judgment. I'm about the biggest marshmallow fan there is, so I get it.
But if you want a slightly more wholesome, more homemade option, then grab a can of chickpeas and let's make some clouds vegan aquafaba marshmallow fluff.
If you haven't heard of aquafaba yet, then it's just the liquid from a can of chickpeas. And with the help of a few other ingredients and a LOT of whisking, it can become fantastically fluffy.
When I say a lot, I mean a lot of whisking. Mine took about 20 minutes total to get to the stiff peak stage. Stiff peak just means when you pull the whisk out the fluff stands up in a little mountain and doesn't fall back down. If you have a stand mixer, then no big deal. If you are using an electric hand mixer, then get ready for an arm workout. If you are using a plain old whisk, then no. Just don't even try.
You want to make the fluff right before building your ice cream jar otherwise, it will separate. There will be extra fluff, so bring friends. Friends who like ice cream.
The ice cream. The chocolatey ice cream to hold all these mix-ins is just simple chocolate banana ice cream or nicecream. Frozen bananas + cacao or cocoa powder + a blender.
I hope you enjoy this fluffy, fruity, funky take on rocky road!
Editors note-
For my paleo friends, you totally don't need to miss out on the marshmallow action- Although it turns out a little differently. Once you make the chocolate ice cream portion, simply top it with roughly chopped homemade marshmallows, using the recipe specified here. Unfortunately, it doesn't become particularly runny, but it gives a delicious texture. I tried blending them WITH the chocolate ice cream and well….I thought it turned into shaving cream.
For those wanting a high protein option, add a standard scoop (32-34 grams) of protein powder to chocolate ice cream portion. I use my standby vegan brown rice protein powder, casein protein powder or paleo protein powder. These powders are all very thick, so depending on how ripe your bananas are (and also how powerful your blender is!), you may need a dash or two of non-dairy milk to thin out.
Make this healthy high protein Rocky Road Blender Ice cream and let's slow motion that epic gif above.
Nat…she's talented.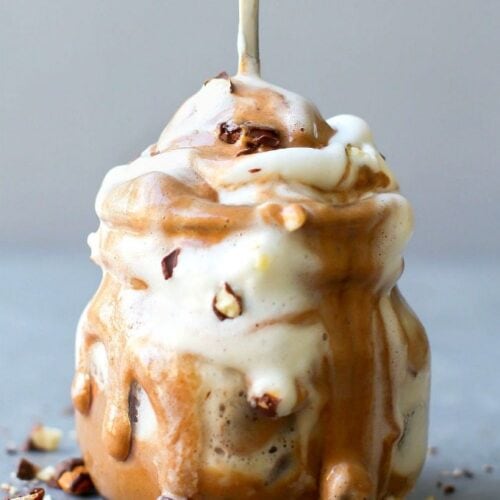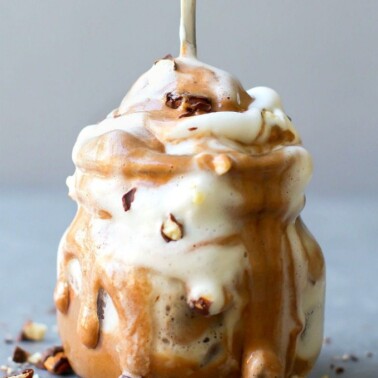 Healthy High Protein Rocky Road Blender Ice Cream
This healthy rocky road ice cream is smooth, creamy and packed with protein, it's the perfect snack, dessert or post workout treat- No ice cream maker needed! Made with NO cream, sugar, dairy or butter, it's naturally vegan, gluten free, dairy free and comes with a tested paleo option!
Ingredients
Marshmallow Fluff (original option)
Brine from one 15 oz. can of chickpeas

¼

cup

maple syrup

or agave or honey

½

tsp

cream of tartar

¼

tsp

vanilla bean powder

or extract
Paleo option
See link above recipe card
Ice Cream
4

frozen bananas

2

T

cocoa powder

1

scoop protein powder

optional
Chocolate covered nuts
1/4

cup

chocolate chips

1

tsp

coconut oil

optional, for a thinner more even coating

1/4

cup

almonds

Or any nut. Or even use dried white mulberries for a nut-free option
Whole30 Option
4

frozen bananas

2

T

raw cacao powder

Handful of raw seeds/nuts

to top
Instructions
For the chocolate covered nuts
Melt the chocolate chips. Stir in the coconut oil.

Toss your almonds in the chocolate. Stir to coat.

Fish them back out and arrange on a piece of wax paper.

Refrigerate for 10 minutes to set.
For the marshmallow fluff
Combine all ingredients in the bowl of a stand mixer with the whisk attachment. Or you can use a large mixing bowl and an electric hand mixer.

Beat on high speed for 15 to 20 minutes or until it is thick and fluffy with stiff peaks. It will seem like it's not going to work for the first 10 minutes at least, just keep going.

Use immediately or it will begin to separate.
For the ice cream
Blend the bananas, cocoa powder and optional protein powder in a high speed blender or food processor until smooth and creamy. If too thick, add milk of choice a tablespoon at a time.
Assemble
In a jar/bowl, layer the chocolate ice cream with the marshmallow fluff, throwing in a few nuts between each layer. Top with a dollop of marshmallow and a sprinkling of nuts. Enjoy!
Notes
* If protein powder is too thick, you may need to add a dash of milk/liquid of choice.
If you opt for the paleo option, disperse paleo marshmallows on top, before topping with the chocolate covered nuts.
Nutrition
Serving:
1
ice cream
Calories:
27
kcal
Carbohydrates:
7
g
Protein:
2
g
Fat:
1
g
Sodium:
3
mg
Potassium:
400
mg
Fiber:
4
g
Calcium:
13
mg
Iron:
1
mg
NET CARBS:
3
g
C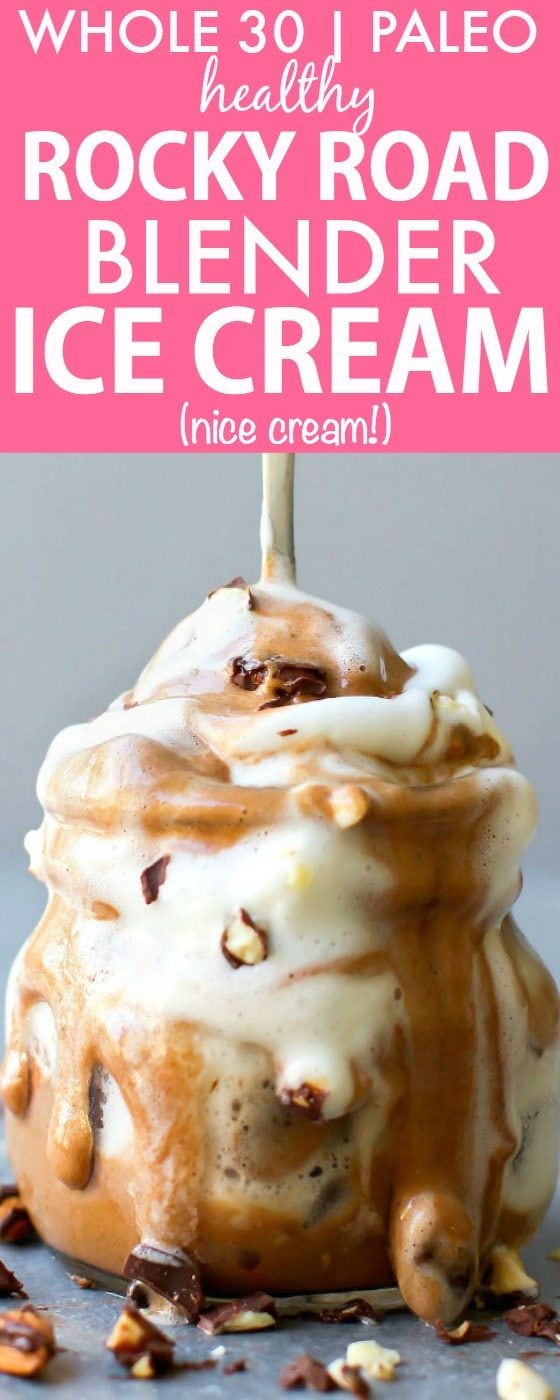 More delicious, blender made recipes? Gotcha covered!
Healthy 3 Ingredient Blender Brownies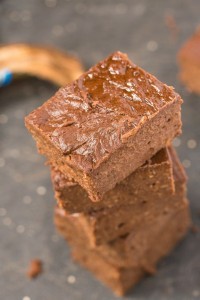 Healthy Cookies and Cream Protein Ice Cream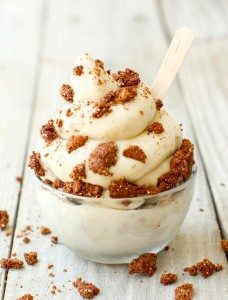 Healthy Peppermint Patty Smoothie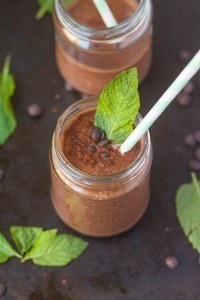 Disclosure: This post may contain affiliate links. I may earn a small commission for my endorsement, recommendation, testimonial, and/or link to any products or services from this website.