An easy healthy recipe for low carb puppy chow (muddy buddies) made nut-free with chocolate and homemade keto cereal! Made without peanut butter, this protein-packed snack is quick and easy and 100% sugar free- It's vegan, paleo and keto too!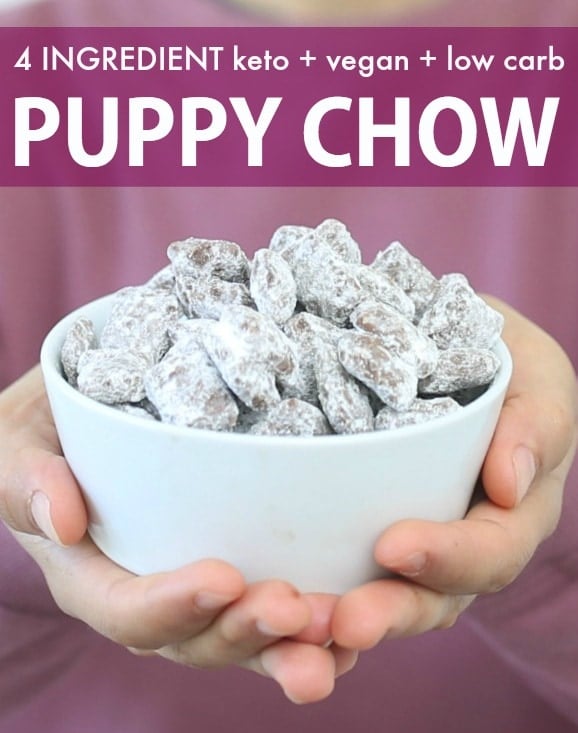 Healthy Low Carb Puppy Chow Recipe
With the Superbowl coming up, I've had a slew of readers chime in asking what to bring to a Superbowl party and healthy Superbowl snack ideas.
I'll be the first to admit it- There are two reasons why I love game day and watch the Superbowl.
The half time entertainment show
ALL THE SNACKS AND DESSERTS!
Seriously, the best part of the big game is the plethora of snacks and desserts on hand!
As someone who has always been on snack duty during Superbowl or game day parties, I thought this year, I'd take reader requests and give the most popular ones a healthy makeover!
It was a toss-up between an easy healthy Superbowl dessert recipe which could technically be a snack.
In the end, I combined the two and made Puppy Chow…Keto Chex mix WITHOUT pork rinds!
What is puppy chow?
This is for all my non-American readers out there!
When I first traveled to America, I was also confused when I had puppy chow served to me at a gameday party.
It wasn't confusion in a negative way, but more the fact that I had tried something identical a week back- Muddy Buddies.
After inquiring further, I found out that puppy chow and muddy buddies were exactly the same things- Chex cereal tossed in melted chocolate and peanut butter, then doused in powdered sugar!
Granted, none of those ingredients scream healthy or even diet-friendly. Although vegan and gluten-free, it wasn't nut-free, low carb or keto-friendly.
Until now.
I gave the traditional puppy chow an easy keto, nut-free (no peanut butter), and low carb makeover, which tastes just as great as the original!
How to make homemade healthy puppy chow?
To make homemade puppy chow healthy, you'll only need 4 ingredients–
Crunchy cereal
A nut-free spread of choice
Sugar Free chocolate
Sugar Free Powdered Sugar
How to make low carb and keto-friendly cereal?
There are two ways to replace Chex cereal with a keto and low carb crispy cereal.
Option 1- Use low carb crackers. I tried out these store-bought crackers and found them to work really well. What I LOVED about them was that the paleo crackers were already lightly salted, which gave the final recipe a delicious sweet and salty finish!
Option 2- My preferred method but a little more time consuming is to make your own keto/paleo cereal alternative.
To make low carb and keto cereal, I quadrupled my basic protein cookie recipe and pressed it into a flat shape. Once flat, use a pizza cutter and cut into small, bite-sized pieces.
Once cut, I baked it in the oven for around 8 minutes (no eggs, so barely any time needed). Once they had cooled and firmed up, they were ready to use!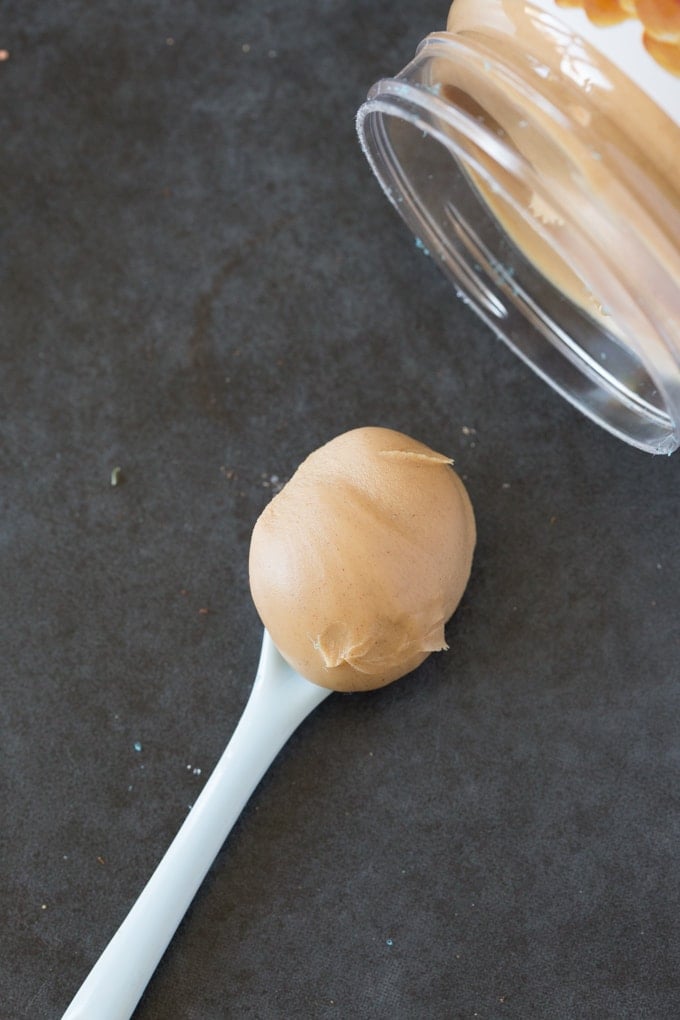 Nut-Free Alternatives to Peanut Butter
This recipe is 100% nut-free, thanks to using sunflower seed butter!
Mimicking the texture of peanut butter and also has a really delicious flavor. You can also use smooth tahini or wow butter.
Keto and Sugar Free Chocolate
Any sugar free chocolate chips which melt can be used. I often use these stevia sweetened chocolate chips, but Hershey's sugar free chocolate chips will also work.
For those who prefer a super dark chocolate puppy chow, you can use unsweetened baking chocolate. You will still get ample sweetness from the powdered sugar.
Powdered Sugar Without Sugar
Sugar free confectioner's sugar has been a Godsent for this recipe!
Often referred to as confectioner's sugar, caster sugar or icing sugar, this is the white powdery goodness you'll cover your cereal mixture with.
I haven't tried another sweetener alternative, but really, you do need it to be of the confectioner's variety for a true 'Puppy Chow' recipe!
For all the skeptics out there, I promise your Superbowl Desserts won't be compromised with this being served- In fact, I'm pretty sure this healthy puppy chow recipe will be better than a touchdown.
More Healthy Superbowl Dessert Ideas-
Check out the video below to see how to make the 'cereal' portion!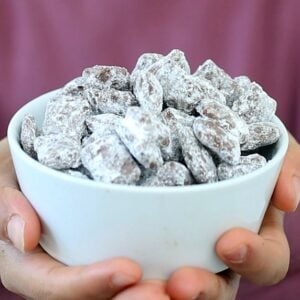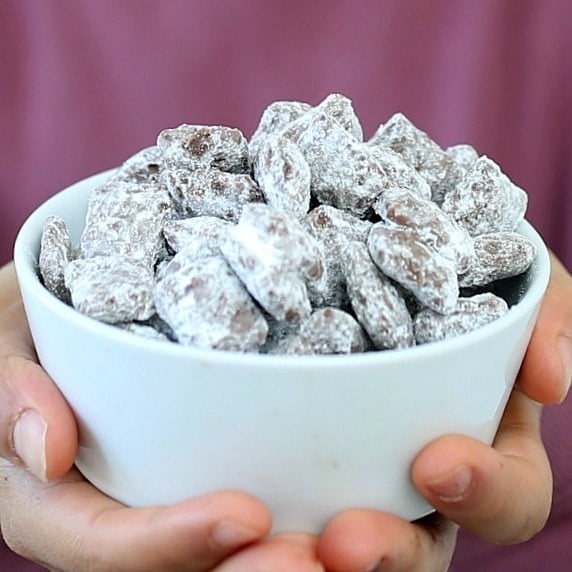 Healthy Puppy Chow
Easy and healthy low carb keto puppy chow recipe made without peanut butter! Using just 4 ingredients, it's the ultimate ketogenic dessert recipe for game day, the Superbowl or any party or event! Vegan, Paleo and Gluten Free.
Instructions
In a large mixing bowl, add your cereal or crackers of choice. Line a large tray or deep pan with parchment paper.

In a microwave-safe bowl or stovetop, melt your sunflower seed butter with chocolate chips of choice.

Pour your melted chocolate mixture over the cereal/crackers and mix very well, until coated.

Pour the muddy buddy mixture on the lined tray/plate and spread apart in an even layer. Refrigerate for about 15 minutes, until the chocolate has 'just' cooled.

Remove from the fridge and break apart and place back in the large mixing bowl. Add your powdered sugar and mix very well, ensuring it is all covered in it. Place back on the lined tray/pan and allow to powdered sugar to settle on the muddy buddies.
Notes
* If you don't have any dietary restrictions, you can use any Chex cereal. I made 4 portions of the protein cookies, and full instructions are within the post.
Healthy Low Carb Keto Puppy Chow (Vegan) can keep at room temperature, in a sealed container, for up to 3 weeks. It can be refrigerated, for up to 2 months.
Nutrition
Serving:
1
1/4 cup serving
Calories:
99
kcal
Carbohydrates:
5
g
Protein:
7
g
Fat:
8
g
Potassium:
4
mg
Fiber:
3
g
Vitamin A:
150
IU
Vitamin C:
1.7
mg
Calcium:
10
mg
Iron:
0.7
mg
NET CARBS:
2
g

Disclosure: This post may contain affiliate links. I may earn a small commission for my endorsement, recommendation, testimonial, and/or link to any products or services from this website.