Healthy No Churn Brownie Batter Ice Cream (Paleo, Vegan, Gluten Free) made using just four ingredients and completely dairy-free! No ice cream maker needed to whip up this super creamy, guilt-free and delicious refined sugar free ice cream with NO bananas or fruit!

You guys asked for more no churn (aka no ice cream maker!) ice cream recipes without bananas (or fruit!). Even though I've shared this vegan strawberry ice cream, it contains strawberries (fruit). I've shared this creamy, dreamy vanilla protein ice cream, but alas, it uses banana in it. I also have this fool-proof 3 ingredient chocolate ice cream but once again, it has bananas.
Today's no churn ice cream contains no banana, no fruit, and is just as thick and creamy AND guilt-free! I was very skeptical when I first tried this out, as I thought I would be left with an icy mess, but forgot how perfect chilled coconut cream is in frozen treats and desserts.

MY OTHER RECIPES
I've surprised myself with how many frozen desserts I've been sharing lately, and I can thank Natalie for that. They say your best buddies can influence you subconsciously, and this is the proof needed. Before I started hanging out with Nat regularly, I'd literally joke with her about how I'd never use my blender for anything fruit related. For the longest time, it was only used to making oat flour, nut butter, or fluffy pancakes.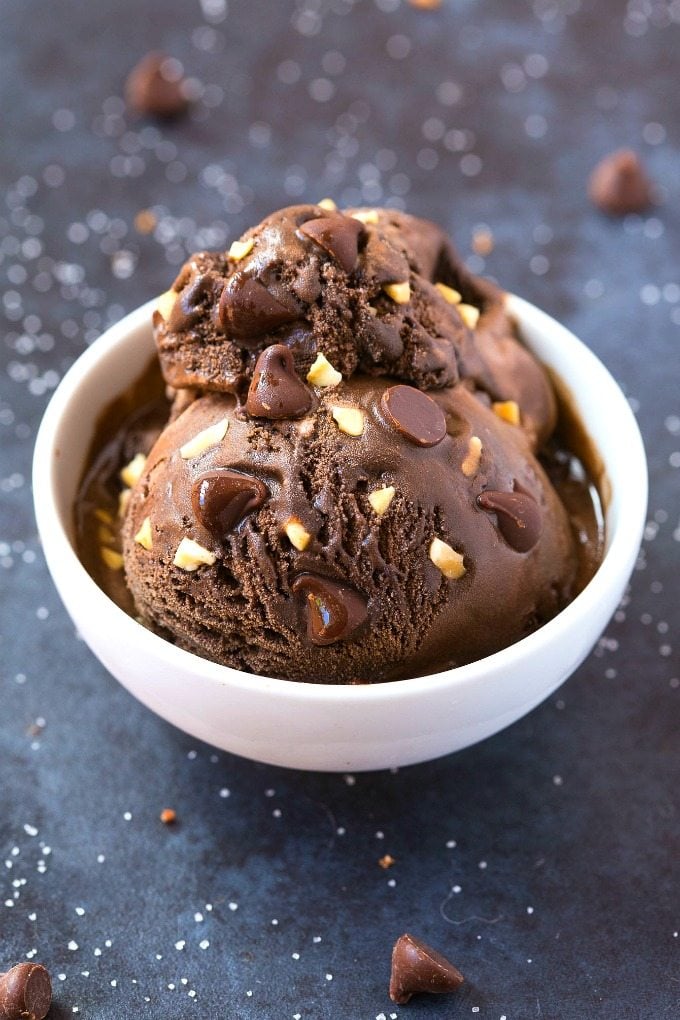 Gradually, her influence became more evident, especially starting small (…like blending vanilla ice cream and adding cocoa powder because it was too sweet) to move on to bigger things (…like adding a banana to said vanilla ice cream and cocoa powder). Eventually, I realized just much I enjoyed using the blender for smoothies like this carrot cake one or my favorite brownie batter oatmeal smoothie!
With Nat sharing this brownie waffle sundae (say that 10 times then make it 10 times), I had to kickstart my ice-cream dedication recipe series (yes, series!) with a fitting one- This healthy Brownie Batter No Churn Ice Cream!
When I first made this brownie batter ice cream, I initially left it using the three base ingredients- coconut cream, cocoa powder and a sticky sweetener. It was smooth and creamy and when left to thaw, had a soft serve consistency. While I loved it as it was, it needed something a little more.
Typically, I'm the kind of person who gets soft serve or froyo but NEVER puts toppings on it (Nat can 100% attest to this too!). I prefer eating it as it is and enjoying the single flavor of the creamy ice cream. However, this version needed a little texture, in the form of my favorite brownie batter add-ins!
This healthy brownie batter ice cream is your quick fix to a clean eating ice cream you can feel good about eating regularly! It only needs four ingredients and no ice cream maker needed- You literally just need a basic blender or food processor. The hard part is waiting for it to freeze, but while you are doing that, just make a batch of flourless brownies which you could pretty much crumble on top when it is done!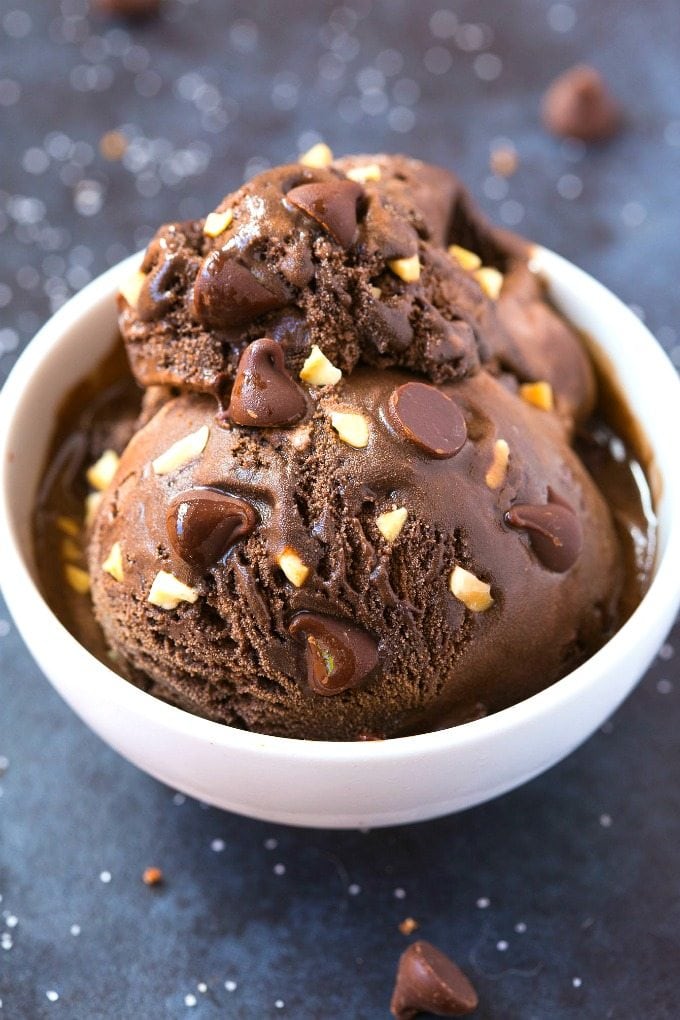 As mentioned earlier, this ice cream needs only four ingredients– Coconut cream, cocoa powder, a liquid sweetener of choice and your brownie batter add-ins! When it comes to the coconut cream, full-fat is the way to go, and I'd strongly advise against using a lower fat option. The lower-fat coconut cream will blend and will freeze, but attempting to scoop it out perfectly will be very difficult and will be a little too icy. Even though it is higher in calories, a little goes a long way and you'll only need a small portion to be satisfied!
I love my ice cream to have a strong chocolate flavor, so I opted to use a dark cocoa powder. Dark cocoa powder has a very distinct and rich taste, but can be hard to come across. Any cocoa powder is fine to be used, and I prefer using this high-quality brand, as it has a delicious flavor and doesn't chalk up when mixed in liquids.
The sticky sweetener is necessary, as it not only adds sweetness but gives the ice cream a smoother texture once frozen. I recommend using pure maple syrup or agave nectar, as they are both mild tasting. You can use honey, but the flavor is very prominent. To keep it completely sugar free, I enjoy using this monk fruit sweetened syrup and please be warned- this is the only sugar-free liquid sweetener which works. Standard sugar-free maple syrup or pancake syrup will work in a similar way to water and leave the final ice cream icy.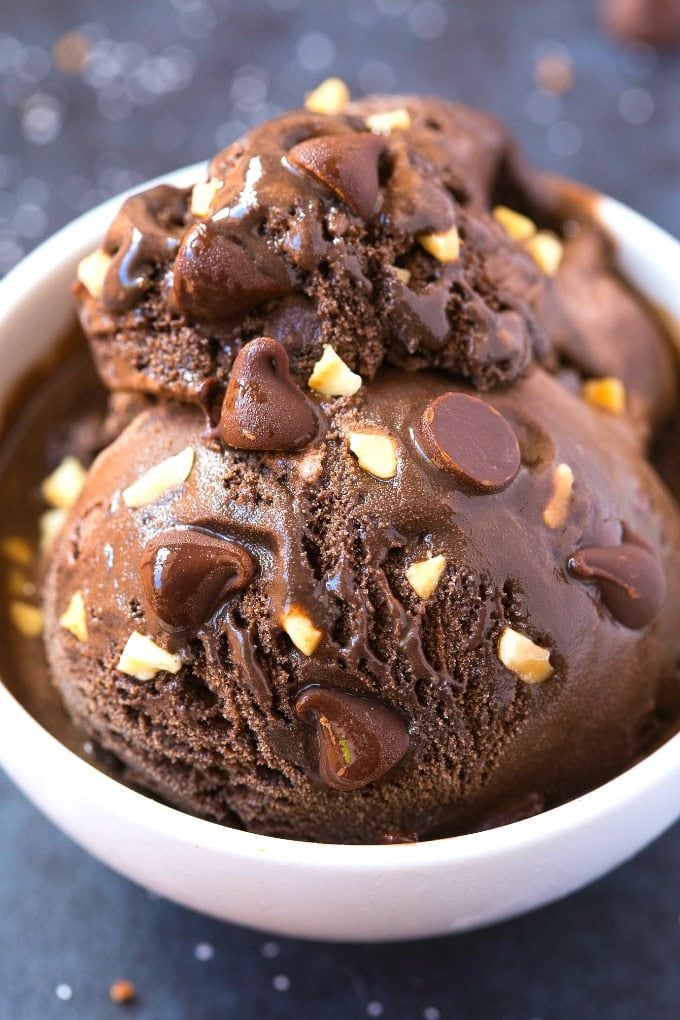 Brownie add-ins differ person to person to this final part of the ice cream is completely customizable and up to you! I love my brownies loaded with extra chocolate, so I used my favorite dairy free mini chips, crushed salted almonds, and some chocolate chunks because you can never have enough chocolate!
Many of you have asked what kind of blender is best and for these kinds of recipes (ice cream, frozen treats, and thick smoothies). I always use my Optimum Blender which works really well and leaves the consistency of my recipes fantastic. This also works with a Vitamix (as seen in the videos) and I've also used a kitchen aid food processor in the past!
Think you need an ice cream maker to enjoy a frozen dessert? Think again! This fruit-free and naturally sweetened blender ice cream is your answer! Enjoy guilt-free and healthy ice cream is minutes and one which makes you feel good!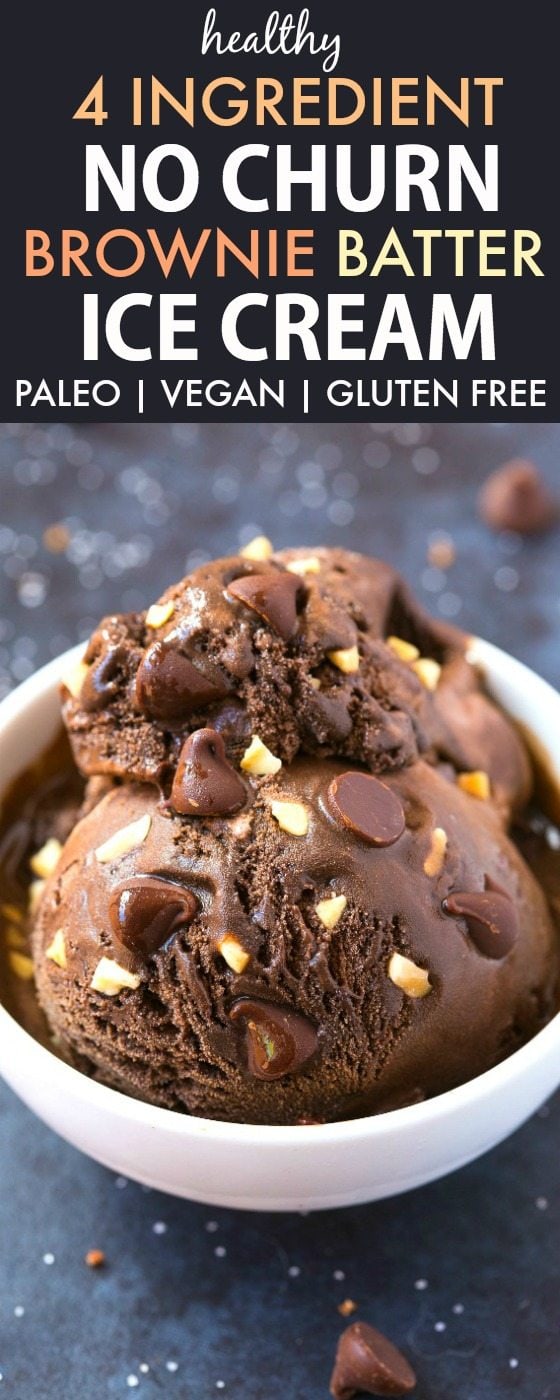 Healthy No Churn Brownie Batter Ice Cream (Paleo, Vegan, Gluten Free) adapted from this chocolate ice cream.
Healthy No Churn Brownie Batter Ice Cream
Healthy No Churn Brownie Batter Ice Cream (Paleo, Vegan, Gluten Free) made using just four ingredients and completely dairy-free! No ice cream maker needed to whip up this super creamy, guilt-free and delicious refined sugar free ice cream with NO bananas or fruit!
Print Recipe
Instructions
Place a small loaf pan or deep pan in the freezer.


In a high speed blender, add your coconut cream, dark cocoa powder and pure maple syrup. Blend until completely combined. Add your mix-ins of choice and blend very lightly.

Transfer brownie batter ice cream to the loaf pan. To ensure it doesn't become too icy, lightly mix your ice cream ever 20-30 minutes for the first hour.

Thaw for 10-15 minutes before eating. Lightly wet an ice cream scoop before scooping the ice cream into a bowl. To enjoy it soft serve style, let it thaw to desired texture.
Notes
* Can use agave, honey or monk fruit sweetened sugar-free maple syrup.
Nutrition
More delicious frozen treats? Gotcha covered!
Rocky Road Blender Protein Ice Cream
Cookies and Cream Blender Ice Cream
Peppermint Patty Ice Cream Smoothie
The Big Man's World is a participant in the Amazon Services LLC Associates Program, an affiliate advertising program. This means that if you click and make a purchase, TBMW receives a small commission, at no cost to you. Cheers, hugs, and handshakes for supporting TBMW!