A quick and easy blueberry mug cake recipe ready in one minute and using a handful of ingredients! Made with coconut flour and loaded with blueberries, it's a quick, low carb, single serving dessert or treat!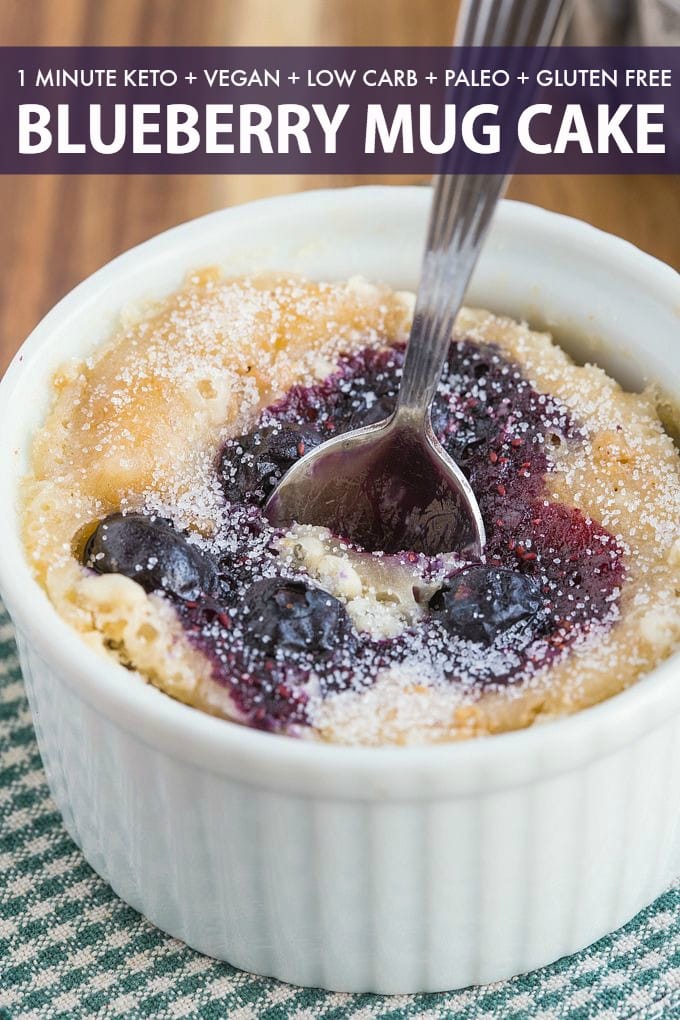 Keto Blueberry Muffin in a Mug
Healthy quick and easy desserts are my favorite kind of recipes. Single serving or small batch sweets which take minimal prep and just a handful of ingredients.
I mean, my first cookbook pretty much covered ALL those bases.a
Delving further into single serving desserts, I am obsessed with mug cakes and mug muffins. Some of my favorites include this cinnamon roll mug cake, chocolate brownie mug cake, and this low carb brownie.
It's time for the humble blueberry muffin to get the mug cake treatment!
The beauty of this blueberry mug cake recipe is how easy it is and how diet friendly too. Not only is it low carb and completely refined sugar free, but it is also paleo and gluten-free.
Bonus? I've also included a TESTED vegan and eggless option!
Regardless of which option you choose, they both possess the main key elements needed for a delicious mug cake!
Taste-wise, it is sweet, slightly tart and loaded with blueberry flavor.
In terms of texture, it is light, fluffy and similar to those giant bakery style muffins we all love!
To make this keto blueberry mug cake, you only need SIX ingredients-
Coconut flour
Blueberries
Baking Powder
Keto maple syrup
Coconut oil
A large egg
That's it!
COCONUT FLOUR
Coconut flour is necessary for this recipe, and cannot be substituted for another grain-free flour.
Unlike other flours, coconut flour has unique properties and is like a sponge. It absorbs liquids, hence the small amount needed. It also helps provide a cake-like and fluffy texture.
BLUEBERRIES
Fresh or frozen blueberries can be used. If you use frozen blueberries, just be sure they are thawed out completely, and patted dry, to avoid any excess moisture.
If you don't have access to blueberries, you can sub it for another low carb fruit, like blackberries or raspberries.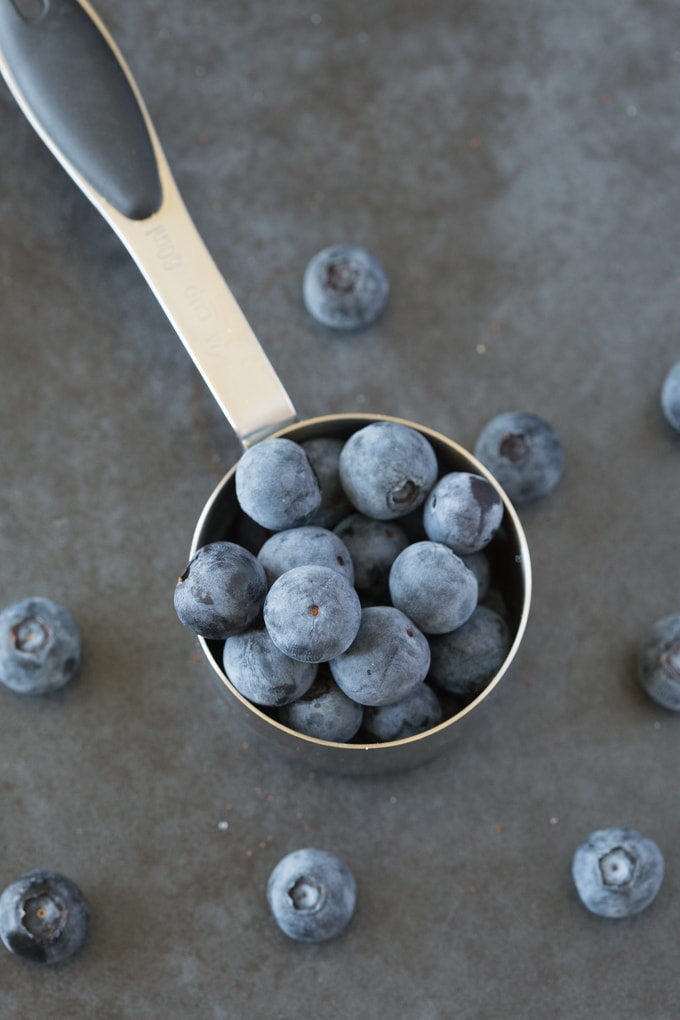 KETO MAPLE SYRUP
A sticky sweetener is needed to help keep the blueberry mug cake moist on the inside and tender on the outside. I used a keto maple syrup, which worked beautifully, and didn't try the cake out.
If you don't follow a strict ketogenic diet, you can replace this with pure maple syrup or agave nectar.
HOW TO MAKE THIS MUG CAKE EGGLESS AND VEGAN
I tried to simply swap out the egg in the keto recipe but it turned into a dry hockey puck.
After several attempts, I decided to just give a twist on my cinnamon roll mug cake. Most of the recipes will remain the same, but there are a few changes-
OVEN INSTRUCTIONS
If you don't have access to a microwave or prefer using an oven, you can easily do that!
Simply pre-heat a toaster oven or standard oven to 175C/350F. Grease an oven-safe dish or ramekin and bake the blueberry mug cake for 12-15 minutes, or until a toothpick comes out clean from the center.
TIPS AND TRICKS FOR A PERFECT BLUEBERRY MUG CAKE
If you use a microwave, cook on half power, just to ensure the mug cake cooks evenly.
Instead of using an actual mug, a ceramic cereal bowl or deep, microwave-safe bowl works just as well. This will also ensure the mug cake/muffin cooks evenly.
Do not prepare the batter in advance, otherwise, it will thicken and your blueberry mug cake will dry out. You can pre-make it in advance and simply enjoy later.
For some extra deliciousness, sprinkle the tops with some cinnamon and a zero calorie sugar substitute, like swerve or monk fruit.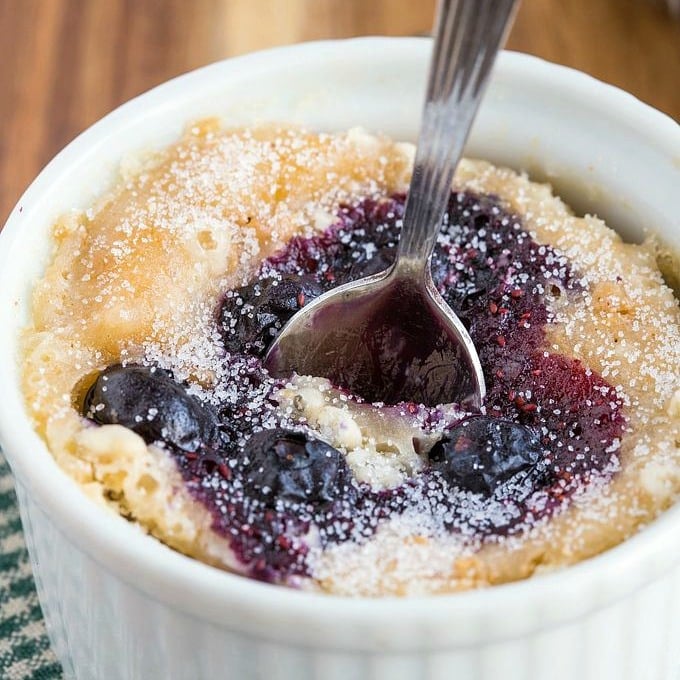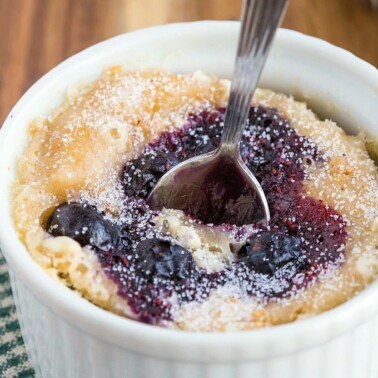 Blueberry Mug Cake
A quick and easy recipe for a blueberry keto mug cake ready in one minute! Light, fluffy and loaded with blueberries, this easy coconut flour based muffin in a mug is protein packed, low carb and 100% sugar free- Vegan, Paleo and Gluten Free.
Instructions
In a small mixing bowl, add your dry ingredients and mix well.

In a microwave-safe bowl or mug, add the rest of your ingredients, minus the blueberries and mix well. Add your dry ingredients and mix very well. If the batter is too thick, add a little milk. Fold in your blueberries.

Microwave for 1-2 minutes, or until a toothpick comes out clean from the center. Remove from the mug or bowl and enjoy!
Oven Instructions
Preheat the oven to 175C/350F. Prepare ingredients as above, but pour batter in an oven safe dish. Bake for 12-15 minutes, or until a toothpick comes out clean.
Notes
* Optional- Only add if you want a super sweet muffin mug cake
** For a non-keto option, you can use maple syrup or agave nectar.
Keto Blueberry Mug Cake (Vegan, Paleo) is best eaten fresh but can be refrigerated for later consumption. It is also freezer friendly, for up to 1 month.
Nutrition
Serving:
1
cake
Calories:
240
kcal
Carbohydrates:
6
g
Protein:
8
g
Fat:
20
g
Vitamin A:
200
IU
Vitamin C:
3.3
mg
Calcium:
20
mg
Iron:
0.7
mg
NET CARBS:
6
g
Disclosure: This post may contain affiliate links. I may earn a small commission for my endorsement, recommendation, testimonial, and/or link to any products or services from this website.