No Bake Keto Protein Bars (Paleo, Vegan)
A delicious low carb protein bar recipe which is keto friendly and takes less than 5 minutes! Made with just 4 ingredients, these thick, chewy and fudgy protein bars require no baking and can be made with or without protein powder!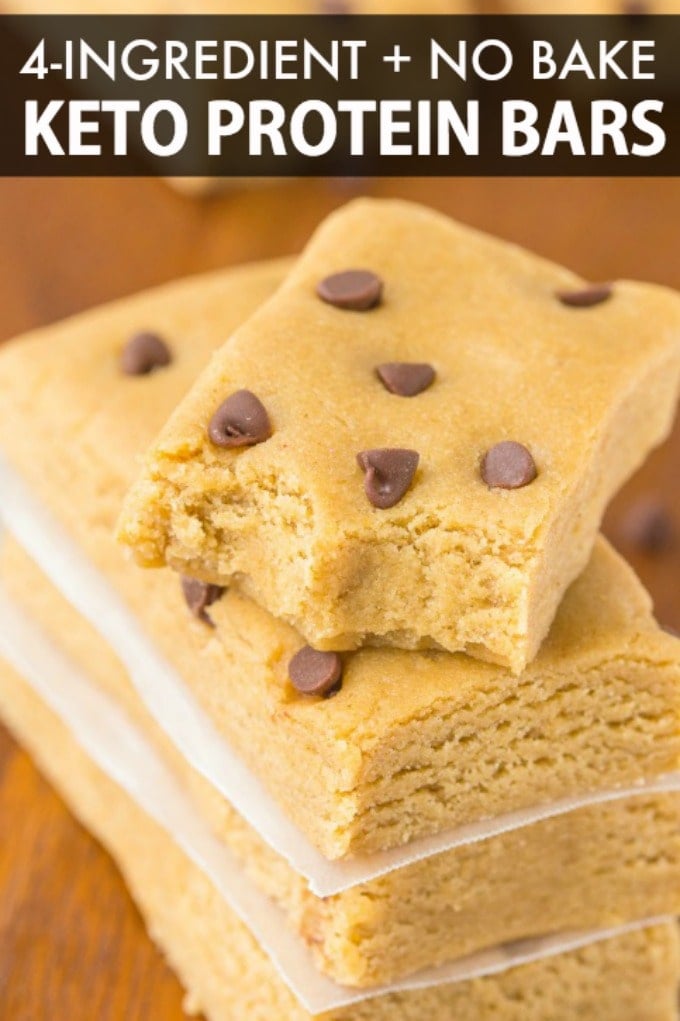 Keto Protein Bars
Since I've started working out more, I've been making a concerted effort to ensure I have a protein-rich snack after every workout.
Before I started following a keto diet, I would normally have a whey protein smoothie, a protein granola bar or a small serve of my favorite protein pancakes.
What all those recipes have in common is that they contain protein powder. Now, I'm not one to have anything against using protein powder. In fact, many of my older recipes have been tested to include a protein powder option. However, I've found my body not reacting as well to it.
Keto protein bars are something which is VERY difficult to find.
Readers have often asked me if protein bars are good for a low carb diet and if protein bars are okay on a ketogenic diet.
Having a quick look at some packaged protein bars, unfortunately, many are not actually low carb and only a handful are keto friendly. Those that are suitable for a keto diet are loaded with artificial sweeteners, it's perhaps not the best choice.
As such, I wanted to create a protein bar recipe, without protein powder. Enter- Homemade keto protein bars.
The beauty of a keto recipe is that it is naturally low carb and sugar free, so there is NO need to include protein powder! Bonus? Not only are these homemade protein bars keto friendly, they are also suitable for a paleo, vegan and gluten-free diet!
Protein bars tend to have a bad wrap for not being overly delicious and having an odd texture.
I promise you my keto protein bar recipe will have you converted.
Taste-wise, they are like a sweet piece of fudge, with no bitter aftertaste.
In terms of texture, they are thick, chewy and slightly fudgy, thanks to the coconut flour and tahini.
To make my homemade keto protein bar recipe, you only need FOUR (or 5!) ingredients-
Coconut Flour
Tahini
Keto Maple Syrup
Granulated Sweetener of choice
Chocolate Chips (optional!)
That's it!
COCONUT FLOUR AND SUBSTITUTIONS
I tend to rarely offer substitutions when using coconut flour, as it has very unique properties. Unlike other flours, coconut flour acts like a sponge and soaks up liquids.
However, as this recipe requires zero baking, there are two options you can try-
Replace the coconut flour with blanched almond flour, but double the amount. If the batter is still too crumbly, continue adding more until it is thick,
If you don't follow a grain-free or keto diet, you can use gluten-free oat flour. Like the almond flour, you will need to double the amount.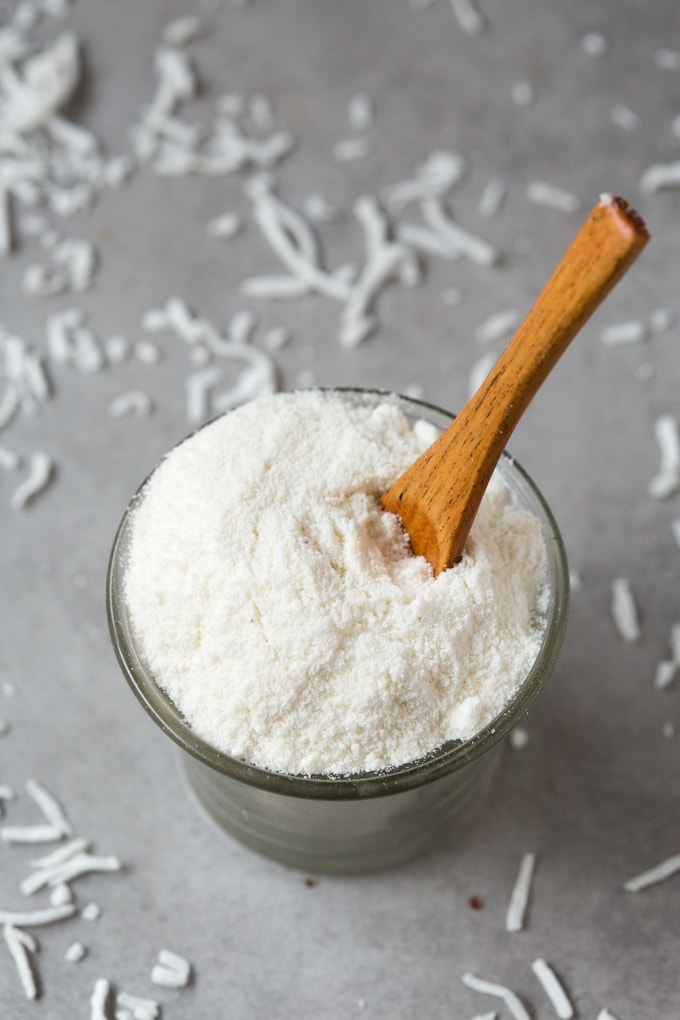 TAHINI ALTERNATIVES
I opted to use tahini, as I wanted these keto protein bars to be 100% nut-free. You can still keep these protein bars nut free, by using sunflower seed butter or wow butter.
If nuts aren't an issue, almond butter or cashew butter will work beautifully, as will peanut butter. However, using peanut butter will no longer allow these bars to be paleo friendly.
KETO MAPLE SYRUP
A sticky sweetener is needed to help keep these protein bars together, and provide some sweetness!
This keto maple syrup is my go-to and provides a similar texture to traditional maple syrup.
Please do not omit this- You'll find that your bars will be gritty and crumbly.
HEALTHY GRANULATED SWEETENERS
Adding some granulated sweetener (sugar substitute) provides sweetness to the protein bar, minus the calories, sugar, and carbs!
Using either monk fruit sweetener or swerve will ensure the recipe remains sugar free. These two sweeteners also have a similar taste and texture to traditional sugar.
You can choose to use another granulated sweetener, like aspartame or sucralose based one, but I don't enjoy the taste so never use it personally.
KETO CHOCOLATE CHIPS
While optional, I love a good protein bar which has some form of chocolate in it!
Chocolate can be part of a keto diet, and I've found that my favorite form is chocolate chips. You can use either stevia sweetened chocolate chips or sugar free chocolate chips. Both will hold up in the recipe and provide a delicious, chocolate flavor.
TIPS AND TRICKS FOR PERFECT HOMEMADE PROTEIN BARS
Sift your coconut flour- This will ensure you avoid any clumps or lumps in the batter.
Depending on the brand of coconut flour you use, you may need to add a little extra, especially if your batter is too thin. You want it to be smooth but thick, as it will firm up once chilled.
If your batter is TOO thick or too crumbly, add some liquid (I like using coconut milk) to thin out.
Melt your nut/seed butter with your syrup, as it will make mixing the ingredients together so much easier.
Allow your bars to firm up for at least 30 minutes, to ensure it has time for the coconut flour to really thicken.
These bars make delicious lunch box snacks or post workout snacks- Simply wrap in parchment paper to enjoy later.
While these homemade protein bars can keep at room temperature, they are even better refrigerated. They will last for up to 2 months, in a sealed container. They are also freezer friendly and will keep well frozen for up to 6 months.
MORE HOMEMADE PROTEIN BAR RECIPES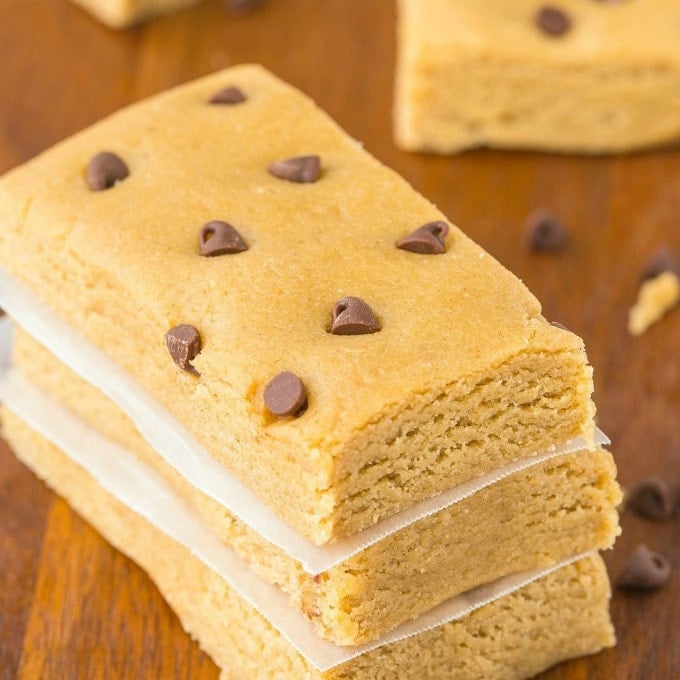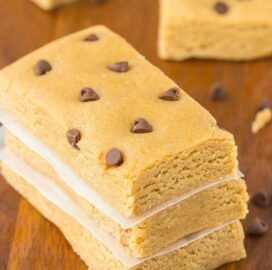 No Bake Keto Protein Bars (Paleo, Vegan)
These easy no bake keto protein bars are a protein-packed snack recipe ready in 5 minutes! These low carb protein bars are packed with coconut flour, tahini and topped with chocolate chips- NO sugar, no dairy and completely paleo, vegan and gluten free!
Print
Pin
Rate
Instructions
Line an 8 x 8-inch pan or loaf pan with parchment paper and set aside.

In a large mixing bowl, combine your coconut flour and granulated sweetener and mix well. Set aside.

In a microwave-safe bowl or stovetop, combine your tahini with your syrup and heat until melted.

Combine your wet ingredients with your dry ingredients and mix well. If the batter is too thin, add extra coconut flour. If the batter is too thick, add a little milk to thin out.

Pour the protein bar batter into the lined pan and press firmly into place. Top with chocolate chips and refrigerate until firm. Cut into bars and enjoy.
Notes
No Bake Keto Protein Bars (Paleo, Vegan) are best kept refrigerated and will keep for up to 2 months. They are freezer friendly and will keep for up to 6 months.
Nutrition
Serving:
1
Bar
|
Calories:
159
kcal
|
Carbohydrates:
13
g
|
Protein:
7
g
|
Fat:
11
g
|
Fiber:
9
g
|
Vitamin A:
150
IU
|
Vitamin C:
1.7
mg
|
Calcium:
20
mg
|
Iron:
0.7
mg
|
NET CARBS:
4
g