These low carb no bake chocolate peanut butter bars taste like Reese's Peanut Butter Cups, but with a healthy twist. An easy, sugar free, vegan and keto-friendly snack or dessert- The perfect cure for any sweet tooth!
When my sweet tooth is screaming, it tends to want one specific thing- Chocolate, peanut butter, or a combination of both.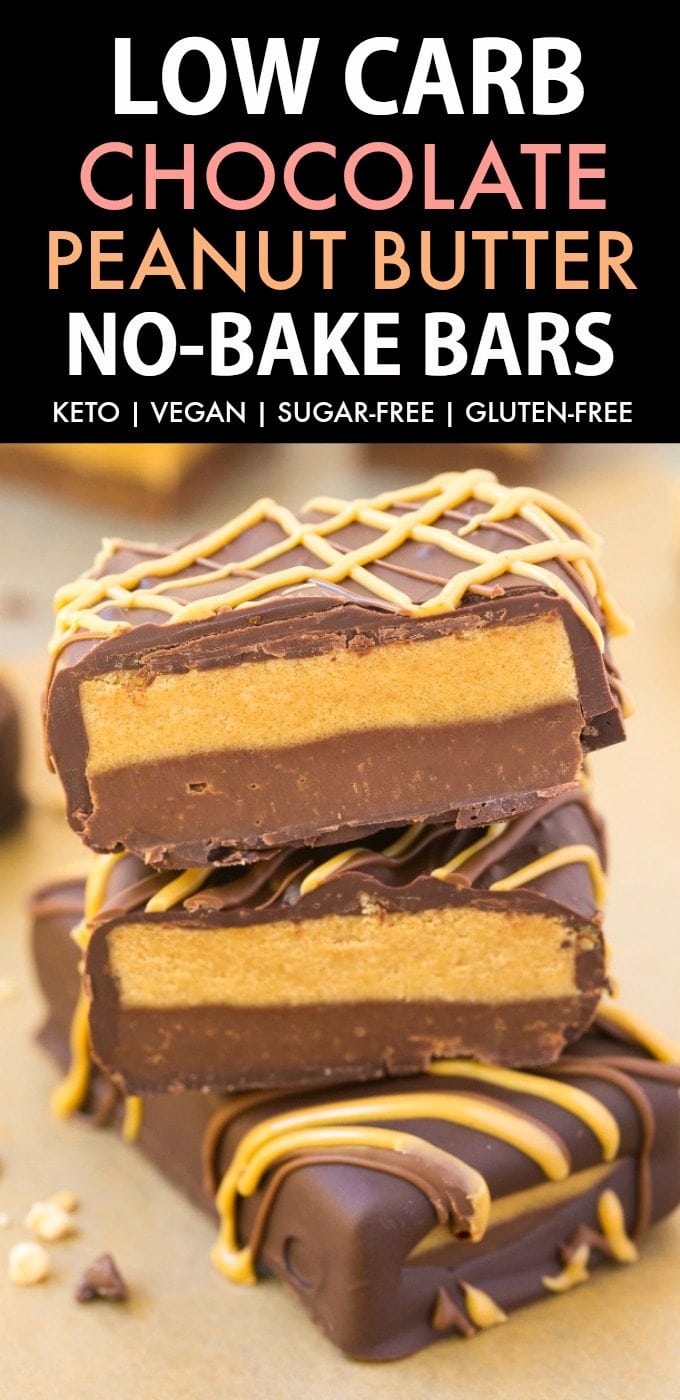 When it comes to the proportion of peanut butter to chocolate, I've always been an equal opportunist. There was a point in time where I'd favor peanut butter over the chocolate. If you need some evidence, I got you some proof!
That is merely a handful of a plethora of recipe evidence on here.
There is an even a step-by-step recipe video below showing one of my favorite recipes using this fantastic combination-

These low carb no bake peanut butter bars are different as there is an even 50:50 division between the two. The bars themselves are half peanut butter and half chocolate. Enrobing the bars are a layer of chocolate and to keep things fair, a generous drizzle of peanut butter.
See? Equal opportunist.
The equal opportunist goes beyond the combination itself- It takes into account the various diets and lifestyles these no bake bars are suitable for.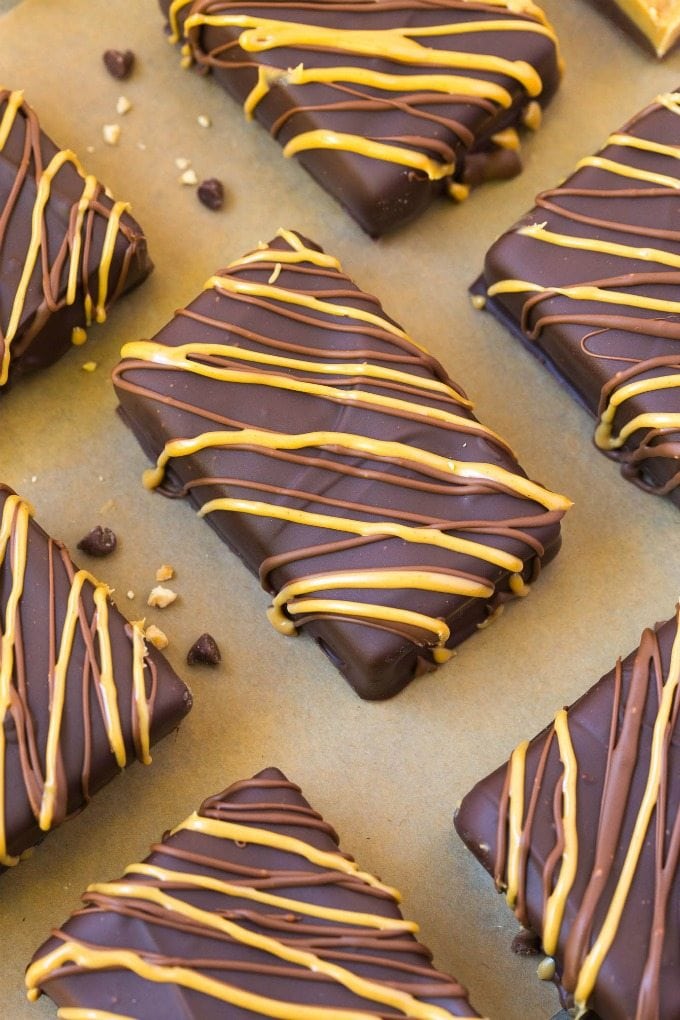 Not only are these no bake chocolate peanut butter bars naturally low carb and gluten-free, they are also grain-free, sugar-free, vegan and keto-friendly! As mentioned in this post, I've tried to highlight recipes moving forward which are suitable for those following a ketogenic diet, and these certainly fit the bill!
When I say these no bake bars are quick and easy, I ain't fooling around here- You simply prepare your peanut butter and chocolate filling, douse it in healthy chocolate and drizzle it in peanut butter.
Unlike many of my other recipes, these no bake chocolate peanut butter bars don't need any protein powder. This leads to the question….
How do we keep these low carb without protein powder?
You have two options here.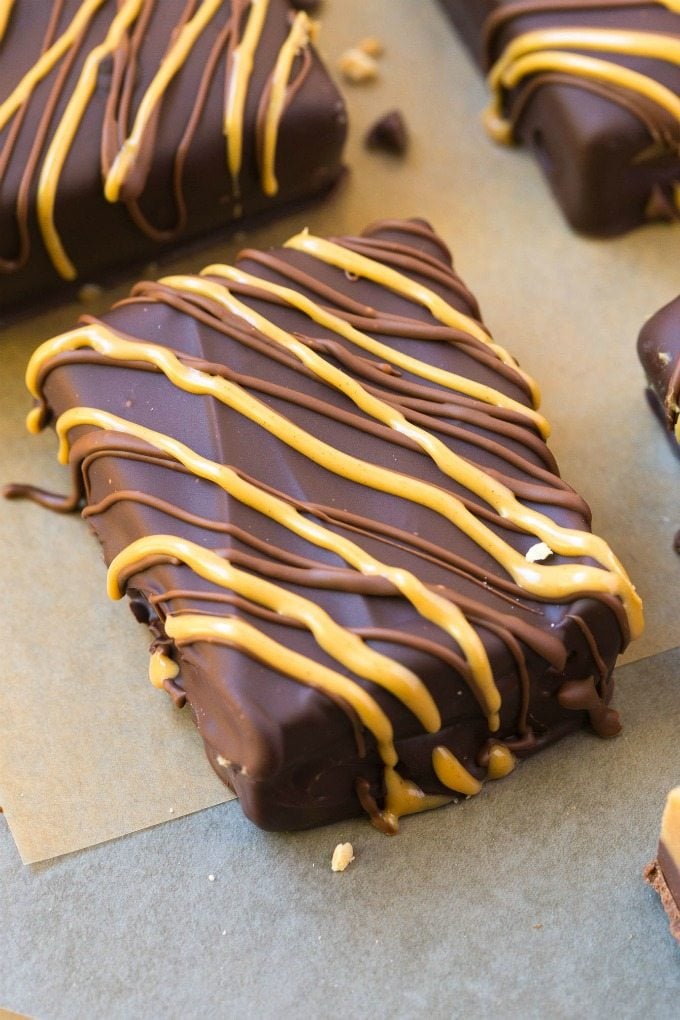 The first is to use peanut flour/peanut powder (as pictured). Peanut flour is defatted peanuts blended into a powder form. It contains considerably less fat than traditional peanut butter but has a very high protein content.
Alternatively, you can use coconut flour or almond flour, which are both low carb flour blends. If you choose to use almond flour, you'll need twice the amount of coconut flour. The texture will also be considerably grittier and overall produce a darker color.
Furthermore, you'll notice a call out for a sticky sweetener. I use this monk fruit sweetened maple syrup, which is 100% sugar-free and low carb (especially when compared to traditional maple syrup or sticky alternative). It mimics the texture of classic maple syrup and helps hold the bars well.
While there are other sugar-free syrups on the market (e.g. sugar-free pancake syrup or sugar-free maple syrup), these have a very watery consistency and you'll likely find it difficult to shape the bars. Saying that, if you do opt to use one of those, be sure to freeze your bars before coating them in the chocolate and to move VERY quickly.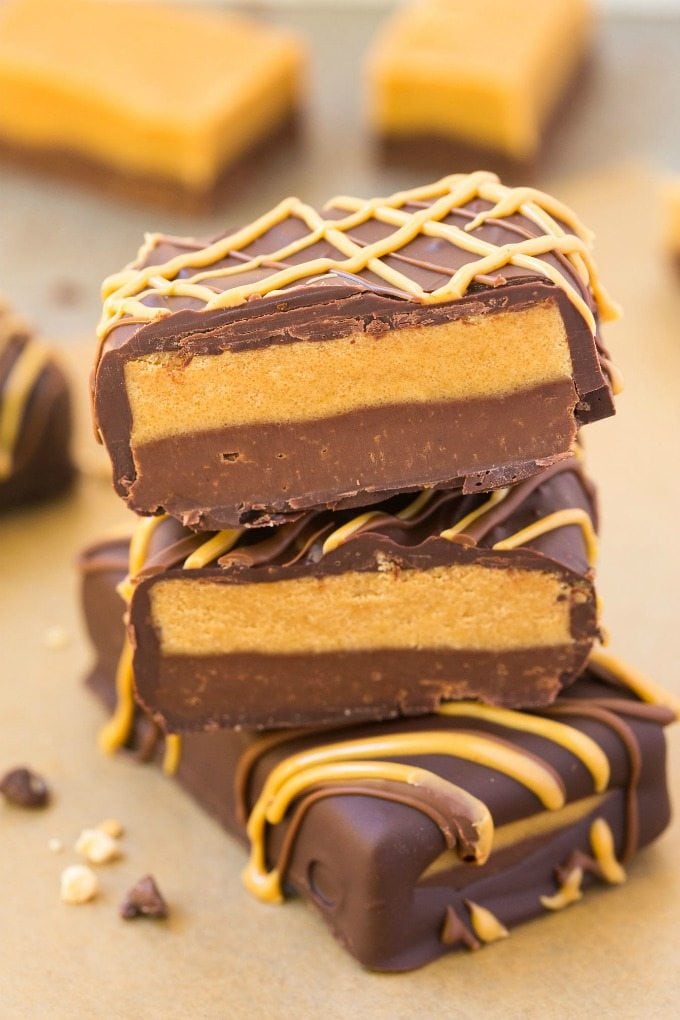 The secondary question is how do you keep the chocolate coating naturally sugar-free and low carb?
Use store-bought chocolate chips- These ones are stevia sweetened and don't leave a bitter aftertaste and melt beautifully (as pictured). If you don't mind some natural sugar and want to keep it dairy free, these mini chips are my usual standby and also work great.
You can make your own healthy homemade chocolate like I did in these keto cups– You simply combine coconut oil, cocoa powder and the sticky sweetener or some liquid stevia.
With all of this said, if you have NO dietary restrictions and want a healthy no bake chocolate peanut butter bar which is still low carb, you can still do so.
Swap out the flours suggested for regular oat flour, brown rice flour, or quick oats
Use any sticky sweetener of your choice- Agave nectar, brown rice syrup, honey (although this will be very evident in taste!)
Don't want to use peanut butter? Use any nut or seed butter of your choice- Cashew butter, sunflower seed butter, soynut butter.
Cover your bars in any chocolate you prefer- Milk, dark, extra dark, Harry Potter spiked.
Yeah, Harry Potter spiked.
Let's go back to the equal opportunist theme happening here. Moving away from the chocolate peanut butter combination, let's see who these fudgy, delicious no bake bars are good for.
If your sweet tooth is calling and you want it satisfied in a healthy and filling way, these are your answer.
Want a guilt-free dessert which tastes like a Reese's Peanut Butter cup, but with better macros, nutritional stats and a bigger serving? You are welcome.
Just finished a tough workout and want a delicious protein-rich snack to tide you over? Whip one of these beauties out.
Finally, to all my die-hard chocolate peanut butter fans- This one is for you. Healthy Low Carb No Bake Chocolate Peanut Butter Bars which taste like dessert, but are anything but.
Looking for more Peanut Butter spiked recipes? Gotcha covered!
4 Ingredient Dairy Free White Chocolate Peanut Butter Cups
4 Ingredient Peanut Butter Pumpkins
No Bake Chocolate Peanut Butter Crunch Bars
No Bake Peanut Butter Kit Kat Crunch Bars
No Bake Peanut Butter Breakfast Brownies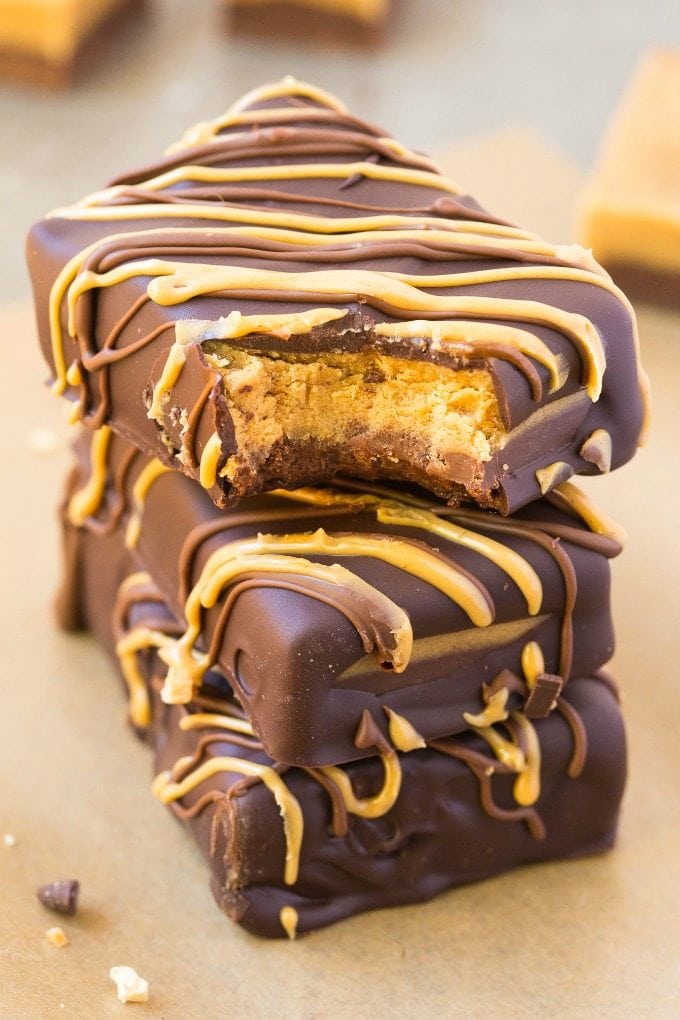 Low Carb No Bake Chocolate Peanut Butter Bars (Keto, Vegan, Sugar Free) adapted from my Paleo Protein Fudge Bars and Almond Butter Keto Cups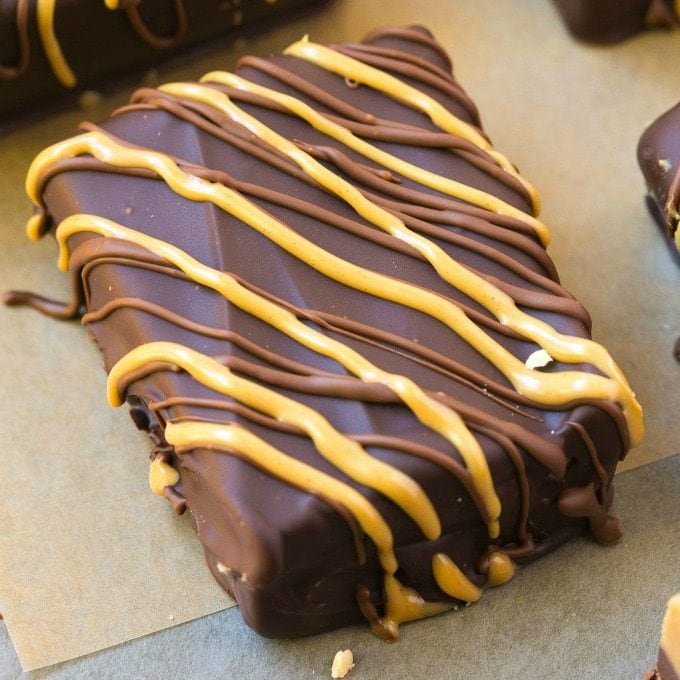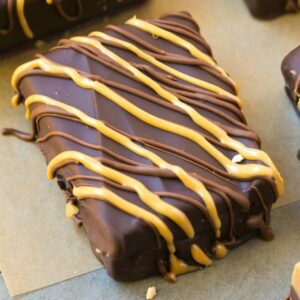 Low Carb No Bake Chocolate Peanut Butter Bars
These low carb no bake chocolate peanut butter bars taste like Reese's Peanut Butter Cups, but with a healthy twist. An easy, sugar free, vegan and keto-friendly snack or dessert- The perfect cure for any sweet tooth!
Instructions
Line an 8 x 8-inch or 8 x 10-inch baking dish with parchment paper and set aside.

In a microwave-safe bowl or stovetop, combine one cup of peanut butter with the sticky sweetener and melt. Evenly divide the mixture between two small mixing bowls.

Add half a cup of peanut flour to each bowl. Add the cocoa powder to one of the bowls. Mix both until a crumbly texture remains. Add unsweetened coconut milk until a thick batter remains.

Start with the chocolate peanut butter batter and press into the lined pan. Press it firmly in place before adding the peanut butter batter over the top. Place in the freezer to firm up.

Once the bars are firm, cut into bars. Place again in the freezer.

Melt your chocolate of choice. Moving quickly, dip each bar from the freezer into the chocolate mixture until evenly coated. Place on a parchment paper lined plate or sheet. Once all the bars are coated in chocolate, drizzle the remaining 1/4 cup of peanut butter over the top. Refrigerate until firm.
Notes
* You can sub this out for 1/2 cup coconut flour or an equal amount of oat flour or brown rice flour
** You may need more than recommended- Adjust accordingly. If the batter is too crumbly, add more milk. If too liquid-like, add more flour.
*** For a thicker layer of chocolate, feel free to double the amount. If you make your own chocolate, ensure it is sweetened, as the filling isn't overly sweet.
Healthy Low Carb No Bake Peanut Butter Bars can be kept at room temperature. They can be kept refrigerated for up to two months or frozen for six months.

Nutrition Facts

Low Carb No Bake Chocolate Peanut Butter Bars

Amount Per Serving (1 Bar)

Calories 186

Calories from Fat 135

% Daily Value*

Fat 15g23%

Sodium 140mg6%

Potassium 39mg1%

Carbohydrates 9g3%

Protein 10g20%

Iron 0.9mg5%

NET CARBS 2g4%

* Percent Daily Values are based on a 2000 calorie diet.
Nutrition
Serving:
1
Bar
Calories:
186
kcal
Carbohydrates:
9
g
Protein:
10
g
Fat:
15
g
Sodium:
140
mg
Potassium:
39
mg
Fiber:
7
g
Iron:
0.9
mg
NET CARBS:
2
g

Disclosure: This post may contain affiliate links. I may earn a small commission for my endorsement, recommendation, testimonial, and/or link to any products or services from this website.