Paleo 'Thanksgiving' Meatballs
This post title would perhaps have you asking two very serious questions.
1. Why is an Australian posting a Thanksgiving recipe when it's not celebrated in his home country?
2. Why would an Australian be posting a recipe with the word 'Thanksgiving' in it AFTER Thanksgiving?

Well, hear me out. After reading blog posts, tweets, Facebook comments and even the media about Thanksgiving- Some epic FOMO happened. It was even worse than when I mentioned it in Monday's post. Some of you suggested I throw a Thanksgiving dinner which sounded like a good plan but alas- due to some logistics, lack of desire to slave with a bird and a minor issue called 'work'- It wasn't a possibility.
Last year, I posted a recipe for 'Thanksgiving Meatloaf Muffins' which were pretty much all the best parts of the Thanksgiving meal combined into a muffin. Think stuffing, turkey, mashed potatoes and even some cheeky cranberries. I had completely forgotten about that recipe until a couple of weeks ago when the blog world went Thanksgiving gaga.
This year, I decided to have my own thanksgiving dinner which was pretty much making those same muffins- but with what I had on hand.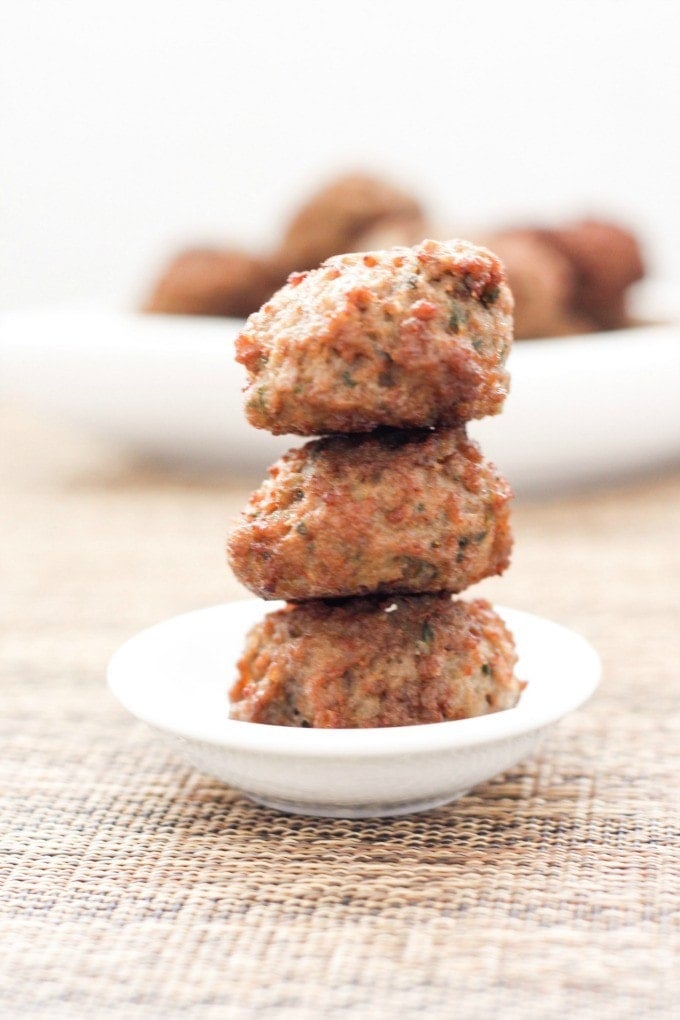 Last year- Ground Turkey.
This year- Ground lean beef.
Last year- Mashed sweet potato.
This year– Mashed pumpkin.
Last year- A stuffing mixture.
This year- Coconut flour to bind.
Last year- Fresh cranberries.
This year- Dried cranberries.
Last year- Make in muffin tins to make them puuuuuurty.
This year- Fry them and cut the time by 40 minutes. They still are puuuuurty.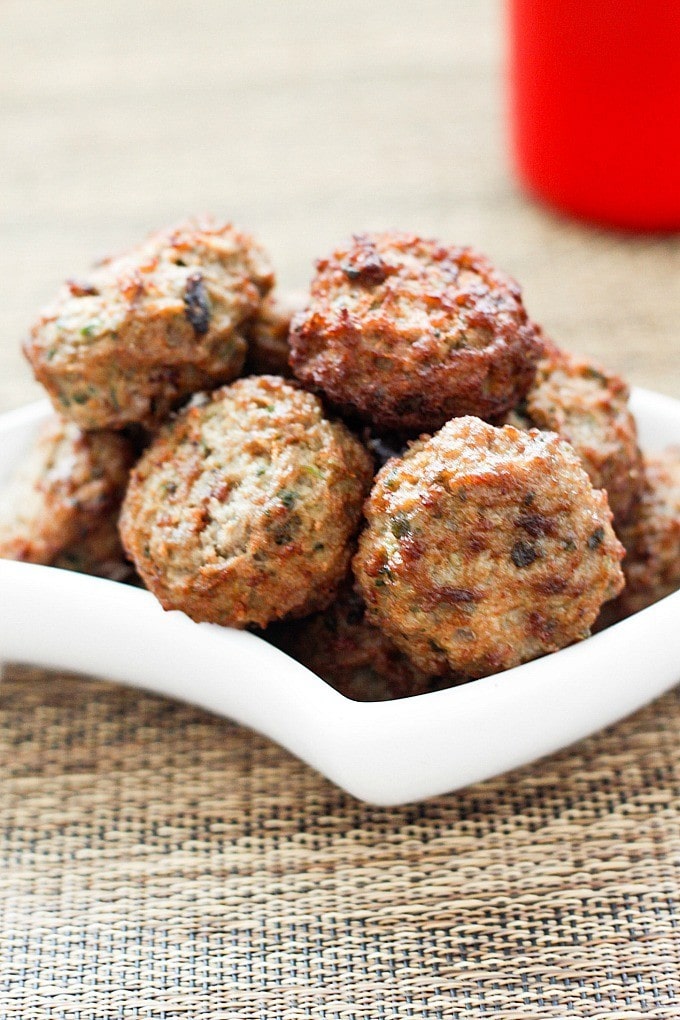 So maybe not the standard Thanksgiving fare. Oh well, let's just say I 'Aussie-fied' it.
Okay. I was lazy. I had no ground turkey. I wanted to partake. I think fresh cranberries make balls soggy. Wait, what?
These meatballs taste delicious regardless of seasonal or not. The combination of spices and the sweet and salty flavours take it to the next level. These pair well with some roasted potatoes with dinner to made during food prep and eaten cold, hot or over an ice cream sundae (don't hold me to that). The best thing is- You can have fun with your thanksgiving leftovers now!
Not only that- The beauty of these meatballs is how easy it is to adapt- You can use any ground meat and any mashed starch. Not paleo? Use breadcrumbs or even stuffing! Don't have cranberries? Chuck…..I don't know blueberries in it. Green beans. Anything!
Maybe try not to add pumpkin or pecan pie in it. That's all.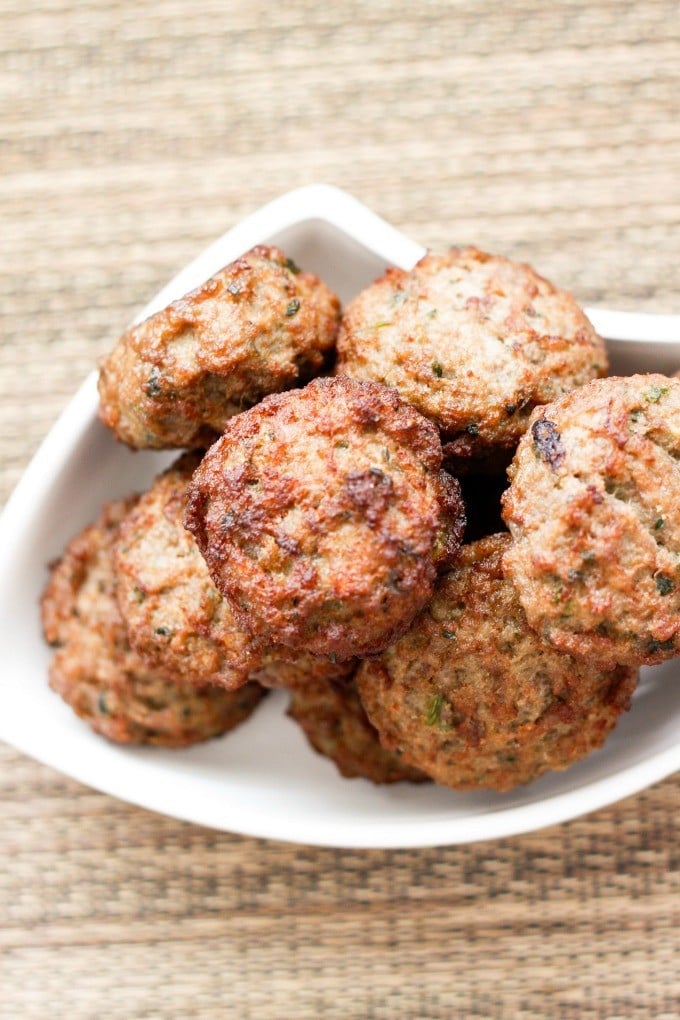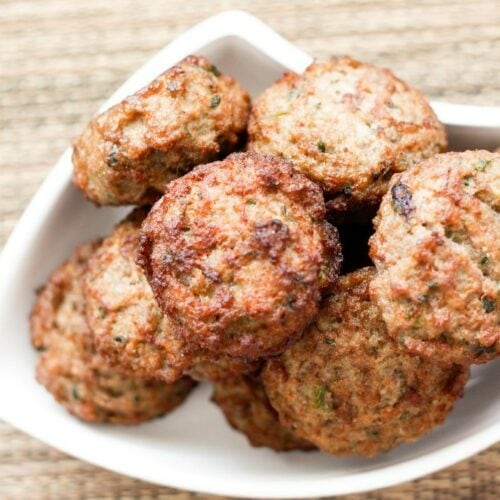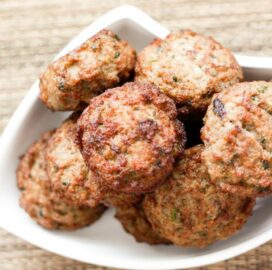 Paleo Thanksgiving Meatballs
The best parts of Thanksgiving dinner meshed into a delicious meatball- Paleo, Gluten Free and perfectly customisable!
Print
Rate
Ingredients
500

grams

ground beef

can sub for any ground meat

1/2

cup

canned pumpkin

can sub for any mashed starch

1

large egg

1/2

teaspoon

sage

1/2

teaspoon

marjoram

1/2

teaspoon

garlic powder

1/2

teaspoon

onion powder

1

teaspoon

sea salt

1

teaspoon

black pepper

1

teaspoon

red pepper flakes

optional

1-2

tablespoon

coconut flour

sifted*
Instructions
In a large mixing bowl, combine the ground meat, mashed pumpkin and egg. Add the spices and mix until fully incorporated. Slowly add the sifted coconut flour until the mixture is firm yet still moist. Form into golf ball sized balls and set aside.

Coat a frying pan generously with olive oil/butter/coconut oil and once heat on medium heat. When hot, add the meatballs to the pan and cook on high for 3-4 minutes before flipping cooking for another 3-4 minutes until golden brown. Continue the process until all the meatballs are cooked.

Serve immediately or allow to cool completely before freezing or refrigerating.
Notes
All brands of coconut flour differ- You may need more or less to achieve the texture to form meatballs.
I used standard ground beef- If you use a leaner cut, it would require slightly less cooking times.