Easy and delicious pizza rolls recipe using my magic 2 ingredient dough. Enjoy all the taste of your favorite pizza, all rolled up and sliced into bite-sized pieces. Use your favorite pizza ingredients and customize it any way you like! Perfect to snack on or have as part of the main meal.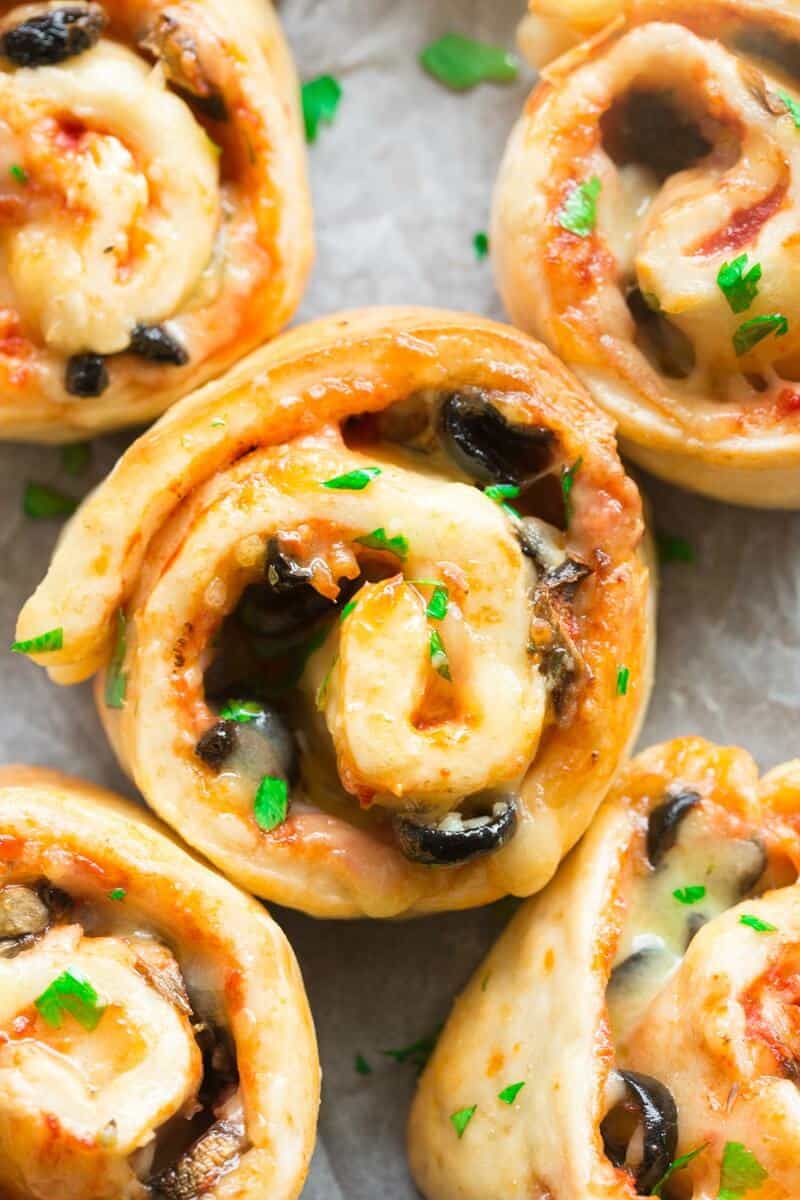 I first ate a pizza roll when I watched my first Superbowl game. I went to a friend's party and brought along some puppy chow and brownies.
A friend had made some frozen snacks by Totoni's, called Pizza rolls. Pizza rolls are pieces of pizza dough, wrapped up, and filled with basic pizza ingredients, like cheese and pepperoni.
While I enjoyed the taste, I thought they'd be better as a savory kind of scroll, sort of like a cinnamon roll, but pizza flavored!
One of my favorite chain bakeries, Bakers' Delight, has these amazing cheese scrolls and pizza scrolls. Inspired by those, I decided to combine the pizza roll concept but in a pizza scroll style!
How to make pizza rolls from scratch
The Ingredients
2 Ingredient pizza dough– My go-to recipe for anything pizza-related. It combined self-rising flour and yogurt of choice, meaning no yeast is needed! It also can use dairy-free yogurt, perfect for those wanting a vegan pizza roll. Of course, you can use a store-bought pizza dough, too.
Tomato sauce– To spread over the pizza. This is often referred to as tomato passata in some countries. See below for some other sauce options!
Pizza toppings of choice– Anything and everything you like in a pizza! I used mushrooms, olives, and capsicum for mine.
Cheese of choice– Either traditional cheese or dairy-free cheese. I used shredded dairy-free mozzarella.
Herbs– Italian herbs, basil and/or oregano. I also love adding red pepper flakes, for a spice kick!
Milk of choice– Optional, but to brush the tops of the rolls with, to give them a lovely shine.
The Instructions
Start by preparing your 2 ingredient dough. Once that is done, roll out the dough to a rectangular shape.
Then, you'll spread it with tomato sauce, leaving around 1/4 inch around the sides. Top with your favorite toppings, followed by the cheese of choice. End by sprinkling with your favorite herbs and spices. Once you've done that, slowly roll up the dough from one end to the other, until completely rolled up. Using a sharp knife, cut 12-16 equal pieces.
You'll then want to place each pizza roll on a lined baking tray. If desired, brush the tops of each pizza roll with milk (I used almond milk). Bake for 15-17 minutes, or until golden on top and around the edges. Remove from the oven and sprinkle with more herbs.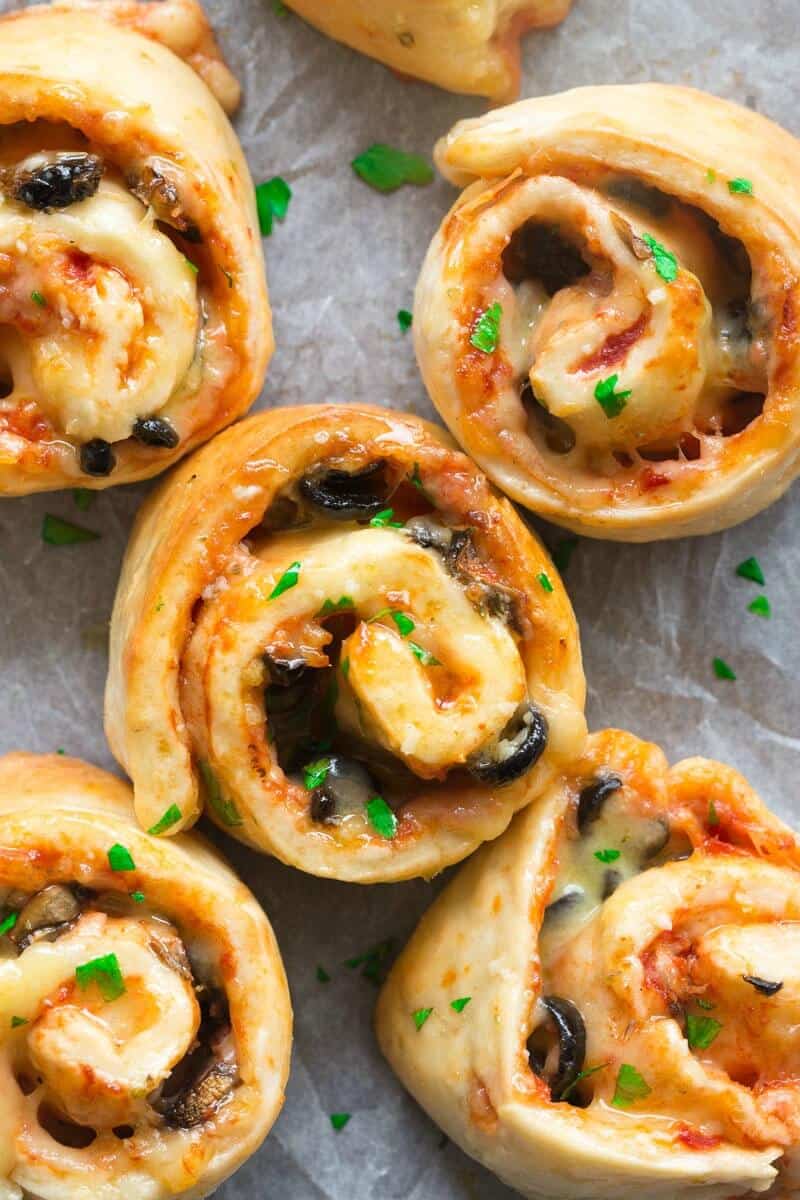 Frequently Asked Questions, Tips, and Tricks
Do pizza rolls have cheese in them?
Traditional pizza rolls do have cheese in them, but you can easily make it dairy-free/vegan, or omit the cheese altogether.
I've tried this with vegan shredded cheese and really enjoyed it. If you do omit it, just be sure to add extra sauce and toppings.
Are Pizza Rolls Healthy?
This recipe uses a homemade healthy pizza dough, that is lower in carbs, higher in fiber, and contains moderate amounts of protein. Store-bought pizza dough tends to contain almost triple the calories and contain very little fiber or protein.
In comparison, my pizza rolls recipe is healthier. However, it comes down to the toppings you use. If you load it up with veggies, I find them to be a delicious and healthy option!
What goes well with pizza rolls?
I love eating pizza rolls on their own, but easily amp them up and pair them with some sides for a well-balanced and rounded meal.
Salad– Serve pizza rolls with a simple side salad or your favorite salad.
Garlic Bread– Why not have these with some homemade garlic knots or garlic pizza bread or even some garlic breadsticks?
Soups or stews– Pair the pizza rolls with a hearty pumpkin or tomato soup, and use it as a dunking vehicle!
Are pizza rolls a snack?
While I generally enjoy these as part of a meal, they are great to snack on, and even bring to parties.
This recipe can easily be doubled and tripled, so make a big batch and bring it to an office pot luck, party, or even pack them in lunch boxes for a kid-friendly snack!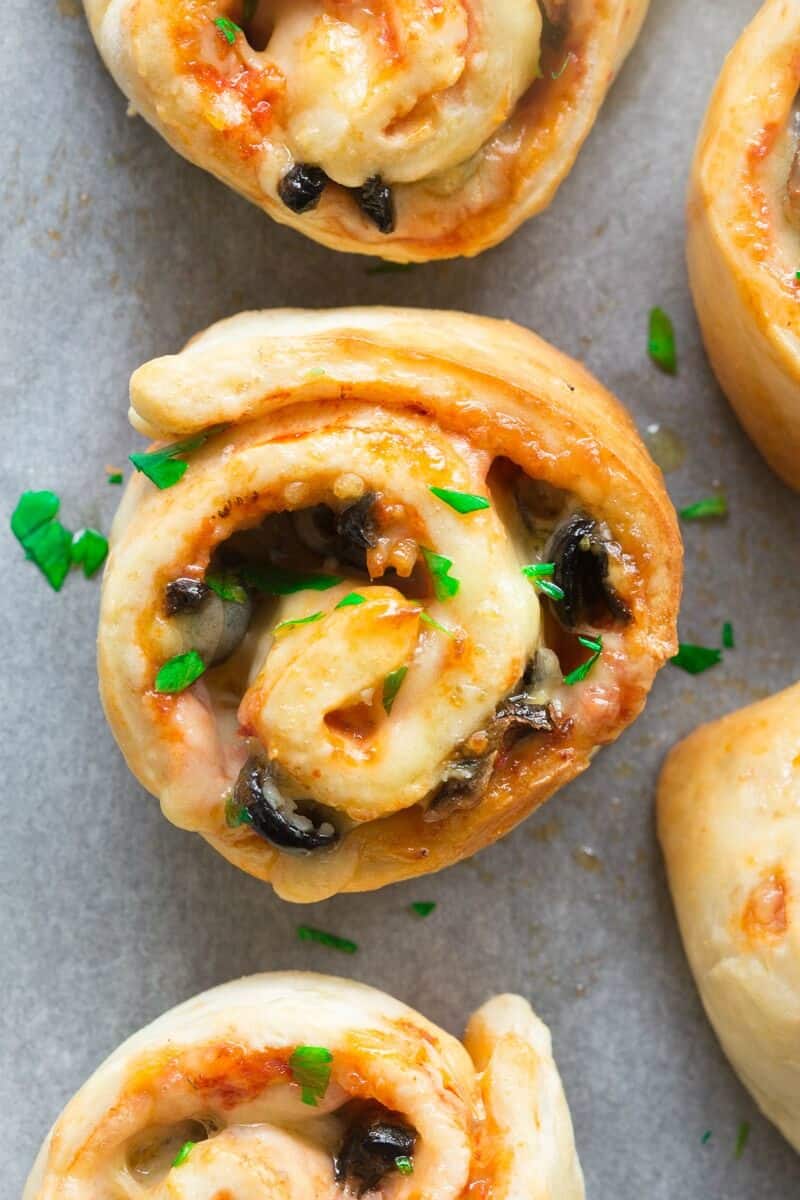 Pizza Rolls Flavors Ideas
Vegan Pizza Rolls– Use your favorite vegetables, olives, sun-dried tomatoes, and top with shredded vegan cheese, or torn up slices of vegan cheese.
Hawaiian Pizza Rolls– Add pineapple chunks and ham (or vegan mock meat), and if desired, some chopped mushrooms.
Pepperoni Pizza Rolls– Layer thinly sliced pepperoni pieces and double the cheese!
Meat Lovers Pizza Rolls– Pepperoni, ham, bacon, and shredded chicken. Jazz it up by using barbeque sauce instead of tomato.
Cheese Lovers Pizza Rolls– Double or triple the amount of cheese, and use a mixture of blends!
Veggie Loaded Pizza Rolls– Use twice as many vegetables, and even pre-roast or use some unique ones, like pumpkin or potato.
Feel free to switch up the sauces too- I love using pesto or barbeque sauce for some fun flavors.
Storing and Freezing Pizza Rolls
To store– Leftover pizza rolls should be stored in a sealable container or on a plate covered in plastic, and stored in the refrigerator. They will remain fresh for up to 5 days. Simply reheat in the microwave for 30 seconds or in the oven.
To freeze– Place leftover pizza rolls in a ziplock bag and keep in the freezer. They will be perfectly fine frozen for up to 6 months.
More delicious 2 ingredient dough recipes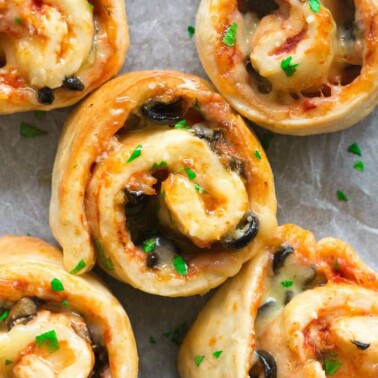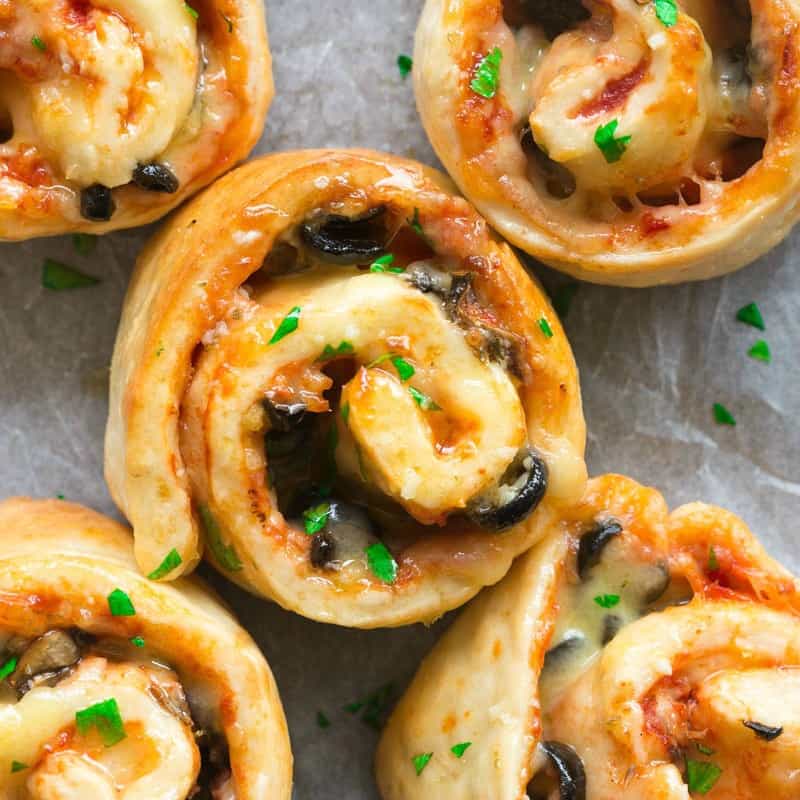 Gluten Free Pizza Rolls
Easy homemade pizza rolls made with 2 ingredient pizza dough! No yeast required, these simple pizza scrolls are a delicious snack or meal recipe that takes less than 20 minutes. Easily made dairy-free, vegan and gluten-free.
Ingredients
1

cup

tomato sauce

1

cup

pizza toppings of choice

I used mushrooms, olives, and peppers

1/2

cup

shredded cheese

dairy-free, if needed

1

tablespoon

herbs

basil, oregano, etc.
Instructions
Preheat the oven to 180C/350F. Line a large tray with parchment paper.

Prepare your 2 ingredient dough. Once that has been prepared, roll out the dough into a rectangular shape, around 12 inches by 6 inches (30 cms by 15 cms).

Spread out the tomato sauce over the dough, leaving half an inch of dough around the sides. Top with toppings of choice, cheese, and spices/herbs.

Pick up two corners of the longest side of the dough. Gently roll it up until it is completely rolled up. Using a sharp knife, slice 12-16 pieces. Place the pieces of pizza roll onto the lined pan. If desired, brush the tops and sides with milk, to produce a golden top and exterior.

Bake the rolls for 15-17 minutes, or until golden brown. Remove from the oven and sprinkle with extra herbs.
Notes
I used dairy-free cheese and gluten-free flour, to keep this recipe 100% vegan and gluten-free.
To store: Place leftover rolls in the refrigerator, covered. They will keep well for up to 7 days.
To freeze: Keep rolls in a ziplock bag and in the freezer. They will keep well frozen for up to 6 months.
Nutrition
Serving:
1
Roll
Calories:
65
kcal
Carbohydrates:
9
g
Protein:
3
g
Fat:
2
g
Sodium:
279
mg
Potassium:
53
mg
Fiber:
1
g
Vitamin A:
97
IU
Vitamin C:
1
mg
Calcium:
20
mg
Iron:
1
mg
NET CARBS:
8
g
Disclosure: This post may contain affiliate links. I may earn a small commission for my endorsement, recommendation, testimonial, and/or link to any products or services from this website.