Now you can have crispy kale chips in no time, thanks to the air fryer! This 3-ingredient air fryer kale chips recipe is completely foolproof and gives you a healthy snack in less than 10 minutes.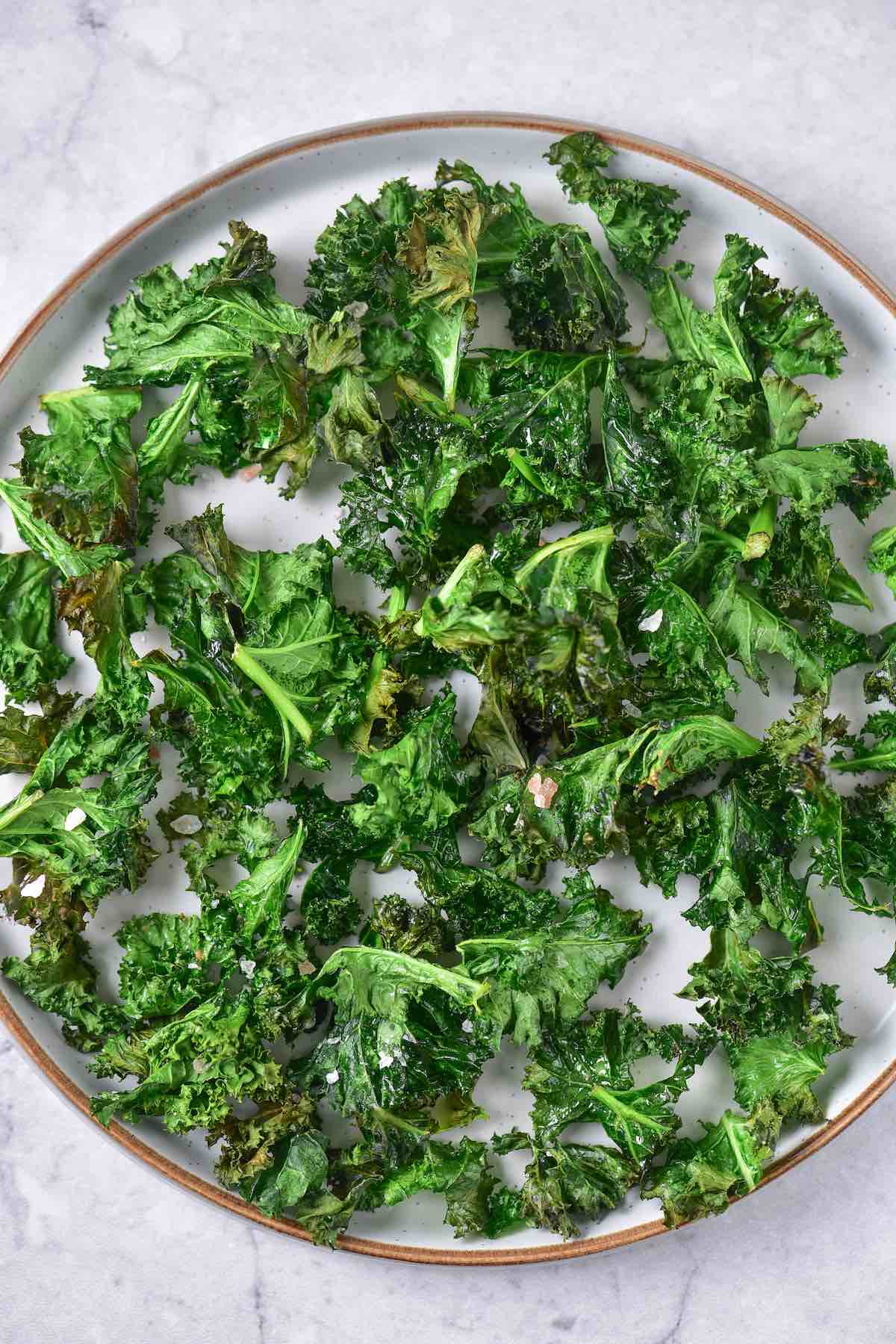 Forget about kale salads and make crispy, salty kale chips instead! Like veggie chips, they're a fun and healthy snack that adds extra nutrients into every bite. Plus, when you cook kale chips in the air fryer, they turn out super crispy thanks to a small drizzle of oil.
This air fryer kale chips recipe is not only quick and easy, but low in calories, high in vitamins and minerals, and naturally vegan and gluten free. It's the best way to turn your typical savory snack night into a time you can feel good about!
Why this recipe works
If you're a savory snacker like me, then kale chips are bound to become one of your new favorite snacks. These three reasons will show you why they're the best way to satisfy your salty cravings:
A healthy superfood snack. You can feel great about indulging in a bowl of kale chips because kale is so healthy. It's a low-calorie leafy green and a wonderful source of vitamins A, K, and C, as well as antioxidants and anti-cancer compounds.
Quick and easy. It's a 3 ingredient snack that's quick to prepare and cooks in less than 5 minutes.
So crispy with minimal oil. If you want crispy snacks or vegetables without any excess oil, cook them in the air fryer. Just like my air fryer french fries, the kale transforms into an indulgent and crunchy snack with only 2 teaspoons of oil!
Looking for more air fried vegetables? Try broccoli, cauliflower, and carrots!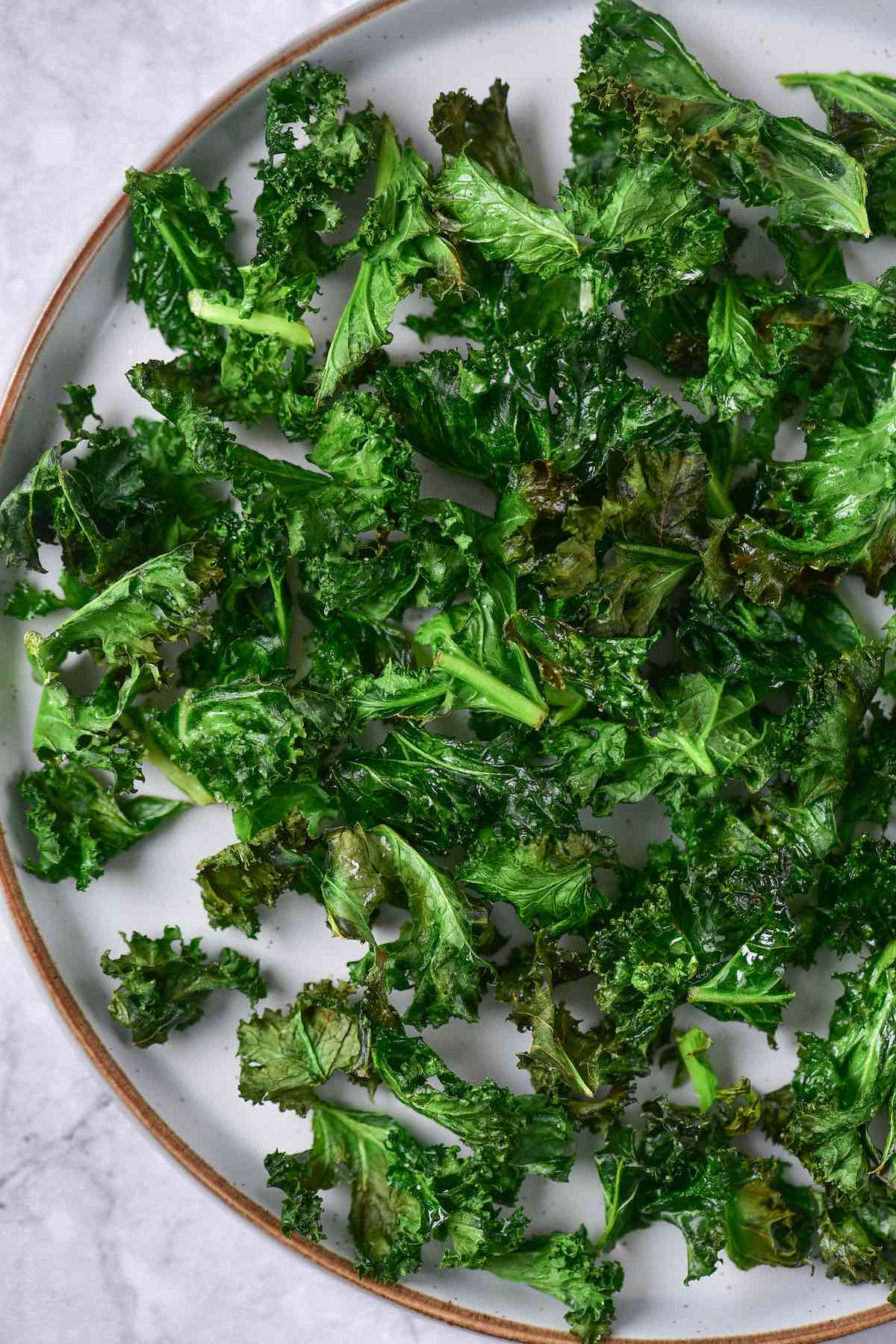 All you need are 3 easy ingredients to make this kale chip recipe:
Kale. This recipe uses an entire bunch of kale, giving you enough kale chips for a crowd or to snack on yourself. Any kale works well, like lacinato, curly, or red kale.
Olive oil. Any neutral flavored oil will work.
Salt. For flavor. Head to the Variations section to find more seasoning ideas for kale chips.
How to make kale chips in the air fryer
You'll never want to bake kale chips in the oven after trying the air fryer version! It's a quick and easy alternative and always gives you crispy results. Here's how it's done:
Step 1 – Wash the kale
Wash the kale leaves well, then pat them completely dry. Tear the leaves into bite-sized pieces.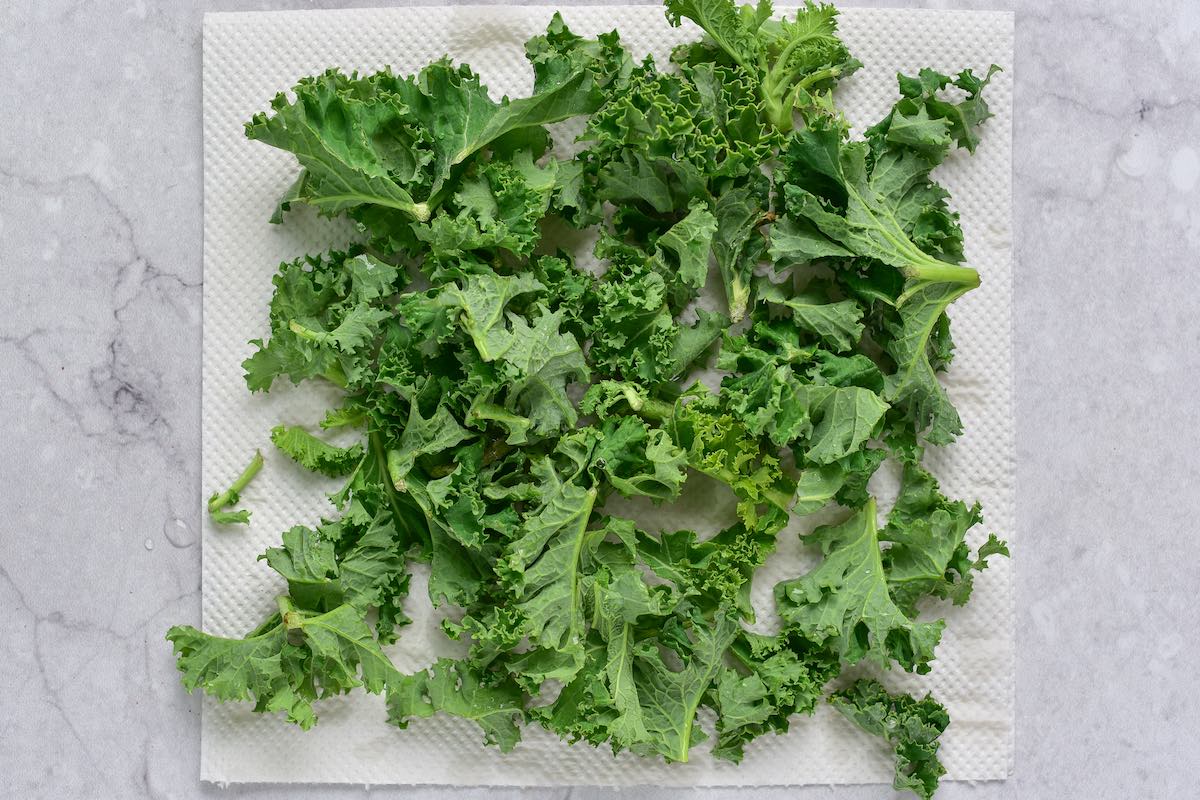 Step 2 – Season
Transfer the kale to a bowl and drizzle the olive oil over top. Gently rub the oil into the leaves with your hands to ensure that each one is well coated. Finish by sprinkling salt over top.
Step 3 – Air fry
Place half of the dressed and seasoned kale in the air fryer basket and cook until the leaves are crisp but not burned. Repeat with the rest of the kale.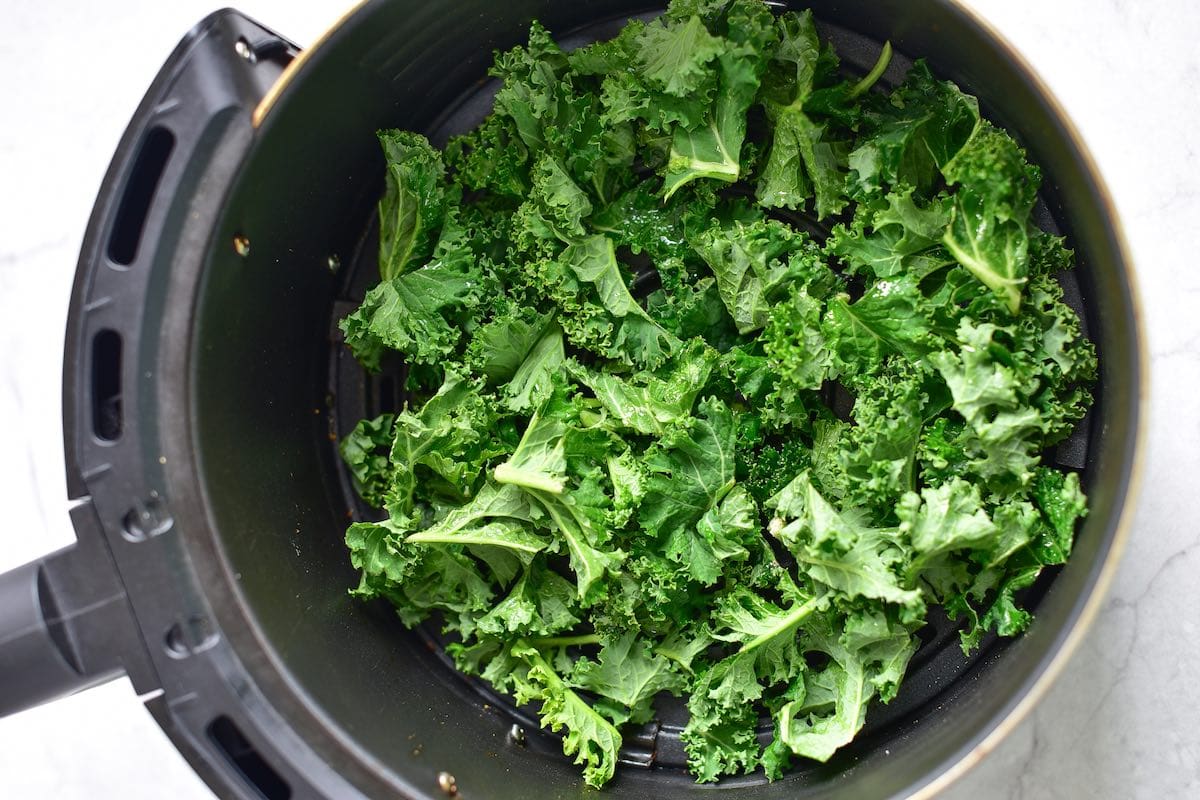 Step 4 – Serve
Season the crispy kale chips with a little more salt, then serve and enjoy!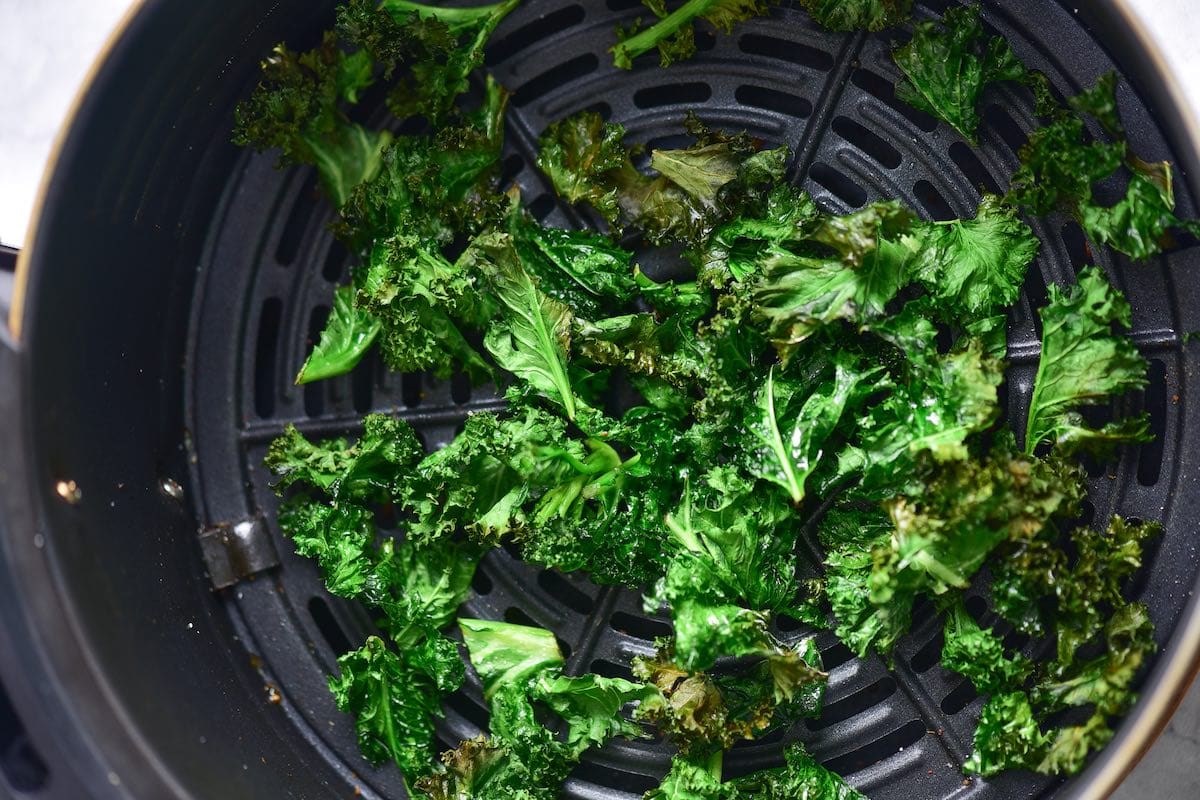 Tips for success
Make sure the kale leaves are completely dry before cooking. The oil and salt won't stick to the leaves if they're still wet.
Don't let the chips burn. Keep an eye on the kale chips as they air fry, and remember to shake the basket every 1 to 2 minutes.
Serve a crowd. Double or triple this recipe to make enough kale chips for the party. Cook them in batches in the air fryer to prevent them from undercooking.
Are the chips flying around in the air fryer? Try weighing them down by placing an air fryer rack on top of the leaves when they're in the basket.
Flavor variations
There are endless ways to season your kale chips. I like them with just a pinch of salt but a sprinkle of garlic powder, black pepper, paprika, or nutritional yeast can add even more dynamic flavors. Check out these kale chip seasoning ideas for more inspiration:
Taco-seasoned kale chips. Sprinkle your favorite taco seasoning blend over the kale.
Cheesy kale chips. Use nutritional yeast, grated parmesan cheese, or dry ranch seasoning to give the chips a savory, salty, and cheesy flavor.
Spicy kale chips. Sprinkle them with a pinch of cayenne or chili powder.
Lemon pepper kale chips. A mix of lemon zest, pepper, and salt gives the kale chips a bright and peppery bite.
Curry kale chips. Sprinkle a pinch of curry powder over the kale chips for warmly spiced bites.
Storage instructions
To store: It's best to store the cooled kale chips in a paper bag at room temperature to prevent them from becoming soggy. They should stay crisp for up to 3 days.
Recommended tools to make this recipe
Air fryer. To cook the kale chips to crispy perfection.
Mixing bowl. Seasoning the chips in a large bowl makes things easy and prevents a mess.
Salad spinner. Optional, but it dries the washed kale leaves with ease.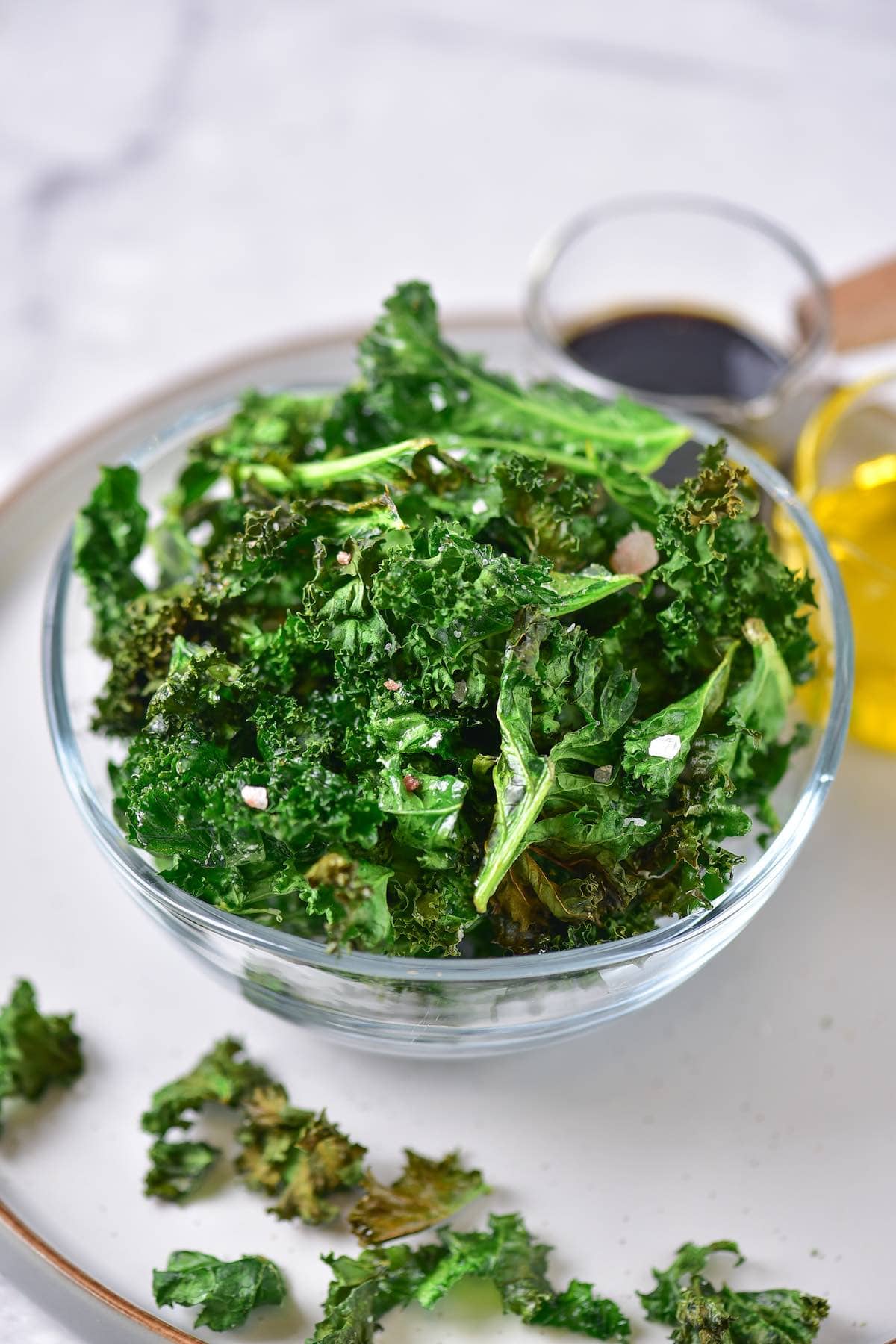 Frequently asked questions
How long does it take to cook kale chips in the air fryer?
When cooked in two separate batches, the kale chips will only take between 3 and 4 minutes to cook in a 190ºC/375ºF air fryer.
How do you keep cooked kale chips crispy?
First, make sure the chips are completely cool before storing them away. If you plan on storing the chips for later or end up with extras, let them cool completely on a baking sheet as soon as they come out of the air fryer.
Second, do not store them in the fridge. The best way to keep the leftover kale chips crispy is to store them in a paper bag at room temperature.
How do you make oil free kale chips?
Olive oil is important because it tenderizes the normally stiff kale and adds more flavor. But if you prefer to skip the oil, you can replace it with 2 teaspoons of apple cider vinegar or lemon juice instead.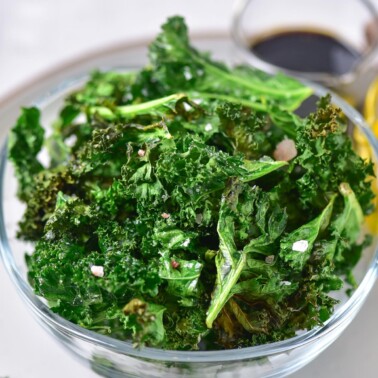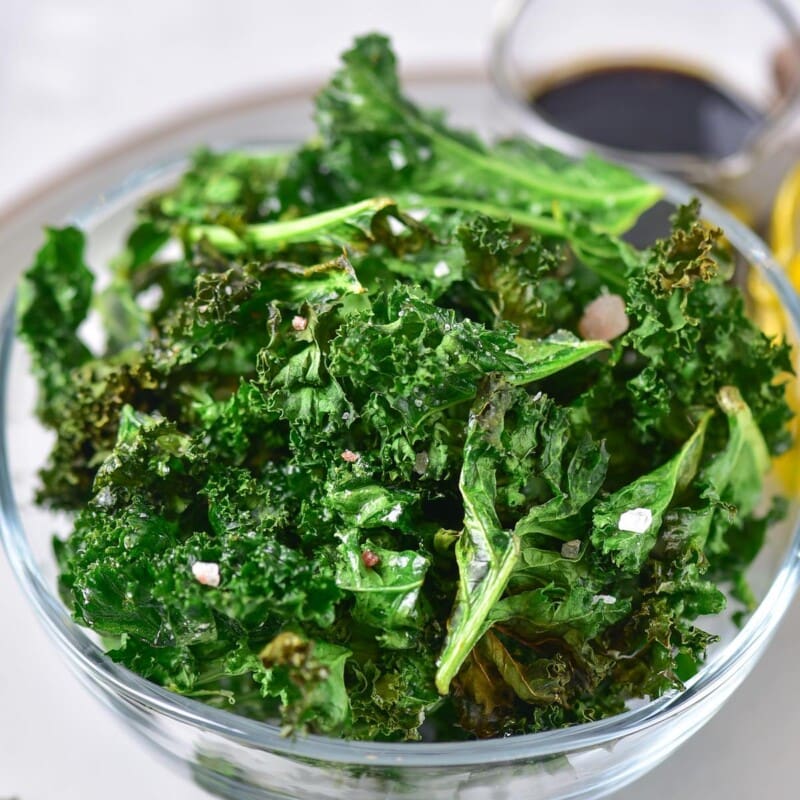 Air Fryer Kale Chips
This 3-ingredient air fryer kale chips recipe is completely foolproof and gives you a healthy snack in less than 10 minutes. The chips are crispy, crunchy, and SO good!
Instructions
Wash the kale and pat dry until completely dry. Roughly tear the leaves into bite sized pieces.

Add the kale to a mixing bowl, then drizzle with olive oil. Using your hands, rub the leaves to ensure they have some oil on them. Sprinkle the salt all over.

Transfer the kale to the air fryer basket and air fry at 190C/375F for 3-4 minutes, ensuring they don't burn. 

Repeat the process until all the kale chips are cooked.
Notes
TO STORE: It's best to store the cooled kale chips in a paper bag at room temperature to prevent them from becoming soggy. They should stay crisp for up to 3 days.
Nutrition
Serving:
1
serving
Calories:
29
kcal
Carbohydrates:
1
g
Protein:
1
g
Fat:
2
g
Sodium:
308
mg
Potassium:
113
mg
Fiber:
1
g
Vitamin A:
3247
IU
Vitamin C:
30
mg
Calcium:
83
mg
Iron:
1
mg
Disclosure: This post may contain affiliate links. I may earn a small commission for my endorsement, recommendation, testimonial, and/or link to any products or services from this website.