Roasted keto brussels sprouts are so easy to make and are secretly low carb! Using a special twice cooked method, you'll never eat Brussels sprouts any other way again! Air fryer instructions included. 2 grams net carbs per serving.
When it comes to keto vegetable recipes, we love veggie burgers, cauliflower fried rice, and these delicious keto brussels sprouts.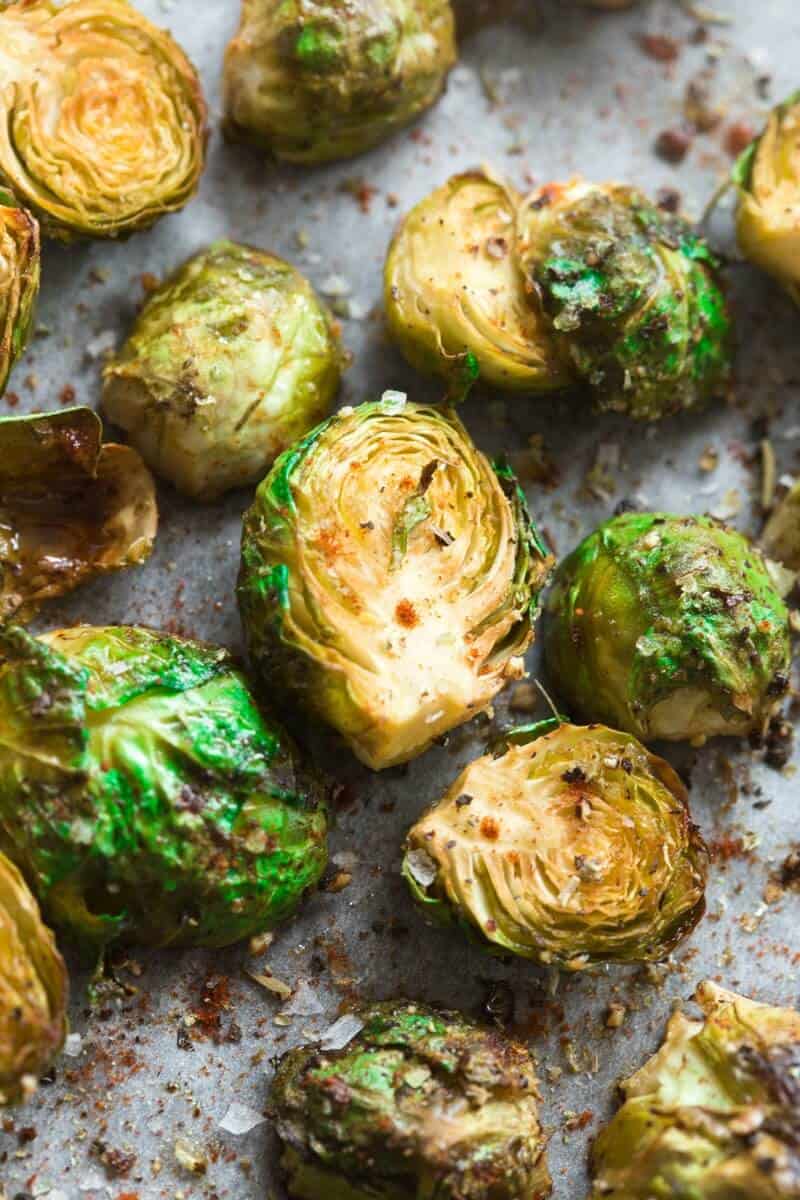 Brussels sprouts get a LOT of flack. In fact, I reckon it is one of the most hated vegetables amongst kids! However, I feel it comes down to how you prepare it. Like anything, the better you prepare them, the more delicious they are.
Personally, I LOVE brussels sprouts and enjoy them regularly around here and they are a fantastic low carb vegetable.
Are brussel sprouts keto?
Contrary to popular belief, brussels sprouts can be enjoyed as part of a keto diet. They are high in protein and fiber and yield a very small net count. They are healthy, packed with nutrients, and can be used in many recipes or enjoyed as a side dish!
Per cup serving (88 grams), raw brussels sprouts yield 38 calories and have a mere 4 grams net carbs.
However, net carbs can still add up. In terms of how many brussels sprouts can you have on a keto diet, try to avoid having more than 2 cups per day. This is important to keep yourself in ketosis.
Keto Brussel Sprouts Recipe
If you've been looking for the best way to enjoy brussels sprouts, this method has you covered. See, brussels sprouts can sometimes take quite a while to roast. Sometimes, they even look crispy on the outside but inside are still hard and crunchy.
My trick to perfect roasted brussels sprouts is to twice cook them. You want to blanch the brussels sprouts and either microwave or steam them prior to roasting them. This will ensure crispy and tender brussels sprouts with a soft and delicious center.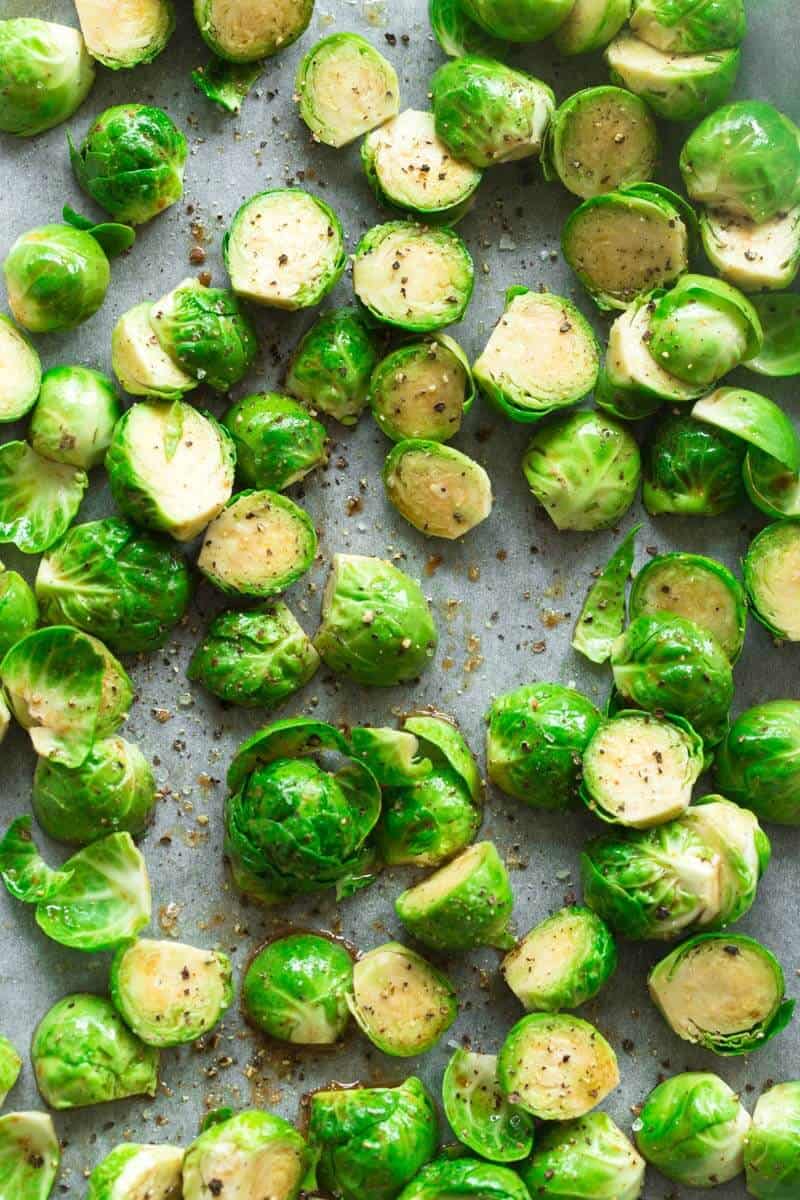 How to prepare keto brussels sprouts
The Ingredients
Brussels Sprouts– Trim your brussels sprouts and slice the large ones in half. I like having a mix of whole and halved sprouts.
Olive oil– Use a good quality olive oil, for the ultimate flavor punch. I sometimes use garlic infused olive oil.
Garlic salt– Adds some saltiness, but added garlic flavor. You can use plain salt if you prefer.
Garlic powder– Enhances the garlic flavor.
Black pepper– I use a pepper grinder, as the flavor is more robust.
Cooking spray– To grease the baking dish.
The Instructions
Step 1- Blanch the brussels sprouts and microwave– Start by blanching the brussels sprouts. Cover them with boiling water and transfer to a microwave safe dish. Add an extra inch of water and microwave for 5-6 minutes, until tender.
Step 2- Let cool and season– Let the microwaved brussels sprouts cool slightly, before adding the olive oil and all the spices. Gently mix, until all the sprouts are covered.
Step 3- Roast! Transfer to a roasting pan or baking dish and roast for 20-25 minutes at 180C/350F. Be sure to stir halfway through. Remove from the oven and sprinkle with extra herbs and enjoy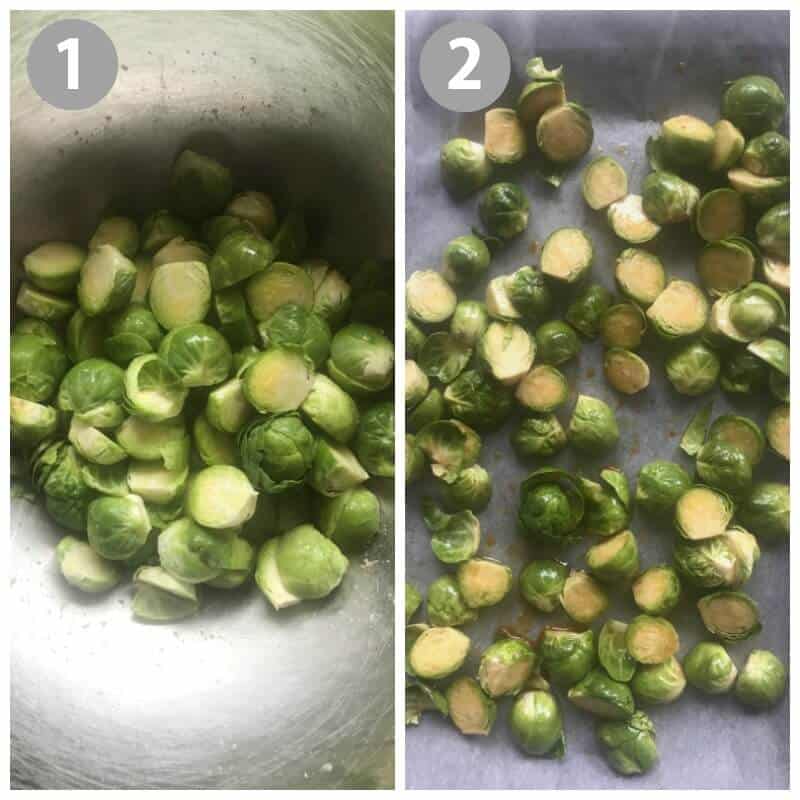 Can I cook brussels sprouts in the microwave?
If you want instant brussels sprouts, you can simply microwave and blanch them instead of roasting them.
Blanch them first in boiling water, then microwave for 13-15 minutes, removing halfway through. Stir well, and finish microwaving.
Let sit for 5 minutes, before adding the oil and spices, and mixing through completely, so all the sprouts are evenly covered.
Can I use an air fryer?
Yes! Easily make keto brussels sprouts in the air fryer. After adding the oil and spice mixture, add into the air fryer basket. Turn the heat to 200C and air fry for 22-25 minutes, shaking halfway through.
Tips and Tricks
I prefer using a baking tray instead of a baking dish. This cooks the brussels sprouts much easier and evenly.
Add extra spices, depending on what you enjoy. Red pepper flakes, Cajun seasoning, and paprika are all great.
Be sure to trim the brussels sprouts- no one enjoys the tips of them!
If you'd prefer whole roasted sprouts, microwave them for an extra 2 minutes.
Flavor Variations
Creamy Brussels Sprouts– Make a simple creamy sauce using heavy cream or softened cream cheese, spices, and thinned out with milk. Drizzle over the roasted sprouts.
Brussels Sprouts with bacon– Add chopped or diced bacon after microwaving the brussels sprouts and before roasting them.
Balsamic Roasted Brussels Sprouts- Reduce the olive oil by 2 tablespoons and add 2 tablespoons of keto balsamic vinegar over it. Add extra salt, to balance the flavor.
Garlic Butter Brussels Sprouts– Swap out the olive oil with melted butter whisked with minced garlic.
Parmesan Brussels Sprouts– Remove brussels sprouts 10 minutes before they are done and sprinkle with parmesan cheese over the top.
Storing and Freezing Tips
To store: Leftover brussels sprouts should be stored in the refrigerator, in a covered container. It will keep well for up to 5 days.
To freeze: Place leftover sprouts in a freezer friendly container and store in the freezer for up to 2 months. Thaw overnight in the refrigerator the day before you enjoy them.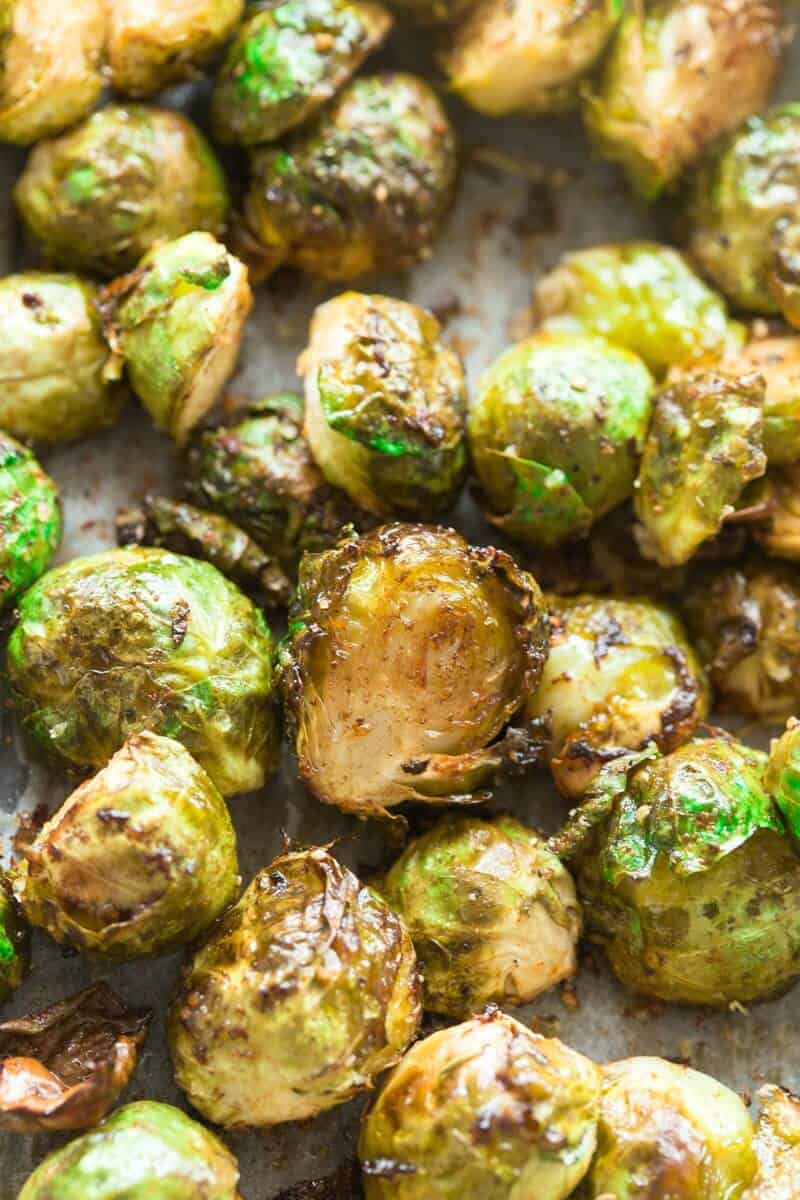 More delicious keto recipes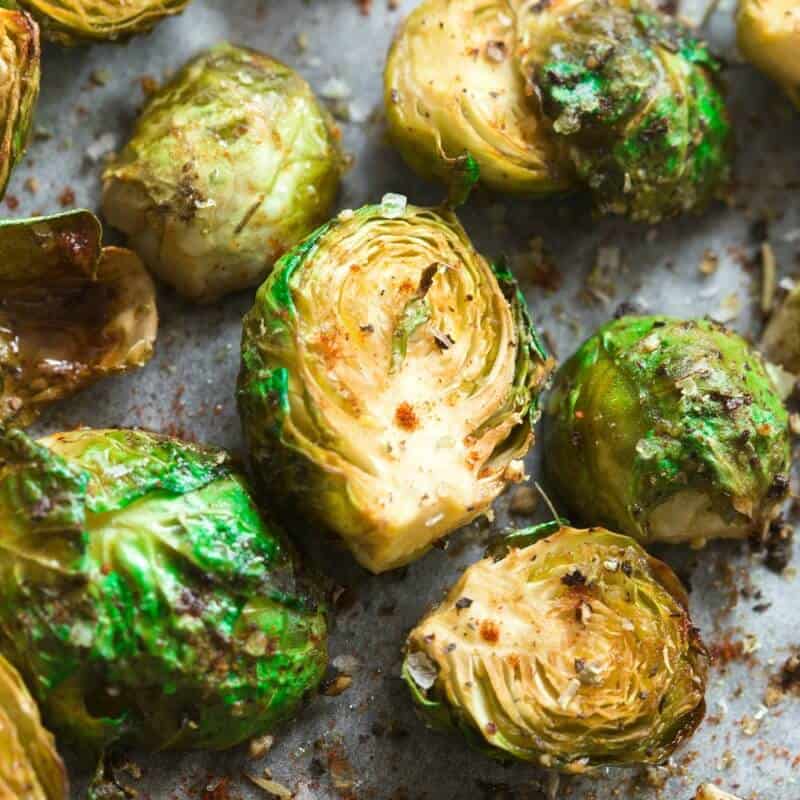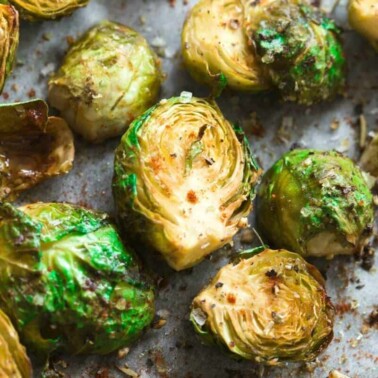 Keto Brussel Sprouts (Twice Cooked!)
This keto brussel sprouts recipe is the BEST way to enjoy brussels sprouts! Low carb and delicious, they are soft on the inside and crispy and tender on the outside!
Ingredients
2

cups

brussels sprouts

trimmed * See. notes

1/4

cup

olive oil

1

teaspoon

garlic salt

1

teaspoon

garlic powder

1

teaspoon

black pepper
Instructions
Preheat the oven to 180C/350F. Line a large baking sheet or baking dish with parchment paper and coat with cooking spray and set aside.

Pour boiling water over the trimmed brussels sprouts. Transfer to a microwave safe bowl and microwave the brussels sprouts for 5-6 minutes. Remove and let cool for 5 minutes.

Add your oil, garlic salt, garlic powder, and pepper and mix well, until the oil has covered all the sprouts.

Spread the brussels sprouts out on the lined sheet or dish. Bake for 20-25 minutes, stirring halfway through.

Remove from the oven and let sit for 5 minutes, before serving.
Notes
* Save some whole and halve some of them, for some added texture.
Nutrition
Serving:
1
serving
Calories:
138
kcal
Carbohydrates:
4
g
Protein:
1
g
Fat:
14
g
Sodium:
11
mg
Potassium:
171
mg
Fiber:
2
g
Vitamin A:
332
IU
Vitamin C:
37
mg
Calcium:
18
mg
Iron:
1
mg
NET CARBS:
2
g
Disclosure: This post may contain affiliate links. I may earn a small commission for my endorsement, recommendation, testimonial, and/or link to any products or services from this website.