3 Ingredient Paleo Vegan Peppermint Patties (Keto, Sugar Free)
An easy 3-ingredient recipe for homemade keto and vegan peppermint patties! The delicious mint chocolate combination is perfect for a healthy dessert or low carb treat to enjoy anytime, they taste like a copycat York peppermint patty! Paleo, Sugar Free, Gluten-Free.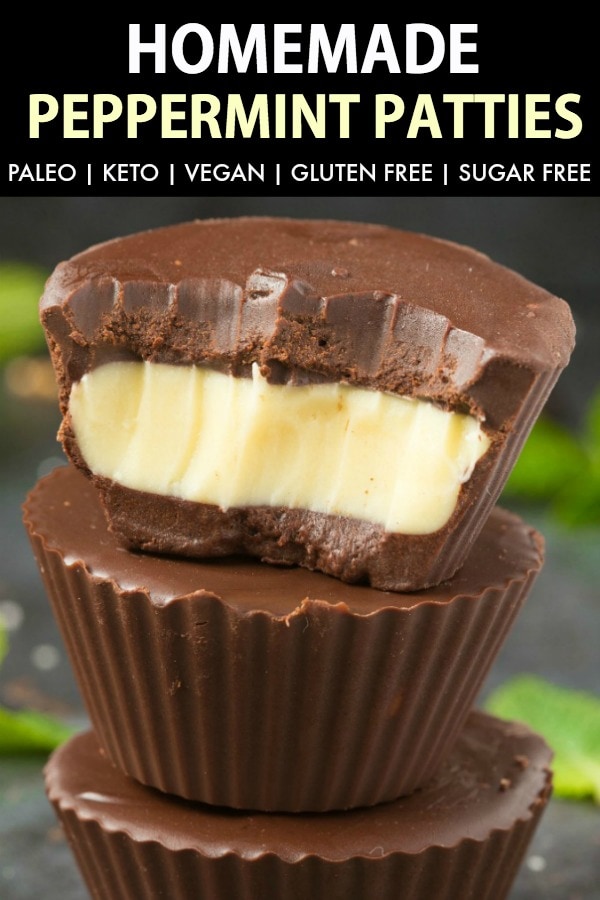 Healthy Peppermint Patties
With Christmas officially a stone's throw away, it is legally (in my books) acceptable to start the onslaught of several peppermint recipes.
Over the last few weeks, I've been sending out polls on Instagram whether or not you guys were keen for these peppermint chocolate candies.
Based on the feedback, it's clearly evident that BARELY any of you are a fan of anything mint flavored! That, or you preferred the other alternatives.
In my ideal world (if it were made of chocolate), would HAVE to incorporate mint somehow. A creamy and smooth mint filling covered in a light chocolate shell.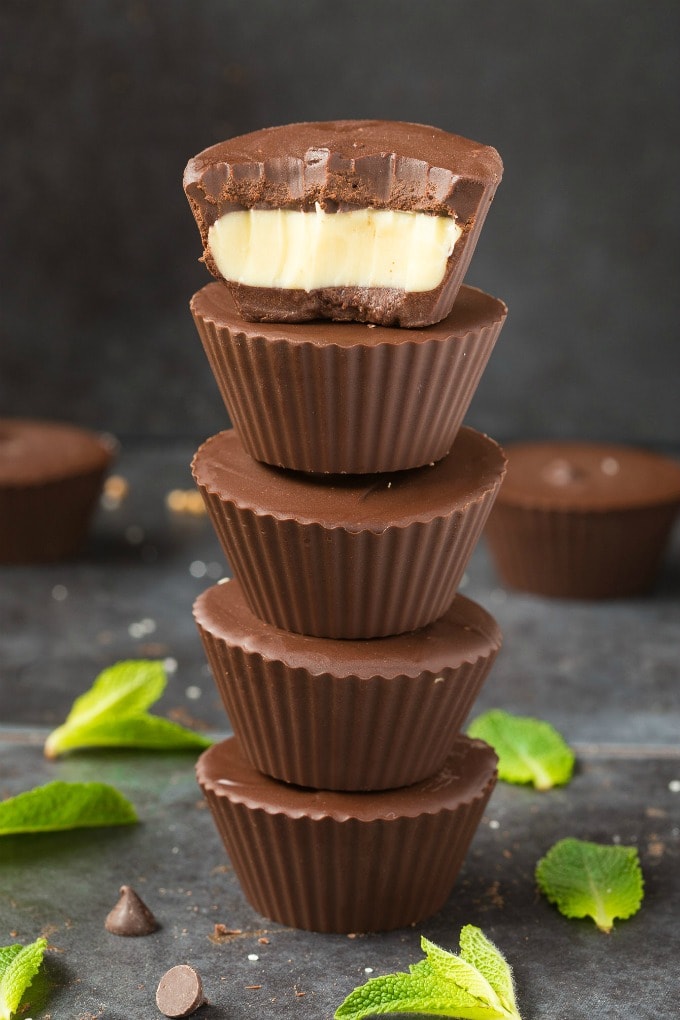 If you've been a long-term reader in these neck of the woods, you know I am a sucker for the chocolate and peppermint combination. If you've met me in person or we've hung out, you would know my all time favorite candy bar involves the marriage of these two.
FACT- For my 18th birthday, a group of my friends gave me 20 king size peppermint chocolate candy bars which I proudly polished off within a week…solo.
It was only a matter of time before I gave a healthy makeover to the infamous York Peppermint Patties. These candies are one of my all-time favorites and one which ALWAYS pops up around Christmas time.
This year, instead of forking out twenty dollar bills over them (yes, I would spend that much on my favorite candy!), I opted to make my own with a healthy and EASY makeover.
How to make healthy peppermint patties
You really only need three ingredients to make them, and they are all healthy- Homemade or store-bought sugar free chocolate, coconut butter, and peppermint extract!
Not only are these dreamy patties sugar free, but they are also keto-friendly, low carb and suitable for a dairy free diet!
I mean, we don't want people to miss out on these!
As a die-hard lover of the chocolate and peppermint combination, I had to ensure that the balance between the two was on point. This meant that the correct amount of peppermint extract was required- No more and no less.
To start, you'll prep either your homemade chocolate or store-bought chocolate.
Homemade chocolate
To keep these homemade peppermint patties completely paleo, vegan AND keto friendly, your best bet is to make your own chocolate for the coating.
It's a simple 3 ingredient recipe and can be as sweet or as dark tasting as you like.
You simply combine cocoa powder, coconut oil and the desired amount of liquid sweetener and melt together.
Store-bought chocolate
The two store-bought chocolate baking chips I use happen to fall into several dietary categories to take note-
Keto-friendly and Sugar-free store-bought chocolate chips- I use these stevia sweetened mini chips. They melt beautifully and don't leave you with a bitter aftertaste.
Paleo, Vegan, and Dairy-free friendly chocolate chips- Enjoy Life mini chips, morsels and baking chips can be used interchangeably.
Next, you'll fill each chocolate cup with the mint-spiked coconut butter filling. Just a few little tips and tricks-
Coconut Butter VS Coconut Oil
I'm often asked if there is a difference between coconut oil and coconut butter and a massive YES- there is!
Coconut oil is, as the name suggests, is the oil that has been extracted from the coconut meat. It is neutral tasting and transparent in color. It is also solid at room temperature.
Coconut butter, at room temperature, should be spreadable and creamy. Flavor-wise, it should be naturally sweet and be tasting like fresh coconut meat. Please DO NOT replace this with coconut oil.
Both of these can be incredibly pricey, so what I often do is make my own.
How do you make Homemade Coconut Butter?
Tips to make super creamy coconut butter-
Using a high-speed blender or food processor with ice-blending and nut blending capabilities
Don't blend on the highest setting- I use the medium setting to avoid it potentially burning
Use unsweetened coconut flakes, as opposed to a superfine or finely milled coconut. I find the flavor better and the best consistency
Regularly scrape down the sides to ensure all the coconut is blended and no lumps remain
If the coconut butter is still slightly too thick (I found this happened with a food processor), add a tablespoon or two of coconut oil
PATIENCE! Depending on whether you use a food processor or blender, it can take quite a while to reach a smooth and creamy state, so be patient!
The Peppermint Extract
The final step is adding the peppermint extract to the coconut butter. I only added 1/4 teaspoon, as any more and the flavor would be way too overpowering. Granted, not all brands are the same so it's always best to start with less then go up from there.
Please note- The creamy peppermint filling relies on the natural sweetness of the coconut butter. If you make your own chocolate coating WITHOUT any sweetener, you had better be a dark chocolate lover, as it will not be distinctly sweet.
Prefer a sweeter peppermint patty? Ensure your chocolate shell is sweetened and consider adding a few drops of liquid stevia to the coconut butter and peppermint extract.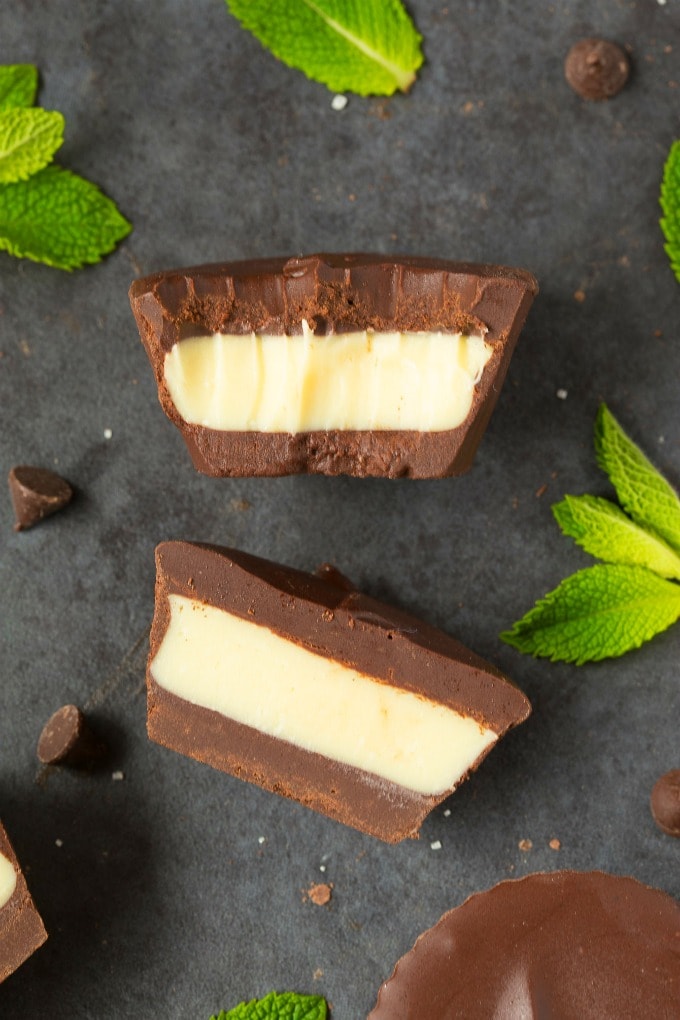 If you are a fan of York's Peppermint Patties or want a guilt-free version of them, try this recipe! You'll be amazed at how much better they taste, and with just 3 ingredients and 5 minutes- You have no excuses!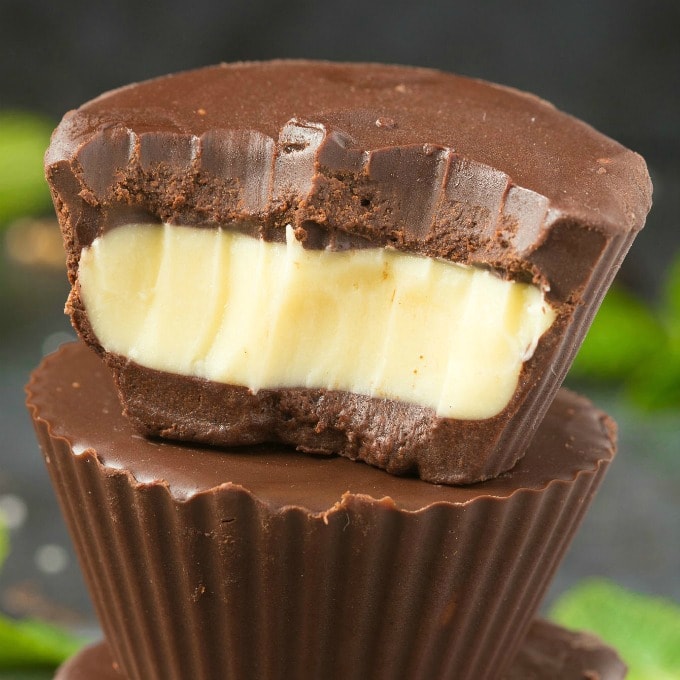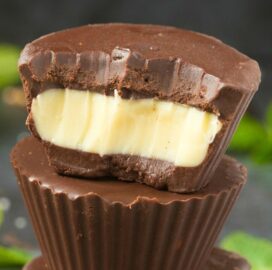 3-Ingredient Paleo Vegan Peppermint Patties
These easy homemade peppermint patties start with a delicate chocolate shell covering a creamy mint infused coconut butter filling! It's the perfect 3-ingredient dessert or sweet snack requiring no baking! Paleo, Vegan, Keto, Sugar Free.
Print
Pin
Rate
Instructions
Line a 24-count mini muffin tin with muffin liners and set aside.

Melt 1 cup of your chocolate chips and evenly distribute between the mini muffin tins, ensuring the sides are covered in the chocolate. Refrigerate.

If needed, slightly melt your coconut butter until smooth and creamy. Add your peppermint extract and mix well.

Remove the firm chocolate shells and evenly distribute the coconut butter/mint mixture amongst them. Melt the remaining half-cup of chocolate chips and cover the tops of the peppermint patties. Refrigerate until firm.
Notes
* This produces a thin chocolate shell. For a thicker chocolate shell, feel free to use 2 1/2 cups chocolate chips.
Homemade 3-Ingredient Paleo Vegan Peppermint Patties can keep at room temperature but are best refrigerated. They are also freezer-friendly.
Nutrition
Serving:
1
Peppermint Pattie
|
Calories:
82
kcal
|
Carbohydrates:
2
g
|
Protein:
2
g
|
Fat:
8
g
|
Fiber:
2
g
|
Vitamin A:
150
IU
|
Vitamin C:
0.8
mg
|
Calcium:
30
mg
|
Iron:
0.2
mg