Dairy Free Candy is the perfect use of leftover Halloween or party chocolate bars and sweets! Customizable, versatile and ready in minutes, this fool-proof no bake bar recipe can be adapted to suit a gluten-free, vegan and dairy-free lifestyle!

Dairy Free Candy
For anyone out there who is always left with the unwanted candy or chocolate bars, this one is for you.
There are two complaints I ALWAYS here from readers and friends in the Northern Hemisphere-
How come they bought so much Halloween candy and what to do with it?
What to do with any candy bars that are left in the massive pillow sack/potato sack/bag of choice their child went trick-or-treating in.
Well, friends, I have you covered.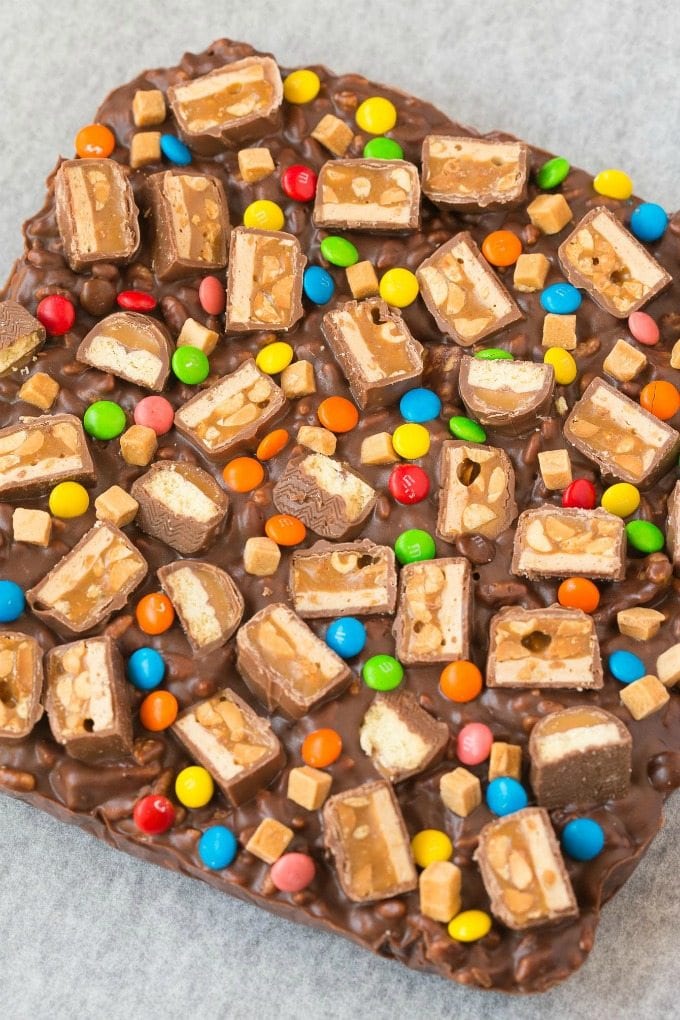 I think it's safe to assume that leftover candy or chocolate is leftover for a reason- They are the ones you would never purchase on your own terms. That, or they are the lonely ones leftover in a mixed bag of candy.
To use up these leftovers, you need to add them into something EXTRA delicious. This is where my homemade chocolate peanut butter crunch bars come into play.
My homemade crunch bars are seriously addictive and the most fool-proof recipe I have on here. To say that I am obsessed would be a joke. If you need some proof, I've given them a paleo makeover, a kit kat makeover, and even threw in some S'mores in there too.
You really can't go wrong with the addictive combination of chocolate, peanut butter, and crunchy cereal.
When you put something EXTRA delicious with something…not so delicious, you'll be left with something worth waking up for snacking.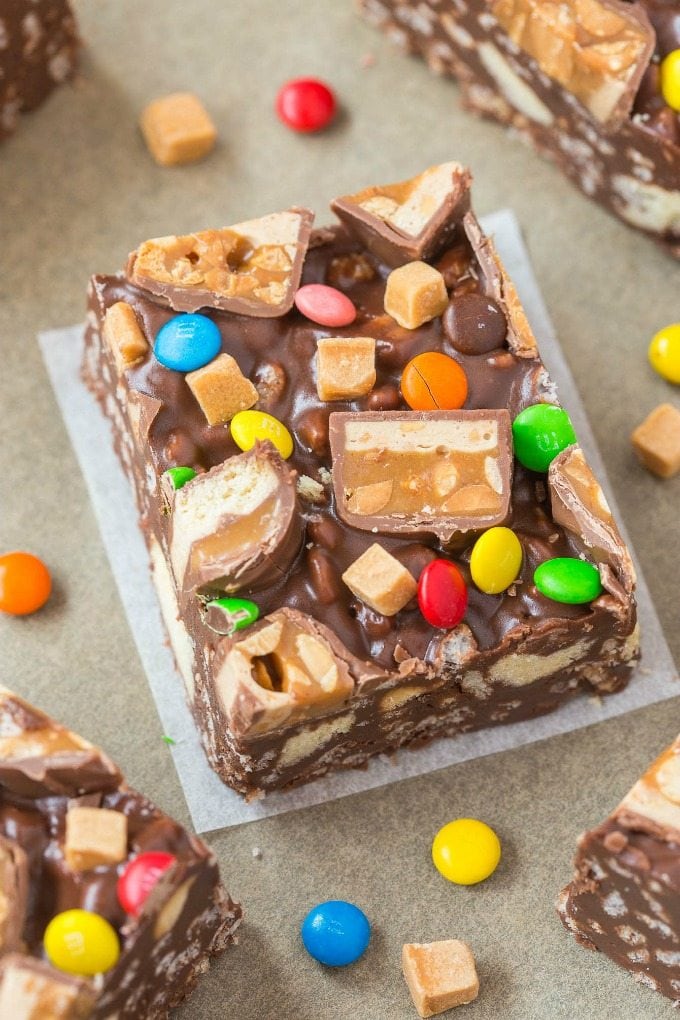 Dairy Free Candy
Prepare your crunchy or crispy cereal in a bowl, along with your leftover candy or chocolate bars
In a separate bowl, combine all the other ingredients and melt.
Pour over the cereal/candy bar mixture and mix until combined
Transfer to a lined pan, chill and then slice into pieces
Tips and Tricks for PERFECT Candy Crunch Bars
Be sure to use a mix of candy (gummy, chewy, fruity) along with chocolate candy bars (caramel, nougat, textures) as they provide the BEST texture ever. Case in point? Chunks of melted Snickers and Twix bars throughout!
My original homemade crunch bars are naturally gluten-free, vegan and dairy free. As such, I wanted to showcase some of my favorite candy bars which fit into these dietary lifestyles! These would be perfect additions into these bars to keep them dietary friendly!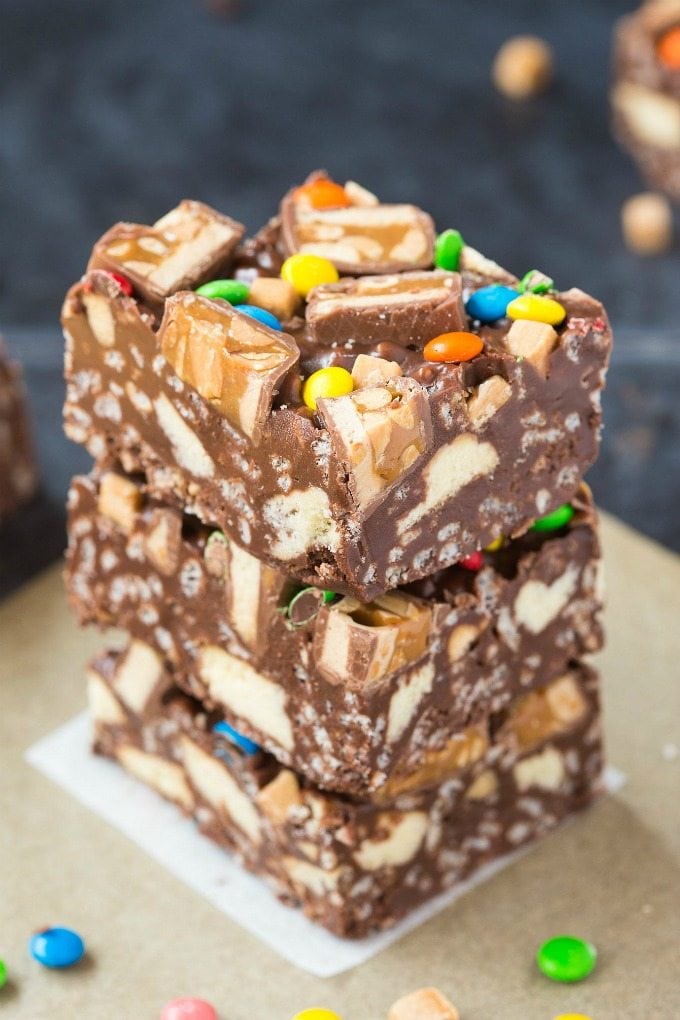 Best Gluten Free Candy Bars and Chocolate Bars
My friend Taylor has the MOST extensive list. Here are some of the ones I regularly enjoy and would be perfect for these candy bar crunch bars-
Butterfingers
M & M's
Reese's Peanut Butter Cups (My personal favorite- This takes the peanut butter flavor up a notch!)
Snickers (My ABSOLUTE favorite- Try adding chunks of snickers to the mix and on too- The caramel and nougat melts into the chocolate mixture and it's like digging into a fully-loaded pint of ice-cream)
Skittles
Almond Joy Bars
Mound Bars
Vegan Candy and Chocolate Bars
Jujy Fruits
Nerds
Panda Licorice
Red Vines
Dairy Free Candy and Chocolate Bars
Hershey's Twizzler Twists
Enjoy Life Mini Chips
Swedish Fish
These aren't a full list but include my favorite options for each dietary option. If you fall into any of those categories, ensure the candy you use is 100% suitable! If you don't follow any particular diet, any candy or chocolate or a mix of both works fantastically.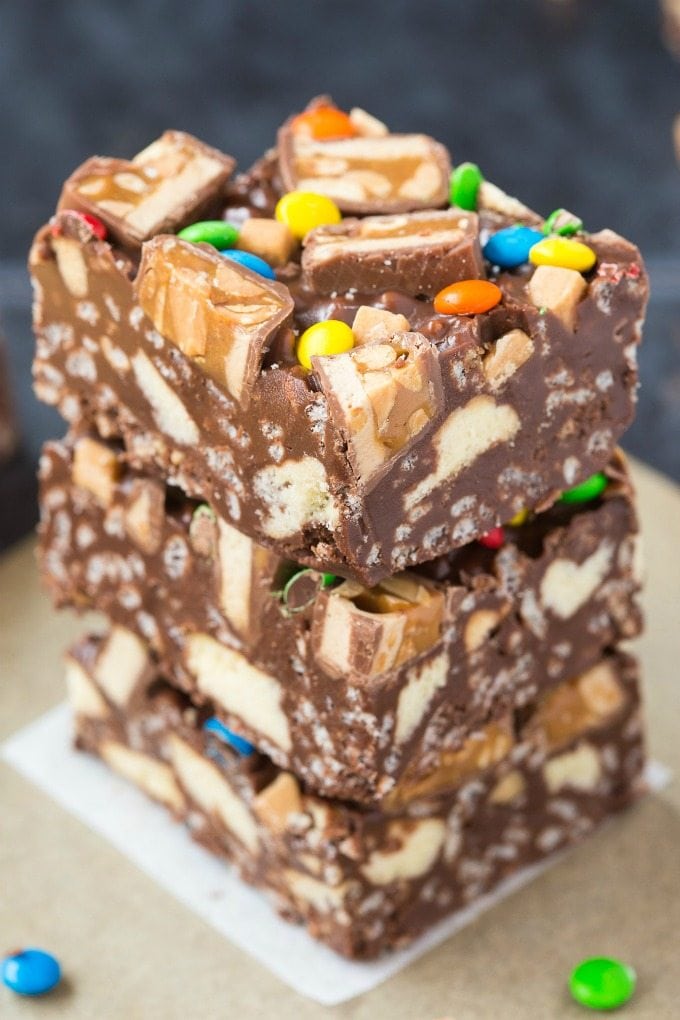 How to enjoy candy bar crunch bars
These gluten-free candy bar brunch bars are super versatile in other areas too. Bring them to an office potluck, hide some in a lunch box for a fun treat or do what I do- Enjoy a piece (or ten) with your morning coffee.
More healthy Candy Bar Recipes
Want to see just how easy these homemade crunch bars are to make? Check out the original version below in the video recipe below!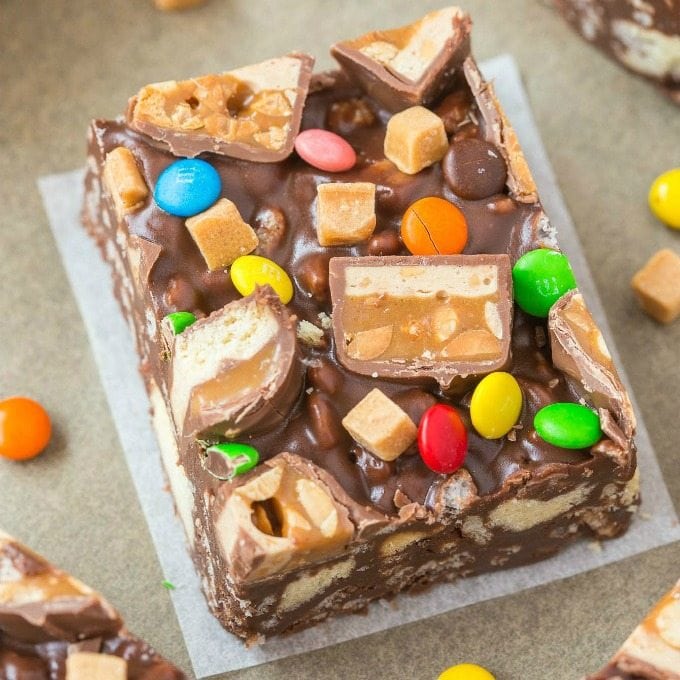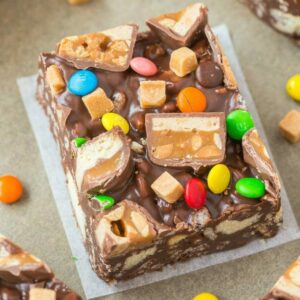 Dairy Free Candy
Gluten Free Candy Crunch Bars (Vegan, Dairy Free) is the perfect use of leftover Halloween or party chocolate bars and sweets! Customizable, versatile and ready in minutes, this fool-proof no bake bar recipe can be adapted to suit a gluten-free, vegan and dairy-free lifestyle!
Instructions
Line an 9 x13-inch baking dish or deep baking tray or deep pan with parchment paper and set aside.

Add crispy rice cereal and 1 1/2 cups of the chocolate bars into a large mixing bowl and set aside.

In a microwave-safe bowl or stovetop, combine all your other ingredients and heat until melted. Remove from microwave/off stove and whisk until completely incorporated.

Pour wet mixture into the crispy cereal/chocolate bar mixture and mix until combined. Moving quickly, transfer to the lined baking tray. Top with remaining half cup of candy/chocolate and refrigerate. Once firm, cut into bars.
Notes
Gluten Free Leftover Candy Crunch Bars can be kept at room temperature for up to a week or refrigerated for up to 4 weeks. They are also freezer friendly.
Nutrition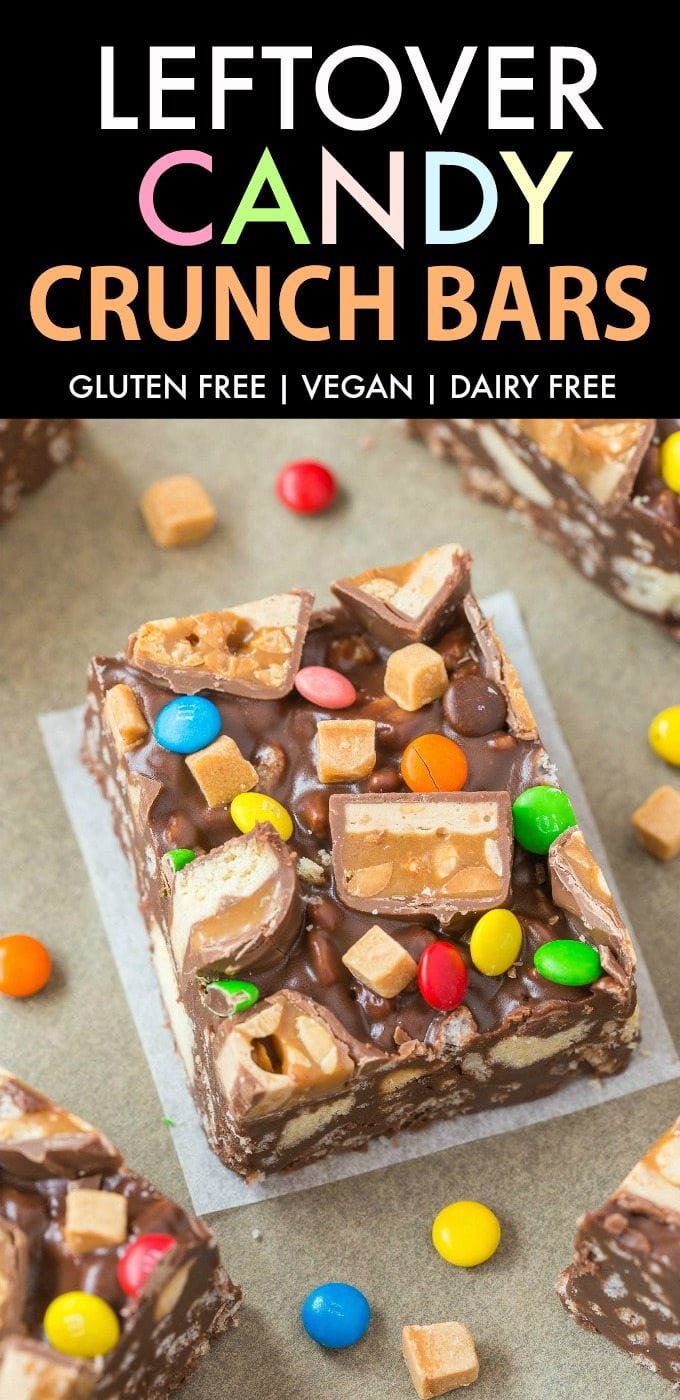 Disclosure: This post may contain affiliate links. I may earn a small commission for my endorsement, recommendation, testimonial, and/or link to any products or services from this website.