A healthy brownie loaded with chocolate chunks and juicy raspberries and ready in under 1 minute! Moist, gooey and completely guilt-free, this one-minute chocolate raspberry brownie is naturally gluten free, vegan, paleo, low carb, gluten free, dairy free and sugar free!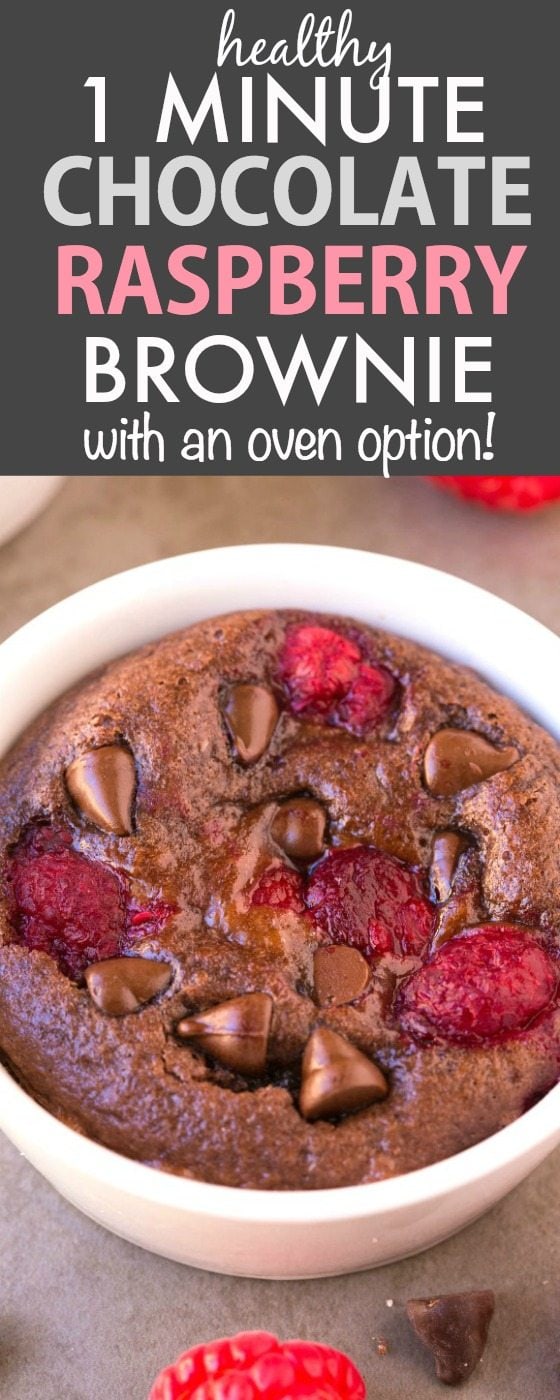 Friends, I think every country needs to take Valentine's day traditions from Japan.
One of my friends is currently on a 2+ year stint teaching English to school-aged children in Japan. Every week, she sends us a group email with everything she's been up to, along with some of the more 'different' traditions or customs she's faced. Along with these emails, I try to skype or Facetime with her regularly. As nice as emails are, there is only so much you write.
The other day, we were having one of our skype sessions and she was telling me about the infamous Japanese traditions around Valentine's day.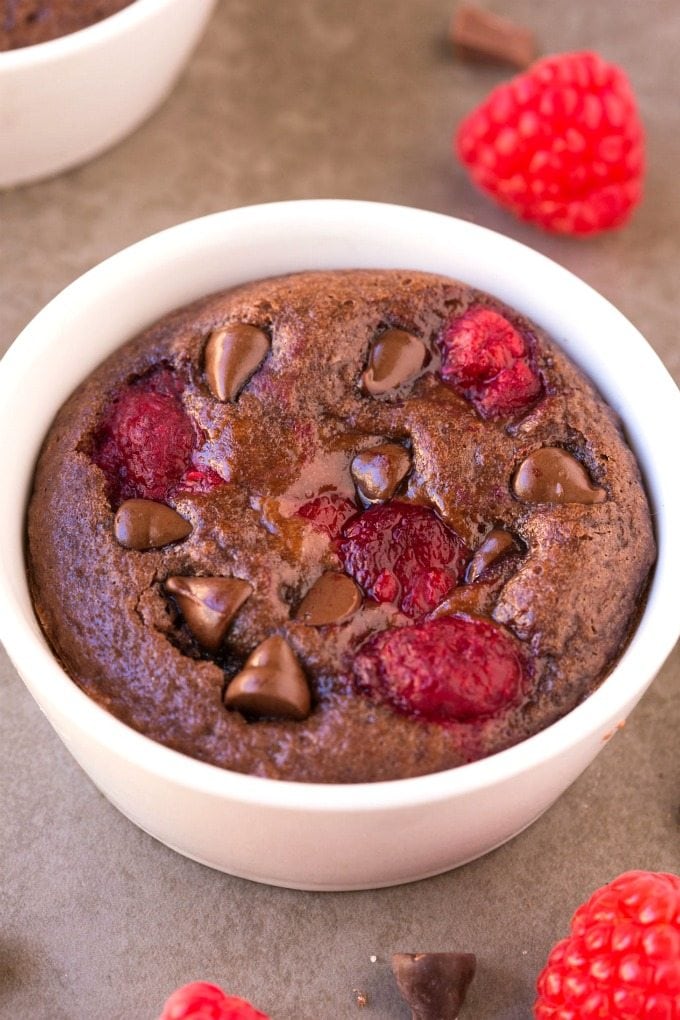 For most of us, we'd associate giving candy, chocolate or a sprig of kale our special someone. If we're being a little frisky here, there may be SEVERAL people you'd be gifting things do, come February 14th. For me some of us, it may just be another day of the year.
Now, before you start assuming the Japanese population is completely promiscuous, think again- They are absolute geniuses.
In Japan, the love-centric holiday is featured twice, and NOBODY misses out.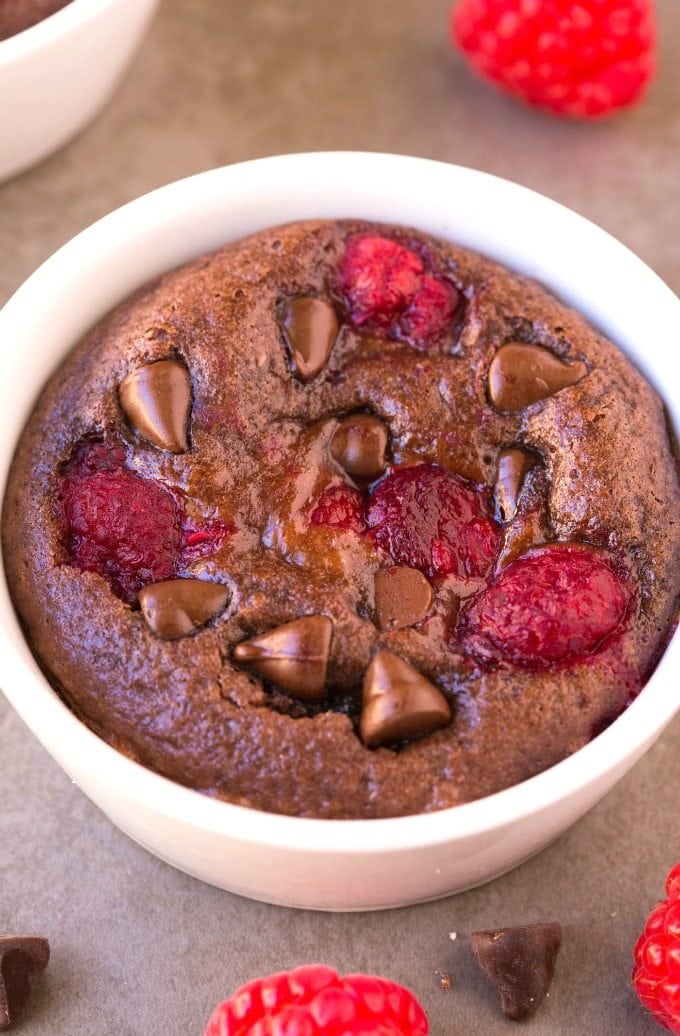 On the 14th February, the female population gives the male population chocolate, candy, and homemade treats. This further delves into two categories- One is for their significant other, and one is often dubbed 'obligation chocolate'. The obligation chocolate is given to their friends, office colleagues or other students. It is often understood if you receive the homemade kind, you are seen in more desirable light than receiving the store bought kind.
Before you think this is all fine and dandy, except for the fact that it is SEXIST, thing again- Roles are reversed a month later!
On the 14th March, the male population has to return the favor, on an occasion dubbed as 'White Day.' For every person who gifted them chocolate (obligation or other), they have to give them chocolate back.
HOW GENIUS IS THAT?
Although I was given a ton of store bought chocolate, I would make the hashtag #foreveralone trend on all social media platforms.
ANYWAY.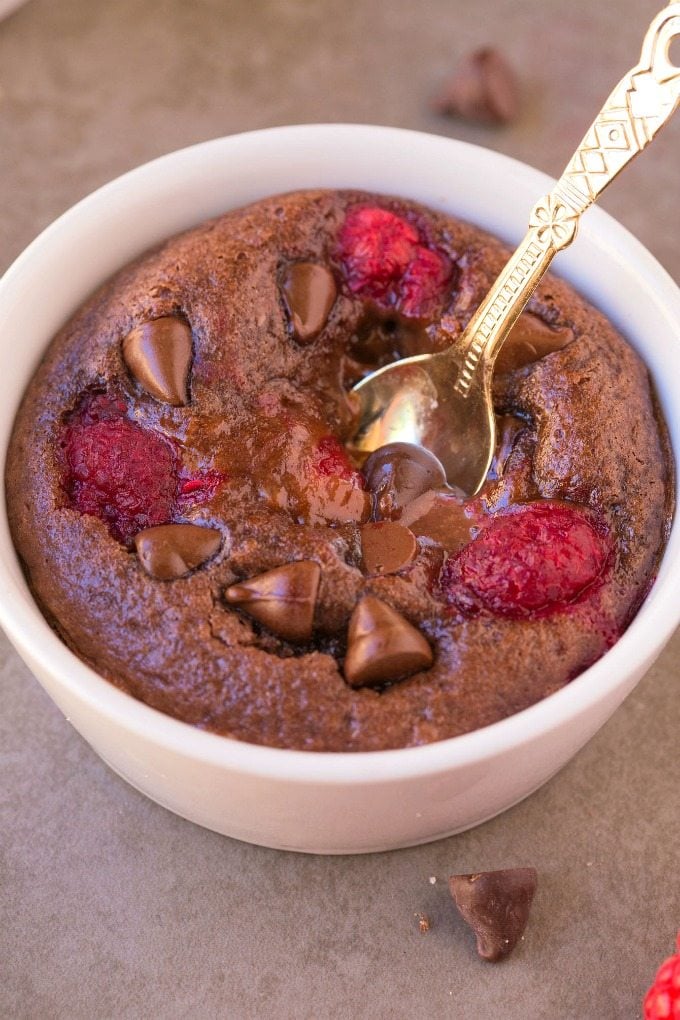 With Valentine's day just under a month away, I'm already sorting out my friend list into obligation and temptation.
Just kidding.
It's an excuse to whip out all things chocolate, puffy hearts, and your prominent single status. When I think of flavors which emulate love, I always think of the chocolate/raspberry pairing. The handful of Valentine's day parties/events I've attended alone, I've always seen this duo prominent. From raspberry filled truffles to chocolate and raspberry bon-bons, this duo is prevalent. Outside of Valentine's day, it's one of my favorite combinations regardless.
Long term readers know that I'm a huge fan of single serve desserts, especially when it comes in brownie form. When it comes to fruits, raspberries are also one of my favorites. What better way to embrace my solidarity than to marry these two together?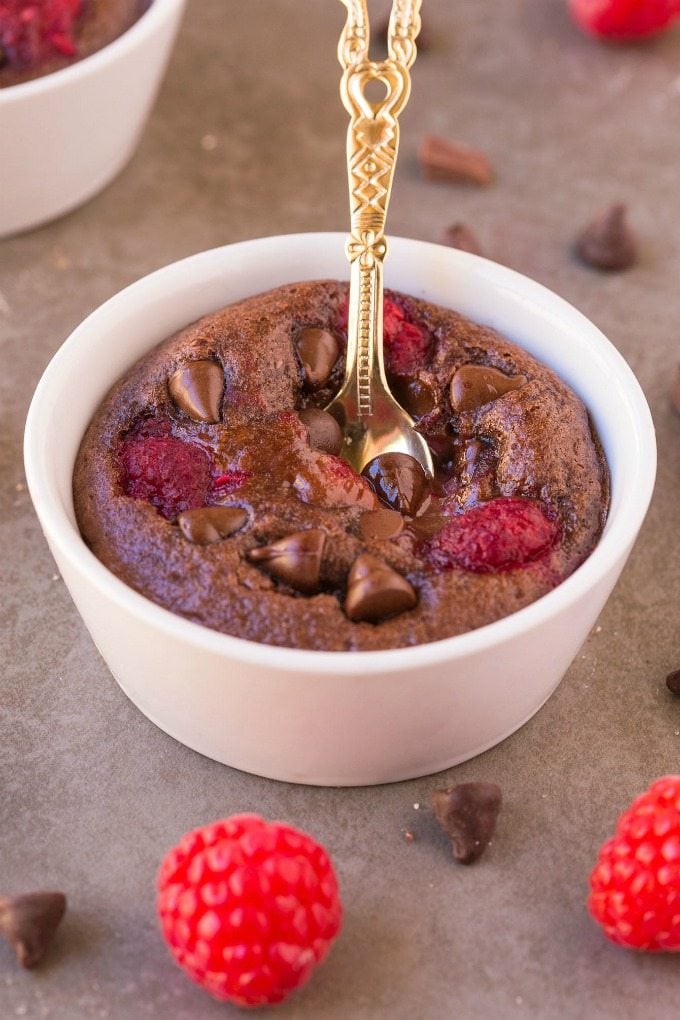 This healthy chocolate raspberry brownie is moist, gooey and bursting with raspberries and chocolate flavor! It's ready in less than a minute, and comes with a tested oven option too! Unlike traditional brownies, this isn't made up of butter, oil, flour and several types of sugar. Instead, it's based around coconut flour, a lower carb and higher fiber grain-free flour. Instead of butter or oil, this fudgy brownie uses smooth almond butter (smooth peanut butter works well too!) and unsweetened applesauce. For those with nut allergies, you can easily replace it with sunflower seed butter, soy nut butter, or even wow butter. The final touches are some chocolate chips of choice (I prefer these dairy free ones, but to keep this sugar free, use these sugar free chips) and of course, the raspberries!
Because of the ingredients used, this healthy chocolate raspberry brownie is naturally gluten free, paleo, sugar free, dairy free, grain free and vegan! For my vegan friends who don't want to use the flax egg option (which can be a little bit trippy, depending on the brand of flax meal AND the amount of time you let the flax egg sit), you can simply increase the milk of choice by a tablespoon. It won't hold up as well, but it will be super fudgy!
HACK! While some may argue that fresh berries are superior to their frozen counterpart, this is the kind of recipe where frozen is key. As the pictures show, the thawed berries make the mug cake/brownie hybrid even gooey, which takes it to that next level!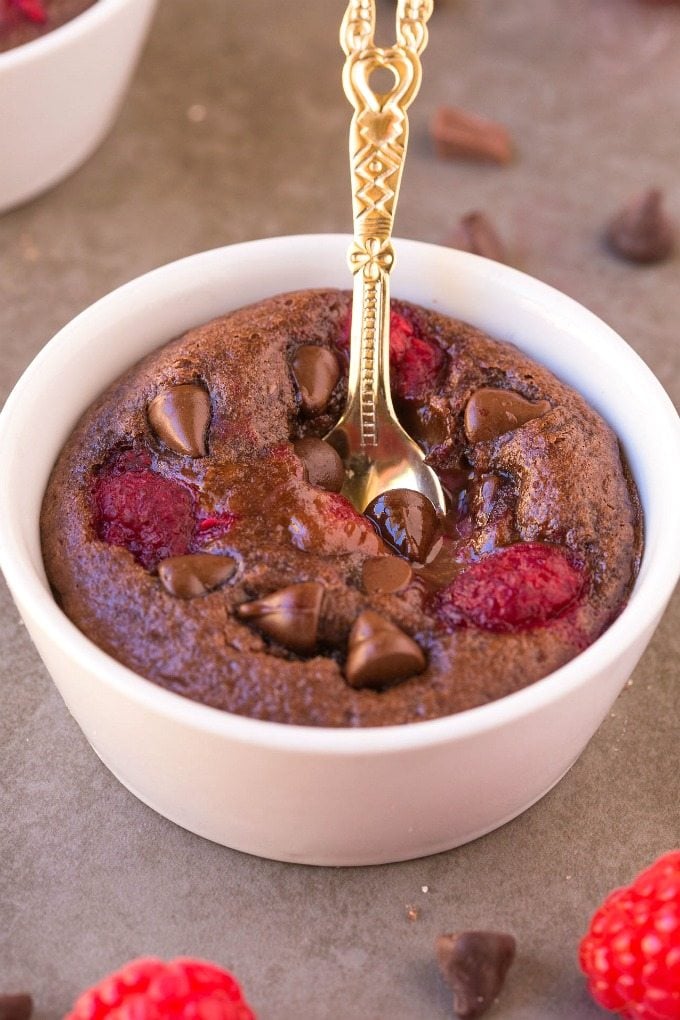 Make this healthy one minute chocolate raspberry brownie and let's get packing.
T minus 28 days until…JAPAN 😉
ZING.
Share this recipe on Pinterest
Love this Healthy 1 Minute Chocolate Raspberry Brownie (Paleo, Vegan, Gluten Free) recipe?
Share it with the world on Pinterest.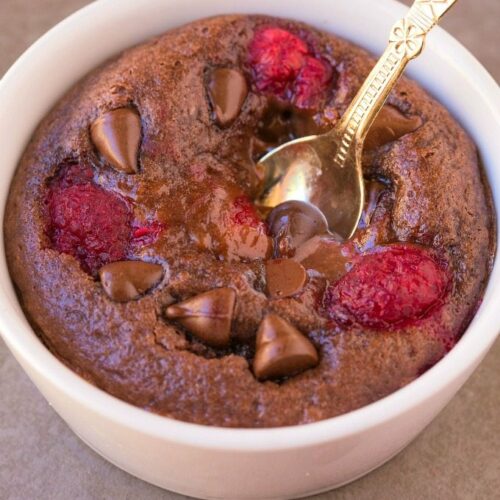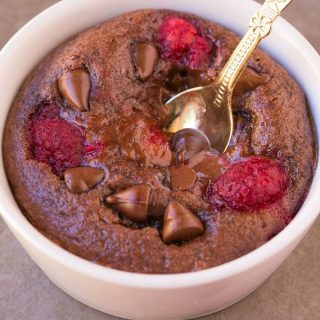 Healthy 1 Minute Chocolate Raspberry Brownie
A healthy brownie loaded with chocolate chunks and juicy raspberries and ready in under 1 minute! Moist, gooey and completely guilt-free, this one-minute chocolate raspberry brownie is naturally gluten free, vegan, paleo, low carb, gluten free, dairy free and sugar free!
Instructions
Microwave option
Grease a microwave safe bowl or mug and set aside.

In a small mixing bowl, combine all your dry ingredients and set aside.

Add your wet ingredients, minus the raspberries and mix until a thick, smooth batter remains. If it's too thick, add an extra tablespoon of milk to compensate. Stir through your raspberries and top with the optional chocolate chips.

Microwave for 50 seconds-2 minutes, depending on your microwave. For an undercooked, gooey brownie, remove around the 50 second mark.
Oven option
Follow as above, but bake in a pre-heated 350 degrees Fahrenheit oven for 10-12 minutes, or until just cooked in the centre.
Notes
* You may need more depending on the brand of coconut flour you use.
** You can omit the flax egg and increase the milk a tad- It won't be as fluffy, but more moist and gooey.
More delicious raspberry spiked recipes? Gotcha covered!
4 Ingredient Flourless Chocolate Raspberry Cake
Healthy No Bake White Chocolate Raspberry Cookies
Healthier Flourless Chocolate Raspberry Brownies
Healthy No Bake Thumbprint Cookies
Giant White Chocolate Raspberry Cookie

Have you ever heard of any other alternative Valentine's Day traditions?
The Big Man's World is a participant in the Amazon Services LLC Associates Program, an affiliate advertising program. This means that if you click and make a purchase, TBMW receives a small commission, at no cost to you. Cheers, hugs, and handshakes for supporting TBMW!
Disclosure: This post may contain affiliate links. I may earn a small commission for my endorsement, recommendation, testimonial, and/or link to any products or services from this website.