Healthy 2 Ingredient Flourless Brownies
You'd be amazed that just TWO simple ingredients are needed to make these 'brownies' which are the perfect cure to any sweet tooth out there- Ridiculously fudgy, gooey on the inside and soft! Made with no boxed mix, butter, oil, flour or sugar, these 2 ingredient flourless brownies are naturally paleo, vegan, gluten free, dairy free and sugar free!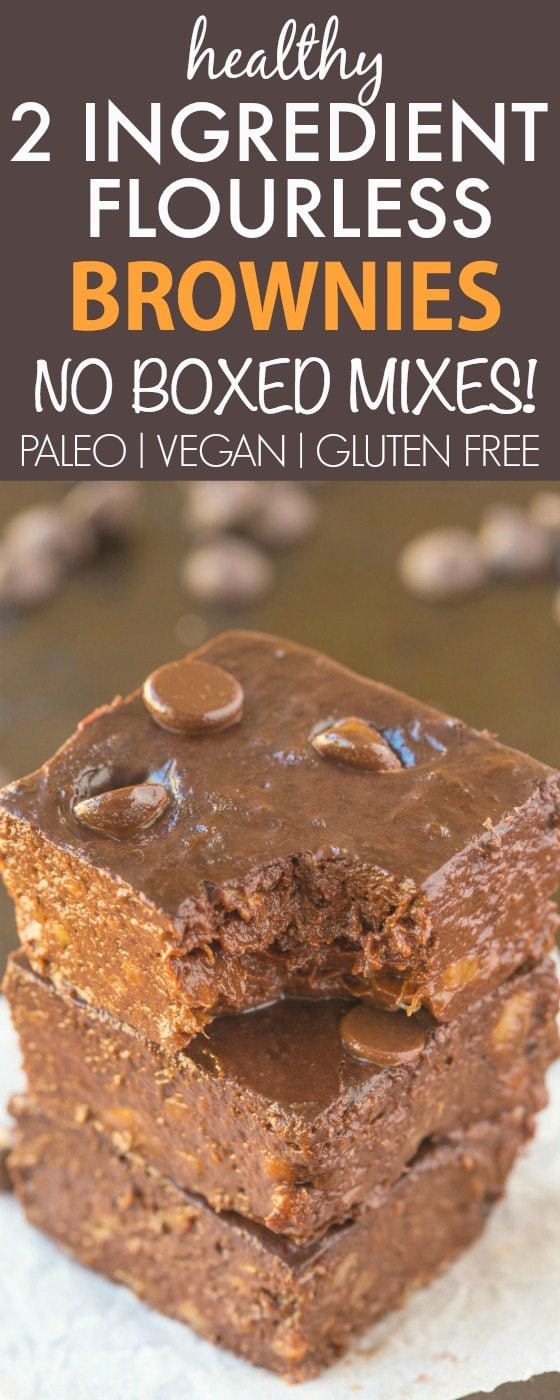 'Brownies'.
That is what we need to keep in mind here.
The apostrophes.
When I first shared this 3 Ingredient flourless brownie recipe, I made it a point to reiterate that they are most definitely NOT those bakery-style brownies oozing with chocolate and providing the crackly tops which make your heart swoon.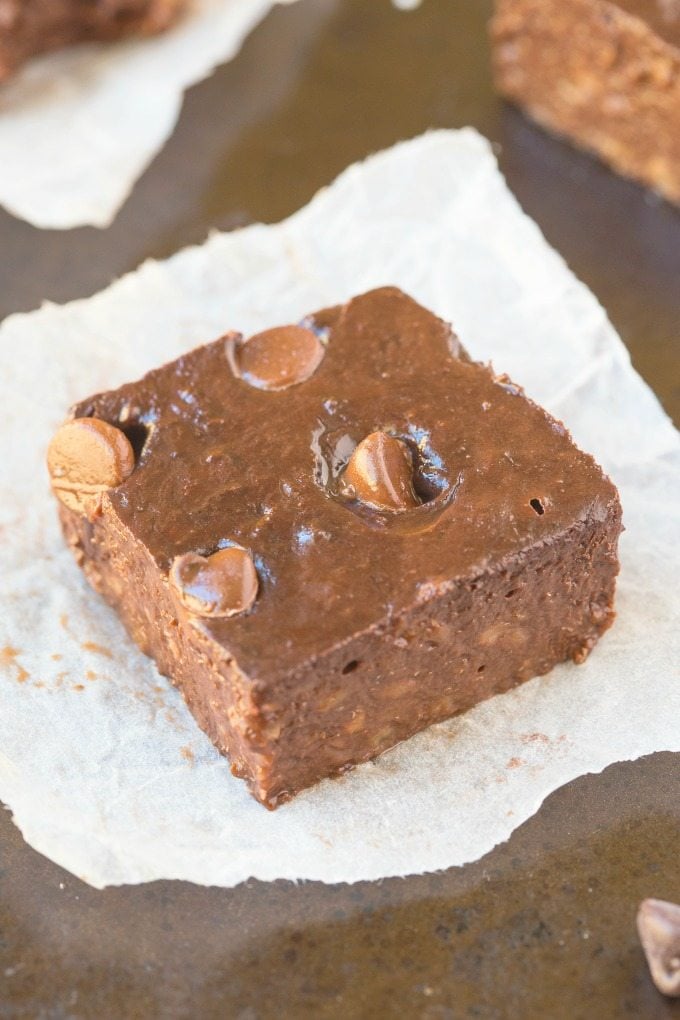 I called them 'brownies' because of their amazingly soft and fudgy, gooey texture. Once you followed the directions of allowing them to cool completely and enjoy them from the fridge in their firmed state, you'd be pretty impressed. Saying that, if you aren't a fan of bananas, you probably wouldn't be a fan of them. The overripe bananas lend both natural sweetness and the soft texture, similar to butter or oil (which are two key ingredients of traditional fudge brownies). However, that particular version included a third ingredient, one which was added in later on.
So how did this come about?
Story (of my stupidity) time!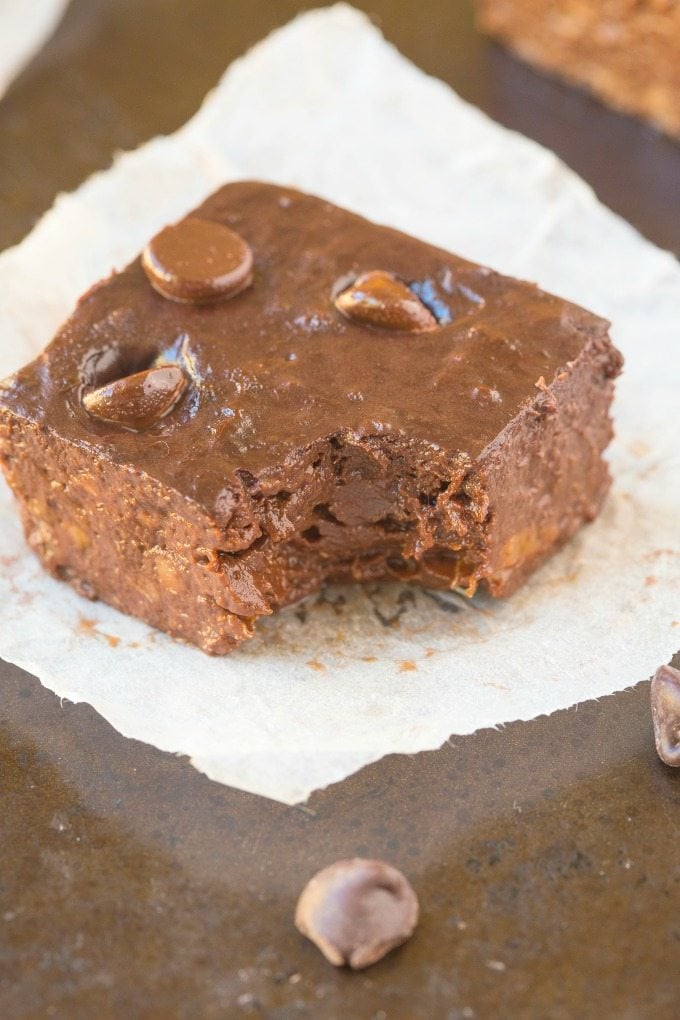 The original ORIGINAL premise of this recipe was actually from a failed (and silly) attempt at making banana soft serve. I read somewhere that blending a frozen banana with cocoa powder would give a more chocolate style 'ice cream.' Because I was both impatient and lazy, I hadn't any frozen bananas on hand. For some reason, I believed that using normal, non-frozen bananas would be fine. I'd just freeze the blended product for a few minutes.
FAIL WHALE.
There is a reason why frozen bananas are necessary for banana 'ice cream' and that was the lesson learnt. After allowing it to freeze for around 30 minutes, I had an ice block which was near impossible to enjoy. I allowed it to thaw out completely before taking a gamble and throwing it in the oven. After around 15 minutes, I removed it and saw it had seemed to firm up slightly and had a 'baked' texture. I allowed it to cool completely before sampling this failed creation…and was impressed. While they were definitely not brownie brownies, they did have a VERY similar texture and ridiculously gooey and fudgy. As such, the poor man's (or woman's) sweet tooth cure was created- These healthy flourless 2 ingredient 'brownies'!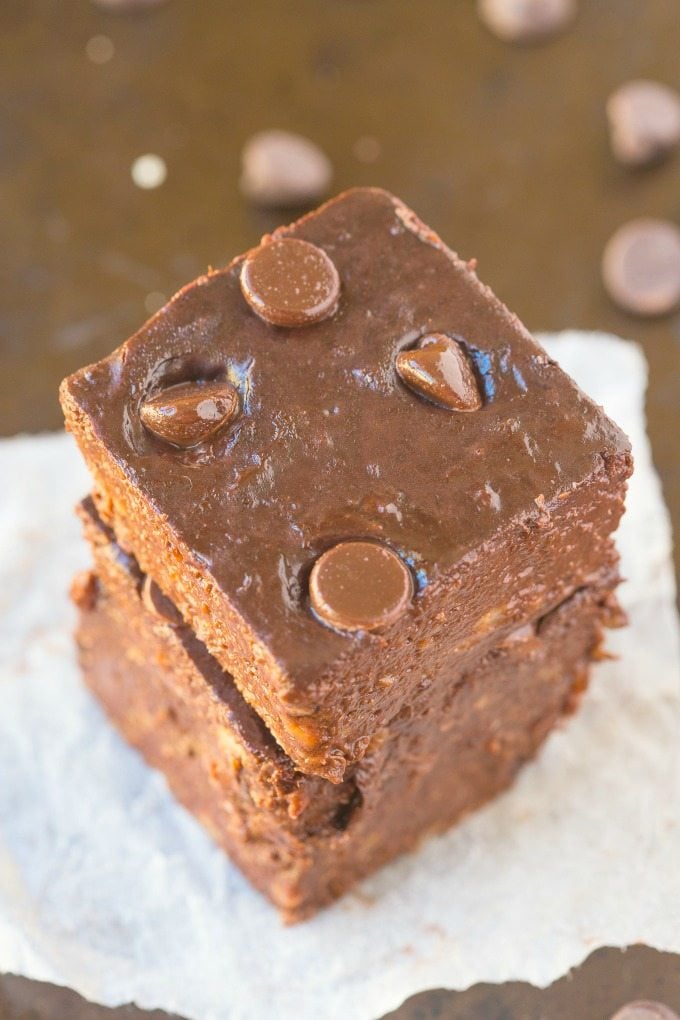 These healthy flourless two ingredient 'brownies' are your quick fix to a chocolate or brownie craving without any of the sugar, flour, butter, oil OR boxed mix! They literally use two ingredients and have the most amazingly fudgy, ooey gooey and soft texture which really do resemble the infamous dessert. Saying that, the banana taste is very evident so if that's not something you'd enjoy, this recipe isn't for you. If you don't mind the taste of banana, you can opt for my original 3 ingredient flourless brownie recipe which is complemented by almond butter or cashew butter, which balances the overpowering banana flavor. Because of the two ingredients used here (banana and cocoa powder!), they are completely paleo, vegan, gluten free, refined sugar free, grain free and dairy free!
HACK! This wrecks the 2 ingredient aspect of it, but an easy way to balance out the overpowering banana flavor (besides the aforementioned nut butter option) is to top with a small handful of DARK chocolate chips. Along with the dark cocoa powder, it amps up the richness factor and is so satisfying. Either the chips or chunks are both winners.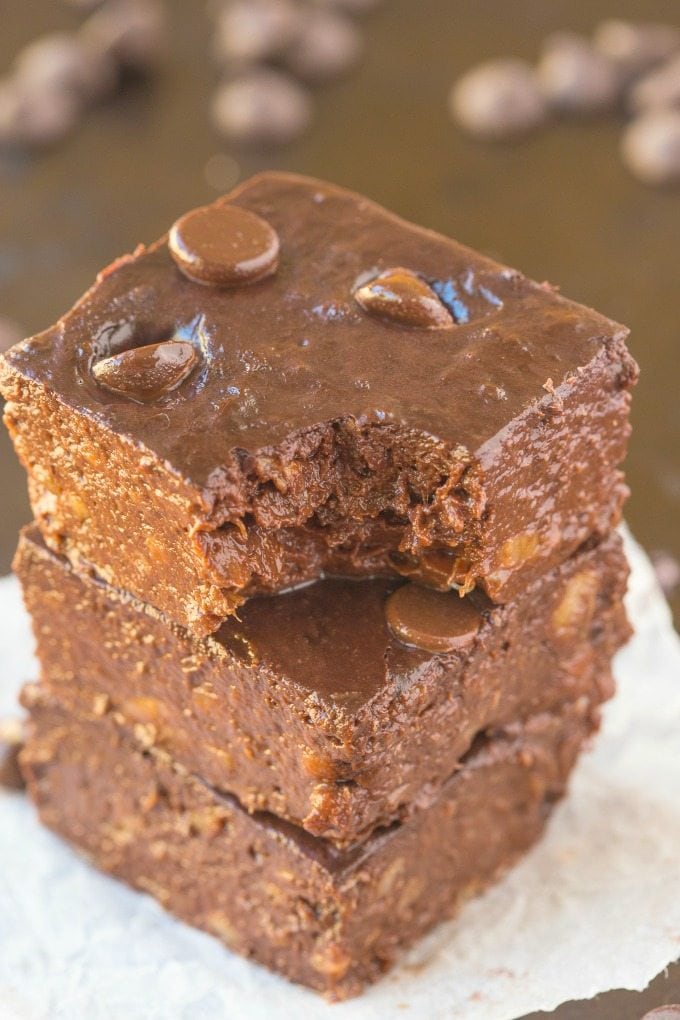 Make these healthy 2 ingredient flourless brownies and the next time you have a failed frozen endeavor, bake it.
Don't. This was a fluke.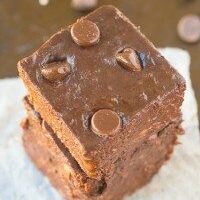 Healthy 2 Ingredient Flourless Brownies
Ridiculously fudgy, gooey on the inside and soft, these 2 ingredient flourless brownies are naturally paleo, vegan, gluten free, dairy free and sugar free!
Print
Rate
Instructions
Preheat the oven to 350 and lightly coat an 8 x 8 baking dish with cooking spray, butter or oil and set aside.

In a large mixing bowl, add your mashed bananas and cocoa powder and mix very well until a thick, chocolate batter remains. Stir through chocolate chips, if desired, and pour into the greased baking dish. Bake for 20-25 minutes, or until firm on top (the middle will still seem undercooked- This is perfect). Remove from oven and allow to cool completely in the baking dish. Once cooled, refrigerate for an hour or so. Cut into pieces and enjoy!
Notes
Brownies are best kept in the refrigerator, especially for the best texture. These are freezer frienfly too.
More cures for that sweet tooth of yours? Gotcha covered!
Healthy Grain-Free Double Chocolate Blondies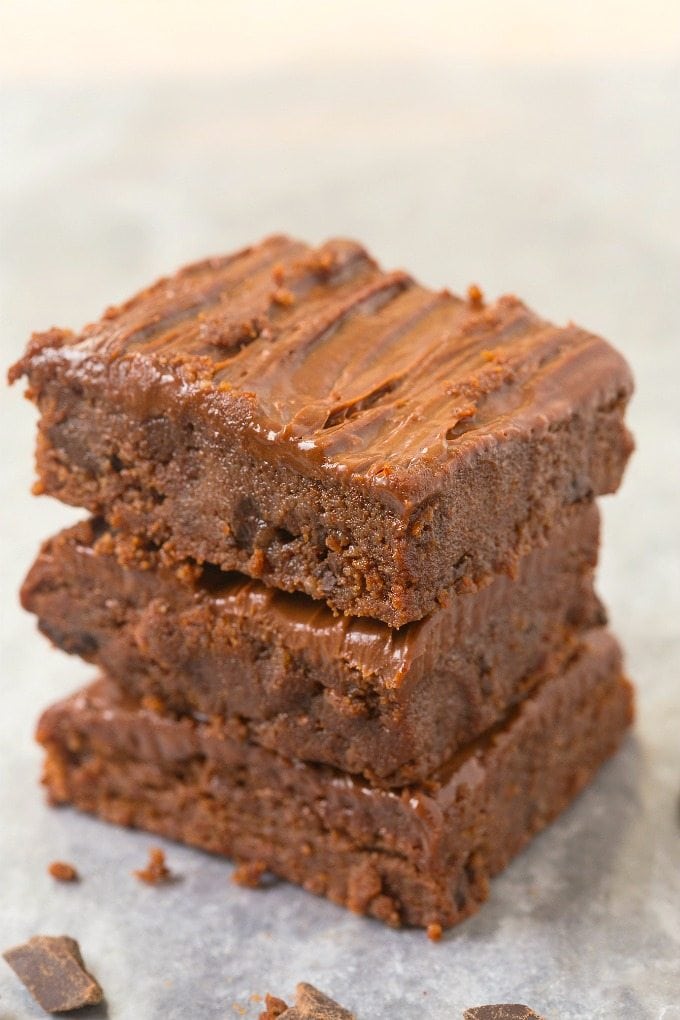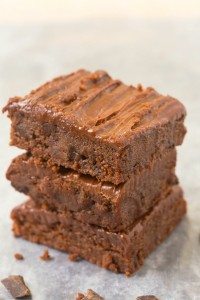 Healthy Flourless Cookie Dough Sandwich Cookies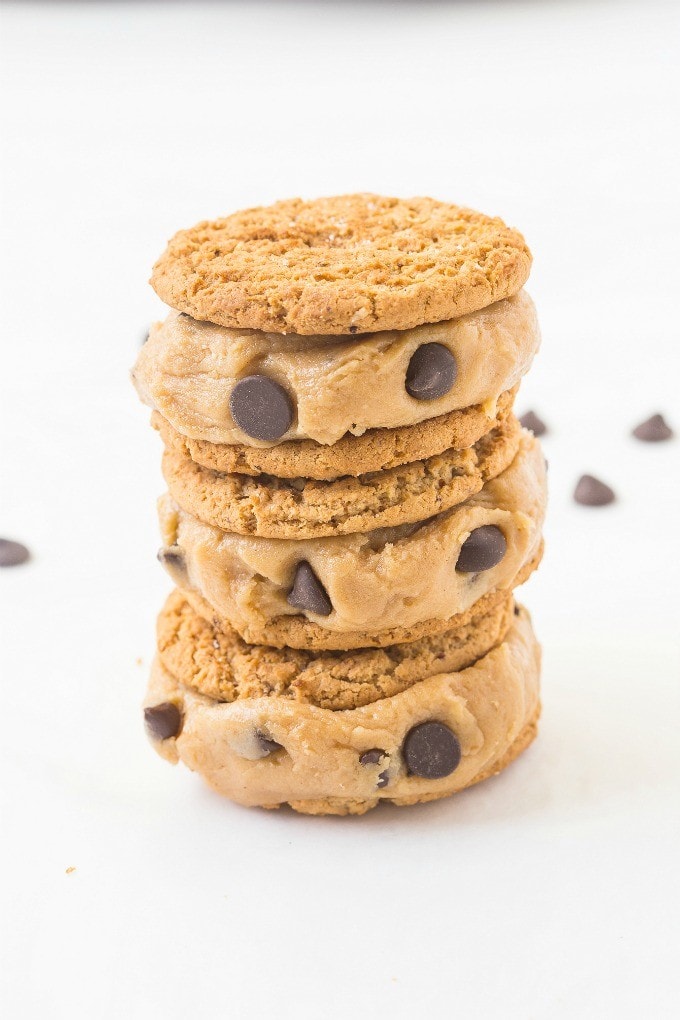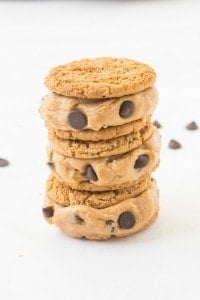 Healthy Paleo Cookie Dough Sandwich Cookies