Healthy 3 Ingredient Flourless Butternut Squash Fudge Brownies
These healthy 3 Ingredient flourless butternut squash fudge brownies contain no butter, flour, grains or sugar- Just easy, everyday ingredients! Rich, soft and super fudgy, these brownies are suitable for those following a paleo, vegan, gluten free, dairy free, grain free and sugar free lifestyle!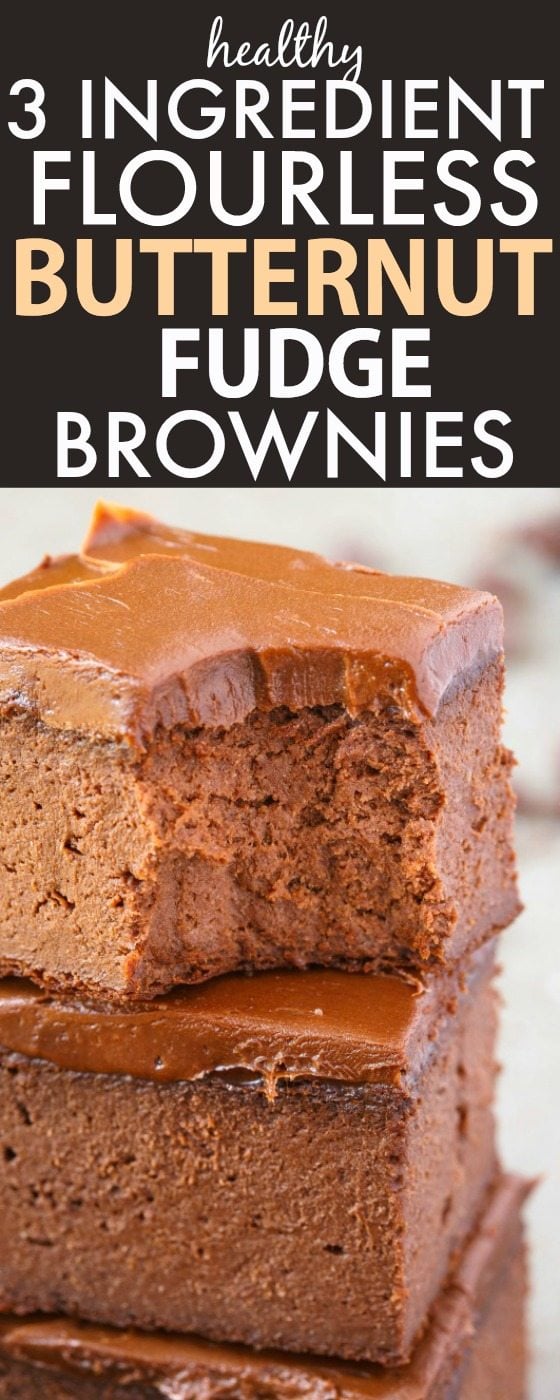 …and you guys thought I was joking when I said I'd be trying my infamous 3 Ingredient flourless brownies with every starch base possible.
ZING.
To be honest, I'm finding it more experimental than anything. I knew that no single starch base is created equal, but was surprised by ones within the same family. When I made the pumpkin version, I assumed butternut and acorn squash would totally provide the same texture.
WRONG.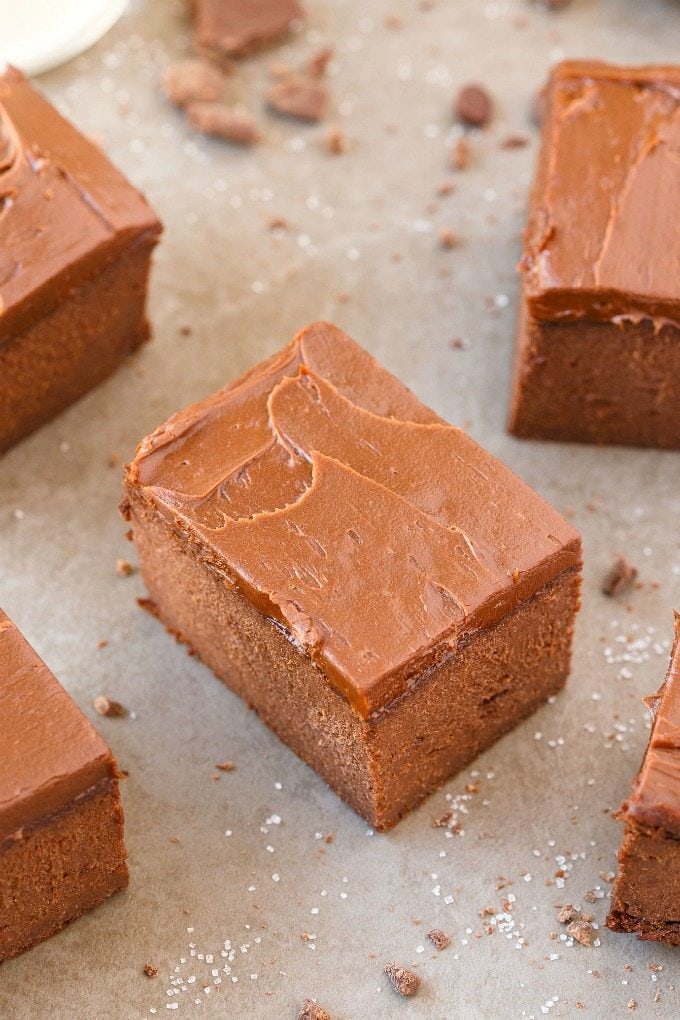 If you visually compare today's recipe with the pumpkin one, you'll notice a few key differences. The pumpkin version is darker, firmer and a little less fudgy. It's also got a more subtle flavor. Today's butternut squash version was quite the opposite. It's much lighter, insanely fudgy and much more naturally sweet. That shouldn't come as much of a surprise. If you've ever eaten roasted butternut squash which has caramelized, you'll know what I'm talking about.
Before we get talkin' bout these double B's (Butternut Brownies, dirty birdies), it's Wednesday, so let's see what made my plate! As I mentioned last time, I've been trying to incorporate more veggies into my diet.
Um, massive fail.
I tried making onion rings for a salad, but I clearly overcooked and over breaded them, because they were like a giant hockey puck of bread crumbs. I DID eat a ton of potatoes, so that counts too. Oh, and these brownies count as a serving of vegetables. I have been eating bland and boring food lately (blame the cookbook) so here's my petty showing from last week-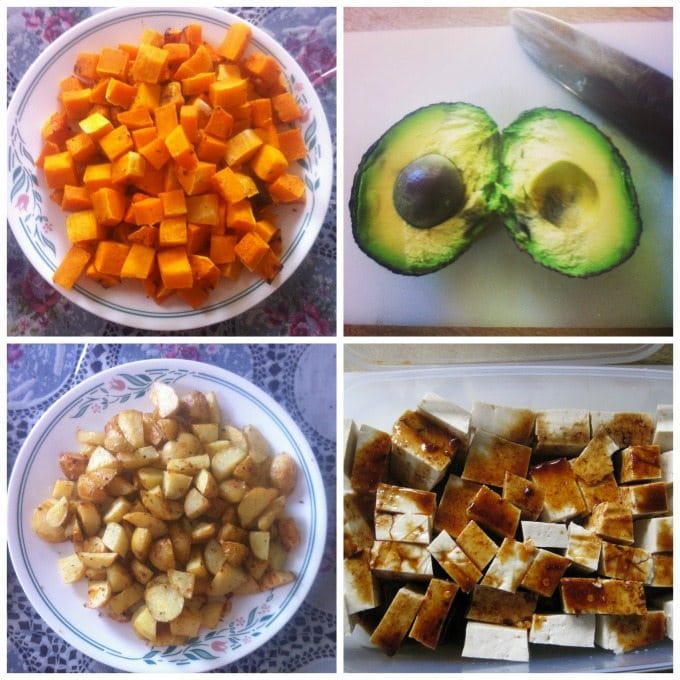 Breakfast- Avocado toast- It looked terrible plated together, but on its own? A beauty! Lunch(es)- A combination of freezer recipes, along with some leftover butternut squash. Dinner- Marinated tofu and roasted potatoes.
Okay, I just yawned.
Let's talk brownies now!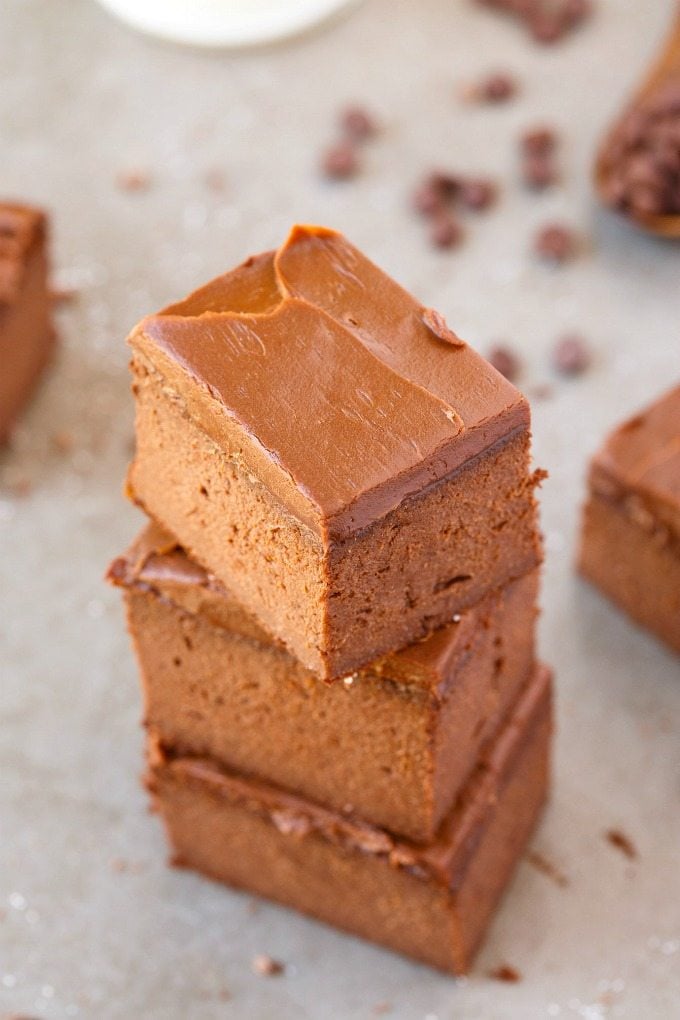 Even though it's 3 easy ingredients, I want YOU to have the best possible brownies, so I'll be sharing the best two ways to prep the butternut squash further down!
These 3 Ingredient Flourless Butternut Squash Fudge Brownies are a quick and easy dessert fix! You only need one bowl, blender or food processor to whip up and it's adaptable to what nut butter or alternative you have on hand! They are soft, ridiculously fudgy and is a healthy dessert, snack or anytime treat you can enjoy anytime. Unlike traditional brownies, they contain no butter, flour, oil, sugar or grains, so don't be expecting Betty Crocker. They are, however, perfect for the health conscious, or those who want the taste and texture of brownies, with a more nutritional twist. Because of the ingredients used, they are completely gluten free, vegan, paleo, sugar free, grain free and dairy free!
Now let's get into butternut specifics!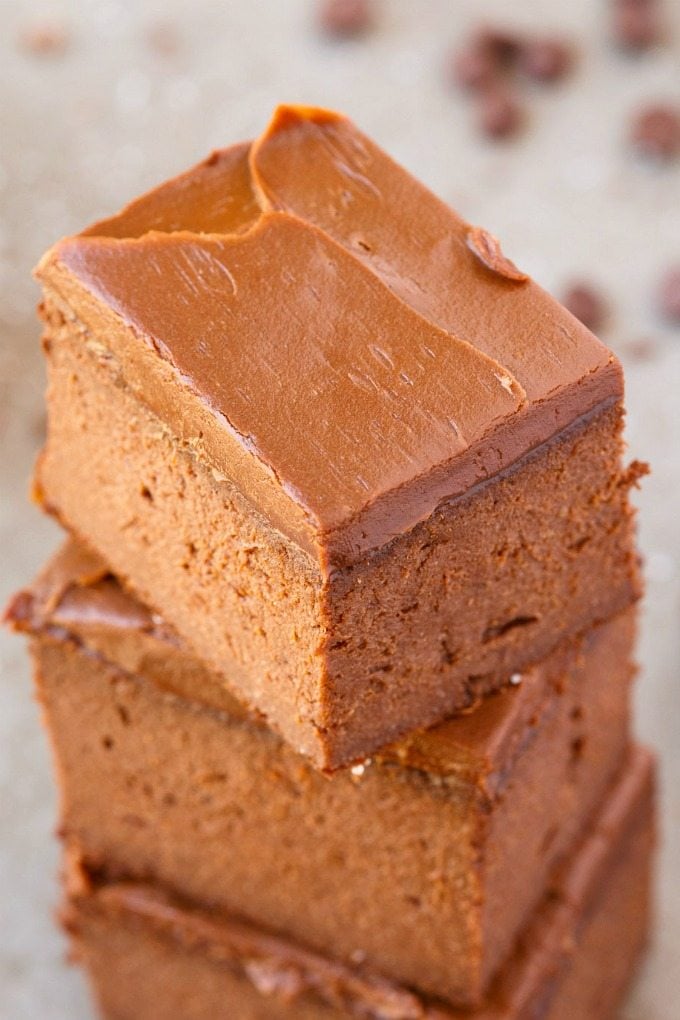 The best way- Oven roasted!
In my household, I grew up eating butternut squash roasted with olive oil, sea salt and some spices. We will NOT be using this method today, unless you want edible punishment. You can make it this way and then eat it on salad.
Anyway.
The oven roasted method is simply cutting the butternut squash into very small squares and baking at 350 degrees until they are soft and caramelized. Avoid using any oil if possible (a non-stick baking pan works fantastically) and avoiding any spices on top. It's tempting to add some cinnamon or nutmeg, but that will make the brownies taste weird. Depending on how much butternut squash you prep (and how big your squares are), you'd be looking at around 30 minutes. Remove from the oven when ready and allow to cool completely. Once cooled, blend until completely pureed. You can try mashing by hand, but this can result in some stringy pieces within.
The second best way- Microwaved!
For those in a time pinch (and have access to a microwave), you can follow this method. Once again, cube the butternut squash and place on a plate, in a single layer. Add around 1 to 2 tablespoons of water, and cover. Microwave for 8-9 minutes (cooking time will vary depending on microwave), until completely soft. Allow to cool completely and then blend/food process/hand mix and voila- ready to be used in the brownies!
The really really cheat's way- Canned!
Full disclosure here- I have only used this several times, and they have been in recipes in which it can be heavily masked. This canned butternut squash works well, but I'd really recommend going the extra effort and making your own. If you opt to use this one, it will be extremely fudgy and lacks any natural sweetness whatsoever. I'd ensure you use on of the optional frostings!
HACK! For my friends with nut allergies, I've received a fair few questions regarding an option there. I've personally tried all brownies out with sunflower seed butter, soy nut butter, and tahini. Firstly, rule tahini out of the picture- While I love tahini on its own (savory style..shhh), it just gave all the brownies this oily texture, and, without frosting, extremely bitter. I loved the bitter taste (I go through cocoa powder like water) but others thought I was feeding them instant coffee. Sunflower seed butter and soy nut butter worked beautifully, but with one caveat- You'll be best using the lightly sweetened kind. Like tahini, they were quite bitter on their own.
As for the frosting, check out this post for the 3 options- Whether you choose the protein packed one, the coconut cream one, or the cream cheese one- There is something for everyone!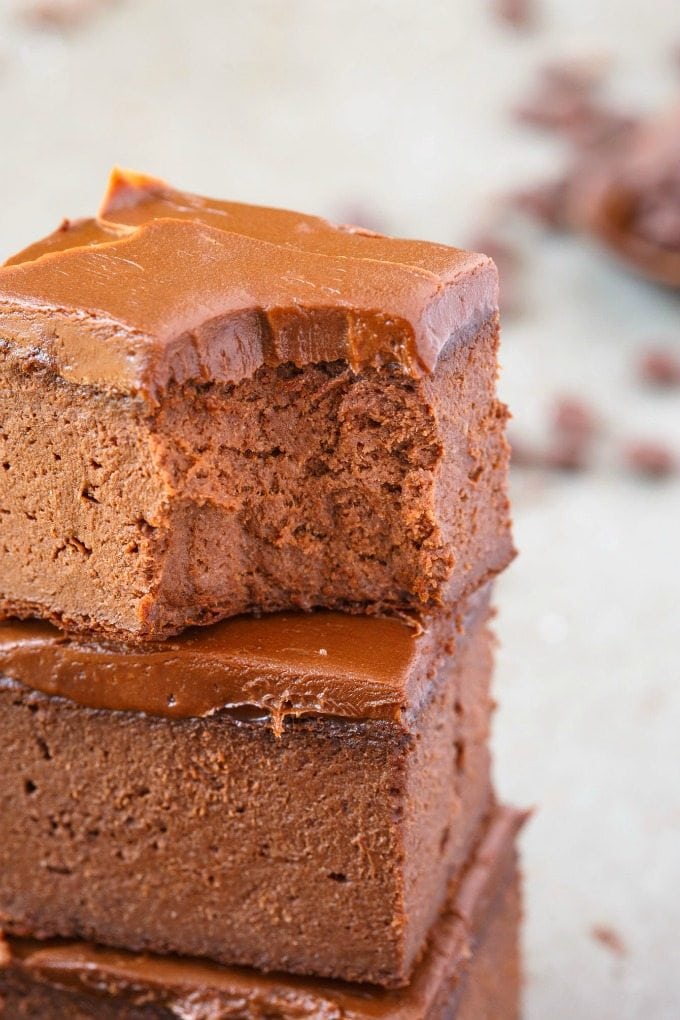 Make these healthy 3 Ingredient Flourless Butternut Squash Fudge Brownies and let's get those 'nuts caramelizing.
Mmmm, caramelized butternut squash.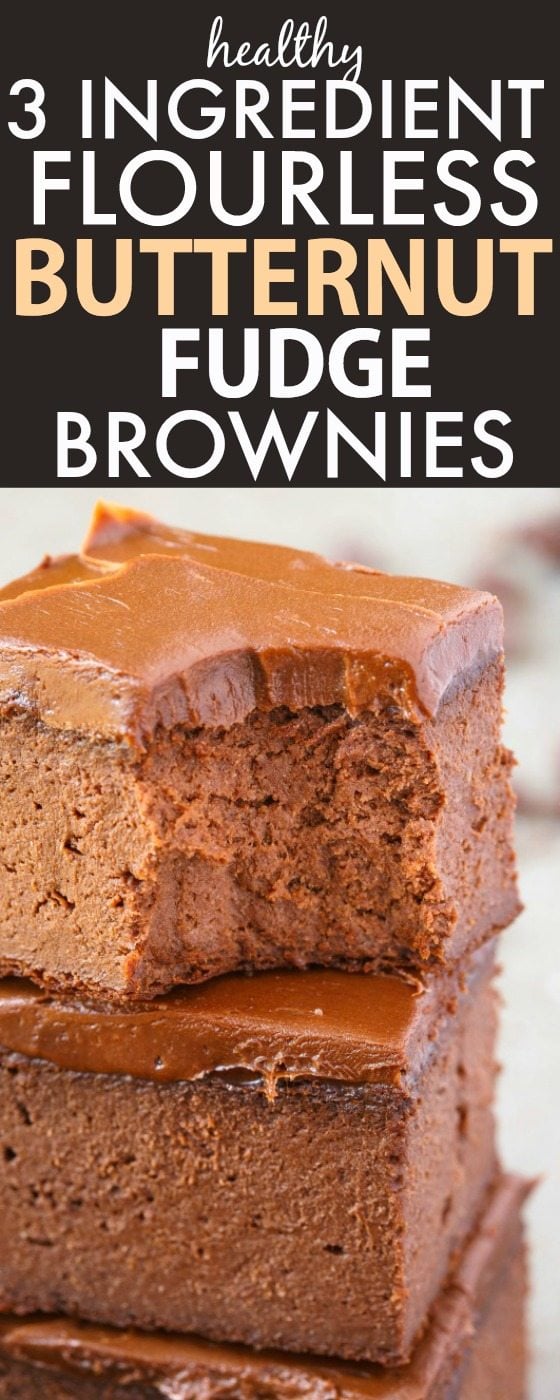 Healthy 3 Ingredient Flourless Butternut Squash Fudge Brownies
2016-10-11 22:13:13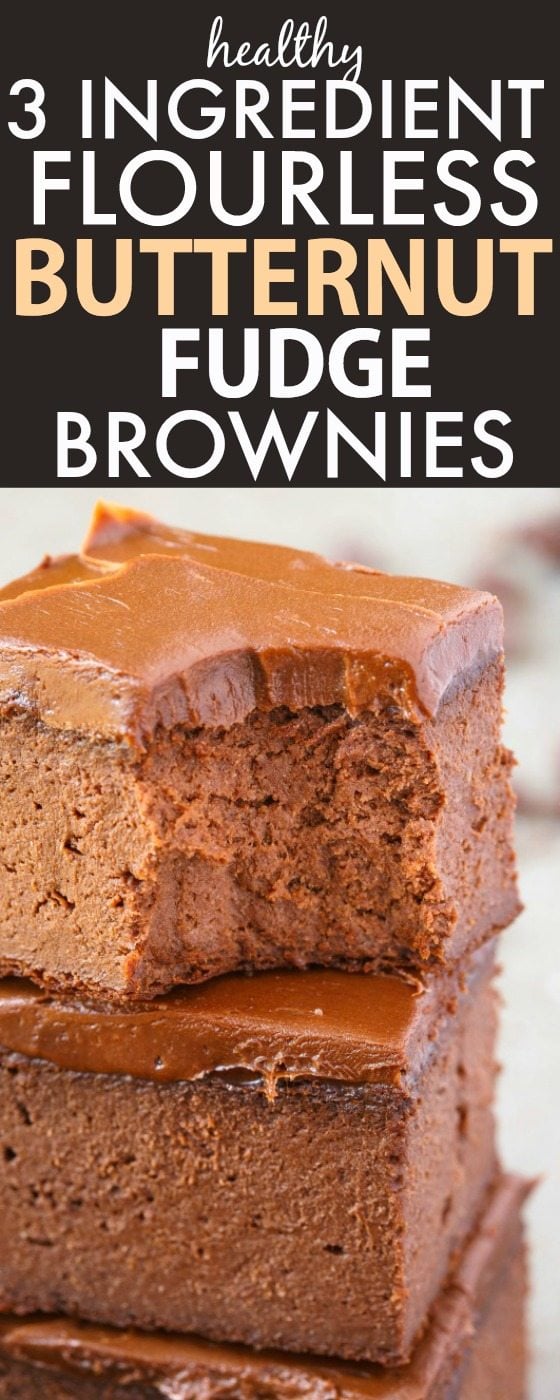 These healthy 3 Ingredient flourless butternut squash fudge brownies contain no butter, flour, grains or sugar- Just easy, everyday ingredients! Rich, soft and super fudgy, these brownies are suitable for those following a paleo, vegan, gluten free, dairy free, grain free and sugar free lifestyle!
Ingredients
1 cup butternut squash puree*
1/2 cup drippy almond butter (can sub for peanut, cashew or nut free alternative)
1/4- 2/3 cup cocoa powder (more cocoa yields a richer taste)
Frosting of choice (see above)
Instructions
Preheat the oven to 350 degrees and coat a small 4 x 6 or 6 x 6 loaf pan with cooking spray and set aside- A smaller pan yields thicker brownies.
Add all your ingredients into a high speed blender, food processor or large bowl and mix until fully immersed and a thick batter is formed.
Transfer brownie batter to loaf pan and bake for 12-15 minutes, or until a skewer comes out just clean. Allow the brownies to cool in the pan completely before frosting. Brownies need to kept refrigerated for the best texture.
Notes
* For a sweeter brownie, sub half a cup of mashed banana
If you want to freeze these brownies, frost them once thawed.
The Big Man's World ® https://thebigmansworld.com/
Your turn! Link up your FULL day of eats and let's get salivating!

What is your favorite kind of squash? Butternut, but I MAY have another fun twist coming up.
How good are you at getting veggies in your meals?