Healthy 3 Ingredient No Bake Junior Mint Cups (Paleo, Vegan, Gluten Free)- Easy, fool-proof and completely guilt-free candy cups which are just like an after eight, after dinner 
Mint and chocolate often get a bad wrap, but if there is one recipe to sway any skeptics, it's a copycat version of the classic after dinner mint candy or better known as Junior Mints! Unlike the original, my homemade version gets a healthy makeover!
If you need some proof of my adoration for the mint and chocolate combination, maybe you need some of these no bake cookies, these peppermint mocha no bake bites and of course, a peppermint patty style smoothie! But first, you should totally make this super simple, seriously addictive recipe!
Growing up, I was obsessed with after dinner mints (or to my American friends, often referred to as after 8 mints). For those who've never had the joy of enjoying one of these individually wrapped candies, let's describe what it is. It's essentially dark chocolate squares with a creamy mint center. I'm not sure what the purpose of having them after dinner is, but I certainly didn't limit them to that time period.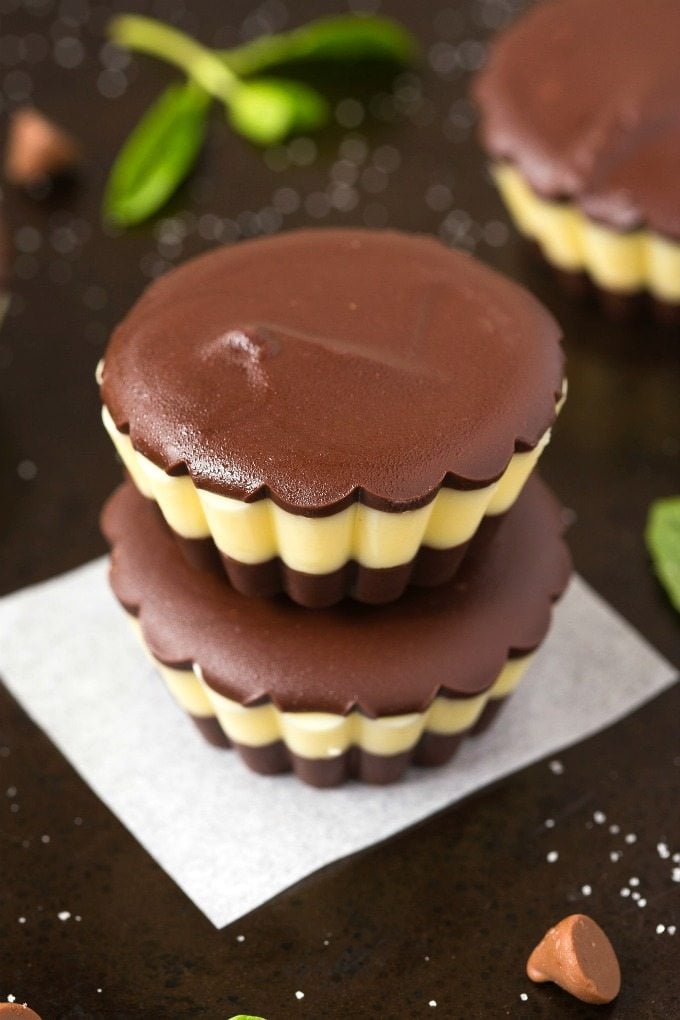 My obsession with mint chocolate candy started when mom used to bring a box of them onto the long haul international flights my sister and I would sometimes go on as kids. These flights would usually involve two legs, both being a minimum of 13 hours. To keep things calm and two little children from getting antsy, mom would give us one of these mints and we'd be satisfied for…well, maybe two minutes until boredom hit again.
Well, she tried.
Regardless, they soon became a firm favorite, long haul flight or not, and I found an even better (and bite sized) alternative- Junior Mints! (fun fact- To this day, I always pack a small box of them for any flight over 3 hours…so pretty much every single flight because Australia to ANYWHERE takes that long). I knew I wanted to recreate this somehow, but without all the traditional ingredients in them.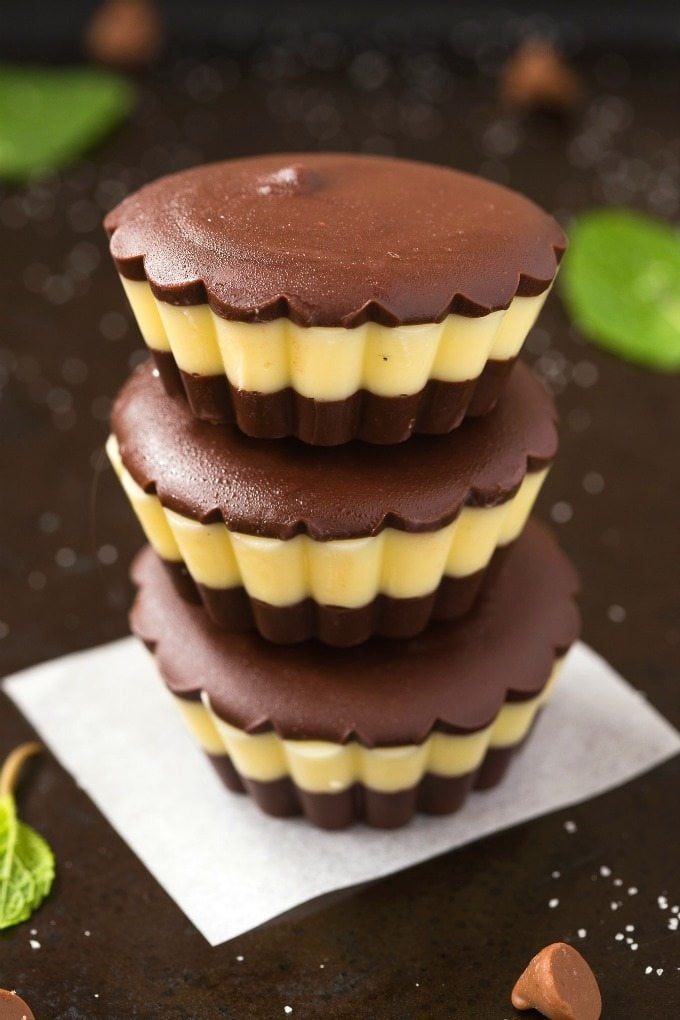 There needed to be some requirements to be met- The mint center had to be minty, but not toothpaste minty. It had to be smooth, creamy and melt-in-your-mouth status. It also had to be stable at room temperature.
Long term readers know I am a huge fan of coconut butter and have more often than not used it as some form of a magic shell on ice cream (my fav Nat shared a simple version in this epic recipe), a thick and creamy frosting on breakfast cakes and even drizzled over homemade protein bars.
Confession- When I want a sweet tooth fix I often would just grab a spoon and enjoy it at room temperature.
Bingo.
This would be my base for the creamy mint center with the addition of a little peppermint extract.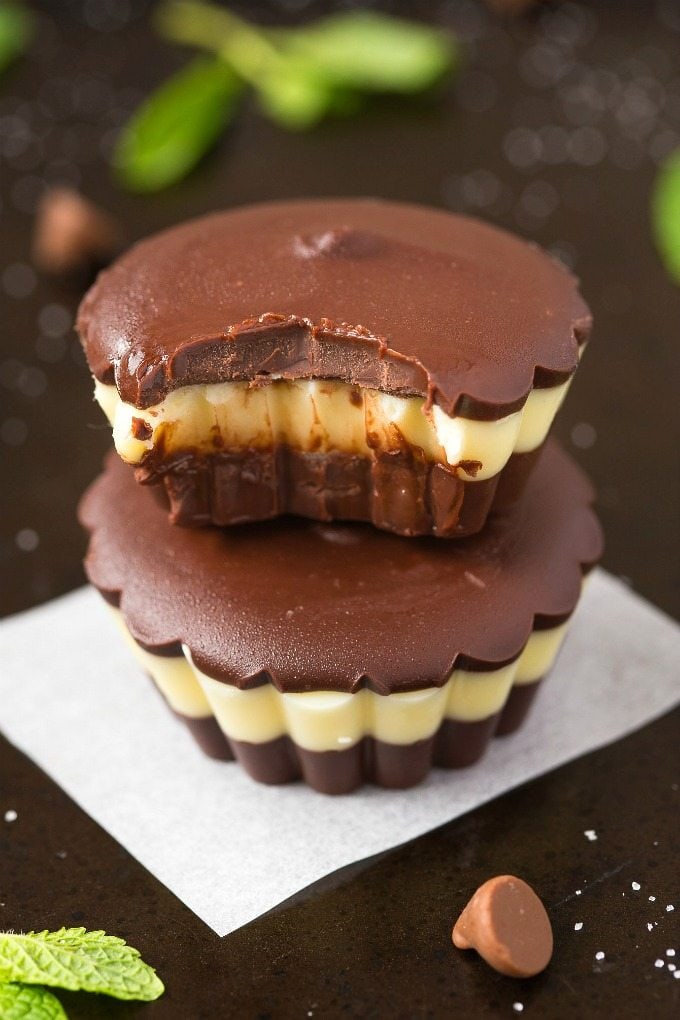 This quick and easy no bake recipe is completely fool-proof and literally takes 5 minutes to prep. It also is completely fuss-free, as you don't make any mess when making them- Melt chocolate, add a creamy mint center and top with an extra layer of chocolate! The hard part is waiting for it to firm up, but I promise it won't take more than 30 minutes. If you really are impatient (GUILTY!), you can half the time by freezing it!
You'll start with your chocolate base, which will simply involve melting your favorite chocolate bar with a dash of coconut oil. The coconut oil is completely optional, but it helps keep the chocolate from breaking apart when firm, or when you bite into it. I stick to my two favorite chocolate, either these enjoy life dairy free chips or these stevia sweetened baking chips. If you don't follow any specific diet, feel free to use any chocolate bar which melts well.
For the creamy, mint center, we'll be using melted coconut butter with a dash of peppermint extract. For those who are skeptical that these will taste like coconut, I promise the extract will completely mask it! Coconut butter brands differ considerably. Some brands simply don't melt well and result in a crumbly texture. This is NOT what we want for this recipe.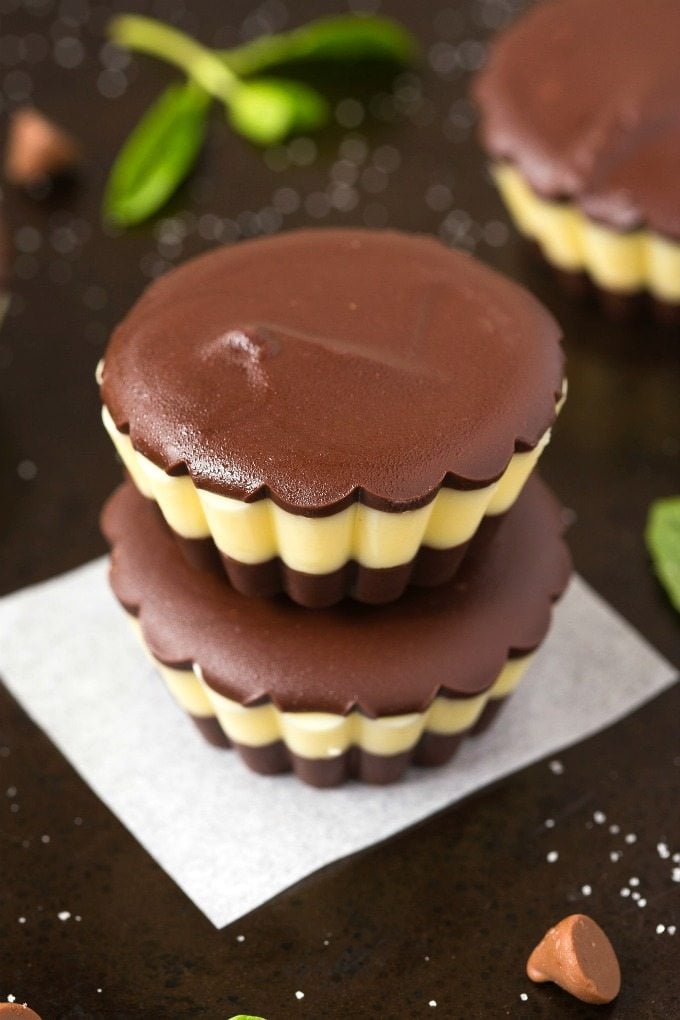 I typically use either my homemade coconut butter (I blend shredded unsweetened coconut until a thick and creamy texture remains) and add a dash of coconut oil at the end. Alternatively, I use this coconut butter which does melt beautifully. I cannot vouch for other brands, but test it out by melting a small portion first on very low heat!
For the peppermint extract, PLEASE be really cautious and start small. Peppermint extract can be incredibly deceiving and a little goes a VERY long way. Even an extra drop can take these no bake junior mint cups from delicious to 'I just brushed my teeth and ate chocolate' level.
HACK! You'll notice this recipe is completely sugar free (if you use a stevia sweetened chocolate bar), including the peppermint center. The reason for this is that I found coconut butter to be naturally sweet. However, if you prefer a very sweet center, you have two options. Either use peppermint stevia drops (a mixture of peppermint extract with liquid stevia) or add a little pure maple syrup or light agave nectar. Just ensure you adjust according to your sweetness level!
Junior mints, after eight mints, after dinner mints, peppermint patties or Andes mints- whatever you call them, these easy 3 Ingredient Junio Mint candy cup version is your delicious answer!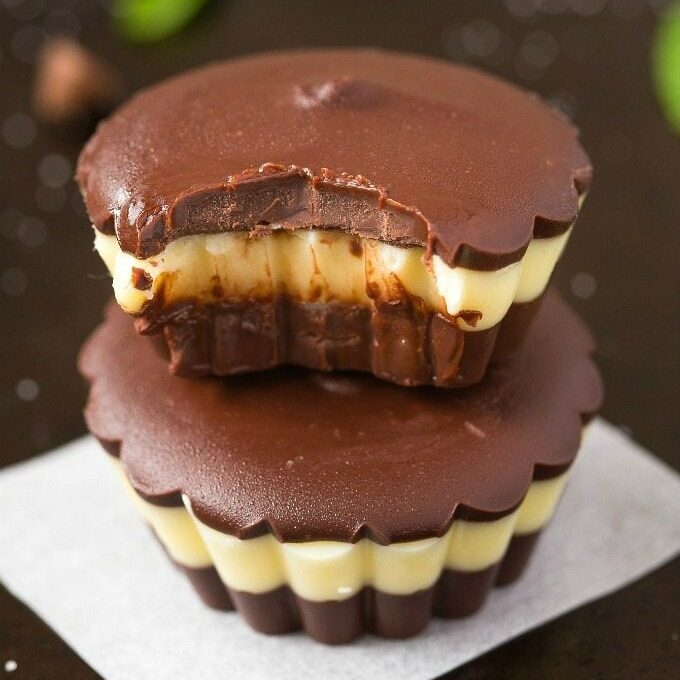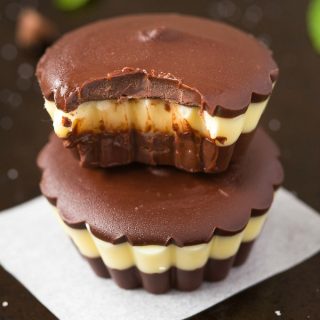 Homemade Junior Mints
Healthy 3 Ingredient No Bake Junior Mint Cups (Paleo, Vegan, Gluten Free)- Easy, fool-proof and completely guilt-free candy cups which are just like an after eight, after dinner or Andes mint! These Junior Mint copycats are also sugar free and dairy free!
Instructions
Line a 12 count muffin tray with muffin pans and set aside.

In a microwave safe bowl or stovetop, melt half the chocolate chips. Pour the melted chocolate into each muffin pan, around half an inch or so. Place in the refrigerator.

While the chocolate is firming up, add your coconut butter into microwave safe bowl or stovetop. On very low temperature, melt your coconut butter until thick and creamy. Moving quickly, stir through your peppermint extract until combined. Take the muffin tin out of the fridge and evenly distribute the peppermint cream amongst the twelve cups and place in the refrigerator for 20 minutes, or until the mint center has firmed up slightly.

Once firm, melt the remaining chocolate and evenly distribute it amongst all the cups. Refrigerate until firm. Once firm, remove the junior mint cups and enjoy!
Notes
No Bake Junior Mint cups can be kept at room temperature, but are best kept refrigerated. Candy Cups are freezer friendly too.
Nutrition
Calories:
149
kcal
Carbohydrates:
12
g
Protein:
1
g
Fat:
11
g
Sodium:
4
mg
Fiber:
3
g
Sugar:
1
g
Vitamin C:
1
mg
Calcium:
4
mg
Iron:
1
mg
NET CARBS:
9
g
More delicious healthy candy bar inspired recipes? Gotcha covered!
No Bake Chocolate Peanut Butter Crunch Bars
No Bake Peanut Butter Cup Breakfast Bars
Low Carb Snickers Breakfast Shake
Healthy 4 Ingredient No Bake Bounty Mound Bars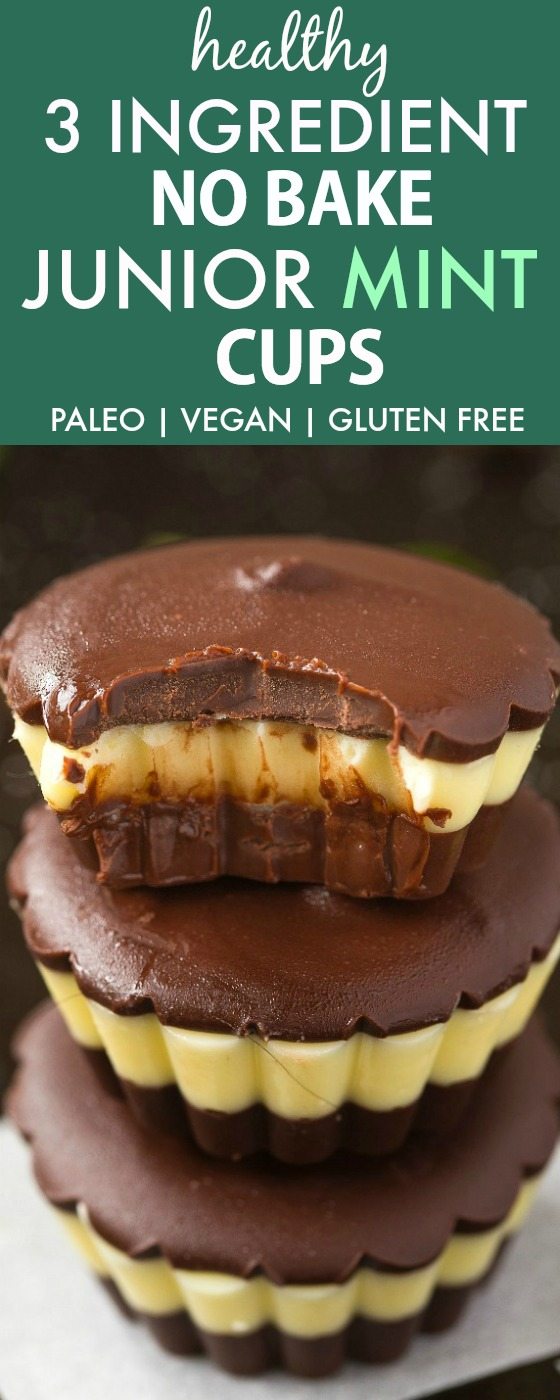 Disclosure: This post may contain affiliate links. I may earn a small commission for my endorsement, recommendation, testimonial, and/or link to any products or services from this website.