Healthy 5 Ingredient Flourless Fudge Brownie Bites
These healthy flourless fudge brownie bites need just five ingredients and are completely sugar free! Fudgy, gooey and moist on the inside, these naturally sweetened protein-packed bites are naturally paleo, vegan, gluten free, dairy free and grain free!


How do you amp up a reader favorite recipe? Give them a makeover….via frosted highlights!
By frosted highlights, I mean giving these flourless protein brownie bites a thick layer of frosting- An extra boost of protein, an extra boost of chocolate and an extra boost of deliciousness.
Can we take a minute to talk about highlights in terms of hair? Okay, good.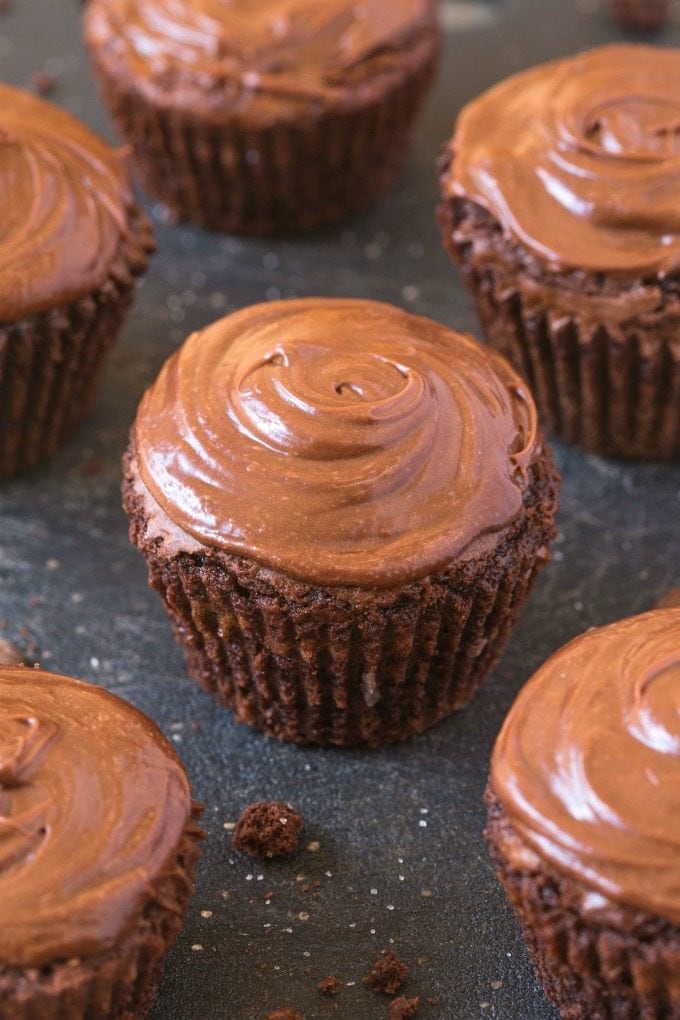 A few years ago, my sister Niki was coerced into getting some color added to her jet black hair (she says it's mahogany brown, but she is just kidding herself). It was the night of her high school prom, and all her friends were doing something similar. She decided to go a very mild shade of auburn brown, which she believed would match her purple dress nicely.
I arrived home only to see my sister crying her eyes out, and concurrently glaring at the mirror. Her 'auburn brown' highlights looked more like metallic purple paint. To be honest, she kind of looked like the evil guy from Team Rocket (any Pokemon fans out there?).
I told her that it matched her purple dress even better, and she was like a sexy eggplant.
That didn't go down very well.
Luckily for her, she still had several hours before her prom, so she went back to the hair salon and got her hair re-dyed back to the original jet black (NOT MAHOGANY BROWN).
She swore since that incident that she'd never get frosted highlights ever again.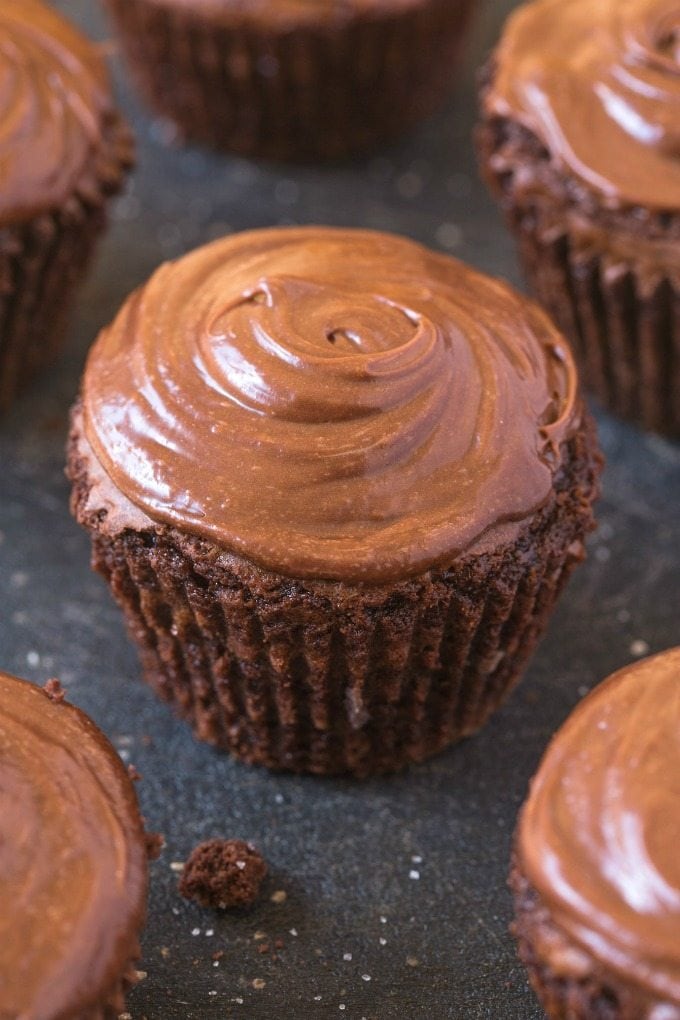 What do frosted highlights have to do with brownie bites? Nothing, but these frosted highlights will ALWAYS be warranted! A delicious bite but amped up a notch with a smooth, creamy and completely guilt-free frosting!
These healthy flourless protein brownie bites need just five ingredients to whip up, and are the perfect protein-packed snack, dessert or treat to enjoy anytime! They are super fudgy, moist and gooey, and loaded with chocolate goodness, thanks to the extra layer of healthy frosting! Unlike traditional brownies, these brownie bites contain no butter, oil, flour, grains or sugar, but you'd never be able to tell! Instead, it uses overripe bananas, nut butter, cocoa powder and a chocolate protein powder to give it the texture and sweetness! Because of the ingredients used, these clean eating treats are completely paleo, vegan, gluten free, sugar free, grain free and dairy free!
The best part? The thick layer of HEALTHY frosting over the top! Because I know you guys like options, I've included THREE for you today- A protein packed frosting, a simple coconut ganache frosting, and a coconut oil frosting!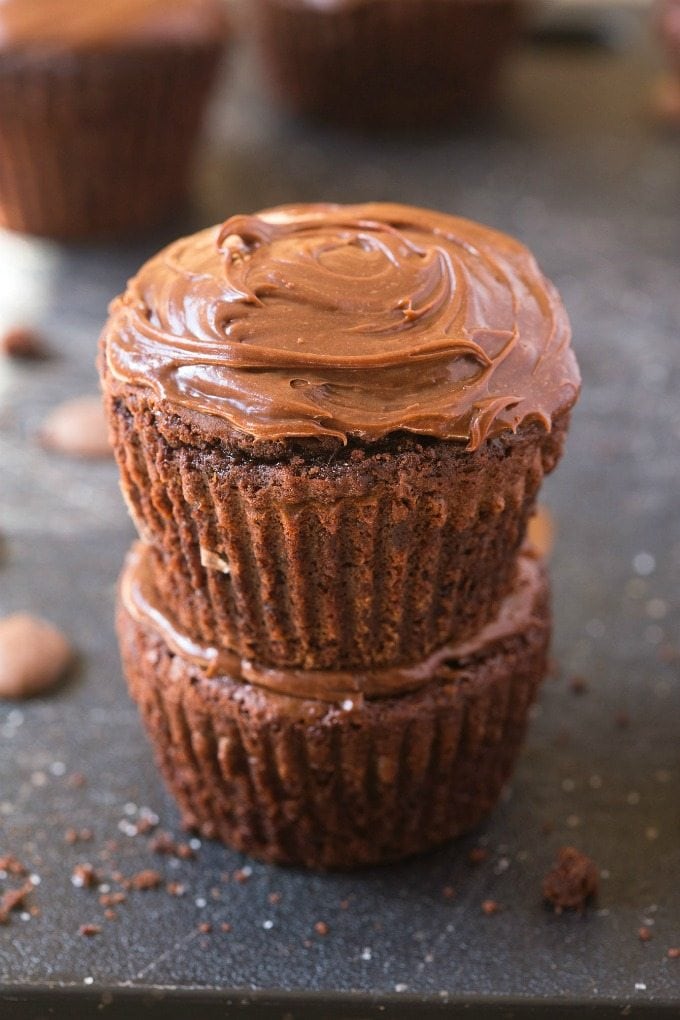 Frosting numero uno- The protein frosting!
Even though there is protein IN the fudge brownie bites, get a double dose of it by adding it to the frosting too! To achieve a thick, frosting-like consistency, I recommend using this brown rice protein powder, this casein protein powder, or this paleo protein powder. Whey protein powder (well, the ones I've tried out) often results in a very sticky texture, regardless of how little liquid/milk you add to it. If you only have whey protein on hand, test it out by portioning a scoop of protein powder into a bowl and add your liquid of choice one tablespoon at a time. If it becomes sticky immediately, it really isn't worth attempting.
To take your protein frosting up a notch, I recommend adding a tablespoon or two of your favorite smooth nut butter (cashew butter or almond butter works great), melted coconut butter, or even sunflower seed butter (perfect for those with nut allergies).
Frosting numero duo- The coconut cream ganache!
This is ridiculously easy and simple to do, although extremely addicting. You heat up a can of full-fat coconut milk with your favorite chocolate chips (I prefer these dairy free chips or these sugar-free chips) until a thick frosting remains. Allow the frosting to cool slightly, before slathering on your chocolate bites!
Frosting numero…three- The coconut oil frosting!
This easy frosting is one which can be used on anything- From cupcakes, cakes, or even drizzled over these brownies! It's based on three ingredients- coconut oil, cocoa powder, and some pure maple syrup. It's rich, decadent and totally acceptable to eat off the spoon!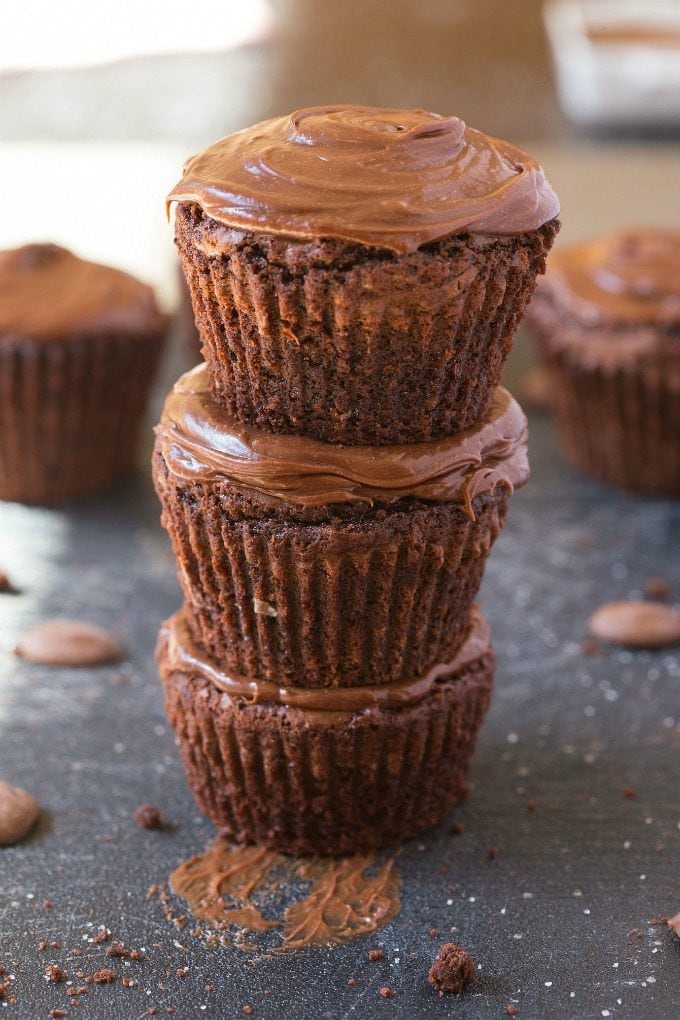 HACK! If you want a lazy way out completely, simply top the fudge brownie bites with a generous layer of healthy sugar-free 'Nutella'– Just as delicious, just as healthy and the same dose of extra chocolate!
Make these delicious brownie meets bites the next time you have a chocolate craving, and squash them, guilt-free.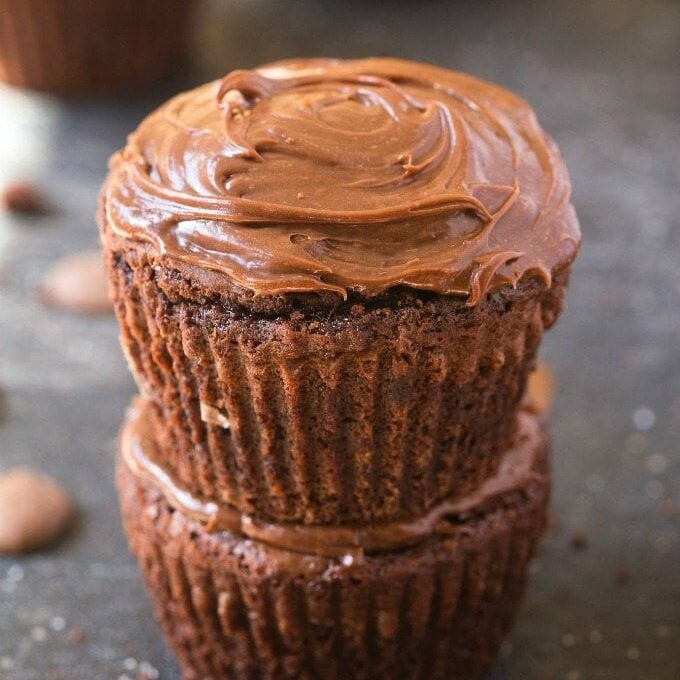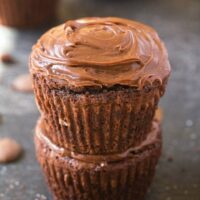 Healthy 5 Ingredient Flourless Protein Fudge Brownie Bites
These healthy flourless fudge brownie bites need just five ingredients and are completely sugar free! Fudgy, gooey and moist on the inside, these naturally sweetened protein-packed bites are naturally paleo, vegan, gluten free, dairy free and grain free!
Print
Rate
Servings:
12
brownie bites
Instructions
Line a 12 count mini muffin tin with liners and grease generously. Preheat the oven to 350 degrees Fahrenheit and set aside.

In a high-speed blender or mixing bowl, combine all your ingredients and mix until completely smooth.

Evenly distribute the batter amongst the greased mini muffin tins. Fill until completely full- There is no baking powder so it won't rise much.

Bake for 12-15 minutes, or until a toothpick comes out clean. Cooking time will depend on which mashed starch base you use and the protein powder.

Allow to cool in the muffin tin completely. For best results, refrigerate once cooled for several hours. While cooling, make the frosting of choice.
Notes
Flourless Fudge Brownie bites need to be kept refrigerated but taste amazing from the freezer too- Simple thaw lightly before consuming.
If you mix by hand and use banana, there will be some chunks.
These fudge brownie bites are not overly sweet, so feel free to add some granulated sweetener of choice in the batter.
Nutrition
Serving:
1
brownie muffin
|
Calories:
83
kcal
|
Carbohydrates:
5
g
|
Protein:
4
g
|
Fat:
6
g
|
Sodium:
12
mg
|
Potassium:
166
mg
|
Fiber:
3
g
|
Vitamin A:
3177
IU
|
Vitamin C:
1
mg
|
Calcium:
61
mg
|
Iron:
1
mg
|
NET CARBS:
2
g
I am beyond STOKED when you make a recipe from here! Be a legend and tag #thebigmansworld or @thebigmansworld with your re-creations- I can't wait to see them!
More delicious protein rich sweets? Gotcha covered!
Healthy 3 Ingredient Paleo Protein Bars
Healthy Chocolate Brownie Protein Cookies
No Bake "Nutella" Breakfast Brownies
Low Carb Chunky Monkey Breakfast Pizzas
No Bake "Nutella" Cookie Dough Breakfast Bites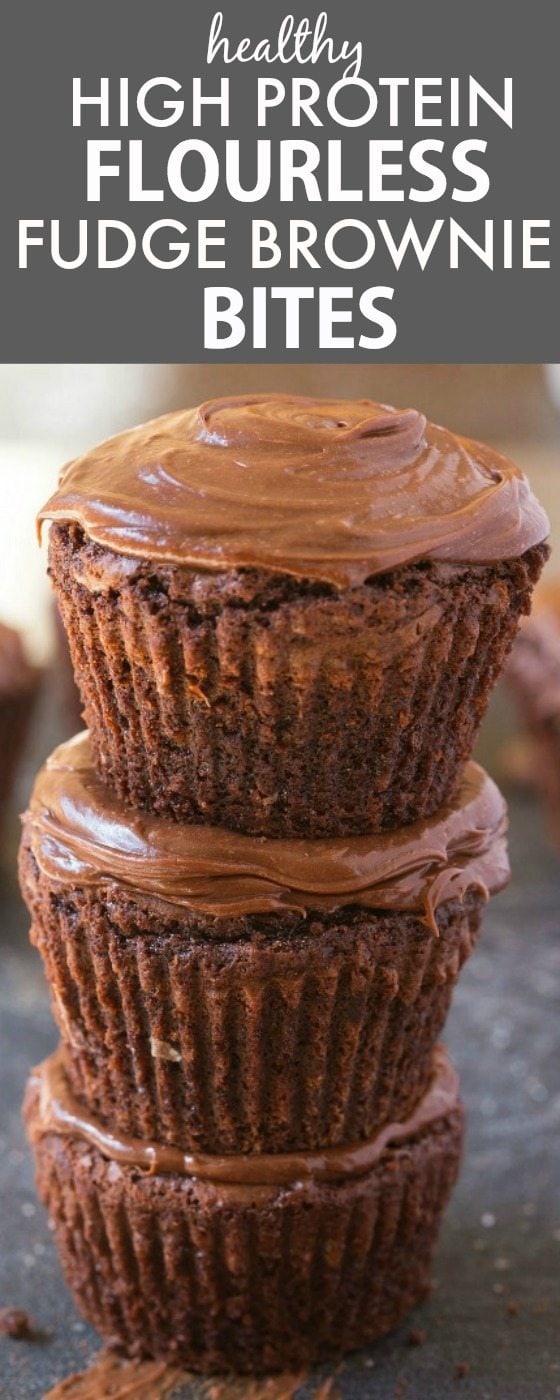 Here for WIAW? I accidentally missed shooting a day of eats, but feel free to link up yours!
Have you ever had a hair horror story?
The Big Man's World is a participant in the Amazon Services LLC Associates Program, an affiliate advertising program. This means that if you click and make a purchase, TBMW receives a small commission, at no cost to you. Cheers, hugs, and handshakes for supporting TBMW!