Healthy 5 Ingredient Zucchini Breakfast Brownies
These healthy 5 Ingredient zucchini breakfast brownies are designed specifically for the best meal of the day! Made with no flour, grains, granulated sugar or butter, these moist, gooey and satisfying brownies are naturally gluten free, vegan, paleo and refined sugar free!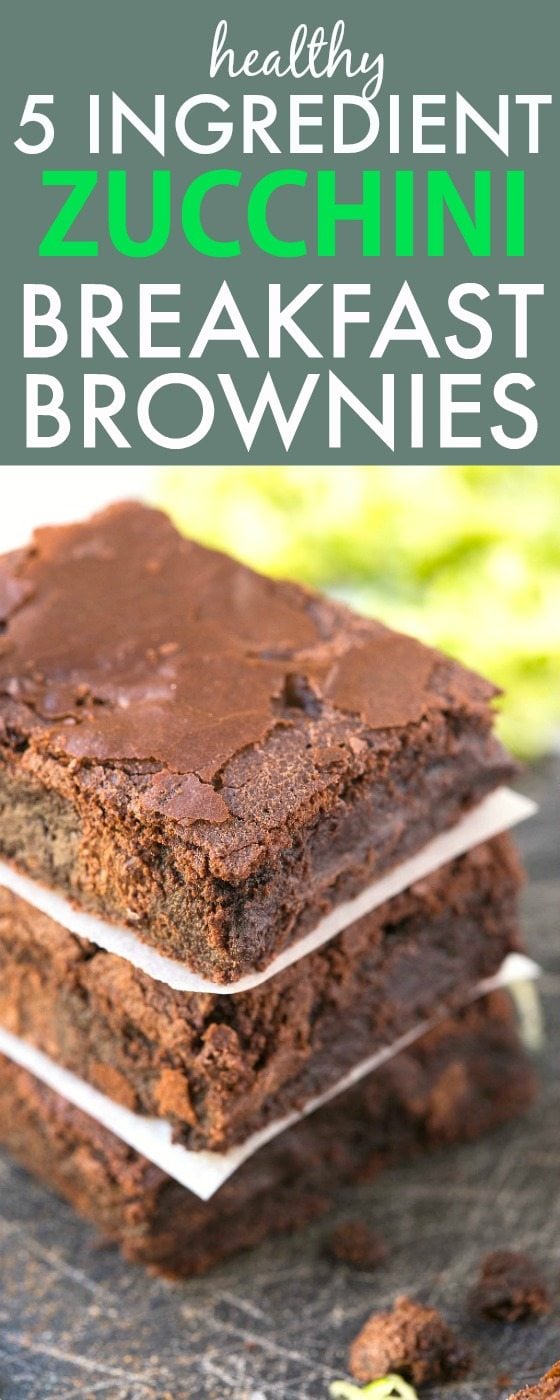 There are some vegetables out there which are easy, breezy beautiful EASY to prep-
Carrots- Simply chop into bite sized pieces, batons or eaten as it is.
Cucumber- Simply chop into slices, sticks or eaten as it is.
Cherry tomatoes- Just EAT.
One exception is potatoes, which get a free pass. If you go the mashing or "hash browning" route, it IS a little more time consuming, but the final result is worth it.
There are some vegetables out there which are a PAIN to prep-
Onions- Cry me a river a la Justin Timberlake
Baby spinach- Washing them then draining every possible bit of water from them.
Cilantro- This needs to be extinct already.
The worst culprit?
SHREDDED ZUCCHINI.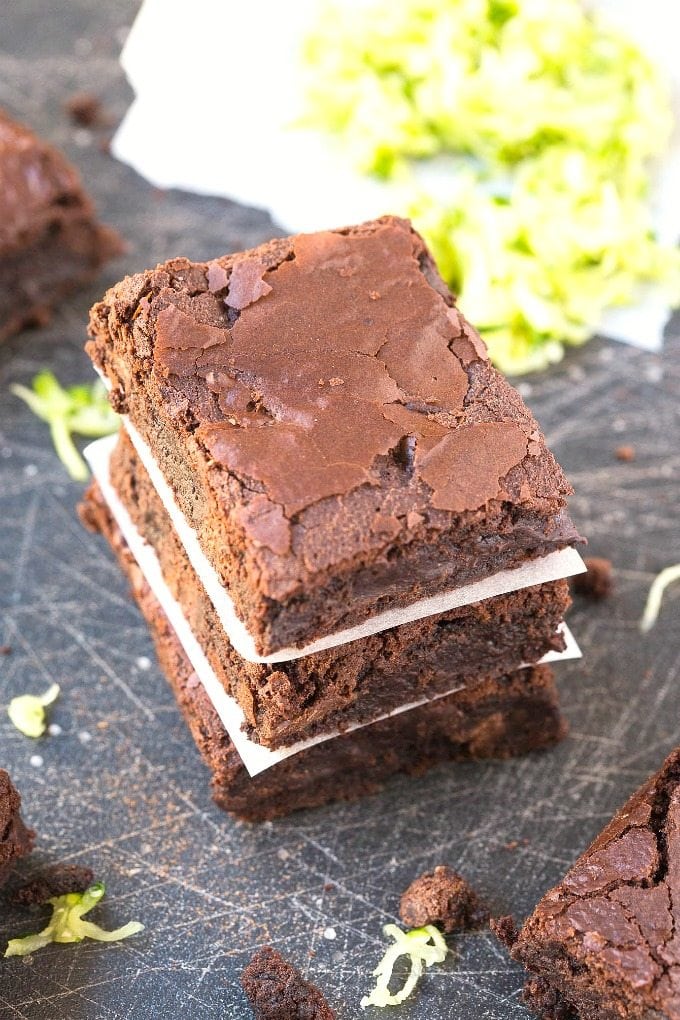 Oh man, shredding zucchini is a pain in my derriere. Not only do you need to shred it finely (to avoid potential greenery revealing itself), you THEN need to squeeze all the moisture out. Furthermore, if you are like me, you'll end up with random green stains on your kitchen bench top.
The only reason why this gets a hall pass is purely for the end result- Sweet, delicious recipes.
Actually, scrap that- It ALSO works on team savory too- These sweet potato and cheddar pancakes and these paleo tuna patties have these shredded greens in them.
BOOM.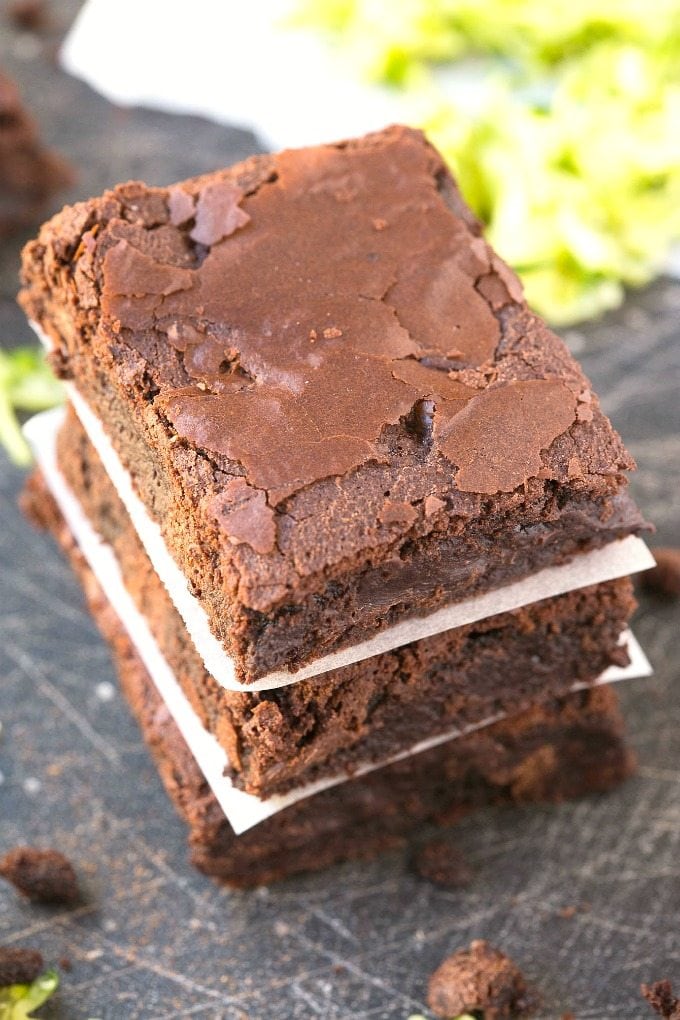 Brownies for breakfast is standard here- No questions about it. Two of my favorite (and most made!) recipes on here are my 4 Ingredient flourless protein brownies and my breakfast brownies. Furthermore, some FLASHBACK #WIAW where I ate them for breakfast with chicken….seriously.
It seemed like the obvious choice was to marry these two together, hire a church and have a wedding. Unfortunately, Fortunately, a threesome evolved and zucchini got into the mix. This rendezvous resulted in today's beauty- Healthy Flourless Brownies using FIVE ingredients featuring the cheeky pot stirrer- Zucchini.
While I am 100% opposed to infidelity, I will totally give the green vegetable a hall pass for this.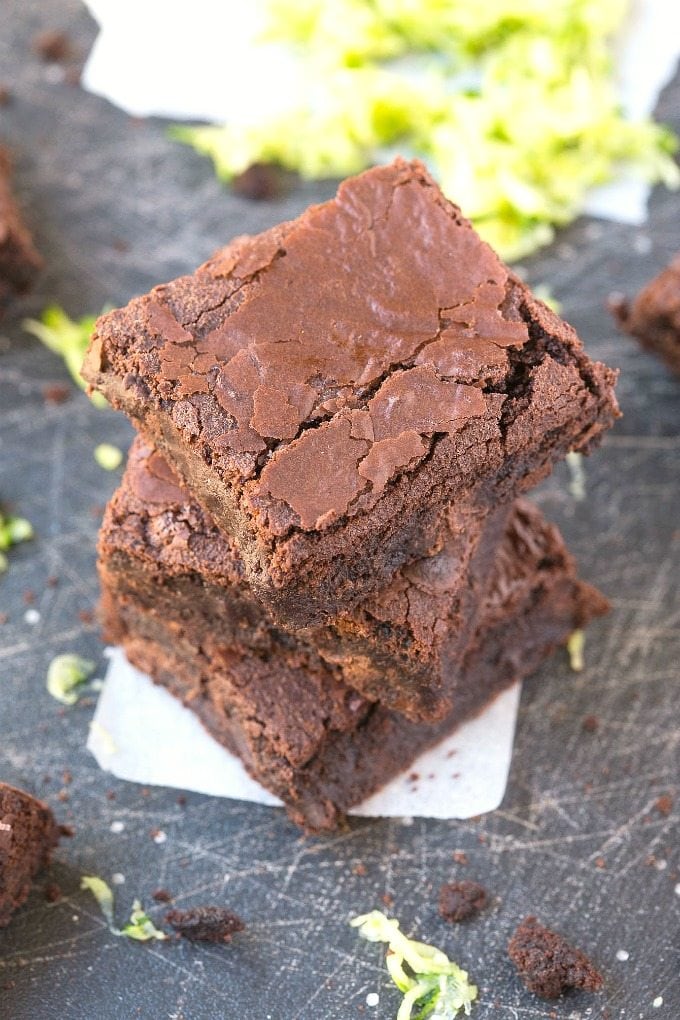 These healthy 5 Ingredient flourless zucchini breakfast brownies are your new favorite breakfast, packing a dose of vegetables too! Unlike traditional brownies, these rich, fudgy and gooey brownies are made with NO butter, oil, grains or flour- Just wholesome ingredients and a pack of protein! You really do only need five easy ingredients for it.
Let's talk ingredient specifics!
I usually make my own almond butter, but this time, I used my standby drippy almond butter, which works SO well for this recipe. I've also used cashew butter before and peanut butter. For those with nut allergies, I've made my original recipe using sunflower seed butter, although the texture is a little denser. If you want a rich, dark cocoa taste, use this cocoa powder. For this particular version, I opted to use a basic cocoa powder. The reason for this was due to my protein powder being chocolate flavored already!
For this protein portion, I used Vega's Clean Protein, which gave it the delicious protein punch and beautiful crackly tops- A hit and miss with many protein powders out there! You guys seem to love this particular protein powder, and tried a fair few recipes on here using it! For more information on Vega's protein powder, be sure to check out this post. Because this recipe uses NO flour or grains whatsoever, it is naturally gluten free, vegan, paleo, refined sugar free and dairy free!
Now let's talk sweetness. I love the natural sweetness of the bananas, coupled with the sweetened protein powder. If you enjoy REALLY sweet desserts, feel free to add some granulated sweetener of choice, like this stevia blend or a liquid stevia. If you are the opposite, feel free to add more cocoa powder, although I'd reduce the baking time AND ensure my bananas are SUPER DUPER RIPE!
HACK! I know I'm going to sound like a broken record, but build a bridge and walk over it 🙂 I want YOU to enjoy the creme de la crumb of textures with this recipe. As such, you'll need to be a little bit patient- Once it's cooked, allow to cool in the pan completely. Once it's cooled, refrigerate it and eat some almond butter while you wait.
Trust me, I'm a doctor it's worth it.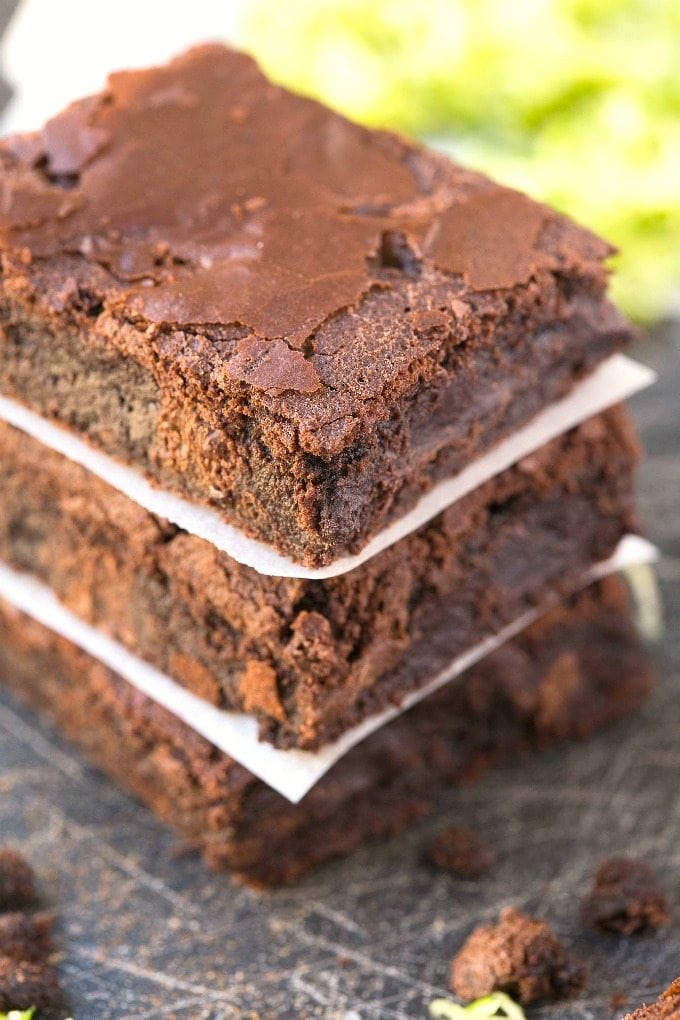 Make these healthy 5 Ingredient Flourless Zucchini Breakfast Brownies and the next time we're getting cranky prepping zucchini in this way, let's think the end result.
An affair to remember.
BOOM.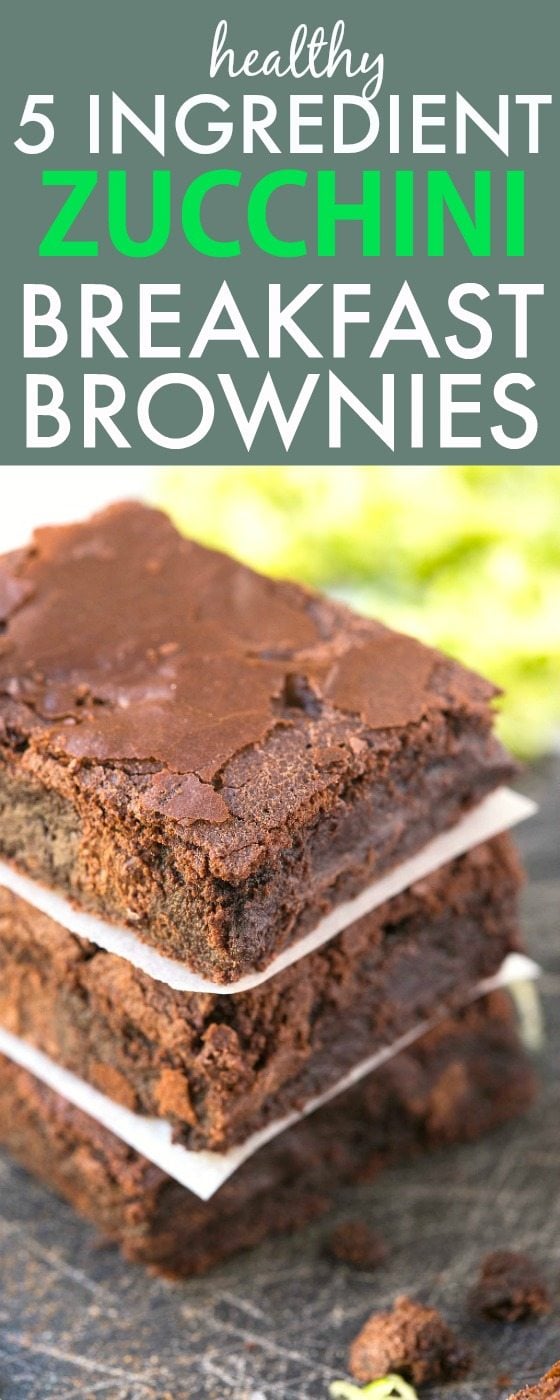 Healthy 5 Ingredient Zucchini Breakfast Brownies
2016-08-05 05:39:26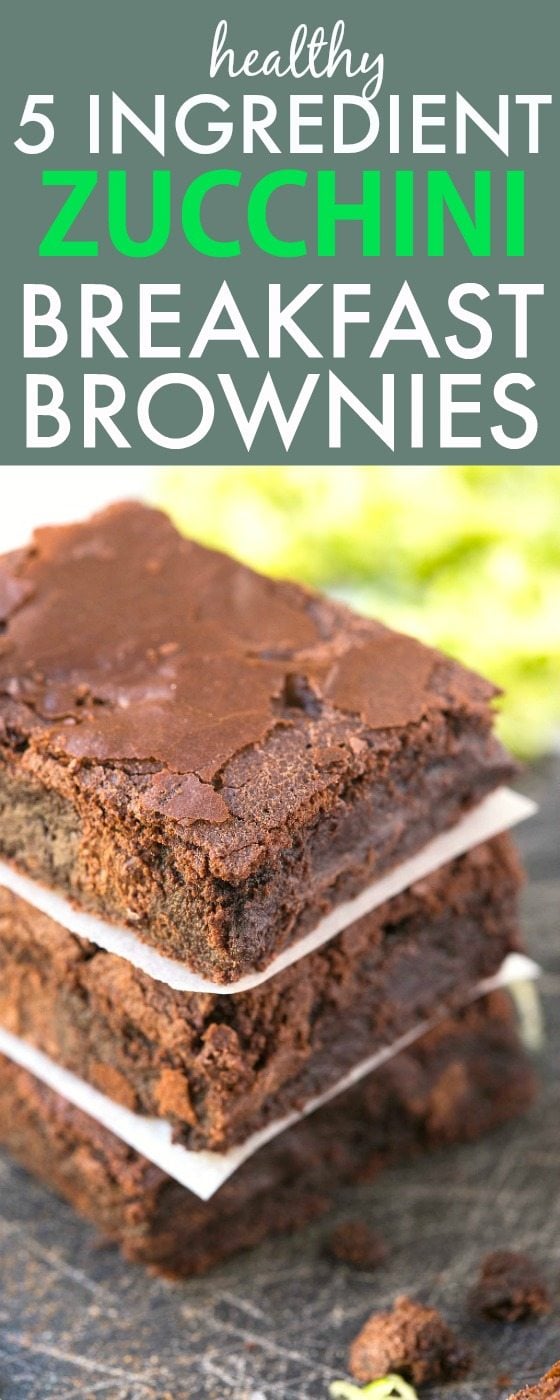 Serves 8
These healthy 5 Ingredient zucchini breakfast brownies are designed specifically for the best meal of the day! Made with no flour, grains, granulated sugar or butter, these moist, gooey and satisfying brownies are naturally gluten free, vegan, paleo and refined sugar free!
Ingredients
2 cups mashed, overripe bananas (approximately 5-6 medium bananas)
1 cup smooth almond butter (can sub for any nut/seed or soy nut butter)
1/4 cup shredded zucchini, with the moisture removed (approximately 1 large zucchini)
1/4- 1/2 cup cocoa powder (more = richer taste)
2-3 scoops of protein powder (see above content for tested recommendations)*
Instructions
Preheat the oven the 350 degrees, grease an 8 x 8 cake pan OR a loaf pan with cooking spray/oil and set aside- For thicker brownies, use a smaller pan.
If your nut butter is thick, melt it slightly in the microwave or stovetop.
In a blender, food processor, or using your hands, combine the mashed bananas, shredded zucchini, cocoa powder, protein powder and almond butter until smooth.
Pour the mixture into the greased pan and bake for around 20 minutes or until cooked through. Remove from the oven and allow to cool completely before slicing into pieces.
Notes
* To up your protein content, feel free to use 3 scoops. If mixture is TOO thick, add an extra 1/4 cup mashed banana.
I used a high speed blender to combine all my ingredients to avoid clumps of banana and shredded zucchini.
It's best to refrigerate brownies before enjoying them. Brownies are freezer friendly.
The Big Man's World ® https://thebigmansworld.com/
More delicious dessert for breakfast escapades? Gotcha covered!
Healthy Blueberry Breakfast Crumble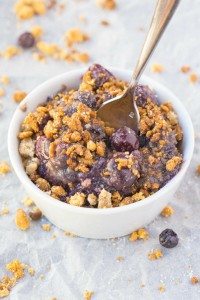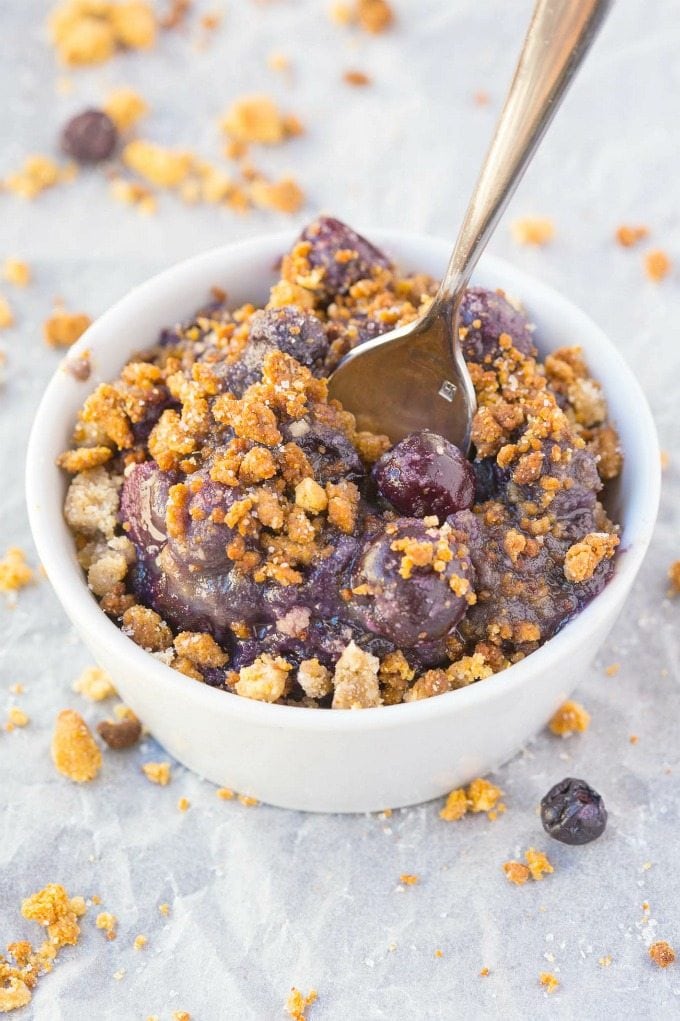 Healthy No Bake Vanilla Breakfast Blondies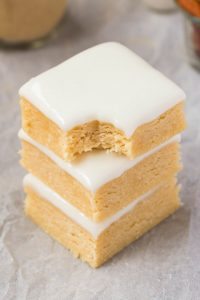 Healthy Almond Joy Overnight Oats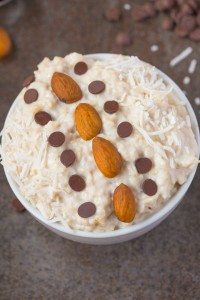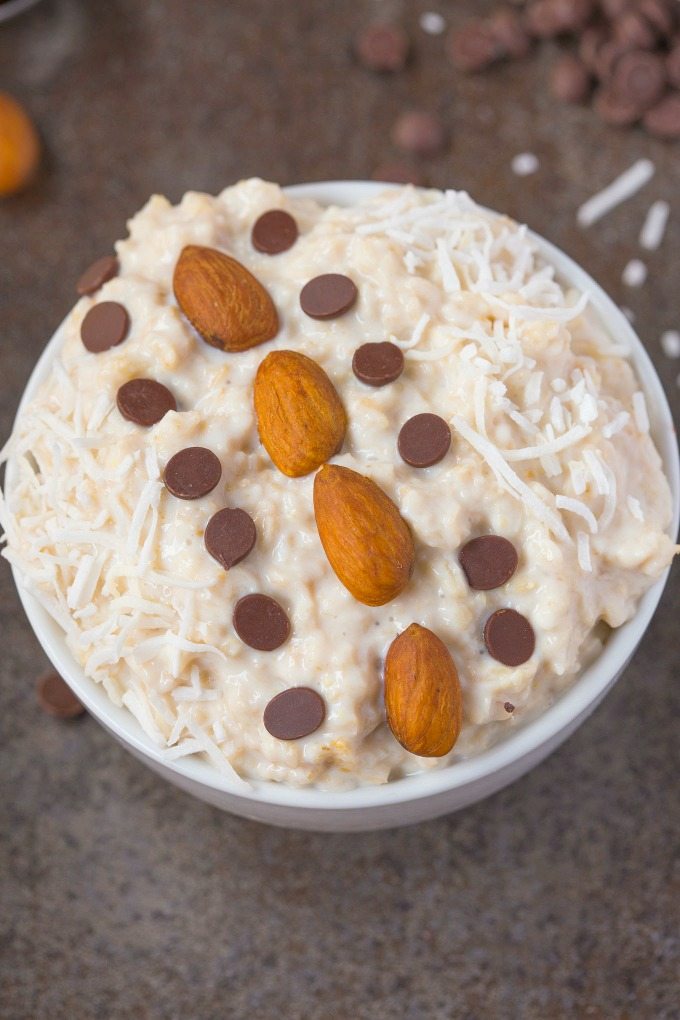 More delicious brownie-like breakfasts? These beauties from around the web will have you salivating!
In Breakfast Bake form.
In Breakfast Cake form.
In no bake bite form.
In Chia Pudding form.
In Breakfast Bar form.
In Oatmeal form.

This is a sponsored conversation written by me on behalf of White Wave. The opinions and text are all mine.
What is your favorite vegetable to prep?
What is your least favorite vegetable to prep?