Whip up a healthy protein packed and low carb breakfast shake in less than 60 seconds! This cool, creamy and milkshake-like smoothie is low calorie, and completely paleo, vegan, keto friendly, gluten free, sugar free and dairy free!

This is a PSA for anyone in the market for buying a smoothie- Bring a cooler filled with ice to test out the product claims.
I've been enjoying this low carb and protein packed breakfast shake for well…breakfast, along with my post-workout beverage lately. I used to lament that I'd rather have a protein brownie or protein bar instead of the shake. However, times have changed.
How?
All thanks to my brand, spanking new blender.
….Which required three prior failed blenders to reach this point.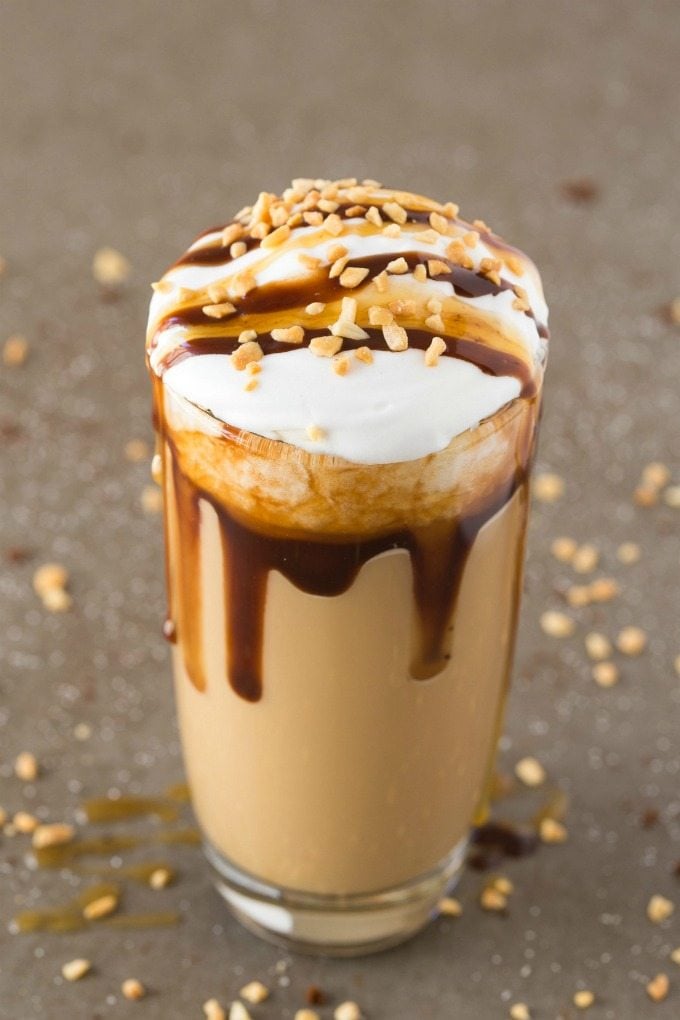 My old blender has been working well. It has lasted me a solid amount of time, especially with it being used very consistently. However, as time went on, the frozen fruit took longer to puree and the nuts never made the smooth status. It was time to upgrade.
Some say you should do your research before investing in a new blender. I did…but then forgot it all once I arrived at the kitchen store! Instead of asking the recommendations of the assistant (I was under the guise that they'd sell me the most expensive brand, along with anything remotely related, included the cushion oranges they had), I simply went to the blender section and had a gander. The key requirements were for it to have the capabilities to blend ice. If they could blend ice, they could blend anything.
The first one I purchased, I took home, cleaned it, added ice and was left with slightly charred ice.
The second one I swapped it for, the blender DIDN'T EVEN MOVE.
The third attempt? Let's just say I smelt some smokey fumes…
ANYWAY.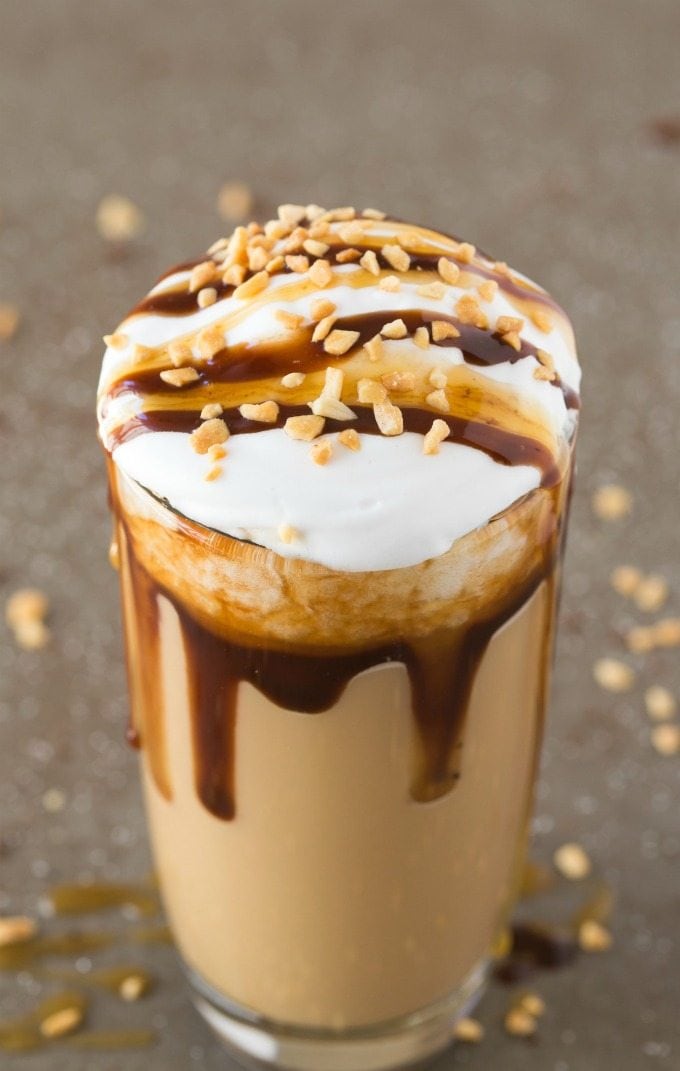 I looked back at my old blender, ready to ask for forgiveness, as my smoothie craving had hit me hard, and a sub-quality blender was better than no blender. I went to plug it in and it started yelling at me (to the tune of Jojo's 'Leave- Get out'. )
"Get out. LEAVE. Right now. IT's the end of you and me. It's too late, and I can't wait for you to be gone"
But I puffy heart you.
"You said that you would treat me right, but it was just a waste of time".
Okay, so my old blender didn't say that, but it may as well have!
I did what any heartbroken soldier would do in such a situation.
I went on youtube. 🙂
I went on youtube to see some live demos of blenders in action and was amazed by what I saw.
Correction. I was amazed at what I saw AFTER I watched an hour of SNL clips, Jimmy Fallon clips and the Real Housewives of Disney. (You're all like stepsisters to me…and not like, the evil kind).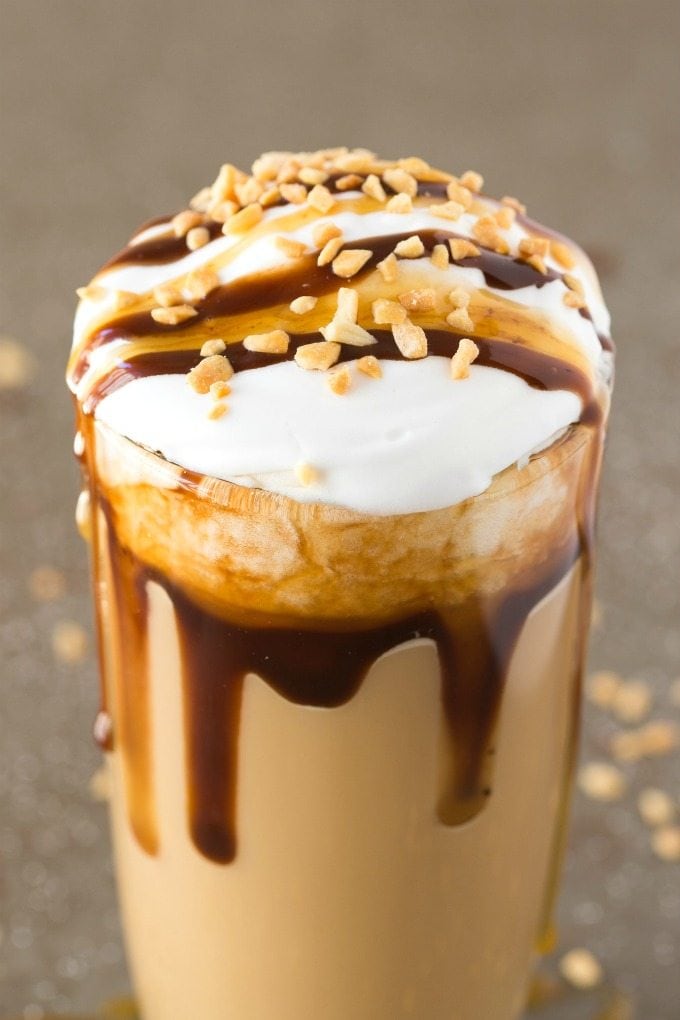 ANYWAY.
After some research and video watching, I finally settled on my current pride and joy and I could not be happier. Unlike the prior three blenders (and my original one), the new one would blend ice within seconds- Something I only thought fruit bars or juice shops were capable of doing. I soon became a little too obsessed with it and started blending everything with ice and milk- Coffee, tea, milk…and then my protein shake.
Soon enough, I had started enjoying protein shakes, purely because of the icing abilities to make a frappe-like beverage. I started playing around with some ingredients, and went a little overboard to recreate one of my favorite candy bars- The snickers! With just a few simple and healthy ingredients, I made my post workout shake taste like dessert.
BOOM.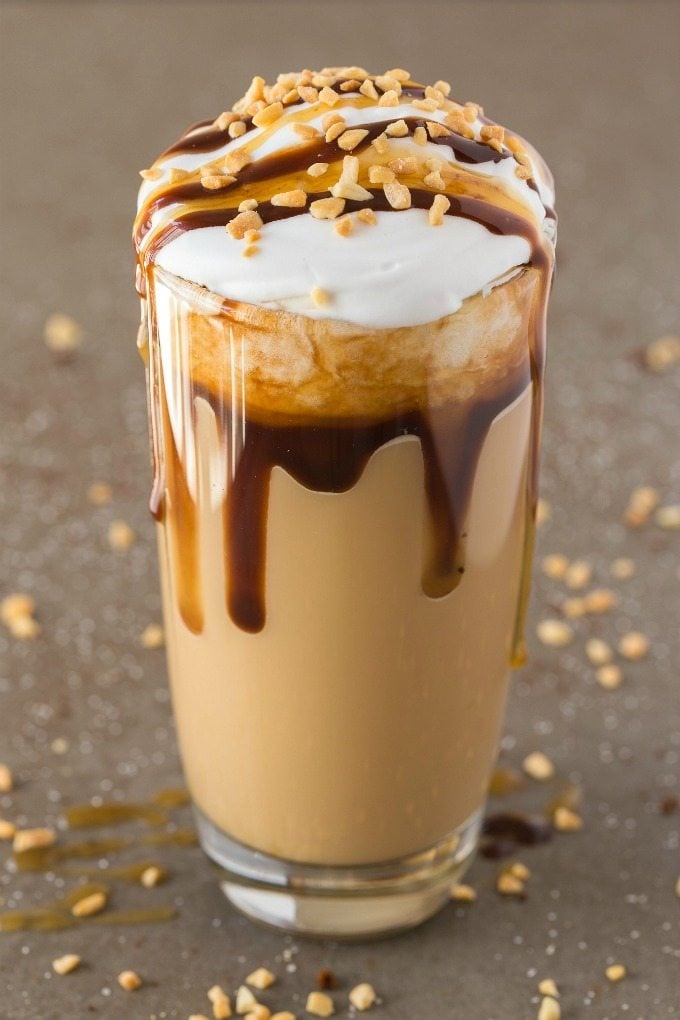 This healthy low carb Snickers Breakfast Shake is just like the infamous candy bar, in a smoothie-like form! It's a quick, easy, filling and satisfying breakfast choice, ready in under 60 seconds! Unlike a traditional snickers candy bar which often leaves you craving sugar, hungry and sluggish, mine does the opposite! Taste wise, this protein-packed shake is cool, creamy and similar to a frappe!
Flavor-wise, it's a delicious combination of peanut butter, a hint of chocolate and some sweet and salty goodness thrown in, along with some homemade whipped coconut cream! Something you'll notice is that this breakfast shake is not super thick, as it uses ice over frozen fruit. This keeps it very low carb, but still filling, thanks to the healthy fats and protein to compensate! I used a combination of salted peanut butter, a touch of good quality cocoa powder and of course, blended with a scoop of vanilla protein powder (I recommend this brown rice one, this casein one or this paleo friendly one).
Even though this recipe has breakfast in its name, it also makes the perfect post-workout drink, snack or even pre-bed sweet treat! Remember my friend who is competing in a figure competition this February? He's been scoffing one down after each workout, only adjusting the nut butter in it to fit his macros! Because of the ingredients used, this filling and satisfying shake is naturally gluten free, vegan, dairy free, sugar-free and paleo friendly too!
For my paleo friends or those with peanut allergies, this works great with using crunchy almond butter and topping it with crushed roasted, salted almonds. For those with nut allergies, I recommend sunflower seed butter and mixed seeds on top!
HACK! For a thicker, ice-cream like shake, feel free to add 1/2 to 1 full frozen banana, or even a frozen sweet potato. I prefer the latter, as it is relatively mild tasting, and doesn't overpower the peanut butter or make the shake too sweet.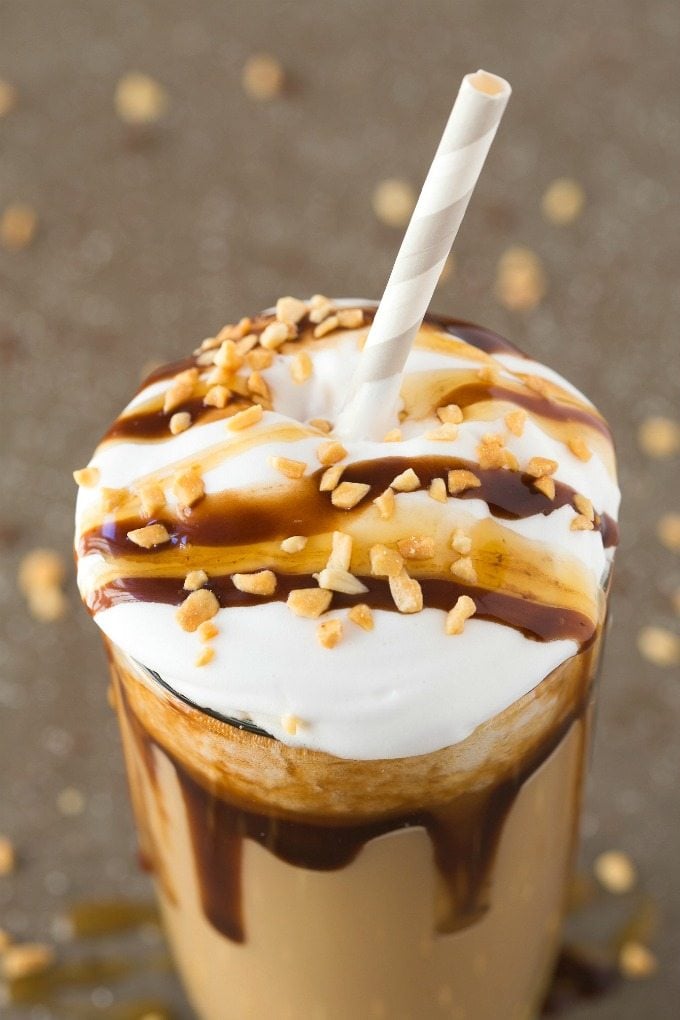 Make this your new quick and easy breakfast choice, as long as your blender has ice crushing capabilities!
PSA #2- Youtube is your friend.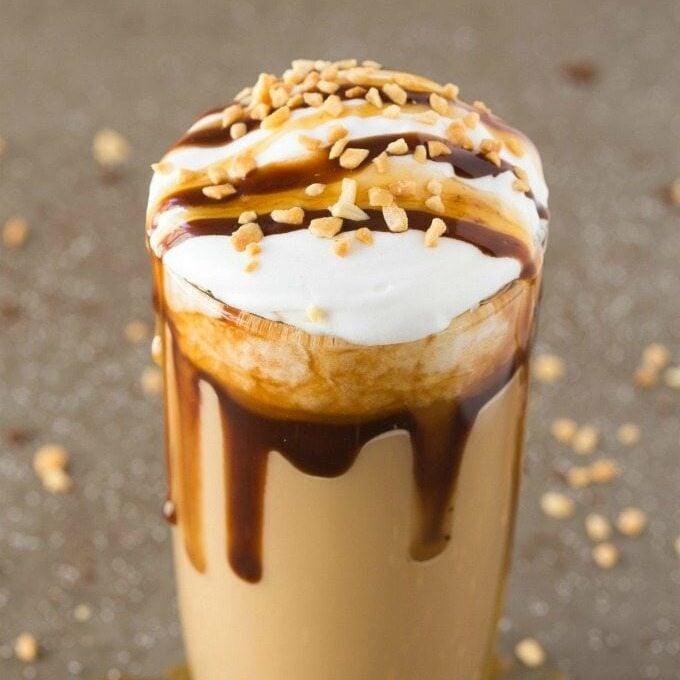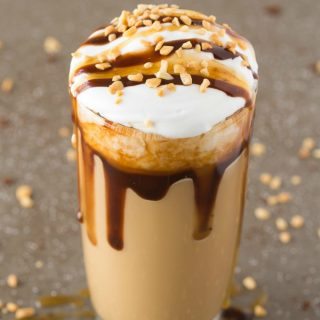 Snickers Protein Shake
Whip up a healthy protein packed and low carb breakfast shake in less than 60 seconds! This cool, creamy and milkshake-like smoothie is low calorie, and completely paleo, vegan, gluten free, sugar free and dairy free!
Instructions
In a high-speed blender, add your ice cubes, protein powder, cocoa powder, vanilla extract and peanut butter. Add your milk of choice.

Blend until ice is completely crushed. Pour into a tall glass and top with whipped topping, before drizzling with chocolate, caramel and crushed peanuts.
Notes
* Can substitute for any nut butter or omit- However, it won't be as satisfying/filling.
Nutrition
Serving:
1
Shake
Calories:
125
kcal
Carbohydrates:
4
g
Protein:
13
g
Fat:
7
g
Sodium:
200
mg
Potassium:
113
mg
Fiber:
2
g
Sugar:
2
g
Vitamin A:
3
IU
Vitamin C:
3
mg
Calcium:
189
mg
Iron:
1
mg
NET CARBS:
2
g
More delicious low-carb breakfasts? Gotcha covered!
Healthy Low Carb Nutella Breakfast Pizzas
Healthy 1 Minute Hot Chocolate Mug Cake
Healthy Low Carb Vanilla Waffles
Healthy Thick and Fluffy Low Carb Pancakes

Disclosure: This post may contain affiliate links. I may earn a small commission for my endorsement, recommendation, testimonial, and/or link to any products or services from this website.