Healthy No Bake Applesauce Brownies- Thick and fudgy raw brownies which are completely paleo, vegan, gluten-free and low carb. These no bake brownies are the guilt-free snack or high protein dessert to enjoy!
A show-stopping, easy snack or dessert which requires no baking, no oven and less than 15 minutes prep? Say hello to these healthy no bake applesauce brownies!

These healthy no bake brownies have all the best features of a classic raw or baked brownie. They are thick, chewy, fudgy and loaded with chocolate flavor. Unlike traditional brownies, they contain no butter, no oil, no processed sugar and don't need to be enjoyed in moderation.
In fact, these no bake brownies could technically be a wholesome breakfast- Low carb, high-protein, refined sugar free and suitable for those following a paleo, vegan, gluten free, sugar free, dairy free and grain free lifestyle.
Let's talk about this magical ingredient of the day- Applesauce.
When it comes to adding applesauce in recipes, brownies aren't something which often comes up.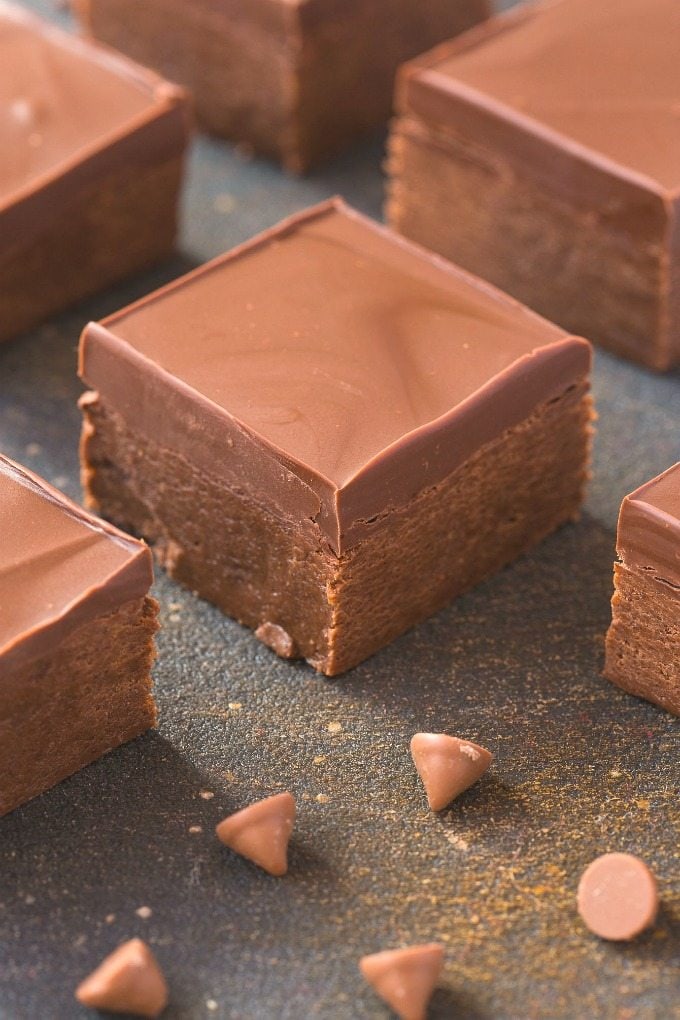 Looking through my recipe archives, they've made their way into fluffy apple pie pancakes, low-carb waffles and in many no bake bars and no bake bites. In fact, they've already made in in super fudgy brownies.
It was time for them to get the raw, un-baked treatment.
Many of my readers currently reside in the northern hemisphere and as such, are making me envious loading up on a plethora of apples! During my time spent on the East coast of the US, I went fruit picking, including visiting apple orchards.
Coming home with pounds of apples, I knew snacking on them and making a fun cake or two would barely make a dent. There was only one thing to do- Make applesauce!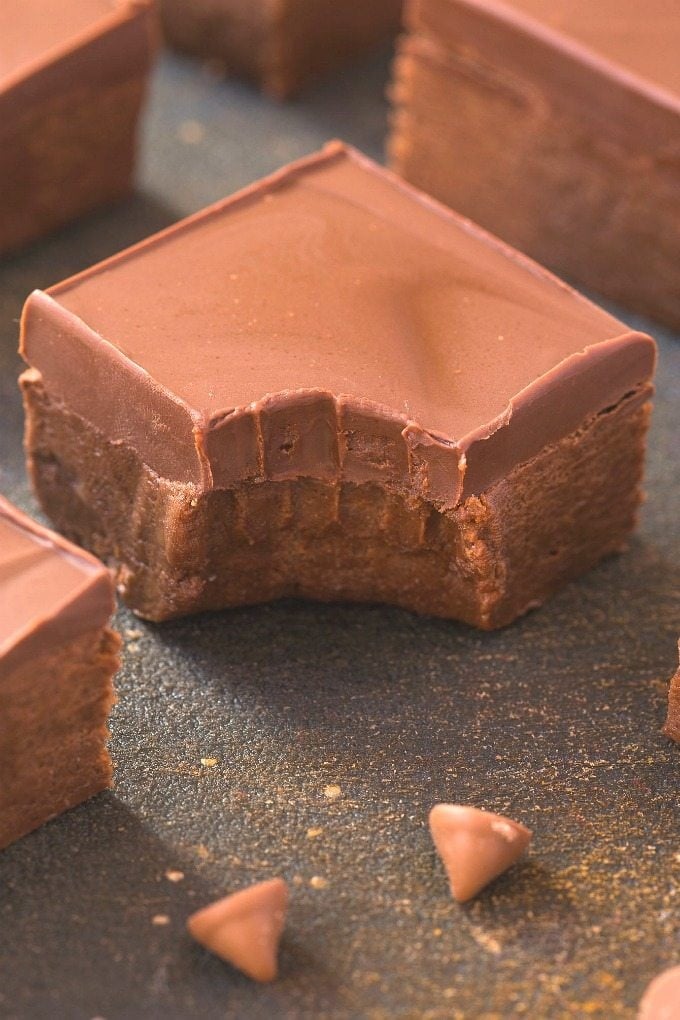 Making your own applesauce kills three birds with one stone. Firstly, you'd use up a TON of apples, without the previous volume. Secondly, you can refrigerate a batch for immediate use and freeze the rest. Thirdly, homemade applesauce is like free perfume for your house. Well, unless you don't like apples in which case you can't sit with us.
Unsweetened applesauce is one of the most versatile ingredients. It can be used to replace oil in many recipes, without compromising on texture. In some recipes, they can completely replace eggs. In others, they can add necessary moisture, without an overriding taste. Or, you could do what I do for these no bake brownies- Use it for all of the above!
Saying all of this, not all of us have the time to make homemade applesauce. Luckily, many store-bought brands now have completely natural and sugar free varieties with just one ingredient- apples! You can either buy a huge jar for multiple recipes or my favorite hack- Buy the applesauce snack cups. I prefer the latter, as they are an even half cup portion- The perfect amount of applesauce in many of my recipes!
Today's no bake brownies recipe is based off another one of my favorite brownie recipes. Unlike the inspiration, I didn't use sweet potatoes but used the applesauce so the chocolate flavor could really be evident. They also were even fudgier and with a more distinct chocolate taste!
Long term readers know that quick and easy brownies are a must, so this goes one better- No baking required. You literally need one bowl (or two, if you want to be fancy) and less than 10 minutes preparation.
The hard part is waiting for the brownies to firm up, but I have you covered- While they are firming up (literally need 10 minutes for that), you'll be making one of the optional but not really optional frostings. You can either do the protein-packed frosting, the coconut ganache frosting (15 oz coconut milk and 15 oz chocolate, melted!) or the easiest of them all- Melt your favorite chocolate bar over the top.
I WOULD technically have another frosting recipe to share with you, but I'm still tweaking that so fingers crossed it will be shared in the coming week or so!
With all that said, these no bake applesauce brownies are super fudgy and SO good, you don't even NEED to frost it. In fact, if you do omit the frosting, these no bake brownies can easily be enjoyed as no bake paleo protein bars or a peanut-free snack to throw in your lunch box.
Actually, I take that back. They can both be done with frosting too. I mean, just watch the video below and you'll see!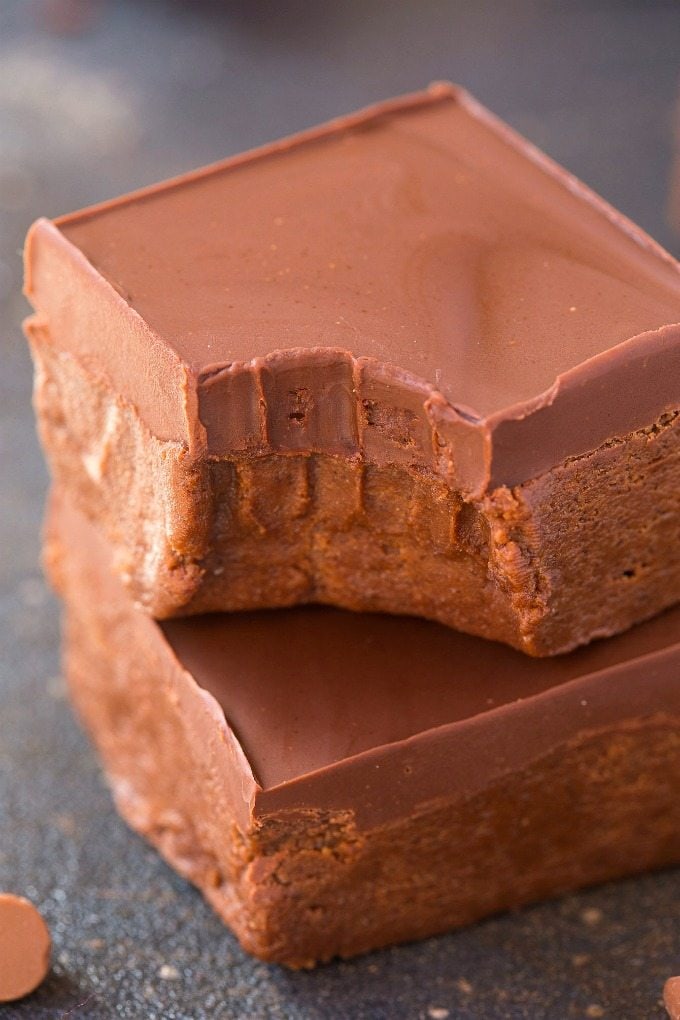 Guilt-free brownies requiring no baking and the perfect use of applesauce? These are your answer. Set 15 minutes aside and get ready for a new use for all those apples…with a bonus guilt-free chocolate fix!
Healthy No Bake Applesauce Brownies recipe video!

Healthy No Bake Applesauce Brownies (Paleo, Vegan, Gluten Free) adapted from No Bake Breakfast Brownies.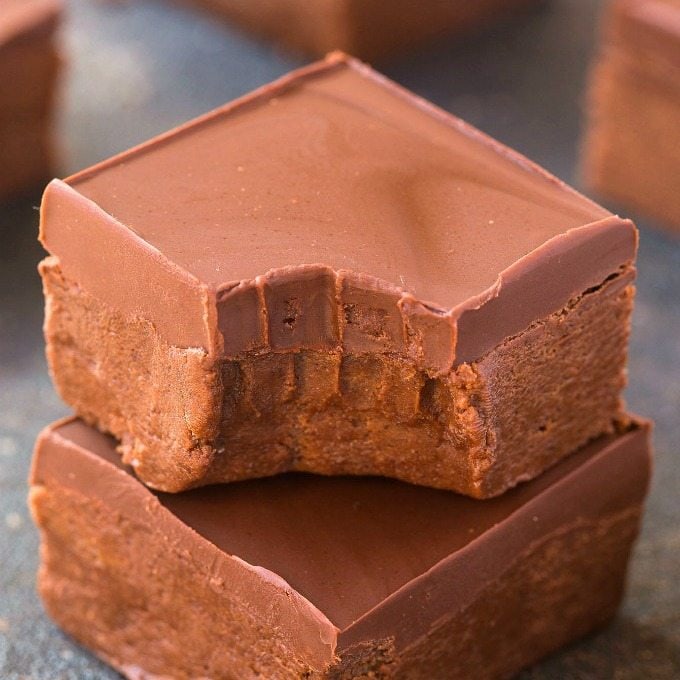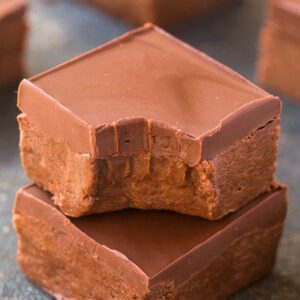 Healthy No Bake Applesauce Brownies
Healthy No Bake Applesauce Brownies- Thick and fudgy raw brownies which are completely paleo, vegan, gluten-free and low carb. These no bake brownies are the guilt-free snack or high protein dessert to enjoy!
Instructions
Line an 8 x 8 inch or 10 x 8-inch baking pan with parchment paper and set aside. For thicker brownies, opt for the smaller pan. Alternatively, you can use any loaf pan.

In a large mixing bowl, add your dry ingredients and mix well. In a microwave-safe bowl or stovetop, combine your almond butter with sticky sweetener of choice. Heat until melted.

Pour over the dry mixture and mix until a crumbly texture remains. Add your unsweetened applesauce and mix until a thick batter is formed. If too crumbly, add some milk or liquid to achieve desired texture. Transfer to lined pan and press firmly in place. Refrigerate.


While no bake brownies are firming up, prepare your frosting of choice (protein frosting, coconut ganache or melting your favorite chocolate bar). Pour frosting over the raw brownies and refrigerate until firm. Once firm, cut into bars.
Notes
Protein powder is optional- If you do use it, you may need an extra tablespoon or two of applesauce and/or milk of choice.
No Bake Applesauce Brownies should be kept refrigerated but can be frozen. For fudgier, gooey brownies, enjoy at room temperature.
Nutrition
More No Bake recipes? Gotcha covered!
Healthy No Bake Pumpkin Pie Bars
Healthy No Bake Cookies and Cream Protein Bars
Healthy 3 Ingredient Keto Cups
No Bake Flourless Breakfast Brownies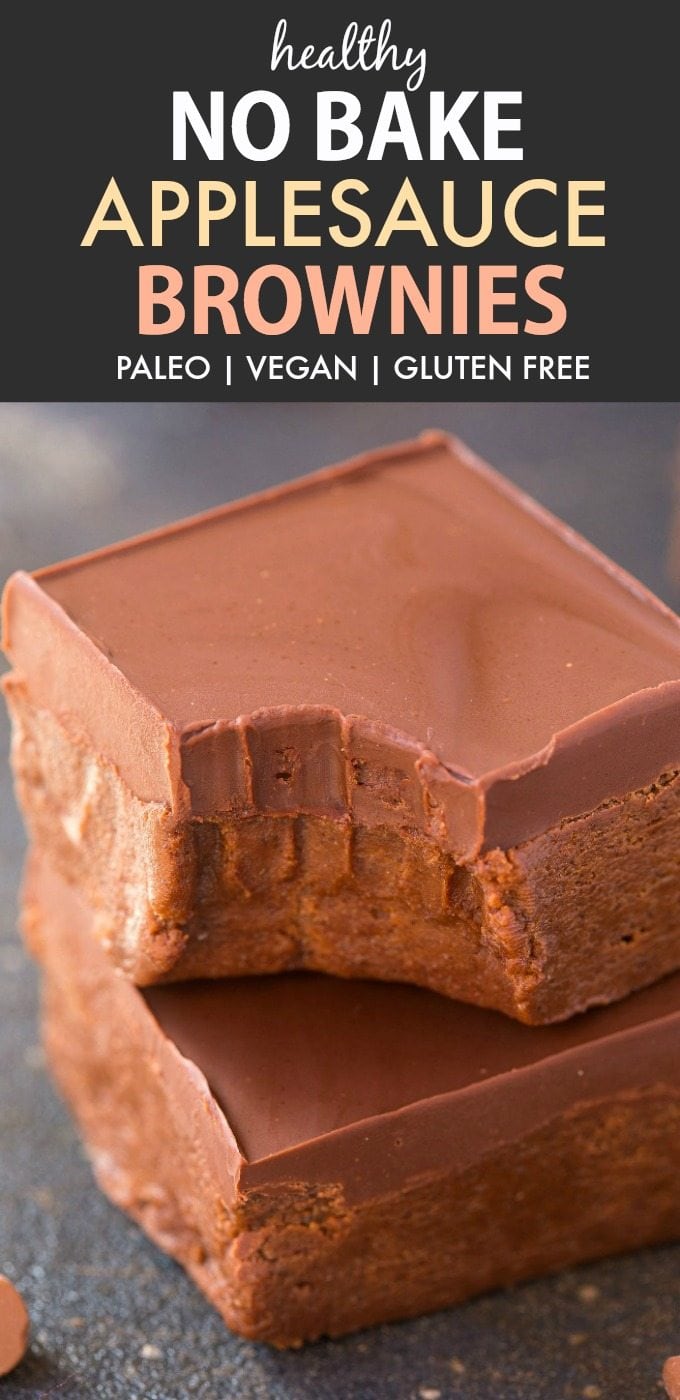 Disclosure: This post may contain affiliate links. I may earn a small commission for my endorsement, recommendation, testimonial, and/or link to any products or services from this website.