One of the world's most favourite chocolates gets a healthy makeover which is paleo, vegan and gluten free! These Healthy No Bake Ferrero Rocher Bites are so easy to whip up and a smart snack or healthy dessert treat!
"Kathy brought over a box of Ferrero Rocher's and mum and I opened them last night."
"….so?"
"Well, I took one, left it on the couch to go upstairs and came back a while later and mum was sitting where I was."
"….so?"
"Well you know how fragile those chocolate are, mum sat on it and it stuck on her."
"That is AWESOME."
"Yeah, mum was even wearing her new work pants too."
"Why do I always miss the good stuff happening?"
"Your loss."
No, Niki. It's Your loss. Why? I made my own.
I'm sorry if all my posts either seem to be no bake recipes, sweet recipes, breakfast ideas (which are sweet) or the soap opera called 'Keeping up with the Liew-dashians.' Actually, I take that back, minus the last bit. I'm not sorry that my recipes are mostly sweet, breakfast designated or no bake- That's what the majority of readers seem to enjoy and I enjoy making them. That, my friends, is win-win.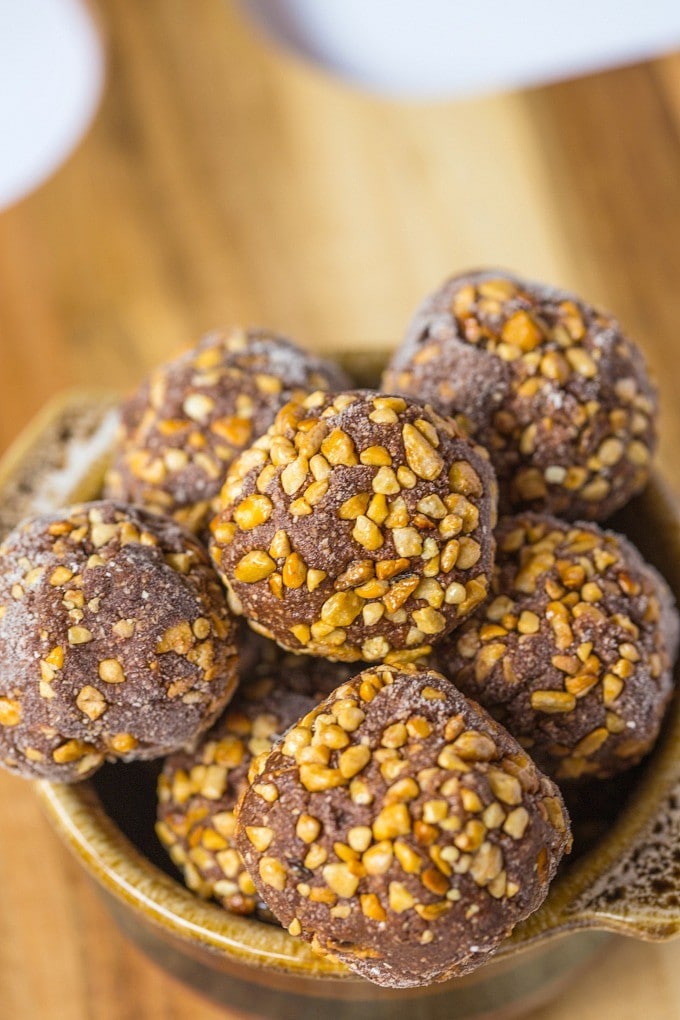 After my recent newsletter, I had quite a few readers email saying while they enjoyed the recipes, they really enjoyed the banter between my sister and I and would love for it to be incorporated more. As much as I don't want to discuss Niki consistently on here (says the guy who asked her to keep a food diary for Monday's post), she's one I converse with on a pretty consistent basis….okay fine every day.
Niki and I have a random sibling relationship. If someone were to scroll through whatsapp or iMessenger, they would find pictures of Persian food, Panda, serious heart to hearts about family dramas and of course, amazing unfortunate things that happen to my mum. She's the person I can literally message any time of the day and get a reply back 50% of the time- The other 50% she's either eating (most true), curling her hair (half true) or posing (accurate to a T). Actually, 1% is eating and curling and 49% is posing. What can I say, she is a Liew-dashian.
The Ferrero Rocher scenario (or should we call it, Ferrero-Gate circa Janet Jackson at the Superbowl) is one of many situations we giggle over at my mum's expense. It was not what inspired this recipe but reminded me of it as I got to making it. Last year, I shared a Copycat Lindt Truffle and made the executive decision to give Ferrero Rocher AND Raffaello chocolates the same treatment- Healthy style.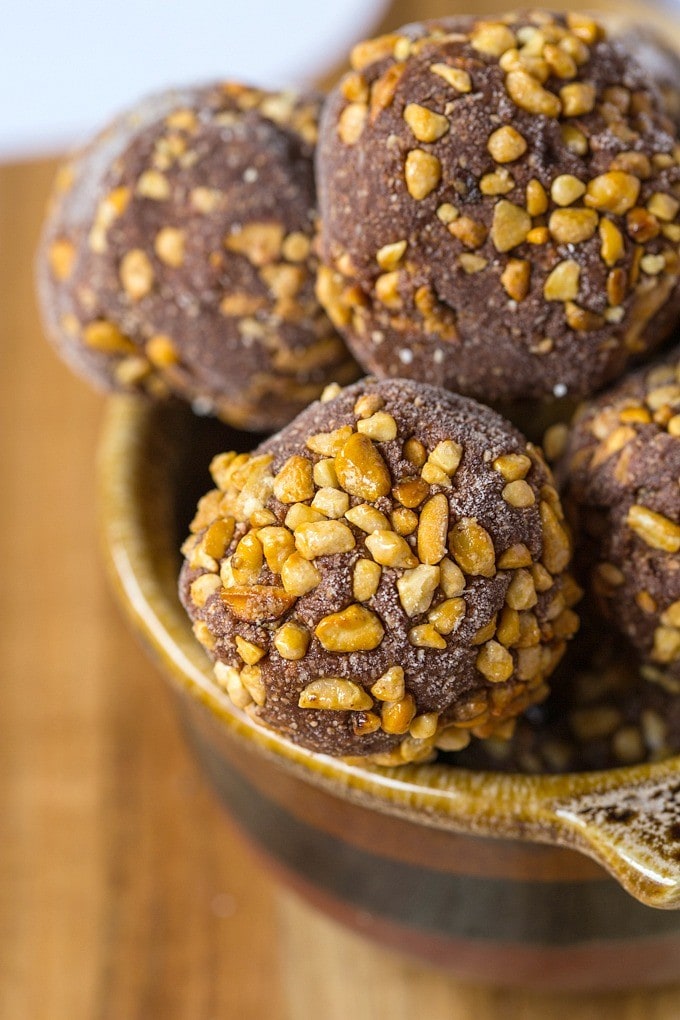 These Healthy No Bake Ferrero Rocher bites have everything a classic Ferrero Rocher has, but is the perfect snack or healthy dessert to have anytime. It's ridiculously easy to whip, they'd even make a deceptively healthy treat to gift others too! Unlike the original Ferrero Rocher, these are diet friendly to those who follow a paleo, vegan, gluten free or dairy free diet. I tried to replicate the taste and texture as accurately as possible and minus the wafer like shell- It's all there!
For this recipe, I tried it out twice- One with oat flour (not paleo) and one with coconut flour (paleo). For the paleo version, you'd need to add more liquid. I used my homemade paleo 'nutella' but for those who don't have a blender or short on time, you can sub it for hazelnut butter (not paleo) or even almond butter (it's mild enough and closest to the hazelnut butter). While I love this dark cocoa powder, I suggest using this cocoa as it provides a delicious, chocolate taste perfect for these bites.
Something even mother dearest would appreciate- Unlike the inspiration, these will NOT stick to your pants if you sit on it. Trust me, I tried it out. Consider it product testing.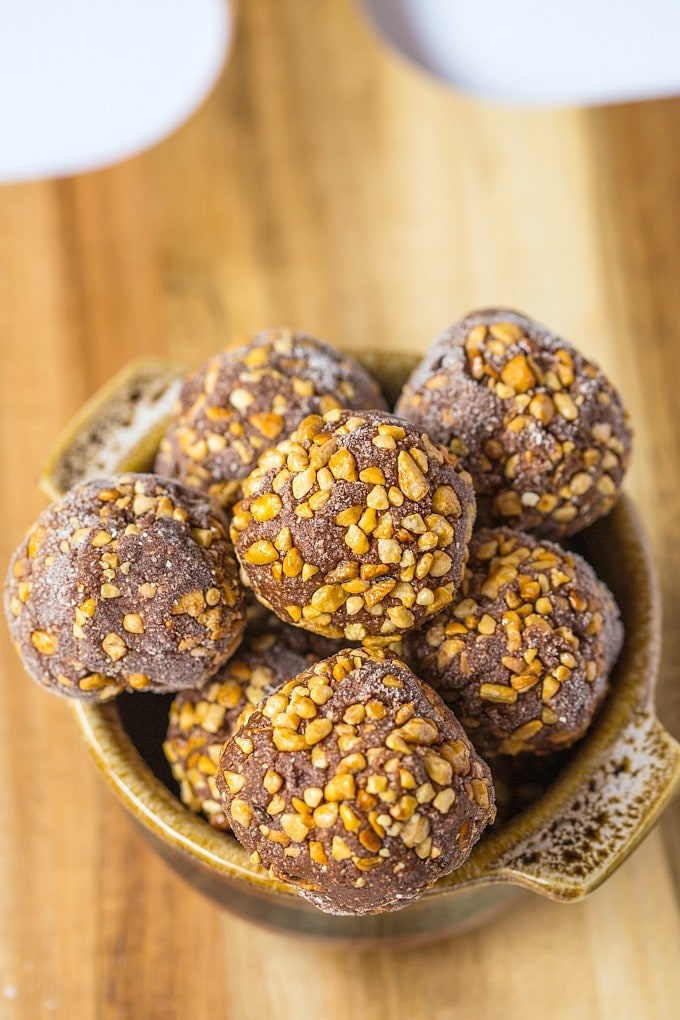 Make these healthy No Bake Ferrero Rocher bites and I promise you posts moving forward will NOT start with 'Previously on the Liew-Dashians…..'
or maybe.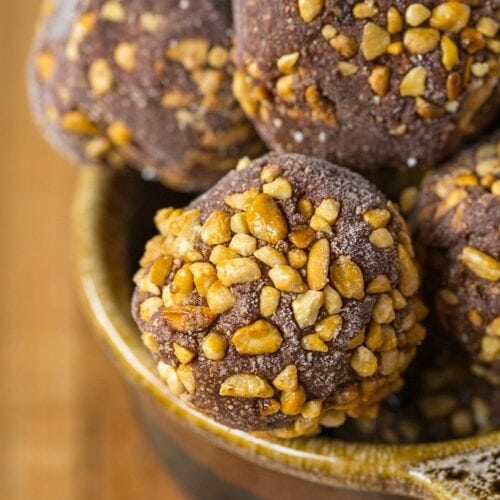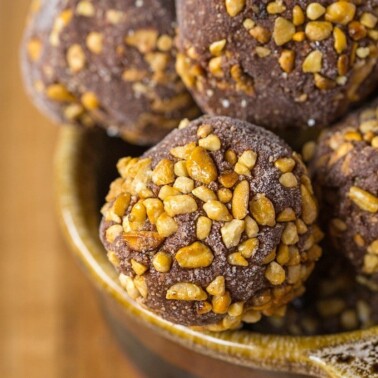 Ferrero Rocher Recipe
One of the world's most favourite chocolates gets a healthy makeover which is paleo, vegan and gluten free! These Healthy No Bake Ferrero Rocher Bites are so easy to whip up and a smart snack or healthy dessert treat!
Ingredients
1

cup

gluten free oat flour

1/2

cup

cocoa powder

1/4

cup

granulated sweetener of choice

I tried it with coconut palm sugar and a baking stevia blend**

1

scoop chocolate protein powder

optional***

2

tablespoon

chopped caramelised hazelnuts

see recipe below post

1/2

cup

homemade 'nutella' or hazelnut butter

can sub for any nut butter

1/4- 1/2

milk

10-15

whole hazelnuts

Chopped caramelised hazelnuts

see recipe below post
Instructions
Line a large plate with baking paper and set aside.

In a large mixing bowl, combine the oat flour, cocoa powder, sweetener of choice, protein powder if using it and chopped hazelnuts and mix well.

In a microwave safe bowl or oven the stove, melt the hazelnut butter. Pour the hazelnut butter over the dry mixture and mix until it is crumbly. Using a tablespoon, pour the dairy free milk of choice until the batter is firm but mixable (try to aim for them to be on the stickier side).

On a large plate, cover with the chopped caramelised hazelnuts and set aside.

Using your hands, form into small balls. Add a single hazelnut into the centre of each ball and roll in the chopped hazelnuts until completely covered and no longer sticky. Repeat the process until all the batter is used.

Freeze for at least 20 minutes or refrigerate for an hour.
Notes
* For paleo version, use coconut flour OR a blend of almond and coconut flour
** Adjust to desired sweetness
*** Do not use straight whey- It makes the mixture very difficult to form into balls
**** Depending on the flours used and protein powder used, you may need more or less. With the paleo version, I used over a full cup.
Bites can be left at room temperature but will be soft. Best kept in the fridge or freezer and slightly thawed.
Nutrition
Serving:
1
serving
Calories:
22
kcal
Carbohydrates:
6
g
Protein:
1
g
Fat:
0.5
g
Sodium:
1
mg
Potassium:
55
mg
Fiber:
1
g
Sugar:
3
g
Calcium:
5
mg
Iron:
0.5
mg
NET CARBS:
5
g
Copycat Lindt Truffles (Vegan, Gluten Free)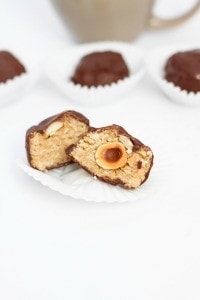 Copycat Subway White Chocolate Macadamia Nut Cookies (Gluten Free)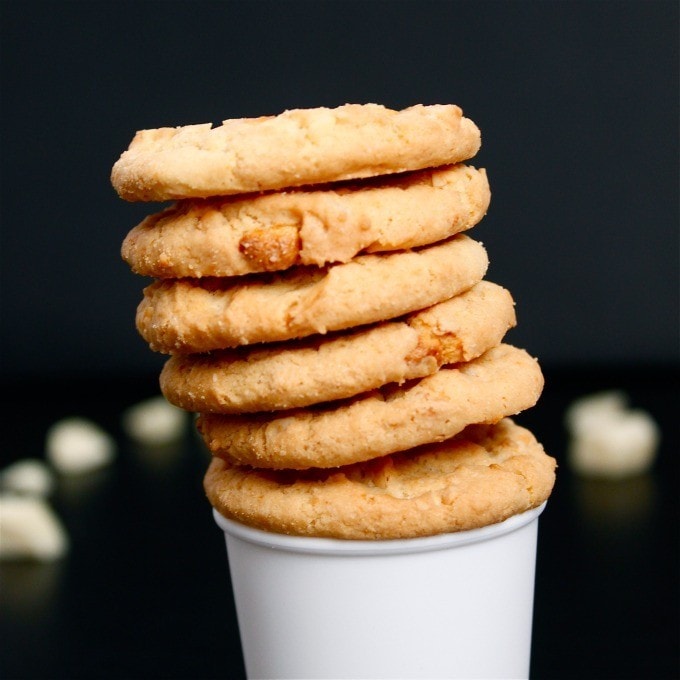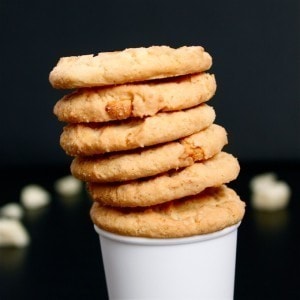 Disclosure: This post may contain affiliate links. I may earn a small commission for my endorsement, recommendation, testimonial, and/or link to any products or services from this website.