Healthy No Churn Workout Protein Ice Cream (Paleo, Vegan, Gluten Free) made with just three ingredients. Enjoy this quick and easy blender ice cream either hard scoop or soft serve style. It is also dairy free, low carb, keto friendly, and sugar free. 2 grams net carbs per serving.
If there is one food I will never EVER get sick of, it is ice cream. If that means I need to incorporate it multiple times a day in various disguises, you bet I will do it…especially if it means replacing my post workout protein shake with it.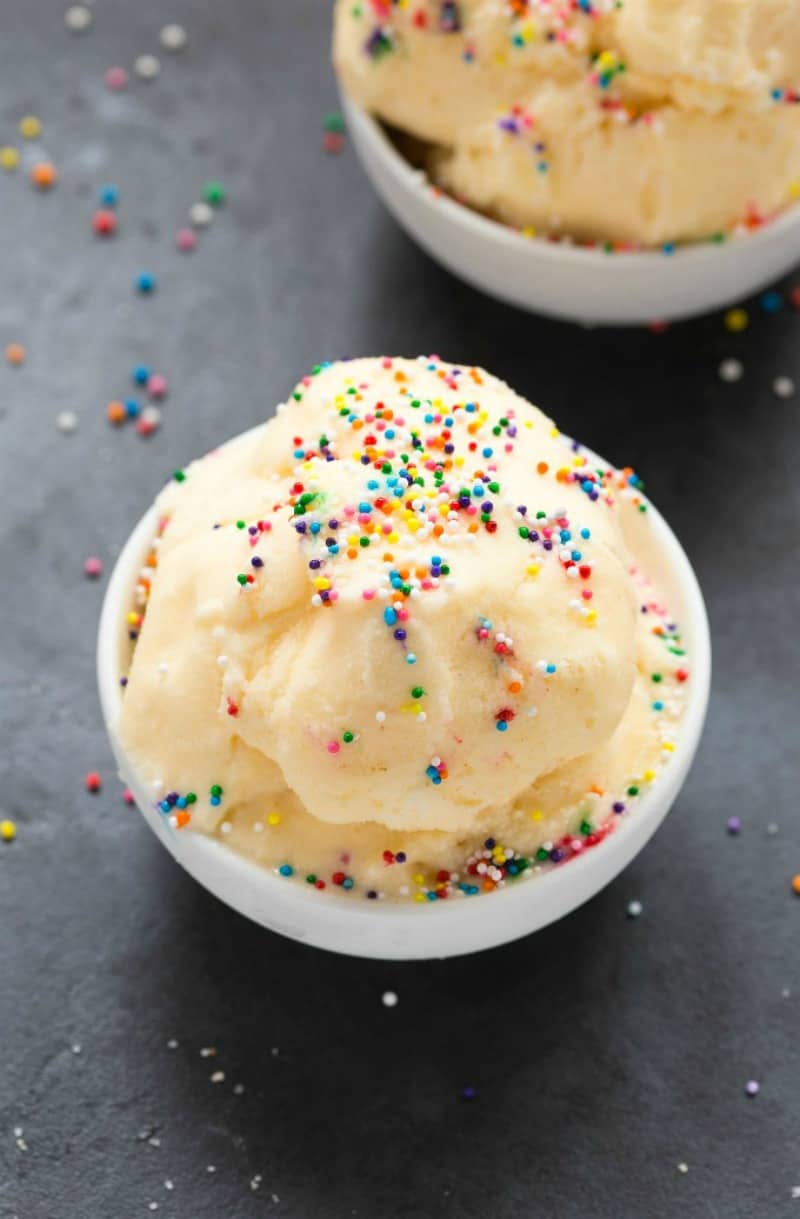 The market is currently saturated with a plethora of protein ice creams, pints of low calorie and low sugar dairy treats and frozen desserts based off of protein powder. While there are some which actually are quite tasty, I think we can agree that the price is definitely not.
Halotop, Arctic Zero, and even house brands are all coming out with more and more high protein ice cream flavors, but what I told you that you could easily make your own?
For all the times we crave a frozen dessert but want to be a little bit healthy, they are great. However, I want to show you that you can EASILY make it right in the comfort of your own kitchen. You don't need an ice cream maker or a plethora of hard to find ingredients. You don't need to spend heaps of money to enjoy a small serving.
High Protein Ice Cream
This healthy 3 Ingredient Workout Protein Ice Cream is your answer. It needs just three ingredients, a basic blender and space in your freezer for multiple batches because it is THAT good. It is also suitable for those following a vegan, paleo, dairy free, ketogenic, and sugar free diet.
Did I mention just how EASY and simple it is?
This is the kind of ice cream you can eat before a workout, post workout, or have in between meals. You can enjoy it guilt-free and with a generous portion that other brands of ice cream would scoff at. It can be enjoyed hard scoop style (my favorite!) or enjoyed soft serve or frozen yogurt smooth style.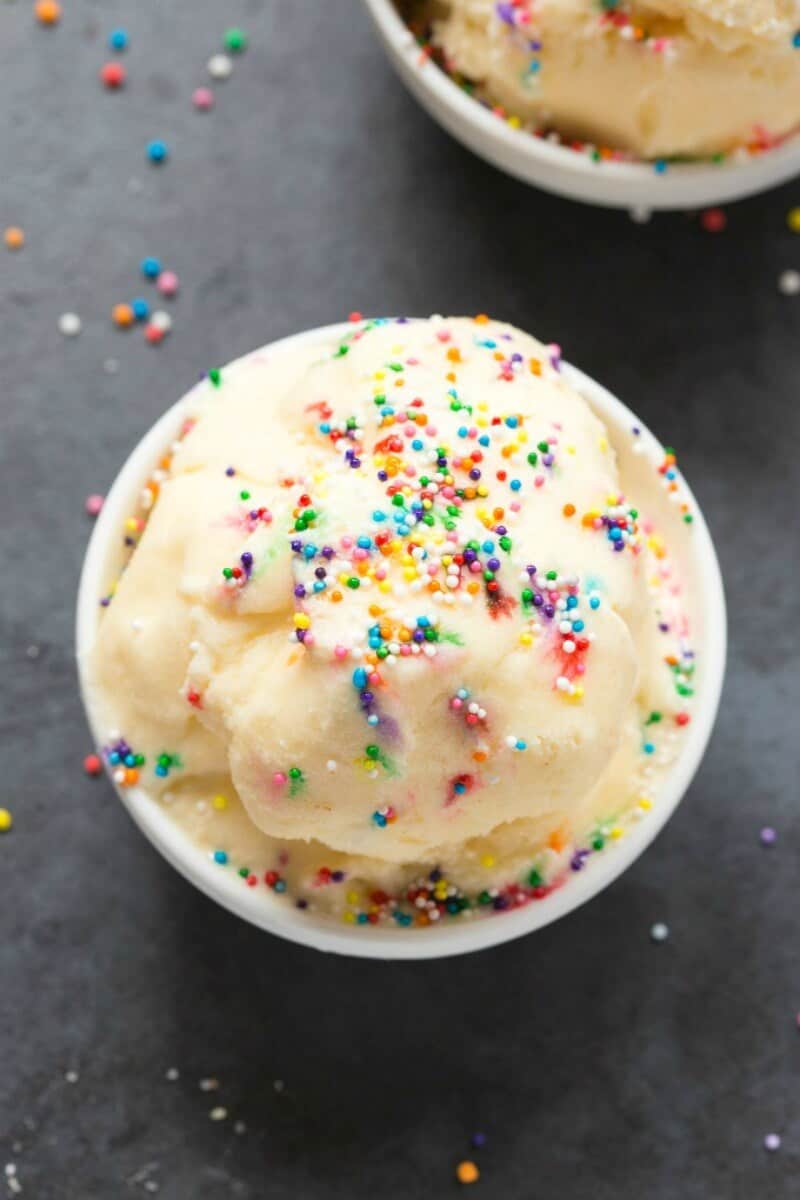 How to make protein ice cream
The Ingredients
Full Fat Coconut Milk– Gives the ice cream that ultra creamy and smooth texture, instead of icy. Ther higher fat content also helps the ice cream be scoopable, something many homemade ice creams lack! The coconut milk must be from a can and must be chilled prior.
Protein Powder– What makes this ice cream secretly healthy! I opted to use a vanilla protein powder, but use any flavor you enjoy.
Granulated Sweetener of choice OR dates-There is the option to use either dates or a granulated sweetener of choice, to add sweetness. To keep this workout protein ice cream completely sugar free, use the latter. I find that this monk fruit sweetener works best, as it has no bitter aftertaste and a similar consistency and texture to white sugar.
Vanilla extract- Optional, but enhances the vanilla flavor. Omit if you are making another flavor.
The Instructions
Place a loaf pan in the freezer, for at least an hour before you plan on making the ice cream.
To start, you'll need to add your chilled coconut milk into the blender and blend for just a minute or two. You want the texture to be silky and smooth. The reason for chilling it prior is to ensure the cream separates from the liquid. The entire can will be used, but it really helps with consistency.
Add your protein powder and sweetener (or dates) and blend until smooth and creamy.
Transfer to the loaf pan and place in the freezer. For the first hour, stir the ice cream every 20 minutes, for a total of 3 times. Then allow the ice cream to freeze properly.
Remove the protein ice cream from the freezer 10-15 minutes to thaw slightly. Scoop out into bowls and enjoy.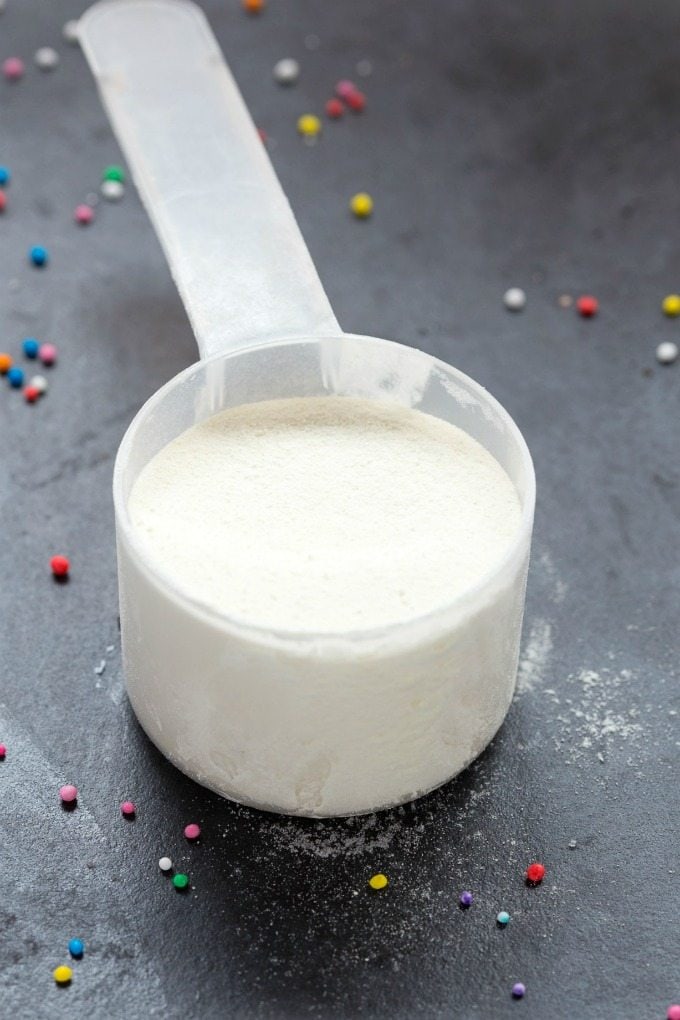 Protein Ice Cream Tips
Please ensure that you use full-fat coconut milk over light or low-fat varieties. The latter will yield a very icy consistency, and be very difficult to scoop.
Pre-freeze the loaf pan before adding the ice cream mixture in it to freeze. It will help the ice cream freeze more evenly.
If you want to use another milk or non-dairy milk, you'll need to add a frozen banana or frozen fruit of choice to be able to scoop it. You can even just use straight fruit and omit the liquid completely.
Using the correct protein powder is key, as different brands and different kinds will yield very different results. Most brown rice protein powders will work, as long as there is no addition of whey in it. I enjoy using vanilla brown rice protein powder, as it has good flavor and blends well. If you can tolerate dairy, the best protein powder to use is a casein protein powder. Unlike other protein powders, it is extremely thick and creamy. Depending on the brand you use, they can also be delicious and not overly sweet.
For my Paleo friends, this is the only protein powder I have tried using, but have started experimenting with collagen protein powder. I wasn't a huge fan of using the collagen protein powder, as it had a slightly gummy texture once scooped.
Storing and Re-Freezing Tips
To store: Protein ice cream should always be stored in the freezer, in a freezer friendly container or in the loaf pan, covered completely. The ice cream can be frozen for at least 5 days.
To re-freeze: Re-freezing the ice cream is not recommended, as it will build up ice particles. If you've refrozen it and it is no longer creamy, allow it to soften and re-blend it in the blender. It will have a soft serve consistency.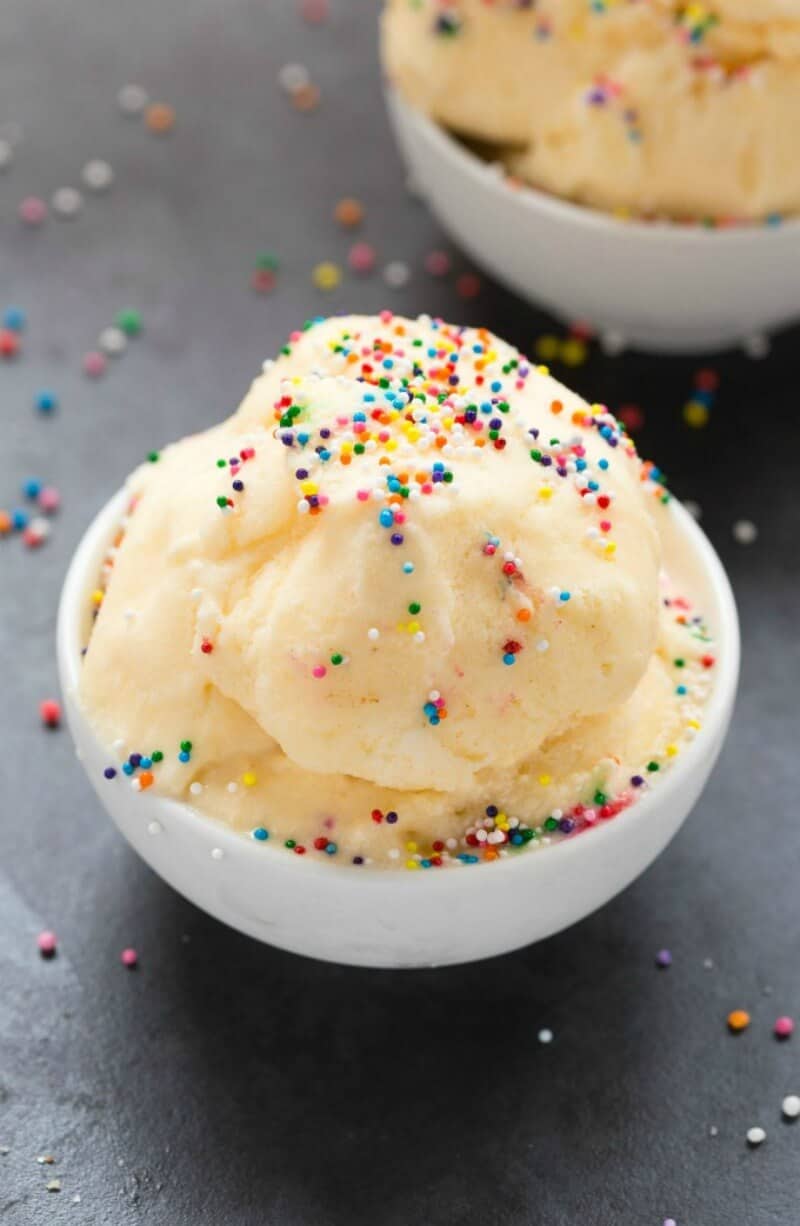 More Healthy Ice Cream Recipes
Watch how to make it
Share this recipe on Pinterest
Love this Protein Ice Cream recipe?
Share it with the world on Pinterest.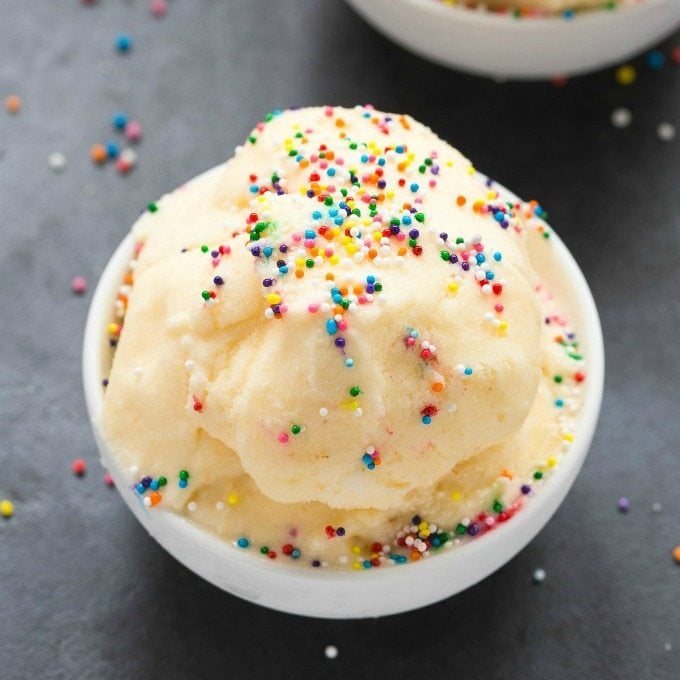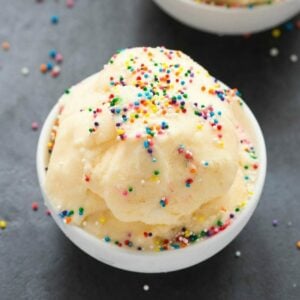 Protein Ice Cream (3 Ingredients!)
Healthy No Churn Workout Protein Ice Cream made with just three ingredients. Enjoy this quick and easy high protein ice cream either hard scoop or soft serve style. Keto and low carb, it's dairy free, so suitable for a vegan and gluten free diet!
Instructions
Place a large, deep loaf pan or deep pan in the freezer.

In a blender or food processor, add your coconut milk and blend until smooth and creamy. Add your protein powder and granulated sweetener or dates and blend until a thick and creamy texture remains.

Transfer workout protein ice cream to the loaf pan. To ensure it doesn't become too icy, lightly mix your ice cream ever 20-30 minutes for the first hour.

Thaw for 10-15 minutes before eating. Lightly wet an ice cream scoop before scooping the ice cream into a bowl.

To enjoy it soft serve style, let it thaw to desired texture.
Notes
* You can use up to 4 scoops (2 cups) of protein powder in this recipe. If you use more, blend for a longer period of time and consider adding an extra half a can of coconut milk for extra creaminess.
** You can sub this for 1/2 cup Medjool dates.
Nutrition
Serving:
1
serving
Calories:
55
kcal
Carbohydrates:
3
g
Protein:
9
g
Fat:
1
g
Sodium:
35
mg
Potassium:
55
mg
Fiber:
1
g
Vitamin A:
1
IU
Calcium:
69
mg
Iron:
4
mg
NET CARBS:
2
g

Disclosure: This post may contain affiliate links. I may earn a small commission for my endorsement, recommendation, testimonial, and/or link to any products or services from this website.