These Reese's Hearts needs just four ingredients and is the ultimate keto and low carb Valentine's day recipe! Loaded with peanut butter and ready in 5 minutes, this vegan chocolate peanut butter heart recipe tastes like Reese's! Paleo and Nut Free option.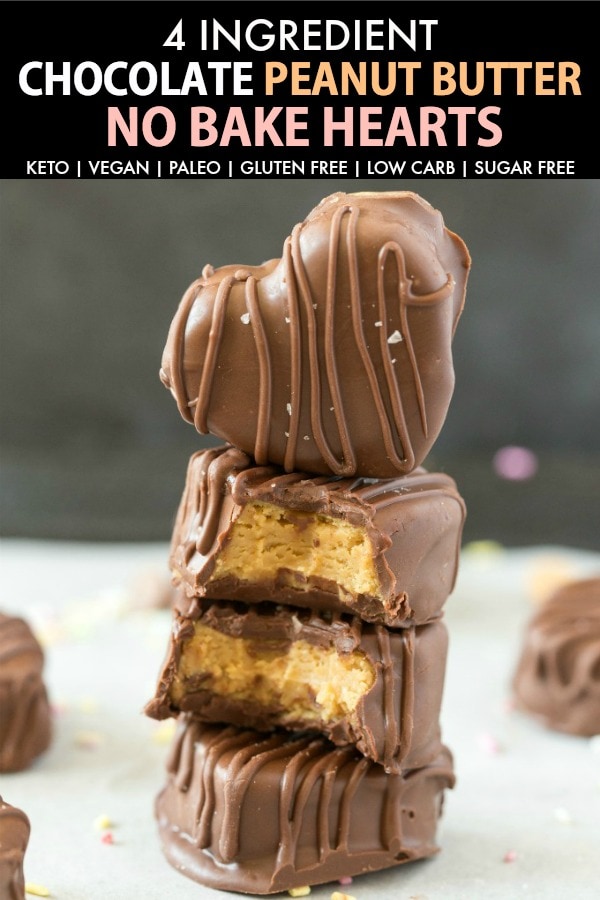 Copycat Reese's Peanut Butter Hearts Recipe
I love making homemade Reese's peanut butter cups from my first cookbook and Reese's peanut butter Christmas trees.
With Valentine's day right around the corner, it's time to give chocolate peanut butter Valentine's day hearts a go!
You can NEVER go wrong with the chocolate peanut butter combination. Whether it be in the form of chocolate peanut butter no bake balls, no bake bars or even Copycat Reese's eggs, I don't judge.
The best thing about all these chocolate and peanut butter recipes is that they are keto friendly and super low carb.
Peanut butter, being primarily healthy fat and protein-rich, is fantastic to incorporate in a ketogenic diet. Chocolate, if used correctly (and the right kind!), is also keto friendly and low in sugar too.
Not only is this Valentine's day candy recipe ketogenic friendly, but it's also vegan and comes with a paleo option.
Trending Right Now: Fudgy Keto Brownies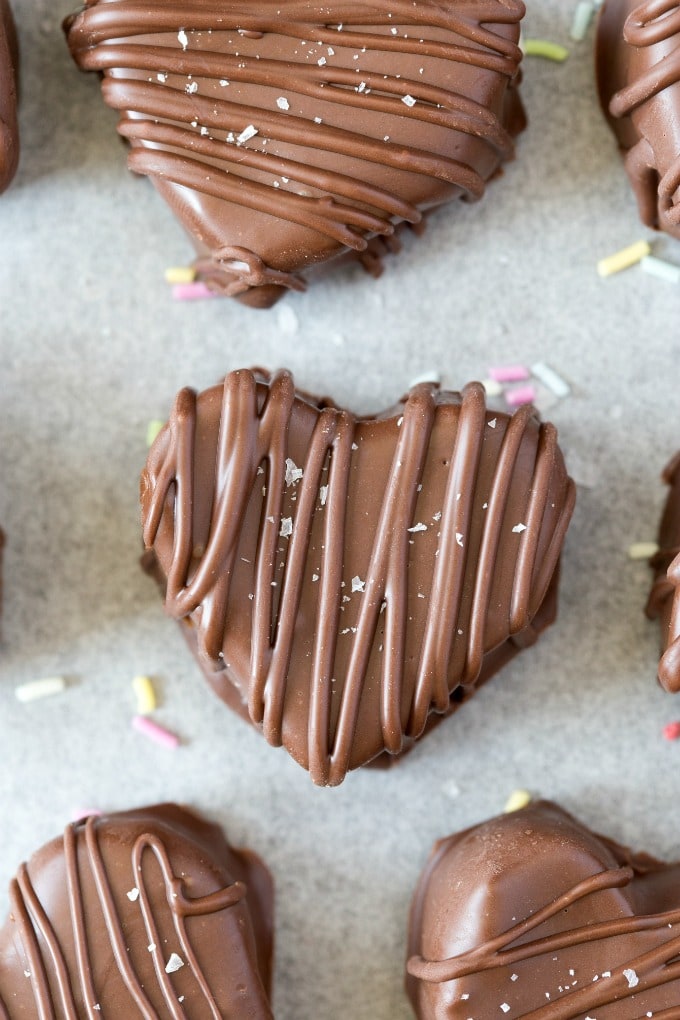 Healthy Vegan Candy Recipes
Candy recipes CAN be a staple in your diet, especially if they are secretly healthy. Some of my favorites include my homemade snickers cups, homemade bounty coconut bars and of course, my homemade healthy Twix.
These homemade chocolate peanut butter hearts will now be a staple in your healthy homemade candy rotation.
Peanut Butter Hearts Ingredients
You only need FOUR ingredients to make these healthy chocolate peanut butter hearts-
Smooth Peanut Butter (or nut/seed alternative)
A sticky sweetener of choice
Keto and sugar-free chocolate, to cover
Peanut Butter Substitutions
For my paleo friends and those with nut allergies, here are the best options to sub out the peanut butter.
Peanut Free options- Smooth almond butter or cashew butter.
Nut Free options- Sunflower seed butter or wow butter (a smooth spread made from soynuts) are great alternatives to peanut butter.
Keto Approved Sweeteners
Maple syrup and agave nectar are both refined sugar free sweeteners but aren't keto friendly. The closest alternative (in terms of texture) is a monk fruit sweetened maple syrup.
You can use a sugar free pancake syrup, but it won't hold up very well, and often leave a bitter aftertaste.
Keto Chocolate Bar Brands
You can make your own keto chocolate, but store-bought brands make it easier and taste great.
Keto chocolate chips- The two keto chocolate chips I have used are these stevia sweetened chocolate chips and also this sucralose sweetened chocolate chips. Both melt beautifully and taste great melted.
Keto chocolate bars- I've only tried a handful of keto chocolate bars. For recipes like this, I prefer using an unsweetened chocolate baking bar (zero sugar and 100% unsweetened), and adding some liquid stevia to it.
Alternatively, this keto chocolate bar melts well and has a pleasant aftertaste. I recommend adding a teaspoon of coconut oil when melting it, to ensure a smooth and silky texture.
Also try these: Peanut Butter Protein Bars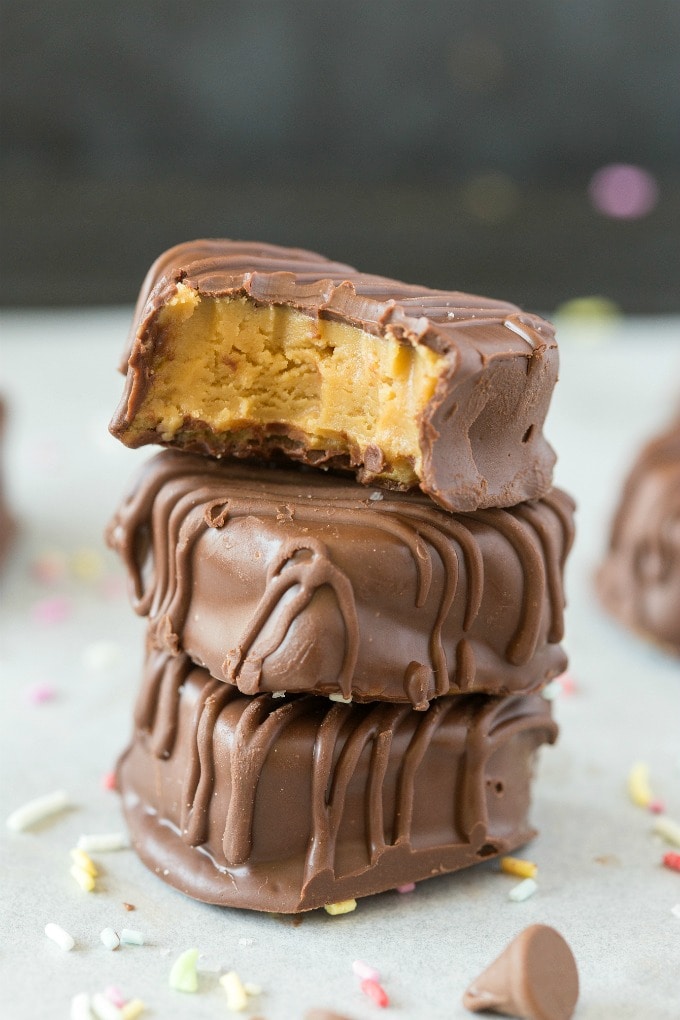 More Healthy Peanut Butter Recipes for Valentine's Day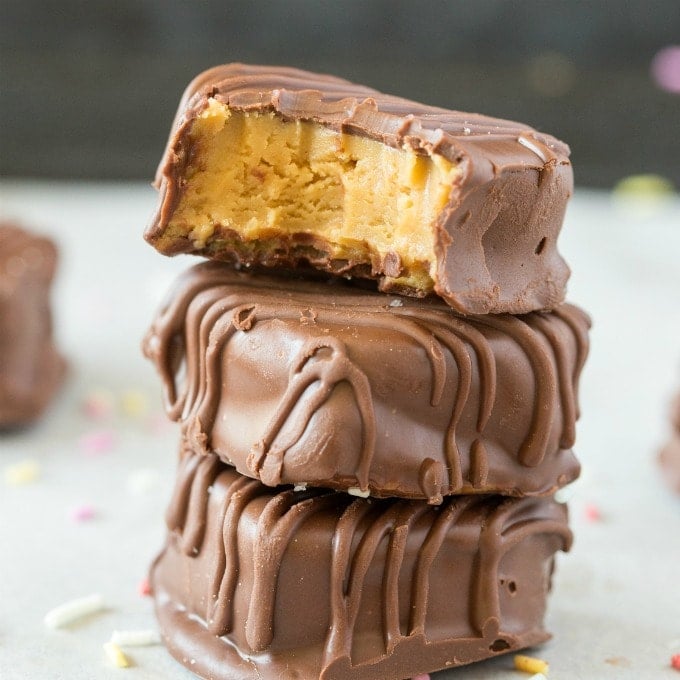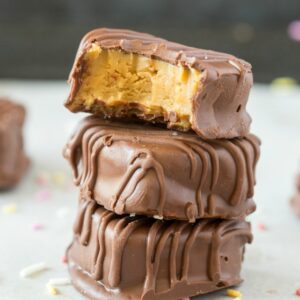 Reese's Hearts
Reese's Hearts- They taste like Reese's peanut butter cups! Made with just 4 ingredients, they are a delicious ketogenic and low carb dessert ready in 5 minutes! Paleo, Vegan and nut free option. 
Instructions
Line a large plate or tray with parchment paper and set aside.

In a microwave-safe bowl or stovetop, combine your peanut butter with sticky sweetener and melt until combined.

Add your coconut flour and mix well. If the batter is too thin, add more coconut flour. Allow sitting for 10 minutes, to thicken.

Form 18-20 small balls of peanut butter dough. Press each ball in a heart-shaped cookie cutter, and remove excess peanut butter dough from the edges. Place peanut butter hearts on the lined plate and refrigerate.

Melt your chocolate chips of choice. Using two forks, dip each peanut butter heart in the chocolate until evenly coated. Once all the peanut butter hearts are covered in chocolate, refrigerate until firm.
Notes
* See the post for alternatives to this sticky sweetener.
Keto Low Carb Chocolate Peanut Butter Hearts (Vegan) can keep at room temperature, in a sealed container for up to 2 weeks. They can be kept refrigerated for up to 2 months and are freezer friendly, for up to 6 months.
Nutrition
Serving:
1
Heart
Calories:
95
kcal
Carbohydrates:
7
g
Protein:
5
g
Fat:
6
g
Potassium:
3
mg
Fiber:
5
g
Vitamin A:
200
IU
Vitamin C:
1.7
mg
Calcium:
30
mg
Iron:
0.4
mg
NET CARBS:
2
g

Disclosure: This post may contain affiliate links. I may earn a small commission for my endorsement, recommendation, testimonial, and/or link to any products or services from this website.