A healthy, delicious, no bake protein bar which uses 1 bowl and takes 5 minutes- No food processor necessary! Perfect for on the go snacking and suitable for those following a gluten free, dairy free or vegan diet!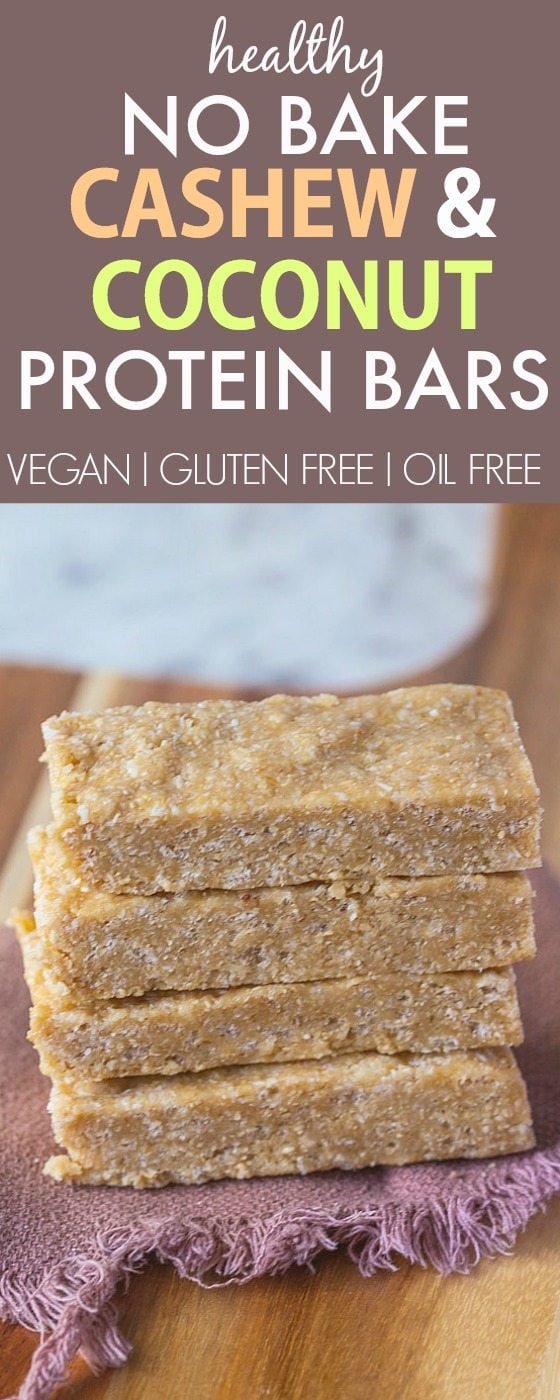 A food processor. That is on my 'to buy' list. I promise.
The last three weekends, I have made a valiant attempt to go buy one (well, the one I decided which fits my price range and is only available from K-Mart). It's as though the Kitchen Goddesses don't want to me to make my own nut butters, pesto or every blogger recipe which requires this magic utensil.
One of the key reasons I intend to buy one is to make these infamous no bake bites and balls which require no work….except for pressing a button on the food processor. A food processor which I don't have.
After throwing some recipe ideas to some blends, I had my heart set on making a cashew coconut protein bar, after being besotted by one of my favourites and the amazing flavour combination. I was tempted to throw in the towel, but knew I had previously had success with these no bake sunbutter granola bars and these no bake chewy bars.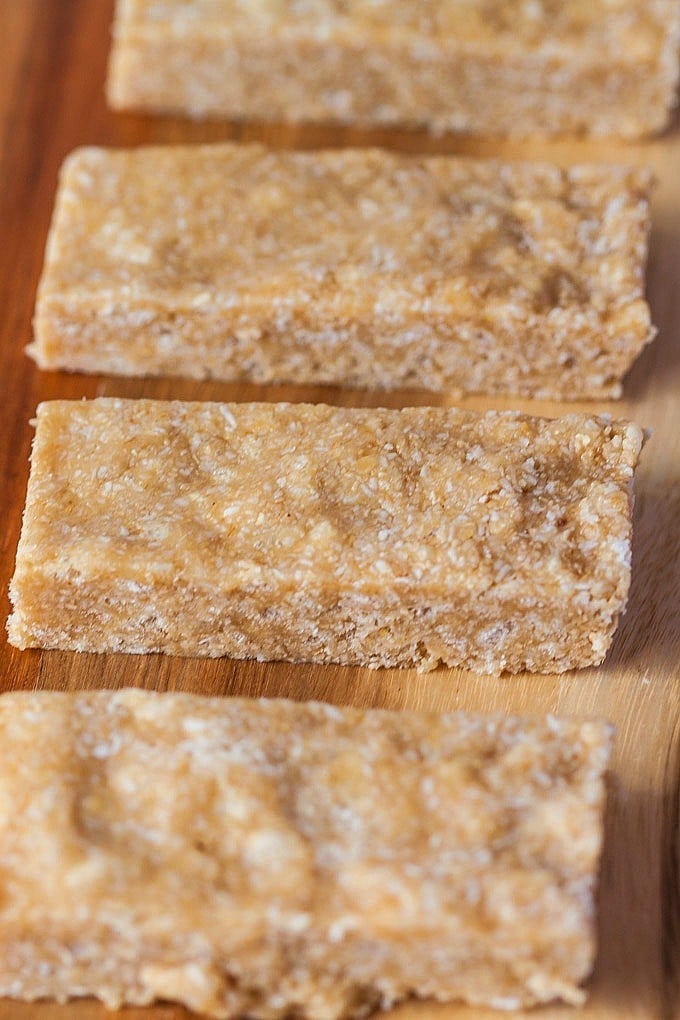 With the flavour explosion of coconut and cashew, it ALMOST gives the peanut butter and chocolate combination a run for it's money….key word- ALMOST.
The use of cashew butter and cashew nuts really exemplifies the natural buttery flavour. Add the coconut oil AND shredded coconut- it's a double whammy!If you don't have rice syrup on hand, substitute it for another sticky sweetener like honey or maple syrup. The protein powder is optional, but ensure if you use it, it is vanilla or very mild/neutral tasting!
For a chap without a food processor- Damn, these bars are good.
I will, however, be still on a quest to get this damn food processor.
No Bake Cashew Coconut Protein Bars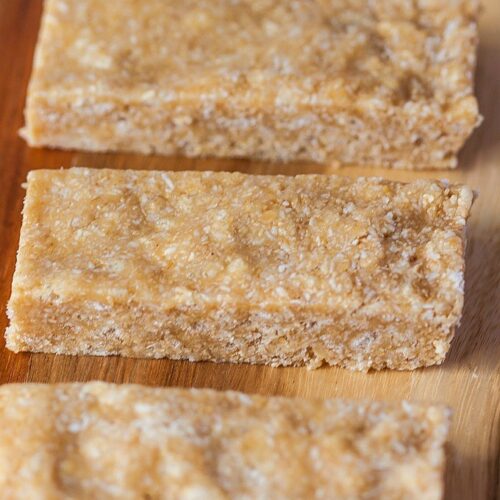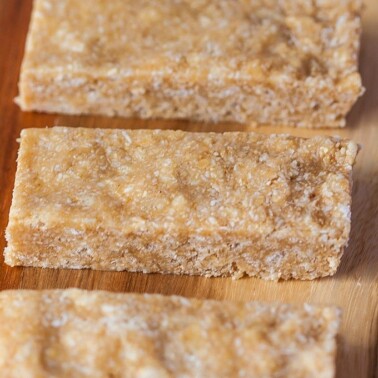 No Bake Cashew Coconut Protein Bars
A delicious, no bake protein bar which is full of healthy ingredients- complimented by cashew and coconuts. Ready in under 10 minutes!
Ingredients
1 1/2

cups

gluten free rolled oats ground to a flour

1/2

cup

gluten free oat bran

1/4

cup

cashew butter

1/4

cup

brown rice syrup

can sub for honey or other sticky sweetener if not strict vegan

1

tablespoon

coconut oil

1/2

cup

shredded coconut

1/2

cup

cashews

chopped finely

1/2

teaspoon

sea salt

1

scoop of vanilla or neutral flavoured protein powder

optional
Instructions
In a large mixing bowl, combine the rolled oats, oat bran, shredded coconut, protein powder (if using it), chopped cashews and sea salt.

In a small saucepan (or in a microwave safe bowl), slowly heat the cashew butter, coconut oil and brown rice syrup until fully incorporated and just starting to bubble.

Add the liquid mixture to the dry mixture and combine until fully combined.

Line a 9 x 9 inch baking dish with baking paper. Pour mixture into it and using your hands, press firmly to cover the entire pan equally. Refrigerate for at least 4 hours and once set, remove from the pan and cut into 10 bars.
Notes
These bars are firm enough to be kept outside the refrigerator, but if you enjoy a more firm bar, keep them refrigerated and thaw briefly before eating.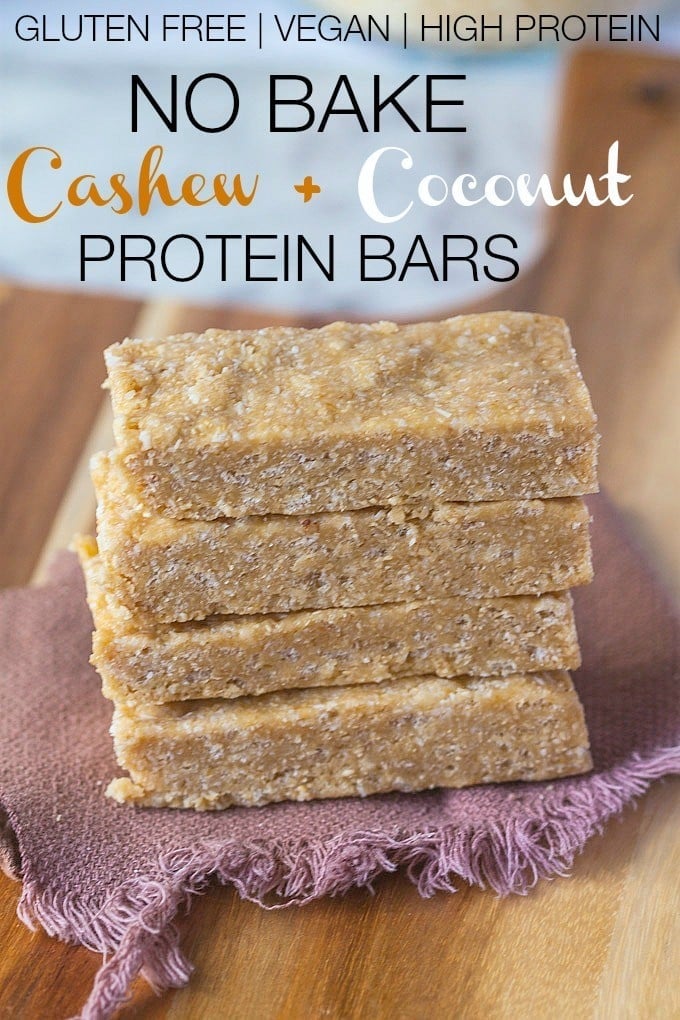 Now go make these and you cannot use the excuse I use for every recipe out there- that you are food processor-less.
Do you have a food processor?
Have you ever tried the coconut/cashew combination?
Ever tried to recreate one of your favourite snack bars?
Disclosure: This post may contain affiliate links. I may earn a small commission for my endorsement, recommendation, testimonial, and/or link to any products or services from this website.