Quick and easy Cranberry Protein Balls that require NO baking! 4 ingredients, one bowl, and 100% whole30 approved!
How is my whole30 diet going? Well, I've been snacking on these chocolate coconut bites, whole30 energy bites and these addictive cranberry energy balls.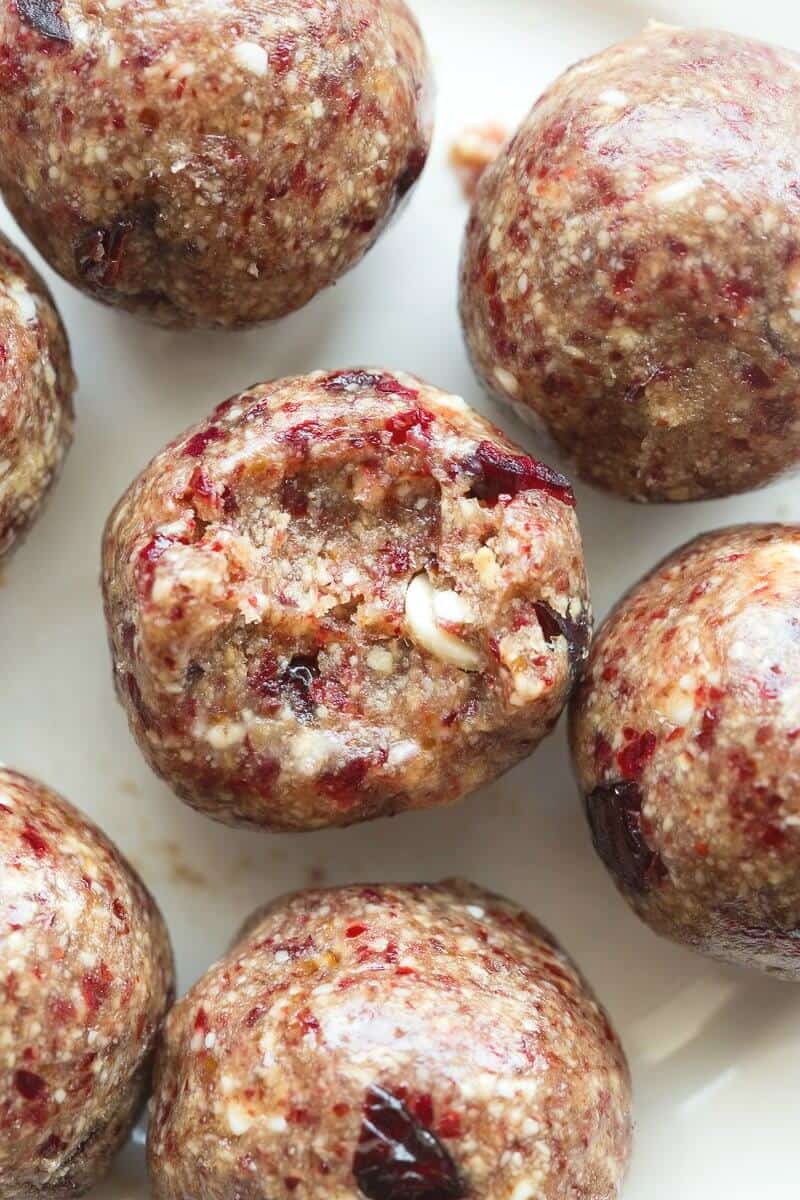 Cranberries tend to get an unfair rap. Many claim them to be too sour, too chewy and a whole myriad of other excuses.
Me, on the other hand, LOVE adding cranberries to super sweet recipes. I find that the subtle tang offsets the more sickly-sweet snacks. Cranberries pair beautifully with coconut, vanilla, almond and well… a whole bunch of other things.
I've been LOVING the tang they give in my energy bites, and whether I'm on the whole30 diet or not, I'll be adding these to my snack repertoire!
Are energy bites a good snack?
I get this question time and time again and YES- energy bites are a fantastic snack.
Let's take these cranberry bites as an example. They are made with NO refined sugar and are 100% naturally sweetened. They also are free from refined carbohydrates and are high-protein, high-fiber and full of healthy fats.
As someone who always needs to snack between meals, I find one or two of these keeps the hunger at way. Also, I LOVE snacking on one before a heavy workout!
Bonus? They just happen to also be gluten-free, vegan and paleo-friendly.
Love snacking? Try these Keto Fat Bombs.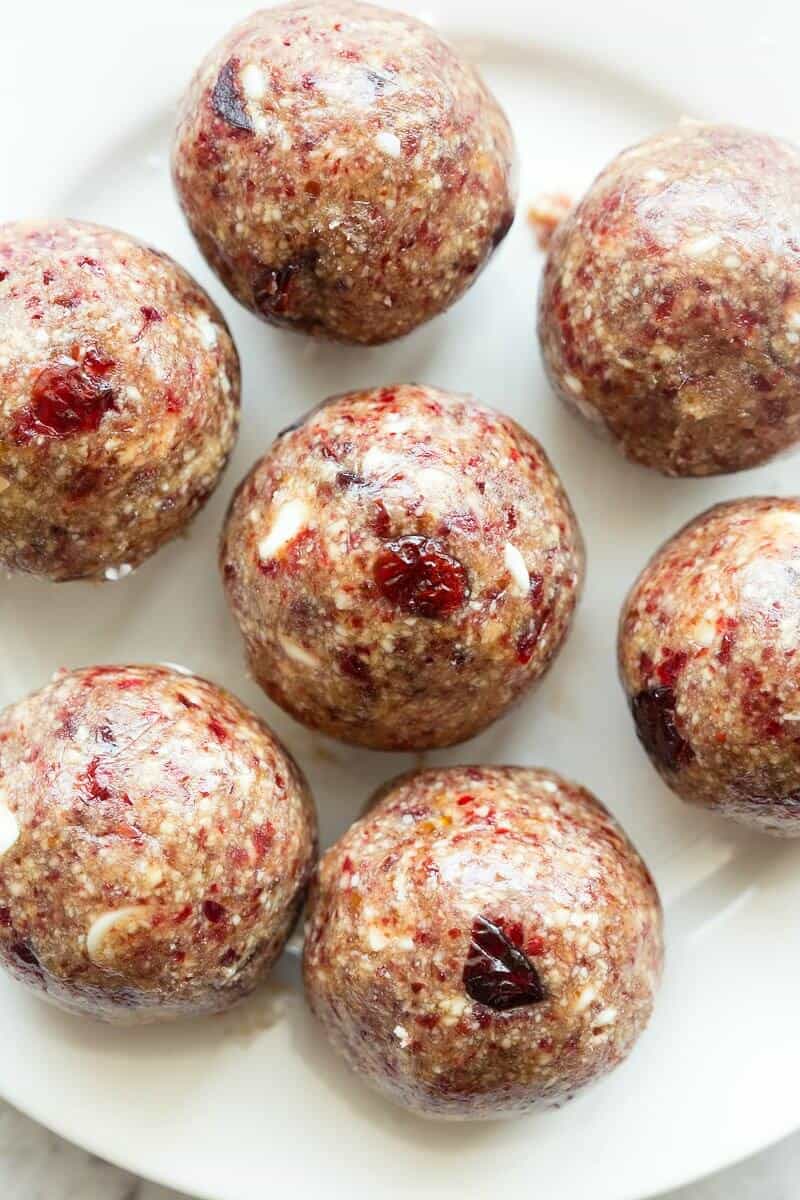 Cranberry Protein Balls Ingredients 
Making these no bake bites requires just 4 simple ingredients and you don't even need any fancy gadgets or anything to make them- Just one blender bowl or food processor!
Dates
Almond Butter
Almonds
Cranberries
I used a combination of roasted and natural almonds, but feel free to use more of one or the other, or swap out and use other nuts.
Medjool dates are my preferred dates, as they are naturally softer and easier to blend. They also provide that sweeter flavor, that offsets the cranberries. You can easily replace them with traditional dates, but ensure you soak them for thirty minutes before using them.
Be sure your almond butter is of the smooth variety- Crunchy or fresh almond butter will be more difficult to blend up
How to make Cranberry Balls
Firstly, you'll add your almonds into a high-speed blender or food processor, and blend until a crumbly texture remains. Avoid over blending, otherwise, you will be left with nut butter. 
Once the crumbly texture is there, add in your almond butter, Medjool dates and cranberries, and blend very well, until a thick dough remains. You will need to regularly scrape down the sides, as often, bits of dates tend to stick.
If the batter appears to be too thick/crumbly, add 1-2 tablespoons of water to get things moving!
Finally, transfer the energy bite 'dough' into a mixing bowl. Using your hands, form small balls and place them on a lined plate or tray. Refrigerate them for at least 30 minutes, allowing it to firm up.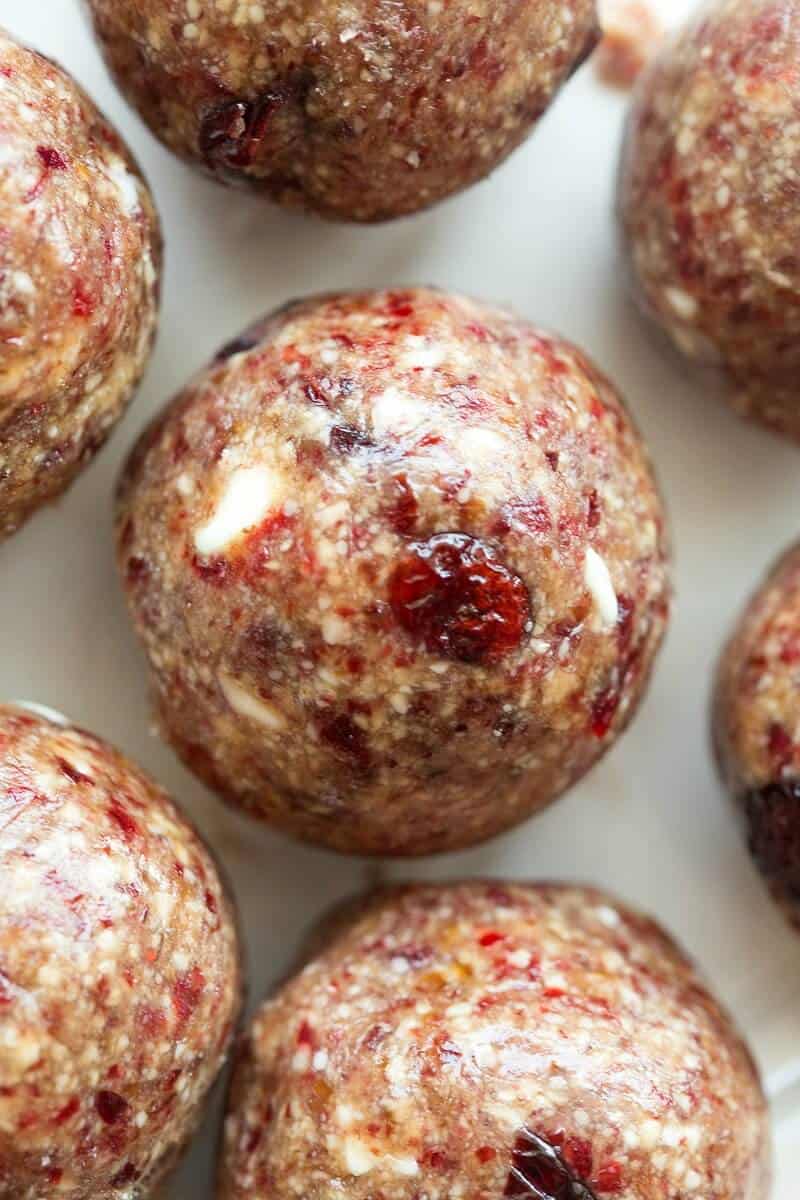 Storing Cranberry Energy Bites
These energy balls should be stored in a sealed container, preferably in the fridge. I've found that storing these at room temperature softens them a little too much, and they become sticky to hold.
If you'd like to snack on them during the day or when your out and about, wrap them in plastic or place in a ziplock bag, and they will keep fresh if pre-cooled.
Bonus- Freeze the energy bites for them to thaw out during the day, and be thick and chewy when they are ready to eat. If you freeze them, place them in a ziplock bag.
Refrigerated energy bites will keep for 2 months, frozen energy bites will keep for 6 months!
Love cranberries? Try these Cranberry Chocolate Chip Cookies
More Energy Bites and Balls you'll enjoy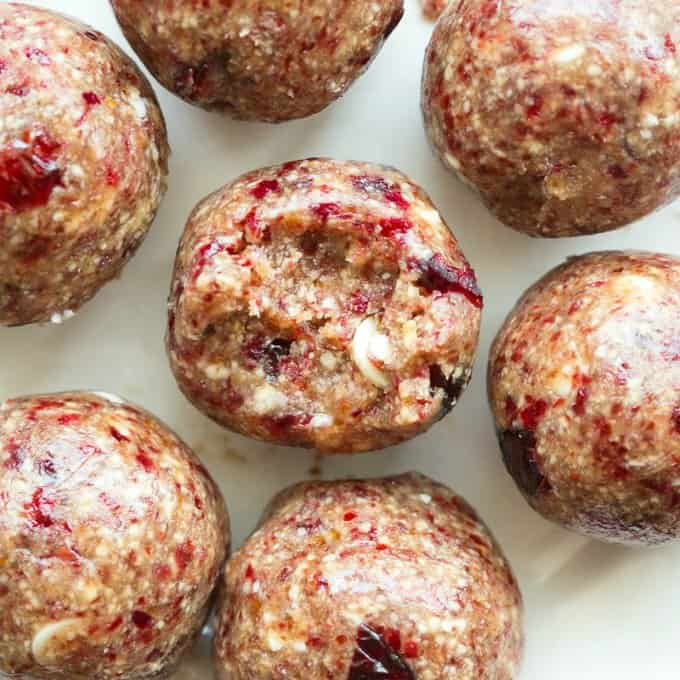 Cranberry Protein Balls
Easy Cranberry Protein Balls that take 5 minutes to make! Whole30 approved and kid friendly!
Instructions
In a high-speed blender or food processor, add your almonds and blend until a crumbly texture remains.

Add your almond butter, dates and cranberries and blend well, until fully combined. Be sure to regularly scrape down the sides to ensure the mixture is fully combined. If the batter is too crumbly, add 1-2 tablespoons of water to get things moving.

Transfer the energy ball batter into a mixing bowl. Form 12 small balls and place on a lined plate or sealable container, and place in the fridge or freezer until firm.
Notes
Cranberry Energy Bites need to be stored in the fridge or freezer.
Nutrition
Serving:
1
Ball
Calories:
97
kcal
Carbohydrates:
10
g
Protein:
4
g
Fat:
5
g
Potassium:
3
mg
Fiber:
3
g
Vitamin A:
3
IU
Vitamin C:
3
mg
Calcium:
3
mg
Iron:
3
mg
NET CARBS:
7
g
Disclosure: This post may contain affiliate links. I may earn a small commission for my endorsement, recommendation, testimonial, and/or link to any products or services from this website.