Fluffy Keto Pancakes (Paleo, Vegan)
An easy recipe for ultra thick and fluffy keto pancakes made with almond flour and coconut flour! With a light and fluffy texture, these delicious low carb pancakes make the perfect breakfast, you won't believe they are made without dairy and without sugar!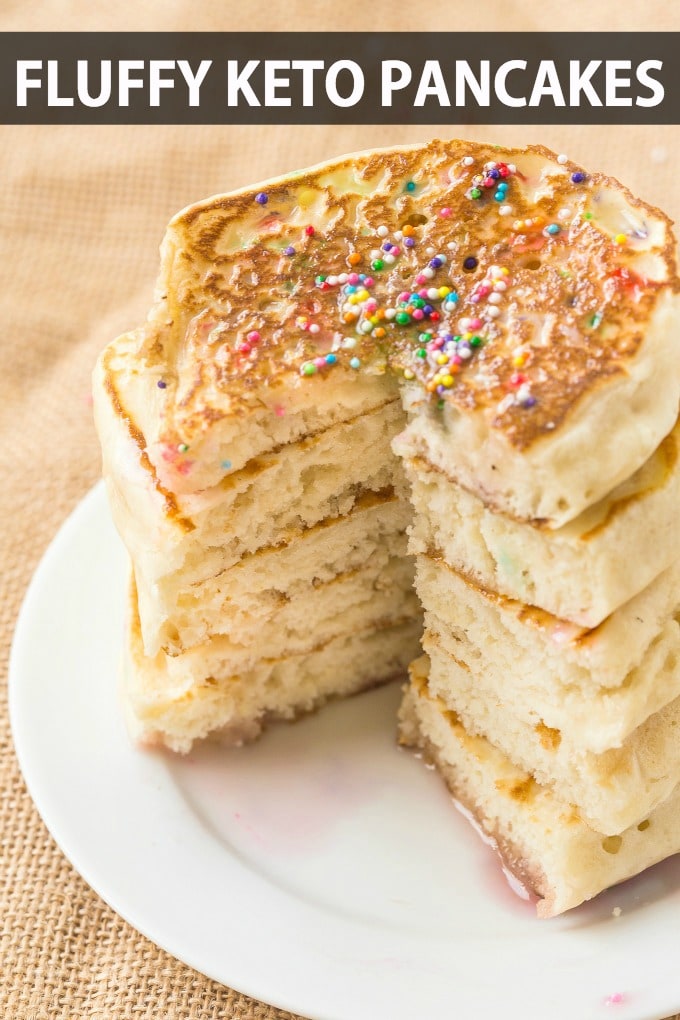 Keto Almond Flour Pancakes
If I could choose one breakfast to eat for the rest of my life, it would be pancakes.
Whether it be cinnamon roll pancakes, fluffy blueberry pancakes or even the good old chocolate chip pancakes, I love them all!
Ever since I released my first cookbook, I've been on a mission to perfect a classic pancake recipe. No fancy flavors, no crazy additions, but produce a stack of keto friendly pancakes with one big caveat- I wanted these pancakes to be made with no eggs and no dairy.
Making normal pancakes without eggs is already quite a feat in itself, but making low carb pancakes without eggs?
That's a potential disaster….or is it?
At first, I tried to loosely adapt this pancake recipe, which uses both coconut flour and almond flour. I found that the batter became too dense and thick, and took FOREVER to cook.
Unfortunately, leaving the eggs out have left mixed results. As such, I have amended the recipe to include an alternative vegan option, without eggs!
As someone who loves coconut flour in recipes, I wanted to see if combining it with the almond flour would yield super fluffy pancakes.
Friends, we have a stack of perfection for you right here.
My new and improved keto pancake recipe ticks ALL the boxes.
Taste-wise, they are slightly nutty, sweet and the perfect base for a plethora of toppings.
In terms of texture, they are light and fluffy, thanks to the almond flour and coconut flour.
To make this fluffy keto and vegan almond flour pancakes recipe, you only need SIX ingredients-
Almond flour
Coconut Flour
Coconut milk
Liquid Stevia
3 large eggs
Baking powder
That's it!
Almond Flour
I often get asked if almond flour can be eaten on a keto diet. It is certainly suitable and is actually one of the most keto-friendly and flour substitutions on the market.
Almond flour can come in several forms, but for this particular recipe, you'll need to use blanched almond flour.
Blanched almond flour yields a really light texture, perfect for a stack of pancakes!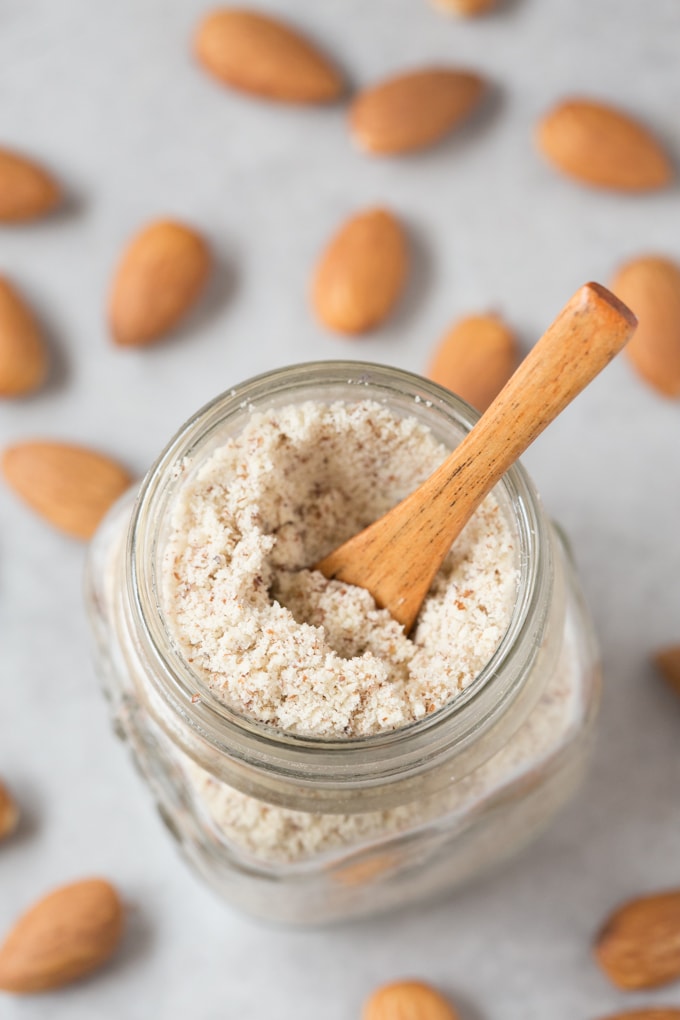 Coconut Flour
Coconut flour on its own can be a difficult ingredient to work with, but when combined with almond flour, produces a gorgeous, fluffy texture.
DO not omit this or replace it for another flour- You'll be left with rocks!
Liquid Stevia
I originally tested out this recipe without any sweeteners and was pleasantly surprised that it still provided a naturally light sweet flavor. If you plan on adding toppings to your pancakes, definitely feel free to omit this.
However, I sometimes enjoy my pancakes plain and as such, added a few drops of liquid stevia to it.
Please do not add another kind of sweetener, granulated or syrup-like, as it will completely change the recipe.
How to make thick fluffy keto pancakes
There are several tricks to ensure these eggless keto pancakes are super thick and fluffy.
Firstly, ensure your batter is thick, but not pourable. We often mistake pancake batter to always needing to be smooth and pourable, but this is NOT what we want for these specific pancakes- THICK BATTER.
Secondly, scoop the batter onto the greased pan and press down to flatten slightly.
Thirdly, if possible, cover your pancakes to ensure they are evenly cooked.
Finally, cook the pancakes on medium heat– It may be a little more time consuming but it will be worth it!
What to add to these keto pancakes
Anything and everything!
I thought when I tried out the ketogenic diet, I'd be missing maple syrup, but that can easily be covered.
If you are a fan of maple syrup, use this keto sugar free maple syrup. They also have a fantastic vanilla flavored one.
Chocolate fans, I LOVE this keto friendly chocolate syrup. Don't be afraid to add some keto chocolate chips on top, too.
Freezing Keto Pancakes
These keto pancakes are PERFECT for meal-prepping, and are freezer friendly.
Simply freeze in single serving batches (in parchment paper) and thaw overnight before eating. They can also be reheated in the microwave or stovetop.
How to make keto pancakes without eggs
Unfortunately, several readers have had difficulties making the eggless version, and as such, I have omitted the original recipe. It will be reposted once a recipe video has been made, with step by step instructions in the post.
Instead, I have included a flourless and eggless vegan option, included in the post.
More Keto Pancake Recipes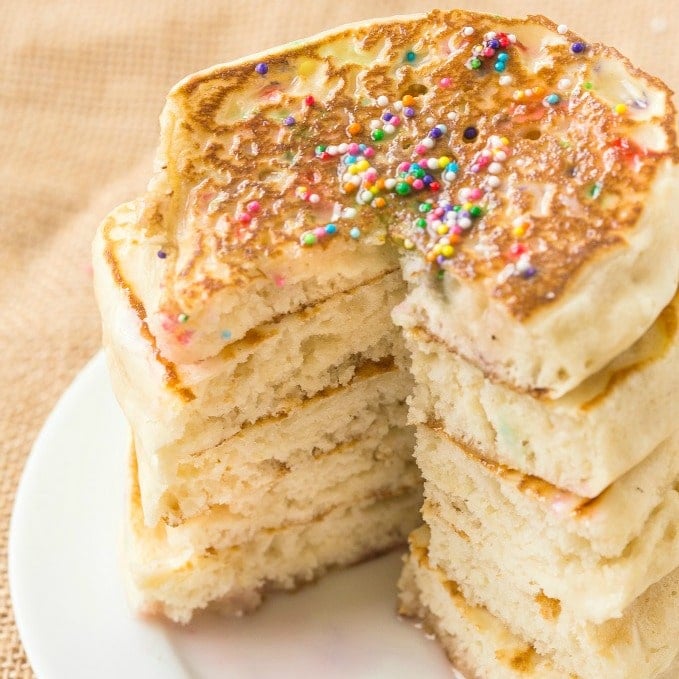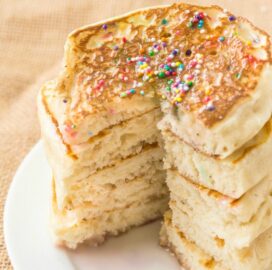 Fluffy Keto Pancakes (Paleo, Vegan)
An easy recipe for ultra thick and fluffy keto pancakes made with almond flour and coconut flour, but without sugar or dairy! Perfect for breakfast and for a quick meal prep, these low carb pancakes are also paleo and low carb, with a vegan option.
Print
Pin
Rate
Instructions
In a large mixing bowl, combine your blanched almond flour, coconut flour cinnamon, and baking powder. Set aside.

Separate your whites from your yolks and set aside.

Add your egg yolks, half a cup of coconut milk, and liquid stevia to the dry ingredients and mix very well. If the batter happens to be too thin, add extra almond flour. If it is too thick, slowly add extra coconut milk.

Whisk your egg whites (using a hand mixer or fork) until stiff white peaks start to form. Fold the whites into the pancake batter. Let the pancake batter sit for 5 minutes, to thicken.

Grease a non-stick pan on medium heat. When hot, pour small 1/4 cup portions of batter and if possible, place a lid on top. When bubbles start to form on the edges, flip and continue cooking until slightly golden. Repeat until all the pancake batter is used up.

Serve immediately, or allow to cool to refrigerate or freeze.
For the vegan option
In a high-speed blender or food processor, add all your ingredients and blend until a thick batter remains.

Heat a large pan on medium heat. When hot, pour 1/4 cup portions of pancake batter onto it. Cover and cook for 1-2 minutes, or until bubbles form on the side. Flip and repeat. Enjoy immediately or allow to cool to refrigerate or freezer for later.
Notes
Fluffy Keto Pancakes (Paleo, Vegan) can be refrigerated and will keep well for 7 days. They are freezer friendly and will keep for 2 months.
Nutrition
Serving:
1
serving
|
Calories:
243
kcal
|
Carbohydrates:
5
g
|
Protein:
8
g
|
Fat:
19
g
|
Fiber:
3
g
|
Vitamin A:
250
IU
|
Vitamin C:
1.7
mg
|
Calcium:
30
mg
|
Iron:
0.7
mg
|
NET CARBS:
2
g