These vegan almond flour pancakes are thick, fluffy, and need just 6 ingredients! Ready in less than 5 minutes, they have no eggs or dairy in them.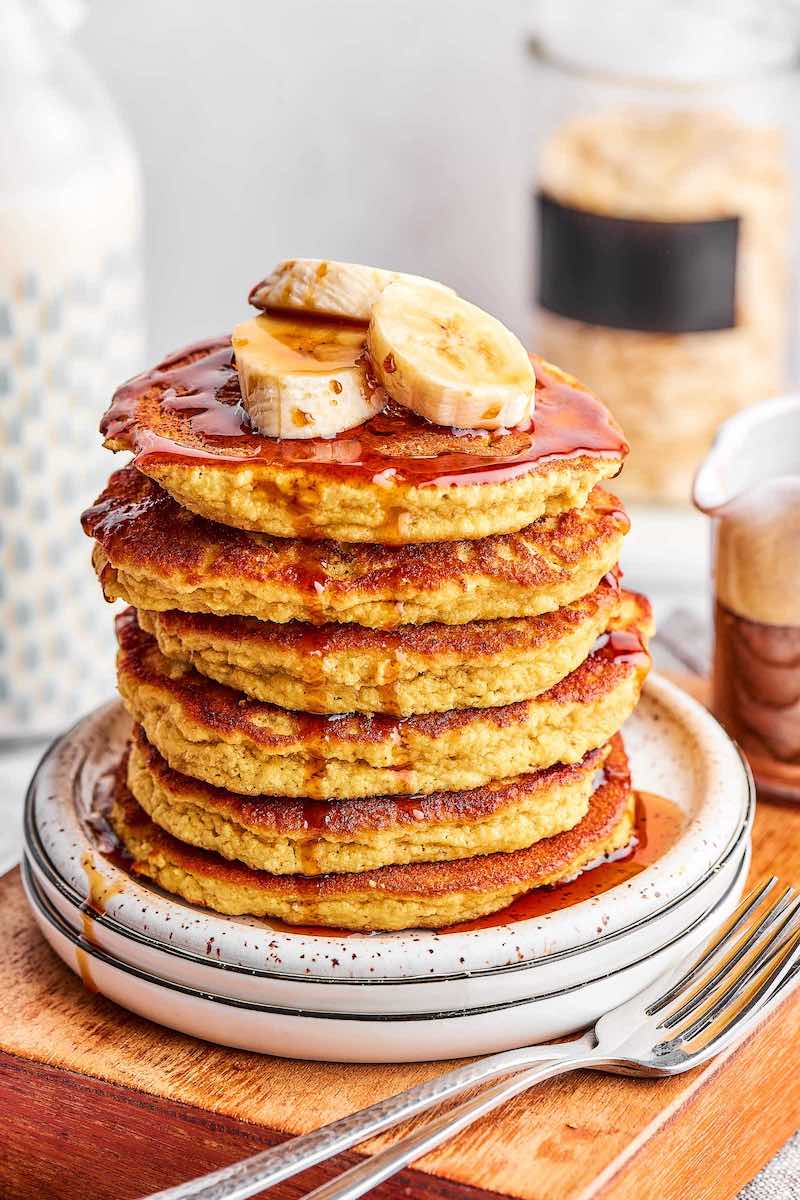 The Best Vegan Almond Flour Pancakes
Sweet breakfasts are a staple in our household. We've always been a family of waffles, pancakes, and French toast, and rarely do we go the savory route.
If you are after a twist on the classic pancakes, this vegan almond flour pancake recipe is a winner (inspired by classic almond flour pancakes).
Now, most pancake recipes call for white or wheat flour, but not these- we use a combination of almond flour and oat flour, which not only tastes better, but is healthier too.
By the way, the texture absolutely nails it out of the park: thick, fluffy, and perfectly soft in the middle.
These pancakes are easy to make and take less than 5 minutes to make. They are naturally gluten free, too.
No eggs and no dairy are needed, they also have just 6 ingredients.
Oh, and if you are keen to try more vegan pancake recipes, try protein pancakes or banana pancakes.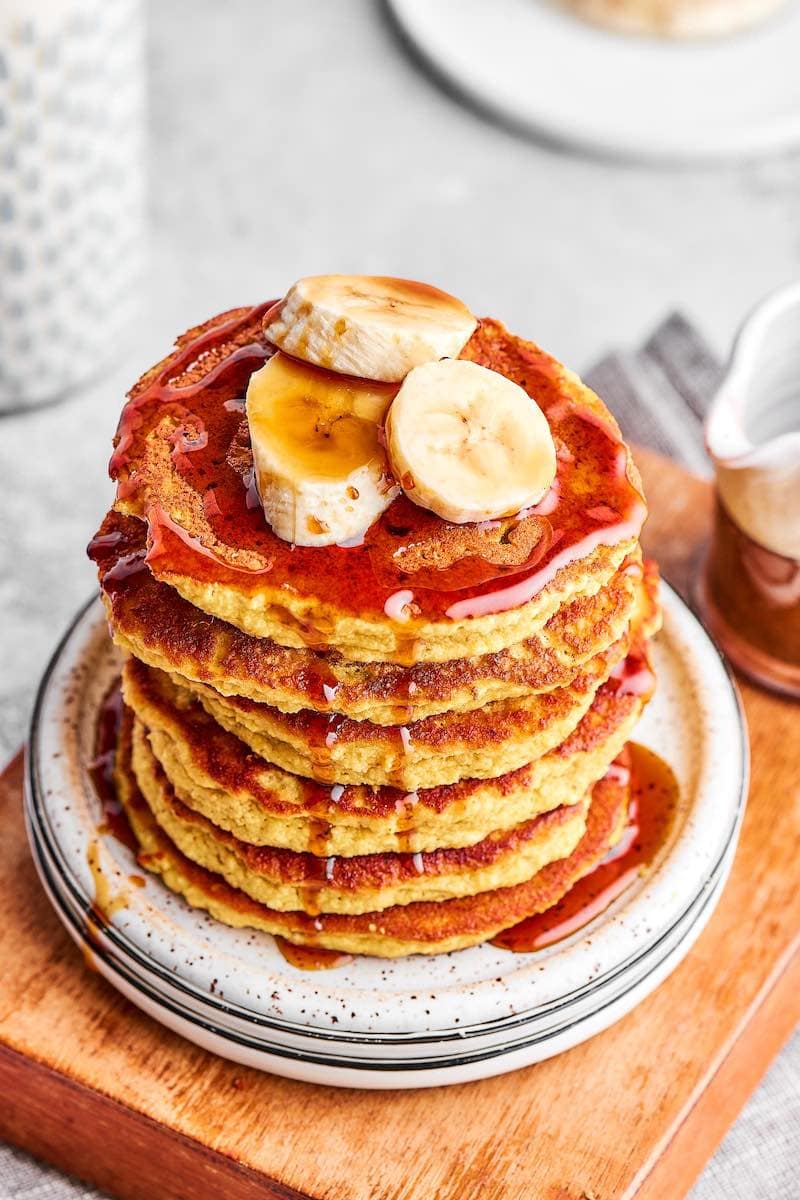 Ingredients needed
This is a very simple ingredient list for making these pancakes and you probably have everything on hand from the get go. If not, you'll find them at any basic grocery store. Here is what you'll need:
Almond flour. Blanched or superfine almond flour is preferred, not almond meal. The latter will yield a more dense pancake.
Oat flour. Skip the expensive pre-made flour and make your own.
Baking powder and baking soda. Both leavening agents are used to give the pancakes some rise, fluffiness, and stability.
Banana. Overripe banana to add moisture and sweetness.
Chia egg. A fantastic egg substitute, you'll combine one tablespoon of it with around 3 tablespoons of water to form a gel.
Almond milk. Or any plant-based milk of choice (soy, coconut milk, oat milk, etc).
How to make vegan almond flour pancakes
This pancake recipe is simple to make follows a simple 2-step process. Seriously, they take less than 5 minutes to cook and could not be any easier.
Step 1- Make the batter
Start by combining your dry ingredients in a mixing bowl. Then, add your banana, prepared chia egg, and then the almond milk. Mix everything together until a thick batter remains.
Step 2- Cook the pancakes
Now, lightly grease a non-stick pan and place it over medium heat. Once hot, scoop 1/4 cup portions of the pancake batter onto it and cover the pan immediately. Let the pancakes cook for 2-3 minutes before carefully flipping them using a rubber spatula. Cook the pancakes for a further two minutes before carefully removing them from the pan.
Step 3- Stack and serve
Stack your pancakes and serve them with some maple syrup, fresh berries, or whatever your favorite pancake toppings are.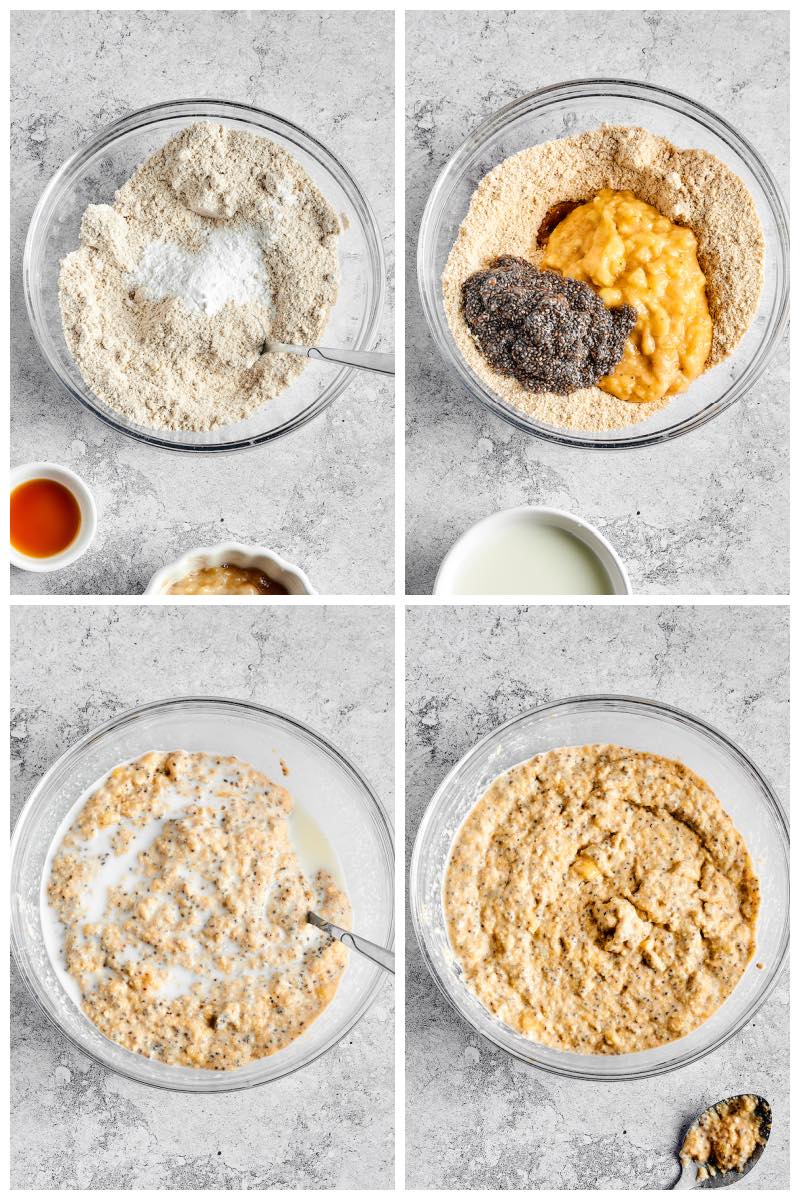 Tips to make the best recipe
Cover the pan when cooking the pancakes. This traps the heat in a condensed space, which then helps the pancakes cook evenly and rise quickly, making them super fluffy!
Let the batter sit for 5 minutes. We want the batter to be thick, so allow time for the ingredients to meld together.
Add more milk if needed. Similar to the last post, if the batter is a little too thick (this can happen with some brands of oat flour) and a few more tablespoons of milk.
Make them sweeter. These pancakes are relying on the banana to provide the sweetness and whatever toppings you add once they are cooked. If you prefer sweeter pancakes, add 1-2 tablespoons of your favorite sugar to the batter.
Storage info
Wondering what is the best way to store leftovers? Here are best practices for vegan pancake storage:
To store: Leftovers can be stored in the refrigerator, covered, for up to 5 days.
To freeze: Place the cooked and cooled pancakes in ziplock bags and store them in the freezer for up to 6 months.
Reheating: Zap the pancakes in the microwave for 20-30 seconds.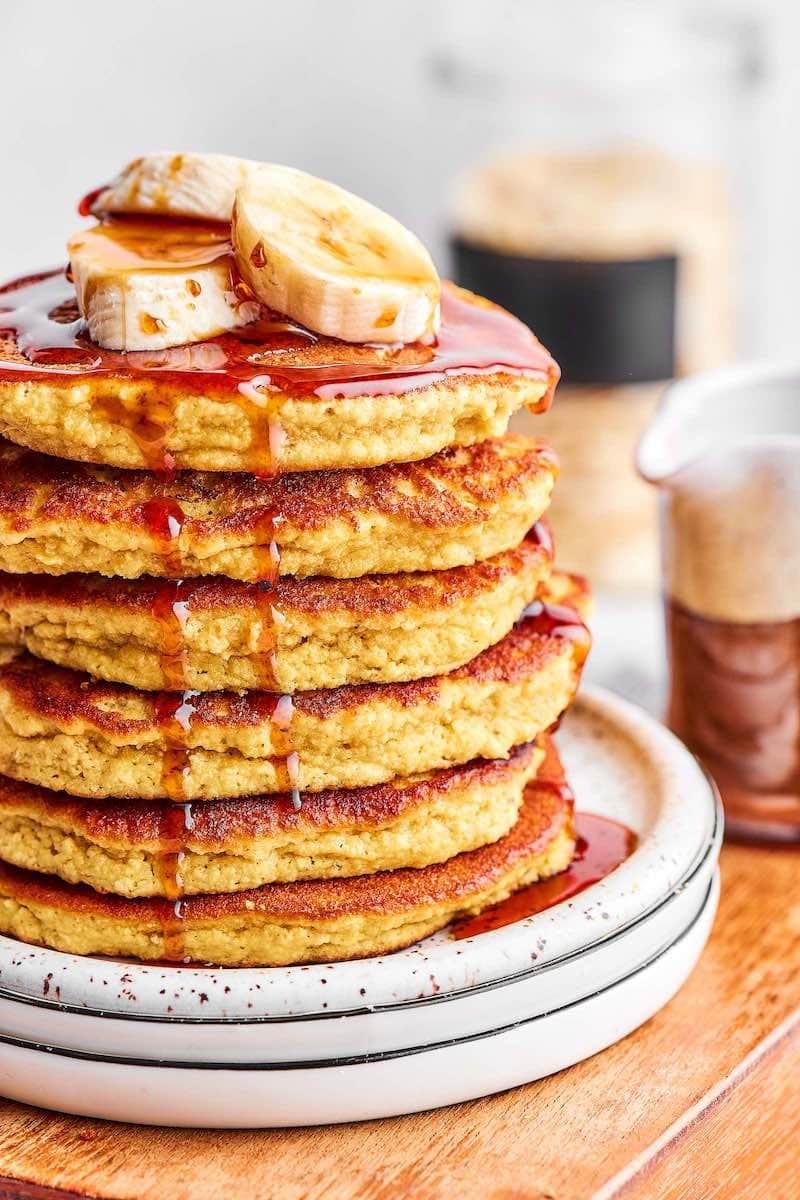 More pancake recipes to try
Frequently Asked Questions
Why are my pancakes falling apart?
If your pancakes are falling apart, it means that not enough liquid was added to the batter. To ensure this doesn't happen, you want your batter to be thick but stirrable.
Is this recipe gluten-free?
Yes, these pancakes are gluten free, provided you use gluten-free oat flour.
Can I use a different egg substitute?
While chia eggs are best, you can try another egg substitute if you like.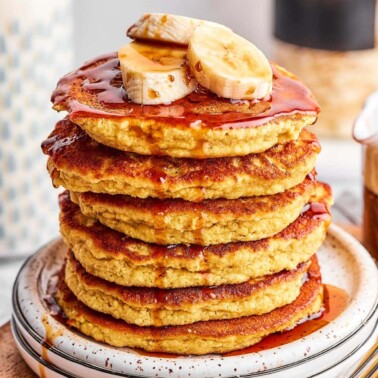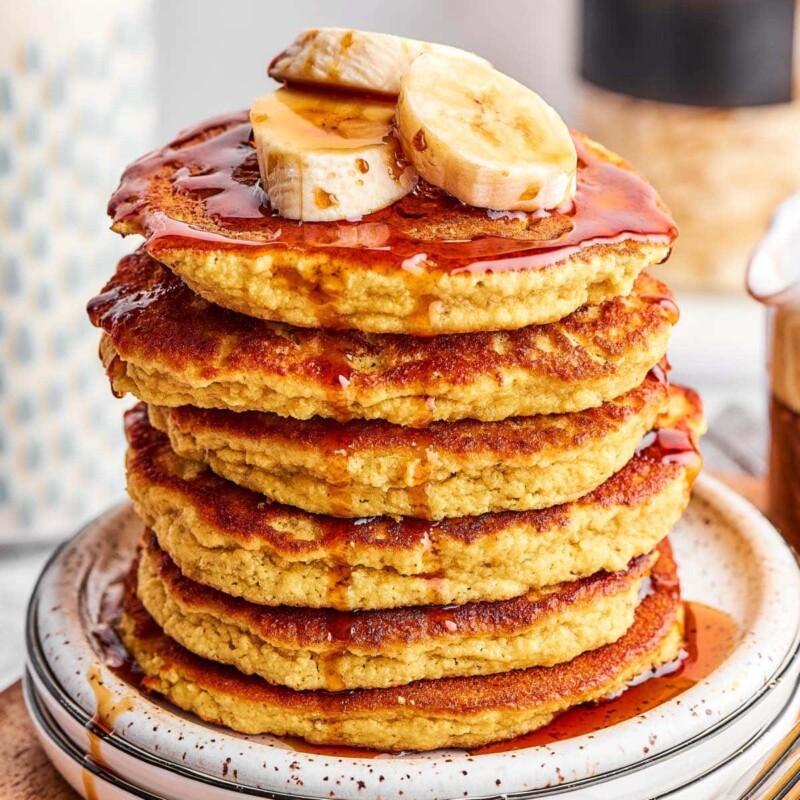 Vegan Almond Flour Pancakes | 6 Ingredients and 5 Minutes
These vegan almond flour pancakes are thick, fluffy, and need just 6 ingredients! Ready in less than 5 minutes, they have no eggs or dairy in them.
Instructions
Prepare the chia egg by combing the chia seeds with 3 tablespoons of water and let it sit for 5 minutes for a gel to form.

In a large mixing bowl, whisk together the almond flour, oat flour, baking powder, and baking soda.

Add the mashed banana and chia egg and the milk. If the batter is too thick, add more almond milk.

Coat a non-stick pan with oil and place over medium heat. Once hot, add 1/4 cup portions of the pancake batter and cover the pan immediately. Let the pancakes cook for 2-3 minutes before lifting the lid, flipping the pancakes and cooking for a further 1-2 minutes. Repeat the process until all the batter is used up.

Serve the pancakes immediately with your favorite toppings.
Notes
* Start with 1/2 cup but only add more as needed.
TO STORE: Leftover pancakes can be stored in the refrigerator, covered, for up to 1 week.
TO FREEZE: Place leftover pancakes in a ziplock bag and store in the freezer for up to 6 months. Thaw pancakes overnight in the refrigerator.
TO REHEAT: Reheat pancakes in the microwave (30-40 seconds) or in a non-stick pan until warm on both sides.
Nutrition
Serving:
1
pancake
Calories:
148
kcal
Carbohydrates:
15
g
Protein:
5
g
Fat:
9
g
Sodium:
266
mg
Potassium:
101
mg
Fiber:
3
g
Vitamin A:
10
IU
Vitamin C:
1
mg
Calcium:
123
mg
Iron:
1
mg
NET CARBS:
12
g
Disclosure: This post may contain affiliate links. I may earn a small commission for my endorsement, recommendation, testimonial, and/or link to any products or services from this website.