Healthy and Edible Egg-Free Breakfast Cookie Dough (Paleo, Vegan, Gluten Free) made without any raw flour, eggs or dairy! It is safe to eat, eggless and a guilt-free meal or snack!

If there is one downfall I have when making cookies, it is trying to avoid eating the raw cookie dough before baking them in the oven. This is no longer an issue, as this spoonable and no cook cookie dough is your answer!
It's not like I have anything against them. Have you seen these flourless banana bread cookies, Copycat Lenny and Larry's Complete Cookies and white chocolate macadamia cookies?
Whenever I made cookies, I'd always have that lingering feeling at the back of my mind regarding the raw flour and the raw eggs. That clearly didn't stop me, but the now older version of me needed to rectify it.
A while back, I shared this edible eggless cookie dough for one. It was the perfect single serve dessert you can make in minutes. It also used healthy and clean ingredients, so it was the ideal guilt-free sweet treat for cookie lovers. Let's not forget about the unicorn cookie dough you guys loved last week!
However, I wanted to share a different version, one which was a bigger serving and also suitable for breakfast. It also needed to fit into the grab-and-go breakfast category for busy mornings. Not only that, but it is also freezer friendly, and can be frozen in single serve portions!
Bonus? This edible cookie dough also makes the perfect portioned snack or dessert to enjoy anytime!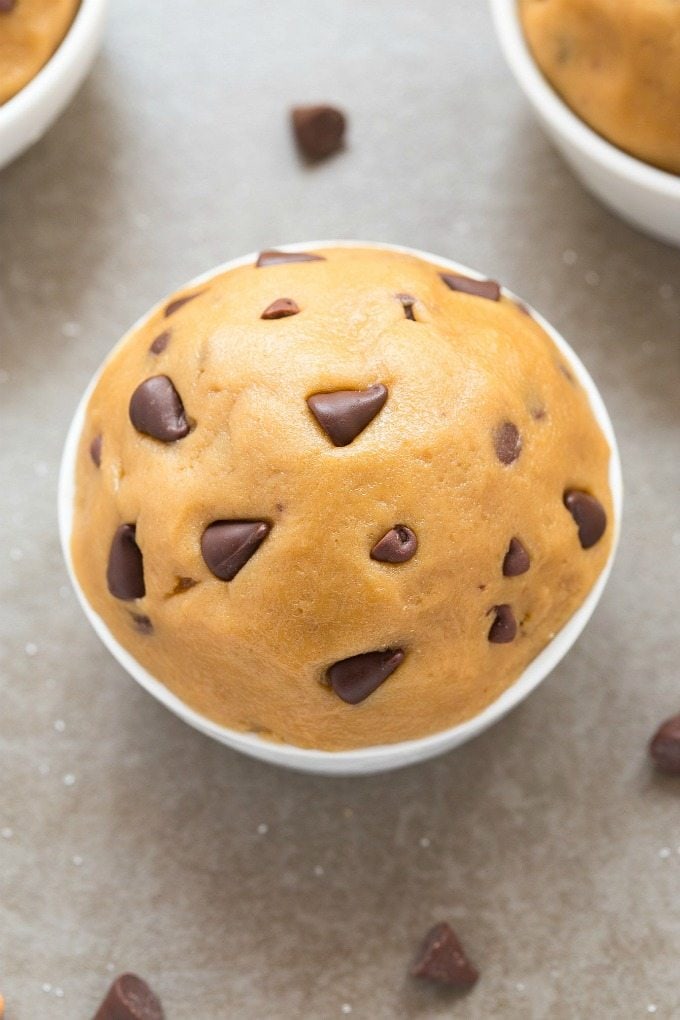 This quick and easy recipe comes together in minutes. There are recipes for edible cookie dough which does include flour, but that process includes baking it in the oven prior. This recipe doesn't require any of that at all.
Instead of using a wheat or baking flour, I've opted to use almond flour, which is perfectly suitable to eat raw. You can also replace it with almond meal, but it will have a grittier texture. I had readers reach out asking for more recipes using peanut flour, so I also tested a version using that (as pictured). That too also works, but the peanut flavor is very evident. It will also make the overall recipe much lower in fat.
To help create a smooth and creamy edible cookie dough, I used a combination of nut/seed butter and a sticky sweetener. It also provides some healthy fats and protein, to keep you satisfied.
For the nut/seed butter portion, I used cashew butter. It not only provided a creamy, cookie dough color, but also was mild tasting. Almond butter would be another great option, or sunflower seed butter for a nut-free alternative. If you use peanut flour in the base, amp it up by swirling through creamy peanut butter to take it to the next level.
The sweetness comes in two fold- The sticky sweetener and addition of your favorite granulated sweetener. I wanted this recipe to be completely sugar free, so recommend using this monk-fruit sweetened maple syrup. If you are okay with a healthy amount of the natural kind, pure maple syrup or agave nectar work well.
You can adapt the sweetness level based on your personal preference. I only needed 2 tablespoons of monk fruit sweetener (a stevia-like granulated sweetener), but adjust it according to your taste buds. Brown sugar, table sugar, and coconut sugar can also be used.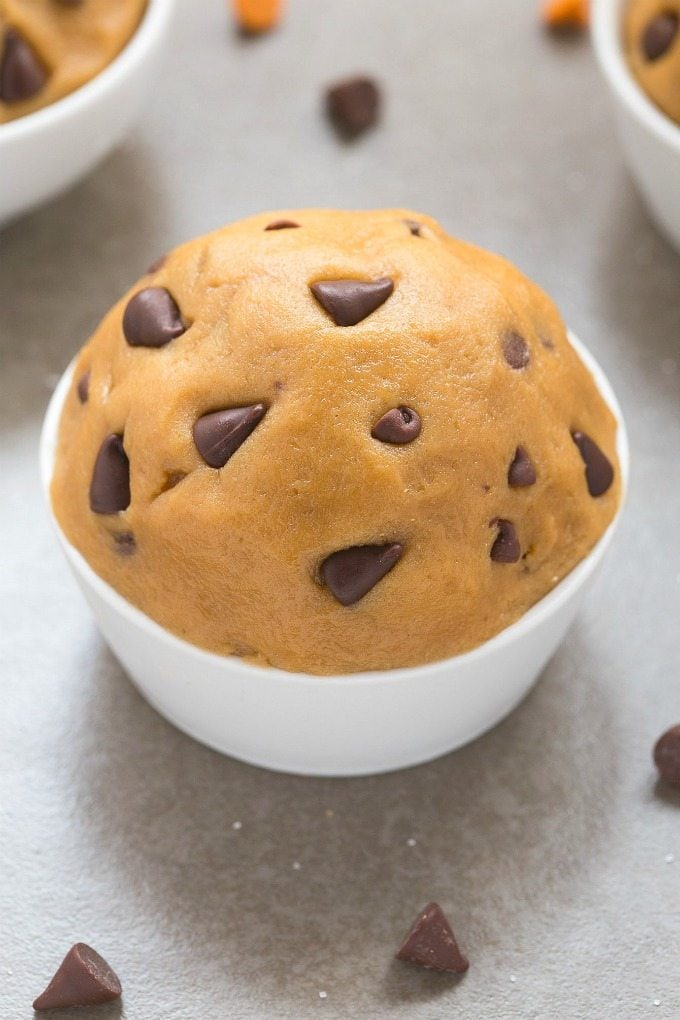 While this recipe is naturally protein-rich, you can take it up a notch by adding a scoop or two of protein powder. You'd be best to stick to a brown rice protein powder, paleo protein powder or casein powder. I've shared my favorite tried and tested brands here. The only changes you'll make will be increasing the milk of choice to the batter.
To make a big batch in advance for a busy week ahead, here are some easy hacks for you! Set out several small Tupperware containers and place a portion of the edible breakfast cookie dough in each one. Place in the fridge and 30 minutes before consuming, let sit at room temperature.
Texture lovers, take note- For a thick and almost chewy cookie dough, enjoy 5-10 minutes directly out of the fridge (as pictured). For a creamy and soft cookie dough, let thaw to room temperature. For an even creamier and gooey texture, add a tablespoon or two of your milk of choice to it.
The same goes for freezing it- Either freeze it in one big batch or in single serving portions.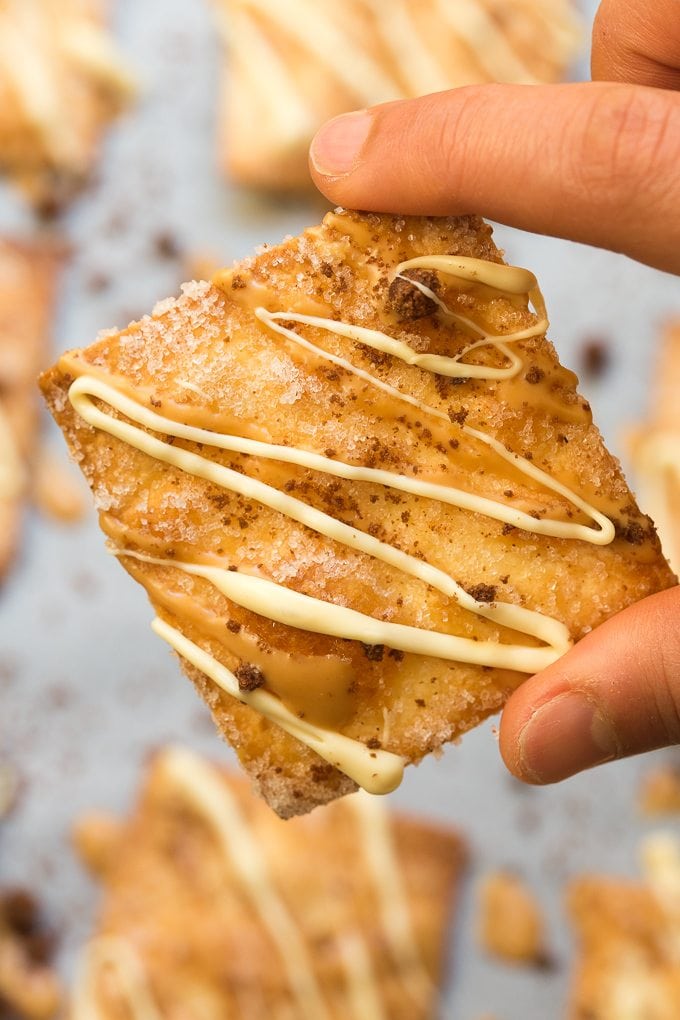 Sometimes, you want a little dipping action with your cookie dough, so I've got a FLATOUT TWIST to pair this with! Instead of using store bought crackers or cookies, make your own healthy baked chips to enjoy on the side.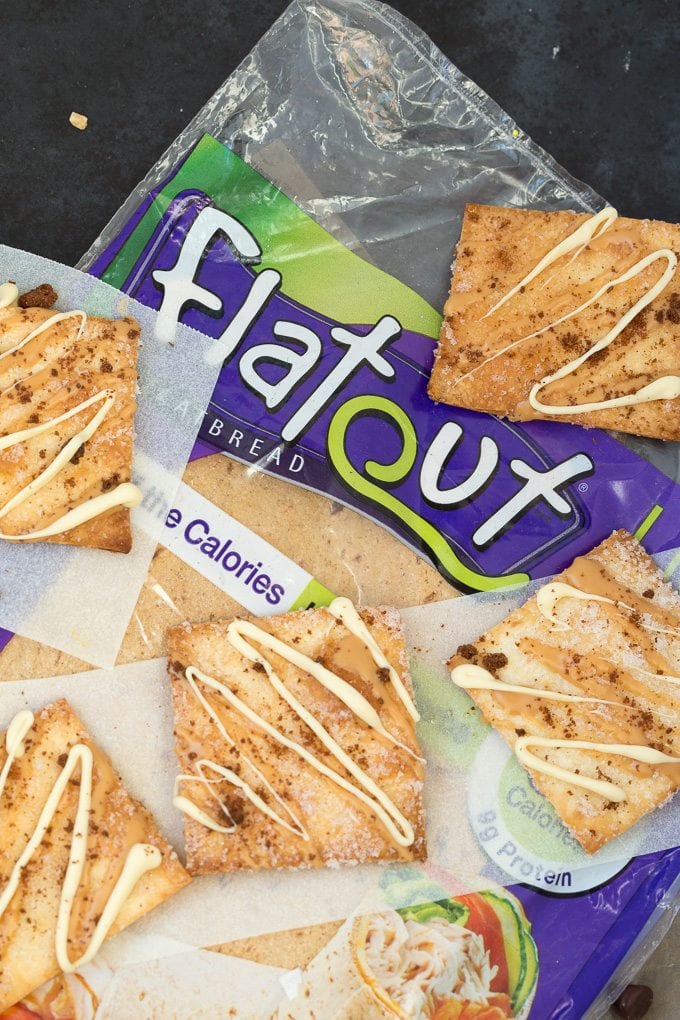 The Flatout flatbreads are versatile and provide a generous portion per flatbread. Not only do you get a huge flatbread for 90 calories and 4 Smart Points, they also taste great. I wanted to give a different twist (we've had peanut butter cup and cinnamon roll already) so here we have a peanut butter coconut cookie version!
Like the cookie dough, you can prep this in advance and baggie them up in single serving portions. If you do so, bake 3-4 flatbreads in one go and then prep the coconut butter drizzle. A tiny bit goes a very well long way, so you won't need much. For the cookie crumbles, use either homemade Paleo cookies or your favorite chocolate cookie of choice.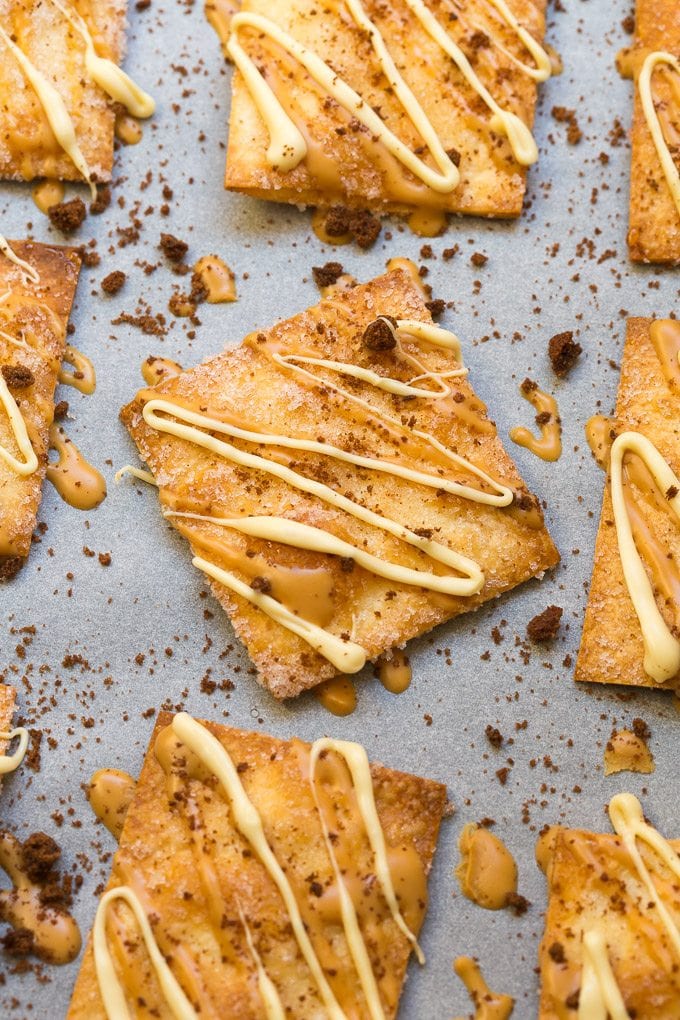 Kick start your mornings without any fear of salmonella by digging into a bowl of edible eggless raw cookie dough- It's smooth, creamy and the perfect guilt-free breakfast to kick start your day!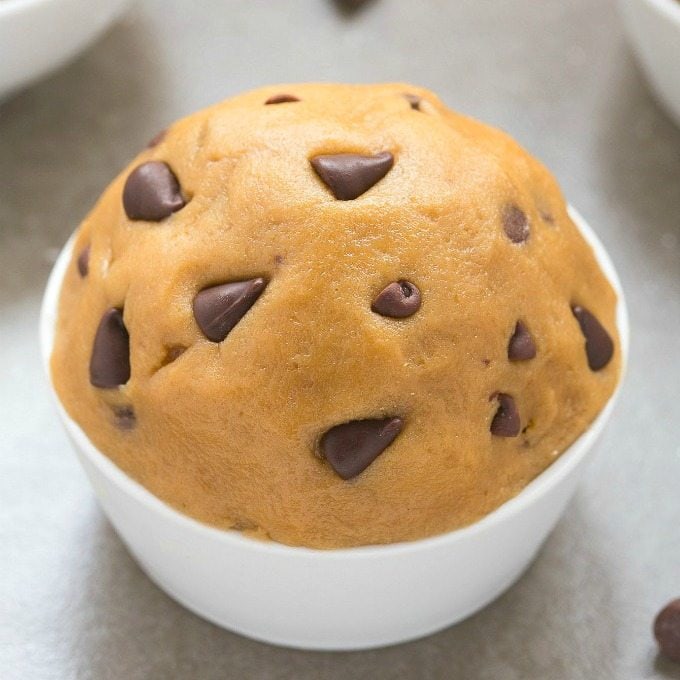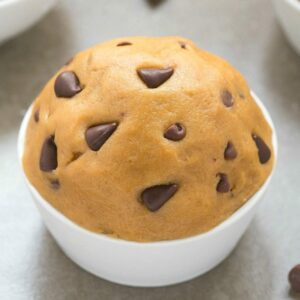 Healthy Edible Egg-Free Breakfast Cookie Dough
Healthy and Edible Egg-Free Breakfast Cookie Dough (Paleo, Vegan, Gluten Free) made without any raw flour, eggs or dairy! It is safe to eat, eggless and a guilt-free meal or snack!
Ingredients
For the Edible Egg-Free Breakfast Cookie Dough
For the Healthy Baked Peanut Butter Coconut Cookie Pita Chips
Instructions
In a large mixing bowl, add your dry ingredients. In a separate mixing bowl, add your nut/seed butter and sticky sweetener and set aside.

Mix your dry ingredients to ensure they are fully combined. If you are using protein powder, add it here.

Melt your nut/seed butter with your sticky sweetener and pour into the dry mixture. Mix until a thick batter remains. Using a tablespoon, add milk of choice until a thick and creamy consistency remains. If using chocolate chips, stir through here and refrigerate.

Once edible egg-free cookie dough has chilled, divide into single serve portions.
To make the Peanut Butter Coconut Cookie Pita Chips
Preheat the oven to 350 degrees Fahrenheit. Line a large baking tray with parchment paper and grease lightly. Set aside.

Cut the Flatout wrap into squares and lay out evenly. Spray the triangles lightly with more cooking spray. Bake for 10-12 minutes, or until just golden brown. Remove from oven and allow to cool completely.

Once pita chips are cooled, prepare your powdered peanut butter/peanut butter and drizzle over the pita chips. Crumble your cookie and pour over the pita chips. Finally, drizzle your melted coconut butter over the pita chips and let firm up.
Notes
If you use protein powder, you'll likely need more milk of choice. Continue adding it into the batter, one tablespoon at a time.
For a gooey, creamy cookie dough, add a little milk of choice prior to eating. For a thicker cookie dough, enjoy directly from the fridge.
Healthy Edible Egg-Free Breakfast Cookie Dough should be kept refrigerated but is also freezer friendly.
Pita Chips can be kept in an airtight container for up to 5 days.
Nutrition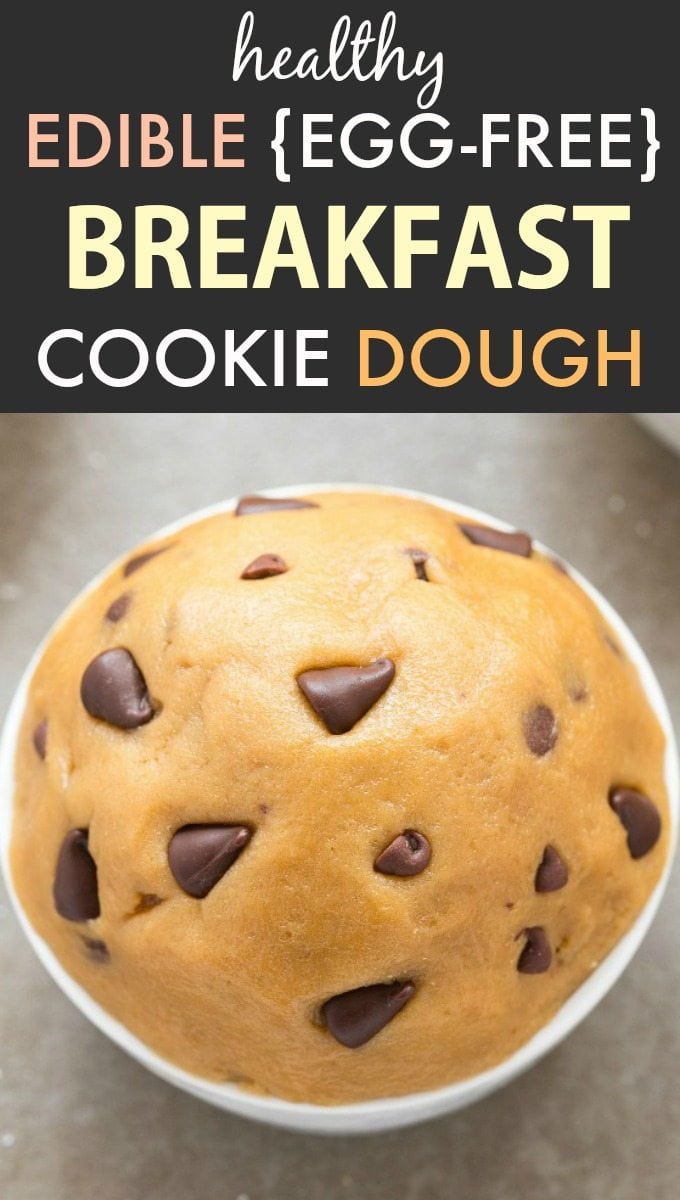 Disclosure: This post may contain affiliate links. I may earn a small commission for my endorsement, recommendation, testimonial, and/or link to any products or services from this website.