This easy 5-minute recipe for healthy no bake oatmeal cookies needs just 3 ingredients and taste delicious! Perfect for snacking and 100% nut-free, these no bake cookies are made without peanut butter, and without milk, but you'd never tell!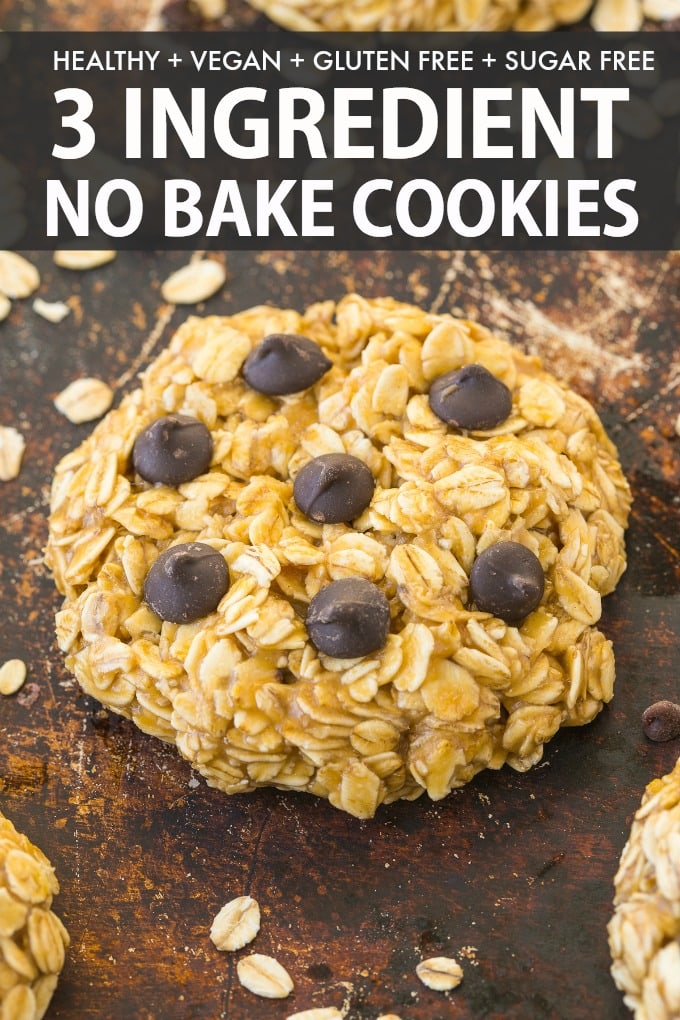 Vegan No Bake Cookies
While I'm all about a delicious, healthy cookie recipe, I'm also ALL about the easy way out.
No bake cookies are my go-to snack, behind energy balls, homemade protein bars, and the odd protein brownie.
I've shared a good handful of no bake cookie recipes on here, but we are going back to basics today- The classic oatmeal cookie!
After sharing my healthy oatmeal breakfast cookie recipe, I knew that the un-baked version of this needed to happen, but with a few changes.
Traditional no bake cookies are generally made with butter, peanut butter, and milk. My version is made without peanut butter, without milk, and without butter, but you'd never know! It's also completely nut-free and sugar free!
Texture wise, they have all the best qualities of a delicious no bake cookie recipe- Thick, chewy and slightly doughy. They are also soft when enjoyed at room temperature.
Taste-wise, they taste like a delicious unbaked cookie. The tahini adds a rich, subtle nutty flavor, and the sugar free syrup adds some subtle sweetness. The chocolate chips add some bites of chocolate, which we all love!
To make my healthy 3 ingredient No Bake Oatmeal cookies, you only need 3 (or 4!) ingredients-
Gluten Free Rolled Oats
Tahini
Sugar Free Syrup
Chocolate Chips (optional!)
That's it!
ROLLED OATS AND OAT-FREE SUBSTITUTES
I prefer using gluten-free rolled oats, as they provide the delicious, chewy texture, and I love oatmeal cookies!
Understandably, not everyone can tolerate oats and prefer substitutes. I've tried a few other options which will work just as well.
Quinoa flakes and buckwheat flakes can be used and will provide a similar texture.
TAHINI SUBSTITUTES
Using tahini allowed me to keep these no bake cookies nut-free. The tahini also didn't overpower the cookies and provided a rich note.
Sunflower seed butter or wow butter are both fantastic swaps, which also ensure these cookies are nut-free.
If you can tolerate nuts, almond butter or cashew butter can be used, as can peanut butter.
SUGAR FREE SYRUP
To keep this recipe sugar-free, I used a monk fruit sweetened maple syrup, which has a texture similar to traditional maple syrup.
Please do NOT substitute this with a generic sugar free syrup or pancake syrup. You'll find that the cookies won't hold shape, and lose its sweetness.
You can keep these cookies refined sugar free, by using traditional maple syrup, agave nectar or brown rice syrup.
HEALTHY CHOCOLATE CHIPS
Adding chocolate chips take these no bake oatmeal cookies up a notch, and they taste fantastic!
I opt to use these dairy free and allergen-friendly chocolate chips, which also come in a delicious mini chocolate chip version too.
Sugar free chocolate chips can be used too, either stevia sweetened or standard ones.
Tips and tricks
When forming the cookies, slightly wet your hands- This will make shaping them easy, and you won't have any of the cookie dough mixture sticking your hands! 
Mix half the chocolate chips into the cookie batter, and save the rest to add on top! 
While these no bake cookies can keep at room temperature (for up to 3 days), they are best kept refrigerated. They will last for up to 2 weeks. 
These no bake cookies are freezer-friendly and will be fine to enjoy within 6 months. Just be sure to keep them wrapped in parchment paper. 
If you are a fan of soft and fudgy cookies, enjoy these no bake cookies at room temperature.
For thicker, more dense and chewier cookies, enjoy them straight from the fridge!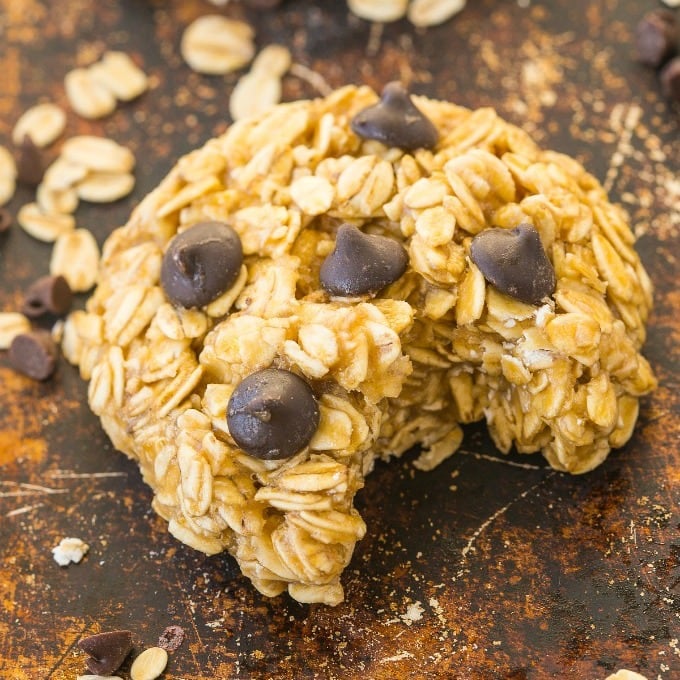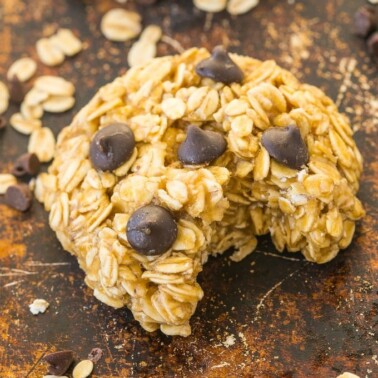 Vegan No Bake Cookies
A 5-minute recipe for thick and chewy healthy no bake oatmeal cookies using just 3 ingredients! Made without peanut butter, without milk and without butter, these easy oatmeal cookies with chocolate chips are completely vegan and dairy free!
Instructions
Line a large plate or tray with parchment paper and set aside.

In a large mixing bowl, add your oats and set aside.

In a microwave-safe bowl or in a small saucepan, heat up your tahini with your syrup until combined.

Add your wet mixture into the oats and mix very well, until fully incorporated. Fold in half the chocolate chips, reserving the other half to top the cookies.

Lightly wet your hands and form 16 small balls and place them on the plate. Press each ball into a cookie shape, top with remaining chocolate chips and refrigerate until firm.
Notes
* This is my preferred and tested sugar free syrup. To keep it refined sugar free, maple syrup, agave nectar or brown rice syrup can be used.
Healthy 3 Ingredient No Bake Cookies (Vegan, Gluten Free) can keep at room temperature but are best kept refrigerated, for up to 2 months. They are also freezer friendly, for up to 6 months.
Nutrition
Serving:
1
Cookie
Calories:
181
kcal
Carbohydrates:
27
g
Protein:
5
g
Fat:
9
g
Fiber:
14
g
Vitamin A:
150
IU
Vitamin C:
3.3
mg
Calcium:
50
mg
Iron:
0.7
mg
NET CARBS:
13
g

Disclosure: This post may contain affiliate links. I may earn a small commission for my endorsement, recommendation, testimonial, and/or link to any products or services from this website.