These keto chaffles are a low carb waffle alternative made with just 3 ingredients! Perfect with sweet or savory mix-ins, they make a wholesome and easy breakfast! 3 grams net carbs per serving.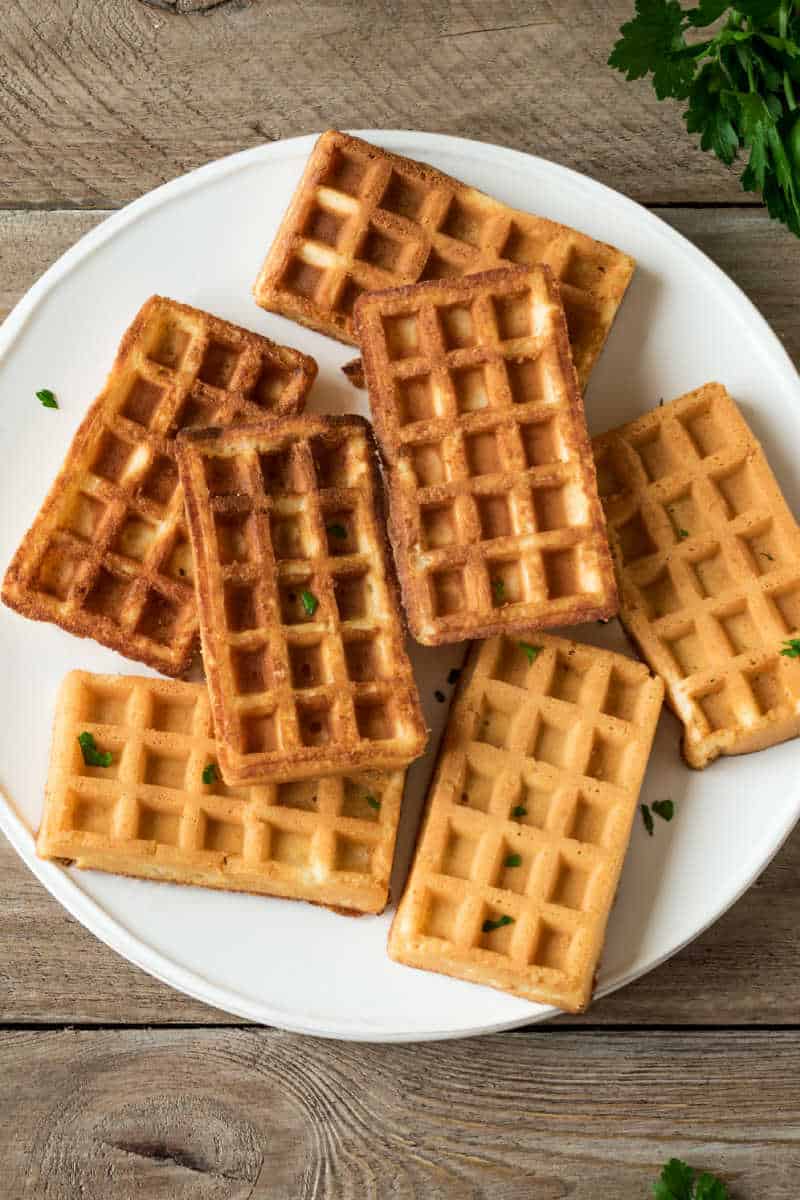 Keto Chaffles
When it comes to cozy keto breakfasts, my favorite recipes to make are waffles, cream cheese pancakes, and these keto chaffles.
I go through phases when it comes to breakfast. I recently went through the smoothie stage, then soon after, I went through the casserole phase. Recently though, I've been whipping out my waffle maker and making myself some chaffles!
What are chaffles?
The term chaffles was coined, due to the combination of cheese and waffles. Unlike traditional waffles, there are no grains or wheat based flour needed, making it perfect for those following a low carb diet!
I've been meaning to share a keto chaffle recipe for quite some time. I've been enjoying these for years, ever since I started my keto journey and wanted something comforting for breakfast! Chaffles need just 3 ingredients to make and no fancy gadgets- Just a waffle maker!
No grains and no flour are needed, but you'd never tell. The texture is crispy around the edges and soft and fluffy in the middle. They are mild tasting, meaning they can be loaded with your favorite sweet or savory toppings or mix-ins!
I had a friend stay with me over several weeks and most mornings, I made a different flavored chaffle and they could NOT believe something so good could be part of a standard keto diet!
How do you make keto chaffles?
The Ingredients
Mozzarella cheese– Low moisture part skim mozzarella cheese is best. Not only is it super versatile, but you don't risk the chaffles being soggy or limp. This blend of cheese is also very mild tasting, making it perfect for sweet or savory chaffles.
Egg– Room temperature egg.
Almond flour– Adding a little almond flour gives the chaffles a more waffle-like texture and balances out any savory notes the mozzarella cheese may give. Use blanched almond flour, as it has a finer texture.
The Instructions
Start by whisking together all the ingredients until combined. Grease and heat up a waffle iron. Once it is hot, pour the batter onto the waffle iron and cook for 3-4 minutes, or as per your waffle iron settings. Remove the chaffle from the hot iron and serve immediately.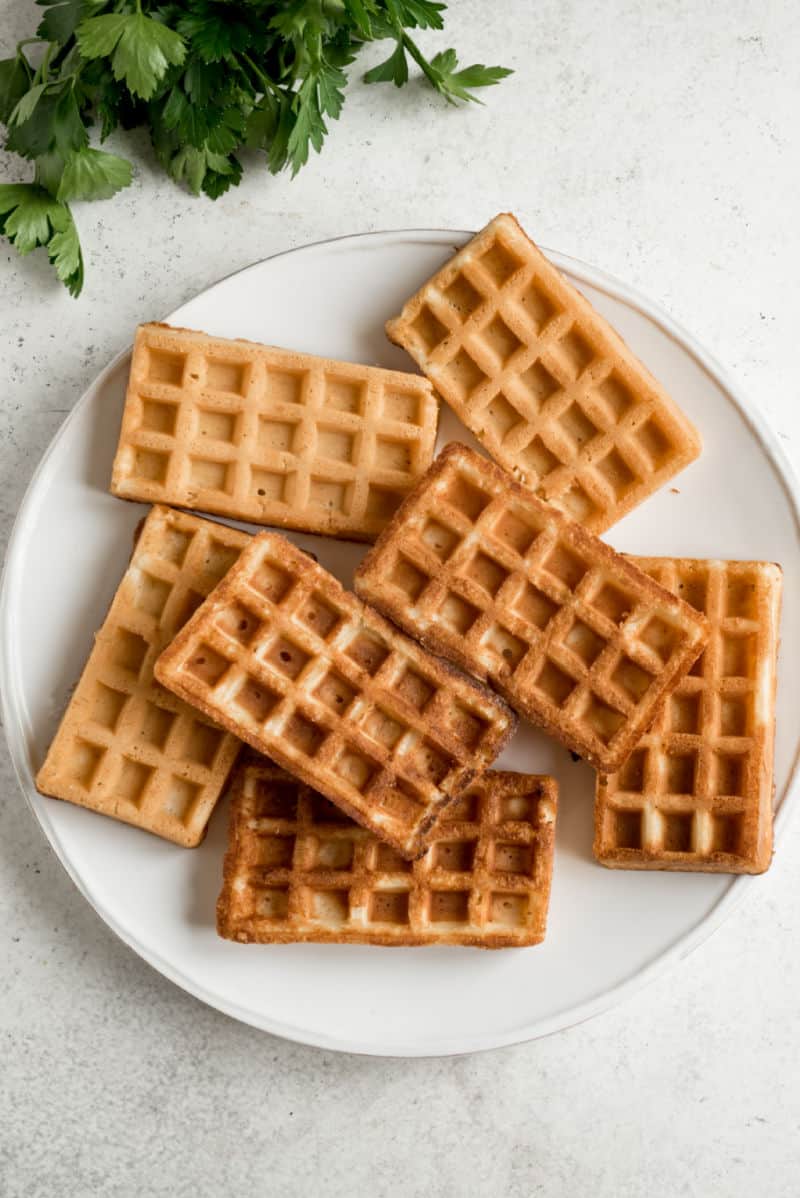 Tips to make the best low carb chaffles
Waffle iron makes and models differ considerably. Some come with a pre-timer and others can gauge once a waffle is cooked. Follow the specific model instructions, or remove the chaffle once the edges are crispy and the exterior is golden brown.
Generously spray your waffle iron to ensure that the chaffle doesn't stick to it.
Unlike traditional waffles, this batter cannot be used to make pancakes. You'll find that the batter sticks to the pan, no matter how much oil or butter you grease the pan with.
Flavor variations
Pizza– Fold through 2 tablespoons of parmesan cheese, 1/4 cup chopped pepperoni (or ham), 2 tablespoons sliced olives, and 2 small mushrooms, diced. Serve with low carb marinara sauce.
Chocolate– Add 2 tablespoons of cocoa powder to the batter, and fold through 2 tablespoons of keto chocolate chips.
Peanut butter– Add 1 tablespoon of your favorite granulated sweetener (I add erythritol) and spread a thick layer of peanut butter on top.
Bacon– Add 1/2 cup chopped bacon to the batter.
Blueberry– Fold through 1/2 cup fresh or frozen blueberries and 1 teaspoon of vanilla extract, and serve the chaffles with almond butter.
Storing and freezing chaffles
To store: Chaffles can be stored in the refrigerator, covered. They will keep well for up to 5 days.
To freeze: Place leftover chaffles in a ziplock bag and store them in the freezer for up to 6 months.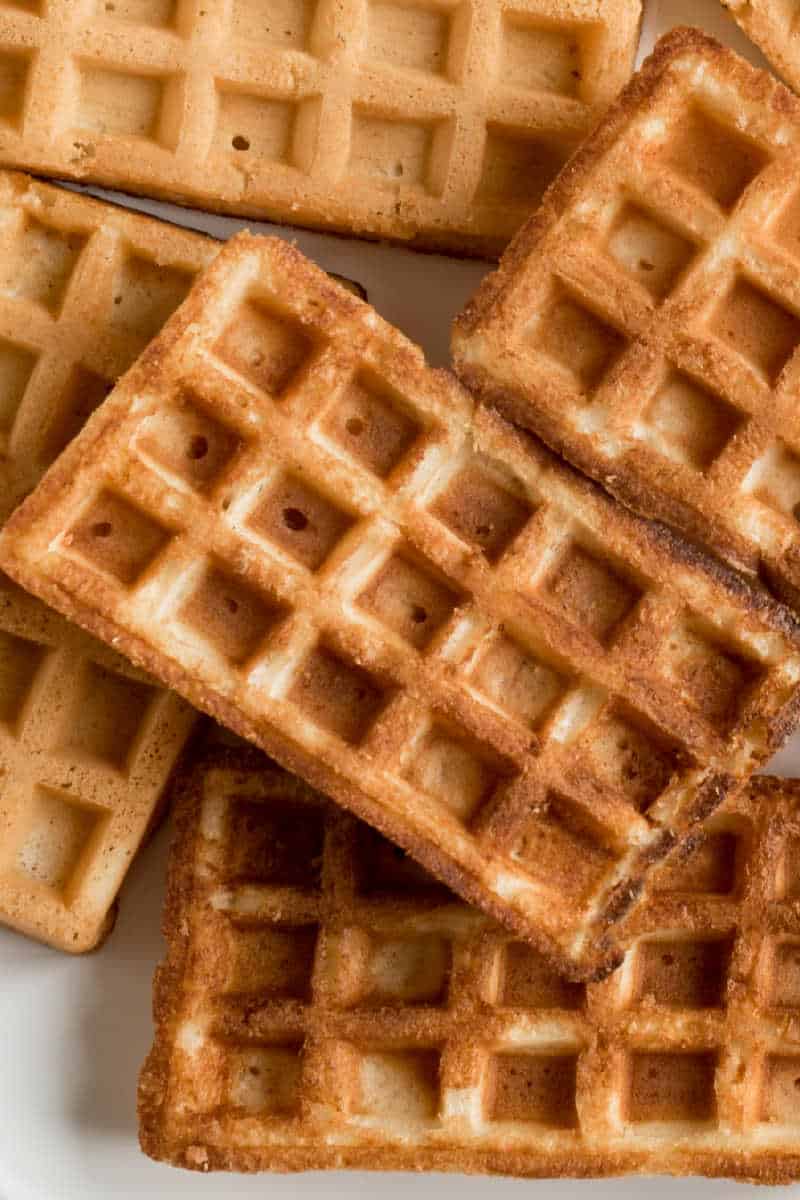 More keto breakfast recipes to try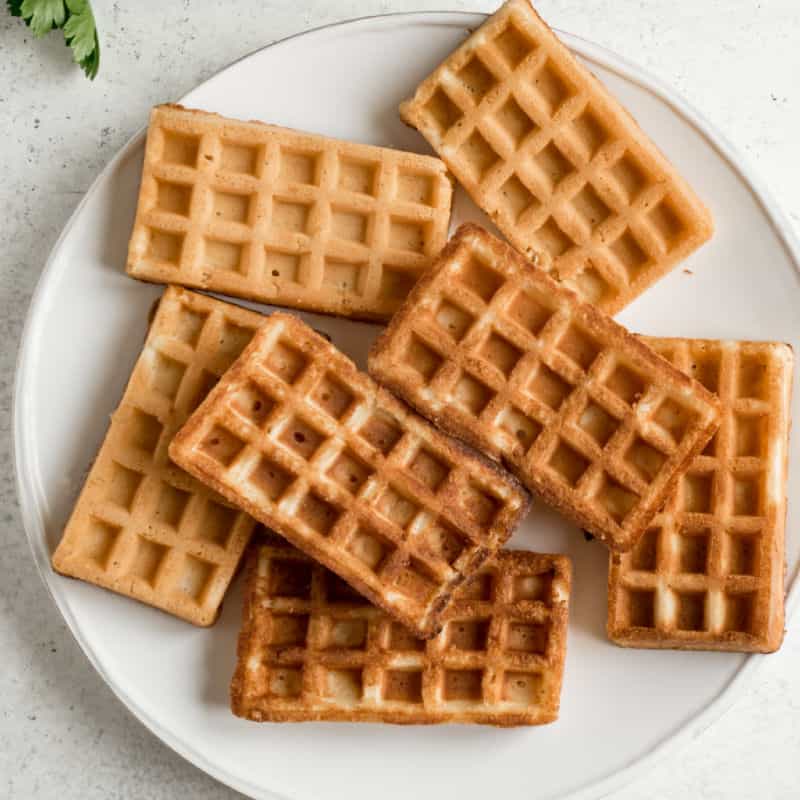 Keto Chaffles
These keto chaffles are a low carb take on classic waffles and need just 3 ingredients to make! No grains needed, they are easily customizable to be sweet or savory!
Print
Rate
Ingredients
2

large

eggs

1

cup

mozzarella cheese

part skim low moisture

1/4

cup

almond flour
Instructions
In a mixing bowl, whisk together your ingredients until a smooth batter remains.

Grease a waffle iron and turn it on. Once hot/ready, add the chaffle batter and cook for 4-5 minutes, or as per your waffle iron instructions.

Repeat the process until all the batter has been used. Serve immediately.
Notes
TO STORE: Chaffles can be stored in the refrigerator, covered. They will keep well for up to 5 days. TO FREEZE: Place leftover chaffles in a ziplock bag and store them in the freezer for up to 6 months.
Nutrition
Serving:
1
serving
|
Calories:
159
kcal
|
Carbohydrates:
2
g
|
Protein:
11
g
|
Fat:
12
g
|
Sodium:
211
mg
|
Potassium:
56
mg
|
Fiber:
1
g
|
Vitamin A:
324
IU
|
Calcium:
170
mg
|
Iron:
1
mg
|
NET CARBS:
1
g