A 5-minute recipe for quick and easy keto chocolate no bake cookies which are soft, chewy and healthy. Made without coconut and without peanut butter, these keto no bake cookies are a hit!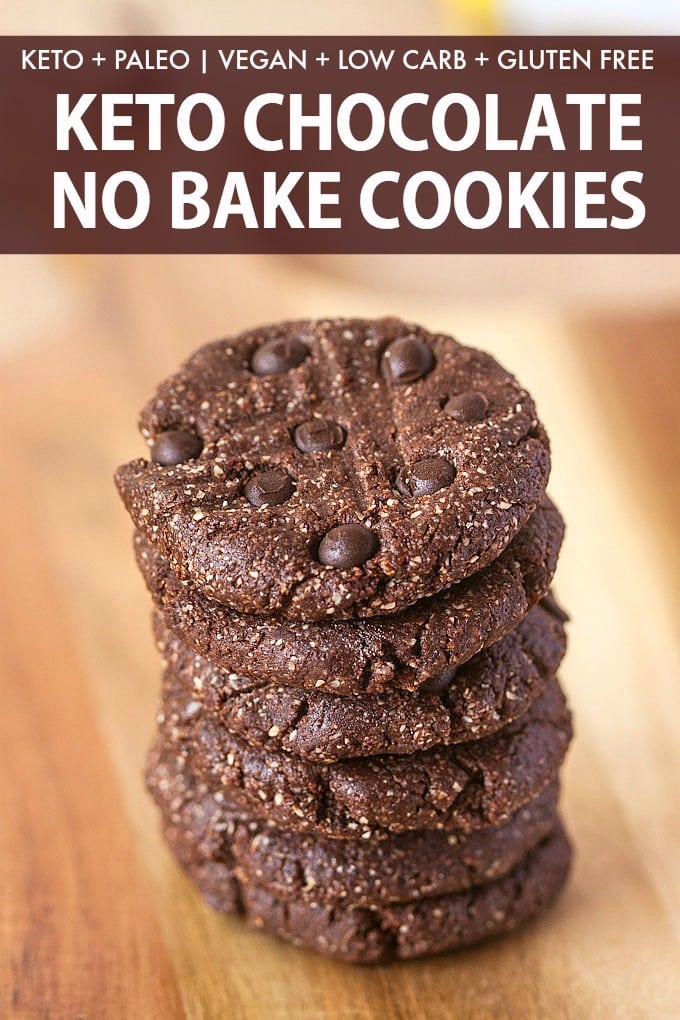 Keto No Bake Chocolate Cookies
People assume cookie season is during the holidays, but I'm here to prove that cookies are NOT seasonal.
When it comes to no bake desserts, no bake cookies are easily my favorite kind. Some of my favorites include no bake chocolate peanut butter cookies, no bake chocolate coconut cookies and brownie no bake cookies.
It's time to go back to basics…with a twist.
While all my no bake cookies are keto-friendly, I've had a request for 2 big things- keto no bake cookies without coconut and no bake cookies without peanut butter.
Swapping out the peanut butter would be easy, and is something I'd worked with before. I just needed to find a grain-free flour which could work.
Friends, we've got a winner- Almond flour.
Making keto no bake cookies with almond flour was the answer, and I can attest that you will have an absolute winner of a cookie now.
In terms of taste, these no bake cookies tick all the boxes. A chocolate cookie which tastes like brownie batter, loaded with chocolate. It is rich tasting and has a slightly nutty undertone.
Texture wise, these no bake cookies are thick, fudgy, slightly chewy and roughly studded with chocolate chips.
To make this keto chocolate no bake cookies recipe, you only need FIVE (or 6!) ingredients-
Almond flour
Almond butter
Keto maple syrup
Ground flaxseed
Cocoa powder
Chocolate chips (optional!)
That's it!
ALMOND FLOUR
There are several kinds of almond flour which can be used- blanched almond flour, traditional almond flour, and almond meal.
Traditional almond flour is ground almonds with a super fine consistency. This type of almond flour does contain the skins.
Blanched almond flour also has a super fine consistency, however, the skins are removed.
Almond meal has the most course texture and isn't finely milled.
I prefer using almond meal, as I find it really amps up the texture. For a fudgier or more even no bake cookie, use blanched almond flour.
ALMOND BUTTER ALTERNATIVES
Using almond butter is my favorite, as it really brings out the chocolate flavor, thanks to the combination with almond flour.
You can substitute it with cashew butter or even my homemade Nutella recipe.
Sunflower seed butter and tahini will also work very well.
KETO APPROVED SYRUP
The market is full of sugar free syrups which, while keto approved, won't really work for this no bake cookie recipe.
Monk fruit sweetened maple syrup is the only one I've tried which works well. It has the same texture as traditional maple syrup and adds a subtle sweetness. It also helps hold the cookies together beautifully.
If you don't use a keto maple syrup, you can technically use another keto sweetener, like monk fruit or swerve. If you go with this option, be sure to add some coconut milk or milk of choice to help hold the cookies together.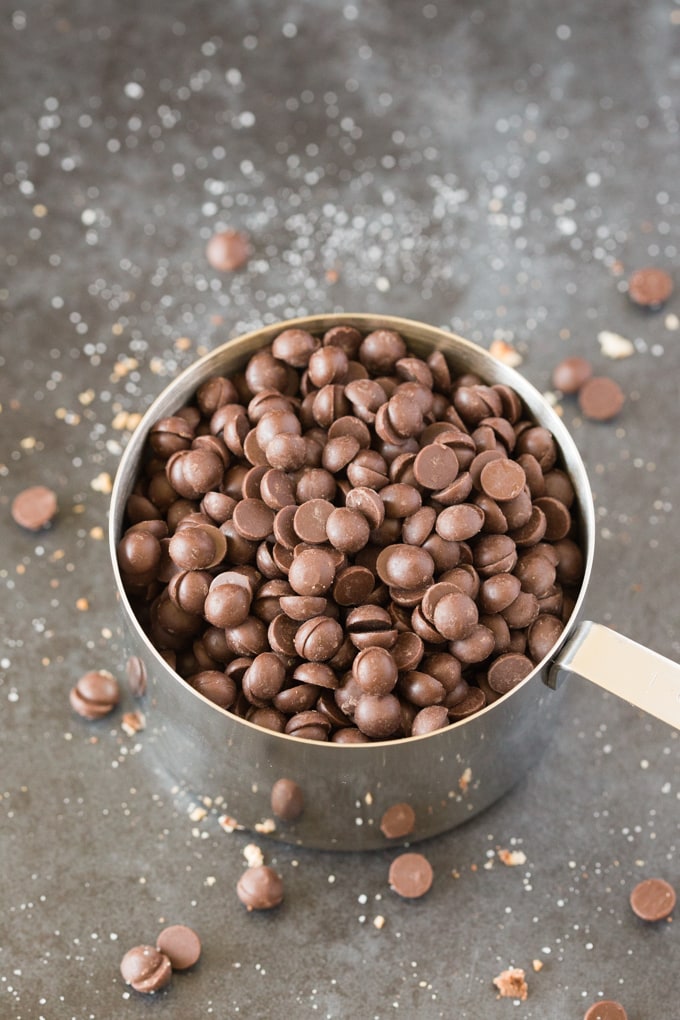 KETO CHOCOLATE CHIPS
Adding keto chocolate chips is optional, but it really takes up the no bake cookies by a long shot! I love using these stevia sweetened chocolate chips. Not only are they keto-approved and low carb, but they taste great!
You can also chop up a keto chocolate bar and add it to the cookie batter.
TIPS AND TRICKS FOR PERFECT KETO NO BAKE COOKIES
For smooth and fudgy chocolate no bake cookies, use blanched almond flour. If you prefer chewy and thicker cookies, use almond meal.
If you are a fan of different textures, use crunchy versions of the nut or seed butter used.
Do not omit the sweetener or syrup, otherwise, your cookies will be extremely bitter.
Using dark cocoa powder really gives these no bake cookies a dark and rich flavor. A good quality dutch processed cocoa powder is best for a milder cocoa flavor.
For optimum freshness, keep your chocolate no bake cookies refrigerated. Refrigerating them will let them keep for up to 3 months.
These no bake cookies are also freezer friendly and can be kept frozen for up to 6 months. Be sure to wrap them in parchment paper, for easy removal.
To enjoy these cookies with the best fudgy, chewy texture, enjoy at room temperature.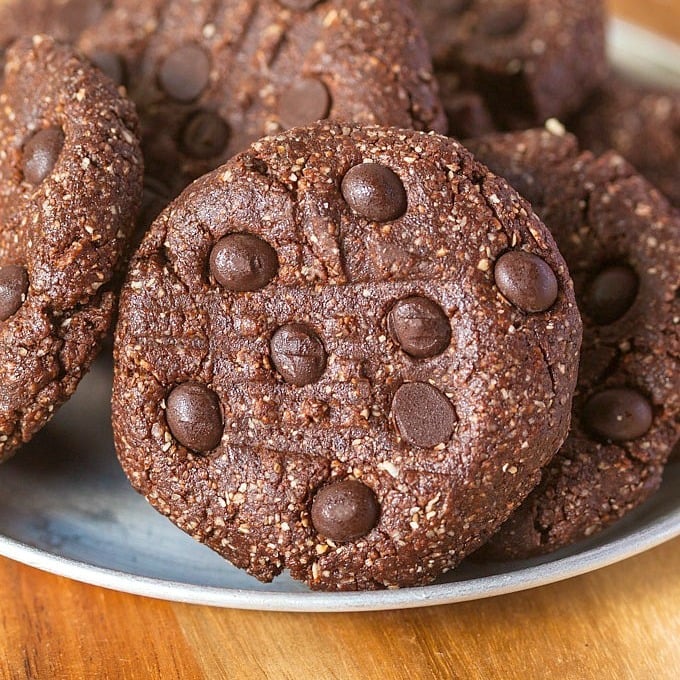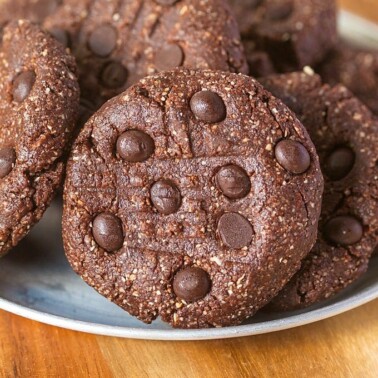 Keto Chocolate No Bake Cookies (Vegan, Paleo, Low Carb)
These easy and healthy no bake keto chocolate cookies are soft, chewy and the perfect no bake dessert recipe ready in minutes! Made with almond flour and cocoa powder, these keto cookies are without coconut and without peanut butter! Paleo, Vegan and Gluten Free!
Instructions
Line a large plate or tray with parchment paper and set aside.

In a microwave-safe bowl or saucepan, combine your almond butter and keto maple syrup and melt together. Set aside.

In a large mixing bowl, combine your almond flour, ground flaxseed, and cocoa powder and mix well. Add your almond butter/syrup mixture and mix until fully combined and a thick batter remains. If the batter is too thin, add extra almond flour. If the batter is too thick, add some extra syrup or milk, to thin out. Fold in your chocolate chips.

Using your hands, form 20 small balls with the dough. Place the balls on the lined plate. Press each ball into a cookie shape and add some extra chocolate chips on top, if desired. Refrigerate until firm.
Notes
* If you aren't strictly keto, you can replace this with pure maple syrup or agave nectar.
Keto Chocolate No Bake Cookies (Vegan, Paleo, Low Carb) are best kept refrigerated and will keep for up to 2 months. They are freezer friendly, for up to 6 months.
Nutrition
Serving:
1
Cookie
Calories:
209
kcal
Carbohydrates:
10
g
Protein:
8
g
Fat:
16
g
Fiber:
6
g
Vitamin A:
150
IU
Vitamin C:
2.5
mg
Calcium:
20
mg
Iron:
0.7
mg
NET CARBS:
4
g

Disclosure: This post may contain affiliate links. I may earn a small commission for my endorsement, recommendation, testimonial, and/or link to any products or services from this website.