This 6-ingredient lemon pepper salmon recipe features a balance of lemony fresh and warm, peppery spices. It's pan-seared to crisp and juicy perfection and great for quick lunches or easy weeknight dinners!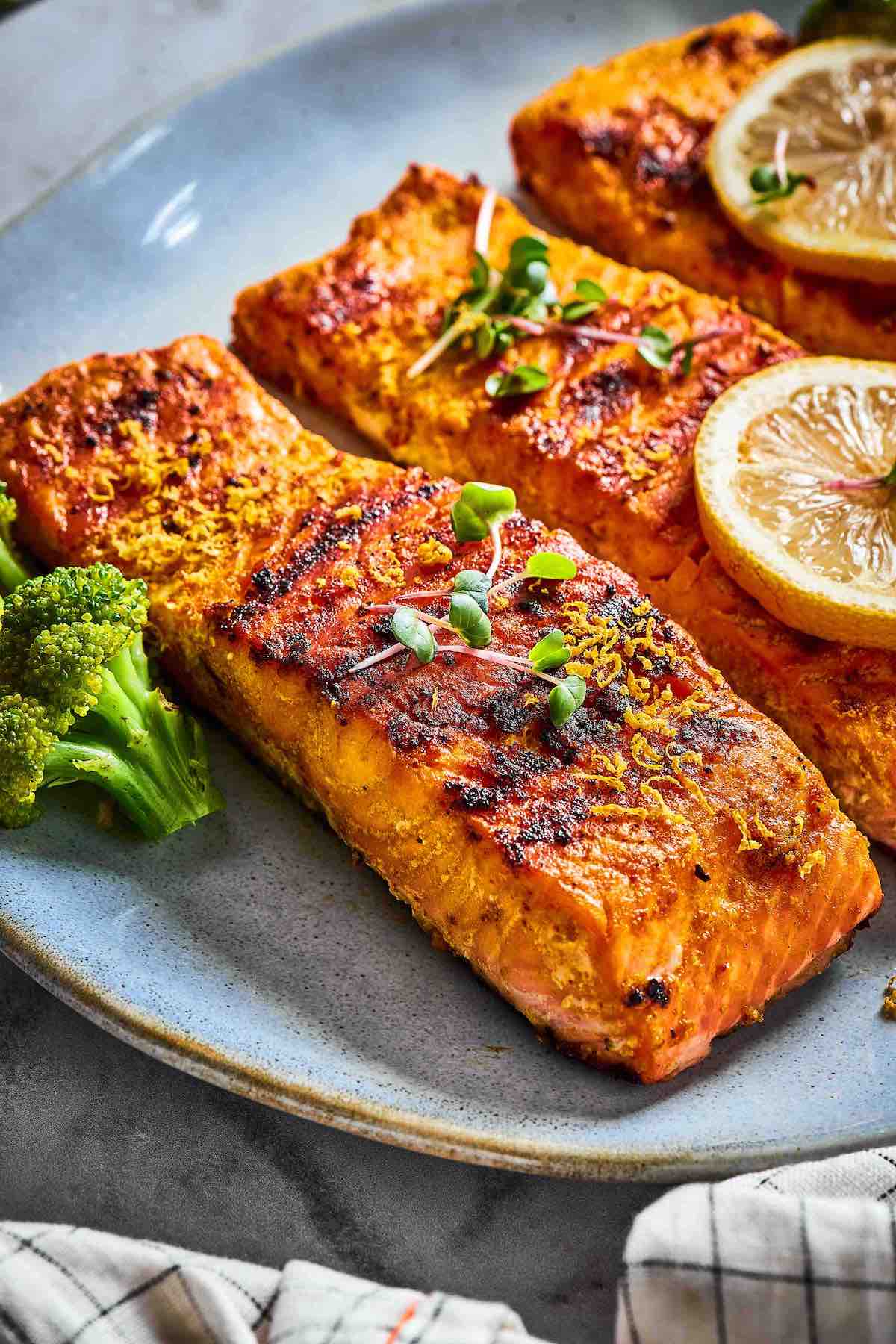 If you thought that lemon pepper seasoning is only good on chicken cutlets and chicken wings, think again! This seasoning blend is what makes this lemon pepper salmon recipe the bold and zesty meal it's known to be.
Pan-seared salmon welcomes all kinds of flavors, like blackening spices, sweet chili sauce, and Asian-inspired flavors. However, it's only lemon pepper that can brighten up each bite! The delicious mix of dried lemon zest, pepper, and salt is the perfect match for this flaky fish.
Table of Contents
The best lemon pepper salmon
Salmon is served weekly in my house, paired with healthy sides like keto biscuits and asparagus. What I love about this unique version of a family favorite is that it's just as easy to make as other pan-seared salmon recipes, but never skimps on flavor and is still very healthy!
Tons of great flavor. The bright and zesty salmon filets are pan-seared, resulting in a flavorful crust on the outside and succulent meat in the middle.
A 10-minute meal. From start to finish, these tasty salmon filets only take 10 minutes. Like in baked salmon, there's very little prep work and no marinating needed!
It's healthy! Salmon is packed with omega-3 fatty acids and is a heart-healthy protein. It's a perfect dressed-up meal to enjoy for healthy dinners and meal prep.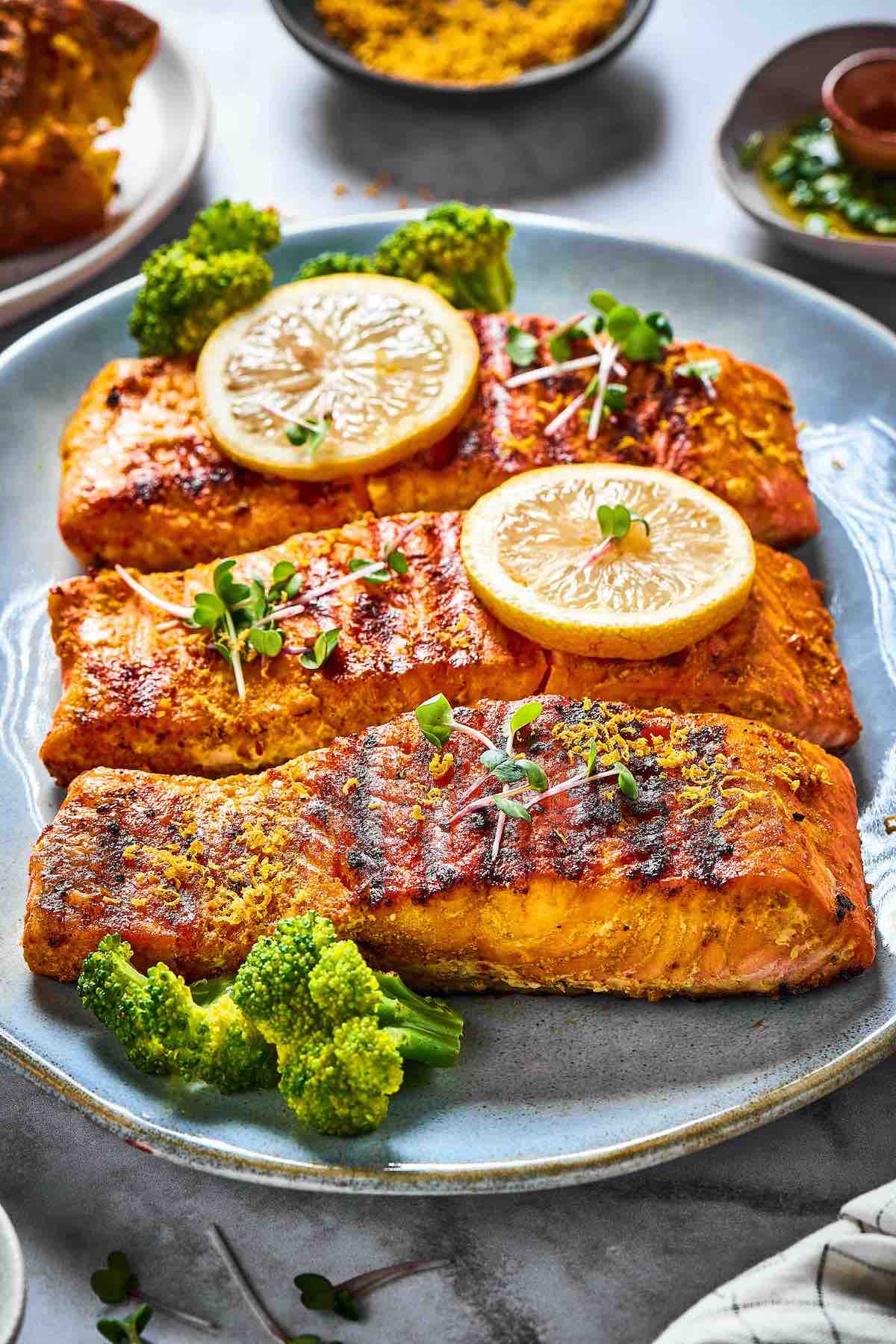 You only need simple, budget-friendly ingredients to dress up lemon pepper salmon. Here is what you'll need:
Salmon. My family is a big fan of skin-on salmon filets. This crispy seared skin adds another layer of flavor and texture to the dish, but you can easily make this with skinless salmon filets instead.
Olive oil. You'll need this for both seasoning and searing the fish.
Lemon pepper seasoning. A good, quality store-bought blend will do the trick. You can also make homemade lemon pepper seasoning using a blend of lemon zest, salt, and pepper.
Sea salt. To enhance the flavors in every bite.
Lemon juice. Fresh lemon juice heightens the lemony fresh flavor. Freshly squeezed is always best, but bottled lemon juice works in a pinch.
Parsley. For garnish.
How to make lemon pepper salmon
The salmon filets are generously seasoned before being pan-fried to perfection. Follow these instructions to see how it's done:
Step 1 – Season the fish
First, pat the salmon filets dry, then rub each one with olive oil. Rub the lemon pepper seasoning and sea salt on the tops of each filet, then finish with a squeeze of fresh lemon juice.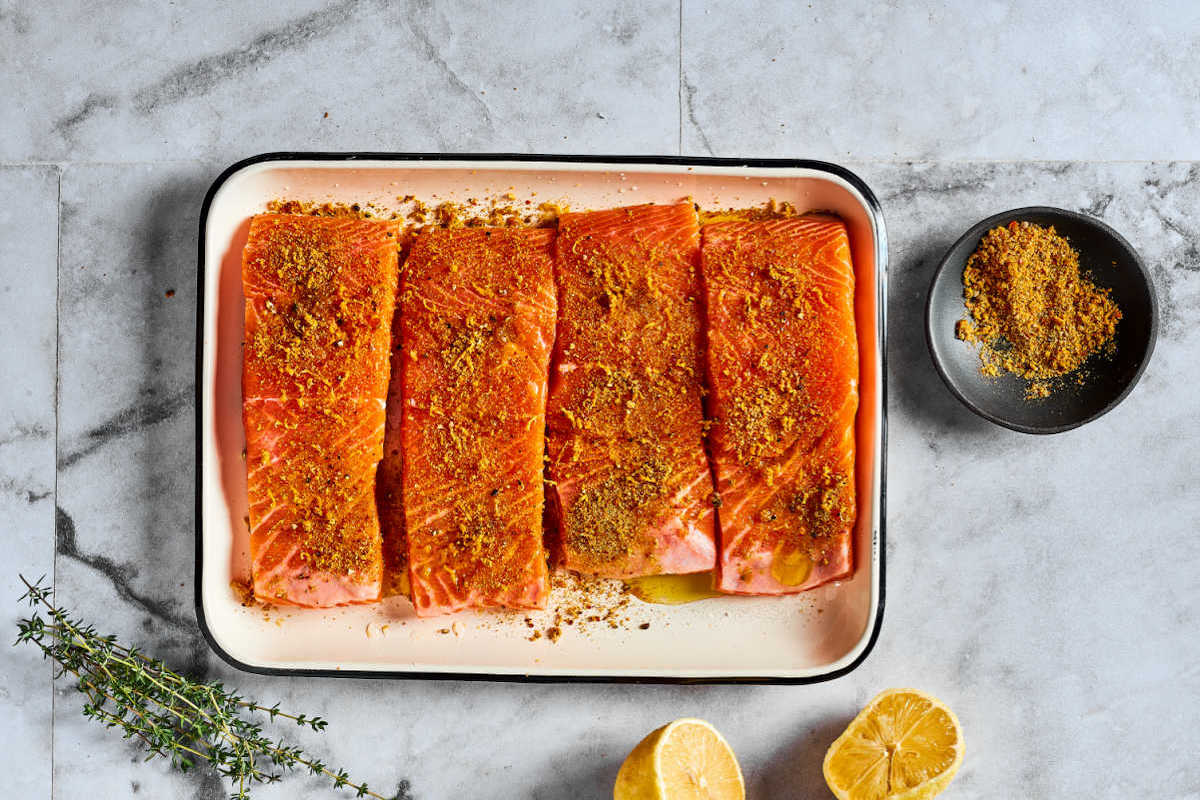 Step 2 – Pan-fry
Heat the oil in a non-stick skillet over medium heat. Once hot, add the seasoned salmon filets skin side down. Flip after a few minutes and sear on the other side. Flip the pieces one more time before removing the filets from the pan.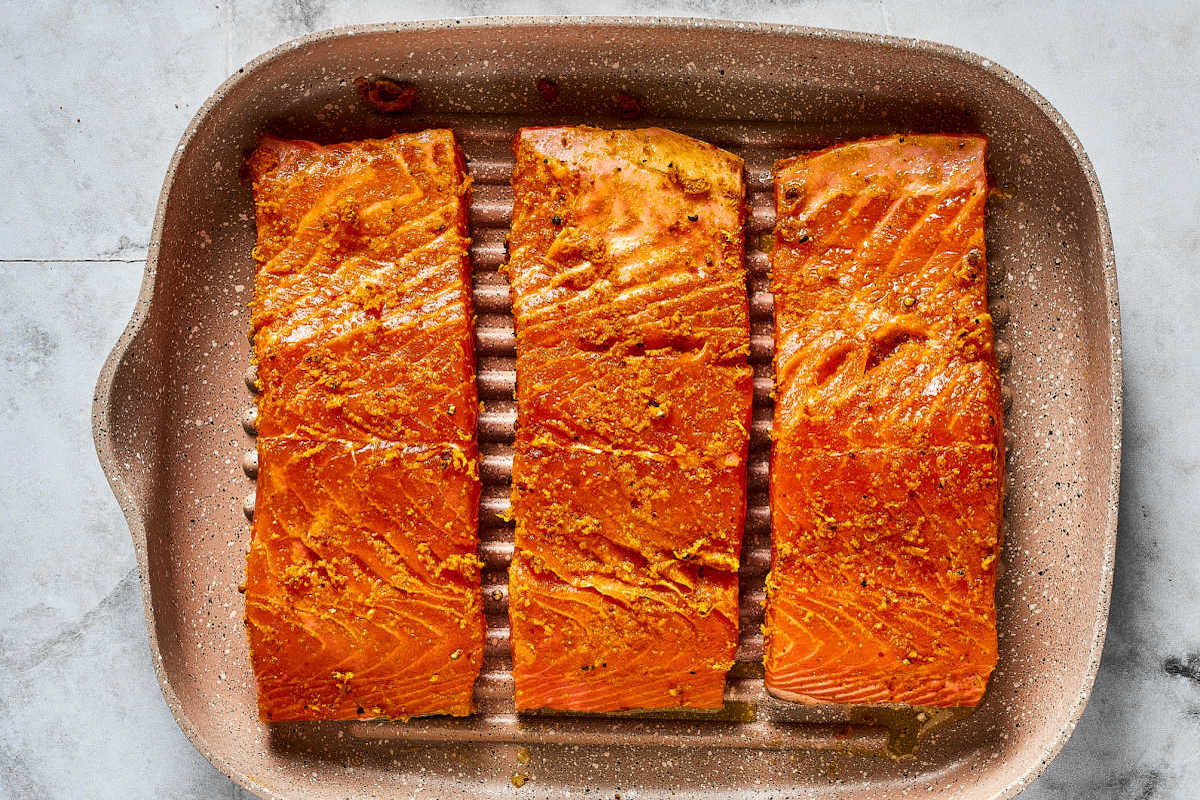 Step 3 – Garnish and serve
Plate the salmon filets and garnish with fresh parsley. Serve with extra lemon if you like, then enjoy!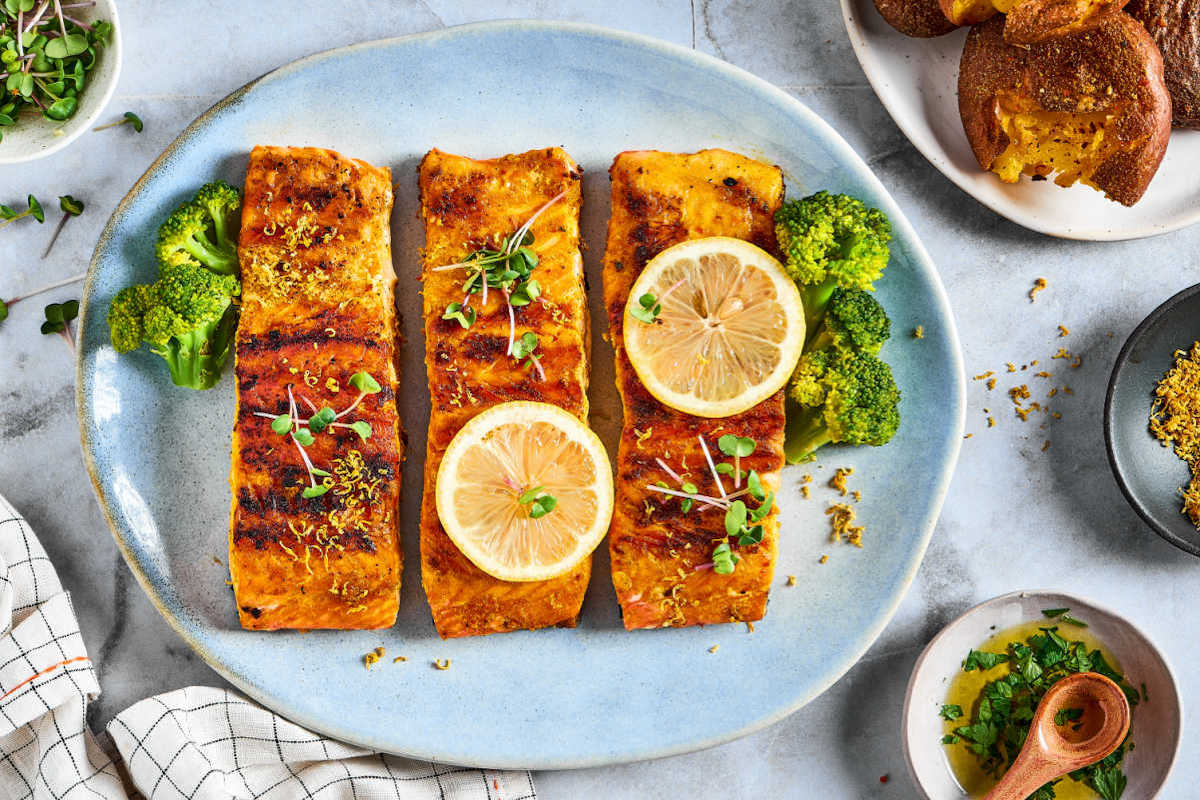 Tips to make the best recipe
The filets should start sizzling as soon as they're laid in the pan. This is super important because if the skillet isn't hot enough, the skin tends to stick to the bottom.
Do not overcook the salmon. Pan-fried lemon pepper salmon is cooked perfectly when the flesh of the salmon effortlessly flakes apart when pressed with a fork.
The best way to check for doneness is with a meat thermometer. You'll know the salmon is cooked through when the center of the fish shows an internal temperature of 145ºF.
Can I bake this?
For sure. To bake lemon pepper salmon, season the filets as normal and follow the instructions, bake times, and tips in my keta salmon or sockeye salmon recipes.
Can I air fry this?
Absolutely! My air fryer salmon will guide you through how to air fry salmon.
What to serve with this dish
You can't go wrong with fresh and simple vegetable side dishes, like asparagus, sauteed spinach, or sauteed broccolini. For a well-rounded and filling meal, try laying the salmon filets over a bed of couscous, orzo salad, rice pilaf, and quinoa with roasted potatoes with carrots on the side.
Storage instructions
To store. Let the leftover cooked salmon cool completely, then transfer it to an airtight container. Refrigerate for up to 3 days.
To reheat. Warm it in the microwave in 20-second intervals or in a skillet over medium heat with a bit of oil until heated through. This is the best way to prevent it from drying out.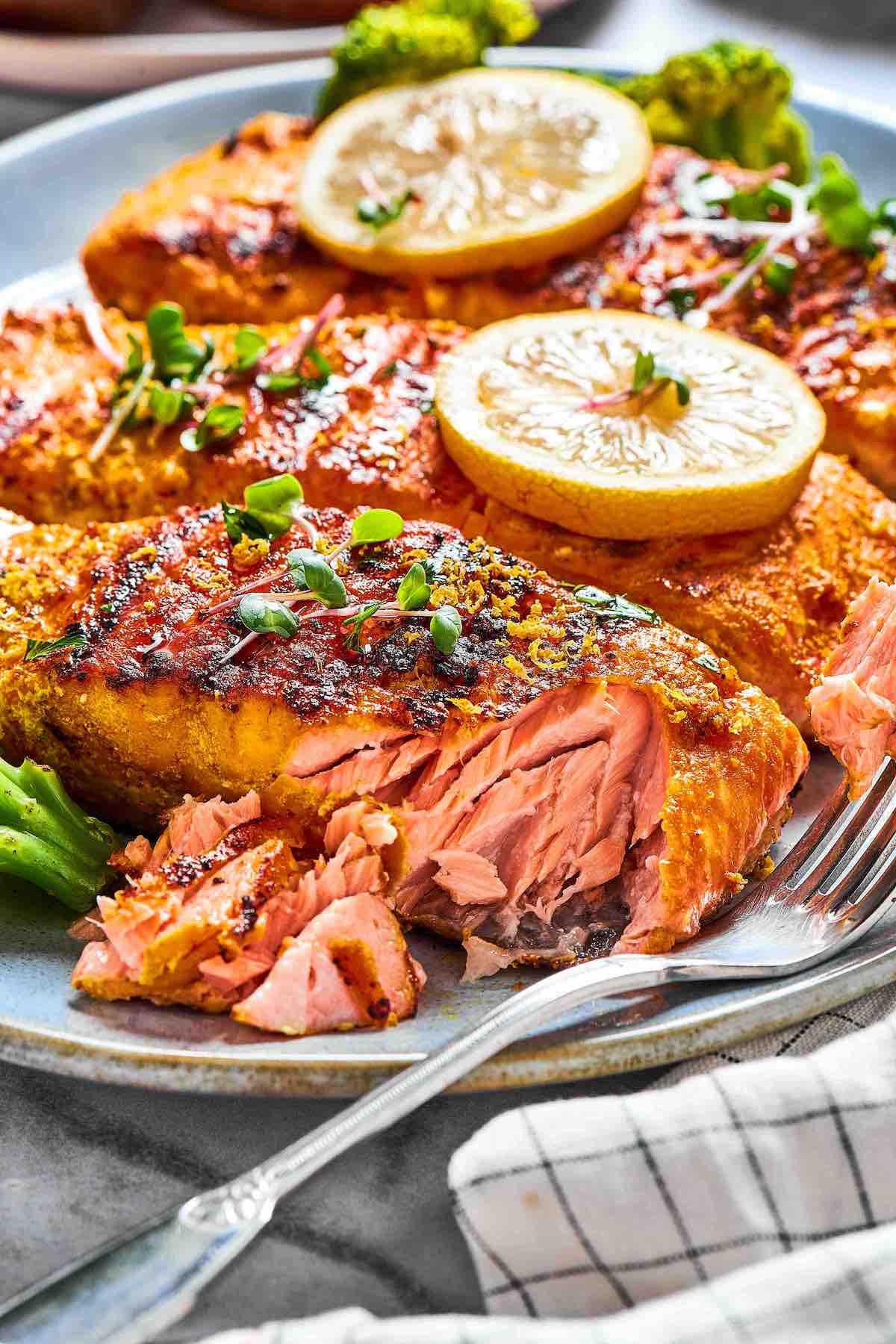 Can I use frozen salmon filets?
Yes, but the frozen fish will need to be thawed overnight in the fridge first. Once it's thawed, season and fry as normal!
What's in lemon pepper seasoning?
The blend of spices varies from one lemon pepper seasoning recipe to the next. Almost all recipes include lemon zest, salt, and pepper, but others include garlic and onion powder.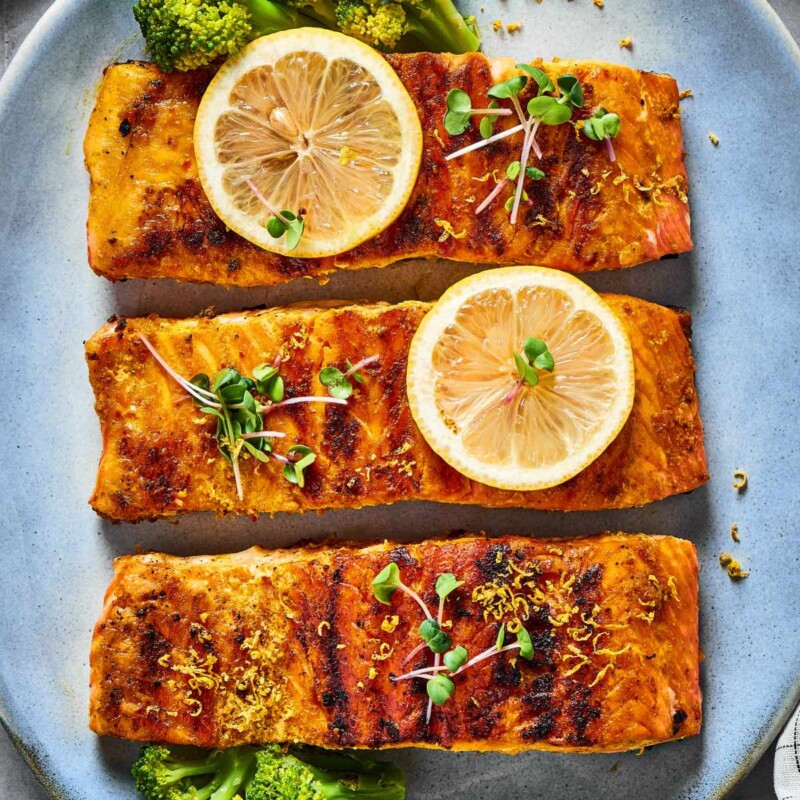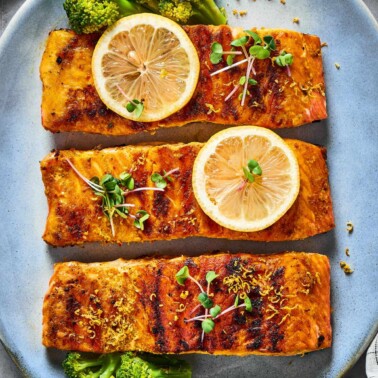 Lemon Pepper Salmon
This lemon pepper salmon recipe features succulent salmon fillets seasoned with a gorgeous lemon pepper sauce. It's quick, delicious, and perfectly tender.
Ingredients
Instructions
Pat dry the salmon fillets. Rub one tablespoon of olive oil over each one, then rub lemon pepper seasoning and sea salt over the top of each fillet. Squeeze the lemon juice over the top.

Add the remaining olive oil to a non-stick skillet and place over medium heat. Once hot, add the salmon fillets skin side down and cook for 4 minutes, flip the fish and sear it for 2 minutes, flip again and cook for another minute.

Remove the salmon from the pan and sprinkle with fresh parsley, to serve.
Notes
TO STORE: Let the leftover cooked salmon cool completely, then transfer it to an airtight container. Refrigerate for up to 3 days.
TO REHEAT: Warm it in the microwave in 20-second intervals or in a skillet over medium heat with a bit of oil until heated through. This is the best way to prevent it from drying out.
Nutrition
Serving:
1
salmon fillet
Calories:
315
kcal
Carbohydrates:
3
g
Protein:
34
g
Fat:
18
g
Sodium:
1820
mg
Potassium:
892
mg
Fiber:
1
g
Vitamin A:
87
IU
Vitamin C:
7
mg
Calcium:
38
mg
Iron:
2
mg
NET CARBS:
2
g
Disclosure: This post may contain affiliate links. I may earn a small commission for my endorsement, recommendation, testimonial, and/or link to any products or services from this website.