No Bake Keto Chocolate Peanut Butter Bars (Paleo, Vegan, Low Carb)
A keto-friendly and low carb twist on the famous chocolate peanut butter no bake bars! Made with just 4 ingredients, this quick and easy dessert takes just 5 minutes to whip up and is secretly healthy! Paleo and peanut-Free option, Vegan.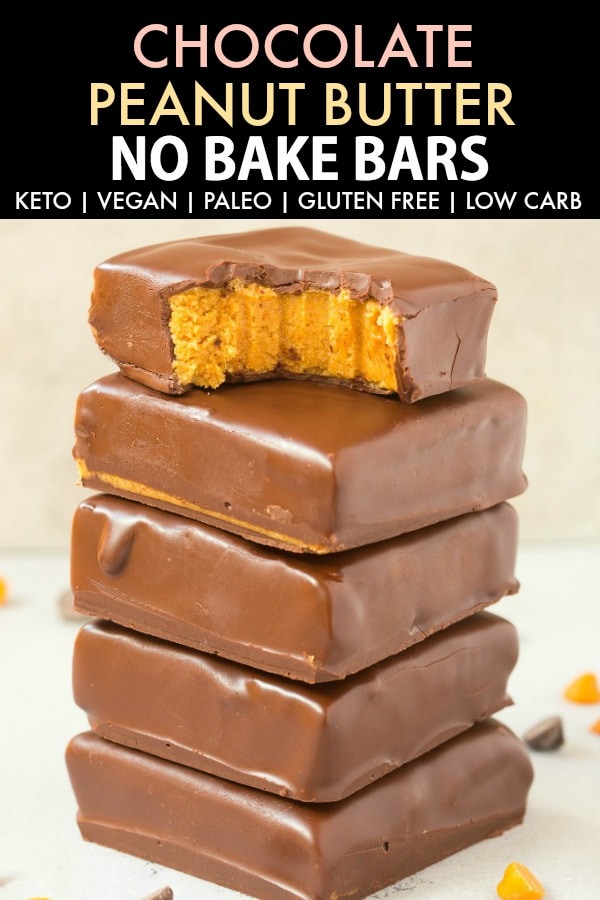 Healthy No Bake Peanut Butter Bars
If you guys loved the no bake peanut butter bar recipe I shared yesterday…you'll be a fan of these.
Before embarking on a ketogenic diet, the thought of a life without peanut butter cups actually scared me. In fact, making healthy homemade peanut butter cups was the first recipe in my first cookbook!
Peanut butter cups are ALWAYS a candy you'd find in my pantry. Calling me obsessed with the chocolate peanut butter combination would be an understatement.
Need some proof? Some of my favorite keto chocolate peanut butter recipes include these no bake balls, crunch bars, and homemade protein bars.
Luckily, peanut butter IS keto-approved and thank goodness, because I would have not even considered testing out this diet if it was not approved or banned.
Peanut butter, being high in healthy fats, protein and very low in carbs, is perfect for a ketogenic diet. Bonus points that it tastes delicious too!
The second potential pitfall for me was chocolate– Peanut butter is great on its own but is EVEN BETTER with some chocolate.
Depending on what kind of chocolate you use, it can 100% be keto-friendly too!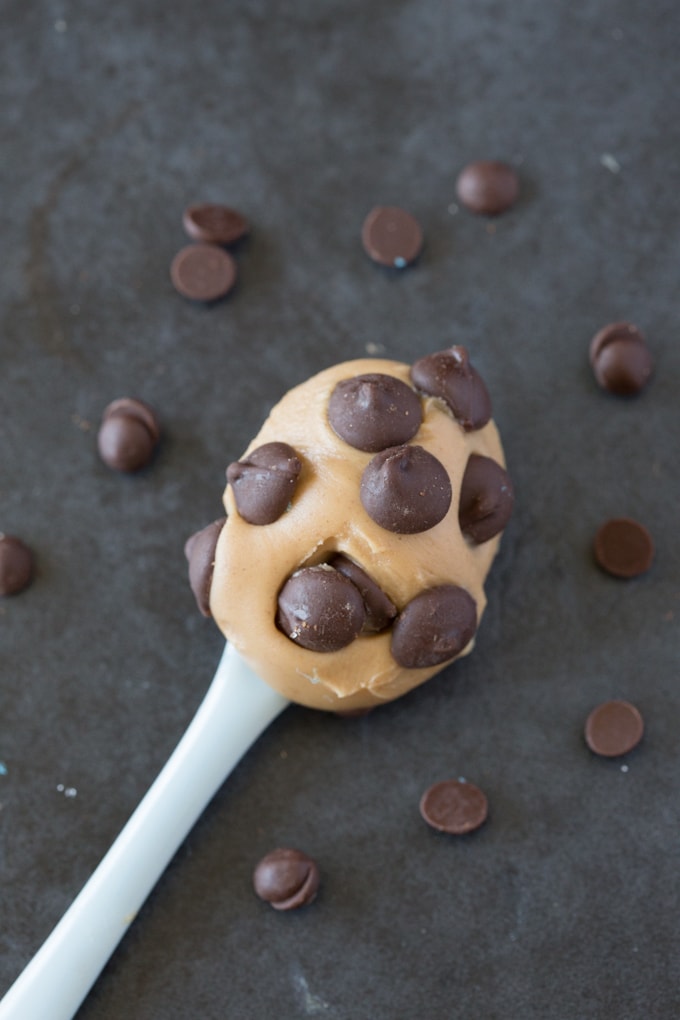 KETO CHOCOLATE CHIPS
Keto chocolate chips are becoming more and more readily available, and are perfect to use for keto chocolate recipes.
I use Lily's chocolate chips, which are stevia sweetened and have no added sugar. These chocolate chips are super low carb and melt really well- They also leave no bitter aftertaste.
Unsweetened chocolate can also be used, but be sure that your peanut butter portion of the recipe is sweetened, or you'll be left with a VERY bitter tasting chocolate peanut butter bar.
Now that we have confirmed peanut butter and chocolate are both keto-approved, it was time to turn this combination into a delicious keto chocolate peanut butter recipe- in bar form!
A thick, soft and fudgy peanut butter bar (made with coconut flour!) covered in a thin coating of melted chocolate and refrigerate until firm. What could be better than that?
Well, the fact that these no bake bars are secretly healthy, take 5 minutes to make and need just 4 ingredients!
Bonus? They are also vegan, gluten-free, sugar-free, low carb and paleo-friendly.
PEANUT BUTTER IS NOT PALEO
The paleo police often like to point out that peanut butter is not paleo, and I am well aware of that!
I call this recipe paleo-adaptable and paleo-friendly because I ALWAYS do two recipe trials whenever I use peanut butter- One with peanut butter and one with a similar, yet peanut-free alternative.
The peanut butter substitutions are always 100% nut-free and paleo-friendly.
PEANUT BUTTER AND NUT-FREE SUBSTITUTIONS
Several options can be used which will ensure these chocolate peanut butter bars are paleo-friendly, nut-free and allergen-friendly.
Sunflower seed butter and smooth tahini are both fantastic nut-free spreads with a similar texture to peanut butter. They work in the exact same way and also yield a chewy, fudgy, doughy bar.
If you simply want a paleo swap, almond butter or cashew butter will be perfectly suitable.
KETO APPROVED SWEETENERS
A sticky keto-approved sweetener is recommended, as it helps create a fudgier, gooey and soft peanut butter filling. Monk fruit sweetened maple syrup works very well for this.
Technically, a granulated sweetener can also work, but follow these tips to avoid a rough and gritty texture-
If using liquid stevia drops, add that to the peanut butter and coconut flour combination if mix well. Slowly, add 1-2 tablespoons of milk or water until a thick batter remains. Taste to make sure it is sweet enough.
If you use a granulated sweetener (like swerve, monk fruit or even baking stevia), add that with the coconut flour and then the peanut butter mixture. Add 3-4 tablespoons of milk/liquid of choice, until a thick batter remains. You will need more liquid if you go the granulated route.
Because these no bake chocolate peanut butter bars are firm once coated in chocolate, they are stable at room temperature. They can keep for up to 7 days, in a sealed container.
These bars are best kept refrigerated and can keep for up to 2 months. They are also freezer-friendly, for up to 6 months!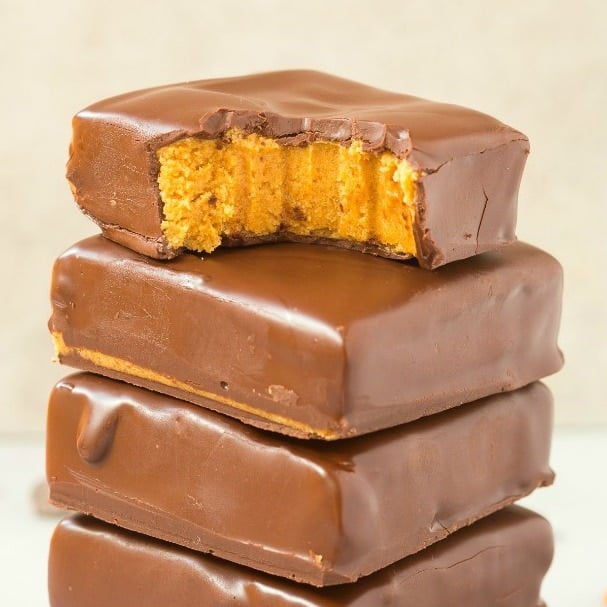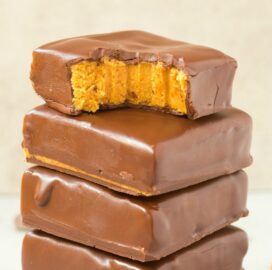 No Bake Keto Chocolate Peanut Butter Bars (Paleo, Vegan, Low Carb)
An easy, 5-minute recipe for keto chocolate peanut butter no bake bars- A thick, fudgy, peanut butter bar covered in sugar-free chocolate! Peanut-free, nut-free, paleo and vegan options included! The ultimate easy keto dessert.
Print
Pin
Rate
Instructions
In a large mixing bowl, combine your coconut flour, sweetener, and peanut butter, and mix well. If the batter is too thick, add some milk/liquid to thin out.

Line an 8 x 8-inch pan or square pan with parchment paper. Pour the peanut butter batter into it and press firmly in place. Once done, place in the freezer.

Melt your chocolate chips of choice. Once melted, cut your peanut butter bars into 20 even pieces. Using two forks, dip each bar in the melted chocolate until evenly coated. Repeat until all the bars are covered.

Refrigerate chocolate peanut butter bars until firm.
Notes
* Please refer to post for sweetener alternatives.
No Bake Keto Chocolate Peanut Butter Bars (Paleo, Vegan, Low Carb) can be kept at room temperature, for up to 7 days. They are best kept refrigerated (up to 2 months) and are freezer friendly (up to 6 months).
Nutrition
Serving:
1
Bar
|
Calories:
108
kcal
|
Carbohydrates:
6
g
|
Protein:
4
g
|
Fat:
8
g
|
Fiber:
4
g
|
Vitamin A:
200
IU
|
Vitamin C:
1.7
mg
|
Calcium:
30
mg
|
Iron:
0.9
mg
|
NET CARBS:
2
g